As an Amazon Associate we earn from qualifying purchases.
You've probably heard of something called an arm party. It's an art of putting on as many bracelets on your wrists as possible in a cohesive, refined fashion — it's easier said than done. Though if before it was a frat party on my arm, now it's more of a sophisticated dinner party.
How to Accessorize With Arm Jewelry
I've come a long way from the statement pieces of arm parties' past. Minimalist grandeur is more of the trend now.
Arm parties ruled my world before, but it's unlike me now to not work them in with neck, ear, and hand parties. Here are 6 ways to use jewelry to accessorize your own arm party.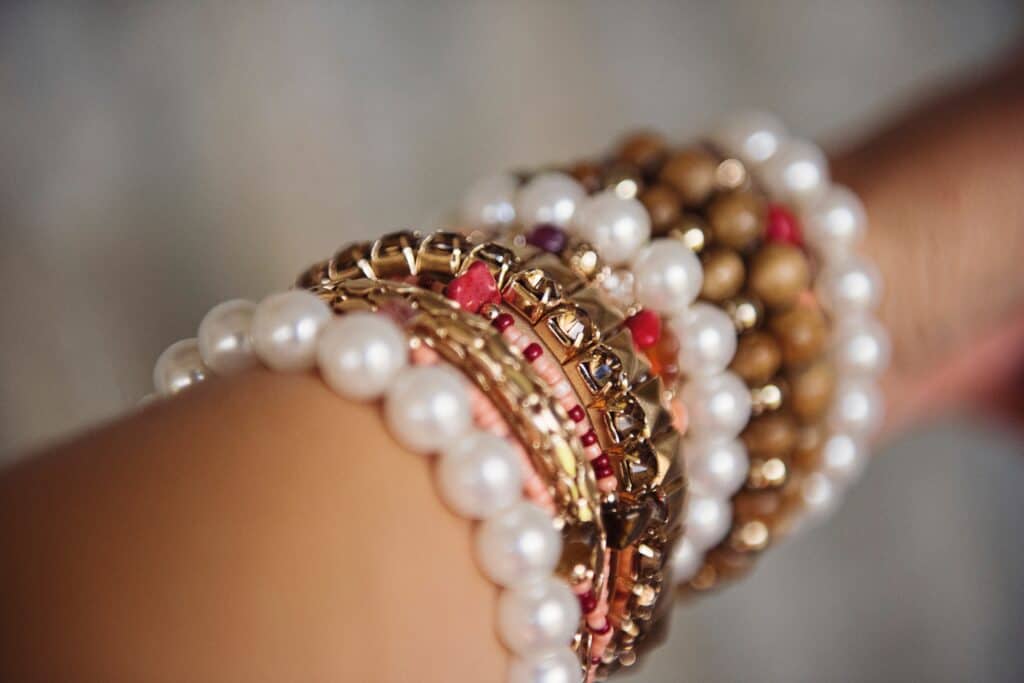 Match Metals and Mix Finishes
I'm sure your jewelry collection involves different metals and color finishes. You have this many options for metals alone:
​Silver
​Silver-filled or silver overlay
​Gold
Base metal
Platinum
Titanium
A mix of these in one arm party is just tacky, so stick to one. Then you can play around with combinations of gold, rose gold, copper, silver and everything else.
Match Cheap Finds with Luxury Gems
As a general rule, nothing good in fashion lies between high-end and low-end. You'll never know, that flea market bangle could complement your 24-karat gold luxury designer cuff.
Hunt for consignment jewelry that you're willing to bargain for. It only takes a DIY hack to return them back to their original shine.
Create a Celestial Arm Candy
Crescent moons, star diamonds, and planetary pendants — that's what's up in the jewelry trends these days. Combine these for an updated celestial-themed arm party!
If you've been a sucker for colors in arm parties, add a pop of color. Incorporate royal blue and yellow gold to go along with the imagery.
Use Gemstones and Crystals
Nevermind gemstones and crystals' meanings, they're the next best thing to diamonds in jewelry. Those marbled colors, who could resist? Just lean in and wear what matches your zodiac.
1Aquarius (Jan 21 – Feb 18) – Garnet
2Pisces (Feb 19 – Mar 20) – Amethyst
3​Aries (Mar 21 – Apr 20) – Bloodstone
4Taurus (Apr 21 – May 21) – Sapphire
5​Gemini (May 22 – Jun 21) – Agate
6Cancer (Jun 22 – Jul 22) – Emerald
7Leo (Jul 21 – Aug 23) – Onyx
8Virgo (Aug 24 – Sep 22) – Carnelia
9Libra (Sep 23 – Oct 23) – Chrysolite
10Scorpio (Oct 24 – Nov 22) – Beryl
11Sagittarius (Nov 23 – Dec 21) – Citrine
Work Around a Statement Bracelet
Thick cuffs and solid bangles from previous arm parties used to be mingling guests. This time statement bracelets are like the main host. Layer them with dainty pendant bracelets — ones with string-thin chains or bands.
Invest in Screw Bangles
Forget commitment issues, screw bangles are the only things worth binding your wrists for. Until you have them removed, they are good foundation for your arm parties.
Allow yourself a grand splurge in screw bangles. A versatile one you won't get bored in too easily can kickoff a thousand arm parties.
Tips on How to Accessorize With Arm Jewelry
| Tips | What to do |
| --- | --- |
| Tip 1 | Pair metals and mix finishes |
| Tip 2 | Match cheap finds with luxury gems |
| Tip 3 | Create a celestial arm candy |
| Tip 4 | Use gemstones and crystals |
| Tip 5 | Work around a statement |
| Tip 6 | Invest in screw bangles |
Frequently Asked Questions
Does It Matter Which Arm You Wear Arm Jewelry?
No, it doesn't matter which hand you put on your arm jewelry. For instance, most right-handed people opt to wear their watches on the left hand and then wear the arm jewelry on the right hand. If you are left-handed, you can do it the other way.
Who Can Wear Arm Jewelry?
Generally, it is okay for men and women of all age stages to wear jewelry. However, the American Academy of Pediatrics recommends that you avoid jewelry, especially for children below one year.
Normally, small children may get at risk of chewing the arm jewelry, which might be contaminated.
What Are the Benefits of Wearing Bangles?
Wearing screw bangles helps to enhance a steady blood flow due to the friction caused between the bangles and your skin, therefore reducing the risks of blood pooling.
When you shake bangles, they produce some sounds which are essential to unborn babies at around seven months, a stage where they learn to differentiate sounds.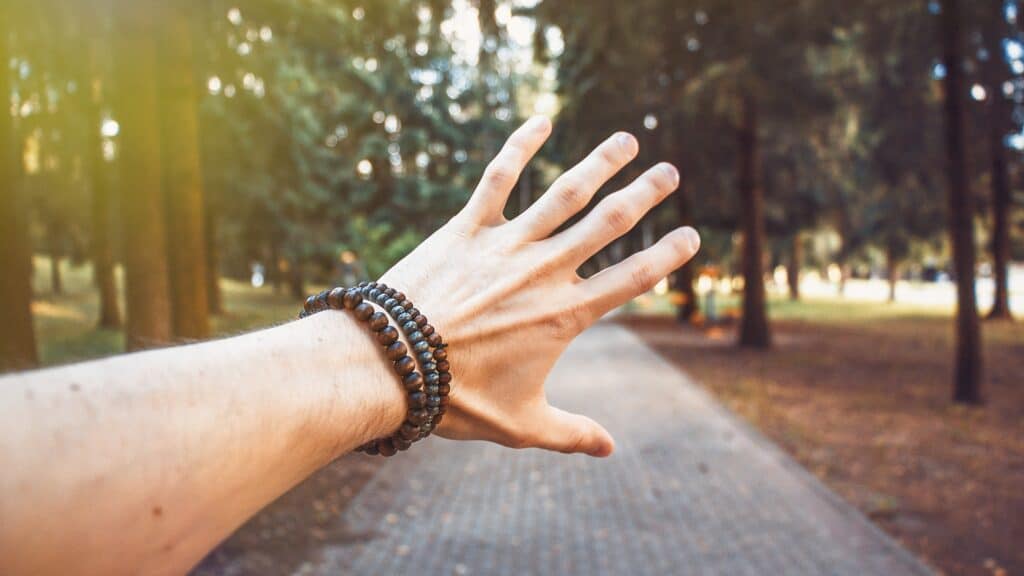 Conclusion
Are you reluctant to start stacking your arm parties again? I've gone more subdued, yes, but there's always been a way to work around daintier pieces I have now — 6 to be in fact. Come up with your own interpretation and do what fits your personal style and aesthetic.