As an Amazon Associate we earn from qualifying purchases.
Although I loved the glossy finish of wet-look leggings, I couldn't figure out what to pair them with without looking awkward. After many outfit trials, I've finally cracked the code, and I have compiled a list of wet look leggings outfit ideas you can try out depending on the occasion, the level of coverage you want, and the weather condition.  
Wet Look Leggings Outfit Ideas
The unique sheen of wet-look leggings makes them standout and can help elevate your look. Usually, the material is stretchy and hugs the body in a flattering way by accentuating curves and creating a smooth silhouette.
These leggings offer a similar aesthetic to leather pants, yet without the heaviness and heat. If you are intrigued by the allure of these leggings or simply want to elevate your fashion game, journey with me as I unveil my tried outfit ideas that'll have you stepping out with confidence.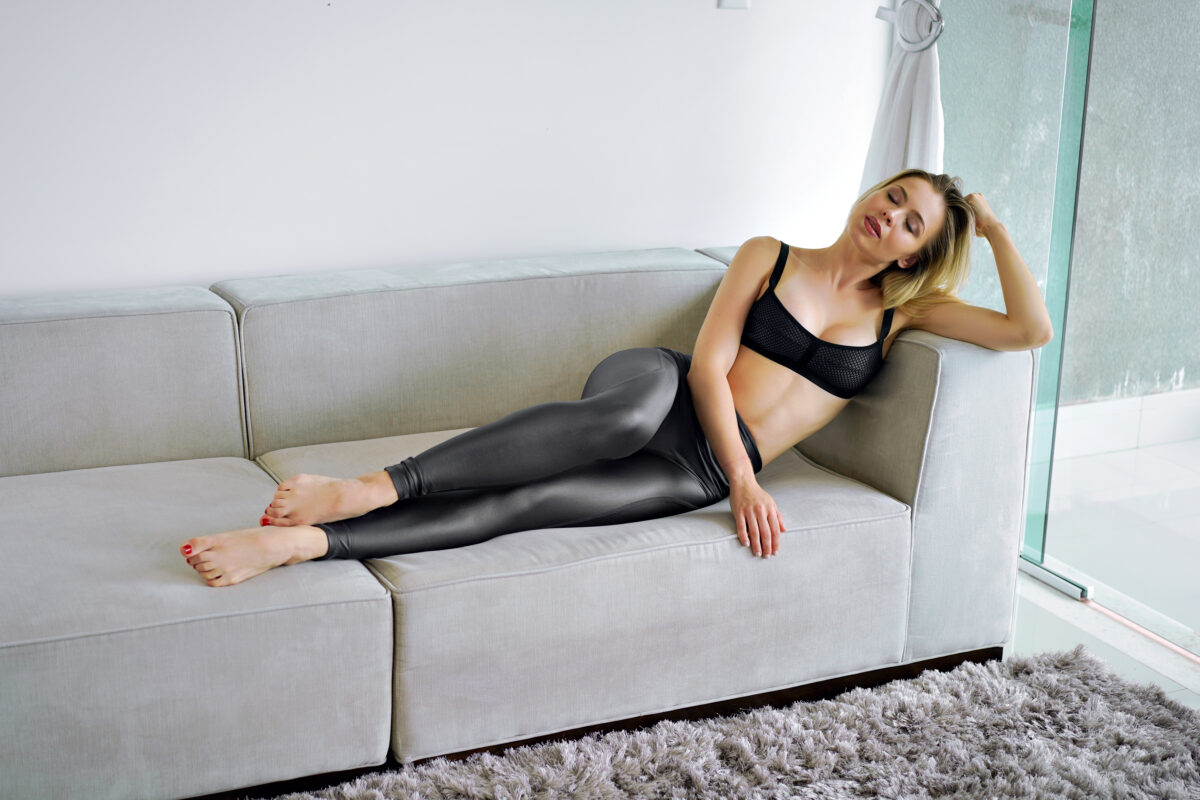 Heeled Boots and Cable Knit Jumper
Combining heeled boots, a cable knit jumper, and shiny leggings can create a chic and contemporary outfit perfect for a cool day. The shiny texture will contrast nicely with the soft texture of the cable knit jumper. Opt for high-waisted leggings to elongate your silhouette and define your waist. 
Choose a slightly oversized jumper to balance the form-fitting nature of the leggings. Go for a neutral color like beige, gray, or black for a more subdued look, or opt for a bold color if you want to make a statement.
You can also wear a pointed-toe or almond-toe boot to add an edge to the outfit. If you're wearing ankle boots, make sure the leggings tuck seamlessly into the boots or sit right above them.
Chelsea Boots and Dogtooth Coat
If you love a sophisticated and polished ensemble, combine the leggings with a dogtooth coat and Chelsea boots. These leggings provide a sleek and edgy contrast to the classic pattern of the dogtooth coat. The classic black and white pattern of the dogtooth coat can act as the outfit's statement piece. 
Regarding coat length, a longer coat can look incredibly chic with the leggings. Choose a simple, solid-colored top to balance the outfit since you're pairing bold leggings with a patterned coat. A crisp white blouse, a soft cashmere sweater, or a solid-colored turtleneck can work great. 
Compliment the coat without competing with its pattern by going for tops with neutral shades like black, white, or gray. Even if Chelsea boots with neutral colors like brown can still work, black leather or suede tend to look more sophisticated with this outfit. 
Crop Top and Puffer Jacket
Pairing a crop top, puffer jacket, and leggings can create a trendy, street-style-inspired look. The glossy finish of the leggings will add a sleek edge to the entire ensemble. Pair the crop top with high-waisted leggings to highlight the narrowest part of your waist.
Although you can play with crop top colors and patterns for a bolder statement, neutral tones like black, white, or gray can help to keep the look cohesive. The puffer jacket adds volume and texture to the outfit, contrasting the fitted nature of the leggings. 
Depending on the weather, you can opt for a lighter or heavy-duty puffer. Finally, choose a jacket length that complements your body shape and weather conditions. For instance, cropped puffers can further accentuate the waist and make you flatter, while longer ones offer more coverage and warmth.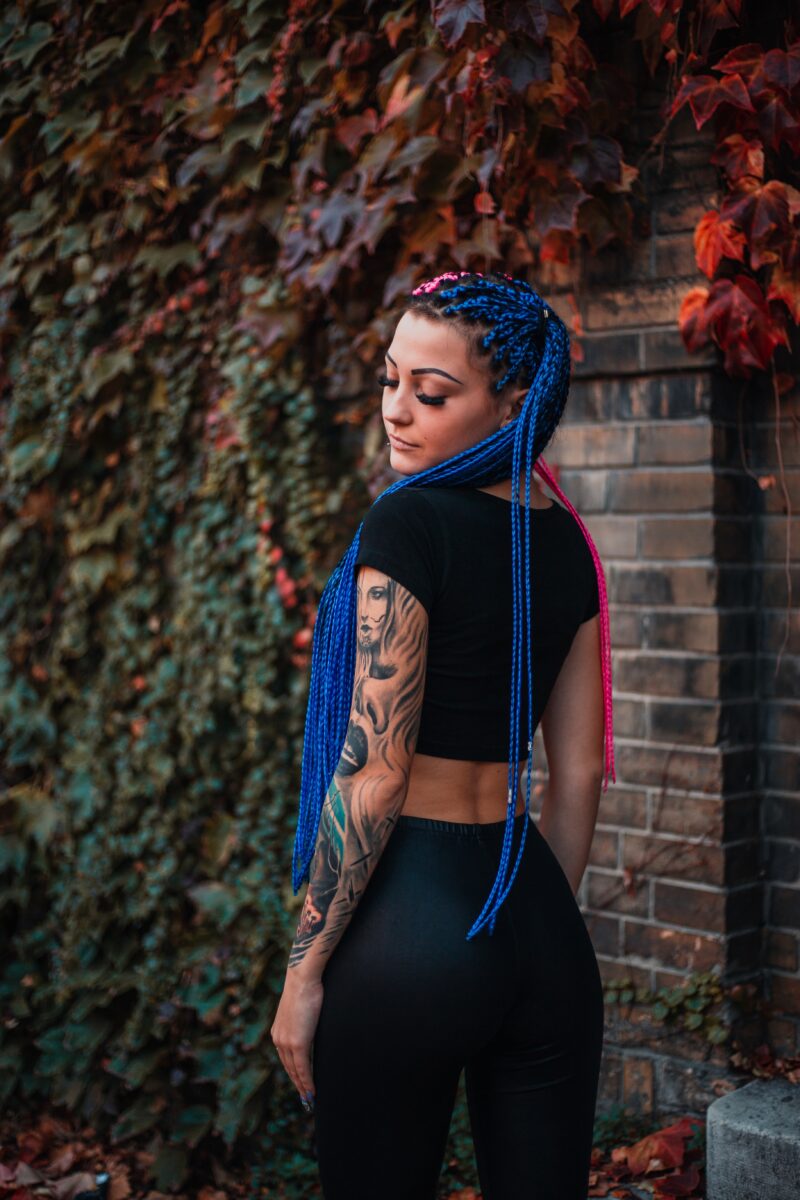 Knee High Boots and Printed T-Shirt
Wearing these leggings with knee-high boots and a printed t-shirt can create a stylish and edgy outfit for a night out. You can wear the t-shirt tucked in, tied at the waist, or even an oversized shirt resembling a mini dress.
Consider the theme of the print when selecting other accessories. For instance, a vintage band tee can lend a rocker vibe to the ensemble. Regarding footwear, knee-high boots are the statement piece that will take the outfit to a new level. 
Leather or suede boots can add a touch of elegance, while a chunkier heel can introduce a bolder, more street-style flair. The boots overlap with the leggings, or there can be a small gap, showcasing a bit of your leg.
A Shacket and Trainers
A shacket is like a hybrid between a shirt and a jacket. Pairing a shacket, trainers, and these leggings creates a casual yet fashion-forward look perfect for running errands. Underneath the shacket, wear a simple tee or a thin long-sleeve top, depending on the weather.
Choose a shacket that complements the leggings' glossy appearance, such as a solid-colored shacket, or one with a subtle pattern like plaid or checks. If the shacket is oversized, tuck the front part into your leggings. Opt for sleek, low-profile trainers in neutral shades for a streamlined look.
Chunky Trainers and Bomber Jacket
Wearing these leggings with chunky trainers and a bomber jacket can create an urban outfit perfect for a relaxed day out. Depending on the weather, you can opt for a classic nylon bomber, a quilted version, a velvet bomber, or a satin bomber for a luxe touch. 
The chunky trainers provide comfort and a trendy vibe. The ribbed cuffs and hem of the bomber jacket will complement the chunkiness of the trainers. However, you must ensure the trainers don't clash with the bomber jacket's color.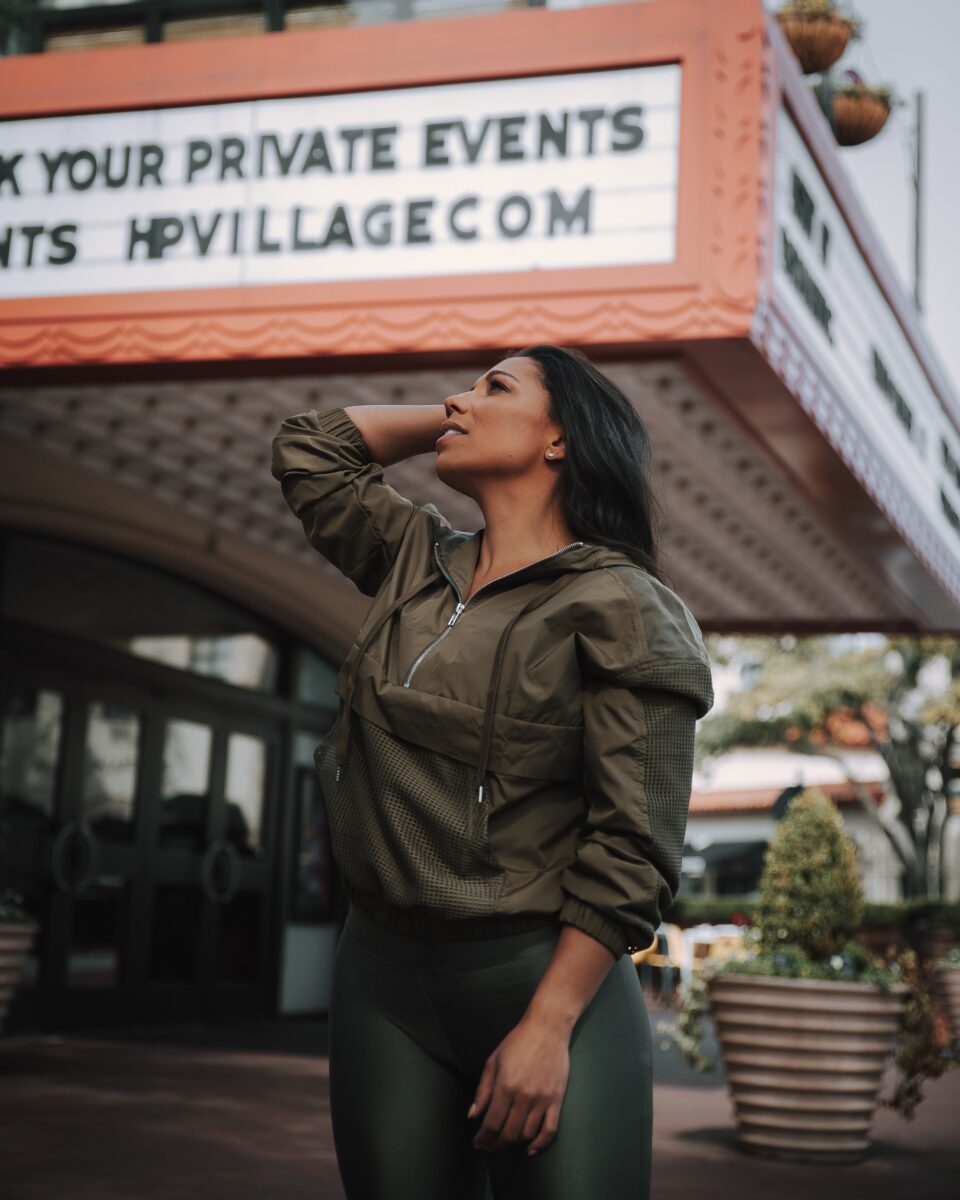 How to Accessorize When Wearing Wet-Look Leggings
Since these leggings have a glossy and sleek appearance, the goal is to accessorize them in a way that complements and enhances their bold nature without overwhelming the overall look. Depending on your outfit, you can use the following accessorizing tips. 
Opt for a sleek clutch or a crossbody bag with metallic accents to add some sparkle
If the rest of your outfit is simple, consider statement earrings or a chunky necklace
If your leggings have belt loops, you can wear a chunky or studded belt to give an edgy feel or a thin, delicate belt to provide a touch of elegance
You can drape around your neck a lightweight scarf in a complementary color for added flair
If you are wearing bracelets, you can pair them with a chic wristwatch 
Related Questions 
How Can I Prevent My Leggings From Appearing Too Flashy?
You can prevent these leggings from appearing too flashy by combining them with muted and matte textures or neutral colors. For instance, a soft cashmere sweater or a cotton blouse can balance out the glossiness of the leggings, making the outfit harmonious.
Are There Body Types That Particularly Suit Wet Leggings?
These leggings can be worn by anyone, irrespective of body type, as long as you style them correctly. For instance, if you want to accentuate curves, you can wear them with a crop top.
On the other hand, you can pair them with tunics to offer a balanced look if you want a more subdued look.
Can I Wear Wet Leggings to Formal Events?
Final Thoughts 
Whether running errands in the town or going for a night out party, these wet look leggings outfit ideas will help you choose an outfit that matches the occasion and weather. The right outfit generally depends on whether you want more coverage or to show your curves.