As an Amazon Associate we earn from qualifying purchases.
Although leggings are almost like tights, they are thicker, making them comfortable and warm. Learning how to wear leggings can help you take advantage of their versatility and wear them at home, when running errands in the town, when meeting friends, during outings, and at work.
How to Wear Leggings
Although leggings are made from varying fabrics such as polyester spandex, cotton, fleece, and cotton lycra, they are generally stretchy, and you won't need fastenings to fit. Usually, this makes them flexible and versatile as you can wear them at night or during exercises.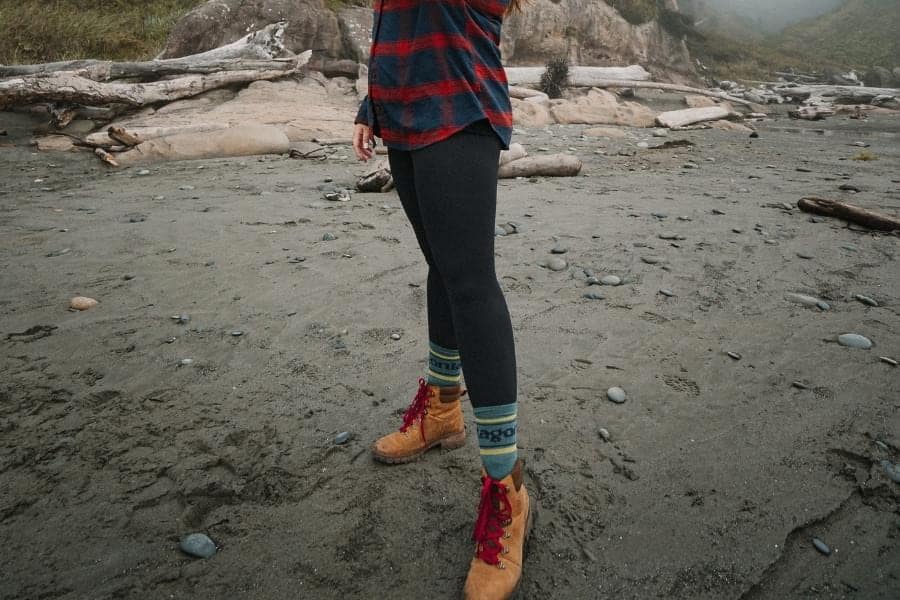 However, even with a large collection of the best leggings on the market, you might not know which leggings to combine with a certain outfit. You might not even know whether to wear too loose or too tight leggings for you to look formal or flattering.
You might be confused about whether to wear the leggings as tights under other garments or to wear them as pants. Depending on your preference, the material of the leggings, and whether you want to wear the leggings as casuals or official clothing at work, you can use the following tips to wear leggings.
Go for the Right Size
Size is one of the most crucial aspects you need to consider when wearing leggings, as it can make you look flattering, casual, or somewhat official. Although most leggings are stretchy and can fit people of different sizes, there are optimum sizes that don't look too tight or too loose.
You can know the right leggings size by taking into account your body weight measurements and then checking the leggings' inseam and hip and waist measurements. The best size is not too tight to trace the body celluloid or too loose to make you look sloppy.
However, if your size is between two sizes, it's advisable to go for the larger size rather than the smaller one. For instance, consider going for L if your size is between M and L. In most cases, you will want to wear tight leggings under other garments for protection and warmth.
Match the Length With the Outfit
Like pants and tights, leggings come in varying lengths. Although the best length depends on your preference, you can use the following tips to choose a leggings length that will make the outfit look put together.
Full length: This is the length of the most common leggings, with the leggings extending below your ankle. Although it might vary with height, this length gives you soft pleats around the shins. The best outfit for this length includes flowing boho tops, tunics, and long Indian Kurtis.
¾ length: The length of leggings is above your ankles, stopping at the calf muscle. This length is flattering and great for wearing under longer dresses or tops. However, this length is more casual than the full length.
Ankle length: Usually, this is the most versatile length, and you can wear these leggings with a wide array of clothing, including capes, coats, jackets, tunics, slip dresses, and all kinds of shoes.
Knee length: Knee-length leggings reach around the knee area, making them flexible and comfortable. Usually, these leggings are for gym workouts, hiking, walking, yoga, or running.
Match the Colors
Even with the best leggings fabric, size and length, you might still look awkward if you don't match its color with the outfit. However, this doesn't mean that the leggings' color should be the same as the dresses'.
Instead, if the dress or tops have multiple colors, you can match one of the colors, especially if the dress and top design and colors look complicated. In the same way, you can wear a pair of colored leggings and a solid-colored dress that matches one of the leggings colors.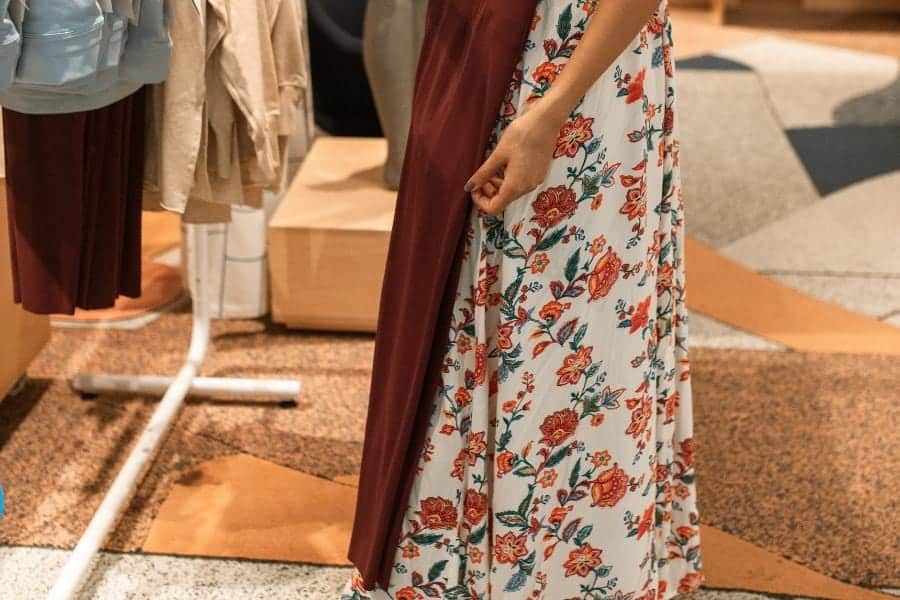 Pair the Leggings With the Official Outfit
Different workplaces have different dress codes, and some might allow people to put on leggings to work. However, even the most lenient ones might not want their employees to wear provocative clothing.
The best way to put on leggings without looking flattering or provocative is to pair them with an official outfit. For instance, you can wear cotton leggings with a shift dress and tailored jacket or leggings with a solid-color skirt and loose top.
Alternatively, you can wear leggings with a long sweater, high boots, and a belt around the sweater. Remember, the outfit should be fancy without the dress or skirt falling high above the knees for the whole look to seem official.
Wear Printed Leggings for an Athleisure Look
Keeping in mind that leggings are comfortable, they are the best attire for leisure and sports. However, instead of wearing solid-colored leggings, you can have a more sporty athleisure look by wearing printed or colored leggings.
You can wear a hoodie, long sleeve shirt, and a pair of full-length leggings during the winter cold or match high-waist leggings with a colored sports bra during the warm summer weather. Even if you do not engage in workouts and exercises, this will give you a different look from the one at the workplace.
If you want to look super trendy, you can add accessories such as a pair of sunglasses, a purse, lots of jewelry, and a baseball cap. However, you don't need these accessories if you intend to engage in workouts and sports.
Important Tips When Wearing Leggings
Although leggings are comfortable and versatile, some simple leggings grooming mistakes can make you look provocative, naive, or awkward. Consider the following tips when wearing leggings, depending on the occasion and body shape.
Avoid treating leggings like trousers or jeans. That means you should not just put on leggings like pants in public without considering how you look and the occasion.
Put on leggings with seamless undergarments. That means you should avoid wearing thick underwear or thongs.
Consider your body type when going for printed leggings, especially if the top part around the buttock and waist area is printed.
It's advisable to wear leggings with skirts, long tops, or dresses that are at least below the hips to avoid exposing the butt.
Regardless of the fabric, it's not advisable to iron or wash leggings with warm water as steam can reduce their elasticity and make them too loose.
It's not advisable to put on leggings when going for holiday parties, job interviews, or formal settings such as meeting with parents or weddings.
Although leggings are elastic and you can wear slightly oversized or undersized ones, get a professional to take your measurements, so you don't end up with excessively undersized or oversized leggings.
Tips on How to Wear Leggings
| Tips | What to do |
| --- | --- |
| Tip 1 | Look for right size |
| Tip 2 | Match the length with the outfit |
| Tip 3 | Match the colors |
| Tip 4 | Pair them with official outfit |
| Tip 5 | Wear printed leggings for an athleisure look |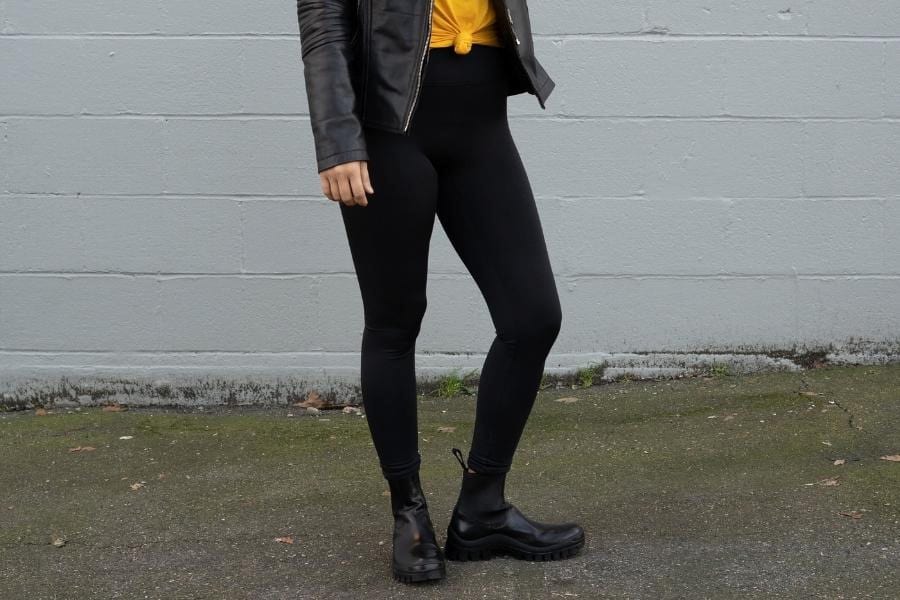 Frequently Asked Questions
What Are the Best Shoes to Wear With Leggings?
Leggings are versatile, and you can wear them with a wide range of footwear, from ballerinas and winter boots to pumps and flip-flops.
However, the leggings might not look great when wearing them with strap sandals and gladiators. Like the length of the leggings, remember to consider the occasion when choosing the footwear with leggings.
Can I Wear Leggings if I'm a Plus-Sized Woman?
You can put on leggings even if you are a plus-sized woman, as long as the leggings are your size. Keeping in mind that the problem region is usually below the abdomen down to the thighs, you only need to ensure the top covers this area.
Typically, this keeps you stylish while camouflaging your celluloid.
Can I Wear Leggings During Winter?
You can put on leggings during winter for added warmth and protection against the elements. Since leggings are thicker than tights, they are the best choice for wearing as undergarments instead of tights.
Consider wearing fleece leggings, a pair of boots, and cashmere sweaters.
What To Wear & NOT Wear With Leggings / Fashionable Leisure, Casual & Dressy Outfits With Leggings
Final Thoughts
Learning how to wear leggings will help you know how to use them for added warmth during winter, comfort during summer, an official look when at work, and an athleisure appearance during sports and outings. You only need to know the right size, height, and outfit that matches your leggings.