As an Amazon Associate we earn from qualifying purchases.
Are you curvy and self-conscious about wearing leggings? Leggings can be one of the most flattering and versatile pieces of clothing as long as you know how to style them. Learning how to wear leggings plus size involves some key ideas on creating a slimming effect or drawing attention to your curves.
How to Wear Plus Size Leggings
The basic concepts of legging outfits for plus size girls include choosing a snugly yet comfortable fit, choosing complementary tops, opting for slimming colors, and drawing attention to the most flattering parts of the body. Knowing how to layer, accessorize, and pick shoes are also essential in dressing up. 
If you're wondering how to begin, below are the best tips to style plus size leggings.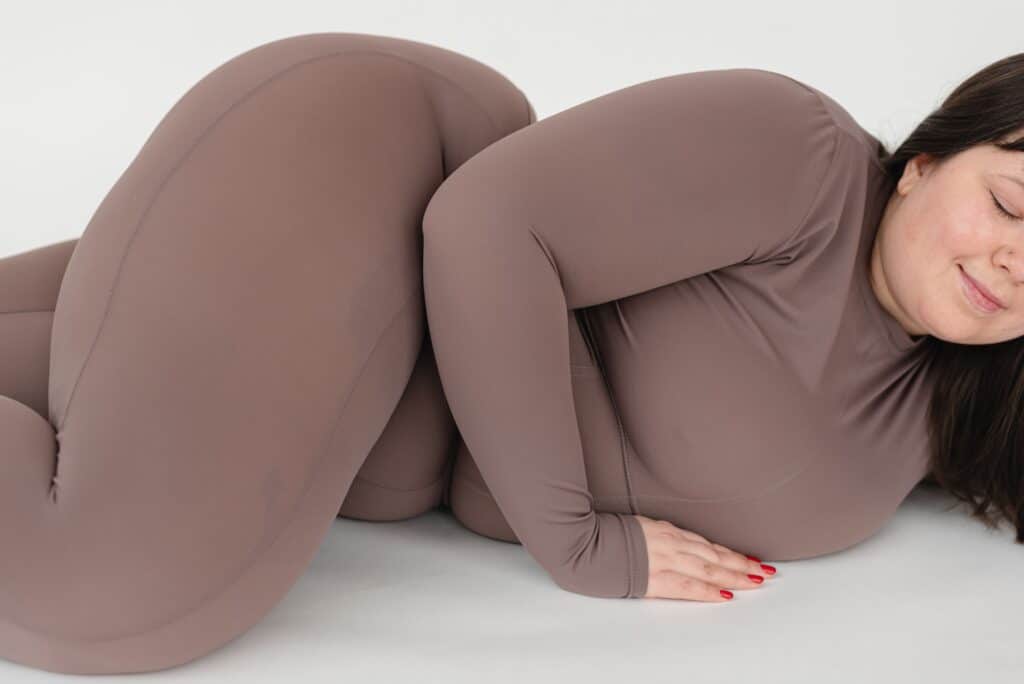 Dress According to Body Shape
When planning the best way to wear plus size leggings, it's crucial that you dress in a way that flatters your silhouette and body shape
Pear: Girls with pear-shaped bodies tend to have wide hips and buttocks. The best leggings for pear shape should highlight the waist, torso, and shoulders. Brightly-colored tops, flare dresses, and empire line tunics should help draw attention to the top part of the body.
Apple: Women with apple-shaped figures can use leggings to minimize the midsection and create the illusion of a waist. This also means wearing clothes that bring attention to the shoulders and legs. Well-fitting tops with large patterns look great with dark-colored leggings.
Hourglass: Leggings, especially dark-toned ones, can accentuate the waist further. Wear a top with a built-in belt or put on a dress and add a belt to flaunt your curves.  
Rectangle: Since the waist will have the same width as the shoulders and hips, you can pair leggings with structured or ruffled tops to create the illusion of curves. You can also opt for dresses and tops with bows or belts in the middle. 
Inverted Triangle: Ladies with shoulders wider than the hips may be more gifted in the chest and legs. This makes leggings perfect for those who want to focus on the slim legs. Stick to neutral-toned tops and fitted jackets to reduce the shoulder width.
Invest in Quality-Made Leggings
It's important to choose leggings with substantial fabric that won't put you in an awkward position when sitting or bending. It would be best to wear plus size leggings that can provide support while letting you show off your beautiful curves.
Likewise, wear leggings with a wide elastic waistband that sits flat against your mid-section and smoothes out bumps. The waistband should stay in its position no matter how you move.
Find Your Fit and Length
The length and fit are vital aspects when thinking about how to wear plus size leggings. A tighter fit won't automatically make you look thinner, which is why you must consider your actual measurements. The right leggings should fit snugly throughout the hip and leg without emphasizing the stomach.
In any case, full-length leggings are suitable for most body sizes and shapes. Ankle-length pairs add height, especially when paired with heels. Be cautious with short and mid-calf leggings as they can make you look shorter.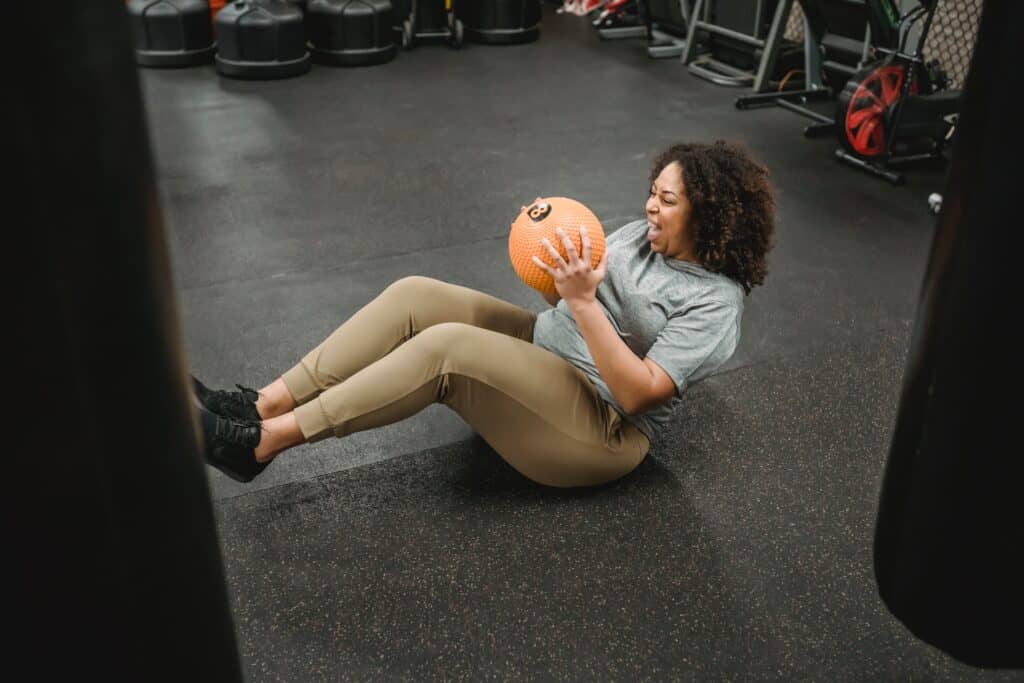 Choose Slimming Colors
If you want to choose colors that make you look thinner, it's best to stick with black and dark colors for slimming effects. Try wearing a top with the same hue as the leggings to create a monochromatic yet slender look. Make sure to add texture or accessorize to prevent a dull combination.   
You can still add a single pop of color using tops. Partner dark-colored leggings with a colorful or printed top. Do the opposite by wearing solid yet brightly-toned leggings then put on a neutral-colored top.  
Draw the Eye to One Part of the Body
The key to wearing plus size leggings is to draw attention to only one of your assets at a time. 
For instance, wearing black leggings is the best chance to put on a top that accentuates a small waist or flatters the bosom. If you want brightly-colored leggings, then it would be better to keep the top half more modest. 
Avoid Baggy and Short Tops
Girls tend to pair leggings with loose-flowing shirts that cover the buttocks and front. While this may also apply to plus-sized women, you must be careful how baggy the top looks, since they can add bulk to your figure. Additionally, consider wearing longer tops to protect your backside. 
Pay Attention to Footwear
Level up your plus size legging outfits by wearing fancy footwear or high-heeled shoes. When you want to dress down, you can opt for flats, boots, running shoes. Regardless, pick shoes that have the same color as your leggings to make the legs look longer.
Learn How to Layer and Accessorize
Curvy women who wear plus size leggings can do well with minimal accessories like chunky bracelets and statement necklaces. Bring a bag that's proportionate with the body shape. 
Aside from that, layer with ponchos, jackets, and knee-length cardigans. If you want to draw attention to the face, add a scarf or earrings.
| Tips | How to style plus size leggings |
| --- | --- |
| Tip 1 | Dress according to your silhouette |
| Tip 2 | Buy quality leggings |
| Tip 3 | Choose a comfortable fit |
| Tip 4 | Opt for slimming colors |
| Tip 5 | Draw attention to the most flattering body part |
| Tip 6 | Choose complementary tops |
| Tip 7 | Pick the right footwear |
| Tip 8 | Layer and accessorize accordingly |
Frequently Asked Questions
Can You Wear Plus Size Leggings as Maternity Leggings?
Yes, you can wear plus-size leggings as maternity leggings. Maternity leggings are regular leggings that are stretchy and have a high waistband to support the belly.
On the other hand, plus-size leggings are uniformly stretchy and designed to suit curvy and masculine bodies. This allows them to fit pregnant women without exerting excessive pressure on the belly. However, this depends on your body shape.
Can Men Wear Plus Size Leggings?
Yes, men with masculine bodies, such as bodybuilders, can wear plus-size leggings during casual occasions or during workouts to enhance performance.
Just like women, men can style up the plus size leggings with outfits such as jean jackets and hoods.
What Should You Not Wear With Plus Size Leggings?
Plus size leggings are tight and stretchy, and you might look awkward if you pair them with formal tops.
For instance, a fancy blouse, shimmering top, or a loose-fitting dress might not match well with the leggings as they look more formal than the plus size leggings.
11 Ways to look chic in leggings
Conclusion
While there are fashion rules to guide you, it's also essential that you feel comfortable and confident in following them. Stand straight, hold your head up, and wear your leggings with poise.