As an Amazon Associate we earn from qualifying purchases.
It's hard to compete against black leggings when it comes to pants that provide versatility and comfort. It's the reason I've fully embraced leggings as a classic staple in my wardrobes. Yours would be sorely incomplete if you didn't have a pair of classic, black leggings folded in one of your drawers, so I've got the best black leggings to remedy the situation.
Top Black Leggings Reviews
As you'll see day in and day out, season after season, fashion is in love with black. It's one of the most constant things you'll see on the runway and in the streets. The many variations of black leggings, like the best ones I've picked out, won't leave you without a new outfit opportunity.
If you want my final vote (without all the reading), I choose Calvin Klein Modern Essential Power Stretch Legging as the best pair of black leggings.
Brand
Calvin Klein Modern Essential Power Stretch Legging
Prolific Health Jean Look Spandex Leggings
Leggings Depot High Waisted Leggings
Product
Materials
69% Rayon, 27% Nylon, 4% Spandex
Features
Wide waistband, Tonal seaming down legs
Shaping petite fit, Light and comfy
Machine washable with cold water
Brand
Calvin Klein Modern Essential Power Stretch Legging
Product
Materials
69% Rayon, 27% Nylon, 4% Spandex
Features
Wide waistband, Tonal seaming down legs
Brand
Prolific Health Jean Look Spandex Leggings
Product
Features
Shaping petite fit, Light and comfy
Brand
Leggings Depot High Waisted Leggings
Product
Features
Machine washable with cold water
Calvin Klein Modern Essential Power Stretch Legging
Calvin Klein is a well-known name in the clothing industry, so it's no surprise that their Modern Essential Power Stretch Leggings made it to the top of my list.
This pair primarily uses rayon, which has cotton-like characteristics that make the leggings breathable. It also creates the luxurious, silk-like feel of the leggings. The addition of spandex and nylon results in stretchy and moisture-wicking abilities that enable the leggings to remain opaque. 
Since the fit is true to size, the length falls just above the ankles. Despite the stretchiness, these black leggings don't sag, enabling you to flaunt a slim figure from the waist to the ankles. 
Along with being comfortable, these leggings are incredibly stylish. The high and thick waistband helps to flatten and flatter your waist by controlling the tummy. It almost acts as shapewear, especially if you size down to add more compression to the waistband.
These pants have tonal seaming going down the legs, which is a feature you don't typically see on leggings. While there's a prominent seam on the front side, the stitching further accentuates your slender legs. This helps to add to the overall style of the pants, and it makes them look more like real pants!
In addition, the design is ideal for both dress up and casual clothing. You can wear any length of a top without worrying about feeling exposed.
If you're planning to wear the leggings and want to show off the stylish waistband, it's recommended that you wear a bodysuit top for a sleek look. This will also ensure that you don't have distracting shirt lines imprinted and showing through your leggings.
Calvin Klein Women's Everyday Ponte Fitted Pants
Pull-on stretch legging featuring wide waistband and tonal seaming down legs
Universal match: Dress up or down no matter the season, great for spring, summer, fall and winter;...
Perfect for any occasion: Wear Calvin Klein to work, while traveling, on a night out or simply as a...
Prolific Health Jean Look Spandex Leggings
Combining the best parts of leggings and pants, Prolific Health Women's Jean Look Spandex Leggings debunks all the arguments why they can't be the same. Integrating the look of jeans into legging material and construction, this pair lets you enjoy the fashionability of jeans and non-itchy feel of leggings' cotton-blend stretch fabric.
As slimming pants, these jeans-looking leggings also provide the illusion of having skinnier thighs and legs.
While the black leggings are figure-hugging, the waistband may feel a bit loose for petite women since the fabric is mostly cotton. The leggings also use spandex, so there's still enough stretchiness for mobility. In effect, the leggings feel lighter than jeans yet a bit heavier than normal cotton leggings. 
Although tummy control isn't as great as my top pick, these mid-waist leggings make up by providing the buttocks and thighs an instant lift. Additionally, the elastic waistband doesn't give a muffin top. 
Considering all of these features, it would be best to choose your actual size, so that the hem of the ankle-length leggings remains narrow around the ankle. This style also offers Capri and knee-length versions.  
They have traditional design elements like pockets, belt loops, and exposed stitching to allow casual styling as you would have in denim jeans. All-day comfort is not unattainable as this versatile piece can go from loungewear to party-worthy with the right ​outfits.
Leggings Depot High Waisted Leggings
Some leggings turn somewhat transparent when stretched out, putting your panties or at least their outline on an awkward display.
Despite its very affordable price point, Leggings Depot's High Waisted Leggings doesn't possess that dealbreaker. It's the best black leggings. They are not see through as they're opaque enough to cover your skin in solid color.
To further emphasize my point, these are made with the same blend of polyester and spandex as in other top rated yoga pants. This solidifies the fabric without losing flexibility. Not only is the resemblance with yoga pants in the material, this pair of leggings also copy their high-rise waistband.
Even though the leggings are stretchy, this pair isn't recommendable for high-impact exercise. As long as you style these black leggings properly, you can maximize wearing them for work or at home. 
The high waistband hugs the waist to keep the leggings in place and prevent sagging, providing you with the ultimate combination of support and comfort. The best part —you can choose the thickness of the waistband without additional costs. 
Moreover, the leggings retain its opaqueness due to the fabric that stretches in all directions. As a result, you can move freely while the leggings maintain shape and solid black color. 
There's no chance of wardrobe malfunctions with this pair. They secure full coverage on your entire hips and groin area as well as the rest of your legs. These high-waisted leggings are also available in Capri style, so you'll have more ways to prepare outfits without splurging on a jaw-dropping price tag. 
Core 10 "Icon Series' Warrior Mesh High Waist Legging
Core 10 Women's "Icon Series" The Warrior Mesh High Waist Yoga Legging is a workout-appropriate pair chosen and used by real athletes and instructors. It promises ultimate performance. They will support and push you to do the best downward dog, run another mile effortlessly, or lift your leg raises higher at fitness boot camp.
Like most activewear apparel, these black leggings combine nylon and spandex to provide compression and muscle support as you exercise. With a barely-there buttery soft feel, this pair of leggings hugs and molds to your skin, allowing you to see your form in its entirety and correcting it if needed. 
Apart from the moisture-wicking material, asymmetrical mesh panels run throughout the legs to make them as airy and breathable as possible. 
The snug, yet comfortable fit, feels like a girdle. So if you need more support for the belly button area, the high waistband can do that for you. Curvy or plus-sized women will enjoy these figure-flattering leggings that offer good tummy control and make the buttocks look firmer. 
Aside from that, these squat-proof leggings won't ride up or fall in weird places. Whether you're an avid runner or a weightlifter, this pair's four-way stretch allows the fabric to move along with you. In this way, the leggings remain sturdy and reliable in intense workouts.  
With workout gear growing more popular by the minute, The Warrior Mesh will keep your workout wardrobe up to date with everyone else's. If you're looking for a staple pair of black leggings to add to your wardrobe without spending a fortune, this pair should definitely make its way into your collection of the most coveted leggings.
HUE Cotton-Blend Skinny Leg Legging
HUE Women's Cotton-Blend Skinny Leg Legging is just the perfect level between the thinness of tights and the thickness of yoga pants to be a convenient outfit accessory.
With mostly cotton and a blend of spandex, this form-hugging bottom is focused on giving your legs the perfect contouring as tights do and the warmth of leggings. They would look best underneath dresses and skirts for the retro vibe that brings back trends from the '80s.
This is another pair that primarily uses cotton, so you can guarantee wearing it results in comfort. However, there's only a bit of spandex, which means these black leggings aren't as stretchable as the others. Nevertheless, this pair also offers figure-flattering features, especially in accentuating the body's curves. 
More than that, there's an elastic waistband that still makes this pair of black leggings a reliable option if you prefer a fuzzier material than silkier ones. Such factors make these cotton leggings more ideal for casual wear and loungewear. 
It doesn't promise full transparency, which is why it fits more as an accessory to go under other garments. Yet I wouldn't completely disregard this as loungewear, especially for an affordable price. It has the perfect mix of fabric threads to make one extremely cozy and heavenly leg accessory for all seasons.
MCEDAR Faux Leather Leggings
Leggings are one of the few garments that look good in leather. Though not real leather, MCEDAR Women's Faux Leather Leggings pulls off the shiny and smooth look of the original that gives women so much edge. This one maximizes to the fashionability of leggings to the utmost level as its uplifting effect on any outfit is always instantaneous.
Like Prolific Health's leggings, it incorporates some elements of jeans, if only their stitched outlines. It adds to the charm of the leather material, which is soft, buttery, and as stretchable and comfortable as cotton-blend fabrics.
Same as nylon and spandex, the faux leather is thick and wrinkle-resistant. However, the leather doesn't make these leggings as stretchable and breathable as the other ones.
On the bright side, the leather beats the other leggings when it comes to opaqueness. There's also a soft fleece lining, which is perfect for colder days, although not recommendable for warmer weather. As long as you wash the leggings properly, you should be able to maintain the fabulous black color.
Whether you are petite, regular size, or plus size, these black leggings will accentuate the body and hug the curves. With a tummy-controlling high-rise waistband, this one could embrace your figure in a flattering shape and transform any outfit into a party or sexy mode.
MCEDAR Women's Faux Leather Leggings with Pockets...
STRECTCHY AND SOFT: The skinny pants sewn with buttery soft faux leather and a stretchy cotton blend...
SEXY AND FABULOUS: The fitted pants really hug your curves and flatter your body. The high waist...
SUIT FOR ALL SEASONS: During the warmer months, you could head to brunch by pairing the pleather...
Features to Look For in the Best Black Leggings 
If there's a wardrobe staple every woman can agree on, regardless of personal style, it's a pair of black leggings. Since it's essential to have more than one pair, these are some ways for you to score the most beautiful black leggings.
Comparing Black Leggings Features
| Leggings | Pockets | Closure type | Inseam (inches) | Moisture-wicking |
| --- | --- | --- | --- | --- |
| Calvin Klein | No | Pull on | 32 | Yes |
| Prolific Health | Yes | Button | 27.5 | Yes |
| Leggings Depot | No | Elastic | 27 | No |
| Core 10 | Yes | Pull on | 27 | Yes |
| Hue cotton | Yes | Elastic | 29 | Yes |
| Mcedar | Yes | Zipper | 26.8 | Yes |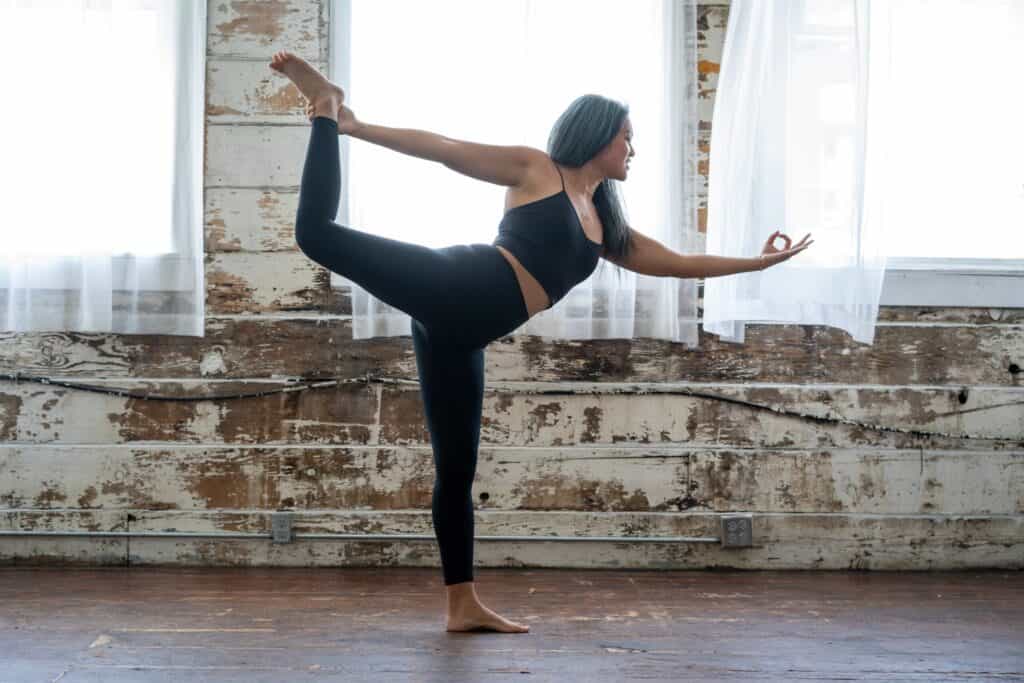 Opaque Fabric 
Fabric plays a key role in the comfort, functionality, and color of the leggings. When picking the best black leggings, consider these points in relation to the material:
If you want sweat-wicking, stretchable, and more durable leggings, opt for fabrics like nylon, spandex, and polyester. 
For those who prefer superior breathability and comfort, although, at the expense of less compression, plant-based fiber such as cotton and rayon may be more appropriate.
There's thicker fabric like faux leather in case you value resistance to wrinkles and stain over anything else. 
Even if the leggings use thin synthetic and plant-based fabrics, that doesn't mean they lack opaqueness or will end up becoming see-through. As long as the leggings stretch as you move, the material should evenly spread out to retain its black color.
Size and Fit
Aside from the kind of fabric, the size and fit also impact opaqueness. If your usual pants size is large, there's a chance that an extra small pair of black leggings would stretch too much, to the point that your skin tone will show. 
Besides, the leggings would be useless if you don't choose the right size. Leggings should be able to snug across the buttocks, thighs, and calves. Depending on the waistband, it should control your stomach without giving you an unpleasant appearance.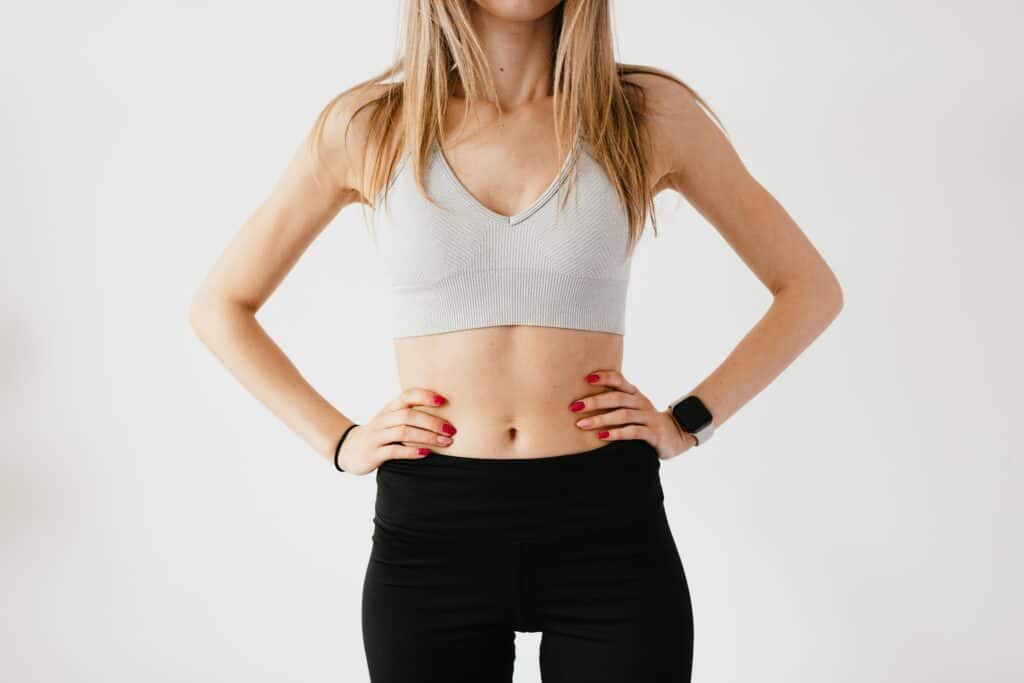 With that said, it's advisable for you to take actual measurements of the waist, hip, and inseam. Then, crosscheck the measurements against the sizing chart of the black leggings you're eyeing. 
Stretch
Leggings can stretch in two and four ways, and these help determine whether a pair is see-through or not. Two-way fabric stretches either lengthwise or widthwise, yet won't pull in both directions at the same time. This is common for plant-based fibers, which is why they tend to wrinkle easily. 
On the other hand, four-way stretch materials, like synthetic, enable you to move freely as they stretch in all directions. This aspect will make you feel more comfortable as the leggings recover by snapping back into the original shape quickly. 
Most leggings have a four-way stretch due to the combination of synthetic and plant-based fibers. So, even if your chosen pair mainly uses cotton or rayon, it would still have an exceptional stretch because of other blended synthetic materials. 
Frequently Asked Questions
Can I Wear Black Leggings in Summer?
Yes, you can wear black leggings in summer. Although black tends to absorb more heat than lighter colors, most leggings are made of moisture-wicking fabrics such as nylon and polyester.
This allows them to pass sweat from your skin to the outside for evaporation, creating a cooling effect.
What Can I Pair With Black Leggings?
Black leggings are versatile, and you can pair them with a wide range of outfits. For instance, you can go neutral by pairing them with neutral-colored tops such as white, gray, and black.
On the other hand, you can make your outfit look cheerful by pairing the leggings with brightly-colored tops.
Can I Wear Black Leggings at the Workplace?
Yes, you can wear black leggings at the workplace as long as the organization allows the wearing of leggings. Generally, black leggings look more formal compared to brightly-colored or patterned leggings.
However, consider the organization's dress codes as they might have specific leggings colors you should wear.
7 WAYS TO STYLE BLACK LEGGINGS | CLASSIC CHIC OUTFITS
Conclusion
Black leggings don't need any defense to confirm their status as must-haves in women's wardrobes. With the example set by these various types of black leggings, there's no reason for you to believe they're mundane. If anything, these could be the solution to your uninspired outfits as they open up new pairings with each and every ​shoe and top you own.