As an Amazon Associate we earn from qualifying purchases.
Although the glossy allure of leather leggings was undeniable, I usually wondered what I could pair them with to look trendy and sophisticated. Through trial, and error, and a hint of fashion serendipity, I've finally learned how to style these sleek wonders. Facing the same dilemma? Buckle up, and let's dive into some of the best Spanx faux leather leggings outfit ideas.
Spanx Faux Leather Leggings Outfit Ideas
Faux leggings are made from synthetic materials such as polyurethane. This gives them the sheen of the conventional leather from animal skin. Like many Spanx products, these leggings are designed to shape and contour the body, offering a flattering fit.
Due to their stylish appearance and comfortable fit, you can wear them in casual settings, such as running errands or grabbing coffee, and more dressed-up scenarios, like nights out or parties. You can try out the following outfit ideas with these leggings to look fashionable and blend well with the occasion.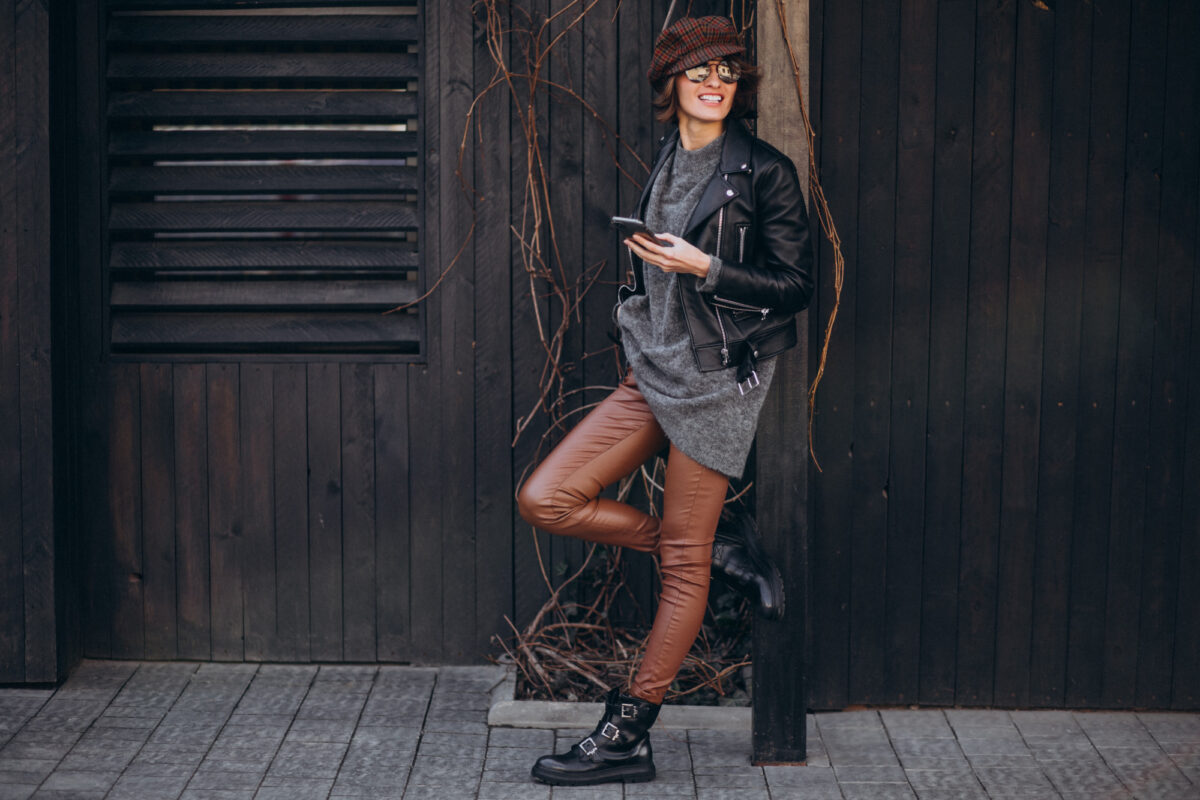 Converse Sneakers and a Plaid Blazer
Pairing Converse sneakers with a plaid blazer and these leggings creates a blend of casual and chic elements, making the outfit great for a casual day out or brunch. Wear a simple, form-fitting solid-colored tee or tank top tucked into the leggings. 
This will provide a neutral base and let the blazer and leggings be the stars of the outfit. Opt for a blazer that isn't too boxy, so you maintain a sleek silhouette to complement the leggings. Wear classic Converse sneakers, like the white Chuck Taylors, to keep the outfit casual.
Combat Boots and Oversized Button Down Blouse
An outfit of combat boots, an oversized button-down blouse, and these leggings offer an intriguing blend of relaxed and sleek aesthetics. Choose an oversized button-down blouse in a neutral shade like white, black, or beige. 
You can partially tuck the blouse into the leggings or let it hang loose. For a more defined silhouette, you can knot the front ends of the blouse at the waist.
The classic black combat boots are a solid choice as they lend a robust, street-style edge to the outfit. Depending on the season and the vibe you're going for, you can opt for ankle-length boots or ones that go up to mid-calf.
Black Booties and Camel Sweater
Pairing black booties, a camel sweater, and these leggings creates a sophisticated outfit perfect for fall and winter. Opt for an oversized or slouchy camel sweater for a cozy feel. The warm tone of the camel contrasts beautifully with the sleekness of the black leggings.
If the sweater is too long, consider doing a French tuck to allow some definition at the waist without losing the relaxed vibe. Wearing a pair of heeled black booties helps elongate the legs and adds a touch of elegance. For a more casual look, go for flat or low-heeled booties.
For chillier days, consider adding a lightweight scarf with a pattern or color that includes tones from the camel sweater to tie the look together. If you need an extra layer of warmth, wear a longline coat in a neutral shade, such as beige, gray, or black.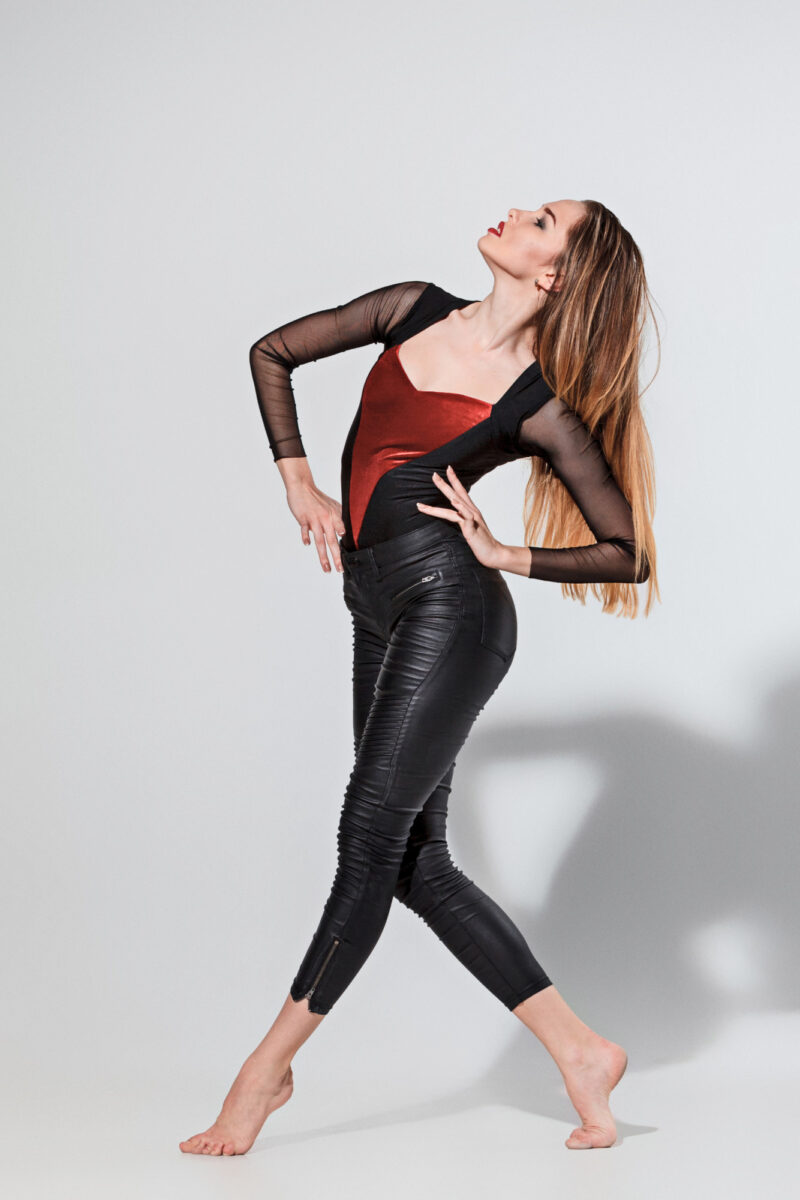 Flat Booties and Moto Jacket
If you love urban sophistication, consider pairing flat booties, a moto jacket, and leather leggings to bring together elements of rock-chic edginess. Start with a basic solid-colored tee or a thin-knit sweater tucked into the leggings. 
Wear a black or deep-toned moto jacket as the statement piece of your ensemble. If you want to lighten the outfit, consider a suede moto jacket in color like taupe or beige. Look for one with classic zipper details and a belt for an iconic biker look.
Choose ankle-length flat booties, preferably in black or dark, to streamline the look. You can then make the outfit more sophisticated using the following accessorizing tips.
A layered necklace or a choker that complements the neckline of the tee or sweater beneath the moto jacket
Minimalist earrings, such as small hoops or studs, so they don't clash with the jacket's detailing
Tousled waves or messy bun hairstyle 
Denim Jacket, Plaid Shirt, and Converse Sneakers
Combining these leggings with a denim jacket, plaid shirt, and Converse sneakers creates a casual yet trendy ensemble that exudes a laid-back vibe. Go for a plaid shirt with traditional colors like red, black, and green to get a classic feel. 
Opt for an oversized shirt and then tuck the front part. However, if the shirt is just slightly oversized, let it hang loosely. Choose a classic blue denim jacket and ensure it's not too oversized to complement the leggings' slim profile. 
The leggings will offer a sleek contrast to the textures of the denim and plaid, modernizing the casual vibe of the rest of the outfit. Finally, maintain the relaxed feel of the outfit by wearing classic white or black Chuck Taylors.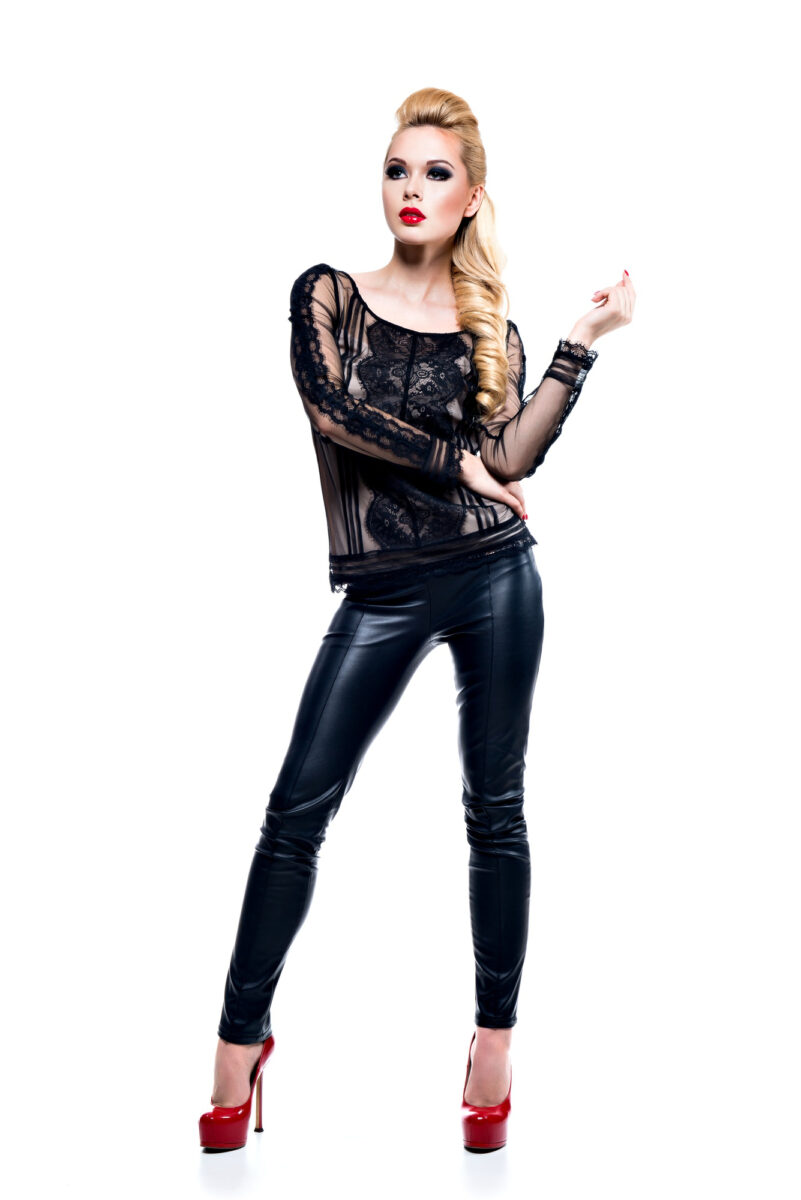 Dad Sneakers, Vintage Sunglasses, and College Sweatshirt
Whether you want an outfit for going for casual lunches, hanging out with friends at a mall, or attending a daytime concert and casual sporting events such as a local basketball game, then consider combining your Spanx faux leggings with dad sneakers, vintage sunglasses, and a college sweatshirt. 
Wear a slightly oversized college sweatshirt for a comfortable, relaxed feel. The nostalgic and collegiate vibe of the sweatshirt offers a fun contrast to the modern faux leather leggings. The glossy texture of the leggings juxtaposes nicely with the casual feel of the sweatshirt.
Enhance the nostalgic vibe by choosing chunky dad sneakers from popular brands like Fila, Nike, and Adidas. Opt for a pair of sunglasses with a distinctive retro design, like cat-eye frames, oversized round lenses, or even aviators, and then accessorize as follows.
Go for a simple, understated backpack or a crossbody bag that fits nicely with the casual theme of the outfit.
Add some minimalist jewelry like hoop earrings, a dainty necklace, or a couple of bracelets
If the weather is cooler, consider wearing a beanie to further enhance the relaxed college vibe
Do natural makeup, focusing on a fresh complexion with a hint of blush, a swipe of mascara, and a tinted lip balm
For hair, you can let it flow naturally, put it up in a casual bun, or add a headband for a touch of retro chic
Related Questions
Do Spanx Leggings Only Come in Black?
No, Spanx has diversified its offerings, and you can get leggings of varying colors, such as deep green, port navy, and red. However, due to its versatility, black remains the most popular choice.
Can I Wear a Bodysuit With Spanx Leather Leggings?
You can wear a bodysuit with Spanx leggings to create a sleek and streamlined silhouette. One of the main advantages of wearing a bodysuit with these leggings is that it stays tucked in, eliminating bunching and wrinkling that might occur with regular tops.
Is There a Specific Season I Should Wear These Leggings?
Since faux leather finish tends to be warmer, these leggings are ideal for wearing during the cooler months of fall and winter.
However, when you pair them with season-appropriate tops like breezy blouses or tank tops, you can wear them during spring and the cooler evenings of summer.
Final Thoughts 
Whether you're dressing for a casual day out or a night on the town, faux leggings are versatile, and you only need to pair them with the appropriate top and footwear. The above Spanx faux leather leggings outfit ideas outline different outfits for varying vibes, occasions, and weather conditions.