As an Amazon Associate we earn from qualifying purchases.
Leggings are already loved by many because of how comfortable and versatile they are. But, leather leggings? They take the game to a whole new level.
Most women love dressing up in some faux leather leggings whether going to the mall or heading for work. That's the thing with this type of leggings. They're chic and edgy and give your leggings look a little more sophistication.
What to Wear With Leather Leggings
Leather leggings have a more classic and sophisticated vibe than just the regular athletic leggings. When wearing leather leggings for a night out on the town, you can pair them with elegant pieces such as tunic-length camisoles, button-downs, oversized sweaters, and structured blazers and vests.
Your leather leggings outfit also looks more stylish if you go all neutrals, It also doesn't hurt if you opt for a pop of color sometimes.
The regular leggings made of polyester, nylon, or spandex might be more on the casual side. Leather leggings are made to look more professional and still comfortable enough when worn.
Some women wear them when they go to work. This is true especially when they want to take advantage of the comfort and coziness leggings give off while still looking neat and professional.
Pieces to Pair With Leather Leggings
Because leather leggings are so versatile, you can pair them with almost anything in your closet. However, if you want to look more polished, you may opt to mix and match. Use structured pieces with varying types of textures. Scroll through this list to find some ideas that could work for you:
Blazer
Structured blazers are perfect for your leather leggings. You can just wear a simple black cami or sweater underneath the blazer as a top. You will definitely look like you took time to actually think about your overall outfit. Add on some minimalist gold or silver jewelry or bangles to add personality to your outfit. Now, you're good to go!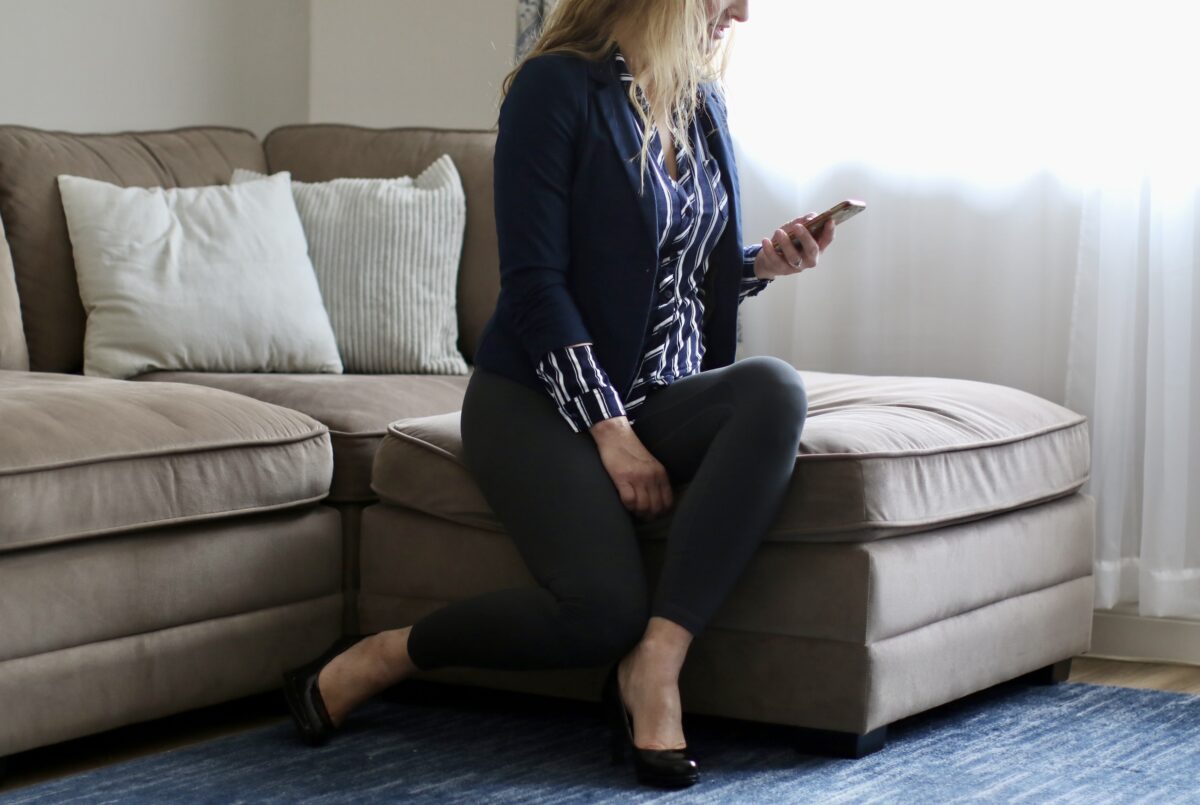 Oversized Sweater
You can see models and celebrities look absolutely fabulous with this pair. Oversized sweaters have just the perfect length to cover your buttocks area. Your leggings will look reserved and not too revealing.
This is also a great clothing option to wear with your leather leggings during the winter season to keep you snuggly and warm. Plus, you may opt to add more winter accessories. Add a beanie or thick scarves just to show that you really gave an effort for your look.
Long Tops
If you wear leggings outside of the gym, yoga class, or any other athletic activity, it is highly recommended to not wear them solely as pants. This applies especially if you're heading to work with your leather leggings.
That said, it is better to choose tops that are long enough to hide your bum. Plus, this also avoids unnecessary showing off of camel toes. These are pretty common when you're wearing tight-fitting, figure-sculpting bottoms like leather leggings.
Tunic Dresses
Tunics have been a go-to piece for women who are obsessed with their leggings. Once again, that is usually because it balances the tight-fitting shape your leggings provide. Tunic dresses also come in various styles and designs. This is an advantage as it gives you a wider variety of options.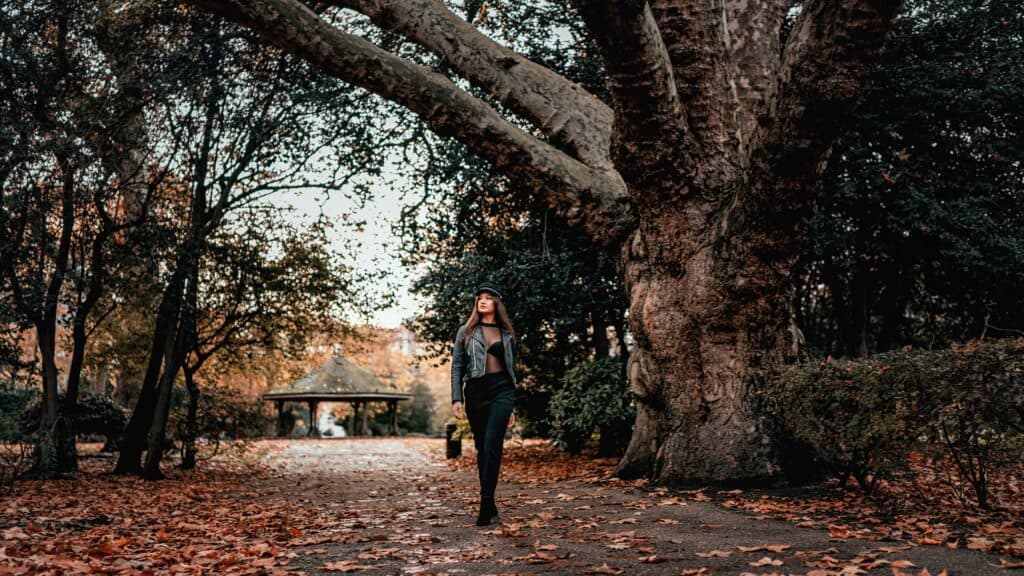 Oxford Shirt
Perhaps, you are planning to head to a more semi-formal event, a job interview, or an occasion where you need to look professional and respected. Try pairing your leather leggings with an oxford shirt or a crisp white-button down shirt. It can make you look neat and stylish in an instant.
You can dress this outfit up by rolling up your sleeves and pairing it with an oversized blazer in a plain or plaid neutral design. Just make sure your shirt is steamed or ironed to really give off that professional look.
Button-down Denim
Button-downs made of denim fabric could be more casual that the crisp, white button-down mentioned before. But, it still can be paired with your leather leggings. This works when you're just going out to buy some groceries or shop with your girl friends.
Pair with some flats or your go-to sneakers. You're off without putting too much effort in on your outfit but still looking like you did.
Structured Vest or Coat
Maybe it's cold outside or the seasons are transitioning. You may not know what the weather will be. If that's the case for you, don't forget your vest or coat.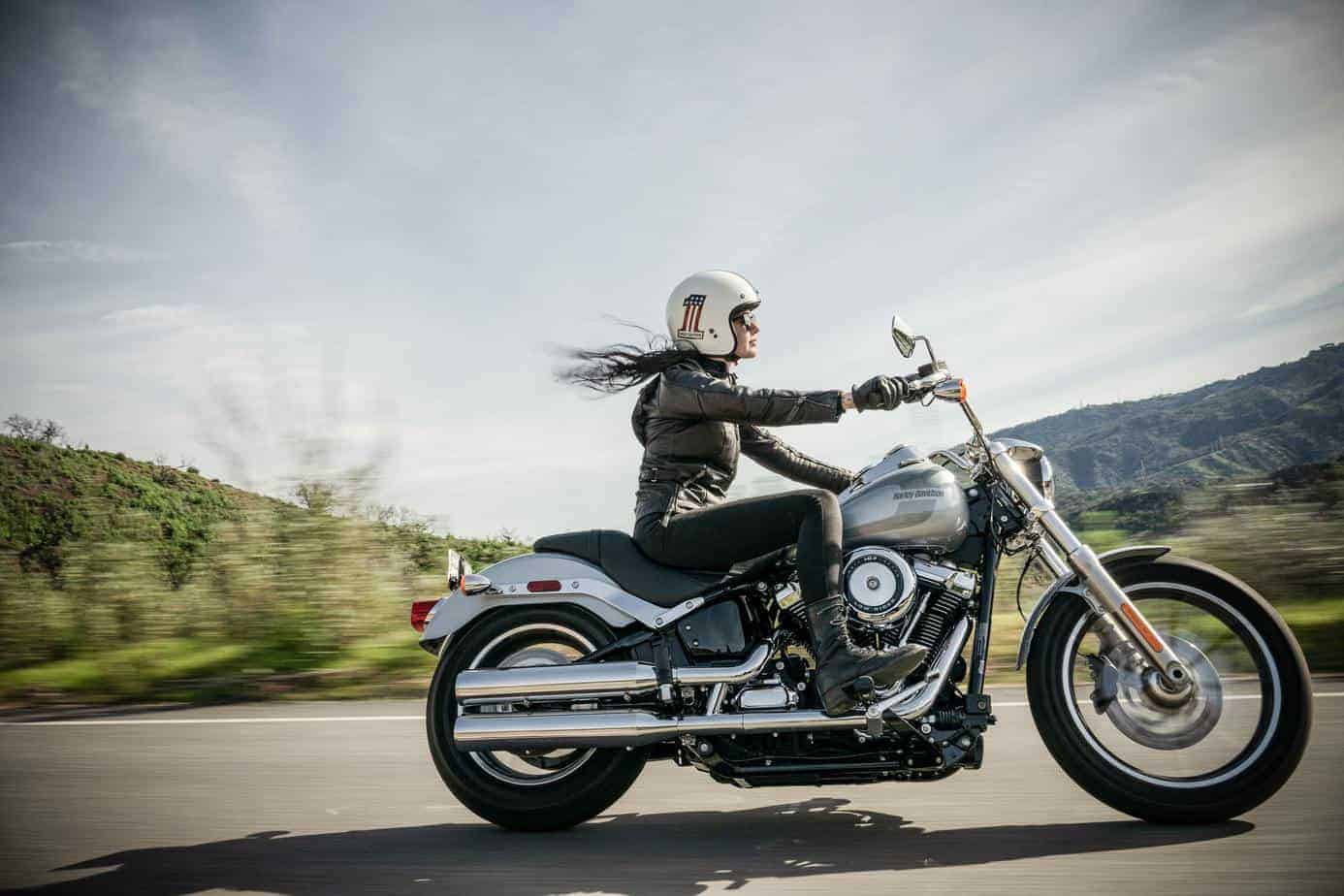 Layering is one of the best ways you can upstyle your leather leggings. Pick something that will keep you warm but will also not make you look too bulky when you're wearing it.
A great default that many fashionistas have is a beige camel coat. Pair it on top of your leather leggings and tunic-length long sleeves. This could go with flats or classic pumps as shoewear. If it's really cold, opt for boots. Can you now see just how versatile leather leggings are?
Denim Jacket
Denim jackets are as equally versatile as leather leggings are. When in doubt, you may grab your denim jacket, choose a cami that matches your leather leggings, and you're good to go.
Flannels
Want a more casual and laid back outfit? You can also try pairing your leather leggings with a flannel if you have one in your closet. This style is a little bit on the edgy side. Leather leggings are made for more edge and rock the same way they are made for chic and more reserved types.
Cardigan
Besides layering your leggings with coats or sweaters, you can also go for a long cardigan or duster for some extra warmth. This is where you can show off your personality, too. You are free to choose cardigans or third pieces in your outfit that fit your style.
For example, if you like more color, opt for those cardigans that have prints or patterns with bright colors. Otherwise, there's no problem with keeping it simple with a plain colored one!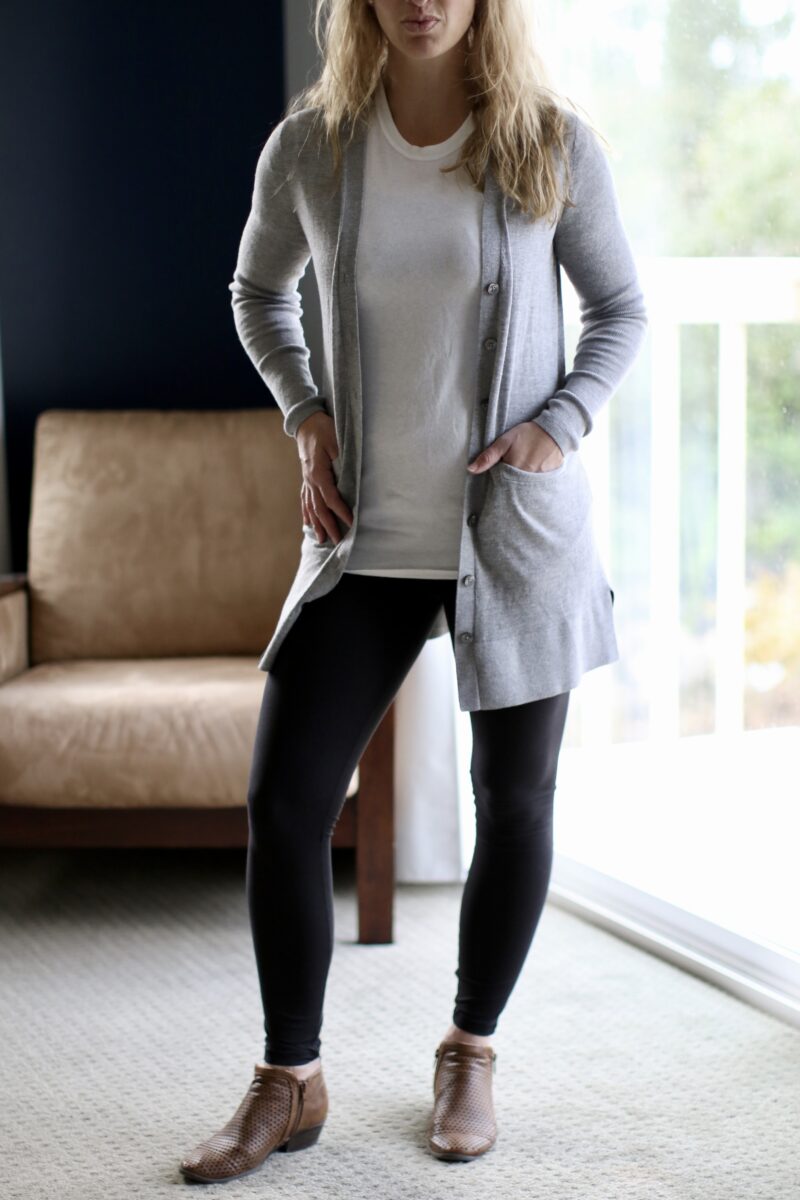 Printed Scarf and Ponchos
Accessories are also a great way to show off your personality along with the edgy vibes your leather leggings give you. Printed scarves could be an amazing way for you to add color to your whole neutral or all-black outfit.
Ponchos can also provide you additional warmth without breaking a sweat.
Kinds of Shoes to Wear With Leggings
Besides clothing pieces, you can also wear shoes that fit your leather leggings look.
This entirely depends on the place or occasion you're going to with your outfit. Usually, what works best with leather leggings are classic heels or pumps, ankle boots, flats, loafers, or sneakers if you're just planning to walk around without worrying about comfort.
Some other ideas for kinds of shoes to wear with leather leggings are the following:
Closed-toe Heels
Brown boots
Over-the-knee boots
Loafers (can be plain or printed such as leopard prints)
Ankle boots or Booties
Sneakers
Flats
How to Dress for Leggings at Work
As mentioned, leather leggings are designed as an upstyle for the regular athletic leggings. This means that the leather fabric itself gives off a more expensive, sophisticated vibes to your whole outfit when worn. You can take advantage of this especially if you're planning to wear leggings to work.
Take Note of Your Dress Code
When wearing leggings to work, it is obviously important that you consider your work environment and dress code.
People who work in the fashion industry can clearly wear whatever they want to match with the leggings. Colors in bold or neon work if that's what they prefer.
If your work is more conservative, you might not be able to wear colors or styles like that. You may be working in law, tech, finance, or other related industries. Search for more work-appropriate pieces to wear with your leather leggings.
Look Polished in Neutrals
Generally, for you to look neat and polished for work with your leather leggings, you should opt for neutral-colored pieces. Neutrals make your outfit look more refined.
Also, make sure your top's length is up to the lower part of your bum. Higher than that could make your leggings seem too revealing.
What to Pair With Leather Leggings
| Outfits | Pair leather leggings with |
| --- | --- |
| Outfit 1 | Blazer |
| Outfit 2 | Oversized sweater |
| Outfit 3 | Long tops |
| Outfit 4 | Tunic dresses |
| Outfit 5 | Oxford shirt |
| Outfit 6 | Button-down denim |
| Outfit 7 | Structured vest or coat |
| Outfit 8 | Denim jacket |
| Outfit 9 | Flannels |
| Outfit 10 | Cardigan |
| Outfit 11 | Printed ponchos and scarf |
Things to Consider when Wearing Leather Leggings
You must have some standards for your leather leggings for you to look good and feel good wearing them. After all, you should expect to wear this versatile piece for many times throughout many different occasions. Right? Here are some tips to keep in mind in relation to your leather leggings outfit: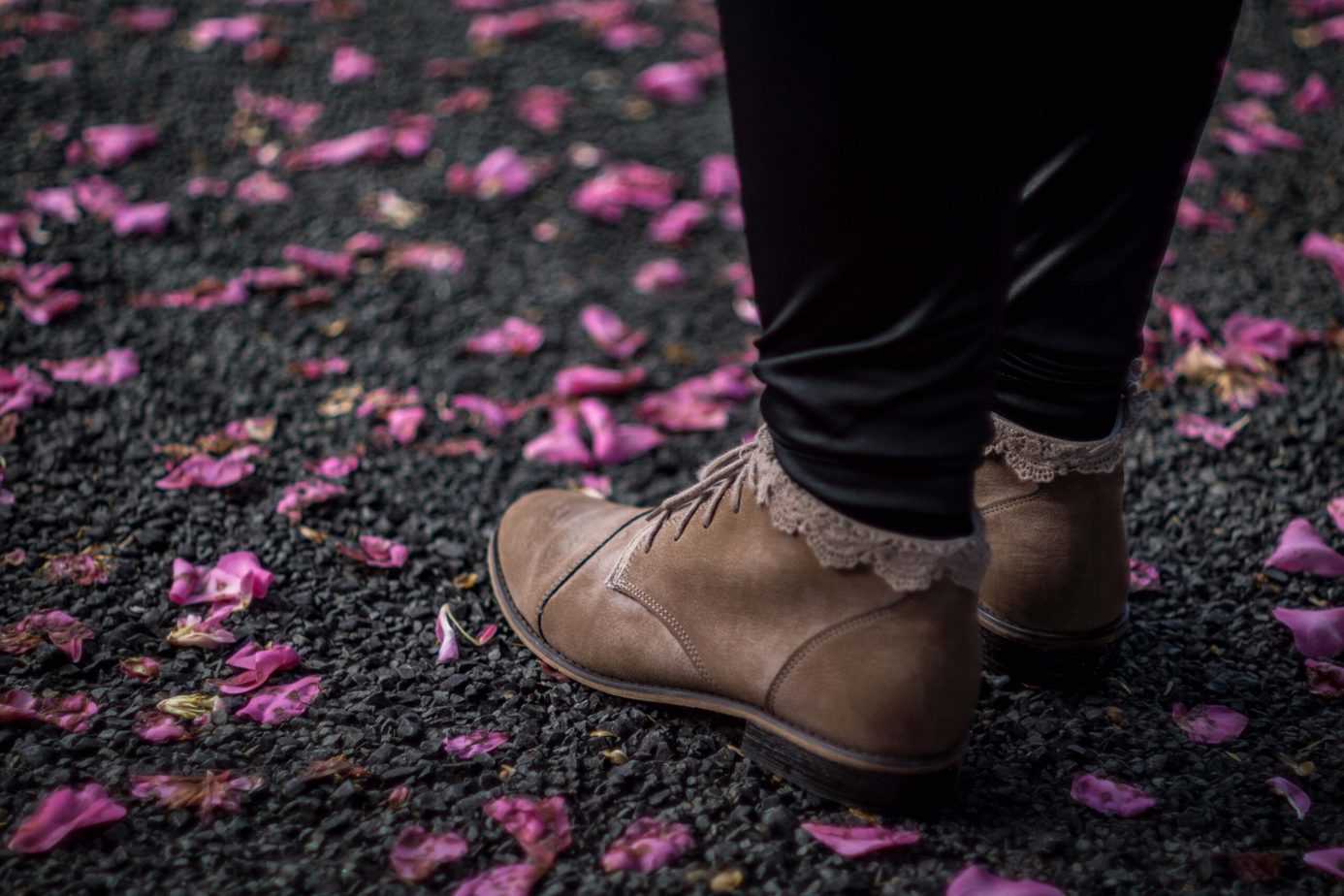 Wear Under Long Tops or Dresses
Maybe this is your first time or you feel self-conscious wearing something tight-fitting like leggings. You can lessen the awkward feeling by wearing them under long tops or dresses.
That way, they are not the main part of your outfit. They still add to the glamour of your look. You might also feel awkward when people stare at your bum. If your leggings are too tight in that area, it's better to cover it up.
Try Them On Before Buying
As much as possible, try your leather leggings on before buying. This is so you can do a mirror test and stretch out your legs. Make sure the leggings are not sheer and are not too constricting for your movements.
If you are buying online, at the very least, check the quality of fabrics they are made of. Make sure you're investing in a good piece.
Incorporate Your Personality
Don't hold back and be afraid to show off your personality and be confident when you're wearing your leather leggings. It might be possible that people may stare at you but. That's due in part to your leggings making you stand out.
Frequently Asked Questions
Can You Wash Leather Leggings?
Yes, you can wash them but there are some things to consider. It is important to take note and follow the label's instructions when it comes to washing your leather leggings.
Be cautious when washing them. This fabric is very delicate. If you find any visible stains, proceed to spot treating them first before washing.
To clean without ruining the fabric, you can either use delicate cycle on the washing machine or just wash them gently by hand. After doing so, hang them out and wait for them to dry.
Do Leather Leggings Show Cellulite?
Leather leggings are loved by many women because the fabric is exclusively made thick enough not to show cellulite.
They are not like the other leggings made of sheer fabrics which could show off your skin (or panties, in other unfortunate cases) when stretched out.
These are good if you don't want to show cellulite or you want to look conservative and reserved. If that's the case, you can definitely use the help of some leather leggings in your outfit.
Do Faux Leather Pants Stretch?
Faux leather leggings are more durable and strong compared to leather pants. They are also less abrasion- and tear-resistant than the latter.
If you own some, you can sit tight and relax that your leggings or pants are going to last longer without being too stretched or worn out.
To ensure this, you may also opt to size up at least one size when buying your leather leggings. Make sure they won't be too tight for you.
Leggings which are too tight causes the fabric to stretch and mold to your body. This means they are more prone to get loose as you wear them several times.
How To Style One Pair of Faux Leather Leggings 20 Ways | Styling Closet Basics
Conclusion
Leather leggings are so versatile. You have a wide variety of options when it comes to what to pair them with. It is beneficial to have a pair when you want to effortlessly look chic, sophisticated, and edgy. You will still enjoy the comfort and coziness when worn.