As an Amazon Associate we earn from qualifying purchases.
Denim jackets are a classic. Some women know how versatile denim fabric can be paired with various fashion pieces. The same goes for leggings as you can easily grab it from your closet. Pair them with almost any piece, and you're good to go.
How to Wear a Denim Jacket With Leggings
Combining a denim jacket with leggings, which are two versatile pieces, is a classic fashion statement. Among the many ways you can wear your denim jacket with leggings, one is a classic option. Go with the all-black look. The only exception is the dark faded color of your denim jacket as an outer layer.
Depending on your intended look, you can also wear your tees or hoodie as a top under your denim jacket. Add a baseball cap to look sporty. Pair your leggings with a silk camisole or oversized sweater to achieve the chic it-girl look.
There really are various ways you can style your denim jacket while wearing your leggings. Most usually, women go for the classic black leggings. They are considered to be one of the most versatile types of leggings. As always, you can still add in your personality. Wear some colorful leggings if it is your vibe.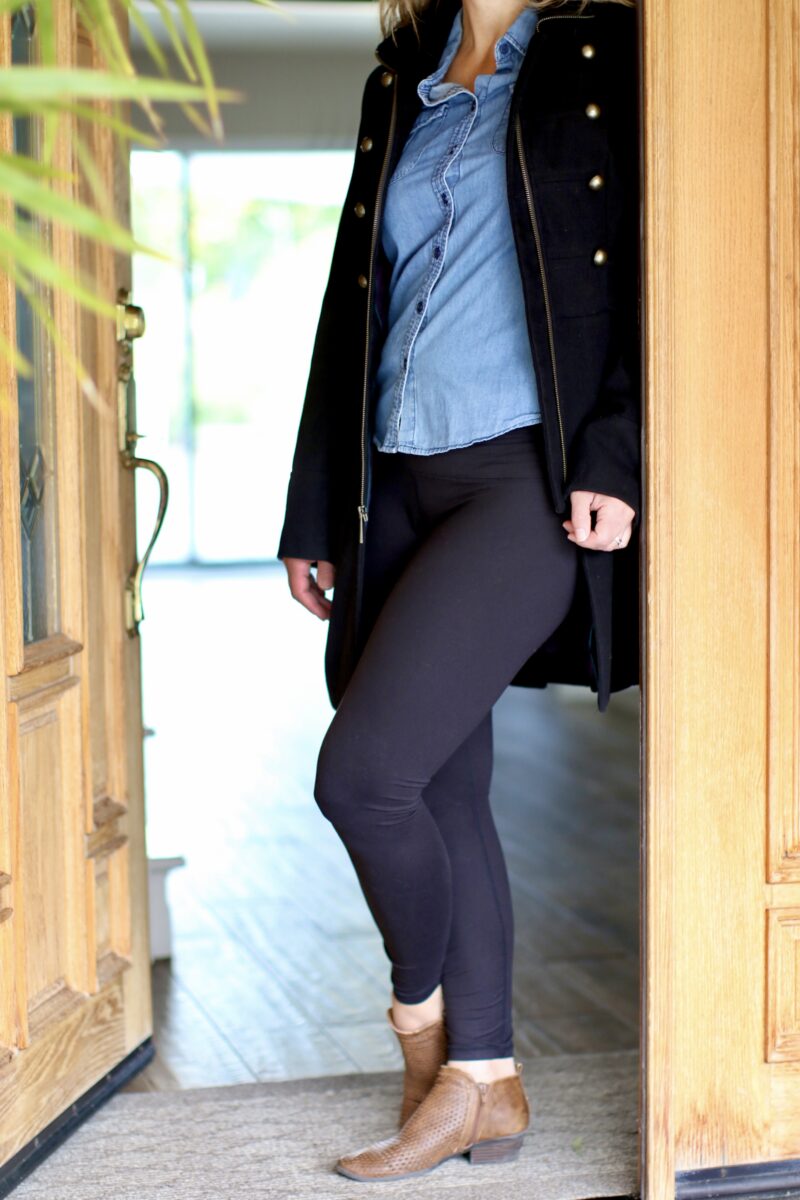 Pieces to Wear With Denim Jacket and Leggings
To give some more ideas on dressing up your denim jacket with your leggings, here is a list enumerating the various pieces you can choose to wear with the combination.
White Tee
White tees never go out of style. You can easily tuck yours into your high-waisted black pants, with or without seams, and layer your denim jacket over. You can either wear them properly or drape them over for shoulders for that casual yet fabulous look.
All Black
Go all black. This may be almost every girl's go-to fashion style. Black is a classic color that gives your body a slimming look. Wearing this color from head to toe is such a powerful yet effortless fashion statement.
Give it a color with either your dark- or light-washed denim jacket. Opt for some nude heels or ballet flats and you will most possibly mesmerize the people around you.
Rocker Shirt/Graphic Tee
If you're not into plain-colored shirts or if you're feeling that inner rocker vibe in you, don't worry. Graphic tees or rocker shirts may be the best way you can make a statement with your denim jacket and leggings outfit combo. Just make sure the color of your shirt is not conflicting with your leggings.
In other words,  keep it simple. Don't go overboard with the prints and patterns of both your tee and your leggings. The simpler, the more pleasant to the eyes.
Nautical Top
You may have seen celebrity models sporting their nautical or striped tops as an off-duty look. Clearly, you must take it from them. Besides the fact that these people are styled by the most skilled and popular fashion stylists out there, they also know that these kinds of tops always look classic and sophisticated.
We recommend you pair it with plain black leggings because. You are giving the stripes pattern and the hem of the top to stand out.
Hoodie
Planning to go out looking like the sporty girl that you are? Well, your gray hoodie could be something you'd prefer wearing as a top to your leggings and underneath your denim jacket. You may also add your favorite baseball cap on and put on your sneakers. This could already be the casual default look you may have.
Besides, layering your hoodie and denim jacket could provide you additional warmth especially during the colder seasons. This is a win-win. Right?
Cami
This style is perfect during those very casual days such as going to the grocery store or hitting the mall.
Simply pick a cami with a color that matches that of your leggings. If you're wearing black leggings, any color of your cami still looks good. Drape your denim jacket as an extra statement piece in your outfit. This is a very simple outfit and one that shouldn't be understated. When done right, it looks so fabulous.
Flannel
Flannel tops are a great item to pair with leggings. You may wear it in three different ways:
First, button up your flannel to wear it like a regular button-down top.
Second, wear a cami underneath and wear your flannel without the need to button it up.
Finally, you can wear a normal shirt and tie the sleeves of your flannel around your hips to add more style to the overall look of your leggings.
In all these options, you are free to wear your denim jacket as a layer because the denim fabric still matches them.
White Button-Down
A crisp, white button-down might also be a great way to upstyle your leggings and denim jacket outfit combination. A white button-down has some sophisticated look. It does not fail in making any woman look like they actually put an effort into their outfit.
Oversized versions of this are already a trend now. If that's not your style, you may still opt for a tailored one for a more chic, preppy look.
Oversized Sweater
If your denim jacket is quite fitted on you, it may be a challenge to layer it over an oversized sweater. However, if you have an oversized denim jacket, pairing it with your leggings and denim jacket is always a good choice.
This is a usual outfit choice many women go for during the fall or winter season. If you'd ever tried it before, you know it is for a reason.
Scarves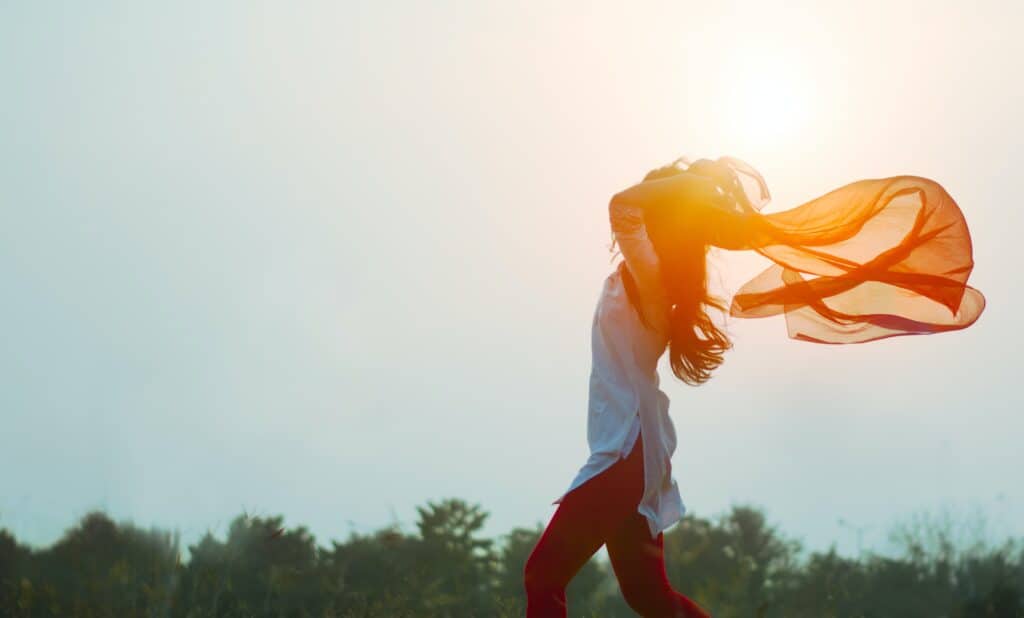 On wearing your denim jacket with leggings, you are not limited to styling it only with your clothing pieces. Remember, accessories and other statement pieces such as a handbag still go a long way.
That said, scarves are a really great way to add personality and variety to your outfit. This may work whether you are wearing plain black leggings or one with prints and patterns. This also adds extra warmth during those days when the wind is chillier than you expected.
Tips on Wearing Your Denim Jacket With Leggings
Just like wearing any outfit combination out there, there are still some tips and tricks you might want to take note. These make sure you're really going out of your house feeling confident and looking gorgeous. Here are some things you can remember when styling your denim jacket and leggings outfit combo: 
Get Different Shades of Denim Jacket
A blue dark-washed or light-washed color is usually what you think of when it comes to denim jackets. However, you are not limited to those and you sure shouldn't be. Black denim jackets are also a versatile type of denim jackets that you can pair with various leggings and tops.
Getting different shades of denim jackets also provides you more options to choose from when it comes to styling your leggings look. A black denim jacket looks good as a layer on top of your hoodie paired with faux leather leggings which will give you such a cool style.
Alternatively, a light-washed denim jacket will look a bit more casual than a dark-washed one. You will have to choose depending on where you're headed that day.
Accessorize With a Hat or a Pair of Sunglasses
As mentioned earlier, accessorizing goes a long way especially if you're looking for different ways to style your denim jacket and leggings. Depending on your mood that day or what style you're aiming for, you can choose from a variety of hats or sunglasses that you can use to emphasize your personality over your outfit.
Drape Your Jacket
Surely, you have seen fashion bloggers and celebrities drape their jacket over their shoulders and they look gorgeous doing so. If you're wondering why they do that, it is mostly because doing so will add a richer, more elite look to your entire outfit. Draping your denim jacket over your shoulders is not an exemption.
To do so, you may want to vary the fabrics of your top just so the jacket won't easily slip off. Opt for a clutch or a cross-body bag you can wear under the jacket.
Check the length of your jacket to make sure it matches the outfit and won't look awkward as you drape it over your shoulders. For example, if your denim jacket is cropped, you might want to wear high-waisted leggings in order to enhance your waistline and torso.
Go With Longer Tops
Leggings are tight-fitting athleisure pieces that usually look very casual and somehow revealing when worn in public.
For you to lessen the awkward stares of other people or even to make sure you're not feeling too self-conscious in it, you may go with tops that are long enough to cover your bum. This also helps in making you look like you're not simply just going to the gym.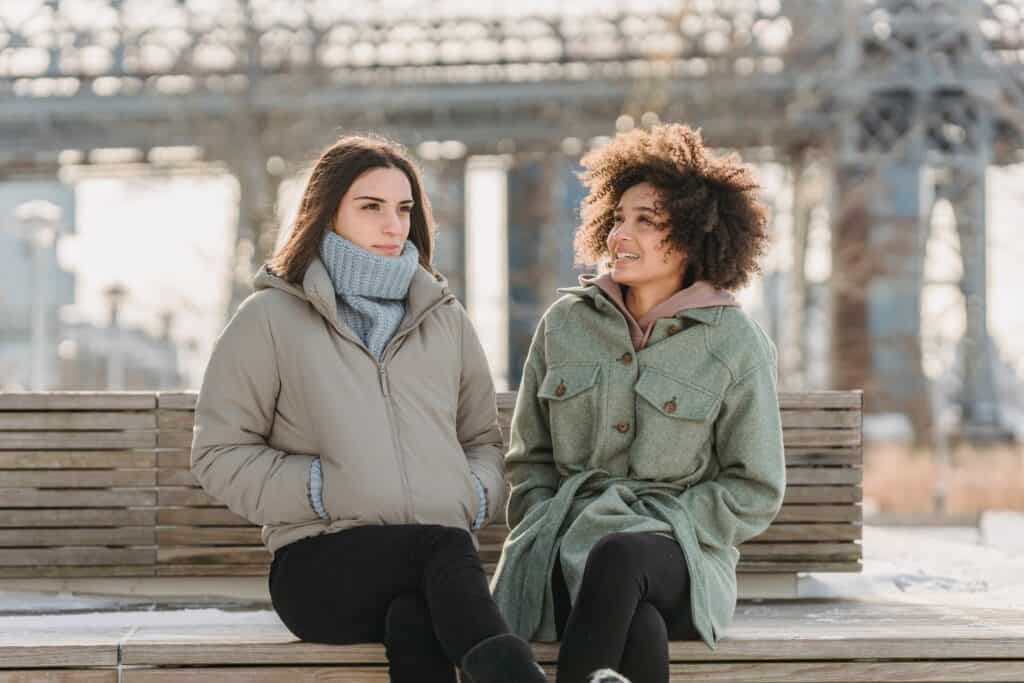 Get Yourself a Plain Black Leggings
You can have as many colorful leggings with different details and seams on them in your closet and you still might find yourself having trouble with mixing and matching them with various pieces and most especially with your denim jacket.
The solution to this is to get yourself several plain black leggings. You can throw these on whether or not you're in a hurry.
This classic type of leggings is so versatile and is probably not going out of style any time soon. It also works with every piece we listed for you above.
Wear a Nice Pair of Shoes
Shoes affect your whole look. It is clearly important you ensure your shoes match the look you're aiming for. For the denim jacket and leggings outfit combination, you can wear sneakers, loafers, or ballet flats depending on the situation you are headed to.
You can also feel free to wear heels if you prefer to look more sophisticated and you're certain you won't be walking endlessly that day.
Play Around With Your Jacket
Another tip you can do with your jacket is to tie it around your hips or waistline for that downtown-cool look. You can simply wear your favorite band shirt or white tee, tuck it in your leggings, and then tie your jacket over.
Besides adding texture to the whole outfit with the denim fabric itself, this technique also directs attention to your waistline which eventually gives you more shape.
What to Wear With Denim Jacket and Leggings
| Outfits | What to wear |
| --- | --- |
| Outfit 1 | White tee |
| Outfit 2 | All black |
| Outfit 3 | Rocker shirt or Graphic tee |
| Outfit 4 | Nautical top |
| Outfit 5 | Hoodie |
| Outfit 6 | Cami |
| Outfit 7 | Flannel |
| Outfit 8 | White button-down |
| Outfit 9 | Oversized sweater |
| Outfit 10 | Scarves |
Frequently Asked Questions
What Pants Do I Wear With a Denim Jacket?
I have made the point that denim jackets can be paired with just about anything in your closet so it clearly can be paired with any type of bottoms. Usually, denim jackets also work with dark-washed denim pants or plain or printed leggings.
Black leggings or denim pants are also a common pair when it comes to denim jackets as they can be a versatile wear-everywhere look.
What Do You Wear With Leggings in the Winter?
During the winter, you can wear your leggings with a denim jacket and layer over a bulkier, thicker coat that can give you extra warmth. Layering really is key, especially when styling your leggings in the colder seasons.
Luckily, leggings are versatile enough to be worn under different textures and styles of coats and outerwear used in layering.
Under your jacket, you can also choose long-sleeve tops or shirts that have heat technology so you can be certain that your outfit is also helping in keeping you warm and cozy.
Can the Elderly Pair a Denim Jacket With Leggings?
Generally, even the elderly can pair a denim jacket with leggings if they feel comfortable with it.
However, this outfit is more popular with young people than the elderly, and research shows it's challenging to get denim jackets that fit elderly people over 53 years.
What To Wear & NOT Wear With Leggings / Fashionable Leisure, Casual & Dressy Outfits With Leggings
Conclusion
Both denim jackets and leggings are known for their versatility. You can pair them with almost any piece in your closet. You can pair them both together as well.
In styling them, you may easily choose tops that match the look and vibe you're aiming for. Accessorizing also helps give more personality and goes a long way to make you look like you actually spent time curating your entire outfit.