As an Amazon Associate we earn from qualifying purchases.
With winter upon us, it is time to bring some much-needed changes to the wardrobe. You have to swap the light jackets for warmer ones, bring the sturdier boots to the front, and embellish them with knit accessories. However, you may still need more time to be ready to give up your beloved versatile tights!
Thus, I bring you the most stylish leggings outfit ideas for winter.
Legging Outfit Ideas for Winter
The year's coldest months force me to wrap up in the warmest layers. Fortunately, you can serve primary fashion goals while keeping warm by investing in quality leggings of good materials and meticulously styling them. These are my top outfit ideas to emulate or draw inspiration from for a stylish winter season.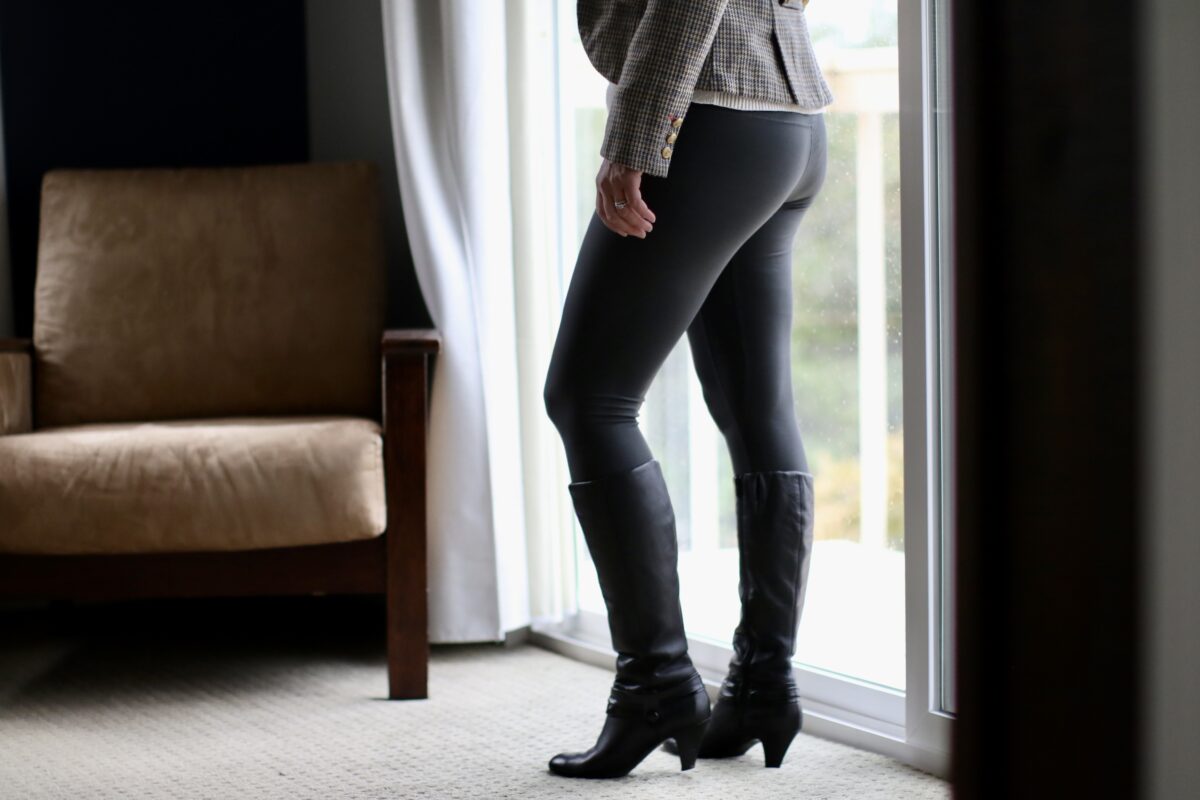 1. Faux Fur Coat, Leggings, High Heel Boots
Faux fur coats are super trendy and a welcome change from the usual solid-colored jackets. They immediately impart playfulness to your ensemble and keep you warm as well.
You can wear most tops under the coat, including a basic tee, a fancy blouse, or a roll-neck sweater.
However, I recommend keeping the inner layer simple to allow the coat to command all the attention it deserves.
Regarding footwear, you want something that complements the elegant coat, such as a pair of leather high-heeled boots.
Add large sunnies, dainty jewelry, and a leather bag for the final touches.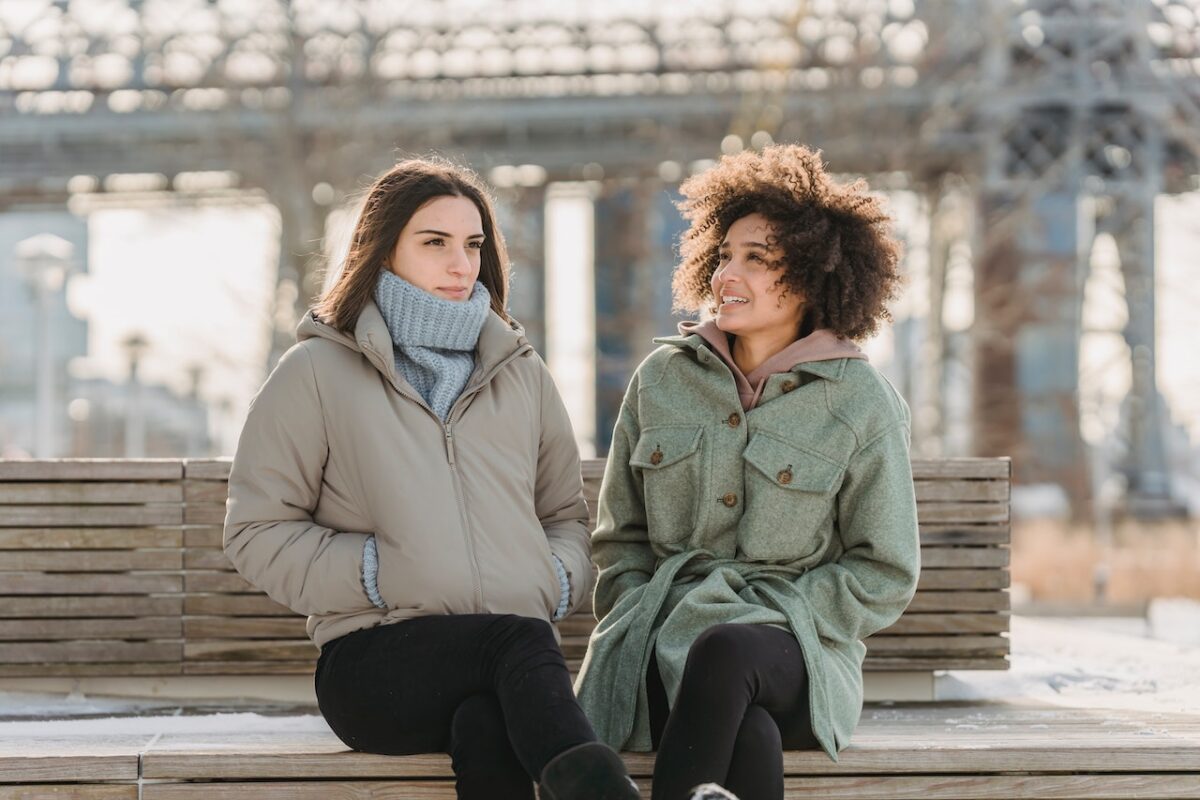 2. Quilted Jacket, Long Sweater, Leggings, Ankle Boots
Quilted jackets can look clunky if styled incorrectly. However, simple styling hacks can unveil the true potential of the unassuming jacket.
To begin with, pair it with a chic sweater of the same length as the jacket to create consistent and striking layering.
The sweater also helps you keep warm on exceptionally cold days.
Moreover, experiment with colored quilted jackets, such as moss green or navy blue. Complete your look with good-quality leggings and demure ankle boots.
Since you already have a lot going on at the top half, you should keep the bottom half simpler for a more balanced look.
3. Parka Jacket, Striped Shirt, Leggings, Lace Up Faux Fur Boots
Parka jackets continue to be in vogue due to their functionality. Moreover, they are also synonymous with street-style fashion and are often worn atop casual everyday wear for an overall elevated look.
While you can play it safe with the usual black or blue parka, I suggest experimenting with colors
Combine an olive parka with a fur-lined hood and a black and white striped tee for a causal Parisian vibe
Introduce dark brown fur-lined snow boots, a cable-knit beanie, and a chunky scarf to the mix for head-to-toe coziness. Make sure to color-coordinate the fur on your boots and parka
4. Long Puffer Jacket, Leggings, Chunky Boots
While the puffer jacket started out as a casual topper, similar to a parka, it has become a must-have winter fashion article.
Moreover, the puffer coat and leggings are a match made in heaven due to the stark yet complementary contrast.
It is a simple combination that works splendidly.
We recommended going for a longer-length jacket, which pairs better with the slim-fitting bottoms, with a belt to cinch the waist and add some curves to your silhouette.
Finish the look with chunky boots. The classy outfit idea will also keep you warm against those brutal winter winds.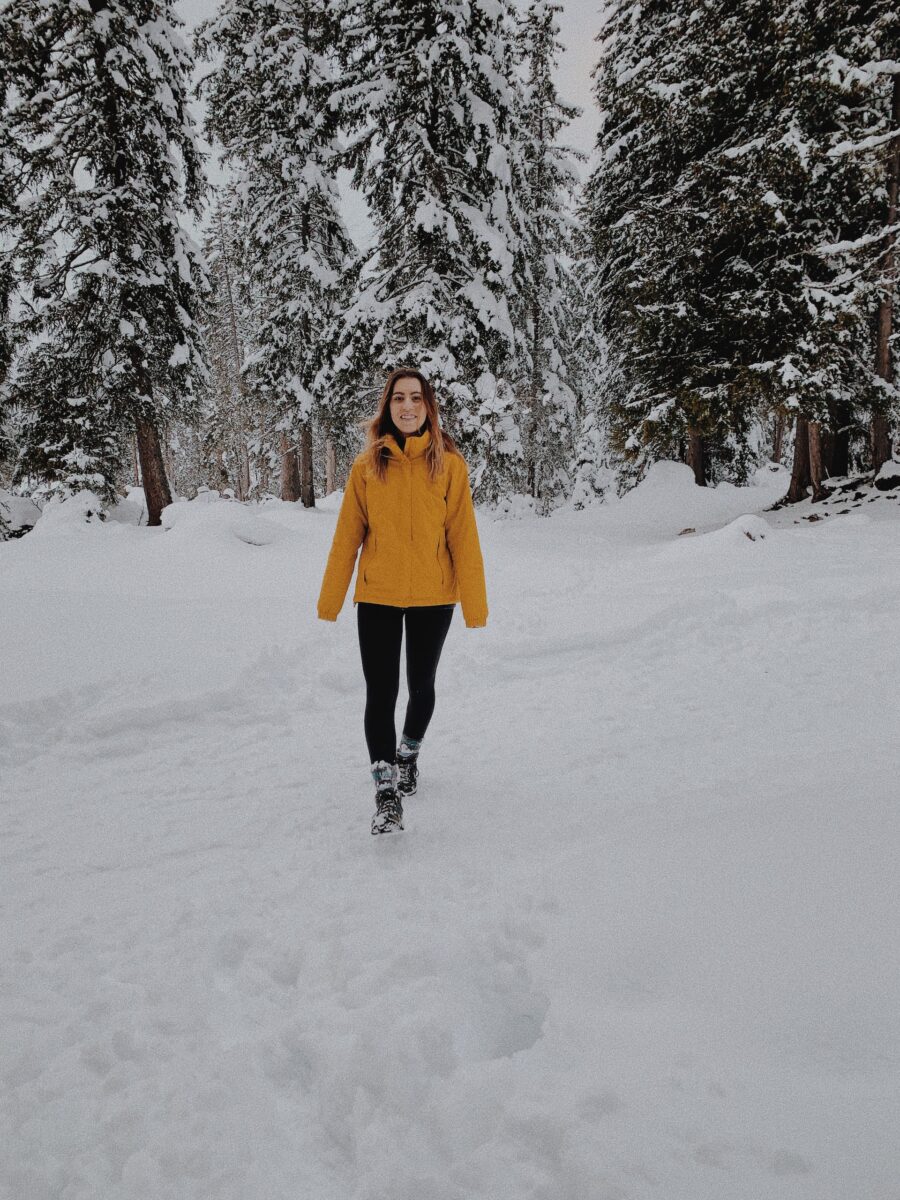 5. Grey Duffle Coat, Leggings, Festive Jumper, Knee-High Boots
Winter also means the most festive season of the year. Therefore, no winter styling list will be complete without a tasteful festive jumper to get you into the holiday spirit.
Toss a grey duffle coat on your jumper to keep yourself warm en route to your celebrations for a more polished look.
Since the coat's style and color lean towards a more refined outfit, you should pair it with leggings and modish knee-high leather boots.
Choose a high-end leather bag, the flashiest sunglasses, and leather gloves to round off the look. The entire ensemble is a great example of dressing elegantly while keeping warm.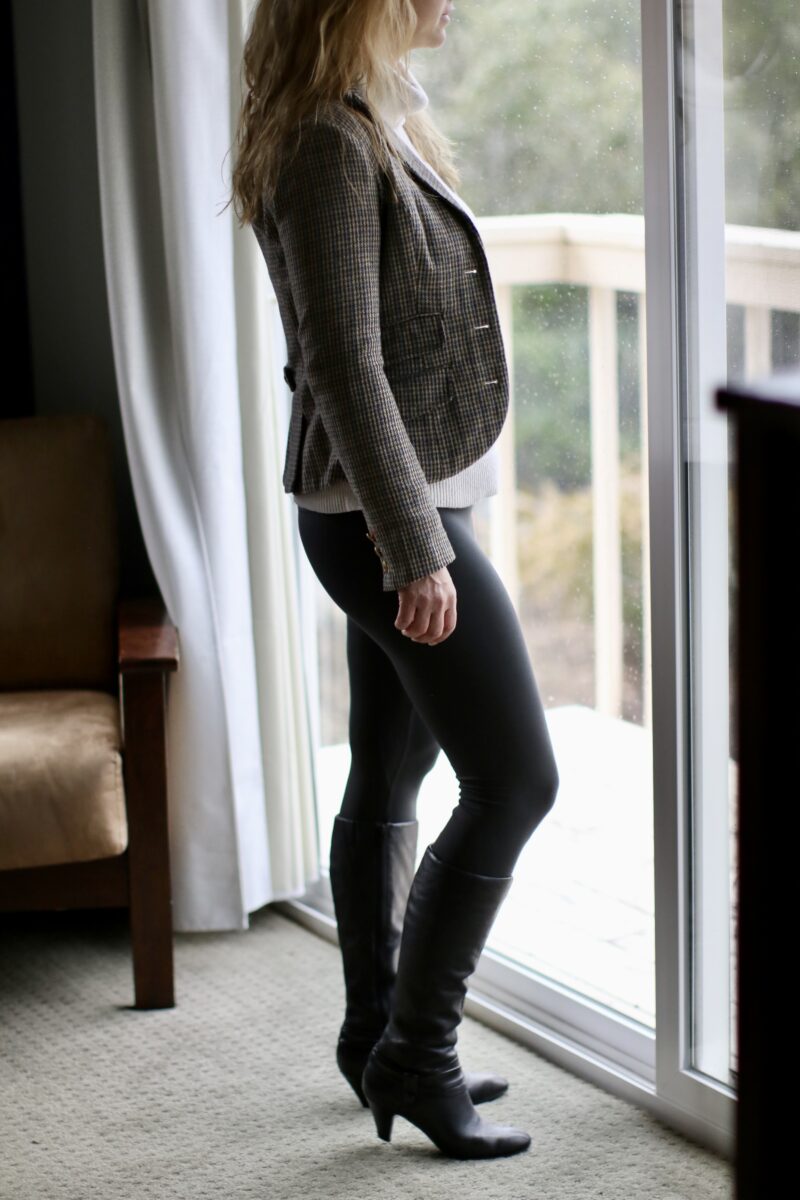 6. Turtleneck Sweater, Modern Blazer, Leggings, High Heel Boots
Another elegant attire is the fusion of the classic turtleneck sweater and the contemporary blazer. Adding a tailored blazer to your knitwear checks multiple boxes:
It immediately elevates the entire look to make it smarter and chicer
It provides you with an additional layer against the colder temperature
It allows you to play with textures and prints; you can offset a printed sweater with a solid blazer or incorporate more character with a tweed blazer
Finally, put on your snazziest heeled boots for a sophisticated, urbane end result that commands respect.
Full Disclosure: The outfit is most suited for moderate temperatures. If you want to wear it in the middle of winter, add a thermal vest under your sweater.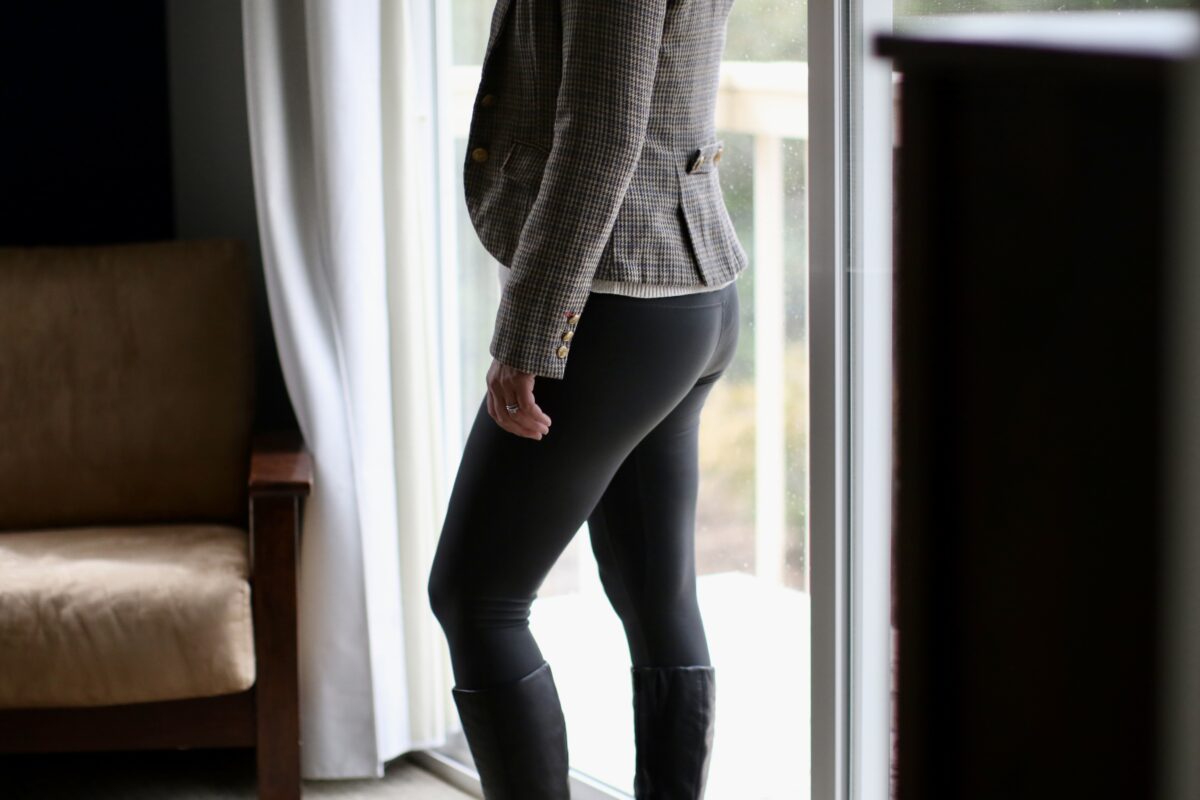 7. Wool-Blend Duster Coat, Cable Knit Sweater, Leggings, Chelsea Boots
While the versatile duster coat is often lightweight, flexible, and more suitable for moderate temperatures, the wool-blend iteration offers more protection against the elements.
It also looks as stylish as the original variety with a longline, slimming silhouette, bold lapels, and extra-large buttons for a style extravaganza.
We recommend combining a light-hued coat with a black crew-neck cable knit sweater and black leggings for an interesting clash of colors. The sweater offers further defense against the cold.
To keep the look distinguished and restrained, opt for unostentatious Chelsea boots in the same color palette as the duster coat.
8. Oversized Hoodie, Sleeveless Puffer Jacket, Leggings, Lace Up Boots
If your goal is to dress casually without compromising on your elevated style, this is the look you want to recreate.
Take your oversized hoodie that has been your companion during the endless quarantine days, and add a pair of black leggings to create your base.
While the combination is trendy on its own, you need more layers to weather the cold. This is where your sleeveless puffer comes into the picture.
Go for a monochromatic look with a white hoodie and a deep black puffer. Keep the grunge vibe going with black lace-up boots and a white baseball cap.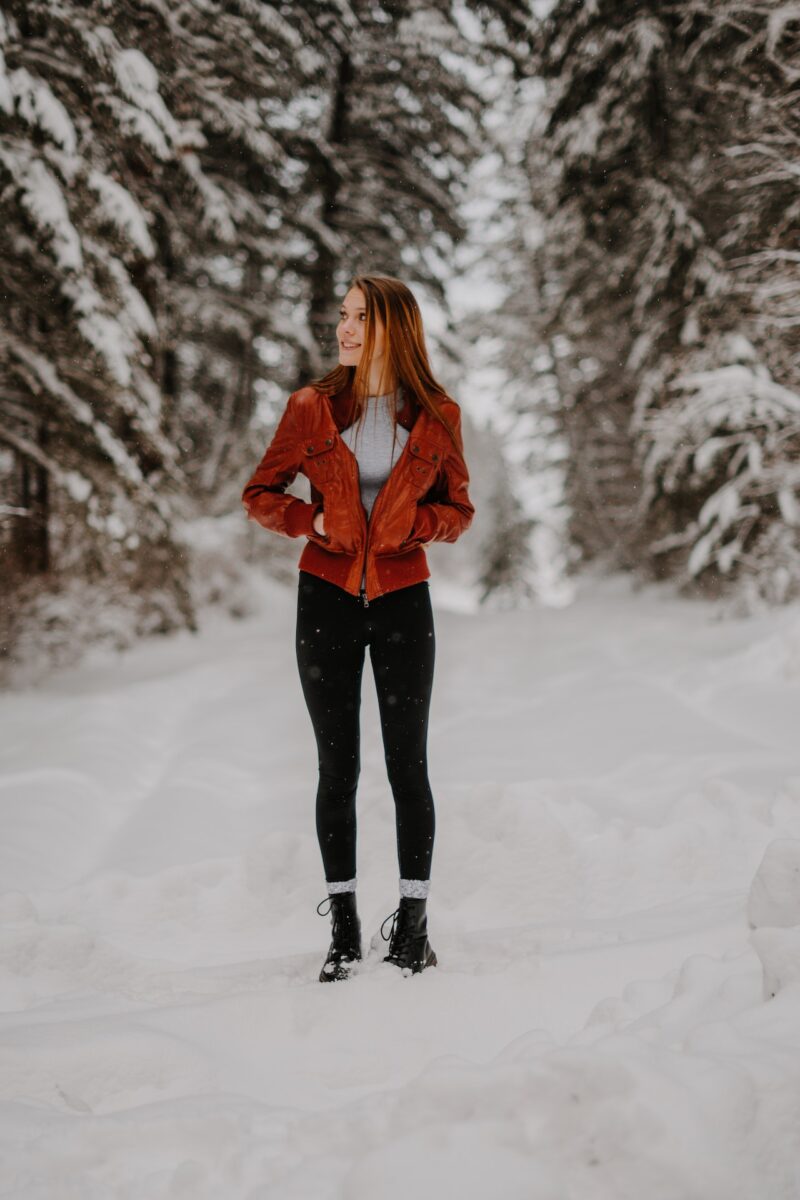 9. Leather Jacket, Leggings, Suede Thigh-High Boots
The leather jacket is a wardrobe staple since it never goes out of fashion. Moreover, it blends seamlessly with most clothing articles, from summer dresses to affordable basic leggings.
Therefore, make it the highlight of your winter outfit by layering it over a simple tee and leggings.
Experiment with textures by combining the sleek, shiny leather of the jacket with the muted, buttery soft feel of the suede boots.
Opt for thigh-high boots for an edgy look, and tie off the ensemble with the darkest sunglasses you own and a muted shoulder bag.
10. Shearling Coat, White Tee, Leggings, Ankle Boots 
The shearling coat is back in fashion this winter, thanks to its recent uplift from high-end fashion designers.
The statement piece makes a bold impact and requires very few add-ons to deliver on the style spectrum. Therefore, I suggest pairing it with nondescript white and basic black leggings.
This season, pair the longer shearling coat in camel or tan tone instead of the typical dark brown cropped jacket and pair it with simple black ankle boots.
Accessorize with slim sunglasses and a small crossbody bag. Viola! Your fashion game is on.
How to wear leggings + how to find good quality ones ǀ Justine Leconte
Conclusion
There are limitless options to style your everyday leggings into head-turning attires, ranging from off-duty looks to major glam-up. Moreover, each outfit prioritizes your comfort so you do not end up shivering in the cold while channeling your inner diva. Finally, wear matte leggings, which fit you like a second skin and are of good quality.