As an Amazon Associate we earn from qualifying purchases.
You've probably heard that shoes make or break an outfit. It's a good motto to live by for creating outfits that make a lasting impression. When it comes to deciding what shoes to wear with leggings — a multi-functional garment that goes with everything — it's best to know your options.
What Shoes to Wear With Leggings
Wearing leggings is an easy decision. Styling it is a different story. When you're torn between every shoe in your collection, the first step is to assess where you're going, what you'll be doing, and what kind of attire is fitting. When you have a minimalist wardrobe, it's important to know ​how you can mix and match the same clothing.
The next best resource to have is this list of what shoes go best with leggings. I've got every shoe appropriate for certain occasions.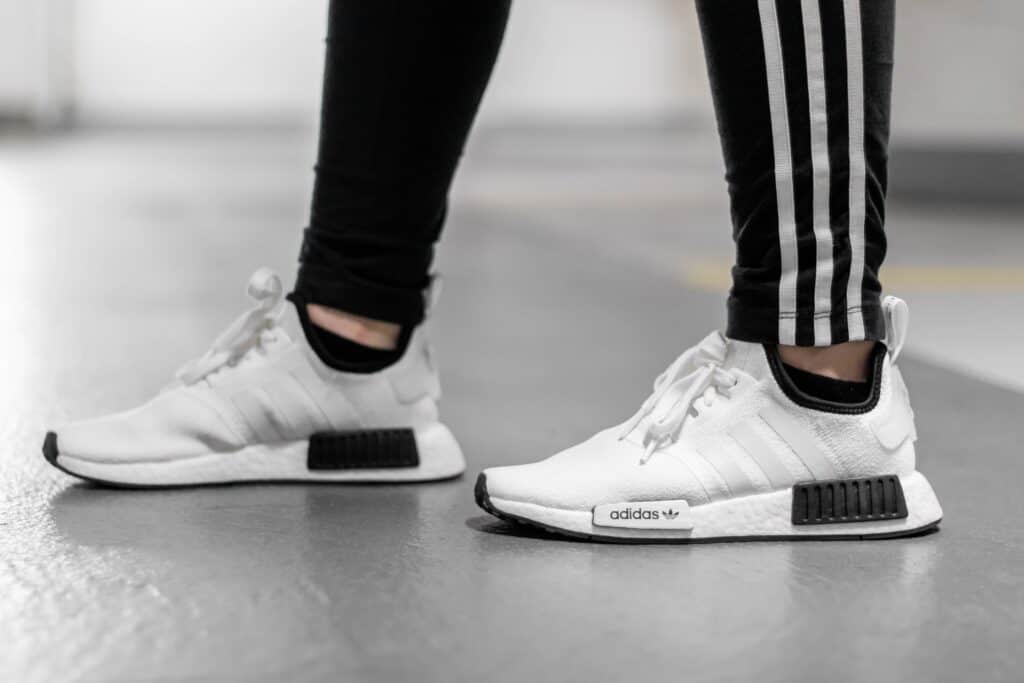 Athletic Shoes
You'll find both athletic shoes and leggings with a specific function. An example of this are running shoes and running or workout leggings. If you can, match the two to get the most out of your exercise or training.
Otherwise, athletic shoes can be worn to replace sports shoes. This is when those don't make sense to wear elsewhere other than your training grounds. Shoes like soccer cleats can be alternated with running shoes before or after training.
​Lace-up Sneakers
Sneakers and most good leggings are meant for a common purpose: for sport and any kind of physical activity.
After your yoga or spin class, switch out your athletic shoes for these lace-up sneakers. They come with design features that don't necessarily have a purpose other than for fashion. That means you can transform your yoga pants and sports bra gym outfit into a casual one to wear anywhere.
White lace-up sneakers are a basic pair that you can invest in for the perfect finish to any type of outfit. Even your printed leggings can be balanced out by the plain white color of the shoes.
​Slip-on Sneakers
Slip-on sneakers give a sporty vibe to thin cotton loungewear leggings you'd usually wear in the house and make them appropriate for outdoors. They're shoes made for walking so it makes a perfect lazy day outfit when combined with leggings.
Since slip-ons can't give support for rigorous physical activities, they can be exclusively used for casual wear. With easy wearing, you can rush in and out of the house for quick errands.
Loafers
If there's anything a pair of long black leggings matches so well with, it's loafers. They make black leggings look like fitted trousers for a laidback Parisian look.
Textured materials like leather or suede provide an interesting contrast against your typical black cotton leggings. Pick loafers with accent details on the vamp like gold metal or fluffy pom poms to add sophistication and accessory to your outfit.
Ballet Flats
Ballet flats give the same French flair to black leggings like loafers, especially if they're pointed on the toes. These are very flattering on women with thin feet because the flats frame them with a beautiful and uncommon silhouette. With the jet black leggings, the combination is sophistication at its finest.
The other aesthetic is purely demure with the traditional rounded toe ballet flats. The classic two-toned ballet flats are appropriate for the office as they are for the street. Pair them with plaid leggings for a professional look, or solid colored ones for the opposite vibe.
Mules
Mules are a type of shoes that are closed off on the toes and have no back. They have no heel counter or restraining strap. Coming from a history of being bedroom slippers, mules are now considered outdoor footwear as common and classic as flats and loafers.
Mules are still like slippers, so pair them with more high-end, formal looking leggings, even if only by the looks. Nylon leggings with a little sheen to them balances out the focus of casualness in all your outfit pieces.
Slides
Slides are a kind of slippers or sandals with an open toe and no back. As slippers, they usually are made with rubber and have a single thick strap near the toes. The sandal-type slides are sometimes made with multiple leather straps that go across the top of your feet.
Slides are most functional as before-and-after-workout footwear to wear with leggings to and from the gym in. Most are also made durable enough to be submerged in water. They'll be safe to wear with your sweat-wicking leggings to the humid and wet locker rooms.
If not the slipper slides, slides in the form of sandals are easy, convenient, and almost completely painless shoes you can wear to do your chores. Pair them with ​and cute Lululemon leggings for fuss-free movement.
Sandals
There are two kinds of sandals: ankle strap and no ankle strap sandals. Each corresponds to two kinds of leggings too: cropped leggings and ankle leggings, respectively.
Ankle straps can get in the way of leggings that reach or go over your ankles, which isn't a flattering look. The best way your leggings and sandals could be worn together is when they don't touch. For practicality, go for leggings with pockets in them when doing errands. Tacky when not done right, be sure to also match your top with sandals for a cohesive styling.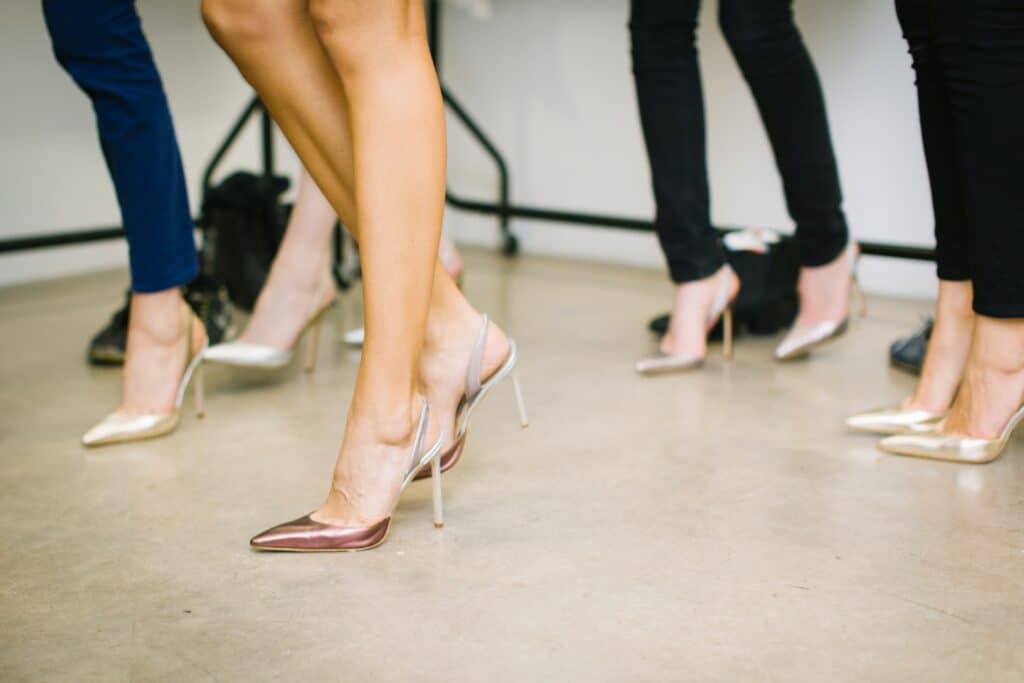 Heels
Heels elongate your legs literally, so add to the illusion and wear them with extra long, full coverage leggings that cover down to your heels and half of your feet. This reinforces a lady boss look especially when leather leggings complement shiny patent leather heels.
Make sure they're stilettos and not block heels. Otherwise your legs and feet will look too busy or give the illusion there's too much going on.
Heels should be your default shoes if you want to look properly dressed-up in your leggings. They will contrast the simplicity of your leggings by bringing out your powerful and confident energy. Visibly you will become taller in heels, which works well as leggings already accentuate your legs.
Ankle Boots
Ankle boots have a way of straightening out funky outfits especially if they're solid black. Explore your style with leggings that have bright colors or loud prints. When you have black ankle boots to anchor your outfit, it's harder not to create a fashionable outfit than the other way around.
Ankle boots are the perfect balance between bulky and dainty in boots. They don't cover much of your feet and end right at the same level as most leggings. Opt for those with a block heel.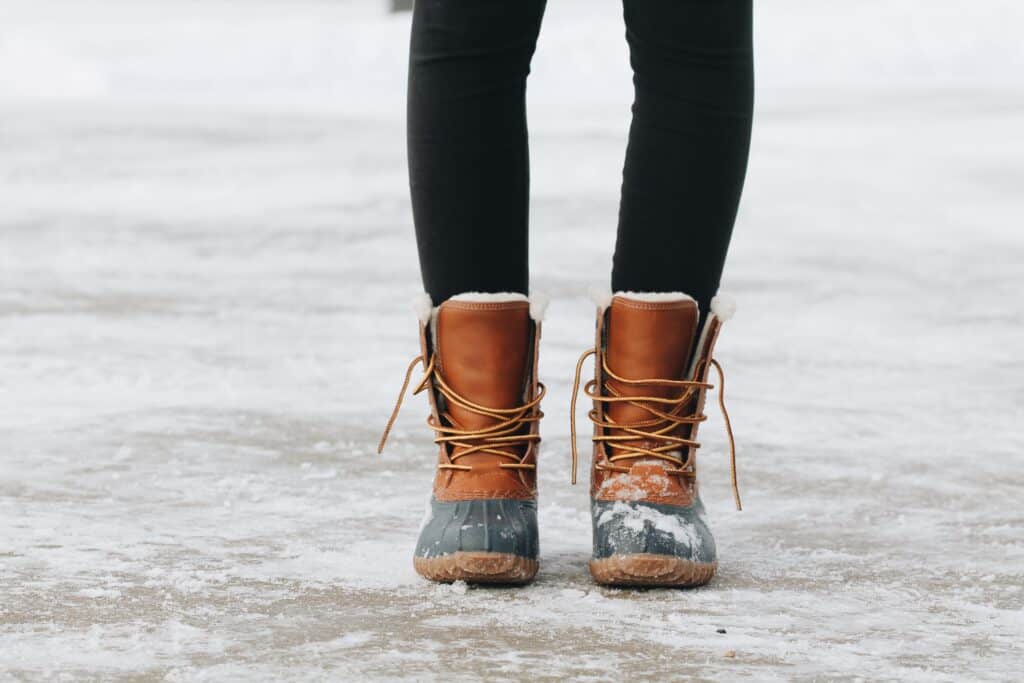 Sock Boots
Sock boots are skin-tight boots that reach up to the lower part of the calf in varying lengths. They're made with a stretchable material with no fastening so as to be worn by pulling up like socks. Either rounded or pointy-toed, sock boots typically come with low block heels.
Imagine wearing your coziest leggings on your feet. That's how this feels. Match the colors of your sock boots with some sleek high waisted leggings, so the seamless transition from leggings to boots creates a stunning silhouette and the illusion of longer legs. It's a fashionable alternative to wearing socks with leggings.
Tall Boots
Tall boots are the enabler for leggings to be worn on their own during snowy winter months. Use ​thermal leggings​ to act as an inner layer. Instead of another garment, the boots protect the feet and legs from the cold, especially if they reach your thighs.
For more coverage, make your top end just a few inches above your boots, so the leggings can just peep through the gap like tights. Wear long tops for thigh-high boots and thick dresses for knee-high ones.
The bulkiness of the boots contrasts the tightness of leggings, creating a nice proportional silhouette.
​Combat Boots
Combat boots are normally worn with leggings for physical activities like hiking. They go well with workout leggings to give ample support in the entire lower part of the body, which receives much of the strain. If simple workout leggings are not enough, compression leggings are all the better.
In the fashion sense, combat boots are worn with leggings to give edge to outfits. The rugged look of combat boots is a flattering contrast to the clean and smooth silhouette of leggings. This is similar to leather and lace combinations.
Shoes to Pair With Leggings
| Styles | Pair leggings with |
| --- | --- |
| Style 1 | Athletic shoes |
| Style 2 | Lace-up sneakers |
| Style 3 | Slip-on sneakers |
| Style 4 | Loafers |
| Style 5 | Ballet flats |
| Style 6 | Mules |
| Style 7 | Slides |
| Style 8 | Sandals |
| Style 9 | Heels |
| Style 10 | Ankle boots |
| Style 11 | Sock boots |
| Style 12 | Tall boots |
| Style 13 | Combat boots |
Frequently Asked Questions
Which Is the Best Shoe to Wear During Summer With Leggings?
It is advisable that you pair open-toe shoes during summer. Normally, open-toe shoes are designed with ventilations that help you have a steady airflow and keep your feet cool.
Cropped leggings might be the best choice to pair with open shoes as they also facilitate airflow.
Can You Wear Formal Shoes With Leggings?
Generally, leggings are not formal, and it might not help to pair them with formal shoes. However, you can wear formal shoes such as loafers with knee-length leggings under a long dress to get a professional look.
Which Are the Best Shoes to Pair With Maternity Leggings?
Flat shoes such as Ballet flats are the best to pair with maternity leggings. Generally, women wear maternity leggings when they are 4 to 5 months pregnant, a stage where they tend to get swollen legs.
Pairing their maternity leggings with flat shoes tends to enhance overall comfort.
11 Ways to look chic in leggings
Conclusion
With this many options, you won't be stuck asking yourself in the morning, "what do I wear with leggings?" You only have to know the context why you're dressing in that leggings outfit. Bookmark this page now and refer back to it when you're facing the same dilemma.