If you buy something through a link in our posts, we may get a small share of the sale.
Nothing is worse than finding leggings that look and feel great, but then discovering that when the light hits your backside, the sheer legging material prominently displays your underwear for everyone to see. Whether you're exercising at the gym or wearing basic ​black leggings to run errands, having ones that are non-see through is a must!
Top Non See-Through Leggings Reviews
We've rummaged through the best leggings ​on the market and filtered the true non see-through ones. Here are 5 that won't disappoint in giving full coverage.
Brand
Best Overall
Women's High Waisted Moto Legging
Best for the Money
Women's Milan Stretch Shapewear Legging
Best Cheap Pick
Super Soft High Waist Slimming Tights
Product
Material
86% Cotton, 14% Lycra: Spandex
92% Polyester, 8% Spandex
Best Overall
Brand
Women's High Waisted Moto Legging
Product
Best for the Money
Brand
Women's Milan Stretch Shapewear Legging
Product
Material
86% Cotton, 14% Lycra: Spandex
Best Cheap Pick
Brand
Super Soft High Waist Slimming Tights
Product
Material
92% Polyester, 8% Spandex
Best Overall Non See-Through Leggings: Alo Yoga Women's High Waisted Moto Legging
Alo Yoga Women's High Waisted Moto Legging checks off almost every appealing feature in leggings: full opacity, long length, fashionability, durability, and even some compression. As a moto legging, it incorporates leather panels throughout the high waist workout leggings, satisfying both gym and biker chic aesthetics.
These are squat-proof compression leggings, sparing you the unflattering panty-revealing look even in its white color variation. Instead, it turns the simple look of active leggings into something edgy with the leather panels that have a bit of sheen. It's an instant luxe look for a snug and contouring legging.
Alo Yoga Women's High Waisted Moto Legging
Quilted-style stitching on contrast glossy fabric. Inseam: XXS 27.5; XS 27.5; S 28; M 28.5; L 28.5...
Matte-shine fabric mixing with mesh detail
Hidden waistband key card expect on white leggings
Best for the Money: Yummie Milan Cotton Shapewear Legging
Best for the Money: Yummie Milan Cotton Shapewear Legging will be your most durable non see-through leggings yet. While other cotton leggings pill and disintegrate within a few wash cycles, these cotton leggings are built with a strong blend of cotton and lycra to last years before even beginning to wear out.
With a compact hourglass shaping panel around the waist, hips, and butt, there's zero risk of showing your underwear. The cotton-blend threads are compact to mold solidly to your legs like ​high-quality pants. This is good for new moms who constantly go up-and-down and bend in all ways while taking care of kids.
Best Cheap Non See-Through Leggings: SATINA Fleece Lined High Waist Compression Opaque Tights
Though designed for colder weather, the SATINA Fleece Lined Leggings High Waist Compression Slimming Warm Opaque Tights is a full-fledged fashion garment too posh to just be an inner layer.
It's an opaque legging that could be paired with your converse and an oversized knit top to make an entire fall outfit. These high waist leggings can work well in the springtime if you want a bit of added warmth underneath a cute sundress.
Cheap leggings are almost always low-quality and see-through but these are considerably different. The warm fleece lining is not bulky and has a soft feel. However, it contributes to making this legging less revealing than tights. It also has a high-compression waistband which gives you flattering contoured curves and flat belly.
SATINA Fleece Lined Leggings High Waist...
Flattens Your Tummy & Slims Your Figure - The SATINA Fleece Lined Leggings gives you the comfortable...
Versatile Fashion Piece - Wear your SATINA Fleece Lined Leggings in any setting! Whether you need to...
The Perfect Amount Of Warmth & Comfort - The SATINA Fleece Lined Leggings are lined with a soft...
Best Versatile Non See-Through Leggings: Punk Rave Victorian Style Macbeth Faux Leather
Punk Rave's Victorian Style Macbeth Faux Leather Look Leggings with Lace outdo probably all other fashion leggings in versatility. It combines more aesthetics than we can count — gothic, girly, edgy, sexy, and demure. In addition, it incorporates various fabrics and designs that cover you up.
This is the perfect example of a pair of leggings that shows you don't have to show skin to look sexy. The smart use of leather, lace, mesh, brocade patterns and corset details are well-balanced and constructed.
Best Casual Everyday Non See-Through Leggings: Danskin Women's Essentials Ankle Legging
Danskin is a rising name in the activewear scene and their Women's Essentials Ankle Legging is one of many from their collection to give full coverage and consistent support at the same time. Even if you wear your bulkiest granny panties, these are sure not to give in.
These are promising on days when you feel grimy, unattractive, and just overall not in the right state of mind to do anything. With its compression legging-like features such as no pilling, bagging under the crotch, and sheerness, ​every little annoyance you ​have with leggings is gone.
Best Workout Non-See Through Leggings: Compression Z High Waisted Women's Leggings
Many women use compression leggings as a way of controlling varicose veins and other vein diseases. If that's your case, these Compression Z High Waisted Leggings can be a great choice for you. They're also great for exercising because of its tight and snug fit that gives your lower body the support it requires.
These stretchy leggings also help improve your efficiency by restricting excessive muscle motion when you cycle, run, stretch, or perform yoga. This fit gives your body more endurance and better performance. It also increases your recovery time, as well.
The fabric is the most critical aspect of non-see through leggings. For these leggings, the fabric has a 4­-way smart technology that helps ensure you get the best comfort out of them even on a snug fit. It also absorbs all the sweat keeping your skin comfortable and dry.
We've written an entire review on the best non see-through leggings for working out, and it helps you determine which are the right pair for your type of exercise.
Best Yoga Non-See Through Option: Heathyoga Yoga Pants with Pockets
It's hard to find non-see through leggings that come with pockets. Well, the Heathyoga Pants come with pockets on both sides, allowing you to hold your phone, keys, cards, and money. This allows you to go wallet-free, enabling you to focus on exercising and not worry about your essentials.
For extra comfort, these pants come with a 4-way stretch technology that ensures your pants are ultra-soft. This stretchy material also provides you with support, comfort, and adequate coverage.
If you are looking for non-see-through leggings that can also help with tummy control, these pants are a great option. Their high waist can help in defining your shape and contouring curves.
Sale
Heathyoga Yoga Pants for Women with Pockets High...
ULTRAL SOFT & STRETCHY MATERIAL - 75% Polyester + 25% Spandex. Heathyoga yoga pants for women are...
2 SIDE POCKETS & INNER POCKET - Both sides of these yoga leggings have pockets to hold your cards...
HIGH WAIST & TUMMY CONTROL - These yoga pants with pockets, which can also perfectly work as...
Features to Consider When Looking For Non-See Through Leggings
Looking right or left, up or down, you'd probably see leggings being advertised or sold in various department stores or online fashion and style sites. So, how do you know if the leggings that caught your eye are worth buying?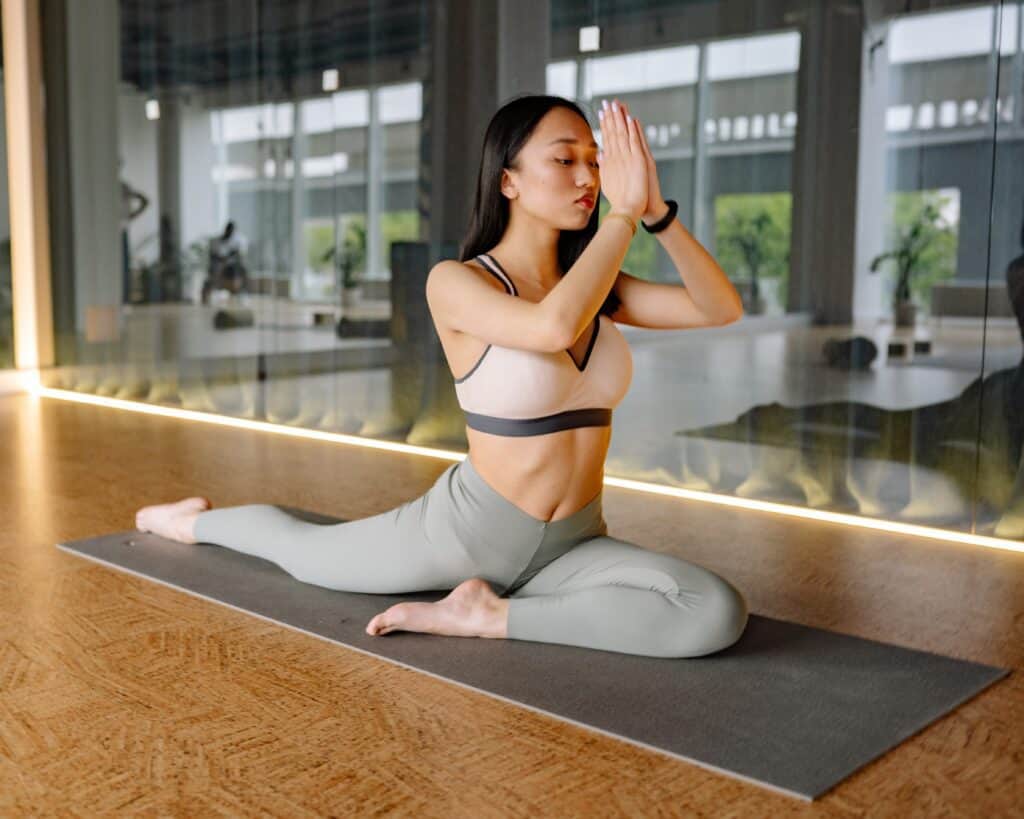 High-Quality Fabric
Non-see-through leggings are made of high-quality fabrics that are fully opaque. This does not mean they always have to be thicker fabrics. There are still many options for thinner leggings out there that will give you the same opaque look with ultra comfort you love.
When you are searching for a new pair of leggings that are not see-through, knowing the material is key. It is very important to ensure the fabric is not too transparent (especially when stretched) to avoid your underwear showing underneath your leggings.
The Mirror Test
When trying on a pair of leggings, always look at yourself in a mirror. Check out how they look from all angles to ensure you can't see through them. Bend over and do other movements such as squats. Check if they are stretchy and opaque enough for your comfort.
When buying online, browse through reviews and feedback of previous customers of the same leggings you are about to buy. See if they posted photos doing a mirror test so you can see what they look like. It's important to know if others love the leggings too!
Comfort with Compression Panels
It is no use if your leggings have a thick opaque fabric but are uncomfortable for you when you are wearing them. Make sure comfort when choosing non-see through leggings is not compromised. There are countless options out there that prioritize comfort among anything else.
You can also check if the leggings feature light compression panels. These allow your blood to circulate freely even when they are tight-fitting and you are doing high-intensity exercises and movements. Making sure they are compressive means improvement in your blood circulation and reduction of muscle soreness and fatigue.
Waistband
It is best to find options with wide and high-rise waistbands to help in holding and tucking your tummy. Plus, this looks great with a crop top! Some non-see-through leggings with this style also have the option of rolling down the waistband for a lower rise look if you want.
Non-Fading
Although most non-see-through leggings are made of thicker materials, the tendency is that after a few times in the laundry, their original colors will start to fade. This is usually not a problem if you are more of a black leggings kind of girl and love the darker shades. Keep in mind, even for some plain black leggings, this could be an issue if you feel like they're going to be see-through.
If the color of your black leggings fades too much, it can sometimes lead to a bit more transparency. Because of that, make sure the black leggings you're about to buy retain their colors after several washes. You want to be able to still flaunt the beautiful colors, even if they're black leggings, and feel like they're always brand new.
Why You Need Non-See Through Leggings
In most cases, you are going to want to buy leggings that are non-see through. If you wear crop tops or you're exercising with a sports bra on top, you need a pair that's opaque enough to conceal your backside.
Freedom and Versatility
With non-see-through leggings, you can enjoy the freedom, style, and versatility they provide. Because they boast of being non-see-through in their style, you have more certainty that it is okay to wear them at work functions or semi-formal events.
Make You Less Self-Conscious
If your pants are too sheer, you will worry about whether or not you're flashing the neighborhood or showing off your colorful underwear. This can make you self-conscious and uncomfortable, which is definitely a deal-breaker. When you put on an outfit, you should not have to worry about your butt being seen by the world because you are wearing stretchy pants. You should love the way you look!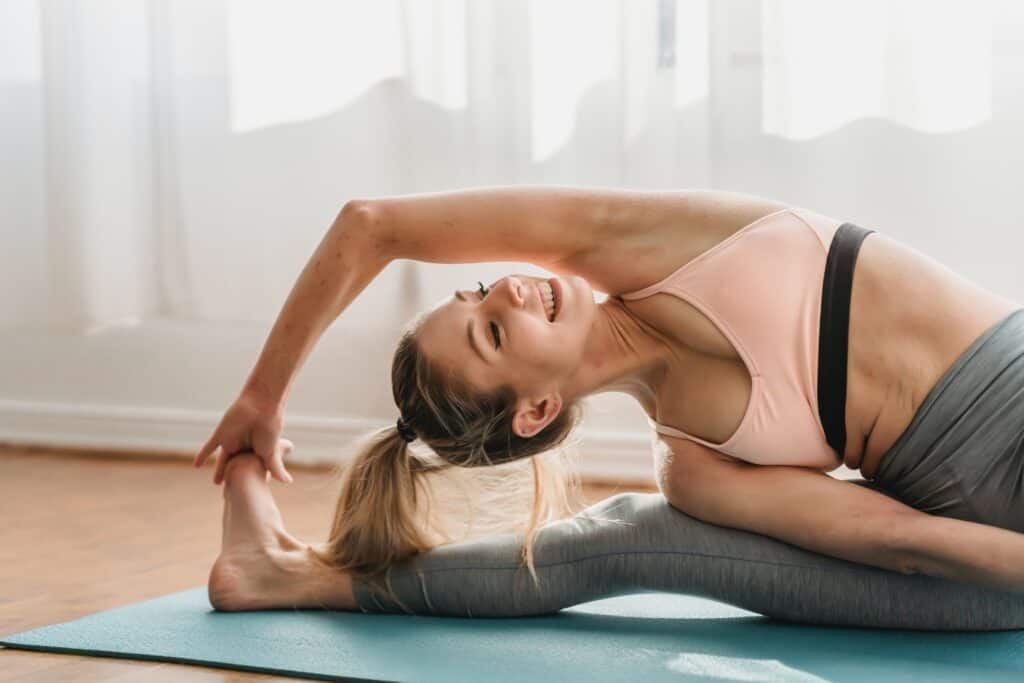 Conclusion
Think you can't commit to leggings so easily? They may be soft and comfortable as a cloud but they betray you from the back by showing your underwear through the fabric. These 5 picks are some of the best worth putting your trust into.