As an Amazon Associate we earn from qualifying purchases.
Activewear can do more than support you in your training or exercise. The best workout leggings can be used as motivation to get up every day and move your body around. Skip wasting time away on online shops. I've done the scrolling for you and compiled the best workout leggings that aren't see through yet comfortable and functional.
Top Non-See-Through Workout Leggings Reviews
There are so many kinds of workouts popping up everywhere. Being active doesn't even have to mean going to the gym.
Be it hiking or boxing, any workout is best done wearing comfortable cotton leggings. Only the best athletic leggings will work to compress, wick away moisture, and remain opaque, and each of the fitness leggings I found meet this criteria.
Brand
High Waist Power Flex Leggings
Adidas Originals Women's 3-Stripes Leggings
Women's Printed Full-Length Leggings
Product
Material
88% polyester, 12% spandex
Features
Stretch waist for a comfortable fit
Brand
High Waist Power Flex Leggings
Product
Brand
Adidas Originals Women's 3-Stripes Leggings
Product
Features
Stretch waist for a comfortable fit
Brand
Women's Printed Full-Length Leggings
Product
Material
88% polyester, 12% spandex
90 Degree High Waist Power Flex Legging
Even if you're only at the start of your fitness journey, the 90 Degree High Waist Power Flex Legging to flaunt the body you have. Without losing any pounds, these figure-hugging leggings have a compression ability that slims down your shape in a flattering silhouette.
The combination of nylon and spandex materials prevents the leggings from becoming sheer when you execute squats, even if your thighs or butt are on the bigger end. This pair also features a four-way stretch to make sure it won't become see-through no matter how much you move. 
In the effort to enhance your curves, this pair incorporates tummy control capabilities into the snug fabric. The high-waist design provides extra support when you want to cover your abdomen, without feeling too constricted. Additionally, they have a scrunch bottom, as in a Brazilian thong bikini bottom, to make your butt more prominent. 
Despite the promise of suitability to yoga, this pair is made with a moist wicking material. This helps you power through an hour or more of other strenuous activities and exercise. Its 4-way stretch fabric and interlock seaming ensures no chafing or rubbing on your skin.
As a bonus, a gusset crotch allows your legs a wider range of movement. The leggings include hidden pockets in the front waistband to keep your phone while working out. Such features make this pair of leggings multi-functional, which means you can wear them both for leisure and exercise.
90 Degree By Reflex High Waist Power Flex Legging...
Power Flex Fabric. Our 28" athleisure leggings are squat proof and will keep you covered whether...
Slimming High Waistband. Our yoga leggings have a stretchy high rise elastic waistband that will...
Hidden Waistband Pocket. Our athleisure leggings have a hidden pocket in the front waistband. If...
Adidas Originals 3-Stripes Leggings
The Adidas Originals 3-Stripes Leggings is one of the brand's classic pieces that requires no introduction. You'll probably recognize the three-stripe design anywhere, and it almost immediately indicates superior construction.
This version of the 3-Stripes leggings is different and highly preferred because of its stretch cotton jersey fabric. These may as well be the softest, most comfortable pair due to the lightweight construction and flatlock seams that prevent chafing.
Unlike other spandex workout leggings, the elastic cotton jersey leaves some space for your legs to breathe and doesn't stick to the skin despite the sweat. Since cotton is the main material, this one isn't stretchy enough for a hardcore gym workout, although it's comfortable for light stretching or yoga.
Even if the tight fit wears close and hugs your curves in the right places, the leggings don't restrict movement. Cotton is thicker than polyester or spandex, making sure the leggings don't become see-through, and undergarment lines don't become visible. It would be better to choose a dark-colored pair for an extra layer of coverage, letting you exercise or move with confidence.
Being plus-sized is no problem either. It claims to "fit as expected" and even larger, curvier women have attested to that. Coming from a popular athletic brand, expect to be able to do several reps and sets of your workout routine in this pair of leggings.
Ndoobiy Full-Length Yoga Workout Leggings
Plain leggings do little to motivate you to work out. In critical decision-making moments between exercising or not, The Ndoobiy's Full-Length Printed Leggings can direct you to the most beneficial decision.
For its price point, this pair of leggings is incredibly unforgiving when it comes to high quality. It follows through with its promise of comfort with its buttery smooth, sweat-wicking fabric.
If you usually do yoga or Pilates, there are times when the combination of shorts and sweat prevents you from holding certain poses. The stitching and fabric of these leggings are soft and breathable, making them light enough for hot yoga sessions.  
The garterized elastic waistband ensures a snug fit even while doing all sorts of positions in yoga or squatting for workouts. Even if you have a little belly or side fat, the elastic band won't squish you. You can also ensure your undergarment won't show when squatting or bending down. 
With vibrant colors, this one will get you up and ready for the next workout without hesitation. The colors work together with a four-way stretch to keep the fabric opaque, making this one of the best workout leggings that aren't see-through.   
Printed with images and patterns unexpected in a pair of leggings, Ndoobiy's fashion-forward leggings can take you from couch potato to gym-ready in a minute.
Ndoobiy Women's Printed Leggings Full-Length...
88% polyester, 12% spandex.Super Soft, Light, and Comfortable Leggings. Easy to dress up or down!...
One Size Fits (0-12)Plus Size Fits (12-24). Consists of strong stretchy elastic waistband to give...
No fade or shrink: 3D print is used in our pattern, making the pattern unique and beautiful. The...
CompressionZ High Waisted Leggings
If there's anything to prove the CompressionZ's High Waisted Women's Leggings as the best running leggings and yoga pants, it's the compression capability of the snug fabric that delivers comfortable yet firm pressure to your quads, hamstrings, and calves. As a result, you can experience maximum muscle support while working out. with these yoga pants
The body and crotch liner on these yoga pants both use polyester and spandex, making the leggings breathable yet sweat-wicking. Aside from that, the material's stretchable components on these yoga pants reduce chafing and skin injuries from rubbing and impact, all without limiting mobility and comfort. 
Still, a compression garment's fabric doesn't stretch as much as other types, especially since it has to maintain pressure on your muscles. The good thing is that compression leggings and yoga pants like these can recover shape quickly, ensuring the threads remain intact and avoid becoming see-through.
It hugs your legs with just an ample level of tightness to restrict the movement of your muscles. This makes sure you don't overuse or over-extend your muscles, making them last longer and you more efficient.
For longer endurance, this pair of yoga pants also regulates and promotes circulation around your glutes and thighs. As you may know, these are some of the first parts to give out when running.
Energy won't be scarce and pain is reduced when you wear this pair of yoga pants for workouts like cardio. These are built to assist your muscles during strenuous activities. As a result, it also quickens recovery for a future session of another intense workout.
CompressionZ High Waisted Women's Leggings Yoga...
COMFORTABLE COMPRESSION LEGGINGS: CompressionZ work out womens tights are the perfect leggings for...
SUPPORTIVE RUNNING TIGHTS: Our womens compression pants are made from sweat wicking, breathable...
BODY SLIMMING COMPRESSION: Look & feel great in our yoga leggings that deliver comfortable yet firm...
90 Degree High Waist Squat Proof Interlink Leggings
One of the most annoying things about leggings is when they show the outline of your panty through the fabric. If this is a constant problem for you, the non-see 90 Degree By Reflex's High Waist Squat Proof Interlink Leggings for Women is the answer to your prayers.
These non see high-waisted tummy control leggings provide gentle compression to the midsection, giving you a toned and trim look. In addition to getting rid of that unflattering outline, its high waistline also gets rid of your muffin tops and belly bulge. 
The interlocking weave of spandex and polyester creates a four-way stretch, which means the fabric stretches and recovers both crosswise and lengthwise. The fabric's thickness also stops the leggings from becoming see-through, letting you pull off a modest look even in non see tight-fitting leggings. In effect, the non see through leggings provide total coverage when lifting, squatting or bending.  
Despite its function to enhance your figure, these non see through leggings are really equipped to support you in your booty-enhancing workouts like squats. Its squat-proof name is taken from its ability to give you full coverage for any workout that involves bending, lifting, and squatting.
The durability of the stretch fabric is evident in its flexibility and ability to move with your body. Fitting in your legs like a glove, this pair of non see through leggings will hold you in the right places while ensuring comfort. In turn, this boosts your confidence and lets you perform your best when doing a range of workout routines.
90 Degree By Reflex High Waist Squat Proof...
Squat Proof Interlink Fabric. Constructed from high tech 4-way stretch fabric, our high waisted...
High Waist Tummy Control. Say goodbye to muffin top and hello to a smooth, flat tummy. These high...
Supreme Durability. These full length women's leggings are so good you won't want to take them...
Dragon Fit High Waist Yoga Leggings
Do you want to feel what it's like going to a gym while rocking amazing workout leggings that aren't see-through? The Dragon Fit High Waist Yoga Leggings can do that and more! 
It can be challenging to find a pair of high waist non see through leggings that help flatten the stomach area, while also making your legs appear slimmer. With opaque, breathable, and interlocking fabric, the high waist yoga pants can hold your stomach and leg muscles without stretching to sheerness. 
The fusion of high rise waistband and spandex material delivers excellent stomach control. The spandex also promotes elasticity, providing better freedom of movement to shape the curve of the waist. 
The unique thing about this non see high rise model is its four needles and six lines sewing technology that creates a seamless, smooth, and aesthetically pleasing cut. The skin-friendly and soft material also results in low-friction performance, so that the fabric won't damage the threads even at pressure points of the leggings.
Close-fitting yet not too tight, the thick material hides unappealing lines to make you feel confident and comfortable. Likewise, the quick-drying non see fabric prevents the non see through leggings from becoming see-through even if you sweat or spill a drink. 
What's more, these best leggings contain surprisingly deep and expandable pockets on the inner waistband and leg side for a hands-free workout. 
While the non see best leggings appear more matte than shiny, this element improves the necessary opaqueness for high-performance movements. You can choose from patterns like marble, carbon gray, and camo to add another layer of opacity.
Dragon Fit High Waist Yoga Leggings with 3...
Please check the size chart ( Last Image ) before ordering. Please note: color may vary slightly...
Comfortable high waist: wide waist elastic waistband to cover navel which provides tummy control and...
Ultra-stretch fit ( enough thickness with breathability: no see-through) featuring the super soft...
Quality Features to Look For in the Best Workout Leggings That Aren't See Through 
Even if the ones on the list are the best workout non see through leggings on the market, they still differ in some aspects like comfort, style, or fit. It's essential that you understand such factors so you can buy one (or more!) that will inspire you to get moving and improve wellness. 
Comparing Workout Leggings That Aren't See-Through
| Leggings | Closure Type | Pockets | Moisture-wicking |
| --- | --- | --- | --- |
| 90 Degree power flex | Pull on | Yes | Yes |
| Adidas Originals | Pull on | No | No |
| Ndoobiy | Elastic band | No | Yes |
| CompressionZ | Pull on | Yes | Yes |
| 90 Degree Squat | Pull on | No | Yes |
| Dragon Fit | Elastic | Yes | Yes |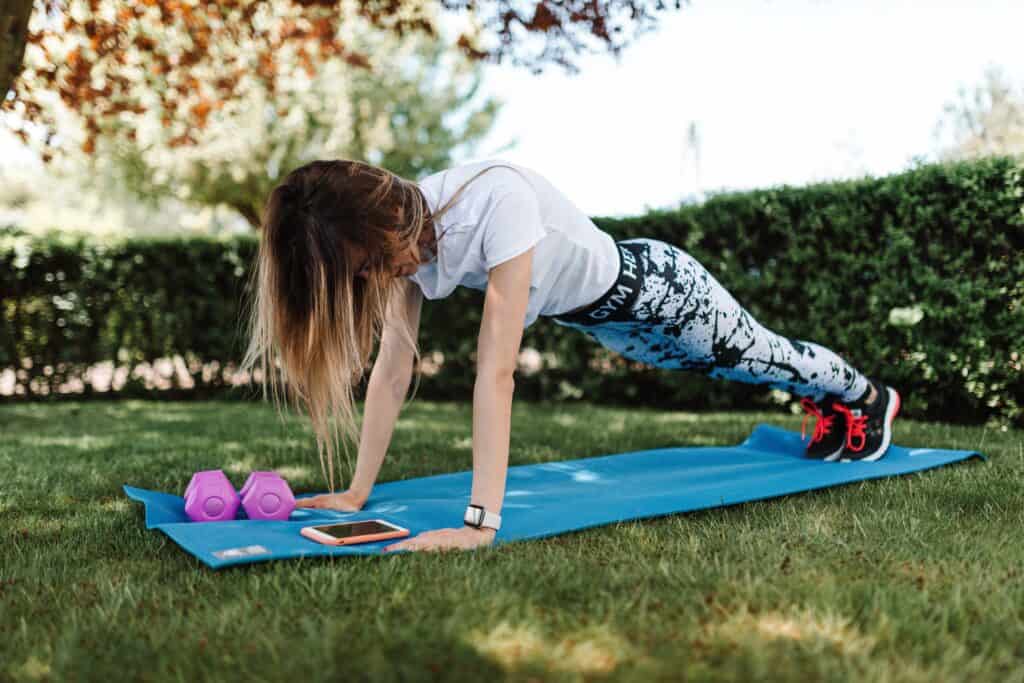 Fabric
Comfort is the most crucial factor when buying workout leggings, especially if you like wearing one even after exercising. No matter the temperature, you'll likely break a sweat when working out, so considering the fabric should help you remain comfortable.
Avoid fabrics that don't let your skin breathe. Non see through leggings with portions of rubber will only keep your body temperature too high when exercising, making you uncomfortable and sweaty. Instead, choose between the two most ideal fabrics for non see workout leggings.
Moisture-Wicking
Synthetic fibers like polyester, spandex, and nylon allow sweat to evaporate from the skin, keeping your body feeling fresh and cool. A better stretch makes the leggings more durable for high-intensity actions like running. Likewise, stretchy materials hug the body well, giving you a flattering fit.  
The downside of synthetic is that it tends to harbor smells easy, which is why it would be better to choose leggings with a polyester or spandex blend, or one that has antimicrobial treatment.
Absorbent
If you prefer leggings that absorb sweat, you can opt for cotton or rayon fabrics. Natural fibers soak up and hold onto sweat, so leggings with such materials are only suitable for slower movements like weightlifting or yoga sessions. 
Cotton leggings are very soft and breathable, making them comfortable to wear. However, cotton doesn't hold up well to stretching, which means the leggings may lose shape over time. If you still prefer cotton leggings, consider one with additional materials for balance. 
Thickness
Nothing's more mortifying than walking into a brightly-lit gym, then having someone whisper to you that they can see your undergarments. 
The best workout leggings that aren't see-through are those that don't announce your underwear pattern or color. This is why I've chosen leggings with thick and high-quality fabrics so they remain opaque no matter how you stretch, bend, or run. 
Some leggings have a four-way stretch, like the 90 Degree Power Flex, 90 Degree Interlink, CompressionZ, and Dragon Fit leggings. With this feature, the fabric can stretch even as you move in various directions. 
Cut
Workout leggings have various styles and lengths. While the cut is more of style preference, there are still benefits to considering the length.
Ankle-Length: Also known as full-length, ankle-length leggings cover the leg's entire length. Some also feature stirrup cuffs that hold the leggings in place. 
Cropped athletic: This style cuts around the mid-calf and it often consists of compression materials like polyester and spandex.  
Capri: Leggings with this cut usually hit under the knee, making a part of your leg uncovered. If you prefer less-constricting bottoms, yet you don't want to wear shorts, this can be your go-to cut.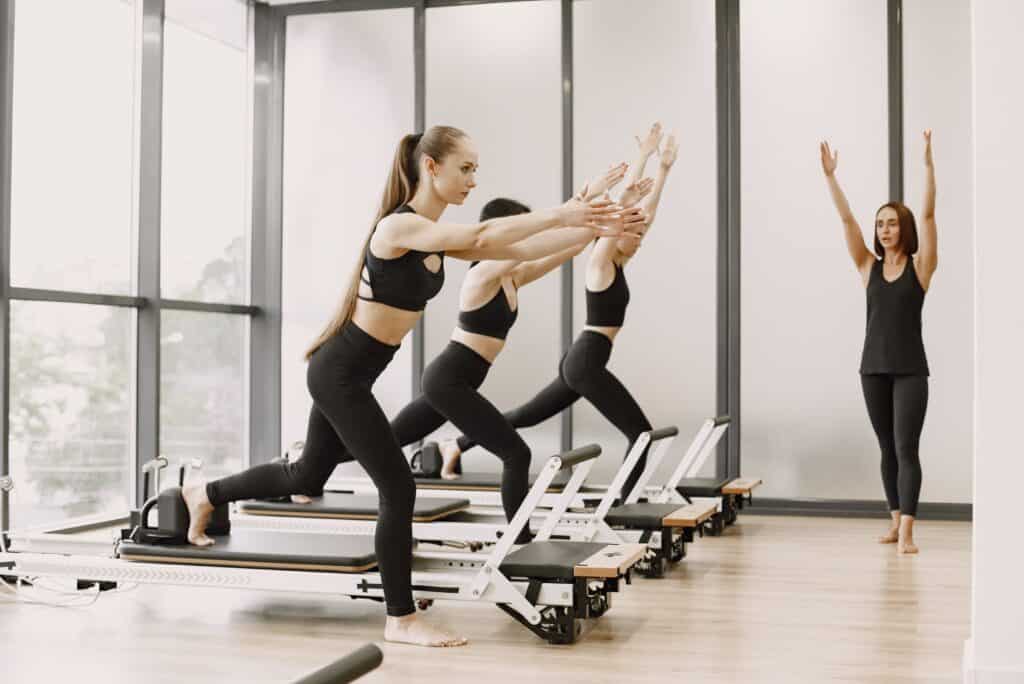 Construction
Workout leggings are commonly seamless, which means there are no stitches or seams that will cause chafing on your skin.
If there are stitches, the best workout leggings must have flat seams on the inside, not raised, as they minimize irritation due to movement and sweat. 
Check if there's a gusset, which is an extra piece of fabric on the crotch area. This diamond or triangular-shaped fabric prevents leggings from riding up, especially during high-performance motions. 
While you don't want them riding up, you also don't want your running leggings to fall down. The material should fit snug on your waistline.
The combination of soft fabric and construction should provide you a butt lift, while also preventing the appearance of any awkward lines.
Size and Fit
The size you choose when buying shorts or pants can also apply to your workout leggings. Since leggings are stretchable, you usually won't have a problem staying true to your size. 
However, you have to be cautious about how stretchable your chosen leggings can be, which is why I emphasized the importance of knowing the fabrics earlier. Most leggings fit snugly around the hips, thanks to the stretchable waist band that can adjust depending on your size, without becoming too sheer. 
Functionality and Versatility 
What works best for yoga might hinder your movements while running or practicing kettlebell lifts. Hence, it's wise to pick a pair of leggings appropriate for the type of activity you'll do, so that you can make the most of your time when working out.
Stretching/Yoga: Sitting or bending calls for ultra-stretchy workout leggings that won't become too sheer as you move. High-waisted pants are ideal as they can provide extra coverage on your back, side, or stomach. Opt for natural fabrics as they are gentle on skin.
Cardio/Running: High-impact actions require durable workout leggings and pants that can move along with you. Leggings and pants with lower waistlines are suitable for this situation to keep you comfortable as you breathe heavily. You'll be ramping your heart rate and sweat out a lot, so sweat-wicking pants material is a must-have. 
Weightlifting: Lifts, lunges, and squats will put workout leggings to the test. In this case, the best workout leggings must combine snatch-proof stretchability, wicking technology, and waistband reliability. You can also add aesthetic appeal since you'll probably be facing a mirror for much of your routines.
BEST WORKOUT LEGGINGS: MY TOP 5!
Frequently Asked Questions
Can Workout Leggings Rip When Exercising?
Yes, workout leggings can rip when exercising due to excessive material and seams stretching. Usually, this happens if you are heavyweight or you have thick thighs that rub as you exercise, creating friction that rips the seams.
However, the probability of ripping still depends on the thickness of the fabric, as heavier and thicker fabrics can withstand rubbing for longer.
What Should I Do if My Workout Leggings Are See-Through?
Although you can't fix see-through leggings, you can consider wearing underwear with a nude color to help limit their visibility.
You can also consider wearing boyshort styles to help protect your modesty and boost your confidence. However, people might confuse the nude color of the undergarments with the color of your skin.
What Makes Workout Leggings See-Through?
In most cases, workout leggings become see-through due to excessive stretching of the fabric.
Generally, the molecules making the fabric are held together by a bond, and the distance between the individual molecules becomes bigger when the fabric stretches, making the leggings see-through.
As a result, the leggings tend to be more see-through when you bend or squat than when standing upright.
Conclusion
When exercising, you're putting your body through enough straining movements. You don't need your clothes to do the same. These best non see through workout pants are flexible, and comfortable, yet also fashion-approved, leggings won't give you a harder time while working out. This might be the best motivation to keep up with that fitness routine.