As an Amazon Associate we earn from qualifying purchases.
Leggings are comfortable, versatile, and functional, yet they are also tight and sometimes tend to become sheer, causing undergarment lines to become visible. If you're asking yourself what underwear do you wear with leggings, don't worry. While finding the best underwear is no easy task, some factors determine what underwear won't ride up or show lines.
What Underwear Do You Wear With Leggings?
The right underwear to wear with leggings must have seamless construction and thin yet comfortable materials to conceal visually unappealing lines. The cut should also complement the rise of the leggings, to ensure the underwear remains hidden whenever you bend or sit.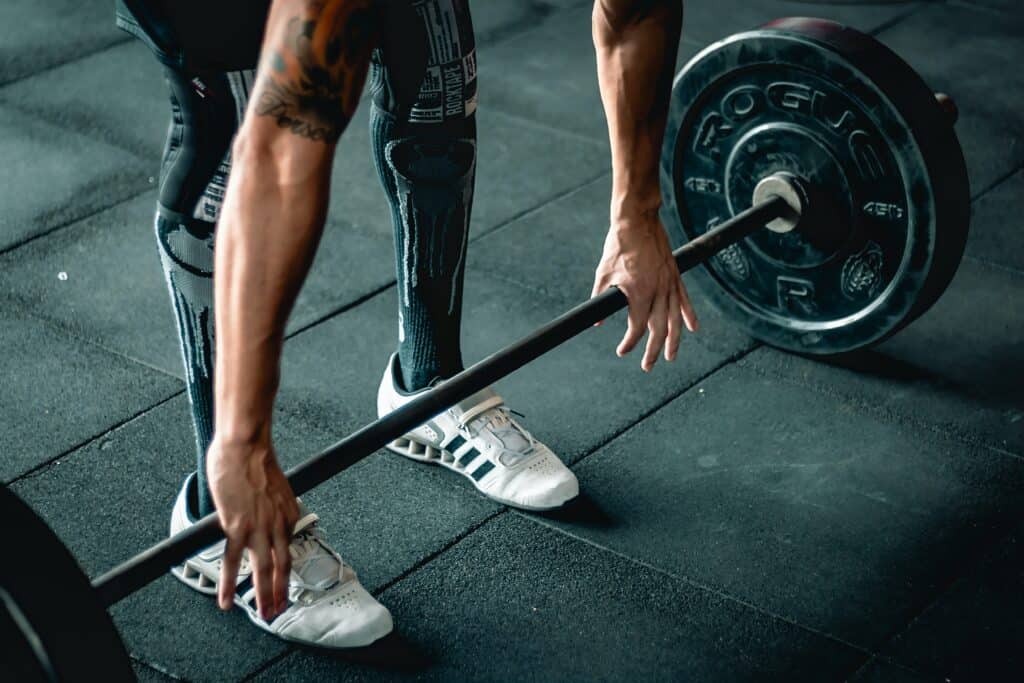 However, personal preferences may play a role in what undergarments to wear with leggings. There are some of the best kinds of underwear you can wear, just to give you a better idea of what to pair with your favorite leggings. 
Seamless Underwear
Due to the clinging nature of leggings, undergarment lines can become visible. To avoid chafing and bumpy lines, wear an undergarment with seamless construction, especially on the curves of the buttocks.
Depending on the material, seamless underwear can dry sweat to remove order and bacteria. When you feel like the fabric of the leggings is too sticky in your buttocks, wearing seamless cotton underwear can solve the problem for you.
Laser-Cut 
Seamless underwear can still have stitches in the waistband. Meanwhile, laser-cut ones don't have seams or folds at the edges. This style comes in a variety of cuts such as hipster and high-rise, providing you with lots of options when you have several kinds of leggings. 
Laser-cut underwears consist of ultra-thin satin fabric with a cotton gusset for moisture-wicking. The downside is that the delicate fabric tends to roll and crease around the edges over time. 
Thongs 
When you wear leggings for working out or high-intensity outdoor activities, friction from underwear can cause skin irritation. Thus, it would be better to choose an undergarment that doesn't rub the crotch and buttocks too much. 
Thongs feature a T-shape string in the back to eliminate undergarment lines, especially in the buttocks when you squat or bend. While thongs provide zero coverage in the buttocks, they have bonded seams and clean-cut edges that result in no stitches to dig on your skin.
G-String
G-string underwears offer the least amount of coverage. If you want a no-underwear feel, a G-string is a great option to wear under leggings.  
Somehow similar to thongs, G-strings tend to look strappy. The strips are so thin, and they are hardly noticeable even in the most tight-fitting leggings.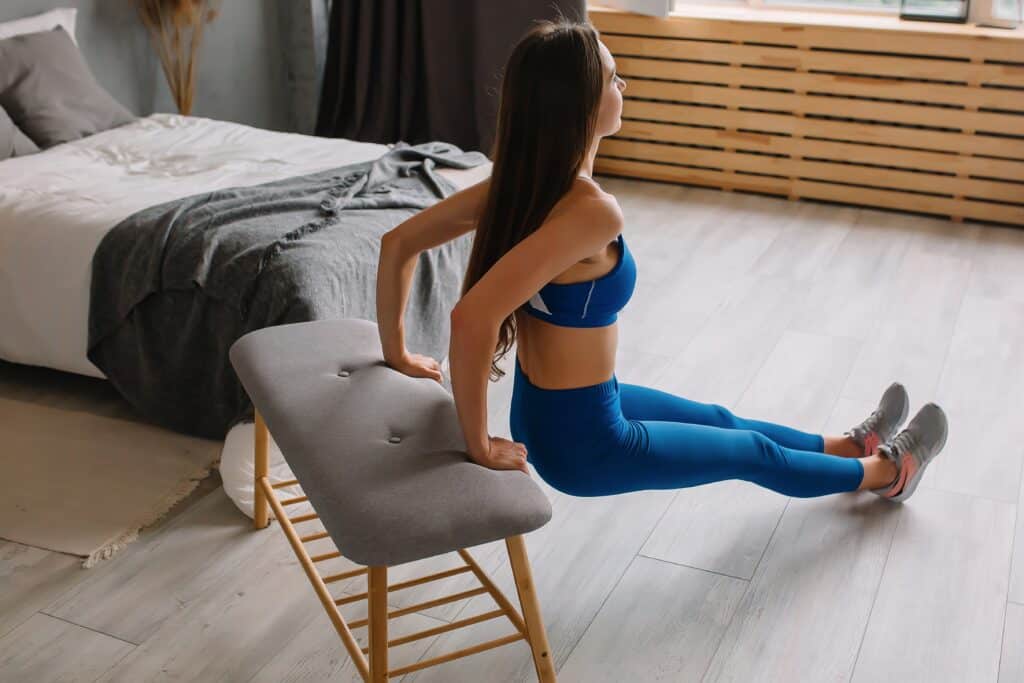 Boyshorts
Instead of cutting across the butt cheeks, boyshorts go right under the curve of the buttocks. This underwear style is typically seamless and stretchy, so it hides well under leggings. 
If you feel uncomfortable with thongs or G-strings or want more coverage in the hips, boyshorts can support using a low-cut waistband while ensuring seamless construction. 
Bikini
Bikini is the most widely worn underwear style among women. It mirrors the cut of bikini bottoms with a low-rise waistband yet high-cut leg holes.
If you want more support than what a G-string can provide, a bikini can provide that with a hint of butt cheek. Additionally, it doesn't ride up like a thong. 
Tanga Brief
A tanga brief is a good option to wear under leggings if you want more back coverage than a thong yet narrower than a bikini. This style contains triangular-shaped material that covers the front and back. 
Since there's no material that makes up the underwear on the side, a string or small elasticated waistband connects the triangular-shaped patches.
High-Cut or French-Cut
French-cut underwear features the same high-waist as boyshorts, yet includes high-cut leg holes that rise above the thigh's widest part. They are like a tanga brief-bikini hybrid that can serve as shapewear for high-waisted leggings. 
If you want less coverage in the leg while still getting moderate coverage in the crotch, the flattering seams of a high-cut style work well in leggings. 
Underwears to Wear With Leggings
| Styles | Wear leggings with |
| --- | --- |
| Style 1 | Seamless underwear |
| Style 2 | Laser-cut |
| Style 3 | Thongs |
| Style 4 | G-string |
| Style 5 | Boyshorts |
| Style 6 | Bikini |
| Style 7 | Tanga brief |
| Style 8 | High-cut or French-cut |
Characteristics of Underwear to Wear With Leggings
Aside from the style, consider these factors when choosing the right underwear to put on before wearing your leggings.
Fit: Underwear that fits too tight will dig into the skin, which could only highlight unwanted lines. If it's too loose, the fabric will bunch up and create wrinkles under the leggings. Hence, it's essential that you choose the proper size.
Material: If you have sensitive skin, it would be best to choose cotton-based underwear to absorb sweat and ensure breathability. If not, you can try synthetic blends of satin, spandex, and polyester for thinner fabric. 
Gusset: Bacteria and yeast thrive in a moist and warm environment. Even if your chosen underwear style barely covers the buttocks, it's advisable that it has a gusset, which is a cotton patch that keeps moisture at bay. The gusset also helps the underwear retain its shape.  
Frequently Asked Questions
Can I Wear Leggings Without Underwear?
Although leggings are designed to be worn with underwear, it's okay to wear them without underwear.
However, you need to ensure that the leggings are made of a breathable and moisture-wicking fabric to prevent bacteria buildup that can lead to infections. You also need to ensure the fabric is thick and opaque enough not to reveal your body.
How Can I Hide Panty Lines When Wearing Leggings?
The best way to hide panty lines when wearing leggings is to wear seamless panties or thick leggings that can hide the curves and bumps of the panty lines.
Also, consider wearing fitting leggings to avoid the fabric overstretching and revealing the pantie lines, especially when you squat or bend.
What Is the Best Underwear Color to Wear With Leggings?
The best and most versatile underwear color to match with leggings is the nude color. Generally, this color resembles the skin color and might not be noticeable even under thin or excessively stretchy leggings, even when bending.
However, people might confuse this color with your skin when wearing see-through leggings.
What To Wear & NOT Wear With Leggings / Fashionable Leisure, Casual & Dressy Outfits With Leggings
Conclusion 
When it comes to the dilemma of what underwear do you wear with leggings, the right one should be comfortable, won't ride up, and pretty much vanish when you put on your workout or office leggings. Whatever your choice may be, make sure that the style complements most of your leggings.