As an Amazon Associate we earn from qualifying purchases.
Whether wearing the leggings as you go out for workouts or sports activities, knowing what to wear under workout leggings will help boost your confidence in front of other people, allow you to focus on the activity, and protect you from health issues resulting from sweating.
What to Wear Under Workout Leggings?
The best undergarments to wear under workout leggings are thongs, shapewear, bamboo underwear, boy shorts, or seamless underwear, as they prevent the underwear line from being visible. Since there are high chances of sweating during workouts, you should consider wearing undergarments made of a breathable and sweat-wicking fabric as it allows sufficient airflow and aeration.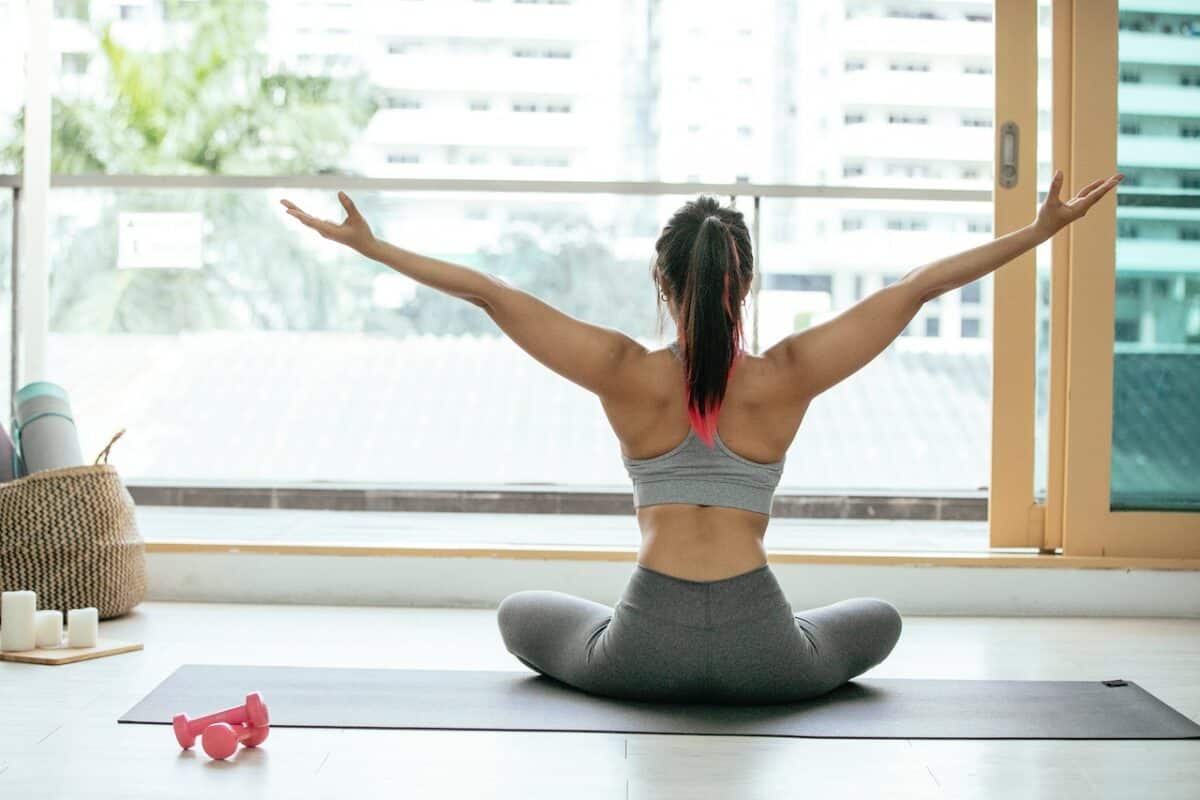 Just like any other type of underwear, getting one that fits you properly is crucial to avoid irritations. Depending on your preference and the type of workout leggings, you can go for the following undergarments.
Shapewear
An undergarment that prevents visible panty lines (VPL) from showing up helps boost your confidence, even when doing yoga or running. Shapewear is an undergarment made of spandex or nylon and helps create a smooth silhouette, highlighting your natural curves.
Keeping in mind that there are higher chances of sweating while in an exercise class, shapewear is made of a breathable and highly moisture-wicking fabric, ensuring you remain comfortable all along.
Also, since no sweat saturates the fabric, they reduce the chances of infections such as thrush. However, if your leggings are brightly colored, it is advisable to go for shapewear that has a similar color as that of your leggings to provide extra coverage.
Thongs
A thong or g-string is like a pantie, only that it's narrow at the back and prevents the underwear line from being visible. Thongs are comfortable and will ensure you are free from odors, skin irritation, and health problems such as vaginal infections.
It is advisable to purchase a thong with a wider waistband to wear under your workout leggings, as they provide a better grip and cannot slide or shift around while running.
Bamboo Underwear
Yeast and bacteria grow in moist and warm areas, promoting bacterial vaginosis and yeast infections. Bamboo is naturally a moisture-wicking fabric that helps you keep dry even after sweating, decreasing the risks of UTIs, yeast or fungal infections, and allergies.
Bamboo underwear keeps your body cool during vigorous exercise, which improves your performance and keeps you comfortable throughout your exercise session.
Unlike cotton, bamboo fabric has its natural antifungal and antibacterial properties, making bamboo underwear an ideal choice for wearing under your workout leggings. It fights off any bacteria and is resistant to odors. Bamboo fabric contains micro-gaps that provide ventilation, allowing your skin to breathe during vigorous exercises.
Boy Shorts
Boy shorts are a type of undergarment that normally cover more of your butt and hips than other styles of women's undergarments. They are suitable for wearing under your workout leggings as their seams run under your bum's curve rather than across it, making them less visible.
With a broad, flat pane of fabric between the hem and the waistband, they do not chafe or dig into your flesh. They spread pressure evenly along your bare skin, allowing you to move easily while running or doing your gym exercises.
However, boy shorts are made of a cool cotton gusset fabric, making your underwear more breathable, and keeping your genital area dry and ventilated.
Seamless Underwears
Seamless underwear is a kind of undergarment that is designed without visible panty lines. They lie flat on your skin, enabling you to exercise and move freely without self-conscious feeling in the presence of people.
They are non-slip, and even intense exercises such as crunches, squats, or jogging cannot cause them to slide down. They allow air circulation and absorb the extra body sweat, making them ideal for wearing underneath your workout leggings.
Undergarments Ideas to Wear With Workout Leggings
| Undergarments | What to wear under leggings |
| --- | --- |
| Undergarment 1 | Shapewear |
| Undergarment 2 | Thongs |
| Undergarment 3 | Bamboo underwear |
| Undergarment 4 | Boy shorts |
| Undergarment 5 | Seamless underwear |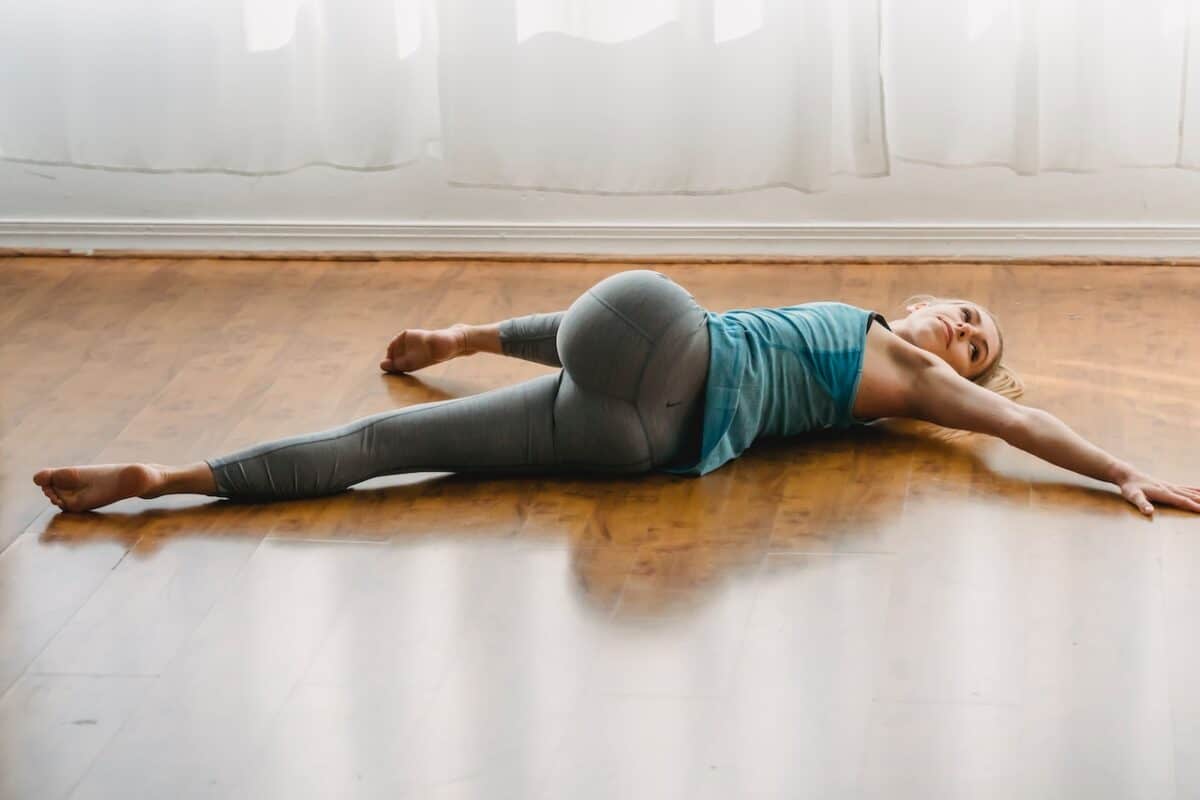 How to Maintain Workout Undergarments
Regardless of the undergarment material, it is advisable to use the following tips to clean workout undies properly, as dead skin cells that rub off and sweat can shelter odor-causing bacteria, making the workout clothes smell.
Use a soft detergent: Harsh detergents may lead to irritations, increasing the risks of infections.
Hand washes the undies in cold water: Cold water ensures that the shape of your undergarment is maintained.
Turn inside out to dry: Turning inside out when drying helps to eliminate as many bacteria.
Hang the garment to dry: Avoid putting your undies in a hot dryer as they may shrink and lose shape. Instead, hang them on a clothesline.
Frequently Asked Questions
Can You Wear Seamed Underwear Under Leggings?
Generally, you can wear any kind of underwear so long as you are comfortable with it. However, it is advisable that you wear seamless underwear, especially when your leggings are light, to prevent the underwear lines from being visible.
Additionally, you can wear leggings with thick lining to hide the color and seam of your underwear.
Can I Go Commando While on My Workout Leggings?
What Can I Wear Under My See-Through Workout Leggings?
Nude underwears that suit your skin tone are the best to wear underneath your see-through workout leggings as they are less visible. Avoid wearing black and white underwear underneath see-through workout leggings, as the colors are noticeable.
BEST WORKOUT LEGGINGS: MY TOP 5!
Conclusion
Wearing the right undergarment when going out for a workout helps to keep you cool, comfortable, and confident. Going for breathable and moisture-wicking undergarments is advisable as they reduce the chances of sweat odors and buildup of infection-causing bacteria.