Thank you for your support!
Keeping your body fit is the kind of self-love that is vibing this year. With the era of social media, flexing your progress is a good way to be more passionate about fitness, right? It's time to upgrade your workout clothes with the best workout leggings that aren't see-through.
Our Top Non See Through Workout Leggings Reviews
Choosing the best workout leggings that will fit your specific needs is necessary. Not only does it make perfect 'outfit of the day' photos, but it will also make your workouts more comfortable. There are endless options out there and so to make things easier for you, we have chosen four of the best workout leggings out there who aren't see-through.
SPANX for Women Seamless Leggings
The SPANX Look at Me Now Seamless Leggings fit the best overall workout leggings because of their amazing features. The fit and the support they give during a workout will surely satisfy your needs. If you are looking for reliable, high-quality, and affordable leggings, these are what you need!
The fabric used in SPANX leggings is soft and breathable. Most of the leggings out there like these have sensitive fabric such as Nike Women's All-in Tight that can easily wear out if not hand washed. These leggings can be washed multiple times and still retain the quality of their fabric.
In addition to the soft and light fabric material, these leggings are also highly dependable especially when during intense workouts. SPANX leggings stretch and sit perfectly to your body no matter what yoga positions you want to try.
Moreover, the leggings cater to all sizes and shapes. The double-layer waistband will assure a perfect fit and no muffin tops! Combining all these wonderful features, the SPANX leggings cost less compared to Lululemon Align Yoga Pants with almost the same features. They deserve to be coined as the best overall workout leggings, indeed!
Pros
High quality fabric that helps the skin to breathe during intense workouts.
Available in different sizes that caters all body shapes and sizes
Cons
The seamless feature in the back does not compliment people who wanted to accentuate their bottoms.
The sizing chart can be confusing if unfamiliar with the brand.
Nike Women's All-in Tight
The Nike Women's All-in Tight will definitely make you say 'just do it' with the versatile features that make them more than just workout leggings. Unlike the Lululemon Align Yoga Pants or Fengbay Yoga Pants that are designed only for workouts, the Nike Women's All-in Tight is designed for all-day wear. These leggings are a must-have for people who love to wear comfort like a crown every day!
These leggings offer dri-fit technology that is famous for sports attire and workout clothes. This technology keeps the fabric dry and comfortable even during intense workouts which fit People who are into extreme fitness routines.
Even with the dri-fit technology, the fabric of the leggings had a soft and breathable feel to it, making it comfortable to wear even on normal days and even on casual occasions. The body-hugging design accentuates the parts that you want to tone. What is more terrific than that is that they have double pockets!
Even the best overall SPANX seamless leggings don't have this amazing feature.
Pros
Dri-Fit technology that keeps the leggings dry and comfortable even in intense workouts.
Has double pockets for phones and keys which offers convenience.
Cons
Mid-tier price for one pair of leggings that offers similar features compared with other brands half its price.
The fabric has a shiny texture to it that subtly reflects light.
Fengbay High Waist Yoga Pants
If you are looking for high-quality workout leggings, the Fengbay High Waist Tummy Control Yoga Pants are what you are looking for. For an affordable price, you will have four leggings at the price of one!
These leggings have high-quality, non-see-through, four-way stretch fabric. Even the Lululemon Align Yoga Pants cannot match with Fengbay Yoga Pants when it comes to stretch!
They also feature a high-waist design that fits perfectly into every shape and size. They're comfortable to the skin as it was designed to remove moisture from the body during workouts. It also has two side pockets for valuables.
These Fengbay leggings can be worn and washed many times and still remain the same with their quality and comfortability. They're also stretchable enough to accommodate bigger sizes and shapes, making them suitable for women who want to lose weight as they can be a more sustainable use for them. They can even wear it in there before and after photos with its stretch, fit, and quality still maintained!
Pros
Comes in a bundle of four high-quality leggings for an affordable price.
The side pockets are convenient for safe-keeping valuables.
Cons
Must be hand dried to maintain its high-quality fabric from stretching out too much.
Not appropriate for people who only wanted to buy one pair of leggings since it comes in a bundle of four.
Lululemon Align Pant ⅞ Yoga Pants
The Lululemon Align Pant Yoga Pants win the crown when it comes to comfortability. These leggings pride themselves on their naked-sensation design. The comfort you can get while wearing these leggings are incomparable to all leggings on this list! The fabric is softer and lighter compared to other leggings which level up the comfortability and the refreshing feel they offer to a whole new level.
Despite the naked feel, these leggings come with a high rise waist that provides a secure feeling, especially during biking compared to the Nike Women's All-in Tight that offers a mid-rise waistband that can be unflattering at times. The special Nulu fabric is sustainable and durable which makes the leggings' lifespan last for years of use.
Moreover, their no-dig waistband allows a more flat and skin-like texture in the waist. The ⅞ length of the leggings is designed to get out of the way during exercises like biking, running, and the likes. They also have a hidden waistband pocket, perfect for keeping or hiding keys, cash, and cards.
Pros
The naked-sensation and lightness of the special Nulu fabric gives comfort and breathable wear for women during intense workouts. They can also be worn for everyday comfort.
The ⅞ length designed for workouts give more space for ankles and feet to relax and breathe while exercising.
Cons
The price range of these leggings is significantly higher compared to other leggings in the market due to the special nulu fabric used.
The hidden waistband pocket won't fit phones or small wallets.
Features to Consider for Workout Leggings That Aren't See Through
Check out the features you need to consider for workout leggings that aren't see-through:
| | | | | |
| --- | --- | --- | --- | --- |
| Brand | SPANX for Women Seamless Leggings | Nike Women's All-In Tights | Fengbay High Waist Yoga Pants | Lululemon Align Pant ⅞ Yoga Pants |
| Style | Seamless, full-length leggings | Full-length leggings with double pockets | Full-length leggings with side pockets | ⅞ length leggings with hidden waistband pocket |
| Fabric Material | Soft and breathable fabric | Fabric with Dri-Fit technology | Soft, absorbent, and stretchable fabric | Naked-sensation lightweight Nulu Fabric |
| Size Range | Small to Plus sizes | Small to Regular sizes | Small to Plus sizes | Small to Regular sizes |
Comfortability
Workout leggings are worn because of the comfort they give during exercises. With that comfort comes the energy and the will to move and progress through a healthy and fit lifestyle. Moreover, comfortability is also based on the attribute of confidence that leggings gave to women.
Not all women wear leggings since most of them have an awkward fit and see-through thin fabrics which is why the leggings on the list offer high-quality non-see-through fabric that will boost the confidence of women during workouts!
Good Fit
Leggings are body-hugging clothes that can reveal our bodies' curves and shape so it is important for a pair of leggings to have a good fit. Design is extremely important in a piece of clothing because that aspect involves the seaming and stitching techniques that determine whether a clothing can be a good fit for a specific body size or not.
While factors like size and shape matter a lot with other types of clothing, these kinds of hindrances can easily be addressed in leggings since they are stretchable and built to stick closer to the skin. The non-see-through leggings on the list, preferably SPANX Seamless Leggings and Fengbay High Waist Yoga Pants, can be a good fit for all body sizes. Remember, good leggings should flatter the women's curves–not hide them.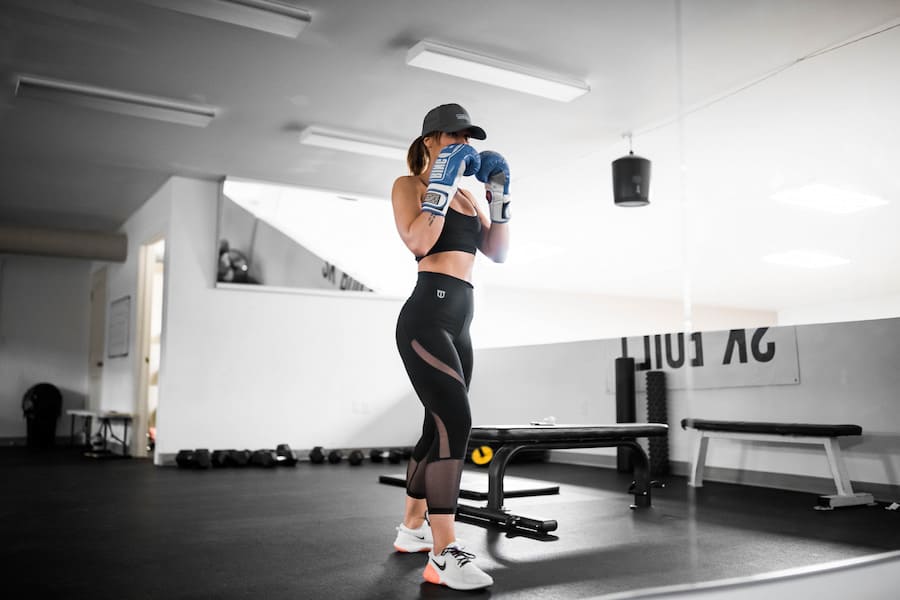 High-quality Materials
Choosing leggings that are made with high-quality materials will last longer than others made with poor ones and that is a fact. The quality of the materials used in leggings, particularly its fabric, is vital in finding the right workout leggings for you.
It should be clear for you to understand that not all high-quality materials feel the same, and choosing the wrong material despite its quality will also cause you to discomfort in the long run.
For instance, while others love to wear leggings with dri-fit technology like the Nike Women's All-in Tights, others hate wearing as they personally prefer a softer, thicker, and absorbent fabric such as Fengbay High Waist Yoga Pants and Lululemon Align ⅞ Yoga Pants. You must find what kind of fabric is the most comfortable for your preference to know what is the best leggings for you.
Length and Structure
Leggings differ in length and structure to cater to a more specific audience. One of the examples is Lululemon's ⅞ Yoga Pants on the list which offer more room and comfort for ankles to move freely. This length is applicable for people who love biking and treadmills as part of their workout. On the other hand, there are also people who prefer to have their ankles covered during workouts as they feel more secure and balanced.
The same goes for the structure. Other leggings offer smaller waistbands while others offer thick ones for added security and fitness. High-waisted and low-waisted leggings also differ in their waist coverage since there are people who want to have more support in their waists during workouts.
Considering the length and structure of the workout leggings will surely make your workout feel more light, balanced, and of course, comfortable.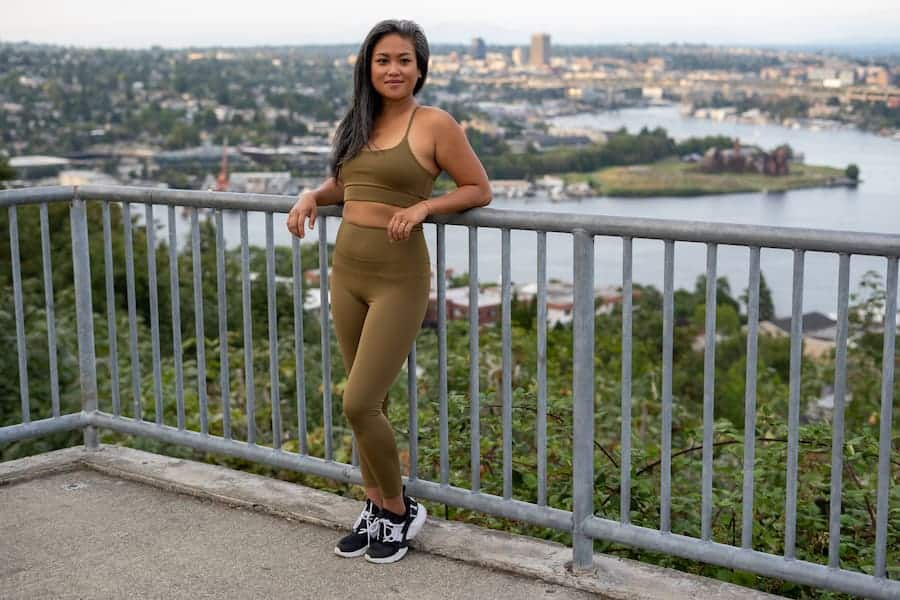 Size
It is known that you should wear appropriate sizes of clothes and that rule doubles when applied to leggings. Because leggings are bound to be body-hugging and fitting, using the wrong size of leggings will cause discomfort to you and your skin. Small sizes will be too stuffy for you, and it can irritate your skin, especially your waist and thighs.
Thus, it is good to have leggings like SPANX Seamless Leggings and Fengbay High Waist Yoga Pants that have a wide variety of sizes to match and fit naturally in your body size.
Moreover, it can cause damage to your skin due to intense friction. On the other hand, wearing leggings that are bigger than your actual size will have bulging pieces of fabric when worn. It will also feel extremely comfortable during workouts.
Style
Style should be put in perspective too whenever you are choosing a clothing piece, more importantly, if you are choosing what is the best leggings for you. There are leggings that can satisfy one's comfort but not one's taste in fashion. For instance, the Nike Women's All-in Tights are one of the most stylish leggings you can find as they can be used in workouts and even everyday use.
Since you will wear these items during workouts, it is best that their style compliments your taste and your body. Most women love to look at themselves during workouts to see their progress and to simply feel good about themselves. Wearing posh and stylish leggings will complete the look that will give you a boost of energy and confidence to continue with your fitness journey.
Frequently Asked Questions
What Is the Best Material for Non See Through Leggings?
Performance fibers or synthetic materials such as Nylon and Polyester are mostly opaque in quality and are one of the best materials used for non-see-through workout leggings. They also have better stretch than cotton.
How Do You Check if Your Leggings Are Non See Through?
Make sure that your leggings are not see-through by trying to flash bright light to it to see the thickness of the fabric. Also, bending your knees while wearing the leggings will also reveal if they are see-through or not.
Conclusion
Choose workout leggings that are comfortable for your preferences while considering the quality of the materials and price. What really matters is that it should be able to make you feel secure, comfortable, and confident while wearing it. We have given you the best options, and it is up to you to decide!