As an Amazon Associate we earn from qualifying purchases.
There has been a vast array of options when it comes to the leggings trend. Since the athleisure trend has started to take over the fashion world, more and more brands have released different types of leggings with various styles, lengths, fabrics, and prints. If you find yourself confused and wanting to narrow down the overwhelming choices, don't worry. I'm here to help.
What Are the Different Types of Leggings
Besides leggings being created in many different sizes and colors, leggings are also distinguished specifically through their types. Leggings are mainly categorized through a variety in their lengths, fabrics, and styles. To help you in choosing the right leggings you need, let's take a look and learn more about each type:
Length
Ankle-length
Ankle-length is perhaps the most common length when it comes to leggings. This is true especially when it comes to the winter season and you need something to keep you warm underneath your dresses or skirts. These are the leggings that cover your legs up to your ankles. This type of leggings is so versatile so you can wear it with almost anything in your closet.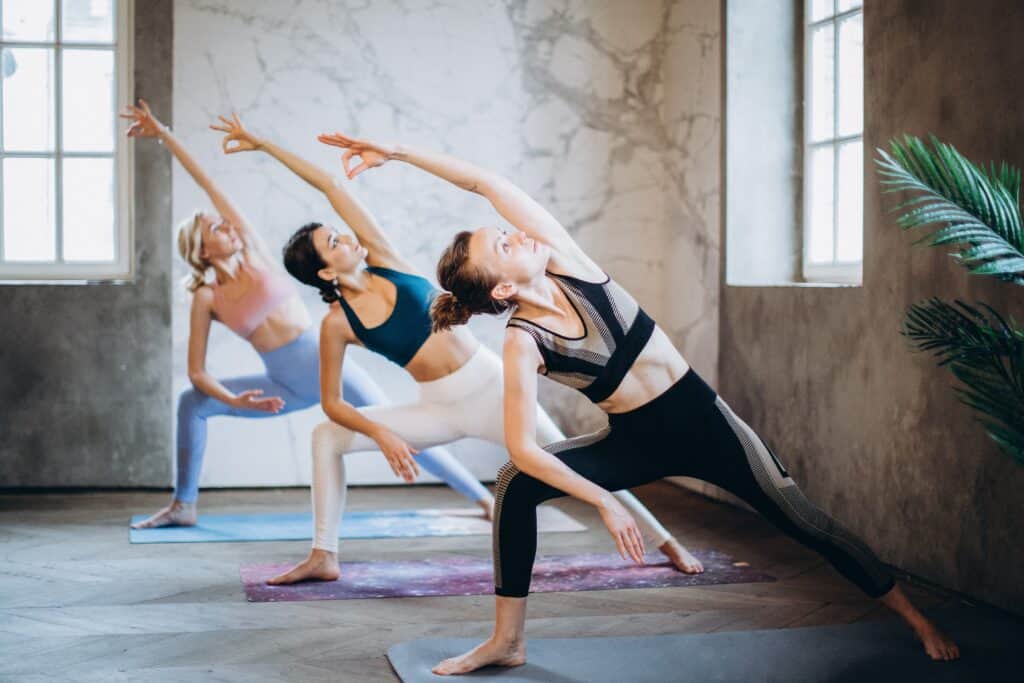 Capri-Length or Mid-Calf Length
This one is called various names like  ¾ leggings, capri-length, mid-calf length. Don't get confused. You know it's that type when the fabric ends between your knees and ankles. 
This type of leggings is not recommended to be used in semi-formal or work events because it gives off a totally casual vibe. You can still pair them up with your active wear, tunic dresses, or tops though!
Knee-Length
Knee-length cuts below or in your knees and is usually what you will see women are wearing at workout sessions, dance classes, or yoga sessions. 
You can also wear knee-length leggings when you're doing outside activities such as hiking, walking, or jogging. If you're petite, however, this could potentially make you look shorter. When buying this type, keep this in mind.
Footed Leggings
Footed leggings are almost mistaken as tights by many women because indeed, it looks like one. This one covers your entire legs including your feet. The only difference it may have with tights is that leggings are usually made of thicker, non-sheer material whereas tights could seem transparent when stretched out sometimes.
Stirrup Leggings
If you're looking for leggings that don't constantly roll up your ankles, this might be the one for you. Stirrup leggings span up to the midway part of your feet to make sure your leggings will stay in place when worn under your socks and shoes. These are usually worn by women in their yoga classes, sports trainings, or horseback-riding.
Fabric
Leather Leggings
Leather leggings are known for being classy and sophisticated. Most people who wear this type intend to look more professional and seem as though they put more thought into their outfit. This is perfect for you if you're looking for leggings that are work-appropriate or can be worn in more formal events.
Pure Cotton Leggings
Leggings made from pure cotton are made for ultra comfort and breathability. However, the downside with cotton material is that it easily gets stretched. In a matter of a short time, your leggings will usually be worn out.
Synthetic Leggings
Buy leggings that are a mix of cotton and synthetic materials. You'll be amazed at the feel. Fabrics like spandex and nylon are going to contribute to the overall quality of your leggings to give you coverage and mold ever-so-perfectly to your body.
Compression Leggings
Leggings with compression panels are popular for athletes because of how they help maintain your proper blood circulation even when you're doing high-intensity exercises or activities. These leggings also have moisture-wicking or sweat-absorbent features you wouldn't want to miss.
Style
Athletic Leggings
Leggings, after all, are originally a part of athleisure clothing. Hence, you can expect that athletic or activewear leggings are the most common styles of leggings on the market. These are what you can opt to wear when you're planning to do lots of movements or exercises to make sure you'll be comfortable all throughout.
Treggings
Treggings only mean leggings that you can use as trousers. Because of the casual look of athletic leggings, women who want to leverage the versatility of their leggings go for this type of leggings so they can look neater and more professional.
Jeggings
If you love your jeans but are searching for more comfort, jeggings could be your best option. This is the type of leggings made of a combination of denim fabric and usual legging materials. 
The difference between jeggings and treggings is that jeggings look more like jeans, while treggings resemble trousers. Additionally, treggings are generally thicker than jeggings. 
Types of Leggings
| Type | By Length | By Fabric | By Design |
| --- | --- | --- | --- |
| Type 1 | Ankle-length | Leather | Athletic |
| Type 2 | Capri Mid-Calf | Pure Cotton | Treggings |
| Type 3 | Knee-Length | Synthetic | Jeggings |
| Type 4 | Footed | Compression | |
| Type 5 | Stirrup | | |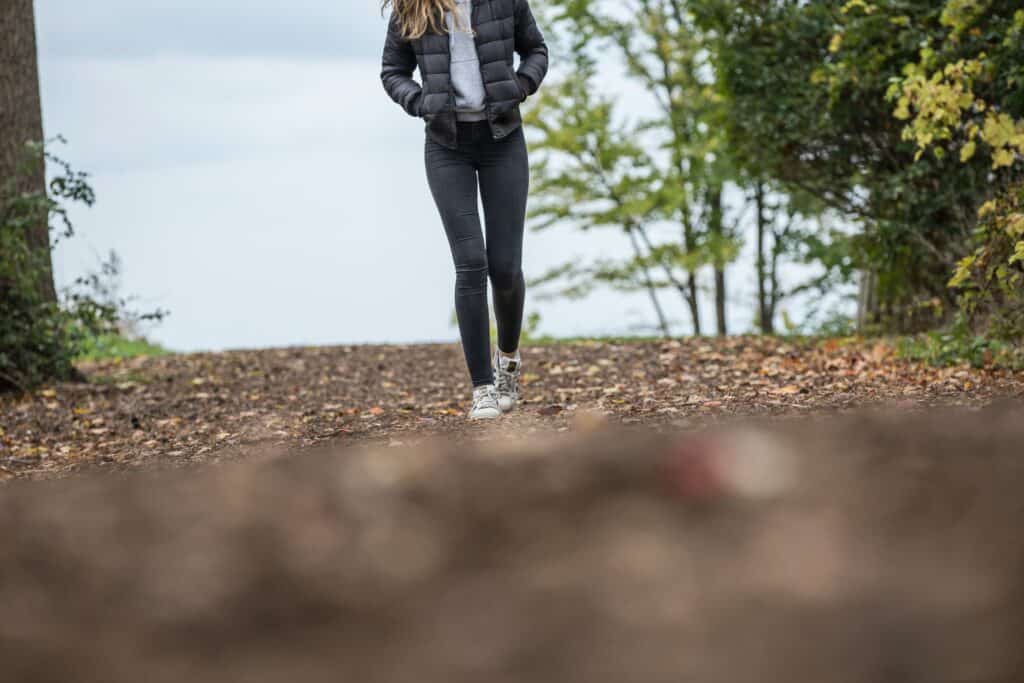 Frequently Asked Questions
Does the Occasion Matter When Choosing the Type of Leggings to Wear?
Usually, the occasion matters when choosing the type of leggings to wear. For instance, you can wear ankle-length leggings made of cotton when going for formal settings such as the workplace.
On the other hand, you can wear compression leggings made of stretchy materials when going for workouts.
Are Tights a Type of Leggings?
Tights are not a type of leggings. Although both look similar and are generally skin-tight garments that cover from the waist area down to the legs, leggings are thicker, while tights are sheer.
In most cases, tights cover the foot, while leggings are footless. Also, leggings can be worn as pants, while tights are usually worn as undergarments.
What Are Colored Leggings?
Colored leggings are just like the normal leggings falling under any category of the above types, only that the fabric comes with a combination of colors or patterns. Some common patterns include geometric, snake, leopard, or galaxy patterns.
Conclusion
Whichever works best for your style and suited for your height or personality, feel free to identify which of these types of leggings you feel more comfortable and confident. In the end, don't forget to consider the overall quality and look of your leggings so you can rest assured that you can wear them anytime and anywhere.