As an Amazon Associate we earn from qualifying purchases.
There are various types of fabrics used for athleisure pieces such as leggings. Some fabrics are used for elasticity and compression and some are preferred over others for more durability and comfort. Nylon and polyester are among the two most commonly used fabrics, so which one of them is better for leggings and gym clothes?
Is Nylon or Polyester Better for Leggings?
There are many factors that will affect your decision whether to get nylon leggings or polyester leggings. If you are looking for more durable and stronger fabric, nylon leggings are better than polyester because they are more durable and abrasion-resistant. Nylon has a softer feel and is considered to be more breathable and comfortable than polyester, because polyester usually has more rigid fibers.
Of course, there are many reasons why you can still choose polyester leggings. One of these reasons is if your main concern is to combat odor or bacteria in your leggings that may come from dirt, sweat, or other external factors.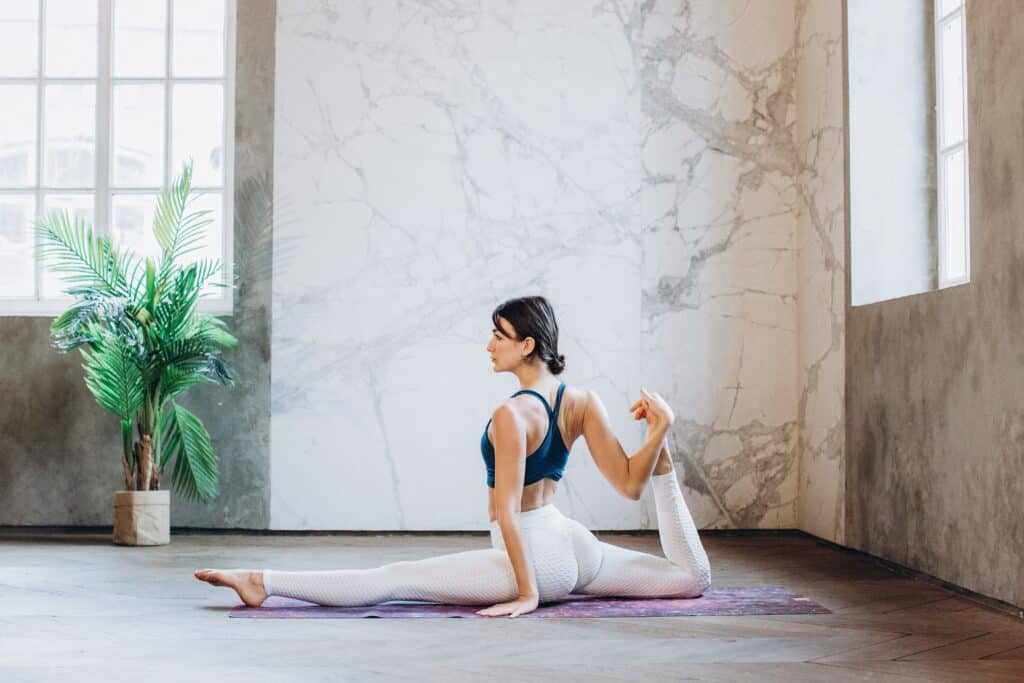 What Are Most Leggings Made Out Of?
Workout leggings are usually made of nylon and polyester, combined with other fabrics such as spandex, which contributes to the stretch and flexibility properties of leggings. Fashion leggings are generally made of wool or cotton as well. In terms of Lululemon performance-wear leggings, their brand's primary fabric is called luon, which is considered to be 86% nylon and 14% lycra. 
Advantages of Nylon Leggings
Both nylon and polyester have their own pros and cons. Let's first look at the reasons why you should choose nylon over polyester: 
1. Wicks Sweat Away
Synthetic polymers like nylon and polyester are considered hydrophobic. This means that they are moisture- and sweat-wicking, which gives the fabric the ability to move liquids like water and sweat away from the skin and make them evaporate using body heat. This also means that these two fabrics have quick-dry properties.
Although both of these materials have moisture-wicking properties, polyester has lower moisture absorbency than nylon. Nylon is made from more material treatments that make it more quick-drying and sweat-wicking.
2. More Comfortable Against Skin
Polyester used to be a stiff and rigid material back when it was still at the peak of being used as an outerwear fabric. Over time, it became more comfortable and provided a relaxed fit for leggings when it became more synthesized.
Nylon, on the other hand, was originally designed as an alternative fabric to silk, so its overall weave and structure give off a softer, smoother feel than polyester does. If you're looking for more comfort and want your leggings to feel like they are a second skin, nylon should be the fabric you choose, next to pure cotton for leggings.
3. Tear-Proof and Durable
Polyamide, or nylon, wins over polyester when it comes to durability and strength. Even though it is still recognized that polyester is a durable material, nylon is still significantly stronger and more abrasion and damage-resistant compared to it. Nylon's fibers are also longer lasting and tear-proof.
Additionally, the good thing about polyester is that it holds its shape and is not likely to shrink when you dry-clean it.
4. Absorbs Skin Oil
As mentioned earlier, nylon and polyester are quick-drying and moisture-wicking. This means that you won't have to worry about sweat trickling down your legs or making unnecessary marks in the cloth of your leggings. The advantage of nylon, however, is that it is oil-resistant. Polyester is not.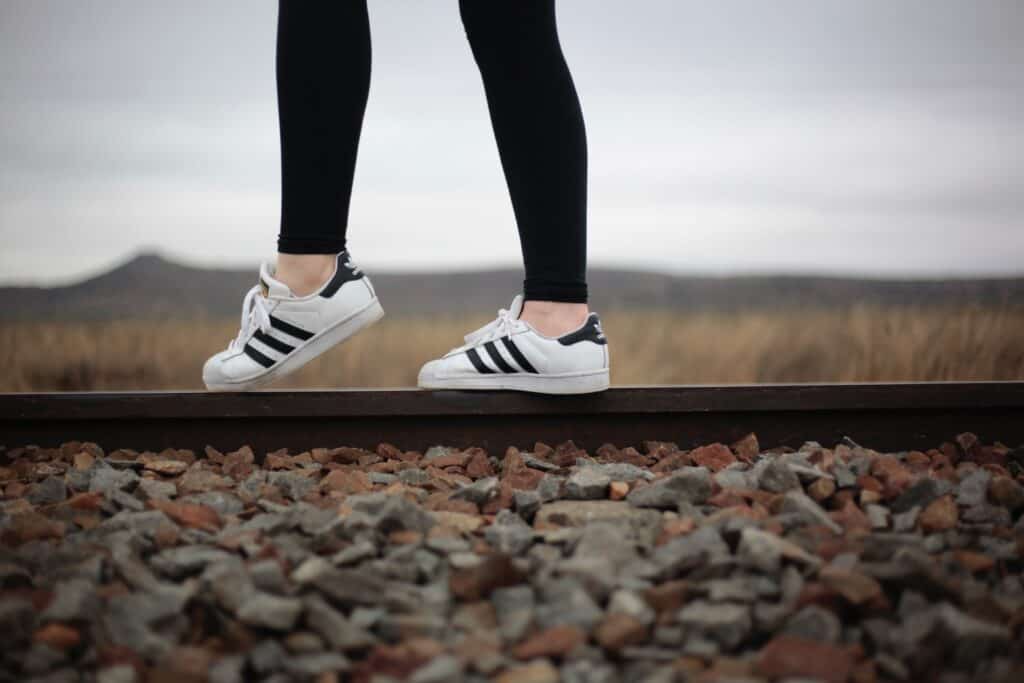 Is Nylon Good for Leggings?
If you are looking for more durability and longer-lasting quality in your leggings, nylon fabric is definitely something you should opt for. It is more abrasion-resistant and tear-proof. Plus, it gives a softer, smoother feel, which is definitely an important factor to look for in leggings.
Advantages of Polyester Leggings
Although nylon tends to be the stronger fabric, polyester has still its pros. Let's look at them one by one.
1. Includes an Anti-bacterial Feature
Polyester is made out of fibers that have some antibacterial properties, which means it can combat foul odor or any stinkiness that could arise as you go through your workout or sports training while wearing your leggings.
Some leggings with polyamide or nylon as a piece of fabric are now starting to embrace this feature as well, but it is undeniable that polyester does better in this purpose.
2. Provides Protection
If you're going to use your leggings as protective outerwear for when you have high-intensity workouts or intense sports training, polyester could be a good material for your chosen leggings. Its fibers are made of natural properties that are of high resiliency and abrasion resistance.
3. Suitable for Budget Shoppers
Both nylon and polyester are very common materials used in leggings. Overall, they are both used when creating an affordable pair of leggings. Generally, polyester is the more commonly inexpensive one because it can be recycled as a fabric. Nylon is more durable, so it tends to be slightly more expensive.
Is Polyester Good for Leggings?
If you're on a budget but you still want to enjoy the resiliency and durability of nylon, polyester is a good leggings choice. It is better as a material for leggings in the sense that it has antibacterial properties which will help you avoid foul odor and bacteria thriving in your leggings as you sweat when you wear it. 
Pros of Nylon and Polyester Leggings
| Pros | Nylon | Polyester |
| --- | --- | --- |
| Pro 1 | Moisture-wicking | Antibacterial properties |
| Pro 2 | Comfortable | Offers protection |
| Pro 3 | Abrasion-resistant | Abrasion-resistant |
| Pro 4 | Absorbs skin oil | |
Frequently Asked Questions
Which Leggings Are Better for Pregnancy Between Nylon and Polyester?
Generally, both nylon and polyester leggings are stretchy and will comfortably support the baby bump. However, nylon might be preferable when the pregnancy is at an advanced stage due to its softness and elasticity.
Leggings with polyester fabric might be uncomfortable around the waistband.
Is There a Difference Between Nylon and Polyester Leggings?
Generally, nylon leggings have a smooth texture compared to polyester leggings. Nylon has similar properties to silk which makes it soft, silky, and shinier, while polyester is a duller and rougher fabric.
In addition, nylon leggings are strong and stretchier and might be preferable for rigorous activities like yoga.
Are Nylon and Polyester Leggings Skin Friendly?
Both nylon and polyester leggings are designed to be skin friendly. However, both materials are synthetic and can lead to skin irritations if you have sensitive skin.
For instance, nylon is designed to absorb sweat, and this can result in fungal accumulation, which can cause irritations.
10 Things to Check Before Buying Leggings/ What no one told you about PERFECT LEGGINGS
Conclusion
Both nylon and polyester have their reasons why you should or should not prefer them to be the legging fabric of your choice. Nylon is more abrasion-resistant, durable, and moisture-wicking. Polyester, on the other hand, is more budget-friendly and has anti-odor features. In choosing which leggings to buy, keep these factors in mind to make sure the leggings you plan to buy is worth your money.