As an Amazon Associate we earn from qualifying purchases.
For something that we wear on a regular basis, we pay so much for leggings. You wear them out faster than any other clothing in your closet. These are our recommendations for the best cheap leggings. They are reasonably priced with just the practical amount of comfort and lifespan.
Top Cheap Leggings Reviews
The best affordable leggings are not just those that come in a lower price point. They should also be able to compete with those from higher-end brands such as Lululemon. Our picks definitely don't disappoint.
There's a lot of doubt that comes with a low price tag. These five we've found should be the least of your worries. Find one that best fits your style and do away with the guilt of throwing it out when you're over it.
Brand
Ranphee Black Ripped Elastic Slim Cutout Leggings
Leggings Depot Buttery Soft Classic Fashion Print Leggings
Product
Materials
78% Polyester, 22% Spandex
92% Polyester, 8% Spandex
Features
Ultra-stretch fabric, High waistband
One size fits most, All day comfort
Brand
Ranphee Black Ripped Elastic Slim Cutout Leggings
Product
Materials
78% Polyester, 22% Spandex
Features
Ultra-stretch fabric, High waistband
Brand
Leggings Depot Buttery Soft Classic Fashion Print Leggings
Product
Materials
92% Polyester, 8% Spandex
Features
One size fits most, All day comfort
Ranphee Black Ripped Elastic Slim Cutout Leggings
The Ranphee Black Yoga Pants-Women Ripped Elastic Slim Cutout Leggings is the most versatile all-around legging. With the elasticity of a yoga legging and look of ripped jeans, it fits right into all the places you're hitting up during the day. This reverses the grimy appearance after hitting the gym.
With polyester as the primary material, the leggings are resistant to abrasions and wrinkling, letting them retain shape well no matter how long you wear them. Adding some spandex makes the leggings stretchable and lightweight. 
If you get irritated with leggings always clinging to your skin due to sweat of you experience any chaffing, the breathable materials will make you comfortable in any physical activity. 
Due to the high-rise design, the waistband hits right in the waist for tummy control. As long as you pick your actual size, the band won't slide down, even on strenuous movements.
Finally, note that these are Capri leggings, so women with a height of 5.25 feet or below may find this pair a bit lengthy. 
Walk into the mall and own your look without spending too much. There's no running out of outfit options even if you use it every single day of the week with a different pair of shoes and top.
RANPHEE Womens Black High Waisted Tummy Control...
Ultra-stretch fabric offer great breathability,keeping you comfortable all day!
High waist waistband for better tummy control,Say goodbye to muffin top and to be a better you.
Slim fit leggings yoga pants featuring ripped cutout design
​Leggings Depot Ultra Soft Printed Fashion Leggings
No products found.
No matter how opaque some leggings claim to be, most leggings still run the risk of being see-through. This happens especially on plus sized women. With its wide range of plus sizes, No products found. makes sure no panties are visible under them.
Plus sized women are at a disadvantage with leggings because they're all but covered up in the innately thin and soft material. This buttery-soft leggings, with fashionable prints to boot, are made with adequate stretch to the fabric. You get the best reliable coverage if you're larger than a size 4.
Even if the fabric stretches in all directions, the leggings maintain its opaqueness and original shape. This is also evident in the thin, elastic waistband that provides support when you want to control how your abdomen looks, without leaving itchy or painful band marks. 
What's more, there's plenty of stretch in the waist and legs, so if you need more room to move, these leggings are a treat to plus-size ladies. If you usually pick medium-sized bottoms, go ahead, and the stretchiness will comfortably hug your waist and legs.  
To top it all, the feminine yet edgy pattern can be a vibrant addition to your wardrobe. Overall, this pair lets fashion and functionality coexist at a very reasonable price. 
No products found.
Leggings Depot Buttery Soft Classic Fashion Print Leggings
Most fashion leggings don't come as long as pants, are thin as see-through, and have many problems with fit. The Leggings Depot Women's Buttery Soft Classic Fashion Print Leggings is one of the few that doesn't fall victim to these poor quality features.
If anything, this pair has the quality similar to a top rated yoga legging with spandex and polyester blends. They also reach down to the ankles for a full-length coverage that ends just above your stilettos.
The fabric stretches in all directions to encourage free movement, yet it's thick enough to hide any awkward lines that might show through. The high waistband hugs the waist to keep them in place and prevent sagging. 
Whether it's a night out with the girls or simply lounging at home, these leggings will support your body from the waist down while making you feel comfortable. 
If you want an economical choice without sacrificing comfort and support, you can benefit from this pair's one size fits most sizing, so that it will last you through weight gain or loss. 
Printed leggings are intended more for fashion than anything else and these are as long and opaque as pants should be. They're as party-appropriate as disco pants. You could wear a pair to the club without garnering weird looks.
Conceited Premium Ultra Soft Velvet Leggings
No products found.
If all activewear is as appealing as the No products found., everyone would be wearing leggings to the office. It's pieces like this that makes our dreams of sporty-chic outfits come true. It's the perfect balance between playful, edgy, sporty, girly and everything in between.
Velour on the outside but blended with premium-stretch spandex, this pair offers the best of both worlds of fashion and activewear. The racer stripes add more to the punch with an edginess that contrasts the soft velvet.
Due to the plushy feel of velour, the leggings have a soft and shiny appearance. The material is thick enough to provide warmth during the cold seasons, yet it won't make you feel too sweaty during hot days. 
What's also great about this mid-waist pair is that even though it has stitches around the top of the buttocks, you won't need to fidget to keep the seams at the center. Besides, the waistband, which sits above the belly button, helps keep the leggings in place. Even the hem does a good job of staying around the ankles. 
Available in various sizes and over 15 colors, these mid-waist leggings can help you pull off retro and sexy outfits at any time of the year.  
No products found.
TSLA Yoga Pants High-Rise
No products found.
Built-in with multi-functional design, the No products found. is probably one of the best leggings with features worth more than what you expect.  As part of the NyloSkin Lux® Series, the nylon and spandex blend provides the smoothest feeling.
Allowing the most flexible movements possible, this could satisfy all your workout needs for the week in one session. It's made with a so-called seagull shape with a hidden band for the best contouring of muscles and curves to utilize your workout efficiently.
Even if there are no compression panels, the four-way stretch design results in the necessary support for every action you make. The same design also creates a slimming effect as the leggings conform to your movements. 
Some women who exercise don't choose high-waisted bottoms because the band digs into the skin during squats. This pair eliminates that problem using an elastic waistband that stretches as you move.
What's also special about this pair is that the construction gives a nice lift and improves shape control. Pick your actual size, and you should have the perfect fit for bending and squatting. The hem also sits right to the ankle bones. 
As a bonus, there are pockets on the sides to keep your belongings when exercising outdoors. Whether you're into hiking, weightlifting, or dancing, the fitness support, and control coverage of these leggings are worth every penny.  
No products found.
Buying Considerations for the Best Cheap Leggings 
Before making the final decision, you must have a good understanding of some aspects of leggings, especially sizing and functionality. With so many styles and designs available, here are some features to keep in mind.
Comparing Cheap Leggings Features
| Leggings | Closure type | Inseam (inches) | Pockets |
| --- | --- | --- | --- |
| Ranphee | Elastic | 33.07 | No |
| Leggings Depot | Elastic | 28 | No |
| Depot Space Print | Elastic | 27 | No |
| Conceited Velour | Pull on | 27 | No |
| TSLA Yoga pants | Pull on | 27 | Yes |
Size 
You can determine the level of support by how well the leggings fit on your waist and legs. Hence, you need to pick the right size. Your regular pant size should give you an idea when choosing leggings size. 
To get more accurate sizing, use a measuring tape to measure the hips, waist, and the length from the crotch to the ankles. 
Then, consult a sizing chart, especially since sizing often varies among brands. If your size is in between two sizes of the sizing chart, it would be better to purchase the larger size than the smaller one.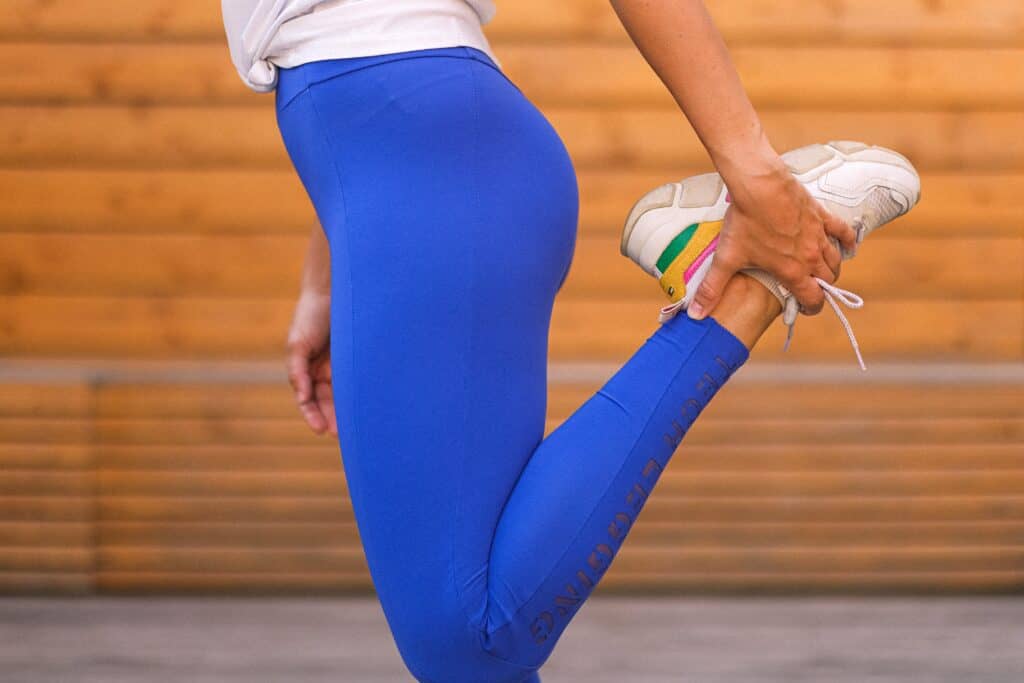 Comfort 
Knowing the fabrics allows you to pick which leggings can provide the most comfort as you move. Remember that the material is in direct contact with your waist and legs. If you want to avoid chafing or skin irritation, consider these kinds of fabrics: 
Moisture-Wicking
Fabrics that wick away sweat and moisture can make you feel dry and lightweight. Leggings with moisture-wicking capacity don't cling to the body or chafe without sweat absorption. The best examples are the leggings from the list that contain spandex and nylon. 
Breathable
This kind of fabric helps keep the body cool during high-intensity actions, especially workouts. Since the leggings will cover most of your body from the waist down, it's important that there's a way for the skin to breathe. Leggings that use polyester and velour are excellent options. 
Length 
Even if you're choosing cost-friendly leggings, it's essential that you don't sacrifice the length, as it has an impact on your body size. This is because the length of the leggings can accentuate the legs.
Ankle Length: Ankle-length leggings cover the entire legs, with the hem reaching down the ankles, making it suitable for all body types. This is one of the most common and popular styles as you can wear them like pants or under other articles of clothing. 
Knee Length: While your height and size may affect the length, this style typically features a hem that's within an inch or two above or below the knee. 
Capri: This style of leggings is less formal than full-length ones because the hem touches mid-calf. You can usually pair this length with long tops and skirts.
Rise
Whenever you shop for leggings, you may think that a mid-rise one should have the "in-between" price, or low-waist leggings are probably cheaper than high-rise ones. It's crucial that when considering the rise, you're also thinking about how this can affect tummy and leg support, not just the price. 
The difference between the three classifications is the distance between the waistband and the inseam. Simply put, it's all about where the rise sits compared to your natural waistline. 
High-Waist 
High-rise leggings have waistbands that sit above the belly button. It emphasizes the length of the body while accentuating the curves. Regardless of your body type and size, high-waist leggings can cover the tummy while providing support for the legs. 
Mid-Waist
Mid-rise leggings feature waistbands that rest a bit below the belly button. Depending on the stretch, it may also lay right on top of the hip bone. 
Low-Waist
Low-rise leggings fit slightly lower from the hip bone. Due to the elasticity and firm fitting of leggings, you can wear low-waist ones without worrying about the bottoms sliding down to your thighs.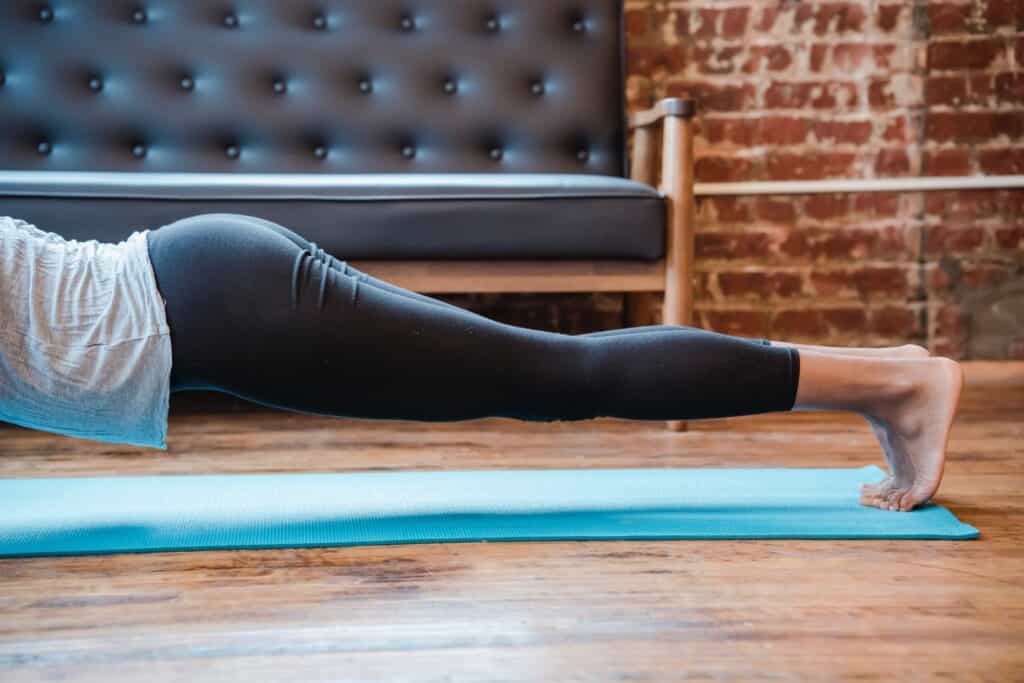 Design and Patterns 
Since this is all about cheap yet comfortable and convenient leggings, the design is more of an aesthetic or fashion preference. Although, depending on the brand, the patterns and colors may play a role in the pricing. 
When it comes to additional features, it pays to check if the colors flatter your figure. Black and darker hues can create a slim silhouette while accentuating the right curves. Light-colored and patterned leggings attract direct attention to the legs, which may not be the best option for everyone. 
Aside from that, see if there are pockets. In this practical world, pockets are little yet functional features in any clothing. 
Frequently Asked Questions
Do Cheap Leggings Rip Easily?
There are higher chances of cheap leggings ripping, especially if you excessively stretch the fabric or rub it.
Generally, cheap leggings are made of low-quality, thin fabrics that can easily tear. As a result, cheap leggings are not the best if you are engaging in rigorous activities or if you have thicker thighs that rub when walking.
What Can I Pair With Cheap Leggings?
Generally, it's not easy to tell that leggings are cheap at a glance, and you can pair them with a wide range of tops and dresses just like their expensive counterparts.
However, avoid wearing cheap leggings as pants, as most are thin and see-through and might reveal your body.
How Long Can Cheap Leggings Last?
You can expect cheap leggings to last anywhere from one to two years.
However, this depends on how often you wear them, the activities you do with the leggings, whether you are following the washing and drying instructions, and whether the leggings are fitting.
For instance, the leggings might not last if they are undersized and the fabric is excessively stretched.
18 Stylish Ways to Wear Leggings! *must-see*
Conclusion
In the case of these five leggings, we can vouch that their low price doesn't reflect poor quality. It's far from reality as these pairs have some unique qualities that differentiate them from the common leggings in the market. Each one calls to a different personality and lifestyle of women.