As an Amazon Associate we earn from qualifying purchases.
Leather leggings are the perfect compromise between casual tights and leather pants. They offer the comfort of your everyday leggings and the style factor of the leather bottoms. Therefore, they are an integral part of your wardrobe.
This article is all about how to wear your leather leggings on a night out to realize their maximum potential.
What to Wear With Leather Leggings on a Night Out?
You can wear leather leggings with a variety of tops on your night out since styling them is a breeze. You can pair them with a lacy blouse, graphic tee, and blazer, or a silk button-down. Round off with the classic black heels and selected accessories for a head-to-toe dressy look.
When it comes to the color of these leggings, stick to black since it is incredibly versatile and the safest option. It is best to steer clear of colorful leggings in leather, especially when you are stepping out at night, as they can look very unflattering. If you are still unsure, I have plenty of styling inspiration for you.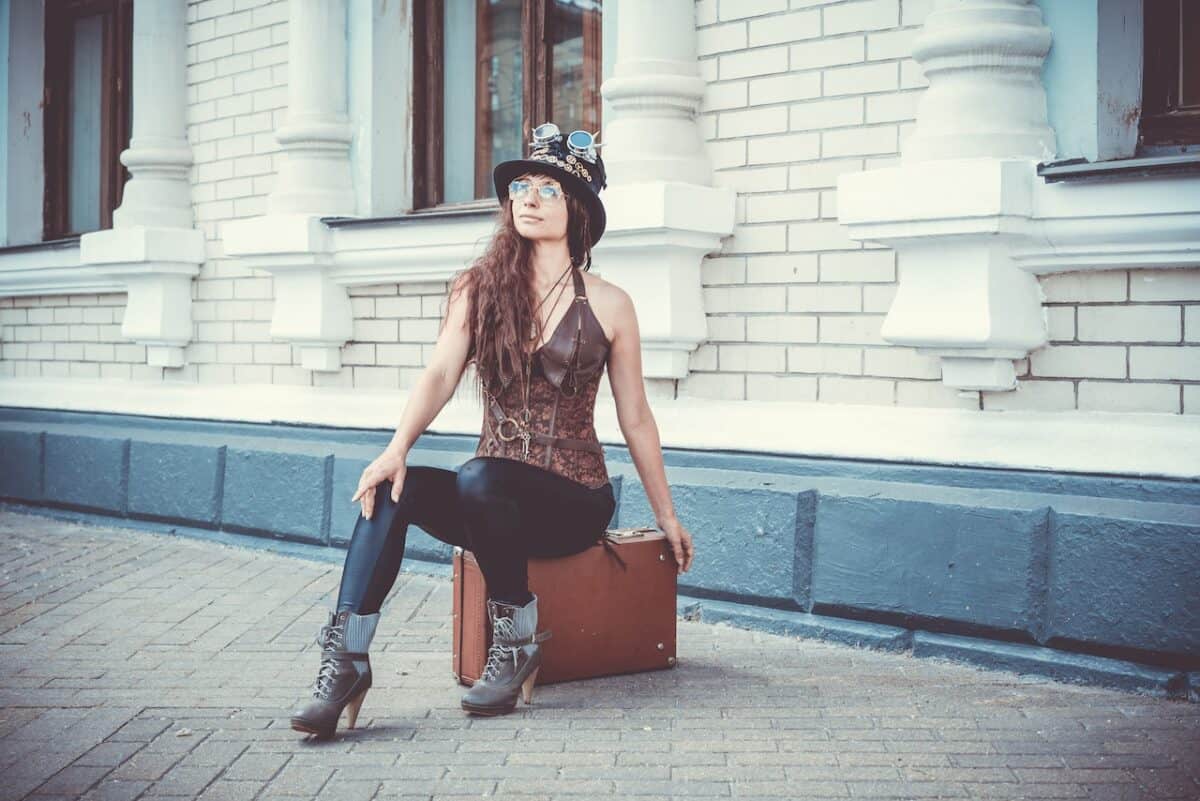 Wear Them With a Lacy Blouse
Lace and leather go tremendously well together to create the ultimate sexy look. The entire outfit creates a striking contrast between the sturdy leather and the fragile lace that is very alluring. Moreover, this is one of the few looks reserved only for when the sun goes down.
While you can wear any lacy blouse, I suggest opting for a black one with a fitted style for maximum effect. You can also pair the leggings with a lace bodysuit that delivers a more streamlined look since the top remains securely tucked in.
If you want more coverage, you can always keep a chic black blazer at hand. It can also help you stay warm and comfortable in case the night gets chilly.
Wear Them With a Tee and a Blazer
A simple white or graphic t-shirt complements the sleek leather leggings flawlessly. However, you want a bit more oomph factor for a night out that a simple tee cannot deliver. In that case, all you have to do is throw on an elegant blazer to make your outfit party-ready.
While there are several blazer styles to choose from, I recommend a cape or a flared one in a light tone matching your tee. A chunky gold necklace, a statement bag, and strappy black heels would finish off the attire perfectly.
Wear Them With a Silk Button-Down
Another excellent option to wear with your leather leggings at night is a slinky, silk button-down shirt. This attire channels a more sophisticated look, ideal for professional dinners and work events. Just make sure that your top is of good quality silk, as cheaper ones do not exude the same panache.
While you can wear any color of the silk shirt, a monochromatic outfit with a black shirt and leggings looks on-trend and modish. Moreover, the all-black ensemble requires minimal accessories to make a bold statement. Fine gold jewelry and understated black heeled pumps is all you need when you pair silk with leather.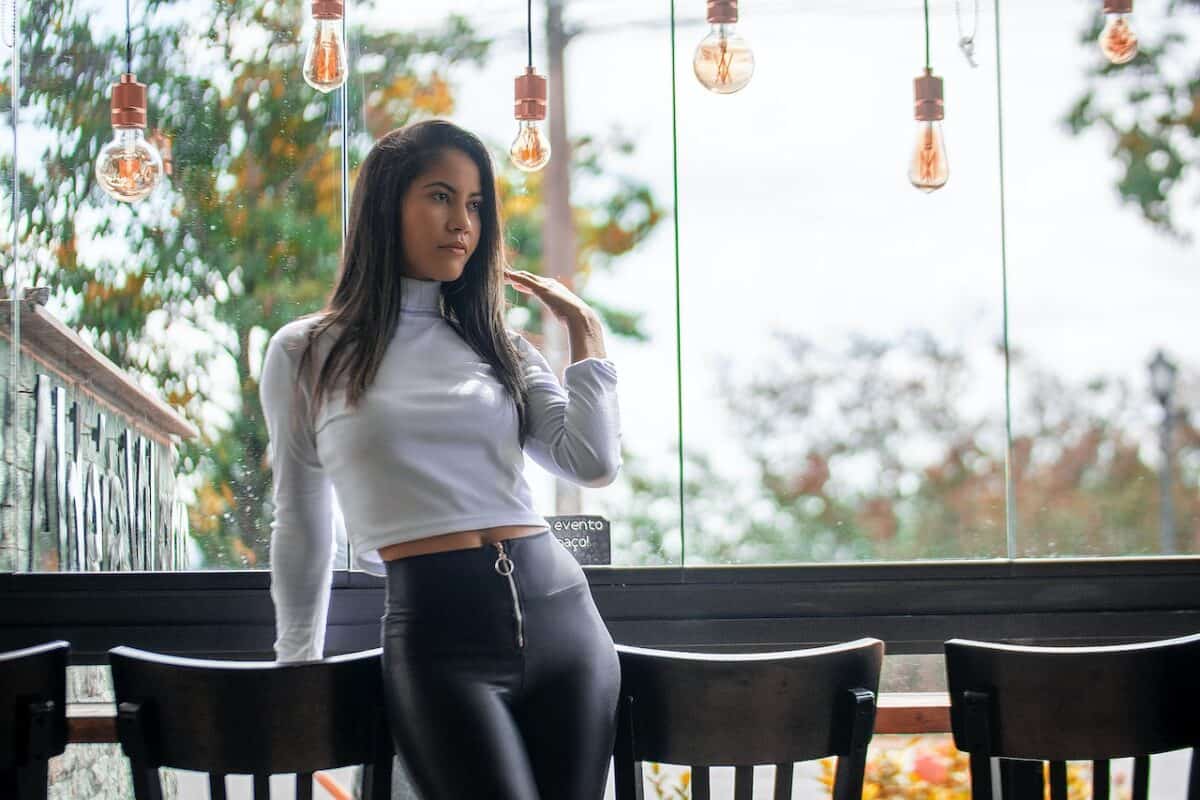 Wear Them With Black Heels
When it comes to the best footwear to wear with leather leggings, nothing looks more polished than black heels. You can put on strappy sandals or high-heeled pumps, pointed-toe slingbacks or kitten heels. As long as they are black and match your leggings you are ready for a night out.
Nothing can beat the elegance of the quintessential high heels. Moreover, when you want to put your best foot forward (literally), you need to clad it in black heels. The highlighting feature of these shoes is that they can take the simplest and most casual of attires and transform them into a refined look.
Outfit Ideas to Wear With Leggings on a Night Out
| Outfits | Wear leather leggings with |
| --- | --- |
| Outfit 1 | Lacy blouse |
| Outfit 2 | Graphic tee and a blazer |
| Outfit 3 | Silk button-down shirt |
| Outfit 4 | Black heels |
Frequently Asked Questions
Are Leather Leggings Warmer Than Jeans?
Yes, leather leggings are warmer than jeans because leather comes from animal hide, while jeans are made of woven fabric.
Normally, leather leggings allow little airflow around your skin, which prevent the skin from losing heat to the surrounding. The jeans' woven fabric, made of cotton, allows a steady airflow which might not retain heat compared to the leather leggings.
How Do You Wear Leather Leggings Over 50?
You can carry these flawlessly even if you are over 50. Look for more demure tops, such as long sweaters, cowl neck knit tops, tunic blouses and tee and a long blazer.
You can complete your look with strappy sandals or boots, depending on the weather and your personal style.
What to Wear With Leather Leggings in Summer?
Leather leggings are not the first thing that comes to mind when dressing up in summer.
However, you can easily wear them with tank tops, strappy camisoles, casual t-shirts, off-the-shoulder shirts, and lace blouses. As long as you wear summery and light tops with them, you can easily pull off the look in the hot weather.
How To Style One Pair of Faux Leather Leggings 20 Ways | Styling Closet Basics
Conclusion
A night out with friends or a dinner date with your beloved require dressing up to the nines. The contemporary leather leggings are perfect for such occasions since they can be worn with most tops and styled effortlessly. All you need is a fancy top, a chic blazer, and the right shoes!