As an Amazon Associate we earn from qualifying purchases.
Wearing printed and patterned leggings can make you look outstanding, depending on your outfit and occasion. For instance, knowing how to wear colorful leggings can make you look cute and girlish when running errands in the town, going out, playing sports, and meeting friends.
How to Wear Colorful Leggings
Leggings are one of the most comfortable garments, and you can wear them at the workplace, during workouts, and at bedtime. However, your skills in matching the color of the leggings to your attire can make or ruin a great outfit.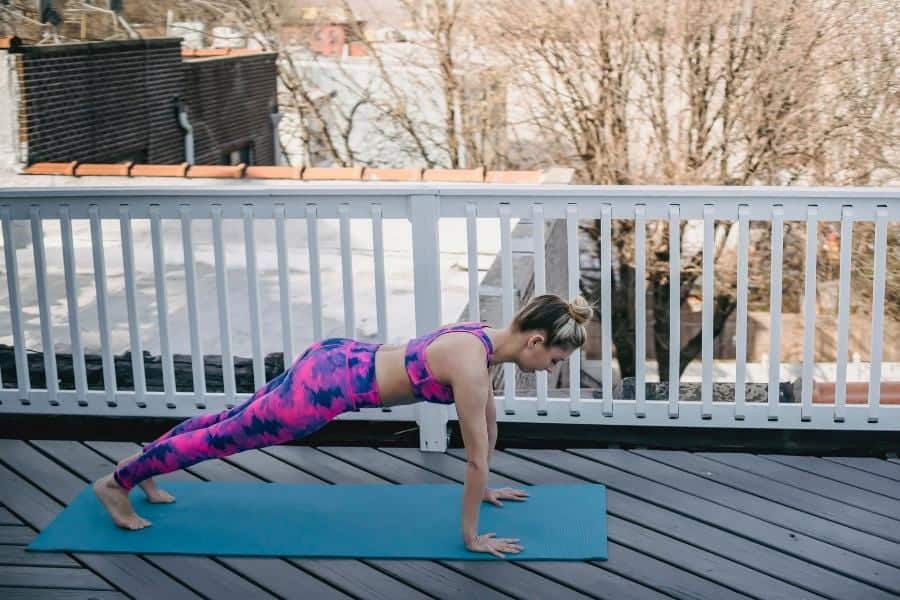 Although many leggings were initially gray and black, fashion designers are constantly coming up with different leggings styles, colors, and prints, making them more flexible with the outfit you can wear them with. That means the outfit you could have worn with gray leggings years ago can now match better with the latest prints.
Generally, colorful leggings are aesthetically pleasing and stylish, and you should consider adding them to your collection if you are a fashion enthusiast. However, since they are not versatile like the gray or black leggings, you should consider the following outfit ideas when wearing them.
If you want to keep your outfit simple, you can go for simple colors of just black and white. Typically, this color combination makes the leggings even more versatile than black leggings, as you can wear them with a wide range of clothes without looking awkward.
Additionally, this color combination makes the leggings suitable for both informal outfits for bedtime and casual wearing at home, as well as formal for wearing at your workplace if your workplace's dressing code of conduct allows the wearing of leggings. 
However, black and white leggings look great and stylish with an outfit of a u-neck black t-shirt and a navy blue cardigan. You can also consider finishing the black and white outlook by pairing the outfit with knee-high black leather boots.
Long Sleeve White T-Shirt and Knee High Boots
Keeping in mind that colored leggings tend to be bright, the most straightforward way to match them is to wear a bright top, preferably white. In most cases, this is when the leggings have multiple bright colors, and it's challenging to match one of the colors, especially when they are floral.
However, that doesn't mean you wear bright colors from the head down to your feet. You can balance the color randomness and distribution by wearing a long sleeve white t-shirt, white knit scarf, and black or brown knee-high leather boots.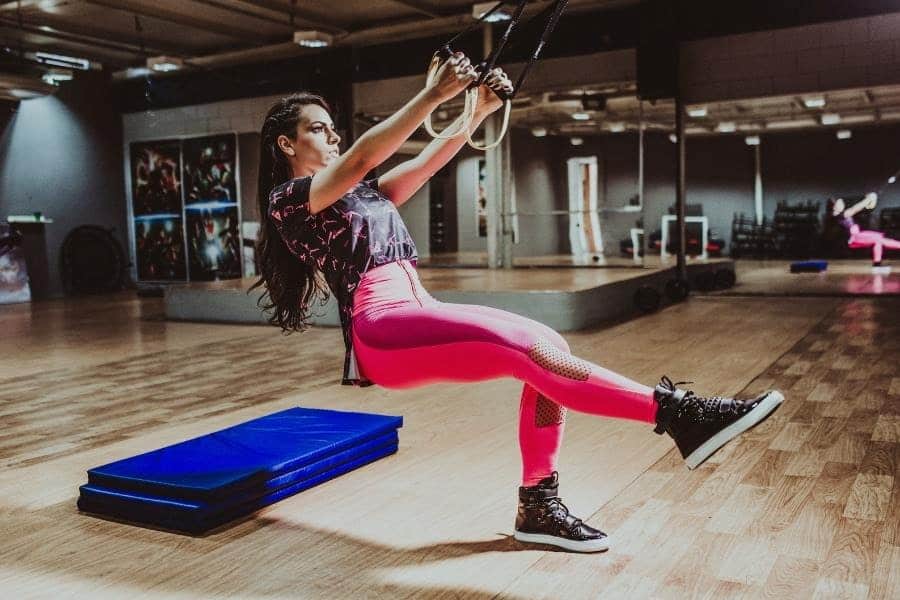 Knee High Boots and Light Blue Sweater
Although you will want to wear bright tops, it doesn't necessarily need to be white. You can simply go for a bright color that is almost white, such as light blue. Keeping in mind that this outfit is mainly casual, it's the best to wear when going out during cold evenings.
Generally, a light blue sweater is better than a white one as it will equivalently match the leggings and won't catch dust or dirt like the white one. You can then add a touch of cuteness by wearing a white knit hat and mid-calf boots.
Light Blue T-Shirt Dress and Knee High Boots
Like the light blue sweater, you can consider wearing colored leggings and a light blue t-shirt dress when running errands in the town during warm weather. Regarding footwear, consider matching the outfit with a pair of knee-high boots to add a bit of roughness.
However, this will depend on the weather, as you can't wear boots on a hot sunny day or when walking on the beach. Generally, this is a casual outfit, and it's not the best combination to wear at the workplace.
Oversized White T-Shirt and a Denim Jacket
Usually, you won't have a wide range of choices regarding the color of the tops to pair with colored leggings, and you will probably alternate between white and light blue. However, you can make the outfit unique each time by changing some aspects.
For instance, instead of wearing a normal size long sleeve white t-shirt each time, you can wear an oversized white t-shirt and a denim jacket. Keeping in mind that an oversized t-shirt tends to make people look sloppy, get a form-fitting denim jacket to help maintain a great proportion.
That means you can opt to wear the denim jacket or not, depending on your body size and shape. Since this is a casual outfit, you can complete it with a pair of ankle boots.
White T-Shirt and a Black Leather Jacket
If you have a large collection of colored leggings, you might want to wear them at your workplace if the dressing code allows. However, you won't want to look casual by wearing them with denim jackets or oversized t-shirts. 
Fortunately, you make your colored leggings outfit look formal by wearing a black t-shirt and a leather jacket. However, for this outfit, you will want your colored leggings to be predominantly black. Usually, this will make you look like you are wearing skinny black jeans.
Unlike the above outfits, you will not want to add roughness to this outfit by wearing a pair of boots. Instead, wear a pair of pale pink heels to make the outfit official. You can also swap the black t-shirt with a black sweater during winter or cold days.
Black Blouse and Pink Heels
Although white and light blue tops are the best for colored leggings, a black or gray blouse can be great for portraying a secretive feel, especially if you are wearing it with floral leggings that have a main background of black.
However, pairing this outfit with black boots can make you look awkward. The best footwear to complete this outfit is a pair of pink heels, making it a casual outfit you can wear when running errands in town.
Outfit Ideas to Wear With Colorful Leggings
| Outfits | What to wear |
| --- | --- |
| Outfit 1 | U-neck black t-shirt and navy blue cardigan |
| Outfit 2 | Long sleeve white t-shirt and knee high boots |
| Outfit 3 | Knee high boots and light blue sweater |
| Outfit 4 | Light blue t-shirt dress and knee high boots |
| Outfit 5 | Oversized white t-shirt and a denim jacket |
| Outfit 6 | White t-shirt and a black leather jacket |
| Outfit 7 | Black blouse and pink heels |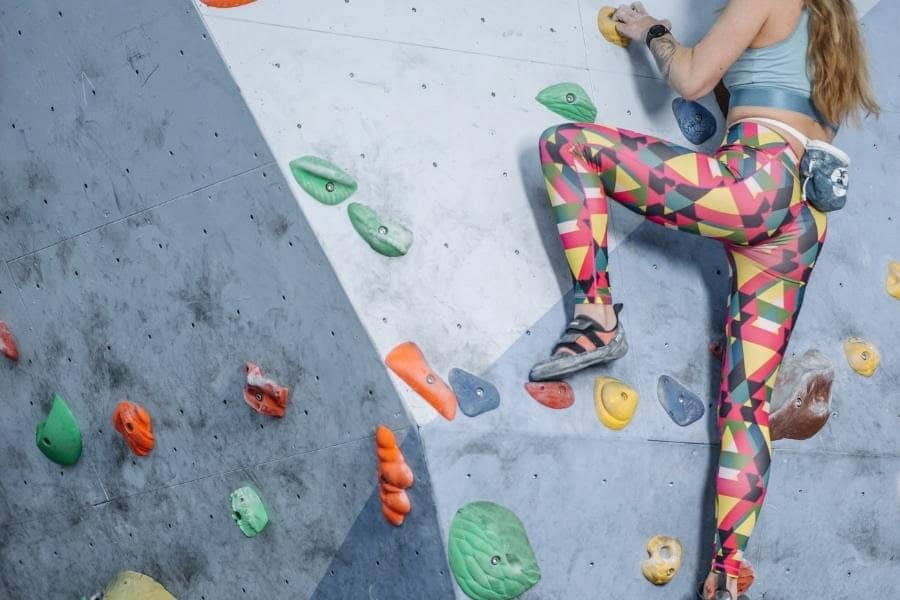 Things to Avoid When Wearing Colorful Leggings
Although colorful leggings are stylish and versatile, and you can wear them as tights for warmth and added protection, as casual attire when going for outings and running errands, or as a formal outfit when going to your workplace, you should avoid the following things when wearing them.
Whether the leggings are floral or have solid colors, avoid wearing the shiny spandex ones
Regardless of the color, avoid wearing faded leggings as the bright colors are more noticeable when they fade than gray ones.
Keeping in mind that the print can be in patterns, consider your body size and shape when wearing printed leggings, as the prints might misalign with your body
Avoid wearing leggings that are predominantly white unless you are wearing them with a dress, tunic, or long shirt.
Although it depends on your preference, avoid wearing the bright neon-colored or crazy patterned leggings.
Frequently Asked Questions
Can Men Wear Light Color Leggings?
Although light color leggings often have a more feminine appearance, men can also wear some of the light color leggings.
For instance, light color leggings are preferable during summer because the colors help reflect back the sun's radiation which can enhance your performance by keeping the body cool.
However, some light colors, such as pink, might not be suitable for men as they are more feminine.
Can I Wear Patterned Leggings With Patterned Tops?
Wearing patterned leggings with patterned tops is overdoing, and you won't look put together. Instead, pair the patterned leggings with solid color tops or pair patterned tops with a pair of solid color leggings.
Typically, you will only need to match one of the leggings' or tops' colors.
Can I Wear White Leggings?
Yes, it's possible to wear white leggings. However, you need to be careful as they are thinner and lighter, and you might have issues pulling them off.
Additionally, many white leggings are see-through, and you might only wear them as tights for added warmth during winter.
How to wear leggings + how to find good quality ones ǀ Justine Leconte
Final Thoughts
Colored leggings are in style, and you should add them to your collection if you are a fashion enthusiast. Whether you want to wear them casually or formally, knowing how to wear colorful leggings will help you determine the top style and color to match your leggings.