As an Amazon Associate we earn from qualifying purchases.
Being stuck in the office for 8 hours in uncomfortable clothing is one of the worst feelings. Don't be swayed by people saying leggings are not appropriate in the workplace. These best leggings for work might just be the reason you can survive that overtime.
Top Leggings for Work Reviews
Leggings have evolved far and wide from just being loungewear. If they can be made supportive for workouts, they can be made professional-looking for the work setting.
As a go-to for women for any occasion, leggings are suitable for the office if you pick the right pairs. Here are our 5 best picks of leggings that can either pull you through a boring work day or a nerve-racking presentation.
If you want our final vote (without all the reading),  I choose NYDJ Basic Pull on Leggings as the overall best for their close resemblance to professional work slacks.
Brand
NYDJ Women's Basic Pull on Leggings
HUE Women's Essential Denim Leggings
Daily Ritual Women's Ponte Knit Legging
Product
Features
Solid-tone legging in stretch fabric
Casual jean pull-on legging with comfortable stretch
Soft and smooth double-knit ponte fabric with comfortable stretch
Material
65% Rayon, 30% Nylon, 5% Spandex
81% Cotton, 13% Polyester, 6% Spandex
68% Viscose, 27% Nylon, 5% Elastane
Brand
NYDJ Women's Basic Pull on Leggings
Product
Features
Solid-tone legging in stretch fabric
Material
65% Rayon, 30% Nylon, 5% Spandex
Brand
HUE Women's Essential Denim Leggings
Product
Features
Casual jean pull-on legging with comfortable stretch
Material
81% Cotton, 13% Polyester, 6% Spandex
Brand
Daily Ritual Women's Ponte Knit Legging
Product
Features
Soft and smooth double-knit ponte fabric with comfortable stretch
Material
68% Viscose, 27% Nylon, 5% Elastane
NYDJ Basic Pull on Leggings
If you're looking for a mix between looking professional and stylish, the NYDJ Women's Basic Pull on Leggings need to make it into your wardrobe ASAP. NYDJ uses its innovative Lift Tuck Technology, which features slimming panels with a criss-cross design that flattens the front of your tummy while flattering the back's curves. 
They look like a dressy pair of skinny-legged slacks, and they have all of the comfort that your favorite pair of leggings has.
Just like leggings, the waist is a stretchy band, so there are no buttons or zippers you need to hassle with. They are mid-rise, making them the perfect pair of pants to tuck a cute blouse into.
What's more, the stretchy and breathable material is good for winter yet not too hot for warmer days. With that said, this pair is the ideal bottoms for various work locations. 
While the addition of rayon material makes this one slightly heavier than regular leggings, the combination of spandex and nylon ensures the leggings won't hinder your mobility. 
The hem hits right down to the ankle, so that you can create a sleek outfit off with a stylish pair of ballet flats or black heels, grab a stylish laptop tote, and you'll be ready to rock the work day!
HUE Essential Denim Leggings
Unique gray denim construction makes you rethink the whole jean styling. The HUE's Essential Denim Leggings has perfected the equal balance between the jean look and the comfort of leggings. A faux fly allows easy pull-up wearing and results in an instant put-together look.
Even if these are cotton-blend leggings, they won't stretch out or sag in the crotch. The length is long enough for the hem to reach the ankles, making it suitable for those with slender legs and small-sized ankles. 
One of the best things about these mid-rise leggings is that they adjust to your body shape without falling down or becoming unbearably tight. If you're having a hard time finding skinny jeans for pear-shaped bodies, you'll find that the stretchy material doesn't feel constricting in the waist and legs.
These are the best business casual leggings for its simple yet surprisingly streamlined aesthetics. These can be dressed up or down — sneakers for a casual day spent on your desk or heels if you're giving a presentation. It doesn't get more versatile than this.
HUE Plus Size Jeggings & Tunic-Essential Denim...
Elevate Your Wardrobe: Upgrade your wardrobe with HUE Women's Essential Denim Leggings, a must-have...
Effortless Style: Embrace the denim aesthetic with our stunning Hue denim leggings. These versatile...
Tailored to Perfection: With an easy pull-on closure, non-see-through fabric, and a beautiful cut...
Daily Ritual Ponte Knit Legging
A double-knit ponte fabric makes the Daily Ritual Women's Ponte Knit Legging a nice addition to your wardrobe. It's as professional as a jersey and has the comfort of linen.
This pair of work leggings use Ponte knit, a combination of spandex, polyester, and rayon. With the reinforcement of thick, double-knit fabric, the leggings mold to your body shapes while ensuring a smooth and streamlined silhouette.
In the form of figure-hugging leggings, they look like a sleek and versatile dressy pants that can pass for skinny trousers. While the leggings are stretchy, they can also be pretty tight, depending on your size. Even if you favor form-fitting clothes like this one, you won't have problems with comfort.
These leggings come in short, regular, and long varieties with 25, 27, and 29-inch inseams respectively. They are options for every available size, which suits them to every height of women no matter the body type.
SweatyRocks Women's High Waisted Soft Slim Casual Pants Solid Suede Leggings
Nothing is more professional than plaid trousers, which SweatyRocks Women's High Waisted Soft Slim Casual Pants Solid Suede Leggings. These are pure capris leggings pants for extra comfort. It's also softly made with suede material that has a peach-like texture.
More than that, I recommend you choose one size larger if you want a roomier feel. However, there's a chance that the suede fabric will be a bit baggy in the crotch. 
A lady suit can really assert your boss lady attitude. These are as convenient as can be without a zipper nor buttons, just a quick pull-up. All sizes have ankle-length cuts, which means these leggings are perfect to pair with sandals, high-heeled shoes, or boots.
HUE Curvy Fit Jeans Leggings
The Hue Women's Curvy Fit Jeans Leggings lets you pull up to work looking like the boss on her off-day. Hide the fact that you'd rather spend the day in pajamas and still get the feeling like you're in comfy sweats. Pair it with a blazer and no one has to know.
​Since this model uses cotton, spandex, and polyester, you can comfortably wear denim leggings all day without worrying about the stretch and flexibility. 
They fit a little more snuggly than knit leggings, so it would be better to follow your actual waist measurement. If you have long, slender legs, you'll also benefit from the generous leg length with the hem that hits right at the bottoms of your ankles. 
The high-rise style means there's a stretchy waistband, covering your tummy and preventing a muffin-top wardrobe story. 
The jeans-looking leggings is suitable for curvy women with a booty. The soft seamed construction provides enough space and stretch for ample hips and thighs to fill up without the feeling of suffocation. The high waistband, rivet fastening, faux fly, faux front pocket, and functional back pockets add the extra sleek quality.
Bamans Yoga Dress Pants
When going to the office gets routinely, Bamans Yoga Dress Pants is the perfect casual bottom that can break the monotony. Break away from your monochrome B&W office outfits and dress in funky colors like sky blue or burgundy. This will give variation to your boring black slacks.
Like my top pick this pair of leggings combines rayon, nylon, and spandex for a comfortable yet sleek look. While the fabric feels a bit heavier, the stretchable material ensures you won't have problems moving on fast-paced work. 
The waistband has an accurate fit yet won't dig into the skin. Hence, you can order the size according to your actual measurements. When you choose the right size and length, you should have no problems with the leggings riding down as you walk. 
This one visually stretches the line of the legs, which helps shape slimmed-leg ladies. The ankle-length shows your slender ankle, which gives you the chance to pair the leggings with boots or sands.  
Even in those unconventional colors, this is a non-see-through yet breathable legging suited for the day-to-day. It's constructed to fall mid-waist and ankle-length for just the right amount of coverage. As an added bonus, these have belt loops and real pockets — two things that are a luxury in leggings.
Bamans Yoga Dress Pants Skinny Leg Pull on Stretch...
Made of soft and smooth material,also have an elastic waistband,comfortable and easy to wear.
Skinny leg design,show your slimming figure,aslo can create a capable image.
4-way stretch material that promotes both compression and support,feel free to do any kind of...
Qualities to Look for in the Best Leggings for Work 
Transitioning from a pair of workout or everyday leggings to office-appropriate ones can be tricky. For this reason, you'll need to look into particular features that can help you pick the best leggings to pair with your work clothes. 
Comparing Leggings for Work Features
| Leggings | Waist style | Inseam (inches) | Pockets |
| --- | --- | --- | --- |
| NYDJ Basic | Mid rise | 31 | Yes |
| Hue essentials | Mid rise | 30 | Yes |
| Daily Ritual | Mid rise | 29 | No |
| Sweatyrocks | High rise | 30 | No |
| Hue Curvy | High rise | 29 | Yes |
| Bamans Yoga | Mid rise | 27 | Yes |
Comfort and Ease Of Movement
Like in any other kind of clothing, it's important that you feel good when wearing leggings. Aside from comfort and movement, durability may depend on the type of fabric. 
Cotton: Leggings with this kind of material are delicate yet breathable, making them exceptionally comfortable to wear, even if you need to sit for long hours at work. The downside is that cotton gets wet quickly and loses shape over time unless the leggings contain cotton and spandex blend.  
Nylon: This fabric is lightweight and durable, preventing leggings from wrinkling easily, especially if your work requires excessive movements. Although nylon leggings tend to shrink at some point, you can counter this by following the wash and dry care instructions of the particular pair you want. 
Polyester: This fabric is water-safe and sweat-wicking, making it suitable for fieldwork or commuting to work. However, sweat, body oils, and bacteria can cause polyester leggings to retain smell. 
Fleece: If your work location has usually low temperatures or you feel cold easily, fleece leggings can provide extra insulation and keep your legs warm. This material is highly absorbent, so you'll need to wash it properly and diligently. 
Style
Unlike workout leggings that typically hug the thighs and legs firmly, going to work is a good opportunity for you to experiment with different cuts. Whether there's extra fabric flapping around or the length is longer than usual, these are some of the best styles of leggings for work:  
Footless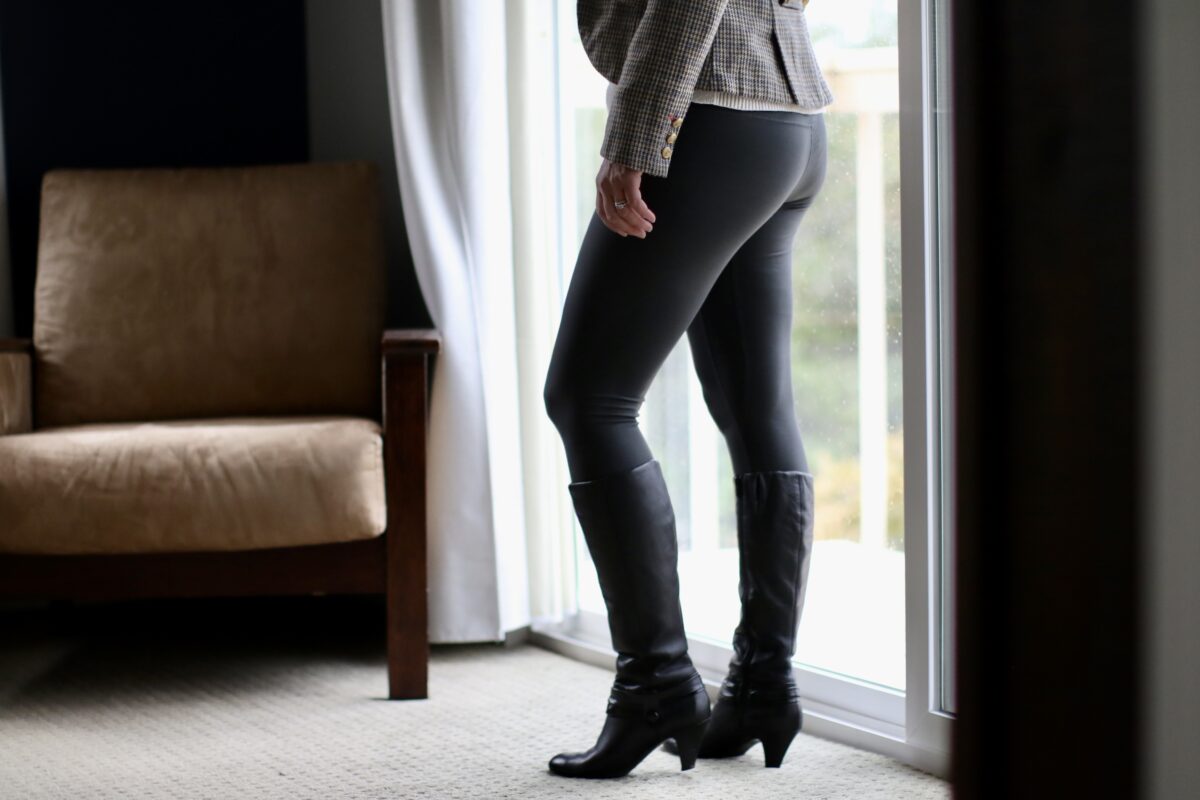 This is the standard type of leggings, with the cut comfortably sitting at or below the ankle. Footless leggings can look like regular pants, depending on the opaqueness and design. 
Most footless leggings consist of substantial, heavyweight fabric that stretches as you move. This makes the style ideal for pairing with skirts or dresses.
Stirrup
Stirrup leggings extend to a strap or band worn under the arch of the foot to hold the leggings in place. The band is often elasticized to prevent the fabric around the foot from tearing. 
Thus, you may opt for stirrup leggings if you always worry about leggings riding up as you walk. This style is best worn when hidden in dressy shoes or boots.
Straight-Cut
Not all leggings have snug cuts at the ankles. This is the case of straight-cut leggings, which feature a silhouette that runs straight down to the bottom. 
This style's cut doesn't taper towards the bottom and has a consistent leg width. It looks somehow similar to straight-cut slacks that tend to feel tighter in the tights.
Flare
If you're looking for an alternative to belly-button jeans, wide-leg leggings may be a good option for you. This trend from the 70s has a narrow ankle crop with a subtle outward flick at the hem.
For ladies with thick calves, heavy calves, or major curves from the waist down, this is an excellent way to wear leggings without feeling compression. Also, this can elongate your body figure, making you look taller. 
Rise 
Rise is the distance from the top of the waistband down to the middle of the crotch seam. It's essential when determining how leggings fit, especially since it provides varying amounts of coverage while creating your perceived waistline. However, choosing the wrong one can make your figure look disproportionate.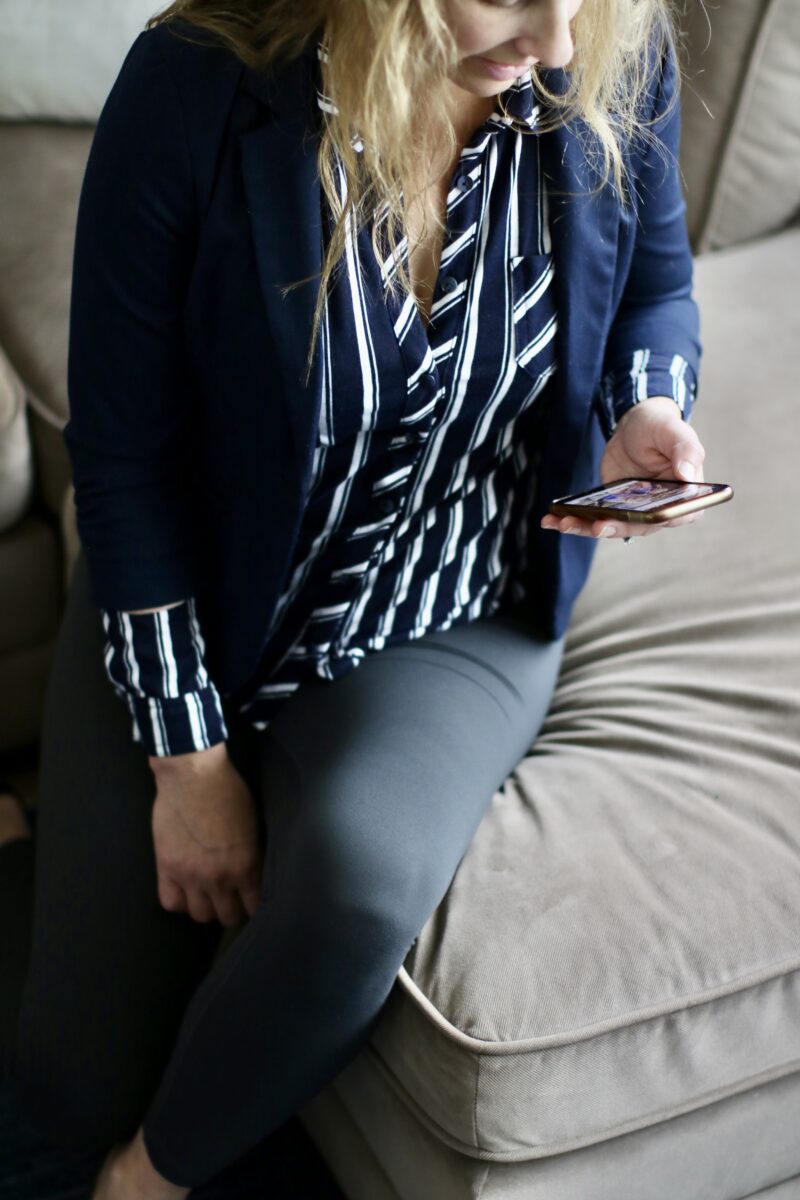 Low-rise: Creates a more feminine silhouette. This fit features a waistband that's up to two inches below the navel, which is why ladies with petite body types prefer this one. 
Mid-waist: Also called "normal rise", this sits roughly one inch below your navel. Whether you're slim or a full-figured gal, this helps emphasize curves in a flattering way. 
High-waist: This versatile rise lets you match leggings with a crop top or tucked-in blouse. You can still look sleek even if you want to hide a part of your midsection. 
Color and Pattern
If your office has a dress code, there may be some restrictions on colors and patterns. Besides, colors can have an effect on your body shape. 
For example, brighter or lighter-colored leggings tend to draw attention to the legs. Be careful in wearing whites, as well as bold patterns, not unless you're fine with how the leggings emphasize the lower part of the body.  
Meanwhile, black or dark-colored leggings can create a slimming effect on the legs, flattering all body shapes. More than that, it's easier to pair darker-colored ones with a wide array of office-clothing staples.
Add-On Designs
Some women steer away from wearing leggings to work because they lack a staple feature in regular pants: pockets. Whether it's to hold your phone, wallet, keys, or small belongings, handy storage compartments are a bonus. 
Some quirks and designs make leggings have a more polished look than its lounge-around counterparts. Things like pockets, clasps, and zippers make leggings pass as regular pairs of pants or slacks. While these features are optional, they can provide additional convenience to your work life. 
Frequently Asked Questions
When Can You Wear Leggings to Work?
Generally, businesses have different dress codes, and some don't allow wearing leggings, and you should consider whether your organization allows the wearing of leggings at work.
However, some jobs, such as technical support specialists, do not have a specific dress code, and you can wear leggings at the workplace.
Can Men Wear Leggings to Work?
Yes, men can wear leggings at work, especially for body fitness jobs. For instance, if you are a man and you work as a gym instructor, you will need to wear leggings to enhance movement and breathability.
The compression offered by the leggings can also enhance your performance.
How Long Should Work Leggings Be?
Keeping in mind that most leggings are casual wear, you should consider wearing full-length leggings reaching slightly above the ankle.
Wearing shorter leggings, such as the Ponte leggings that are knee length, can make you flatter, which might be undesirable at the workplace.
How to wear leggings + how to find good quality ones ǀ Justine Leconte
Conclusion
As evidenced by my best picks, leggings are not to be set aside just for the house or the gym. They can be worn in the office, in conferences, and even business events where you're the speaker. Get ahead of the office fashion by looking sleek but feeling cozy at the same time.