As an Amazon Associate we earn from qualifying purchases.
Leggings might be the most comfortable piece of clothing that people can wear. However, there are few challenges when it comes to wearing leggings, particularly in leggings with rich colors such as burgundy. Don't worry about what to wear with burgundy leggings because I am here to upsize your styling game!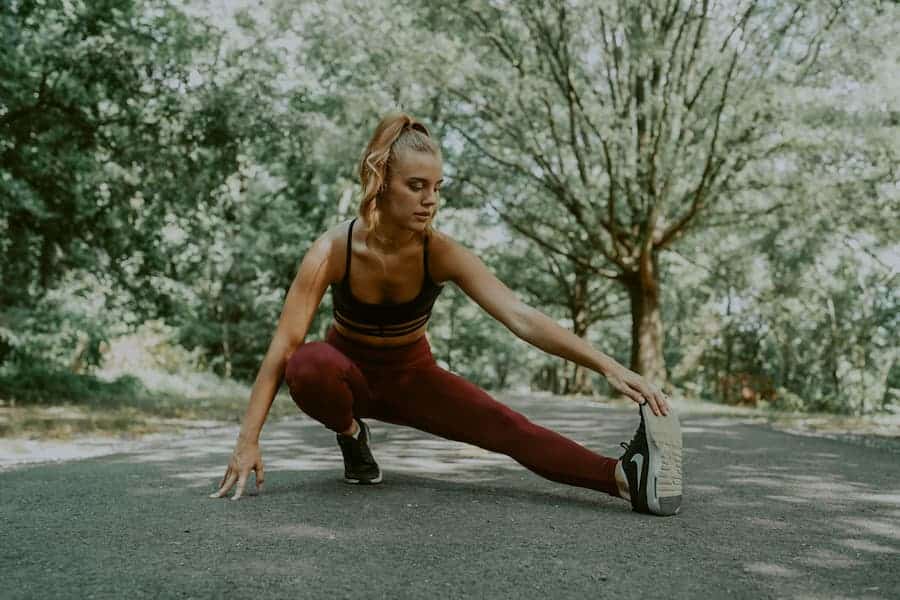 What Colors Compliment Burgundy Leggings
The big dilemma of people when it comes to mix-and-matching clothes for their burgundy leggings would be color. Burgundy leggings are quite rich when it comes to its color shade, making your pair stand out which can overpower the whole look. Here are some of the colors that will compliments with darker maroon leggings:
Shades of blue
Shades of gray
Light and pale green
Multicolored piece with warm tones
White
Black
Tan
Beige
Matching vibrant colors with your burgundy leggings might not be comforting in the eyes. However, colors like blue and light green can balance their shades with burgundy.
Multicolor pieces with warm tones combined such as red, yellow, brown, beige, and orange colors can also complement the rich color of burgundy leggings.
Still, the safest way to go with your top to match burgundy leggings would be wearing neutral tones such as white, black, tan, beige, or gray colors.
Burgundy leggings are powerful because of its shade which is why topping it with a neutral-colored top will accentuate its color a bit more which is a win-win for your style.
Outfit Ideas for Burgundy Leggings
After looking up what kinds of colors will compliment your burgundy leggings, it's the perfect time to look for outfit ideas that will match your look. Not all top designs would accentuate and blend with leggings so it's important that you know what kinds of clothing pieces you can style with your burgundy leggings.
Oversized Sweaters for Comfortable Look
The oversized sweater mixed with fitted and comfortable maroon leggings will win for a comfortable look. Oversized sweaters are known for their neutrality in style which can match different kinds of clothing pieces like pants, shorts, and even denims. Luckily, they can be a good outfit combination for burgundy leggings.
You can use neutral colors of white, black, gray, beige, and tan for your oversized sweater color. The key to this outfit is to look carefree and the burgundy leggings will look more sleek if you do this since the burgundy color and vibrance will be highlighted in the outfit.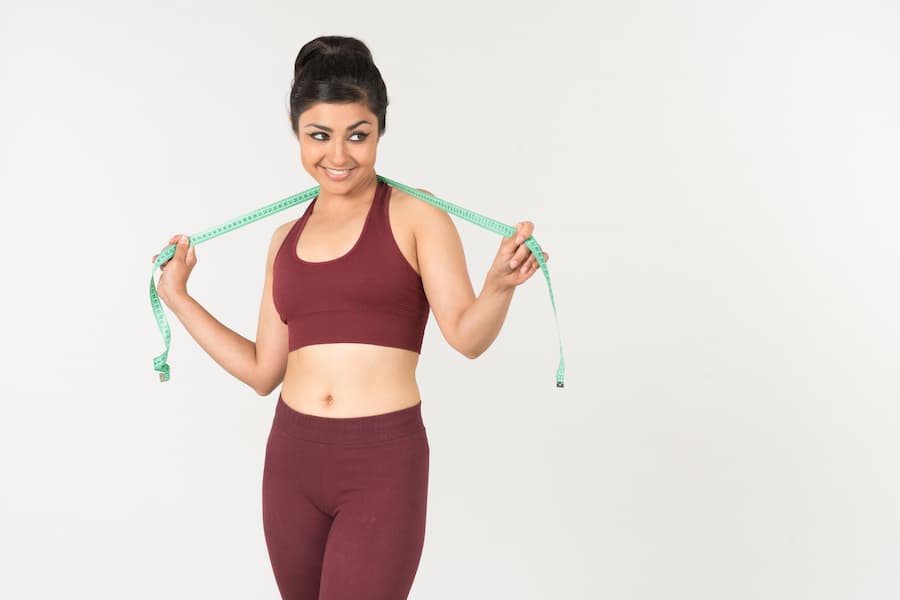 Tunic Shirts and Long Sleeves for Chic Look
Wearing tunic shirts and long sleeves to match with leggings are quite common, and this can also be applied to burgundy-colored leggings too. Tunic shirts or long sleeves are characterized for their loose and up-to-knee length. They are best to pair with burgundy leggings if they have neutral colors.
The awesome thing about tunic shirts and long sleeves is that it accommodates different body types, shapes, and sizes because of its roomy and lengthy features. Tunic design is for people who are too shy to show off their body's curves but still want to look trendy and beautiful with their burgundy leggings.
Knitted Sweaters and Tops for Cozy Look
If you are going for a cozy look perfect for fall and winter seasons, going with a knitted sweater and maroon leggings match will definitely be a game changer. Knitted sweaters are known for their warm and fluffy texture that will compliment the fitted and comfy style that will compliment your burgundy leggings.
Turtleneck Tops for Trendy Look
Turtlenecks have a distinct and unconventional design that screams extra whenever you wear them. Burgundy leggings will be a perfect pair for your neutral-colored turtleneck top if you want to go with a modern and trendy look. Turtlenecks are quite popular nowadays especially if you want to look sleek and proper.
You can also pair long-sleeves and cardigan with your turtleneck top and burgundy leggings outfit. It will create more dynamic and connection between your tops and bottoms too. You can also experiment with different cardigan and long sleeve hacks to upgrade your style depending on your mood.
Long Sleeves, Cardigans, and Jackets for Outfit Upgrade
If you want to add in more interchangeable and stylish pieces for your outfit, adding long sleeves, cardigan, and jackets are good options. Baggy and loose types of clothes will compliment fitted ones like maroon leggings. Not only that, can also help with toning down the popping color of burgundy that can overpower your outfit.
Long sleeves can be worn casually and are best with stripes or a checkered pattern with warm and earthy color tones. Cardigans are better when they have neutral color partnered with a colorful blue or light green top underneath. While jackets, either denim or leather, are perfect for a rugged and edgy look.
Outfit Ideas to Pair With Burgundy Leggings
| Outfits | Pair the leggings with |
| --- | --- |
| Outfit 1 | Oversized sweater |
| Outfit 2 | Tunic shirt and long sleeves |
| Outfit 3 | Knitted sweater and tops |
| Outfit 4 | Turtleneck tops |
| Outfit 5 | Long sleeves, cardigans and jacket |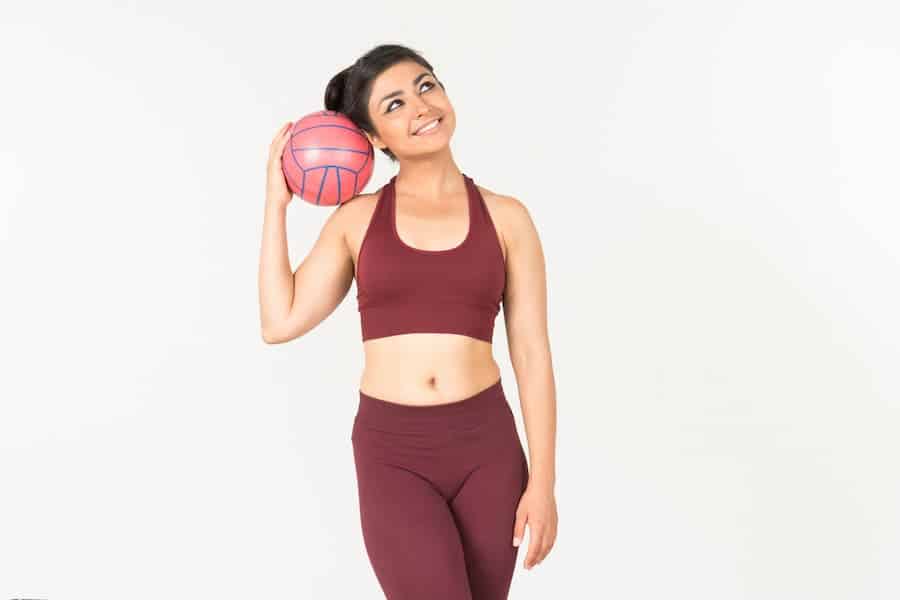 Things to Avoid Wearing With Burgundy Leggings
While there are a lot of clothing styles, tops, and pieces that can compliment powerful clothing pieces such as burgundy leggings, there are also various styles to avoid.  While every outfit varies depending on body size and skin color, it's best to know what outfits are hard to pull off with burgundy leggings. Here's a few of them:
Non-thong bodysuits and undergarments: If you want to pair up your burgundy leggings with a nice crop top or bodysuit, your pantylines will be visible. If you are conscious of VPL, you might want to avoid wearing non-thong bodysuits and undergarments to prevent that.
Fancy tops: Burgundy leggings, even though used in casual outfits, are still leggings. They have the stretch and features of normal workout leggings. Wearing a fancy top will throw off its athletic vibes and just a plain outfit mismatch.
Dresses or skirts: The layering trend was dead years ago and so wearing dresses and skirts on top of burgundy leggings are excessive and simply out-of-fashion.
Frequently Asked Questions
Are Burgundy Leggings Versatile Like Other Leggings?
Yes, burgundy leggings are versatile, just like other leggings.
However, keeping in mind that these leggings come with a deep red color like that of the burgundy wine, the color might not match a wide range of outfits compared to the common black or gray color of other leggings.
Can I Wear Burgundy Leggings to Work?
It's not advisable to wear burgundy leggings to formal settings such as the workplace, even if the organization's dressing code allows the wearing of leggings.
Usually, the deep red color of the burgundy leggings makes them look less formal compared to black or gray leggings. Some organizations might even specify in their dress code that the leggings need to be black or gray.
Do Burgundy Leggings Match My Skin Tone?
Keep in mind that burgundy leggings are not light or too dark, and they can match almost all skin tones. However, burgundy leggings with warmer shades that contain more brown match people with golden or peachy complexions better.
On the other hand, burgundy leggings with cooler shades that contain more violet and red match people with ebony, olive, or pink skin tones better.
What To Wear & NOT Wear With Leggings / Fashionable Leisure, Casual & Dressy Outfits With Leggings
Conclusion
There are various colors and types of clothing pieces that can match burgundy leggings' style. Earthy and neutral colors in sleek, comfortable, and trendy tops like sweaters, turtlenecks, and long sleeves can accentuate and compliment burgundy leggings. Understanding the balance of color and tones will upgrade your burgundy leggings outfits.