As an Amazon Associate we earn from qualifying purchases.
When it comes to leggings, blue is not the conventional color of choice for many of us. Most of us opt for black or white leggings that work with multiple colors and are easy to style. Occasionally, it is fun to shake things up, and that is when you should reach for your blue leggings.
Here is all that you can wear with blue leggings!
What to Wear With Blue Leggings?
You can style a pair of trendy blue leggings by combining them with a contrasting top for an interesting juxtaposition of colors. Opt for neutral colors for tops, such as whites, greys, and blacks. Dark blue leggings also look incredibly stylish with simple dark brown boots.
All these styling tips will work really well if you add a couple of carefully picked accessories that add to the entire outfit. Since leggings on their own are a casual piece of clothing, accessorizing them appropriately can take your entire outfit to the next level.
Wear Them With a White Shirt
Blue and white is a classic combo that has never faded away despite the ever-changing trends in the fashion industry. Instead of sticking to the usual pairing of white shirts and dark-washed jeans, you can consider switching it up with a white shirt and blue leggings for a similar aesthetic
You can channel a casual look with a simple white tee or dress up in a white blouse and complete the look with comfy sneakers. Add some understated, fine gold jewelry, strappy heels, and a chic bag, and you are ready to step out in style.
Pair Them With a Black and White Striped Top
Striped tops are the easiest things to wear due to the endless styling opportunities they offer. Moreover, you can create an illusion of a lean and tall silhouette with vertical strips and add some curves to your frames with cleverly placed horizontal lines.
Therefore, you can, wear your blue leggings with a black and white striped top for a relaxed yet stylish look. You can round off the look with a long necklace and knee-high boots. If the weather allows, you can also wear a chunky knit scarf to enhance this look.
Style Them With a Blazer
Wearing a blazer with leggings might seem like a controversial suggestion. However, it can create a fashionable and flattering look as long as you remember to observe the following design features.
Go for a simple white or gray blazer since the colors blend well with blue leggings
Choose a longer length that goes beyond your waist and covers the entire or part of your hips
Make sure your blazer flares out at the bottom
All these features will ensure that the blazer complements the fitted leggings. You can wear a white tee underneath and complete the look with either heels or sneakers.
Couple Them With a Crop Top
Crop tops have grown in popularity at a trajectory almost parallel to the leggings. Thus, combining these two current favorite pieces of clothing seems like an obvious choice. However, just make sure that the crop top is not the fitted kind otherwise, it will end up looking like gym wear.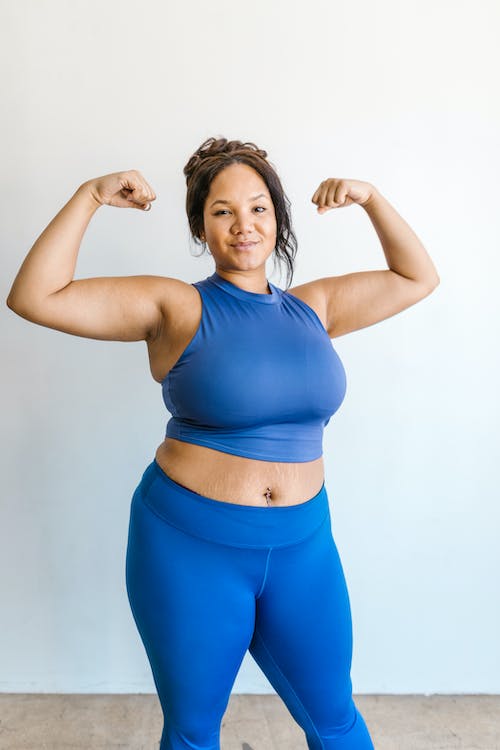 When it comes to blue leggings, in particular, crop tops in dark grey, charcoal, and black tones go well with light shades of blue. You can also wear a graphic white crop top with dark blue ones.
Add a Pair of Brown Boots
Brown boots and blue bottoms are among the most classic combinations. Whenever you are looking to elevate the style quotient of your simple blue leggings, pair them with classy brown boots. Both knee-high and ankle boots can work with these leggings.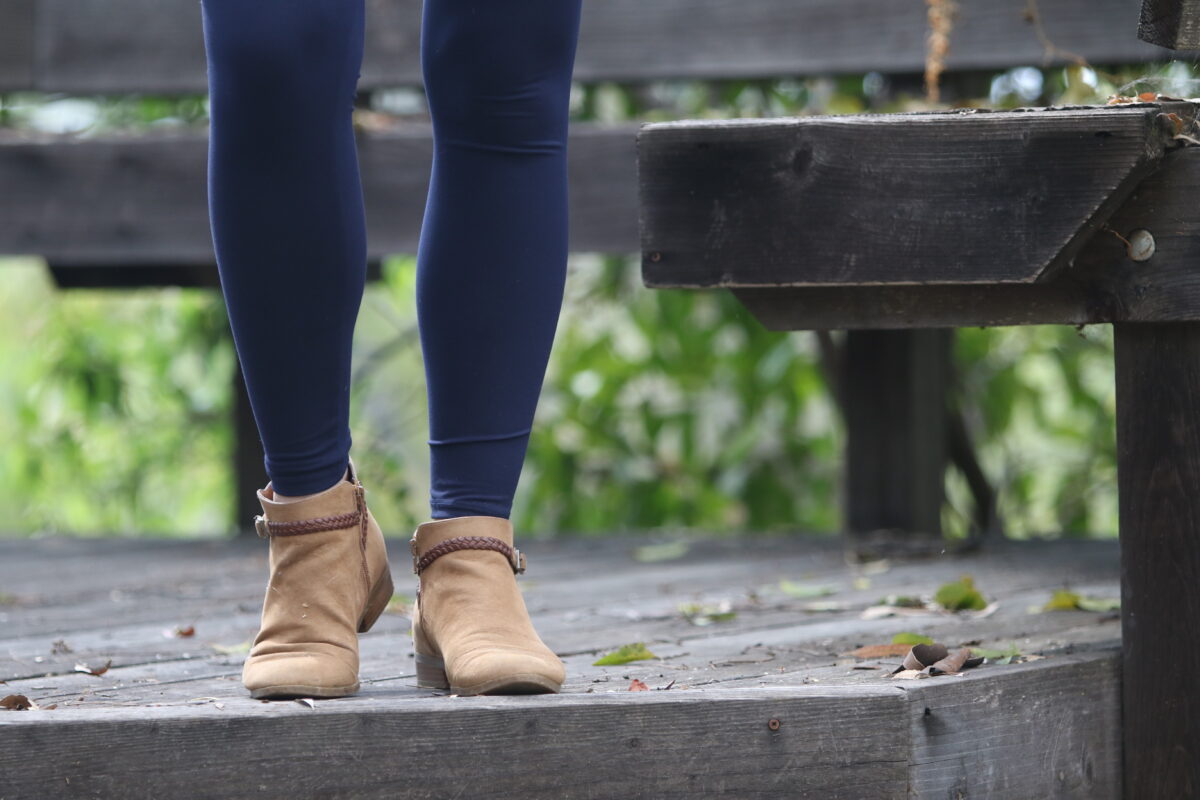 To divert all the focus on your boots, you can keep the rest of the look monochromatic by wearing a loose-fit, button-down denim shirt with leggings. While the iconic look does not require a lot of accessories, you can carry a cross-body bag in the same color as your boots.
Style Them With a White Sleeveless Top
Sleeveless tops can give your arms flexibility, which is great for activities like dancing, sports, or even just doing chores around the house. They are also perfect for hot weather, as they allow more air to circulate around your body, making you comfortable, especially in summer.
White sleeveless tops with blue leggings are a great combination for a casually cool outfit when hanging out with friends. You can complete the look with a pair of white sandals, sneakers, or flats, depending on your personal style.
Wear Them With an Orange Long Sleeve Blouse
Orange is a combination of red and yellow, which are both strong and powerful colors. It is a warm and attention-grabbing color that creates a sense of comfort, happiness, and optimism.
Therefore, wearing a pair of blue leggings with an orange floral long-sleeve blouse when attending an informal occasion helps create a positive first impression. You can also wear a pair of red-heeled shoes to finish off your outfit.
Add a Pair of Gray V-Neck Tee
V-neck tees have a neckline that dips down in the front, creating an elongated look that can make your neck appear longer and your face look slimmer. This makes them a flattering choice for different body types.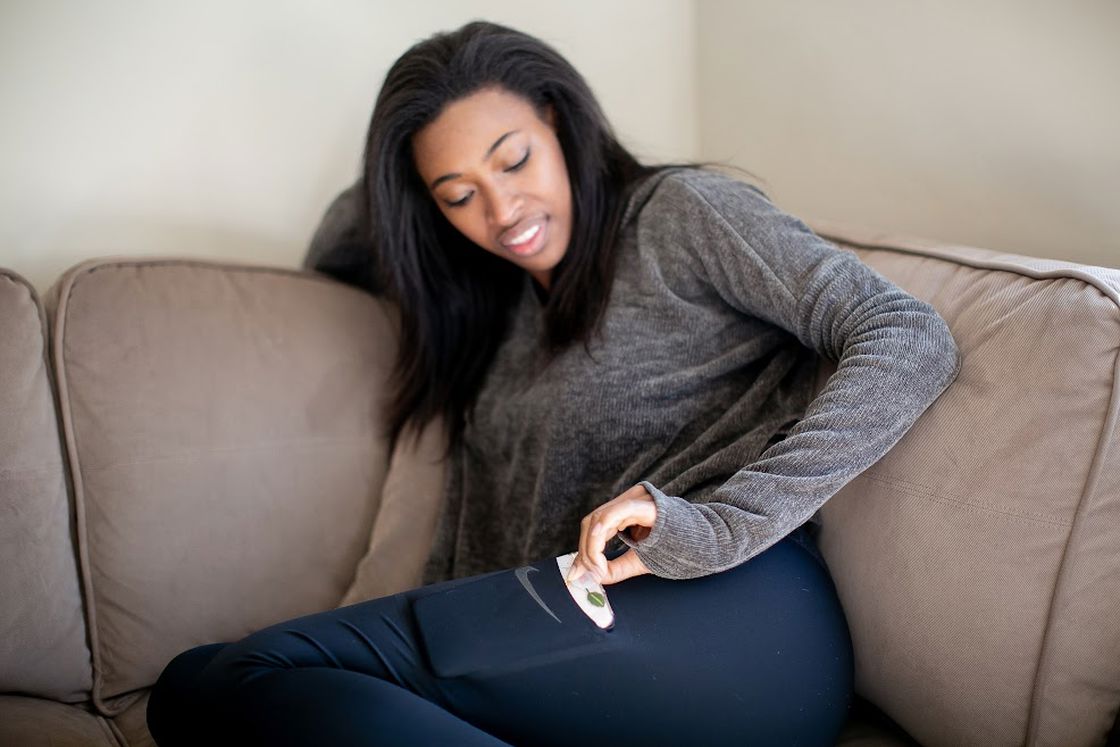 If you want to create a stylish appearance, you can use the following tips to pair a V-neck tee with blue leggings:
Wear a gray V-neck tunic T-shirt
Add a zip-up hoodie on top of the tee
Wear a pair of blue sneakers and finish off the outfit with a black leather sport bag
Couple Them With a Yellow Tank Top
You can pair your blue leggings with a yellow scoop-neck tank top to create a sporty outfit. Scoop neck tops feature a rounded neckline that dips down into a shallow U-shape. The neckline is usually wider than a typical crewneck and is designed to reveal more of the collarbone and upper chest. 
You can wear this casual combination when hiking with friends or when running errands in town. When it comes to shoes, you can wear a pair of white running shoes or nude flats.
Wear Them With a Gray and White Striped T-Shirt
T-shirts are a popular choice to wear with leggings because they are comfortable, easy to wear, and can help you create a balanced and more cohesive look. 
Pairing your blue leggings with a gray and white striped tee, especially the longer styles, is a perfect combo when hanging out with colleagues or just going for groceries in the nearest market, as it provides more coverage for the hips and backside, creating a more modest look. 
You can wear flat sandals, nude flip-flops, or white sneakers to complete your outfit.
Add a Pair of Nude Long-Sleeve Blouse and Nude Flats
Nude-colored tops come with a wide array of shades that match natural skin tones, such as light beige and darker shades of brown. If you want to create a flattering, balanced, and eye-catching outfit, you can couple your blue leggings with the following:
A flowy nude long-sleeve blouse
A pair of nude flats
A stylish jewelry
A flowered blue pulse
Outfit Ideas to Pair With Blue Leggings
| Outfits | Pair blue leggings with |
| --- | --- |
| Outfit 1 | White shirt |
| Outfit 2 | Blue and white striped top |
| Outfit 3 | Blazer |
| Outfit 4 | Crop top |
| Outfit 5 | Brown boots |
| Outfit 6 | White sleeveless top |
| Outfit 7 | Orange long sleeve blouse |
| Outfit 8 | Gray V-neck tee with a hoodie |
| Outfit 9 | Yellow tank top |
| Outfit 10 | Gray and white striped T-shirt |
| Outfit 11 | Nude long-sleeve blouse and nude flats |
Frequently Asked Questions
Can I Wear Blue Leggings With a Denim Jacket?
Yes, you can wear blue leggings with a denim jacket. For instance, if you are attending a casual occasion on a breezy summer night, the blue leggings and the denim will give a flattering appearance.
However, it is not advisable to wear blue denim with blue leggings to prevent color monotone. Instead, black denim will look good with blue leggings.
What Kind of Tops Do You Wear With Leggings?
Leggings are quite versatile and work well with most clothing items. Therefore, you can wear them with tees, tanks, button-down shirts, sweatshirts, and tunics.
Since the bottoms are very form-fitting, they pair well with loose or bulky tops to create a balanced look.
What Should You Not Wear With Leggings?
While leggings are both cool and comfortable, they are essentially athleisure apparel. Therefore, they do not work with fancy tops, such as silk camisoles or lacy blouses, or party dresses.
Moreover, avoid wearing bodysuits as the entire look is very unflattering.
What To Wear & NOT Wear With Leggings / Fashionable Leisure, Casual & Dressy Outfits With Leggings
Conclusion
You can style your blue leggings in several ways, taking your look from relaxed to smart casual, by following a few basic dressing rules. Pair your leggings with loose tops and tees, in singular colors and of any length. In addition, add accessories that flatter the outfits, and when in doubt, opt for brown boots.