As an Amazon Associate we earn from qualifying purchases.
The unassuming leggings can create the most dynamic ensembles. Add a pair of boots, and the results are staggeringly stylish. This article sheds light on some of the trendiest leggings and boots outfit ideas that are perfect for the upcoming fall and winter seasons.
Legging and Boot Outfit Ideas
The fall wardrobe is known for its cozy sweaters, wooly scarves, knit dresses, and classic coats. Fortunately, all of these fall wardrobe articles blend seamlessly with a pair of leggings and boots to create a chic look. Thus, outlined below are some of the most inspirational attires featuring the autumnal essentials.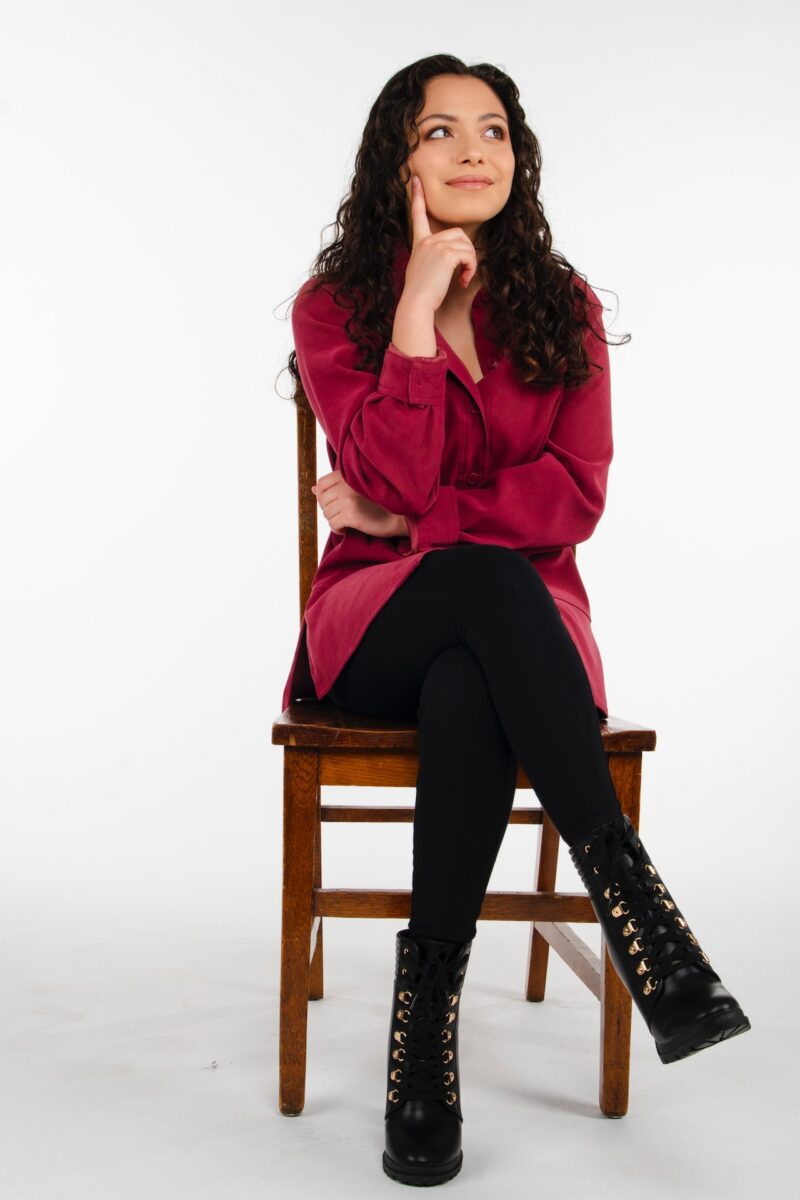 1. Cable Knit Sweater, Blazer, Faux Crocodile Boots, Black Leggings
The sophisticated cable knit sweater is a fall staple, which immediately imparts a polished look to the wearer. Choose a light-colored sweater, such as cream or beige, which stands out against the black bottoms.
In addition, its interesting weave pattern goes best with plain leggings that do not distract the focus.
However, you can compensate for the lack of texture on leggings by wearing faux crocodile boots to add a premium touch.
Finally, layer a slightly long blazer to help you to stay warm when the temperature dips. You can always take it off when you are inside without ruining the rest of the outfit equation.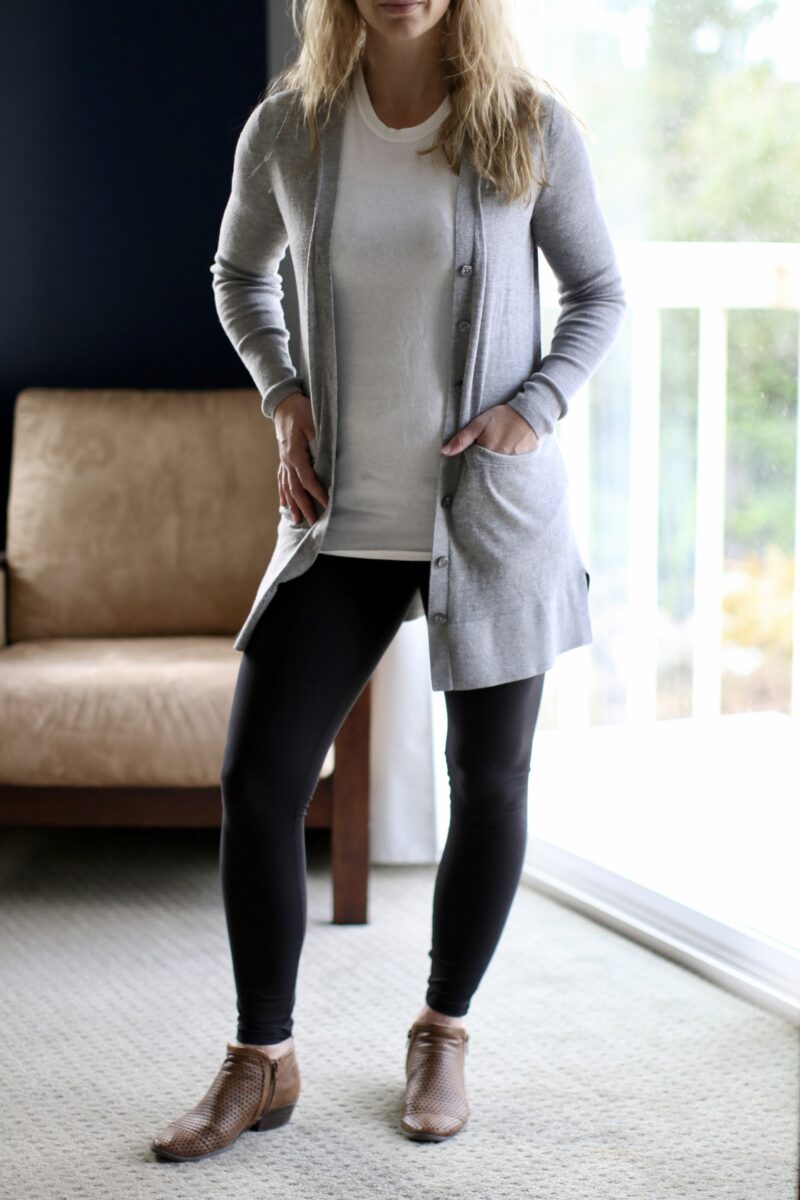 2. Long Cardigan, White Tee, Brown Ankle Boots, Black Leggings
If the occasion calls for something casual and comfy without compromising on the style factor, here is what you can do.
Put on your trusty white tee with a v-neck for a feminine touch, and include a pair of black leggings to the mix to have a simple base
Add a mid-calf length cardigan to elevate the basic tee and tights combo
Opt for autumnal colors, such as moss green or burnt orange, which catch the eyes
You can also keep it on the down-low with a lightweight, beige cardigan
Brown ankle boots and a matching crossbody bag will complete the look
3. Button-Down Shirt, Crew Neck Sweater Vest, Track-Sole Boots, Leather Leggings
Wearing a sweater vest over a button-down white shirt is a proven formula for a preppy look among men.
However, the recent upgrade with a comparatively longer shirt and a straight-cut sweater vest makes it more feminine and chic. Opt for a white shirt and neutral knit colors, such as cream, blush, and beige.
Wear a shirt that sits closer to your body and a regular-fit sweater to allow for easy layering and does not look bulky.
To make things interesting, experiment with leather leggings and track-sole boots, both of which are exceptionally voguish these days.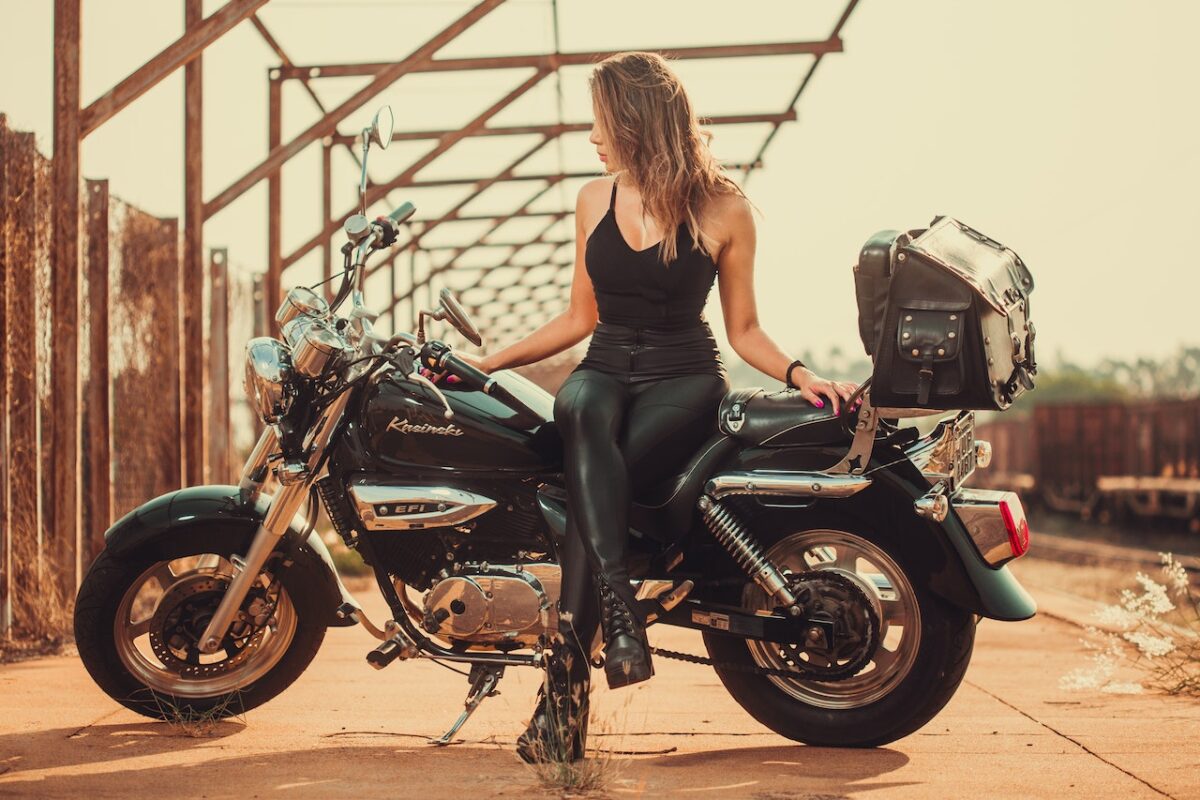 4. Long Knit Jumper, Chelsea Boots, Front-Seam Leggings
The key to dressing up your leggings is adding selected tops of appropriate lengths to achieve a trendy look. Thus, if you want to avoid layering, opt for a knit jumper that reaches below your hips.
The longer length goes well with the bottom, providing some coverage and a cozy element.
The tiniest of detailing can make the biggest difference; thus, I recommended replacing the simple tights with front-seam leggings.
Finally, the Chelsea boots are one of the classiest boots that will round off the look splendidly, regardless of whether you prefer them in the ankle or knee-high length.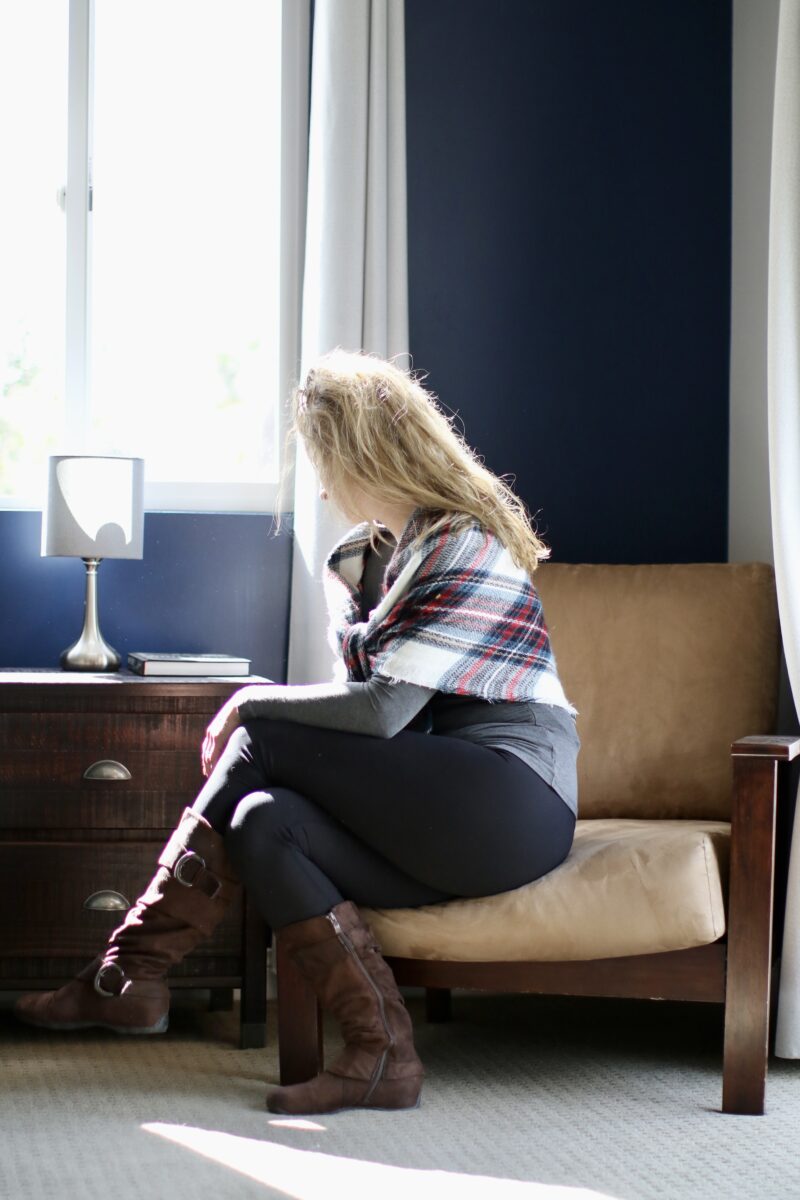 5. Full Sleeves Tee, Blanket Scarf, Suede Boots, Leggings
A blanket scarf is exactly what it sounds like; a scarf big enough that resembles a blanket and offers you endless styling opportunities. While it can be intimidating, it looks incredibly stylish when tied properly.
Begin by wearing a full leaves tee in a sold color and your basic leggings to create a blank canvas.
Then, you can either drape the scarf over your shoulders, place it over your neck and secure it with a belt at the waist or wrap it around your neck like an oversized neckerchief.
Add suede ankle boots in a rustic camel or tan to finish off your attire.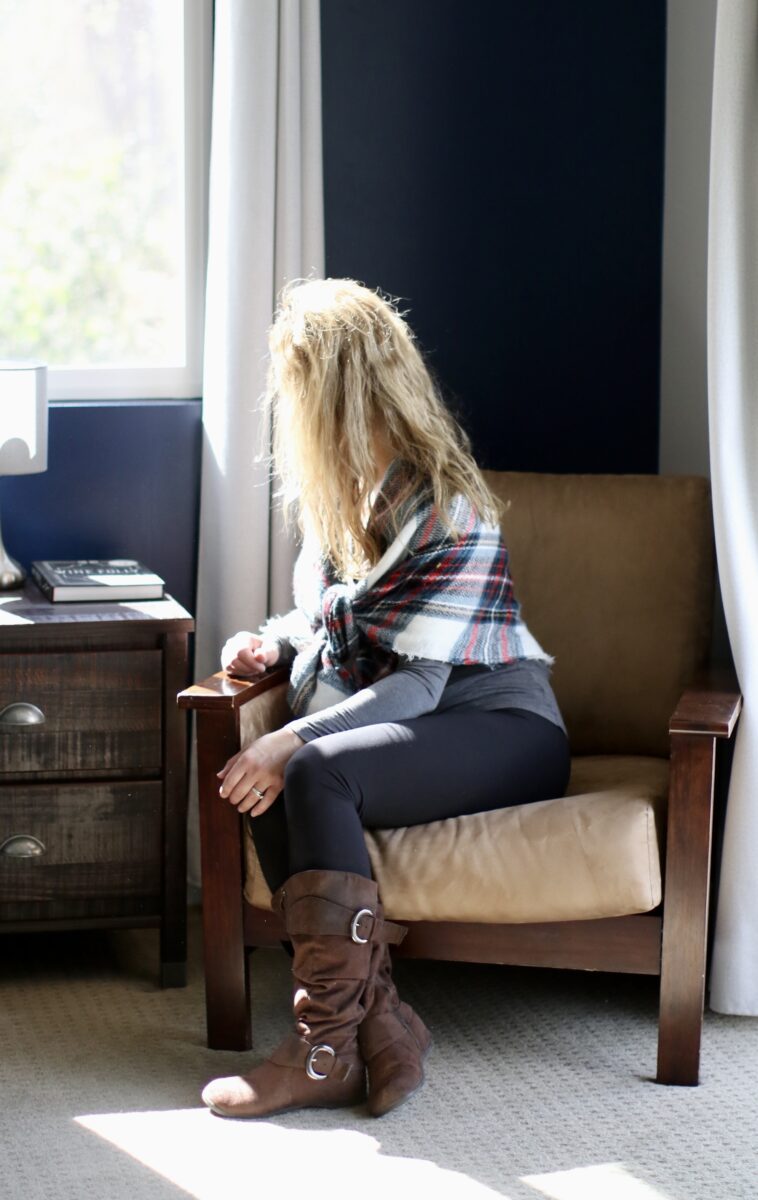 6. Shift Dress, Front Open Coat, Kitten-Heel Boots, Black Leggings
Pairing leggings with a dress is often considered a fashion faux pas. Luckily, since you will pair your bottoms with boots, no one will be the wiser.
Moreover, since leggings are sturdier and thicker than tights, you do not have to worry about getting a ladder or feeling cold simultaneously.
The front open coat is optional, depending on the weather. If you decide to wear it, make sure it is longer or the same length as your dress.
Since the shift dress is usually simple, add a little oomph with black leather boots with sassy kitten heels to make you look more poised and posh.
7. Button-Down Denim Shirt, Coat, Brown Ankle Boots, Black Leggings
Denim shirts are making a resounding comeback, and you should definitely hop on the bandwagon. The cool blue denim button-downs often come in a relaxed fit, which makes them an ideal companion to skin-fitted tights.
However, the denim shirt and leggings combo are too basic.Hence, you need a third color to upgrade the ensemble. Brown is a classic companion to the color blue.
Therefore, incorporate this color by wearing a brown coat and boots to create a unified, well-balanced look. Neutral-tone browns look best with denim, whereas darker ones might be overwhelming.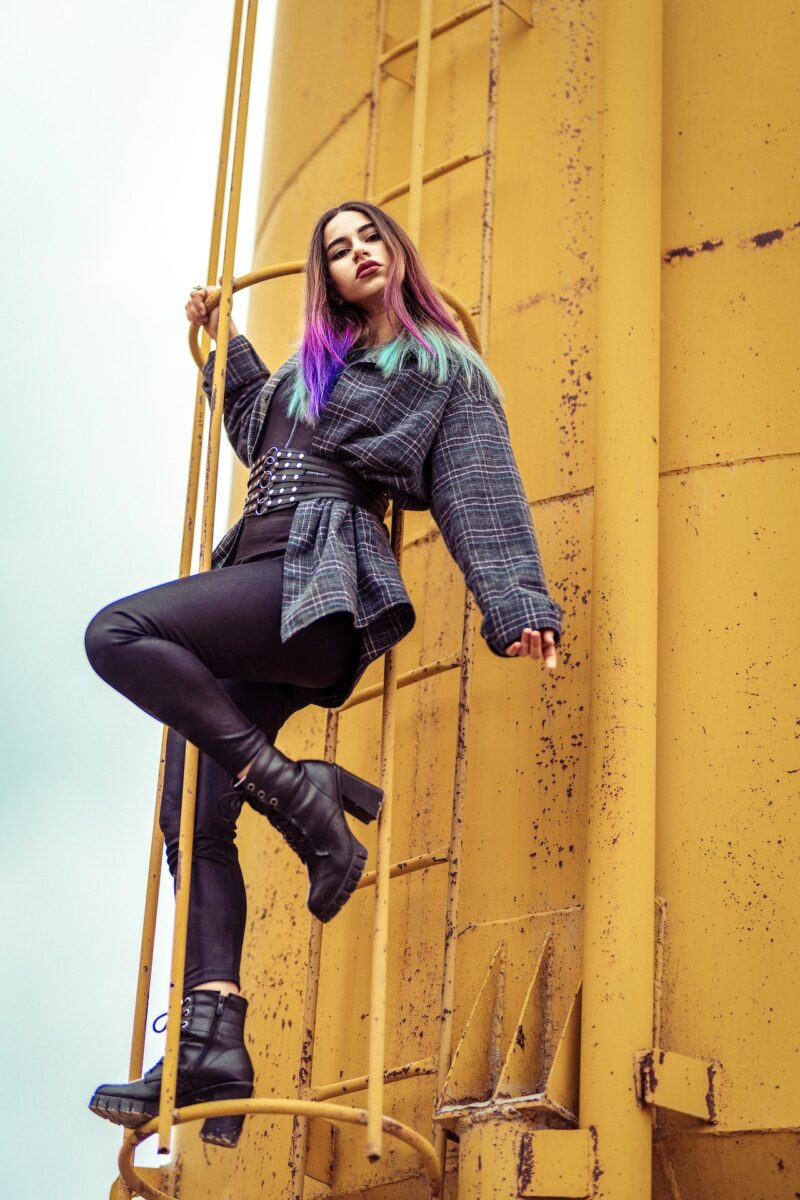 8. Oversized Hoodie, Thigh-High Boots, Leggings
Oversized hoodies have started appearing on most "must-have fashionable articles" lists. The comfy hoodie has transcended the realms of leisurewear to become a favorite among most fashion enthusiasts.
Therefore it is no surprise that it makes our list too.
In this outfit, the humble leggings make a cursory appearance and can be easily left out without affecting the entire look. This is because the oversized hoodie paired with the thigh-high boots provides ample coverage.
However, with the temperatures dropping, it might be ideal for women to wear leggings for warmth and comfort.
9. Roll Neck Sweater, Sleeveless Puffer Jacket, Knee-High Boots, Leggings
The last ensemble on the list is the contemporary roll-neck sweater, which is amazingly cozy and equally modish. It is also a fall wardrobe staple.
While you can easily combine the sweater with leggings, the chilly season provides the perfect opportunity to experiment with layers and explore your personal style.
Thus, consider including a sleeveless puffer jacket to instantly make you look ultra snazzy. Apart from looking fashionable, an extra layer allows you to take it off or put it on depending on the fluctuating weather.
If you're someone who's always on the go, a practical and stylish tote bag is an essential accessory. Whether you're running errands or packing for a weekend getaway, it'll come in handy.
Round off the look with knee-high boots matching your puffer jacket for a cohesive, well-thought-out look.
10. Sweater Dress, Leather Jacket, Cowboy Boots, Leggings
Another knitwear must-have is a sweater dress in a dark solid color. Channeling the classy weave pattern of a sweater and the length of the dress, it is both flattering and comfortable.
Put on some simple everyday leggings to protect your legs against the elements, and you are almost done.
An optional layer to the dress is the quintessential leather jacket that immediately transforms your look into more edgy and daring.
To keep the theme going, finish off your ensemble with cowboy boots and match your boots to your jacket for a homogenous look.
18 Stylish Ways to Wear Leggings! *must-see*
Conclusion
So there you have it, the best and most practical outfit ideas featuring the newfangled leggings and boots combination. The comprehensive list includes inspiration for casual outings, formal events, and semi-formal gatherings. All you have to do is put on some carefully selected accessories, and you are ready to step out the door in style.