As an Amazon Associate we earn from qualifying purchases.
While tights and leggings might look the same from a distance, they are actually very different. These two skin tight bottom garments are super popular nowadays, they might even give regular pants a run for their money!
So what's the difference between tights vs leggings?
What Are Tights?
The word 'tights' is probably what started the confusion between tights vs leggings, since they are both designed to have a serious form-fitting look.
Tights, typically, are a sheathing piece of clothing that extends to cover the body from the waist to the feet. You'll find some types without foot coverage, while others only go as far as the knees.
Consequently, as I'll be discussing later on, tights are better worn under dresses, or with shorts and skirts. The elasticity of the clothing allows it comfortably stretch over the body and under any garment.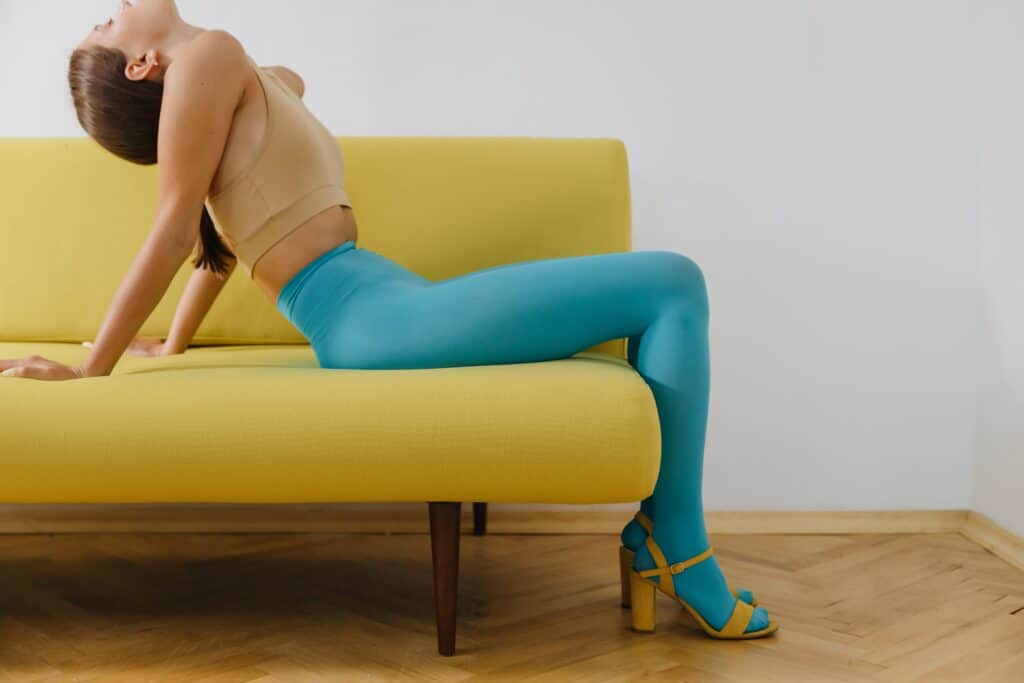 You can wear tights on any occasion, be it casual, smart, or professional, as long as they're undergarments. 
Compared to leggings, tights wrap extremely tight around the body, which can cause some serious sweating action, especially during the summer.
What Are Leggings?
Leggings are the skin-tight cousins of regular pants, resembling skinny jeans, without the jean material. 
While they differ in terms of fabric, design, looks, and pattern, they share a common attribute with pants: they can be worn solo, without anything else covering your legs.
Women usually pair them with t-shirts and flannels in the summer or a cozy hoodie for colder days, while some wear them under thick coats, tunics, or long shirts.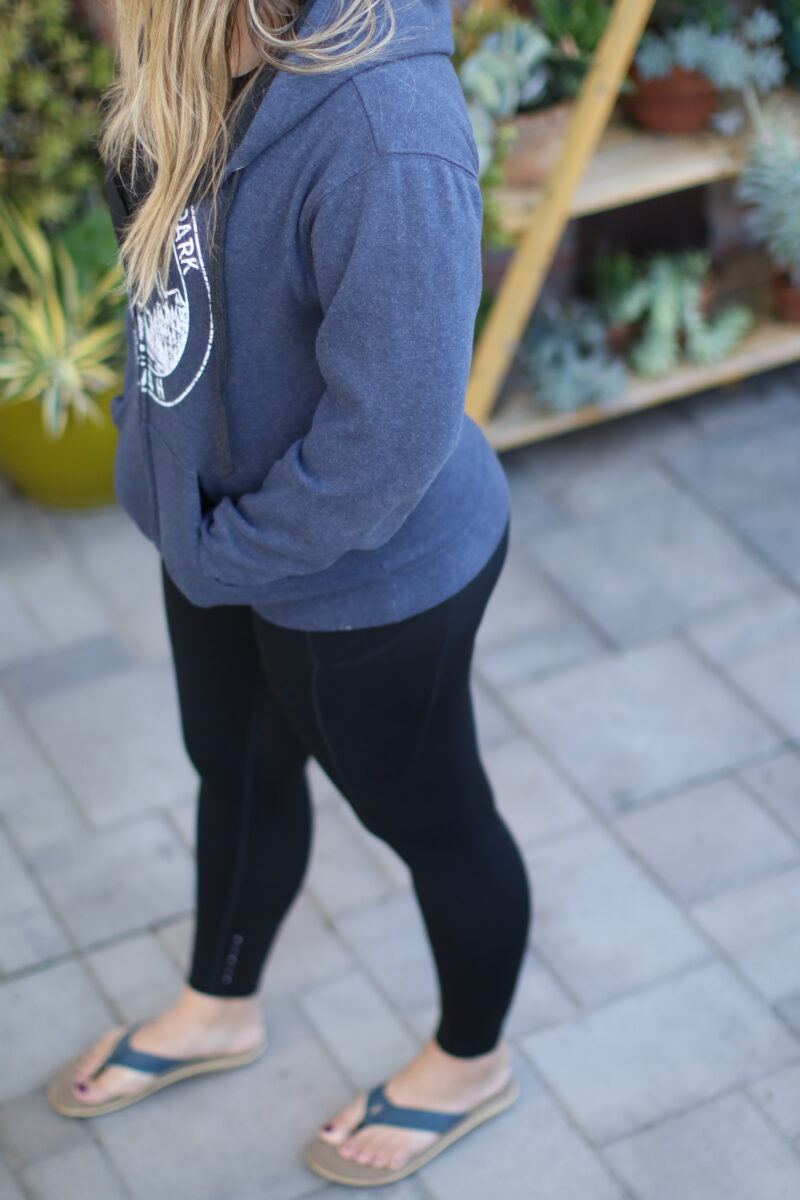 Although leggings present a wide application variety, they're still not widely accepted in the professional world.
Leggings start from the waist and extend to reach the ankles, emphasis being on ankles. They don't cover the feet, which is a key distinction from tights. 
They also offer a greater deal of insulation, since they're thicker than tights. However, leggings tend to wear out easier than tights due to extended use.
Tights vs Leggings: The Similarities and Differences
To make things easier, I'll be comparing the similarities and differences of tights and leggings under several categories to form a simple yet informative comparison. Let's get started!
Comparing Tights and Leggings Features
| Features | Tights | Leggings |
| --- | --- | --- |
| Fabric | Thin | Thick |
| Coverage | From waist to toe | From waist to ankle |
| Season | Fall and spring | All year round |
| When to wear | Formal occasions, outings | Workouts, nightout |
| Durability | Less durable | Durable |
Material and Design
Starting with leggings, they're made of thick elasticized fabrics, most commonly: spandex, nylon, lycra, polyester, and cotton.
Leggings are an independent fashion statement, they're opaque and typically made thick to add support and structure. 
Granted, you can find a number of cheaper brands that produce their leggings using thinner materials, but they end up being partially transparent.
They come in a variety of shapes and lengths, from high-waist ankle-length leggings, all the way to low-waist mid-calf ones. Some brands will even throw pockets into the mix as well as crotch reinforcements.
On the other hand, tights are made of notably lighter fabric, landing higher on the sheer and translucent scoreboard. Tights are meant to be thinner, using materials such as polyester or cotton blends.
Tights come in a large number of styles, colors, and patterns. They're usually considered as a garment that complements a standalone outfit, kind of an accessory if you will. 
This means that if you ditch your tights, whatever you're wearing should still be a functioning attire.
Tights start from the waist and continue until your toe tips, with little coverage of a woman's private parts.
This is why they shouldn't be used as standalone garments. Tights are best worn with opaque garments at the backside.
Season
Tights are most commonly worn during the spring and fall seasons, when the weather is moderate. In the winter, it can be too cold to wear tights if this is the only protection for your legs. If you are going to wear tights in the winter, be sure that they are opaque. Opaque tights can be subdivided according to their denier value, which is a measurement that lets you know the thickness and opacity of a pair of types.
For example, semi-opaque tights rank at 21-40 deniers, opaque tights score 41-69 deniers, while blackout tights measure over 100 deniers, providing the most coverage of them all.
As for leggings, they can be worn all year round, even through winter. They're thicker than tights, so they can keep you toasty enough that you may not need to do any layering whatsoever.
During the summer, both of these options can be a bit warm to wear comfortably. Some leggings are designed to be more breathable, so they can sometimes be the better option of the two.
Style and Occasion
As we previously established, tights are semi-transparent, hence, wearing them on their own in any setting is considered rather inappropriate.
According to what you pair them with, tights can work for casual outings, professional occasions, home chilling, as well as work out sessions. 
You can match your tights with various shoe types, from platform heels all the way to ballet flats. Tights work beautifully under shorts, skirts, as well as dresses.
Leggings, however, are designed for casual use, and you should keep it that way. You can consider them an everyday piece of clothing to simply throw on and go about your regular routine.
They're excellent to wear during workouts, running some errands, or lounging with friends. However, leggings are never a good choice for professional life.
Fit
Tights are the tightest between the two. They're designed to act as second skin, so they're incredibly form-fitting.
That being said, leggings are also tight, but more of a snug fit to contour your body while still giving you some room to breathe.
Care
You can certainly launder both tights and leggings, however, leggings do demand less special washing conditions and instructions. Simply wash them as you would any pair of pants and you'll be good to go.
Tights? Well, they require more attention due to their thinner nature. They're usually washed inside mesh bags.
Leggings can be folded and stored with your pants, while tights are usually rolled up and put in an undergarments drawer.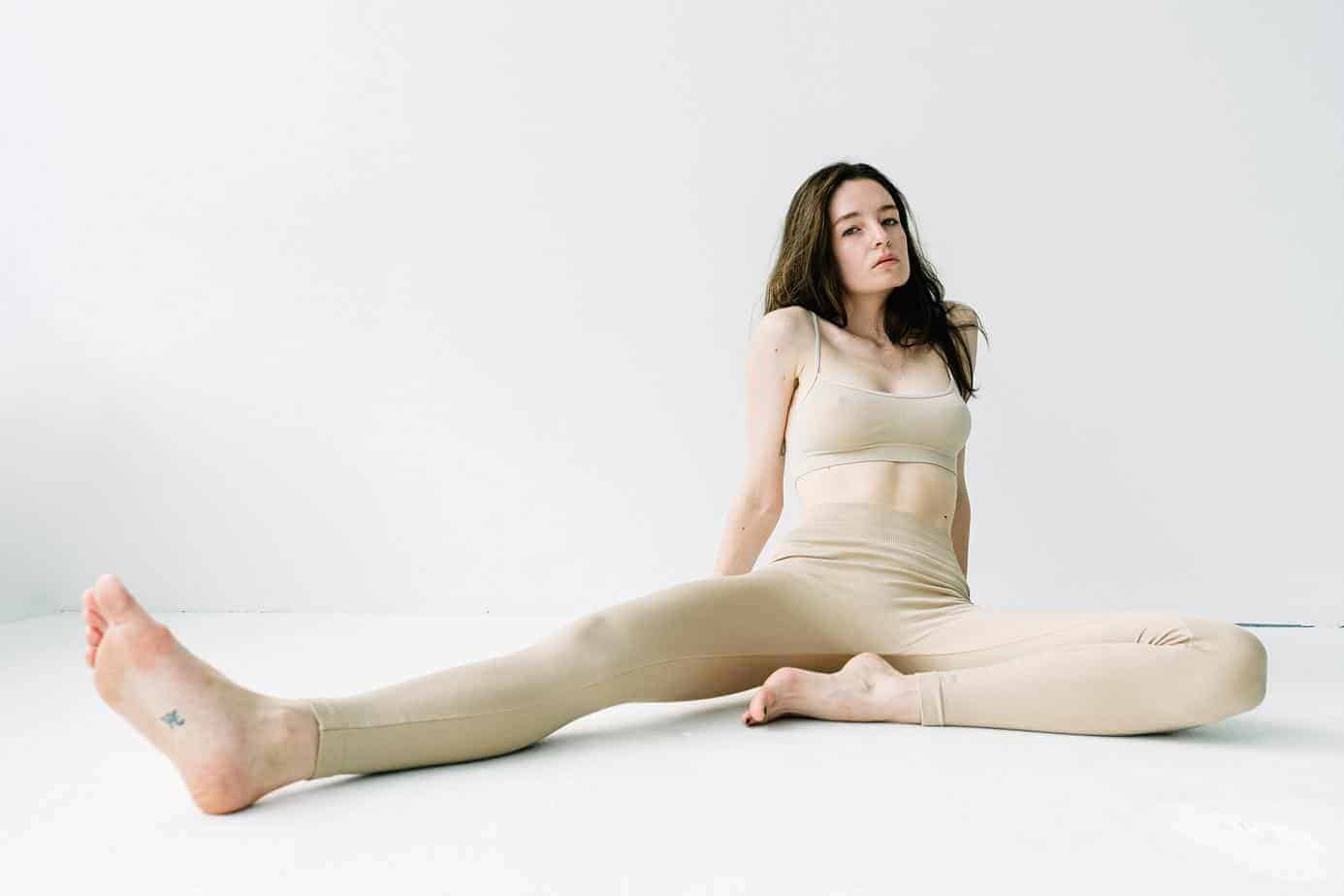 Durability
When it comes to the durability between the two, leggings are much more durable. Tights have always been known to be delicate, with snagging being a common issue with them. While some leggings can be on the thinner side, they also come in styles that are thick or made with non-snagging material.
Major Distinguishing Factors
There are two major factors that differentiate tights vs leggings:
Leggings Can be Worn Alone
Leggings are thick enough to be worn as bottom garments without being too revealing.
On the other hand, the higher 'stretch' factor causes tights to have an excessive level of transparency, which is generally regarded as inappropriate if a woman was to wear a pair of tights and roam the streets with semi-exposed buttocks.
Tights Can Provide Foot Coverage 
Tights extend from the waist to the toes, covering your entire foot. 
Some tights are also designed with a "convertible foot," meaning that you can take your foot out of the tights, and roll the tights up to your ankle if you want. This is common to see on tights that dancers wear.
The longest type of leggings, however, stops at your ankles and doesn't go further.
When to Wear Tights
Now that you have an idea of what tights essentially are, here's how and when you can wear each type out there:
To pull it together
For natural concealing
To turn up the heat
For activities and layering
For health reasons
To Pull It Together 
Ever watched a movie or a series set in past times and saw women wearing those tight corsets and girdles to help shape their curves into a perfect figure?
Well, this is basically the job of control top tights, but in a less restrictive suffocating manner. Once you put them on, these tights grant you a smoother shape to your legs, tucking in all the extra bumps, rolls, and folds.
You can wear control top tights for special occasions, under long dresses or full-body attires to even out your silhouette and pull in problematic areas such as tummy, thighs, and booty.
For Natural Concealing
Sheer tights are basically see-through, measuring between 10 to 20 deniers. They give your legs a natural look, but still, blur out any blemishes or spots for an even finish.
They're very popular to wear under skirts, particularly for a polished look. 
To Turn up the Heat
Fishnet tights are perhaps the most controversial style of tights. They have diamond-shaped knits, prominently showing skin and accentuating your legs.
They're majorly associated with sexy vibes, but not many people feel they can pull them off. You can give it a shot and match it with a knee-high dress, or wear it for a romantic night.
For Activities and Layering
I've already mentioned the fact that some tights don't go as far as covering your feet. Such footless tights are a huge hit among dancers as they allow for better control and balance underneath uniforms and costumes.
They're also very popular to wear at school or work as they make for excellent layering.
For Health Reasons
Support tights can help people with poor circulation issues, mostly because of sitting or standing still for extended periods of time. 
Those who work office jobs know the struggle rather well, and so, they wear support tights to reduce the nagging pain.
These are less for fashion and more for health. The idea here is to utilize the compression effect provided by such tights to offer health benefits for both men and women of all ages.
Additionally, support tights can help pregnant women suffering from swollen feet and legs. If that's your biggest concern, you're covered on both fronts, since there are special leggings like The SRC Pregnancy Leggings that specifically deal with the most common health issues during and after pregnancy, such as Pelvic Girdle Pain, Mild Varicose Veins, C-Section wounds, Sciatica and Low Back Pain.
When to Wear Leggings
Yes, you guessed it! Leggings also come in multiple types, and here's when you can wear the most trendy ones:
For casual use
For summer comfort
To exercise
To avoid riding up
For jeans alternatives
For Casual Use
Ankle-length leggings are widely popular, worn every day by millions of women and girls. They become extra on-demand particularly in the winter due to the extra coverage.
You can wear such leggings with all sorts of casual tops, hoodies, shirts.
For Summer Comfort 
A spin-off of the original Ankle-Length leggings, mid-calf length leggings came to life when the need for comfort combined with a bit of breeze emerged.
These leggings fall between the ankles and knees, exposing a tad more skin. You can pair them with mini-skirts and tank tops around springtime.
To Exercise
If you're into fitness, chances are you already know what I'm going to say. Leggings specially designed for movement and impact can be the best gear for active people.
Leggings deliver high protection during cold weather and promote better circulation as well as muscle action. They're usually treated to resist moisture build-up and reduce friction, with antimicrobial and cushioning qualities.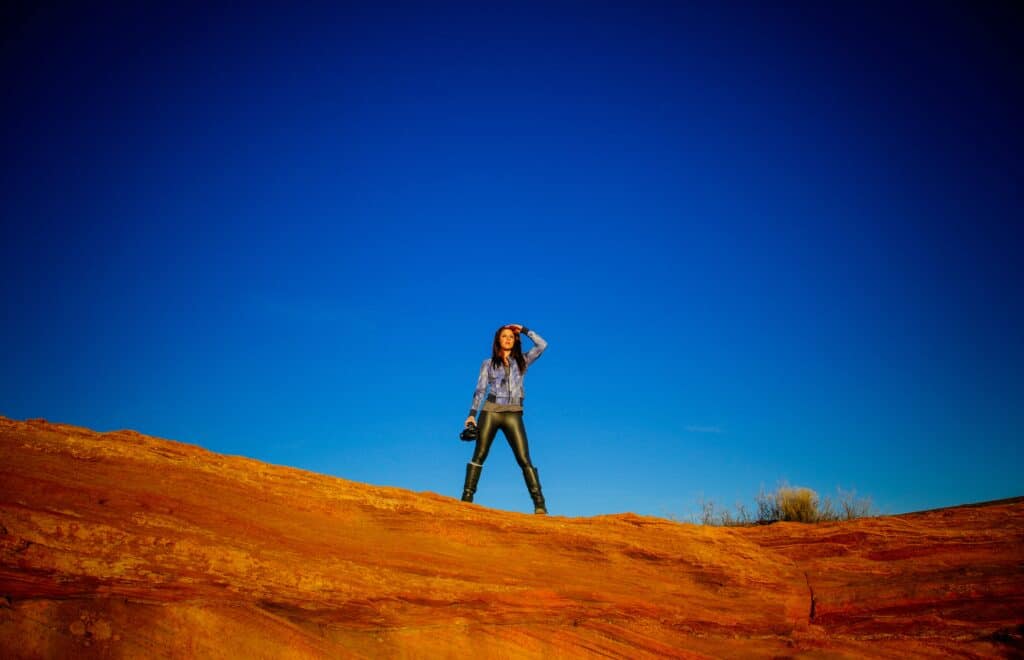 To Avoid Riding up
If you seem to struggle with annoying ride ups, you'll definitely enjoy wearing stirrup leggings.
These are basically ankle-length leggings, but with the addition of a strap that goes under the foot and comes up to the ankle. 
For Jeans Alternatives
One of the most ambition crossovers to ever exist, jeggings were an instant hit since they combined the look of skinny jeans with the comfort and ease of wearing leggings. 
You can wear jeggings for any activity you'd do jeans. They're perfect for running errands, hitting the movies, or even attending class.
Frequently Asked Questions
Are Tights More Professional Than Leggings?
Generally, tights might be more professional than leggings depending on how you wear them. For instance, if you wear tights under an official dress or skirt, you will look professional even at work.
However, it is important that you match the tights' color for the outfit to look formal.
Can You Wear Tights as Leggings?
Yes, you can wear tights as leggings during workouts. However, it is advisable that you wear tights under other clothes such as skirts, dresses, or shorts.
This is because they are light and revealing, and you might get uncomfortable, especially when bending or squatting.
Can Men Wear Tights?
It is not advisable for men to wear tights as tights might make them look feminine. In addition, tights are light, and there are high chances of revealing a man's anatomy when worn alone.
However, men can wear tights under trousers or sweatpants during winter.
CLASSY Leggings Outfits that look Chic and Sophisticated
Final Verdict
So, which is better – leggings or tights?
If you are looking for something that can act as a substitute for pants, works well underneath dresses and skirts, and are great for a variety of workouts, leggings are the way to go.
Tights, on the other hand, are great to help pull an outfit together (as long as you have other clothing fully covering your butt).
Based on my research, leggings seem to be the winner between the two, based on their versatility. What do you think? Which of them best meets your needs?