As an Amazon Associate we earn from qualifying purchases.
Leggings have evolved into versatile bottoms that can be paired with numerous tops and footwear to channel a graceful style. Moreover, they are often appropriate in most formal, semi-formal, and casual settings. Learning what to wear to school with leggings can help you always be comfortable and on point.
What to Wear to School With Leggings
Preparing for school is often a mad dash as you rush to put on your clothes, scramble to collect your books, and quickly eat breakfast. Usually, a foolproof way to put together an outfit for school that is both cute and comfy is to pair something with your leggings and accessorize minimally.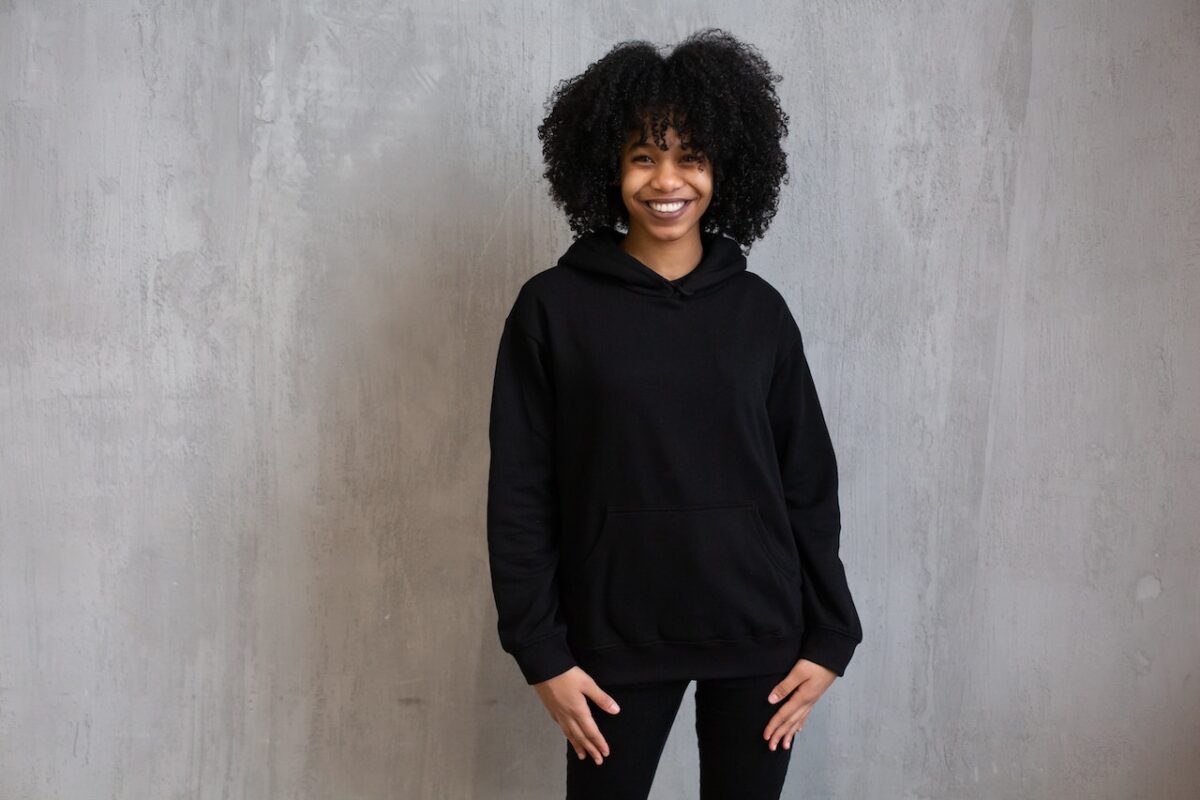 Following are some suggestions.
Oversized Hoodie
The oversized hoodie looks fantastic with leggings, as it creates a sharp contrast between a loose-fitting top and a skin-fitted bottom. The entire outfit needs minimal accessories or none at all, so you can quickly put it together in the morning.
Moreover, the humble hoodie has grown immensely in popularity and has become a fashion trend, especially among youngsters. While they have been around for decades, the past few years have seen the oversized ones transform from leisure wear to trendy, must-have tops.
While you can go for either a pullover or a zip hoodie, the former looks better with tights, while the latter works well with jeans. Depending on the weather, you can layer with a loose-fitted coat or jacket and throw on a cap if it reflects your style.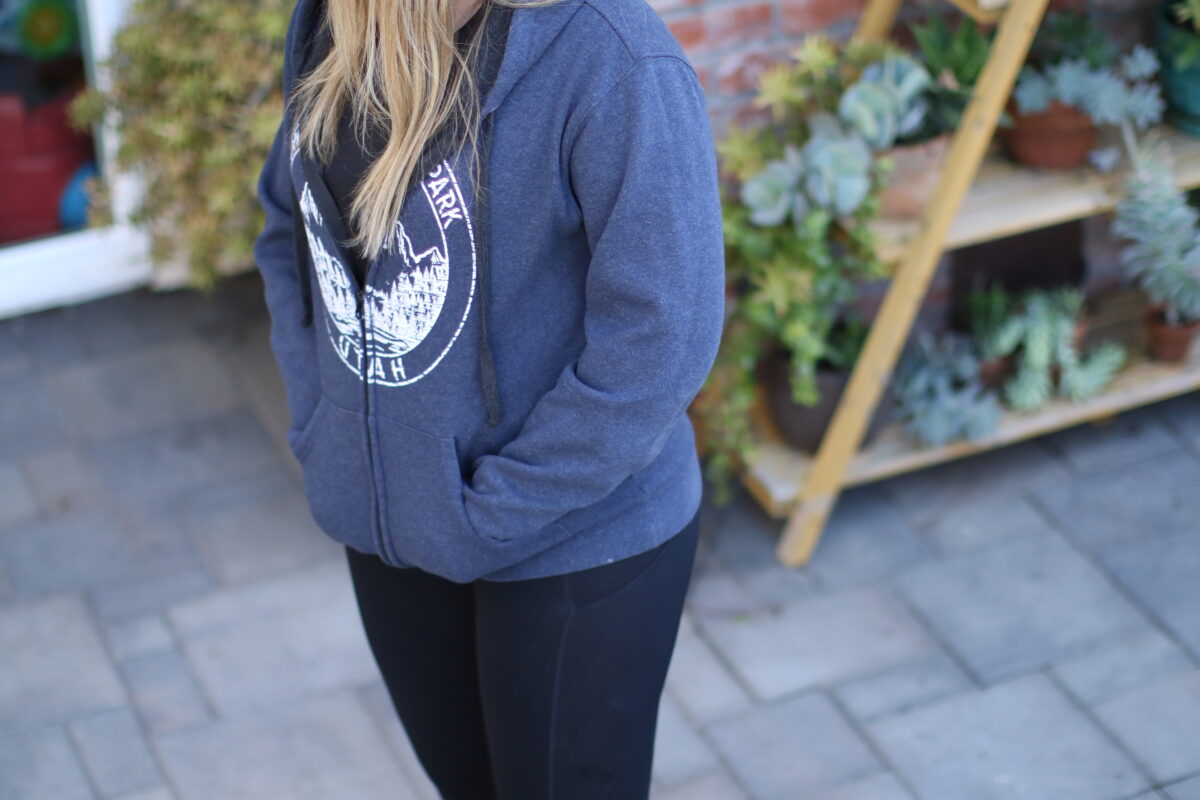 Cable Knit Sweater
The cable knit sweater channels a sophisticated vibe that works perfectly for educational institutions. You can opt for an oversized boyfriend style or long-length knitwear since both pair well with the understated leggings. I suggest avoiding shorter lengths, as they only go with some types of leggings.
The sweater would be a good option for days when you want a bit more formal attire, such as when you have a presentation or a school photo
With these sweaters, you can also choose your preferred neckline
Both crew neck and V-neck look smart
You can complete the outfit with chunky rings and a wool scarf if you need accessorization. However, the sweater itself makes quite a statement and requires little to no add-ons
Tank Top With Long Cardigan
Another way to incorporate your leggings into a comfy yet cool look is to wear them with a white tank top and a long cardigan. Most of us, student or not, have a trusty tank top that feels like a second skin and looks flattering on us.
However, there may be better options than wearing just the tank with tights for a place of education. Hence, you can add a monotone cardigan on top to give you some coverage and elevate the style quotient of your overall outfit.
While conventional cardigans are knitted with an open front, you can also find them in jersey fabric. A long chain and some stud earrings would complete your look perfectly.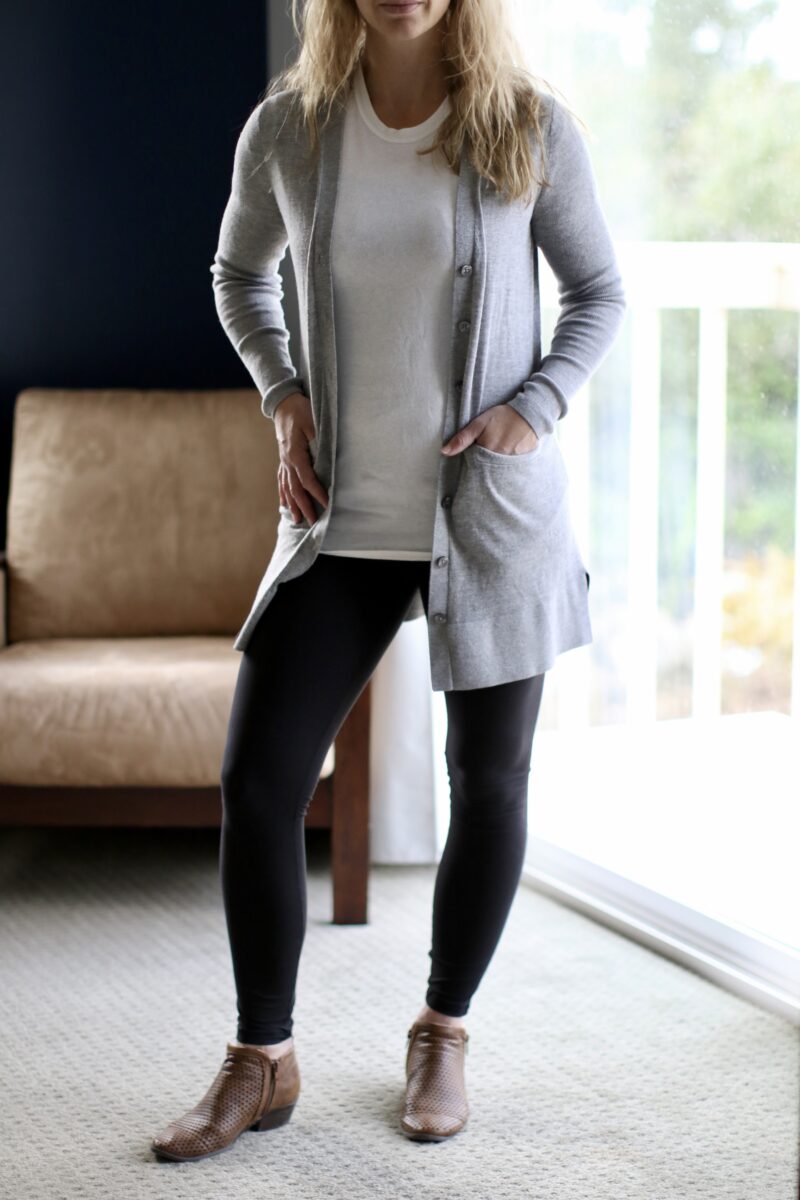 Button-Down Shirt
A button-down shirt is often associated with a formal ensemble that is more appropriate to wear to a workplace. Contrary to popular belief, a long button-down is exactly what you should wear with your leggings if you want to stand out from the crowd.
They can strike a perfect balance with the fitted tights and leave lots of room to experiment with your look. You can add a belt at your waist, pair it with a tank top and leave the buttons open, or add a sweater vest on top for a smart-casual look.
You can wear a solid-color shirt and plain leggings or dabble with print leggings for a color block effect. The options are endless, and one shirt can be worn in several different ways.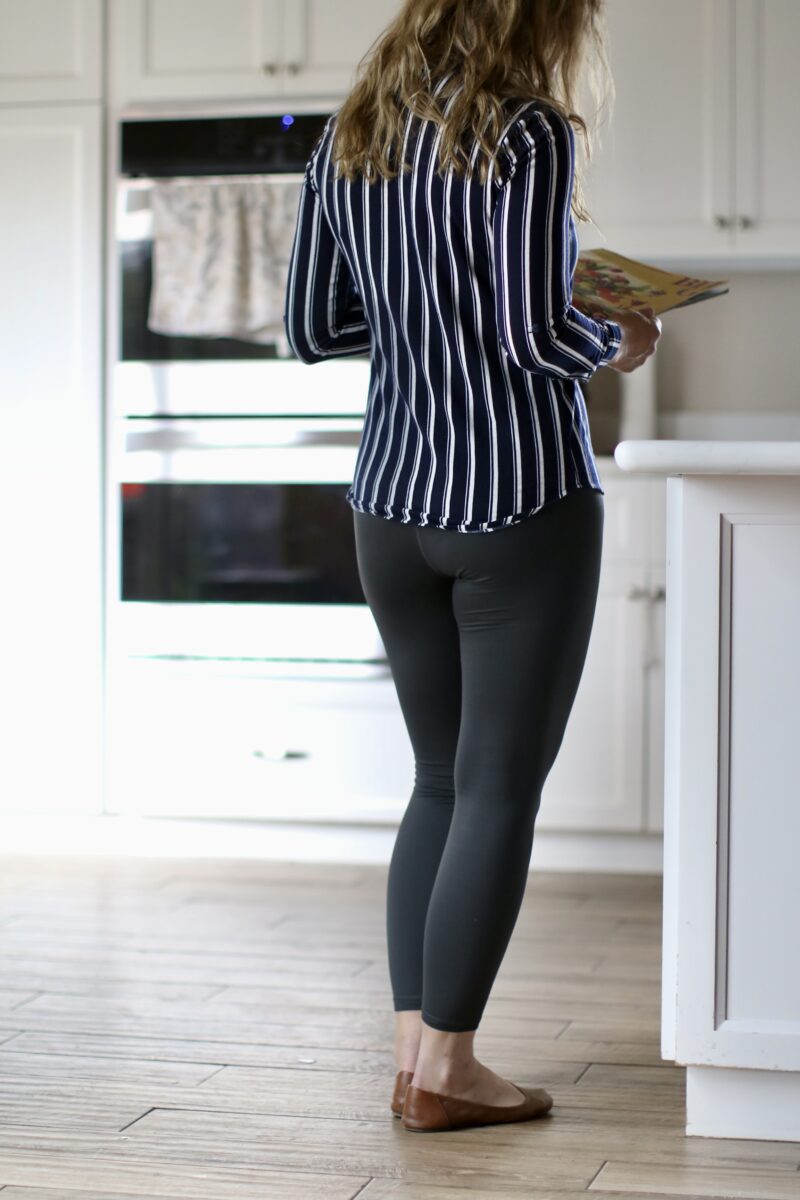 Simple Tee
Sometimes, a simple tee and leggings are all you can manage on a morning when you hit the snooze button too often. When that happens, grab your favorite t-shirt and top-quality comfy leggings, wrap a chunky scarf around your neck, and put on your shoes (the best shoes with leggings are discussed further below).
The end result is an effortless look that still delivers on the chicness level and is incredibly simple to put together. You can wear an oversized t-shirt if you prefer baggy clothes or the basic one with a nice quote on it.
Depending on the season, you can add further layers, such as denim or leather jacket, or accessorize your bare arms with a stack of bead bracelets.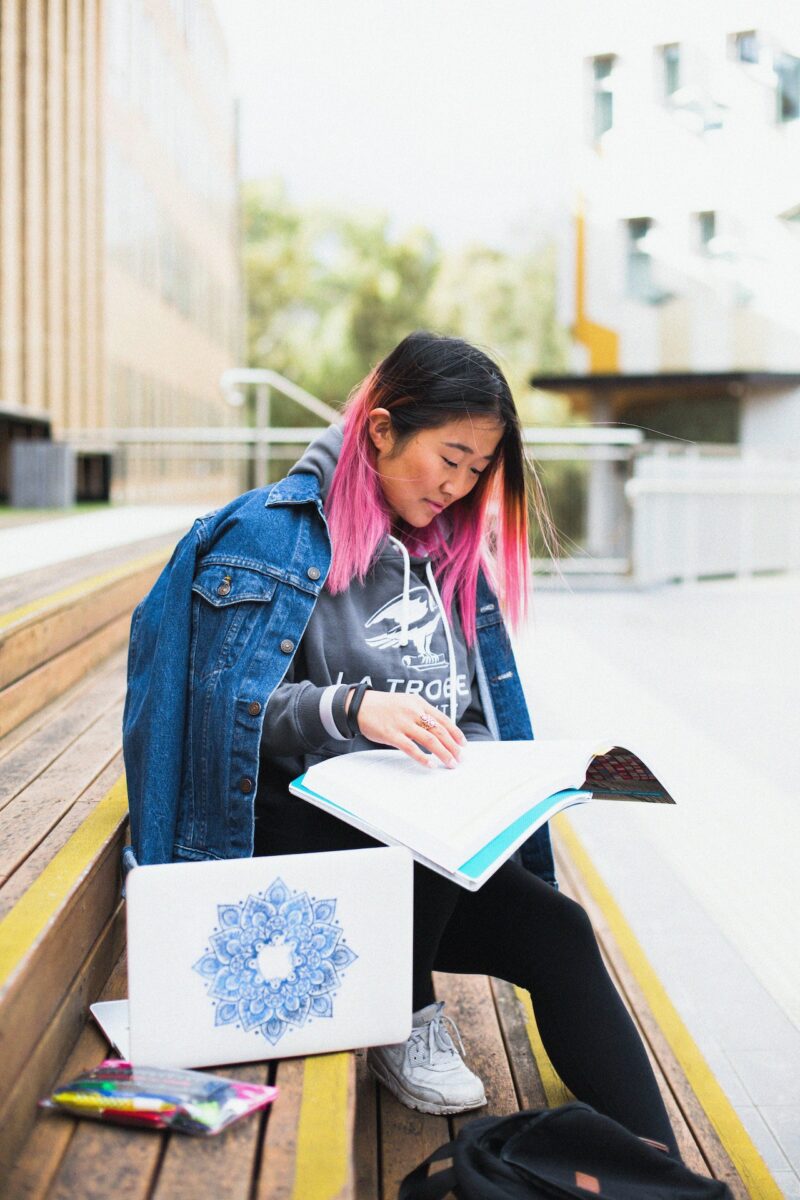 Light Sweatshirt
If you prefer donning athleisure wear to school, you can put on a sweatshirt with your leggings. The combination of a sweatshirt and leggings is best described as equal parts sporty and stylish. It channels a laid-back, casual look that is not boring.
Sweatshirts are often made from a similar material as hoodies, except they do not have a hood. Hence, numerous styling tips that work for a hoodie also blend well with a sweatshirt.
For example, oversize sweatshirts are better when paired with form-fitting leggings. I recommend light- to medium-weight ones that allow you to layer with a denim jacket if the weather turns chilly. Moreover, they are more comfortable than heavier ones, which is ideal for long school hours.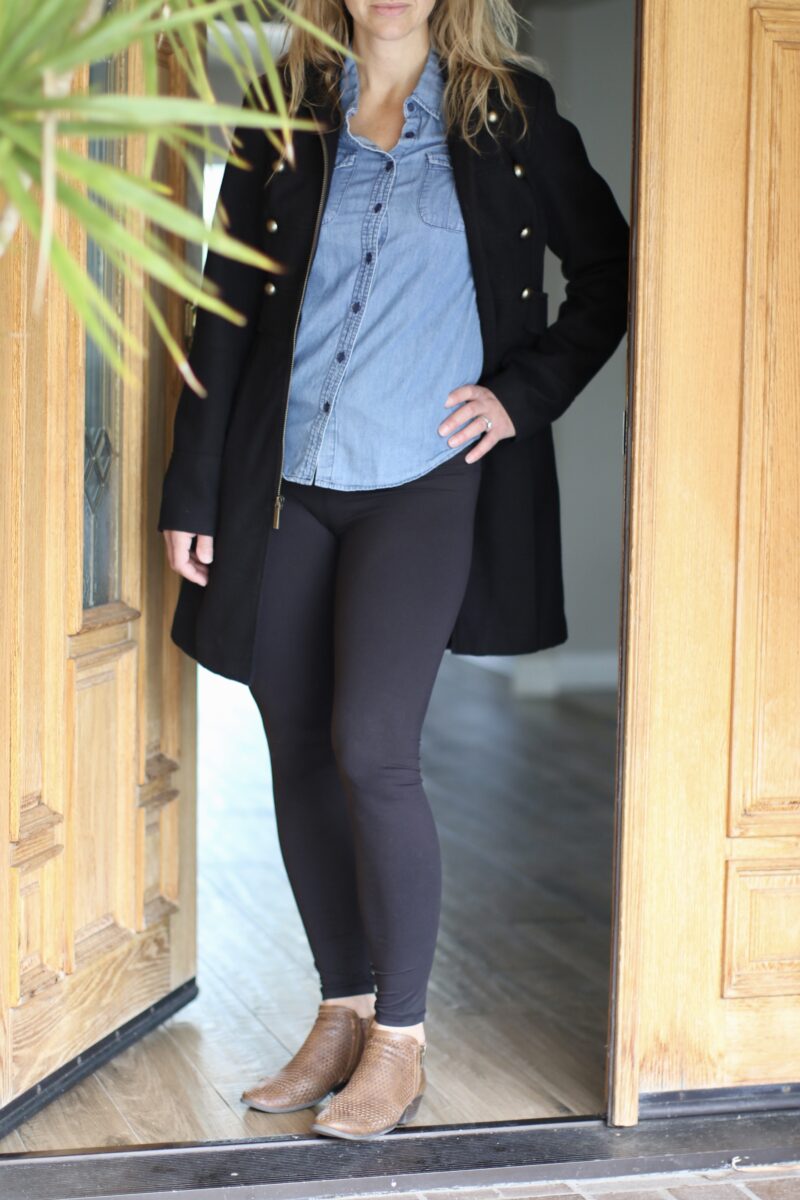 Sneakers
Sneakers have transcended into a fashionable phenomenon that is coveted by almost everyone. In fact, the global sneaker market was worth approximately $79 billion in 2020, with predictions to reach $120 billion by 2026.
Therefore, you probably have a beloved pair of sneakers in your shoe cabinet that you wear routinely. Fortunately, sneakers pair of shoes seamlessly with leggings, regardless of your top.
Many youngsters prefer pristine white kicks that emanate a class of their own, despite being muted and subtle. However, if your jam is a bit flashy, go for the loud, chunky, colorful ones! Just tone down the rest of the ensemble to allow the sneakers to be the statement piece of your look.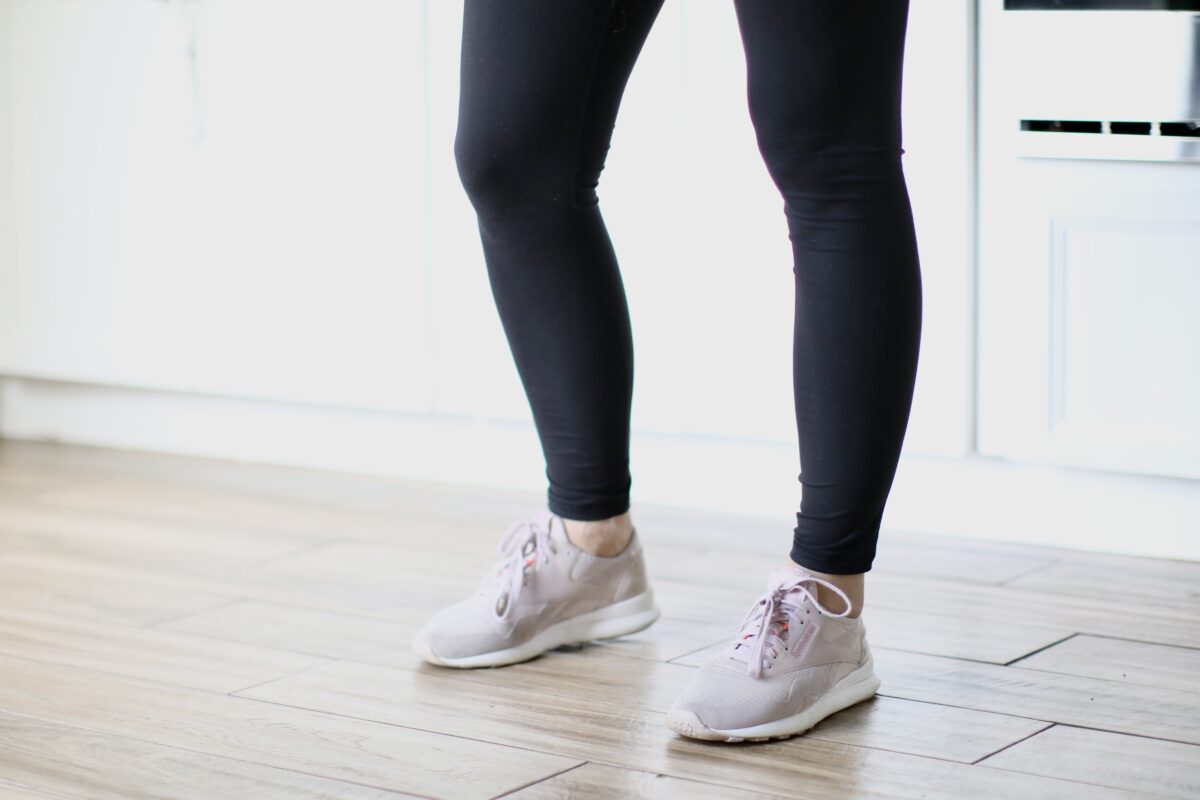 Ankle Boots
Another footwear to wear with your leggings is a pair of ankle boots. You should ideally wear the flat variety for school so walking around from class to class is not a chore. If you prefer adding a few inches to your height, opt for small block heels.
If you have to invest in one quality pair of ankle boots, I would suggest plain black leather ones that go flawlessly with most attires. However, the chic brown suede boots have a certain charm and work splendidly with plain black leggings.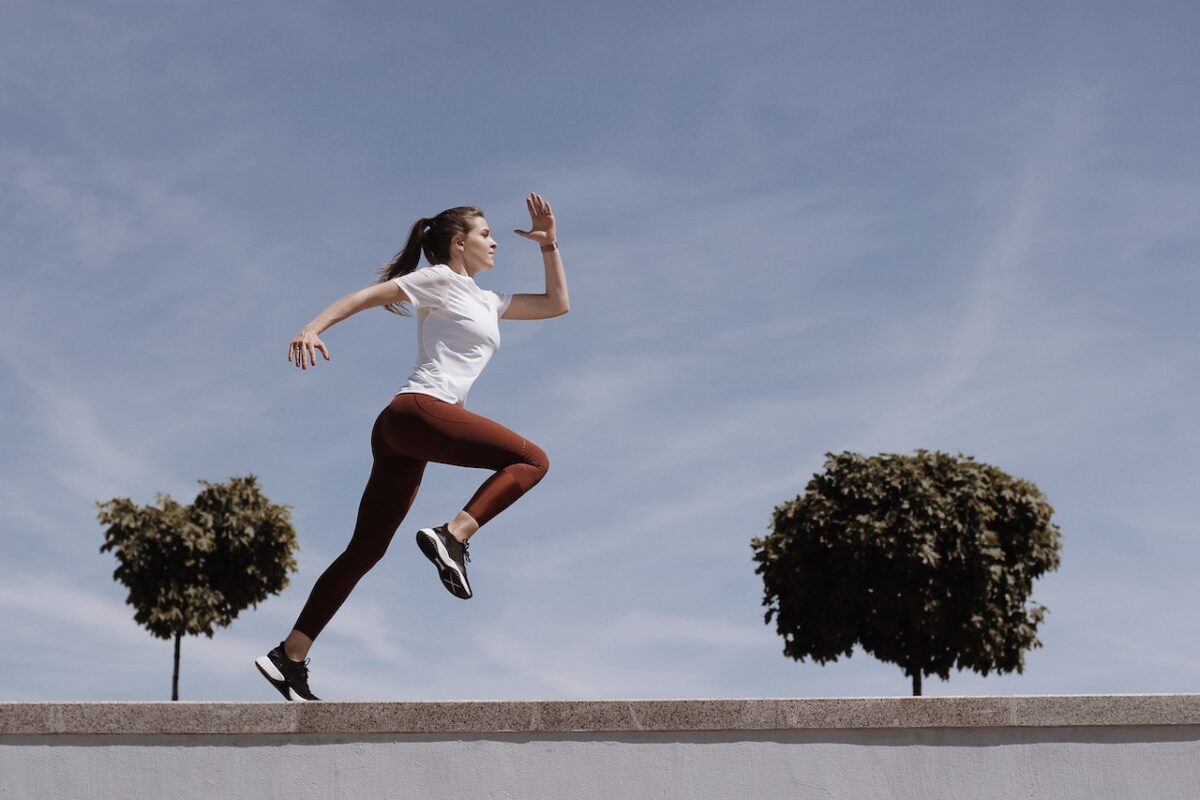 Slip-Ons
The often underrated slip-on shoes are another must-have for school-going peeps like girls who love wearing leggings. They are casual, comfortable, and classy, which is everything you can expect from an excellent pair of shoes. My favorite part about these shoes is how easy it is to get in and out of them.
If you already own white sneakers, you can get creative when shopping for a slip-on. You can get one with a checkerboard design, a cheetah print, or a silver reflective top. If your style is more restricted, black ones with white soles are a fail-safe option. While the former demands attention, the latter is reliable.  
What To Wear & NOT Wear With Leggings / Fashionable Leisure, Casual & Dressy Outfits With Leggings
Conclusion
What you want to wear with your leggings ultimately depends on your personal style. Regardless, it is safe to say that leggings work incredibly well for most people due to their practicality and comfort factor. While you can pair them with most tops and footwear, the above options are most appropriate for school.