As an Amazon Associate we earn from qualifying purchases.
You've decided to give into the leggings trend. Now what? You probably saw these leggings with cute patterns while you were walking in the mall and decided to buy them. Now, you're looking for ways you can style this unique, colorful, and versatile pair of leggings with ease and fun.
How to Wear Printed Leggings
Wearing printed or patterned leggings would seem like a no-no for some who are minimalists. Trendy people know how cute and versatile they could be when it comes to dressing them up or down. To style these printed leggings, you can opt to pair them with tops or dresses that cover your bum. The outfit will not be too revealing. Make sure these top and dresses are not too colorful so the balance of the outfit still looks pleasing to the eyes.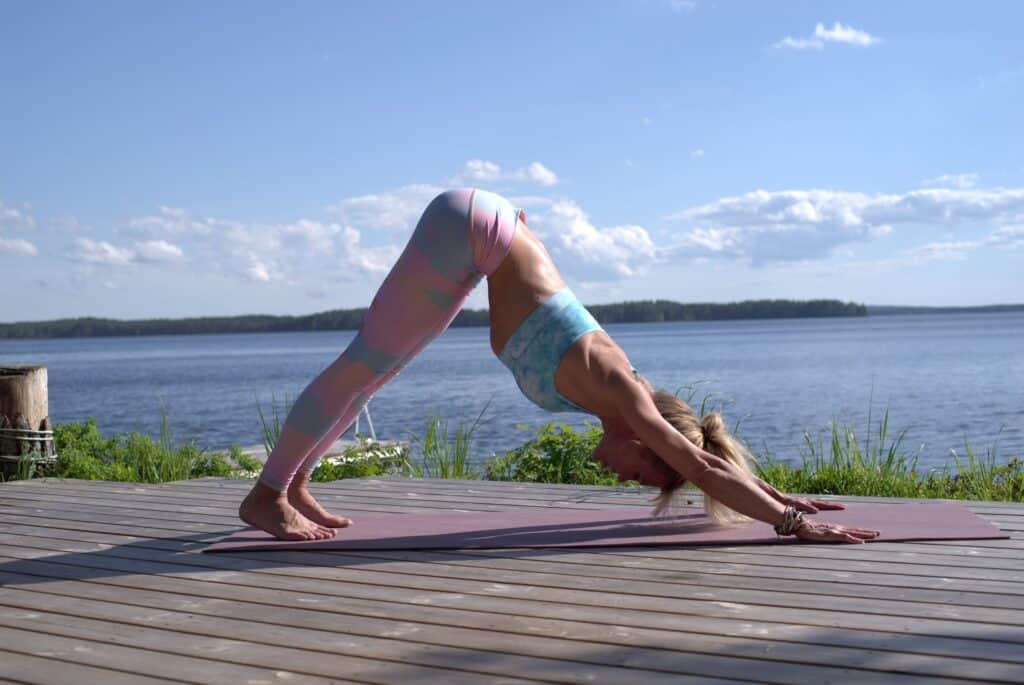 Additionally, you must remember to look for ones that give you the ultimate fit, shape, and comfort. It is no use to wear leggings that are too tight or too loose. Ones with designs that don't elongate your legs will not look flattering to your body at all.
To give you other ideas on how to style and wear your printed leggings, I offer a list for you:
Tips in Styling Your Printed Leggings
Generally, styling your printed leggings will be the same way you style your regular, plain black leggings. The only exception is you are considering other things such as the perfect balance of the patterns and colors. You wouldn't want to look like you are over-the-top and too bright with aztec leggings paired with a neon-colored floral top. Right?
[mv_video doNotAutoplayNorOptimizePlacement="false" jsonLd="true" key="pecbwl1spih5z9d9srz2″ sticky="false" thumbnail="https://mediavine-res.cloudinary.com/video/upload/pecbwl1spih5z9d9srz2.jpg" title="15 Outfit Ideas to Wear With Leggings" volume="70″]
The key here is to keep the balance. Evaluate the color, style, and fit of the entire leggings outfit. Beyond that, you can be sure you can pull off your printed leggings with ease.
Look For Flattering Leggings
Before even buying your patterned pants or leggings, make sure they fit you perfectly, whatever body shape and size you have. It helps to always remember some helpful tints. Even if the design looks good, it still would not look as good to you as it should be if the prints and patterns are not flattering your body shape at all.
For example, printed leggings with horizontal stripe designs can give the illusion that your legs are wider and shorter. This is not flattering at all, especially if you're petite. Instead, you can find ones that have vertical stripes to look taller and less sloppy.
When purchasing leggings, it is also highly recommended that you do the mirror test. Examine if the leggings are fit to your body shape and size. You can also test its sheerness. Look for other features such as high, supportive waistbands. Make sure the leggings won't cause unnecessary muffin tops or constrict your body from movements and high-intensity activities.
Go For Your Preference
Other prints and patterns in leggings are too bold and bright for other women. Maybe you are the conservative type who does not feel comfortable wearing pieces that are too colorful and captures people's attention. If so, then you may still go for the printed leggings that have a more neutral, lie-low designs. Examples of these designs could be polka dots, grids, pinstripes, or tie-dyed patterns.
Remember, your comfort and confidence when wearing the leggings are still what matters most. The design, even if it's a huge factor, should still come secondary. Make sure your printed leggings are not going to make you too self-conscious. If the moment you set your foot outside of the house you want to change, they aren't right for you.
Keep the Balance
Other prints and patterns of leggings are not too bright and colorful. Some come in black and white stripes or neutral colors. If so, feel free to wear other printed tops or dresses that flatter your printed leggings' design.
The key is to not go overboard. Keep the balance in mind. For example, say, your leggings already have too many different colors or perhaps neon-colored. Then, you would want to go for tops or dresses and accessories that are simple and plain-colored to keep the balance.
This is important. Going overboard with designs and colors will make your outfit look unpleasant in other people's eyes.
Consider the Type of Prints or Patterns
Some leggings have prints that look neater and more professional. Others have prints that are specifically designed to be colorful and attention-seeking. Usually, the former is much appropriate when you are going to work. Otherwise, if you are merely heading to the gym or walking your dog outside, feel free to wear bold and bright patterned leggings.
This is just a quick reminder for you to consider the prints when thinking about where you will wear the leggings,. Leggings are an athleisure piece that is more known for being casual and cozy.
Adding more prints and patterns somehow made it even more casual than usual. Some printed leggings might also not work for some occasions. It's sometimes better to stick with the rules or, in this case, the dress code.
Disregard the Over-The-Top Accessories
Your printed leggings, depending on the level of boldness and brightness, are inevitably going to catch other people's eyes on it. Hence, there is really no need to wear additional shiny accessories. These will only add more to an already over-the-top outfit.
Keep it minimalistic with your accessories. Find hats, scarves, or other accessories that are neutral in color. This will certainly help in keeping the balance of the whole look.
Pick Non-conflicting Color or Design for Your Shoes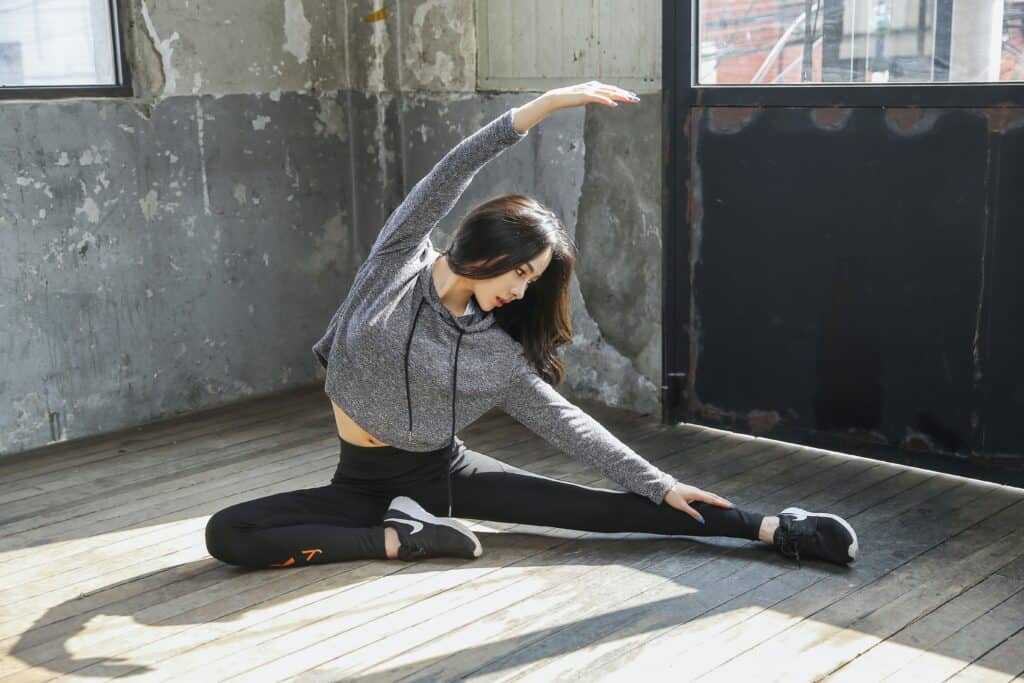 Picking the right color of your shoes or sandals that matches the color and style of your printed leggings is very important. You can have someone check your outfit and give you their thoughts. Or, you can also depend on how you feel with the overall leggings and shoe combination.
For example, if your leggings are already neon in color with a flashy and vivid design, you might want to tone down your shoes. You can opt for shoes that have colors and designs that are not conflicting with the prints and colors in your leggings. Some of the types of shoes you can go for are:
Heels or Pumps
Knee-Length Boots
Cute Sandals or Flip-flops
Low-Cut Boots
Ballet Flats
Rubber/Tennis Shoes
In picking the right shoes, consider where you are going as well. Black heels or nude pumps are going to look great on any printed leggings and help you elongate your legs more. But, avoid them if you know you'll be going to walk for a long time so as to avoid hurting your feet.
Layer With Outerwear That Does Not Clash
Wearing your printed leggings with only a plain tee will make you look too casual and like you didn't put enough effort into your outfit. To avoid this (more so when the weather is cold), try layering and wearing third pieces that will make your outfit pop.
Because your leggings are already printed and in most times colorful, it is better to pair coats or jackets that are not conflicting both in color and design with the leggings. Again, it's important to keep the balance. However, if the prints in your leggings are not too conspicuous, feel free to wear a coat that has popping color or design.
Similar to when styling regular leggings, before heading out, check if your inner pieces are also not making you look too bulky. It may be better to keep the bulk in your outerwear which gives you the freedom and flexibility to remove it when the weather becomes warmer.
Flaunt Your Shape With A Crop Top
Wearing your printed leggings with a crop top or sports bra is a great way to show off your figure and curves. Since your leggings are already printed or patterned, you can choose a plain design for a crop top or sports bra that will match your leggings.
For instance, your leggings are already printed with vibrant red and white diagonal stripes. You can go for a top that is already plainly colored with bright, striking red. A color that stands out in your leggings can be a great starting point where you can choose the color of your top that will not clash with your outfit. There are also sports bras that are already designed to match the printed leggings.
In wearing this pair, you must consider the place you'll be going. That is, you can wear this combo if you are only planning to head to the gym, attending your regular yoga sessions, or doing athletic training or movements. This outfit combination might be too revealing if you are going to wear it in public.
Other Things to Consider When Wearing Printed Leggings
Additionally, take the following tips into account when styling and wearing your printed leggings. Make sure you're not only fashion-forward but also comfortable and feeling good.
Pair With Bum-Covering Tops or Dresses
Just like with regular leggings, fashion enthusiasts don't recommend that you wear your leggings solely as pants. It is possible when you're heading for the gym, yoga, or athletic events. They are still too casual and revealing when worn in public.
That is exactly why you should pair your patterned leggings with tops and dresses that cover your bum. It gives you extra coverage while still keeping you fabulous.
Check the Fit
There are different types of fabrics which leggings are made of. Make sure they are high quality and give you freedom for your movement and comfort at its finest.
As mentioned earlier, a great way to check the leggings' fit is to do the mirror test. Move around and do some stretching while wearing the fabric. If it doesn't constrict you and feel too tight or loose, only then will you know it's worth buying.
If you are worried about extra belly fat becoming obvious when wearing your printed leggings, you might also opt for a high-waisted pair that will give you tummy control and keep the muffin tops hidden. This will make you look even better in your printed leggings.
Be Confident
The last key ingredient in any outfit, including your printed leggings look, is your confidence. People are surely going to look at you, especially if you've chosen to go with leggings that have a rather unique, bold, or bright design. If that is so, remember that if it doesn't matter what other people think as long as it feels good to you.
Tips to Style Printed Leggings
| Tips | How to style |
| --- | --- |
| Tip 1 | Wear with bum-covering dresses or tops |
| Tip 2 | Go for flattering leggings |
| Tip 3 | Choose your preference |
| Tip 4 | Keep the balance |
| Tip 5 | Consider pattern and prints type |
| Tip 6 | Go for accessories with neutral colors |
| Tip 7 | Pick the right pair of shoes |
| Tip 8 | Layer with matching outerwear |
| Tip 9 | Show off your shape with a crop top |
Ways to Wear Your Printed Leggings
There are various ways to wear your printed pants or leggings. Some of them include styling them with oversized sweaters, pairing them with tunic dresses, or layering them with classic camel coats. These outfit inspirations listed give you ideas on how to style your patterned leggings. They will generally depend on the season and your height.
For Fall
Brown leather knee-high boots worn on top of your printed leggings will look fabulous when going out during fall. You can pair with a crisp button-down top or a long-sleeved white tee for a more fabulous fall look.
Autumn is also when the weather transitions to a slightly colder temperature. What better way to layer your printed leggings than at this time? To do so, you can pair your printed leggings with a neutral-colored oversized sweater. Use a coat that is not too bulky and has colors that don't clash with your leggings as your outerwear.
For Winter
Yes, some printed leggings do have features that let you enjoy additional warmth in winter all thanks to high-quality fabrics. Feel free to wear your leggings with a plain-colored hoodie or oversized sweater. Add your beanie, too, for a cute winter outfit.
You can also layer your printed leggings with a bright-colored coat. This will make you stand out and give color to an otherwise dull and snowy weather. Balance it out with a black or neutral-colored scarf or accessories that can even add personality to your outfit.
For Spring
Flowers are starting to bloom again in this season so why not blend in it with your floral leggings? Pair this with a cute pastel tee or blouse and wear your wedge sandals for a casual but adorable outfit.
For Summer
In this season, you can opt to pair your printed leggings with a cami that is long enough to cover your bum. You can wear your flip-flops when you're on the beach or sandals when you're going to the mall.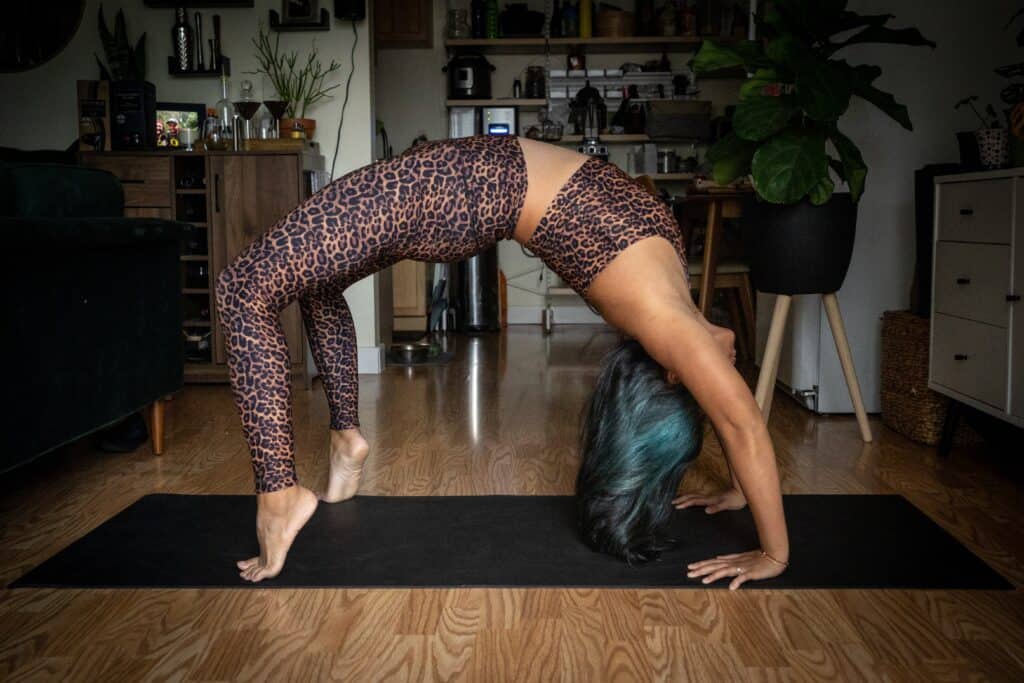 For Petites
It's so important for petite women to take advantage of prints and patterns that give the illusion of a taller body structure. That said, you can choose leggings that have vertical stripes. The line will give off a taller look. Otherwise, avoid leggings with too much going on and horizontal patterns as they make you look even shorter.
For Tall
You can afford to have more choices on the prints of your leggings because your height could go with almost any style. However, if you still feel self-conscious, you can go with ballet flats or sandals with color and design that do not clash with the printed leggings.
Frequently Asked Questions
Can You Match Printed Leggings With a Jeans Jacket?
Generally, you can match a jeans jacket with printed leggings as a casual outfit when running errands.
It is advisable that you pair the printed leggings with a black jeans jacket rather than a blue jean jacket because black is a neutral color and tends to look good with printed leggings.
Can Men Wear Printed Leggings?
Yes, men can wear printed leggings as they are versatile and come in a wide range of print patterns. This allows you to choose a printed legging that has prints of your liking and matches your outfit.
For instance, leopard-printed leggings will look good on men, while geometric prints suit ladies best.
Where Can You Wear Printed Leggings?
Generally, printed leggings are like regular leggings and come with different materials and fabric thicknesses, making them suitable for a wide range of casual occasions.
For instance, you can wear leggings with animal prints when visiting animal parks to match the environment of the park.
18 Stylish Ways to Wear Leggings! *must-see*
Conclusion
Printed leggings are still as comfortable and versatile as regular leggings. They can still be worn with as many different styles as you like. Some people might look at you as the piece itself will capture attention. Then again, you must exude confidence when wearing them.