As an Amazon Associate we earn from qualifying purchases.
If there's one thing better than a standard pair of leggings, it's a pair of high waisted leggings. These are the ultimate pair of comfortable, muffin top covering, stretchy pants! Whether you're looking for the best high waisted leggings for the gym or for a lazy Sunday, we're sharing the top pairs you need in your closet.
Top High Waisted Leggings Reviews
We're over suffering for fashion. Leggings are a tried and true article of clothing that can deliver on comfort and aesthetics at the same time.
We wouldn't be head over heels over high waisted leggings if they didn't make us feel safe from unflattering looks and uncomfortable fits. If there's any legging we can trust to make us look good on any given day, it's a good pair of high waisted leggings.
Brand
Core 10 Women's Icon Series-The Dare Devil Legging
Core 10 Women's Icon Series-The Track Star Legging.
QZUnique Women's Geometrical Pattern Digital Print Shaping Breathable Leggings
Product
Materials
Polyester and spandex blend
Features
Pintuck detailing, Shine fabric
Stripes down sides, V-back yoke
Geometrical Pattern Print, Breathable Leggings
Brand
Core 10 Women's Icon Series-The Dare Devil Legging
Product
Features
Pintuck detailing, Shine fabric
Brand
Core 10 Women's Icon Series-The Track Star Legging.
Product
Features
Stripes down sides, V-back yoke
Brand
QZUnique Women's Geometrical Pattern Digital Print Shaping Breathable Leggings
Product
Materials
Polyester and spandex blend
Features
Geometrical Pattern Print, Breathable Leggings
Core 10 "Icon Series" The Dare Devil High Waist
When you break a solid sweat at the gym, Core 10 Women's "Icon Series" The Dare Devil High Waist Leggings don't let you do all the work. Built-in with tight compression, its 4-way stretch thick waistband secures leggings to the hips for unlimited flexibility.
While the combination of spandex and nylon results in a shiny fabric, it also makes the leggings incredibly stretchable. Consequently, the materials enable the leggings to return to the original shape after adjusting to your movements. 
This is what also makes the leggings lightweight, providing you a soft feel as if the leggings are part of your skin. Despite the thin material, the leggings deliver a compression-like, supportive hold that doesn't feel like you're squeezing the stomach out. 
The Core 10 offers a wide range of sizes, so whether you wear XS or plus size, the leggings would fit your body perfectly. As long as you stay true to your size, the waistband wouldn't roll at the crotch. However, if you are shorter than five feet, you may encounter some excess fabric at the ankles. 
The Dare Devil also features a pintuck detail above the knee to help keep your leggings from constantly sliding down your legs. It helps you get in the zone instead. You could get a hundred squats in 3 consecutive reps, if you desire. These are the best high waisted leggings if you also want fashionable activewear.
Core 10 Women's Plus Size Dare Devil High-Waist...
High-waisted legging made with 4-way stretch, moisture-wicking fabric featuring pintuck detailing...
Reference our size chart to achieve the best fit
Drop-in pocket at center back waistband fits a smartphone
Core 10 Women's "Icon Series" The Track Star High Waist Legging
Feeling like a potato lately? If nothing else could get you moving, the Core 10 Women's 'Icon Series' The Track Star High Waist Leggings can make you transition from a couch potato to a "track star" in a matter of minutes. You can be just like an athlete during the off-season.
Like the first Core 10 leggings, this particular pair uses nylon and spandex for a stretchable and comfortable fit. As a result, the leggings feel soft and warm against the skin. The materials also improve moisture-wicking abilities, letting you feel cool and fresh even if you spend the whole day working out or doing chores. 
No matter your shape, its v-shaped back yoke and white striped design will immediately get you in the mood of being active. The stripes also make the legs look slimmer and longer. However, unlike the black material that stays opaque all the time, the white stripes are a bit see-through when you stretch. 
The waistband stays flat instead of rolling up, which also results in a snug fit in the stomach. The massive support from the high-rise waist to the elongated 28" inseam will allow you to speed through a workout and hike up those endorphins real fast.  
These high waisted leggings also offer functionality in the form of a small inner pocket at the back that can fit a phone or keys. In addition, the affordable price tag of the leggings will make you feel good.
Core 10 Women's Icon Series-The Track Star Legging
High-waisted legging made with 4-way stretch, moisture-wicking fabric featuring stripes down sides...
Reference our size chart to achieve the best fit
Drop-in pocket at center back waistband fits a smartphone
QZUnique Women's Geometrical Pattern Digital Print Shaping Breathable Leggings
QZUnique Women's Geometrical Pattern Digital Print Shaping Breathable Leggings sets up a strong foundation for a great party outfit. This affordable legging with digital prints mixes well with basics and a tall boot for an easy made-up look.
Similar to the first two leggings, this pair contains a poly-spandex blend that stretches and wicks moisture away, letting your skin breathe even when you wear the leggings all day. Since the leggings have a thicker blend, these can be your go-to bottoms on colder days. 
The elastic waist sits comfortably at the hip, won't dig into your skin, and saves you the hassle of always pulling the leggings up. As you wear the leggings, you'll feel the waistband supporting the stomach while flattering the thighs and calves.  
These are the best high waisted leggings for those who worry about print-distortion due to their body shape. Since there's a variety of sizes for all body types, the colors, prints, and patterns remain opaque and vibrant no matter how you stretch. 
Leggings as a fashion garment is a nightmare when you have to constantly worry about it showing your underwear above the waistline. This high waisted leggings allows no such thing. Wear your shortest crop top and you'll still be safe from accidentally flashing everyone your underwear.
QZUnique Women's Red And Black Stripe Print...
MATERIAL - The halloween leggings are made of 88% Polyester / 12% Spandex. Washable, recommended...
SIZE INFORMATION - One size (tag: one size). Fits from US XS to US L. One Size (XS-L / Size 0-12):...
HIGH PERFORMANCE - QZUnique Womens halloween Leggings are high quality, soft, shaping, breathable...
7Goals Women's High Waist Stretchy Workout Leggings
Your search for a legging you can wear with just a bra outdoors is over. 7Goals Women's High Waist Stretchy Workout Leggings covers part of your midriff up to the belly button in breathable stretchy nylon-spandex blend. Now you can do outdoor activities in style without struggling with an incompetent legging.
This is another pair of leggings that primarily use nylon to ensure breathability. Meanwhile, the addition of spandex results in a good stretch that enables the leggings to hold tight in the right places. Together, they reinforce compression capabilities to provide a soft feel as the leggings support your muscles. 
Even with a snug fit, the fabric is thick enough to conceal your underwear and avoid awkward lines from showing through the leggings. Since these leggings can also wick away sweat, you can spend hours wearing them without feeling itchy or flustered. 
The elastic waistband clings to the belly, guaranteeing the leggings will stay put throughout your activity. It also provides maximum comfort, although you won't feel constricted. While the leggings are a bit long for those below five feet, the hems don't look baggy around the ankles. 
Looking good while doing unflattering activities is where this comes as an expert. With those unique laser-cut mesh stars at the sides, you can hike up mountains for hours and still achieve a cute activewear OOTD with a beautiful landscape in the background.
As a bonus, there's a hidden pocket at the waistband, which is great for stashing essentials. Overall, these are the best high waisted leggings for those looking for waist and leg support when working out or doing day-to-day tasks. 
7GOALS Yoga Pants with Pockets Extra Soft Leggings...
➤TUMMY CONTROL WIDE WAISTBAND: High waisted yoga pants with wide waistband guarantee a smooth fit...
➤4-WAY STRETCH FABRIC: Reduce maximum friction and offer great support and full coverage, allows...
➤MOISTURE WICKING: Provides maxmium comfort along with great sweat absorption and drying ability,...
RUNNING GIRL Ombre Seamless Gym Leggings
RUNNING GIRL's Ombre Seamless Gym Leggings just confirmed the "less is more" ethos with its high-rise waist. Though crawling up above the belly button, it contours the curves around your waist and hips directing to a bountiful-looking butt. The engineered gusset crotch makes sure everything is in place.
These ethically-made leggings contain organic cotton and recycled polyester, making them a standout against the nylon-spandex blend of the first four pairs. The materials balance comfort, flawless fit, and ease of movement.  
The butt-lifting construction features a high-rise shaping waistband that controls your stomach while enhancing the curves, making these the best high waisted leggings for those who want perkier yet natural-looking buttocks.  
Meanwhile, the waistband is exceptionally higher than usual, which should be advantageous if you have a larger torso. This also lessens the likeliness of the waistband to fall. 
The seamless design aims to make you feel like you're wearing nothing, letting you maximize free movement. Additionally, the four-way stretch adds support to your buttocks while helping the leggings maintain its butt-lifting construction. 
Beyond comfort and support, total body confidence is the best of what this pair could offer. Stretchy yet opaque with a lightweight feel, this legging promises a next-to-nothing comfort. You'll feel as free and bold as the day you were born.
RUNNING GIRL Ombre Seamless Cute Gym Leggings...
➤COLOUR-GRADIENT BLEND: We've combined beautiful design with our innovative Seamless Knit to...
➤BUTT LIFTING DESIGN: A double layered construction designed to contour your hips and thighs.A...
➤SQUAT PROOF: Made with buttery soft fabric that is Opaque, Four-Way Stretch, Lightweight,...
Features to Consider When Buying High Waisted Leggings 
You'll want to be in the most comfortable yet functional clothes, whether you're going out, exercising, or running errands. From lifting capacities to body support, there are essential features and factors you need to check first before making high-rise leggings a wardrobe staple. 
Comparing High Waisted Leggings Features
| Leggings | Pockets | Inseam (inches) | Closure type |
| --- | --- | --- | --- |
| Core 10 Dare Devil | Yes | 28 | Pull on |
| Core 10 Track Star | Yes | 28 | Pull on |
| Qzunique | No | 37 | Elastic |
| 7Goals | Yes | 26 | Pull on |
| Running Girl | No | 21.5 | Elastic |
Fabric
The fabric directly impacts the functionality of the leggings, as well as your comfort. Each type of material has corresponding benefits and disadvantages, which you must weigh to find the best high waisted leggings for your needs. 
Moisture-Wicking
One of the things you must think about is whether sweat marks can ruin the leggings. Fabrics like nylon and spandex have the best moisture-wicking abilities that prevent sweat from clinging onto your skin, letting cool air freshen your body.   
In this way, you won't feel self-conscious about dark marks. Blocking sweat and moisture also prevents bacteria buildup that results in stinkiness. Lastly, leggings with this feature perform well in most weather situations.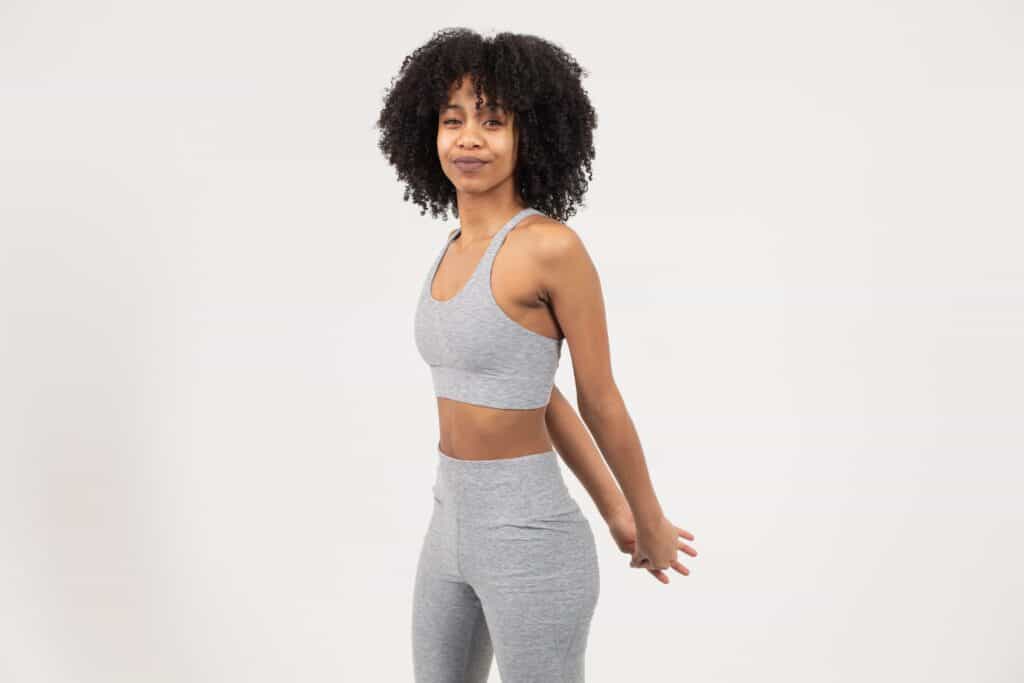 Breathable
Plant-based fabrics, like cotton and rayon, are the most breathable materials for leggings. While not as much breathable as cotton, synthetic fabrics are temperature-regulating, which means even polyester, spandex, and nylon allow the skin to breathe.   
With that said, it would be better if you pick a blend of plant-based textile and synthetic materials to balance breathability, stretchability, and quick-drying.
Non-Transparent
Cotton and faux leather are some of the thickest textiles for leggings, allowing them to maintain opaqueness and provide total coverage for your legs. 
Even if your preferred leggings use nylon, spandex, or polyester, these materials have excellent stretching capacity. These leggings stretch in all directions, conforming to how your body moves. In effect, the fabric spreads evenly and keeps the vibrant color of the leggings. 
Compression Panels
Check if the leggings have compression panels, which allow the blood to circulate better even when the leggings are tight-fitting. If you're usually wearing leggings for workout routines or outdoor activities, compressive features help improve blood circulation while also reducing muscle soreness. 
However, make sure that the panels don't feel too constricting to the point that you feel uncomfortable moving. 
Washable
There are leggings that lose elasticity and color when cleaned. Hence, it's important to follow the brand's recommended way of cleaning. Some leggings are more suitable for handwashing, while others can tolerate quick and gentle cycles of a washing machine.
Durable
The problem with leggings is that there are times when holes seem to pop up out of nowhere. In reality, this is due to the inevitable friction in the leggings' inner thighs. 
While this is something beyond your control in some cases, you can still prevent this from happening by choosing thick and well-constructed leggings. Reinforce this with proper cleaning and storage, and your leggings can look good as new.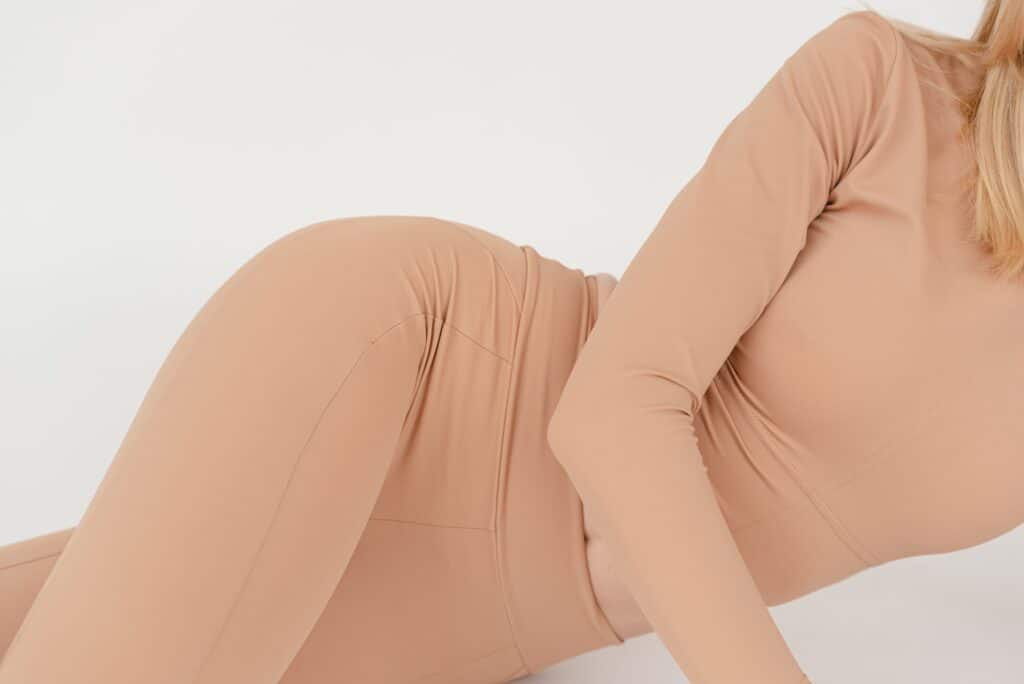 Rise and Waistband
The rise is equally vital as the fabric, as it determines how the waistband can control the fats and slim the waist. It indicates where the waistband rests on your torso or waist. In this case, high waisted leggings sit two to three inches higher than the belly button. 
Even if the leggings contain thin fabric, the waistband should be thicker and tighter to tuck in extra stomach weight. In this way, it won't slide down to your hips or thighs. If the waistband sags, it defeats the purpose of wearing high waisted leggings.
Support and Lifting Features
One of the best things about wearing high waisted leggings is that they can make your body look flattering. The fabric, waistband, and seams work together to lift the buttocks while compressing the legs. 
Leggings must conform to your body shape, and have the capacity to hold that form without losing elasticity. As long as you wear the right size, stretchable leggings can deliver slimming effects. 
Frequently Asked Questions
What Is the Difference Between Regular Leggings and High Waisted Leggings?
Generally, high-waisted leggings offer more support and grip to your belly compared to regular leggings, which can help hide belly scars such as cesarean surgery scars.
In addition, high-waisted leggings such as running ombre seamless gym leggings are comfortable, and you can wear them for an extended time.
Are High-Waisted Leggings for All Body Shapes?
High-waisted leggings are designed to fit all body shapes as long as you get the right size.
However, seamless-waisted leggings might be unsuitable for people with a protruding pot belly as the waistband might keep on rolling down, making you uncomfortable.
Do Men Wear High-Waisted Leggings?
Yes, men can wear high-waisted leggings as they offer compression on the belly, enhancing performance during rigorous activities.
Generally, most high-waisted leggings have wide and elastic bands that provide support to your body regardless of posture, making them a great choice for men with large bellies.
11 Ways to look chic in leggings
Conclusion
We don't mind a little bit of a bad day as long as our small silver linings are around to keep us going. These leggings make the cut. When you can't be bothered to dress up or get out of the house, these high-waisted leggings allow the no-fuss outfit that can get us through the boring daily grind.