As an Amazon Associate we earn from qualifying purchases.
With a pandemic putting travel and office work to a halt, more and more people are now working from home. From interviews to team meetings, Zoom calls have become an essential part of everyone's lives. However, many people have found they lack ways to look professional on a zoom call from home.
While that doesn't make meetings any easier, it's even harder when you're wearing clothes you might not normally wear to the office. Even if you're working from home, you'd want to look presentable, right? I'll share some ways to look professional on a zoom call at home for both women and men.
15 Ways to Look Professional on a Zoom Call at Home
While it sounds tempting to stay in your jammies for Zoom calls, you have to remember that you're reporting to work or school. Granted, you don't have to wear a full suit, yet there are several ways for you to look nice and professional while staying comfortable on video calls.
Look Sharp With a Button-up Shirt
While getting fully dressed isn't necessary when you're working from home, putting a neat button-up shirt is a great way to start. Since you'll most likely spend the whole time sitting in front of a webcam, it's up to you whether you want to pair it with pants or cozy pajama bottoms.
An oversized button-up shirt with a great collar creates an instantly polished look, making it appear like you took the time to consider your outfit. There's also no need to add a tie or vest, just make sure to iron the shirt or blouse to remove wrinkles.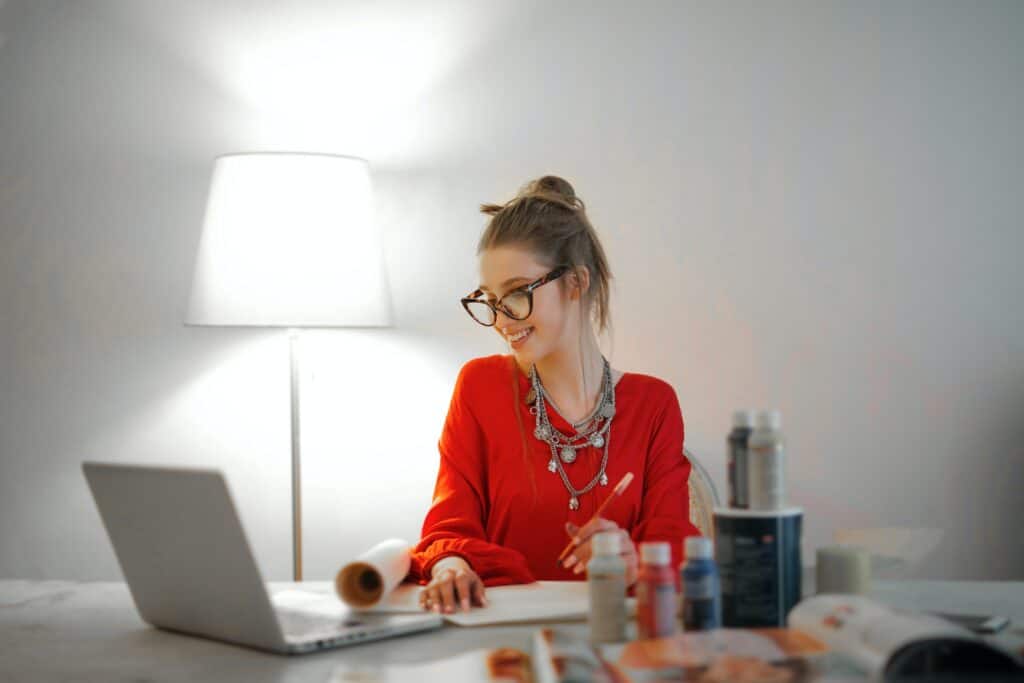 Put On a Bra or Camisole
One of the biggest joys of working from home is that women can scrap the idea of wearing a bra. Yet, there are cases wherein you need to wear one, even for a short time, especially if you're on face-to-face Zoom calls. 
If you're wearing a blouse, especially a semi-sheer one, you most certainly need to put on a bralette or camisole to cover your chest. Fitted shirts also call for wearing a bra to make sure people on the call are focusing on your face, and not on anything else. 
Go for Basic Tops
Whether you're a man or a woman, having different kinds of tops can help build your office wardrobe. Bring out some office staples that you can wear to look professional on a zoom call from home without feeling weird or uncomfortable. 
Start With a Plain T-Shirt
There's nothing like the classics. A good quality tee is a versatile piece of clothing. Start the first few hours of your work with a shirt, and when it's time to answer a Zoom call, put on a button-down shirt or jacket to jazz up the outfit. 
A plain shirt is the perfect clothing that combines comfort and ease of style, making it a must-have piece of clothing for quick and easy layering. However, you have to be careful with logos, plaid, stripes, and checks that may create a blur. Such prints can distract people on the video call.
Dress Up a Polo Shirt
A humble polo shirt is an essential work-from-home wardrobe piece. If you don't have one, you getting one or two in different colors can help you complete attires for the week. 
While a polo shirt is just as comfy as a tee, it's definitely more polished due to the collar. Nevertheless, this is a timeless investment that will look effortlessly presentable. Dress it up with a blazer or cardigan, and you're good to go. 
Wear a Cashmere Top
Heads up, ladies and gentlemen. You can rely on cashmere tops if you want to look casual yet charming for a Zoom call at home. If you're cold, this type of top can keep you from shivering in front of the camera. 
Most cashmere tops have long sleeves, so you can wear it by itself. If you have a V-neck version, you can put on a shirt with a collar first. 
Keep It Safe With Shirt Dresses
A shirt dress is a casual shirt that's extended to form a dress. This versatile clothing provides a choice of lengths, sleeve lengths, and hemlines. 
If you want to look professional on a zoom call from home, you can simply slip on a casual shirtdress, and you're done! Since shirt dresses tend to have a looser fit, you can wear a belt to define the waist.
Depending on the style, you can also pair a shirtdress with a pair of pants or leggings.
If the meeting unexpectedly requires you to stand in front of the camera to explain or teach something, you can save yourself the embarrassment of flashing your bare legs or pajamas bottoms.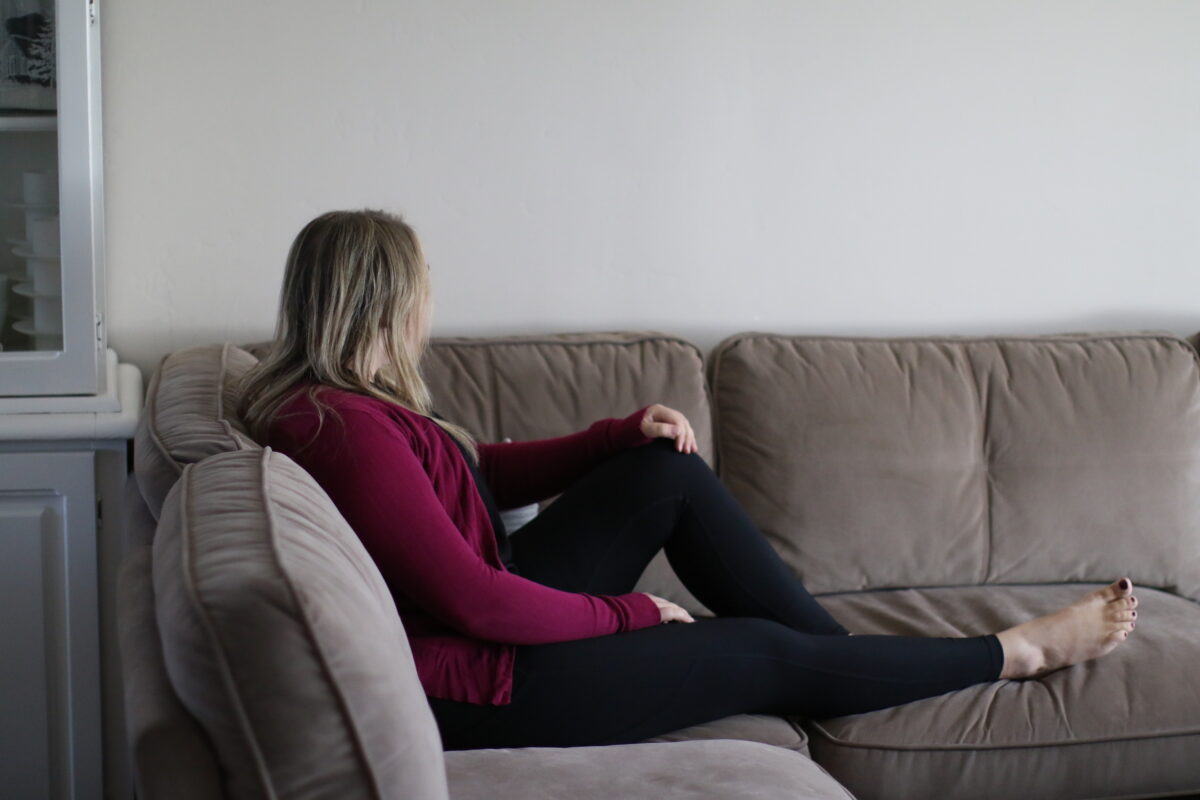 Get Cozy With a Pullover, Sweatshirts, or Turtlenecks
Take advantage of the comfort of your home by swaddling yourself with knitwear. If you enjoy wearing camisoles or a tank top while working at home, there's a point when you have to look more presentable and change clothes. 
Fortunately, pullovers, sweatshirts, and turtlenecks save you the hassle of changing clothes. Wear one over your beloved strappy tops, and no one will know what's underneath. 
Opt For Some Layering
Layering is the perfect waist-up look for all those Zoom meetings on your calendar. You can borrow some of your typical office clothes such as: 
Blazer
As a professional, you always want to look your best, even if you are lounging at your home's couch. 
For the ladies, you can keep wearing a camisole and bralette by throwing over a blazer to keep your look chic. Meanwhile, men can look dashing by partnering light-colored plain shirts or cashmere tops with dark-colored blazers.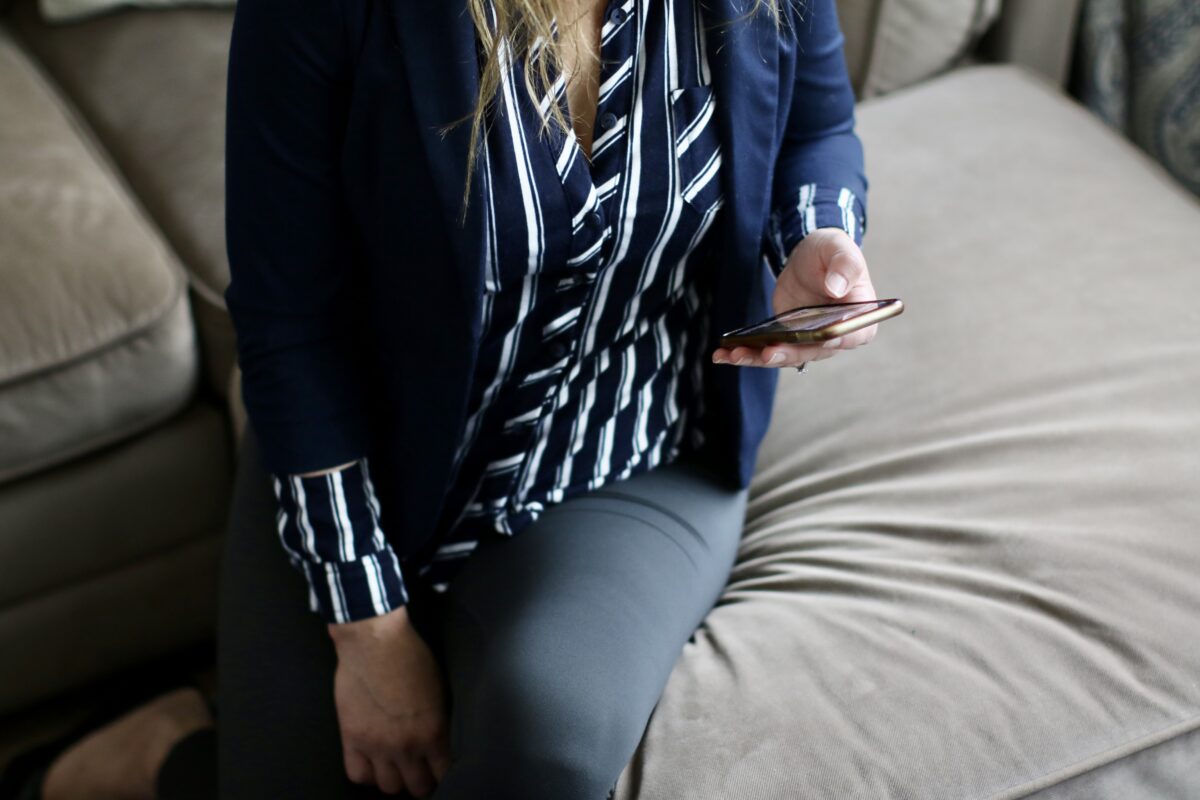 Cardigans or Hoodies 
When it's time for a Zoom call, cardigans are lifesavers. There are times when wearing a suit, or a blazer can be an overkill. 
When a Zoom call expects some formality, you can trust a cardigan to turn your plain-looking top into something chic and neat. If your work has a relaxed dress code, especially on Fridays, you can even enjoy your favorite college hoodie. 
Make Yourself Comfortable With Stretchy Jeans and Chinos
You may feel the urge not to wear pants and settle with your undies or boxer shorts. While wearing pants is optional, there are times when you need to cover your thighs, at least. You don't want to see people looking flushed by the sight of your bare bottoms, right? 
Maybe your office job doesn't allow jeans, so take advantage of a work-from-home setup, and get into the denim bandwagon. Meanwhile, chinos are just comfy as stretchable jeans, although they look more formal.
Depending on your location, temperature, and preferences, wearing pants at home may feel a bit weird at first. However, wearing a pair can keep your legs warm during winter.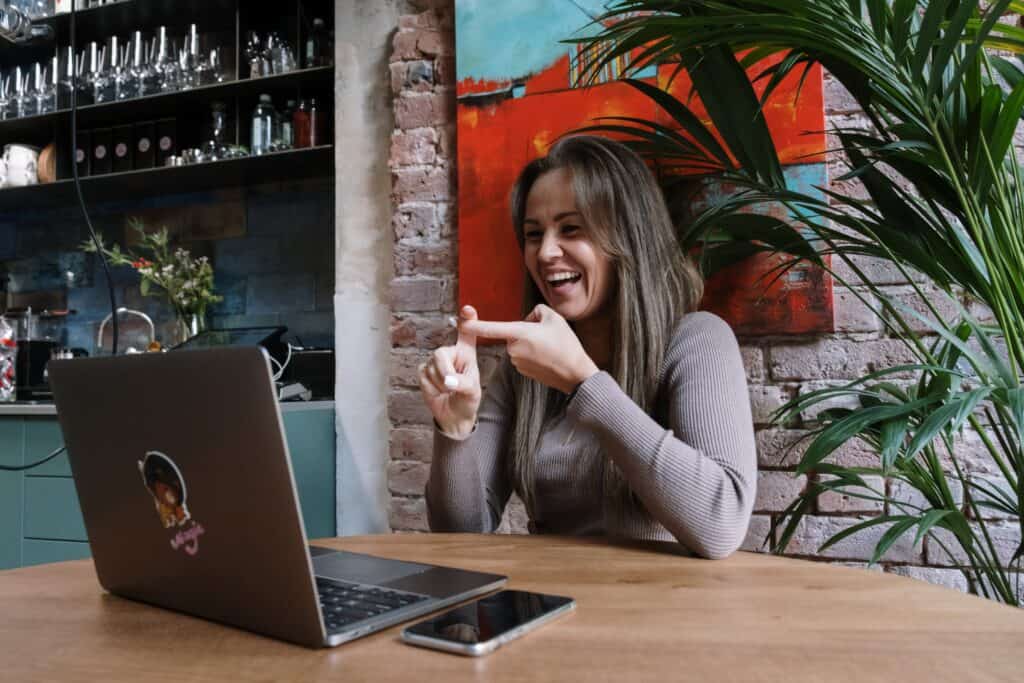 Wear a Skirt or Shorts 
Wearing shorts is a big no-no to a corporate setting, although doing so at your home workstation is rather fine. Whether you are a man or a woman, switching to shorts helps bring comfort, especially if your home doesn't have an air conditioner. 
On the other hand, women can only wear specific types of skirts at the office, like a pencil or midi. Since you're at home, you can flaunt those lovely skaters or denim skirts.    
If you're warm and you have to bid farewell to pullovers and trousers, shorts and skirts can provide you with a lighter and cooler alternative. In effect, you can be in your best mood and look professional on a Zoom call from home while wearing some skirts or shorts.  
Bring Out Your Activewear
One of the best things about working at home is that you have more time for light exercises. This means wearing clothes that are comfortable and suitable for working out. Even if you need to take on-screen video conferences, you can rock activewear while donning a professional look: 
Activewear Tops 
Some people like to incorporate yoga breaks while working at home. Obviously, it will be a hassle and impractical to wear a turtleneck or shirtdress. Instead, you can use activewear such as slim yoga tops and dry-fit shirts. 
Depending on how formal the Zoom call may be, you can put a blazer or jacket over your top. If the meeting is more relaxed, then you can continue wearing your workout clothes. 
Sweatpants, Leggings, and Joggers 
The last thing you want is feeling constricted while working from home. Since you're free from the limitations of corporate outfits, you will want to wear bottoms that are comfortable yet presentable. 
While video conferencing using Zoom only requires you to dress from the waist up, there are instances where you might need to excuse yourself, or you must stand up to present something. 
Available in both men's and women's cuts, sweatpants, leggings, and joggers fit the thighs and legs well. Yet, they are stretchy enough to ensure mobility and breathability. 
Try Indoor Footwear
Sometimes, dressing up from head to toe provides some form of motivation to keep you productive. While it's possible that people won't see your footwear, it's better to gear up and wear some kind of shoes such as:
Sneakers or Flipflops: Some people don't like going barefoot at home, so it may be a bit impractical to move around the house in heels or Oxford shoes. Instead, pair your choice of leggings or shirtdress with some comfy pair of sneakers.  
Statement Slides: The best thing about this shoe style is that you can wear this either as outdoor footwear or house slippers.  
Backless Mules: It's like wearing a loafer and slipper rolled into one. 
Slipper Socks: Essentially thick socks that feature soles to keep the feet warm and cozy. 
Moccasins: try a pair with a comfy fleece lining, breathable suede construction, and a contoured footbed for comfort. 
Accessorize
Throwing on some earrings or a necklace can easily enhance even the most laid back outfit. If you don't feel like dressing up, adding a couple of accessories can make a difference in your overall look. 
Both ladies and gentlemen can wear a wristwatch, bracelet, or ring, especially if the meeting involves some hand gestures. However, be careful about jewelry. Some beads, hoops, and stones can jingle, sparkle, or reflect. Such accessories could be distracting to the person you're speaking with on a Zoom call.  
Style Your Hair
You don't want to surprise people on Zoom calls with bed hair. Since you're at home, take this chance to take a break from styling gels or cream. Instead, comb your hair, so that you can avoid facing people with unkempt or tousled hair. 
For the ladies, you can style your hair with cute hair scrunchies or a printed silk scarf. If you want to let gorgeous hair flow down, wearing a clip or a headband should be enough.  
Do Your Makeup
While you don't have to spend time on full-blown makeup, applying a bit of concealer and lip gloss can help you look professional on a Zoom call from home. Even men might want to have a touch of powder since cameras can enhance shiny spots on the head. 
Light Your Face
Your outfit and makeup may be perfect, and the background looks immaculate— although none of that matters if the people on the other end of the video can't see you. 
It's best to put a ring light or lamp either right in front of you or no more than 45 degrees away from you. Front-facing lighting accentuates your skin and features. 
However, be careful about light coming through the windows, as it can form shadows in your face. Likewise, the computer screen is a source of light, so adjust the screen brightness to achieve a flattering look.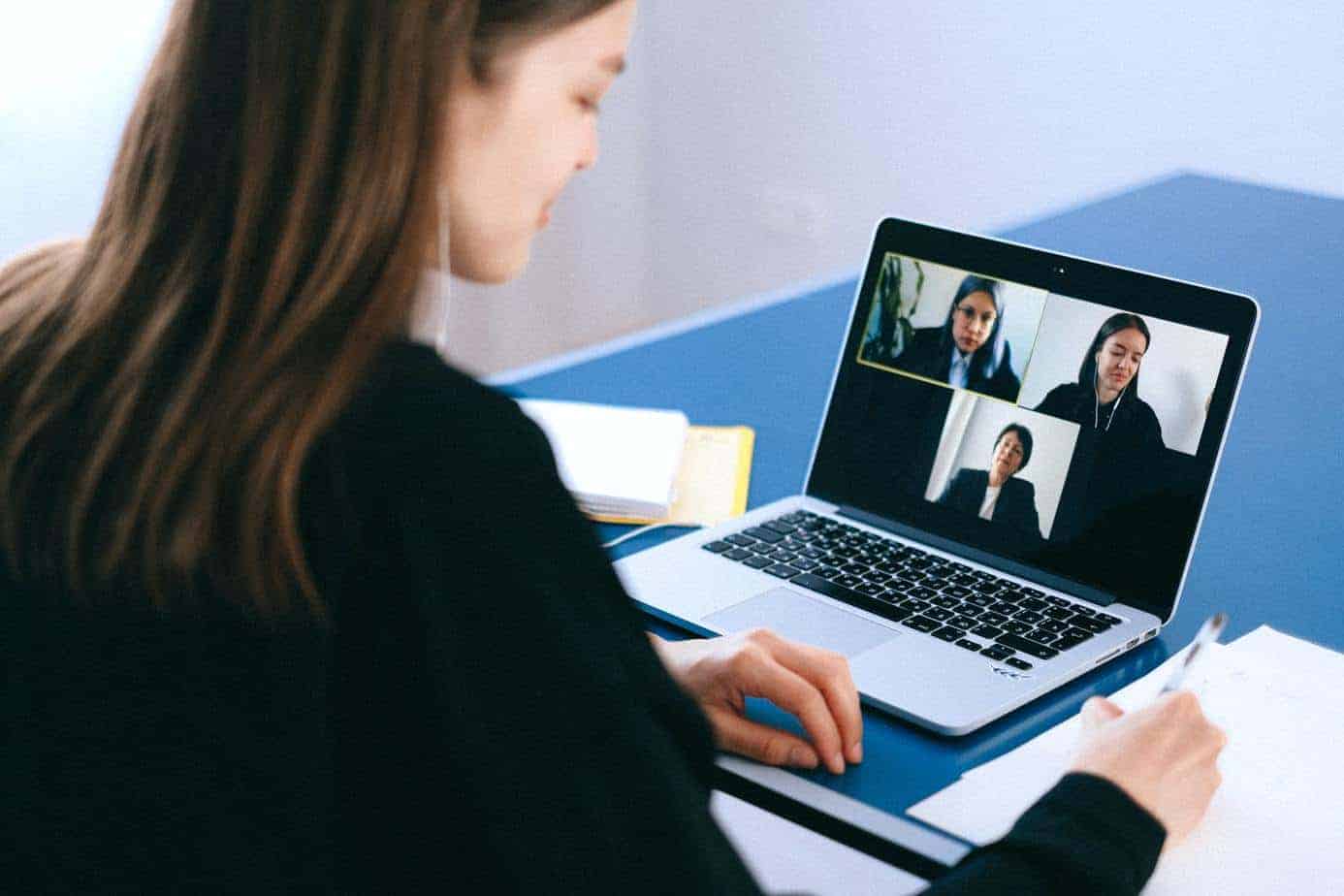 Avoid Low Angles
After spending time and much thought about what to wear from head to toe, you'll probably want to make it seen during a Zoom call. You'll look more professional when people can see you from the waist up clearly. Make your hands visible, as they are part of how people communicate. 
Keep your phone or computer a bit elevated so that you can avoid the double-chin effect or other people looking on your nostrils. Stack a set of books or get a laptop stand to put the camera at the same level as your eyes. 
Tips to Look Professional on a Zoom Call From Home
| Tips | What to do |
| --- | --- |
| Tip 1 | Wear a button-up shirt |
| Tip 2 | Put on a bra or camisole |
| Tip 3 | Go for basic tops |
| Tip 4 | Stay safe with shirt dresses |
| Tip 5 | Wear a pullover, sweatshirts or turtlenecks |
| Tip 6 | Opt for some layering |
| Tip 7 | Wear stretchy jeans and chinos |
| Tip 8 | Wear a skirt or shorts |
| Tip 9 | Wear your activewear |
| Tip 10 | Try indoor footwear |
| Tip 11 | Accessorize |
| Tip 12 | Style your hair |
| Tip 13 | Do your makeup |
| Tip 14 | Light your face |
| Tip 15 | Avoid low angles |
Frequently Asked Questions
Does the Camera Matter on How I Look on a Zoom Call
Yes, the quality and angle of the camera matter how you look on a zoom call. For instance, if you are wearing brightly-colored clothes and the camera can't capture the true colors, the clothes might look faded and of lower quality.
Can an Unstable Internet Make Me Look Bad on a Zoom Call?
Yes, unstable internet can make you look bad on a zoom call. Generally, the camera captures the video as an image at a higher frame per second, and the callers are able to see your movements in a smooth, continuous motion.
Buffering happens when the internet is unstable, and the video might freeze in moments of unpleasant postures, such as with your mouth wide open.
Can I Go to a Professional Zoom Call From Home Without Pants?
Technically, it's possible to go to a professional zoom call from home without pants. You only need to ensure the camera is capturing you from the chest up and you are not getting up live on camera.
However, this is not advisable as you might forget to disconnect the video when getting up, or the camera accidentally tilts downwards and captures you pantless.
How to Look Good on Video Calls - Skype, Zoom, FaceTime | Video Interviews
Conclusion
As the work-from-home setup continues to soar, more and more employees will find themselves facing their gadgets to accommodate Zoom calls. The key to looking professional is by striking a balance between comfort and corporate despite working at home.