As an Amazon Associate we earn from qualifying purchases.
Yoga pants and leggings are two terms that have become interchangeable especially since the rise of the athleisure trend. The separation between yoga pants vs. leggings are getting more vague every day. I come to perceive them in the same light, both as apparel for athletic and sports activities.
Because it can be hard to know what the differences are between leggings and yoga pants, I'm unpacking what yoga pants and leggings really are. Hopefully, this will clear out just how close yet different the two are.
Yoga Pants vs Leggings
​Pulling from history, yoga pants have traditionally been defined as pants with flexible qualities that make it easy to move around in, particularly stretching and bending. Yoga pants have come in a variety of styles: flared, straight cut, loose, and tight-fitting.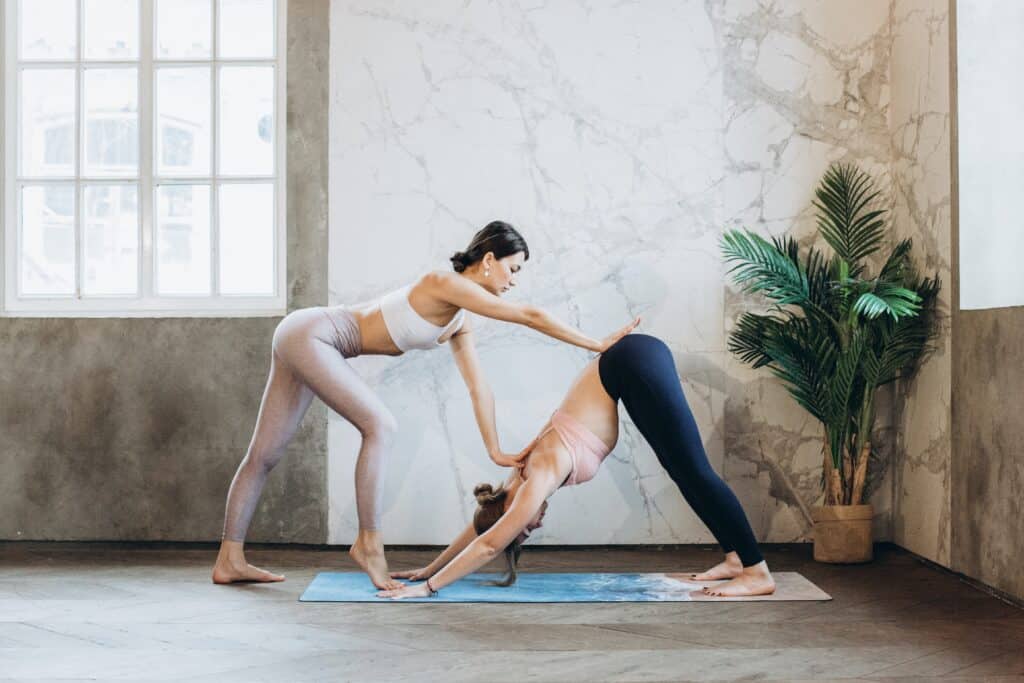 They are worn by zen masters for their physical activities like yoga, which is originally where they started. In addition, they're worn for other forms of exercises and sports.
​Leggings are strictly skin-tight pants that resemble tights in both their appearance and use of stretchable material. Leggings also resemble yoga pants in terms of opacity and comfort for physical activities.
These were originally meant to warm ballerinas and acrobats' legs. Later, women in general came to accept them as lounge wear for comfort and simplicity, much like regular padded bras. 
Fashion can be really trippy sometimes. Yoga pants and leggings have different names, but they refer to extremely similar things.
This leads me to ask the following questions. What are yoga pants and leggings for? When do I wear them? Are they the same?
What Are Yoga Pants?
​Yoga pants are a stretchable and form-fitting bottoms meant to be used for physical activities that entail an extensive range of body movement and stretching. Yoga, pilates, aerobics, martial arts, dancing are such examples where yoga pants are usually worn.
Typically ​fit from the ​thick waistband to the bottom of the butt, yoga pants traditionally loosen from the thigh. They were only available in a black bell-bottom style in the beginning.
More recent versions of the yoga pants have come in a less loose straight cut, boot cut, or tight from top to bottom resembling leggings or tights. The last ​one was called the yoga leggings and also comes in various colors and prints.
Either way, yoga pants had a purpose or supporting and providing comfort for people while doing strenuous activities and are now worn primarily for working out. Think of it as​ how a sports bra does for women with big breasts.
For the fluidity of the style, some yoga pants can also be considered leggings. One specific type of yoga pants called kundalini is the only one that is automatically categorized as yoga pants. Kundalini would never be confused with leggings as it adheres to yoga pants' traditional definition: very loose, though typically white in color.
What Are Leggings?
Leggings are a thin, elastic, skin-tight pants originally worn to provide warmth for dancers and acrobats. That slowly evolved into a layering piece meant to be worn under dresses and skirts for warmth and comfort. Eventually, they became a full-fledged fashion garment.
Leggings still serve all of its other purposes. Its integration into fashion through casual wear has just become more popular starting the middle of the last century. Leggings are usually soft, sometimes see-through, and that's because ​it's usually made of cotton. This is why they're known to be ideal casual wear, loungewear, maternity wear, athletic wear, corporate wear, and very recently, streetwear.
Women have styled leggings in various ways. They have become a staple piece in many girls' wardrobes. Some have even added pockets to them to serve you better ​during everyday settings. Available in different colors and print in usually very affordable price tags, leggings have become a convenient go-to piece for any kind of occasion from random errands to even upscale dressy events.
Similarities and Differences Between Yoga Pants and Leggings
Yoga pants and leggings have been mistaken to be one and the same. It's usually not that detrimental as they closely resemble each other in appearance and function. These similarities and differences, however, draw the line that separates yoga pants and leggings when you have a specific occasion in mind.
Features of Yoga Pants and Leggings
| Bottomwear | When to wear | Waistband | Fabric | Tightness |
| --- | --- | --- | --- | --- |
| Yoga pants | Exercise, workouts | Thick high-rise | Thick | Tight, loose |
| Leggings | Everyday wear | Thin mid or low-rise | Thin | Tight |
Similarities of Leggings and Yoga Pants
The similarities between yoga pants and leggings are few but they aren't far between. In fact, they're close enough to elicit confusion every time you see one or the other. These are the ways yoga pants and leggings may seem similar in function and appearance.
Athletic Wear
Yoga pants and leggings have opposite trajectories when it comes to their relation to fashion and activewear. Yoga pants were always associated with activewear and only later accepted in casual public settings. Leggings, on the other hand, went from mostly fashion uses to being appropriate workout apparel.
I'm at that point in time when both are accepted in both realms, but mostly athletic wear. Yoga pants and leggings share the same flexibility in their material as it delivers comfort to the wearer for extreme activities. They're especially the only convenient clothes for stretching, bending, and other body movements.
Fit
The transformation of yoga pants into form-fitting pants is what made them look much like leggings. The traditionally flared yoga pants is now often made tapered down. This means they fit tight around the legs and ankles like leggings do. Both usually cover the lower part of the body from hip to ankle, which makes them hard to differentiate at first glance.
Differences
You wouldn't immediately notice the differences in yoga pants and leggings just by looking from afar. They're more apparent in the feel and composition of the garments with only discreet hints from the way they look on the outside.
It's still important to know what makes each their own kind. These are the things that will matter when deciding for a specific situation or occasion.
As a quick list, here are 5 main differences between leggings and yoga pants:
​Length
​Waistband
Fabric
Variety of Types
What Characterizes Each
Length
One of the more obvious differences between the two is the length. Leggings tend to have come in one length or the edges tend to end around the same area in the lower legs. If not just above the ankle, some leggings end mid-calf like cropped pants.
Yoga pants are more diverse in length options. Full-length yoga pants are ankle-length, with some going to great lengths literally of wrapping over and beneath your heels and ending in the middle of the feet. On the other end, some yoga pants called a capri end high above the calf just below your knee caps.
Waistband
Another obvious feature of yoga pants against leggings is its thick waistband. Leggings have a thin waistbands like regular pants that sit either mid- or low-rise. Yoga pants, especially the more recent tight-fitting ones, are typically high-rise covering the lower abdomen and sometimes even up to the belly button.
The thick waistbands of yoga pants are that way so they can be folded over for stronger hip and lower abdominal support, helping compress the body like ​shapewear.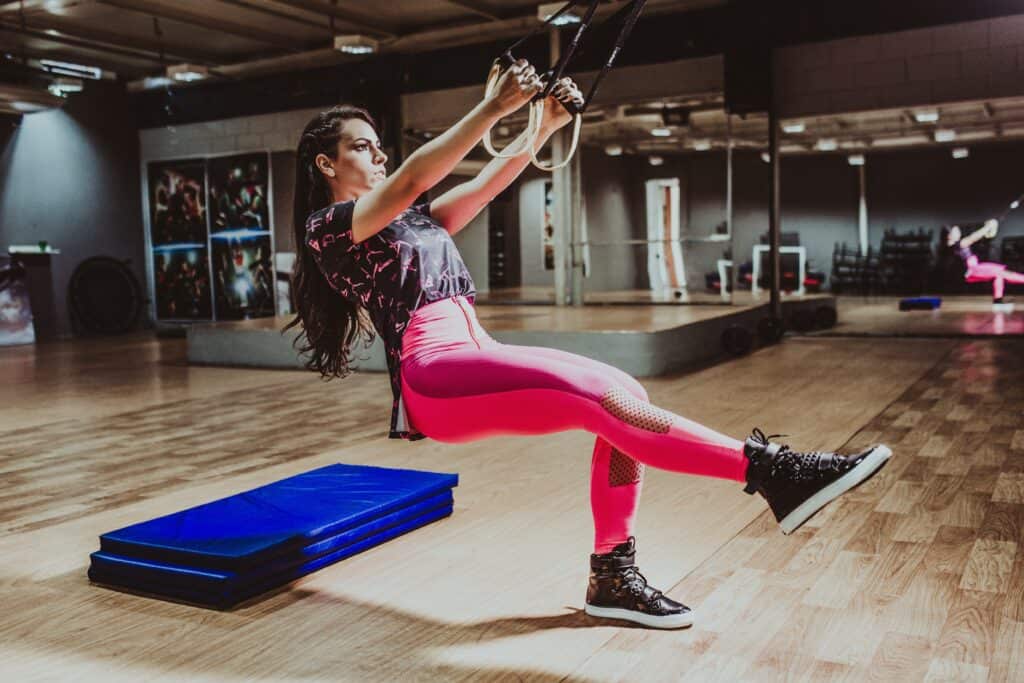 Fabric
Despite the similarity in stretchy fabric, the material composition of yoga pants and leggings are ultimately not the same. Leggings, for their more casual functions, are not always in the spandex type. They're usually made thinner than yoga pants with various combinations of lycra, nylon, cotton, polyester, and other fibers.
Since they're expected to withstand external environment and fit your body needs for rigorous exercises and activities, yoga pants of good brands such as Lululemon are generally thicker and sturdier.
They are usually made with cotton, polyester, nylon, wool, lycra, other synthetic materials, and most importantly, spandex. The last is an important element as it allows the kind of flexibility needed for yoga, dancing, and the like.
Types
The types of yoga pants exist for people's differing preferences in length, compression, and features that make workouts more bearable. Whereas there are quite a few types of leggings for the different occasions people wear them for.
Types of Leggings:
Thin – Thin leggings are slightly thicker than tights, good for layering underneath skirts, dresses, and trousers.
​100% Cotton – This is the kind of everyday leggings that can be worn pretty much everywhere. They're thick enough not to be see-through and worn by itself as a bottom.
​Fleece – Fleece leggings are called such because of the fleece lining, which makes them act as leg warmers. These leggings are handy in the winter to protect your legs from the cold and lock in warmth within the tight-fitting garment.
Types of Yoga Pants:
​Capri – Capri yoga pants are cut mid-leg. This kind usually ends below the knees and are good for working out in warmer weather.
​Flared/Bell-Bottomed – Flared yoga pants are the original, which is distinguished by the slim fit from the hips to the knees and the flared out fabric on the calves towards the ankles.
​Kundalini – Kundalini are strictly yoga pants that are loose all the way from hips to ankles.
Tight-Fit – Tight-fitting yoga pants are the ones that look like leggings, as they fit tight from the topmost part of the hips to the bottom of the ankles or even the middle of the feet.
Characteristics
The characteristics of leggings pale in comparison to yoga pants when it comes to activewear capabilities. The former is only accepted as appropriate athlete wear because of the stretchable material that doesn't hinder the person from extending their body movements.
Leggings, on the other hand, dominate the fashion side which the two garments could fall under. Just by mixing and matching your leggings with some key pieces alone, you can already have a multitude of outfits for different events and seasons. These specific characteristics showcase how they are separated and more focused on different fields.
Yoga pants:
​Flexibility
​Body-slimming compression (for tight-fit yoga pants)
​Sweat-wicking properties
​Anti-chafing
​UPF or sun protection
Leggings:
​Fashionability
​Leg warming capabilities
​Transparency
​Outerwear use
The Verdict
Even though leggings can cross over to athletic wear and yoga pants to fashion, they're ultimately more dominant in their respective field of origin.
So, is one better than the other? Not necessarily.
There are appropriate times to wear each, and while there can be some crossover (such as for athletic wear), there are some clear times when one should be worn over the other.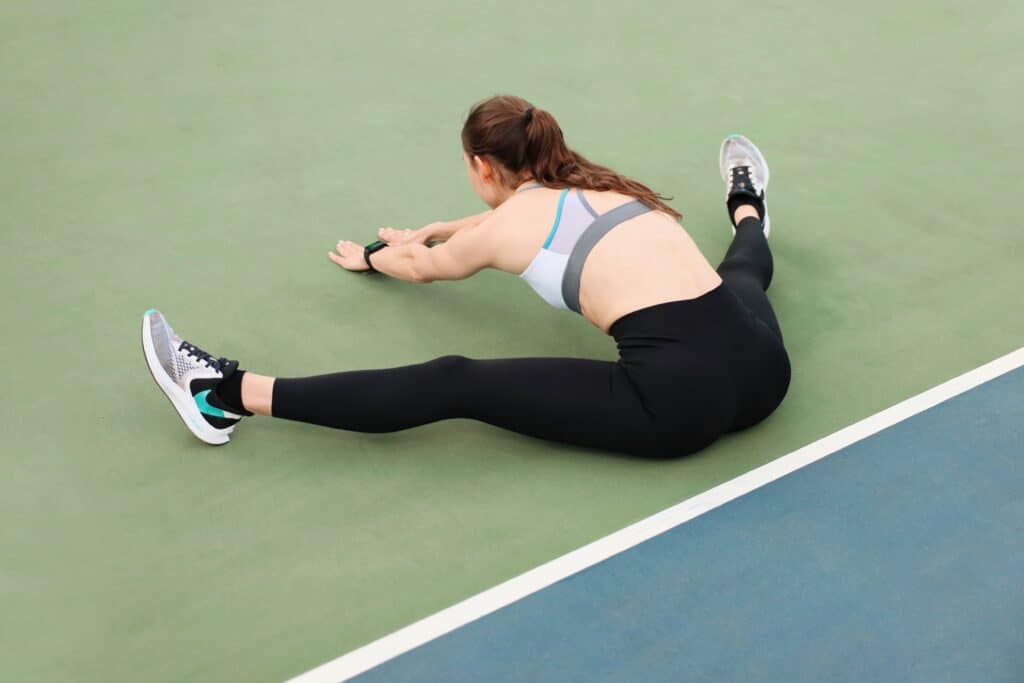 When to Wear Leggings
Leggings are widely popular in the fashion world. It has many uses from being a full-fledged bottom like jeans to being an outfit accessory like belts. Here are different occasions you might opt for a pair of leggings, along with how to wear them.
Parties
Some wouldn't believe leggings belong in a party outfit. They actually can, so long as you match them with other dressier garments:
​Underneath skirts and dresses
​As pants under dressy blouses
​Underneath shorts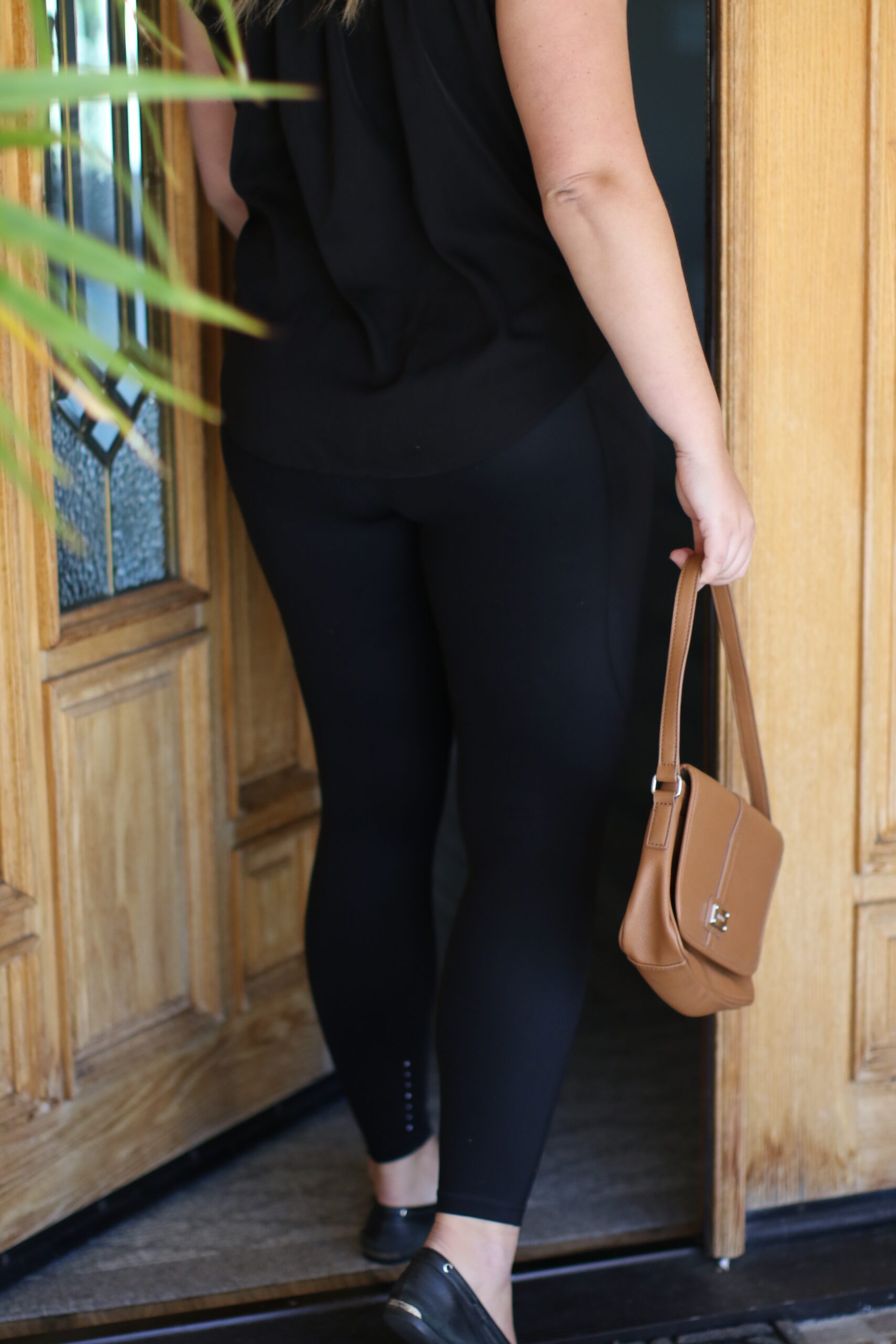 ​Inner Wear During Winter
Layered under trousers or casual pants is the usual way leggings are worn during winter. They likely would not be worn on their own since they're pretty thin for extreme temperatures (unless you get yourself a pair of fleece lined leggings!). When worn strategically, they may even make a fashion statement with some good-looking shoes.
Loungewear and Casual Wear
Leggings are one of the most famous loungewear. They can be worn to any place and with the right top, can be dressed up or down. Here are the various ways you can style them from I-woke-up-like-this looks to and IG-worthy lazy OOTD:
​With a cute and lacy bralette
With a denim jacket
​With an oversized graphic t-shirt
​With a white button-down shirt
With a tank top
With a cozy sweatshirt or sweater
When to Wear Yoga Pants?
Yoga pants are more straightforward in the ways they're worn. Women would typically wear this out when they know they will work out or do a strenuous activity like hiking. These are the places you'd likely be seen wearing yoga pants in:
Gyms
The gym is probably the most common place for yoga pants. Whether you're doing power yoga or lifting weights, yoga pants are a great option. The compression when working out is an important factor, along with the overall support and structure you get from yoga pants. Here are a few outfits you might wear that include yoga pants:
​Underneath shorts
​With a sports bra
​With a muscle tee
With a loose tank top
Coffee ​Shops or Restaurants
After your workout, it's just natural to want to get coffee especially if you go to the gym in the mornings, or maybe grab a bite at a restaurant. Yoga pants are acceptable going-out garments in these instances.
It's usually immediately apparent that you went exercising beforehand. After sweating in your workout top, these are what you could pair with yoga pants after for possible stops before going home:
With a hoodie
​​With a sweatshirt or sweater
​With a t-shirt or tank top
Mountains, Parks, and Nature Places
Outdoor activities are coming into the mainstream as an alternative to physical exercise at the gym. That's why it's quite the norm to find people clad in yoga pants in mountains, parks, and other nature places. The difference is people sometimes try to dress it up in these places for those Instagram pictures! Here are some tops you can pair with your yoga pants:
​Active crop top
​Sports bra
​Loose shirt
Bomber jacket
Dance Studios
Dance is another alternative to cardio exercises that is not repetitive or boring. More people are coming to dance studios wearing their most stylish athletic outfits. After all, dance is all about feeling yourself. These outfits featuring yoga pants could get you moving comfortably without question:
​Mesh tops
​Sports bra
​Cropped t-shirts
Cropped hoodies and sweatshirts
Bodysuit
Leotards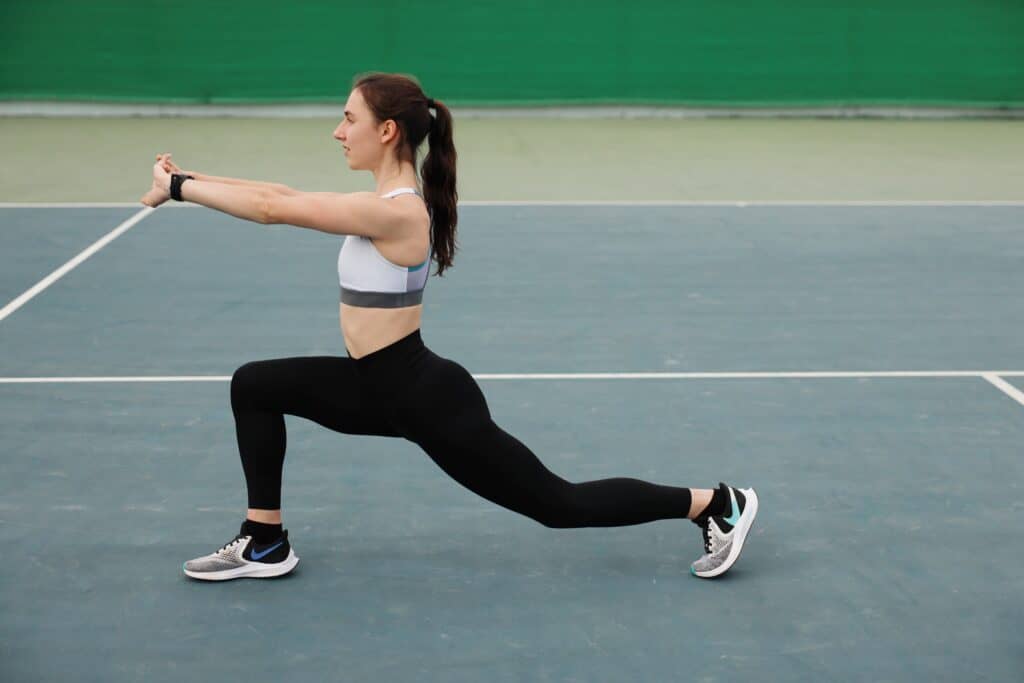 Frequently Asked Questions
Can I Wear Yoga Pants as Leggings?
Yoga pants, when they are the tight-fitting version, can be worn as leggings. Sometimes they are mistaken for one especially when paired with a decent ​loungy top like a tank top or loose shirt.
Women wear them as leggings to and from the gym so as to save space in their bags from bringing another full gym outfit, and time changing into yoga pants and back to casual ones.
Is It Okay to Wear Leggings as Pants?
Leggings have been called "the new jeans." All-black leggings are an unspoken wardrobe staple that probably every woman owns and wears for various occasions whether for a casual errand or a party.
It's a matter of pairing the right top and shoes that match the vibe of the event or place you're going to.
Are Compression Pants and Leggings the Same?
Compression pants are not the same as leggings. Compression pants are popular garments worn specifically for working out.
Runners wear them because the compression helps their muscles to work efficiently and prevent from overusing them early on in the workout.
Leggings have no such features or qualities; they're skin-tight but don't have the ability to pack in your muscles the same way compression pants do.
3 New Ways to Style Yoga Pants | ELLE
Conclusion
You're not totally wrong for mistaking yoga pants for leggings or vice versa. They have similarities and the fact that I can compare them is already evidence that they are not the same. Ultimately their differences, including the other types of yoga pants that can never be considered leggings, draw a clear boundary between the two.