As an Amazon Associate we earn from qualifying purchases.
As much as pregnancy is beautiful, you can't escape the cons of constant discomfort and aches everywhere. But, mamas don't fret! Coming to you are the best maternity leggings to ease your pregnancy without losing your sense of fashion style.
Top Maternity Legging Reviews
Maternity clothes haven't had the best reputation for being pretty and comfortable. Then, leggings showed up. Pregnant or not, women are generally unable to resist their favorite black leggings for their versatility and comfort. In aid of your pregnancy and post-pregnancy woes, these maternity leggings will be the second-best gift next to your newborn.
If you want my final vote (without all the reading), Kindred Bravely's The Louisa Ultra High-Waisted Over the Bump Maternity/Pregnancy Leggings is the best among other brands due to its satisfying comfort.
Brand
Ultra High-Waisted Maternity Leggings
Maternity Leggings Active Wear Over The Bump Pants Pregnancy Shaping
Super Comfy Maternity Leggings
Product
Material
85% Polyester, 15% Spandex
Premium Ultra Stretch Fabric: Spandex
Features
Ultra-soft and durable fabric
Full coverage with lower V-shaped back
Seamless very comfy maternity legging
Brand
Ultra High-Waisted Maternity Leggings
Product
Material
85% Polyester, 15% Spandex
Features
Ultra-soft and durable fabric
Brand
Maternity Leggings Active Wear Over The Bump Pants Pregnancy Shaping
Product
Features
Full coverage with lower V-shaped back
Brand
Super Comfy Maternity Leggings
Product
Material
Premium Ultra Stretch Fabric: Spandex
Features
Seamless very comfy maternity legging
Kindred Bravely The Louisa Over the Bump Pregnancy Leggings
These maternity leggings, Kindred Bravely's The Louisa Ultra High-Waisted Over the Bump Maternity/Pregnancy Leggings could assist you from pregnancy to the breastfeeding stage with ease and comfort.
With polyester as the main material, these ankle-length leggings become wrinkle-free and quick-drying, which are necessary features when dealing with smudges, spills, or smears. 
With thick, opaque, soft and luxurious fabric they can cover you up entirely. This pair can handle your fluctuating weight, growing baby bump, loose excess skin after birth, and hide stretch marks. The material is also thick enough to keep you warm, yet not suffocating for hot summer months. 
They don't joke around. Their high-rise waistline offers dual-purpose support. The belly panel sits just along the bra line, giving you broad coverage and warmth. 
While your baby bump is growing, the fabric goes over the bump to offer contoured support. It can be folded over for alternative belly support.
Available in sizes ranging from small to double extra-large, there's a perfect fit for pregnant women of all body types. While you can consider your current measurements, it would be better to cross-check your hip and bust measurements against the brand's size chart. 
The best part? After the baby comes out, you can still use this while nursing to keep your stretched skin in check and your breastfeeding sessions discreet.
Kindred Bravely Louisa Ultra High-Waisted Over The...
IDEAL FOR ANY STAGE - Designed for ALL women, these high waist maternity leggings are especially...
CHOOSE YOUR STYLE - Choose from the Classic Style for a sleek, smooth look, or the Pocket Style,...
VERSATILE AND FASHIONABLE - Comfortable enough for lounging around the house, fashionable enough to...
Maternity Leggings Active Wear Over The Bump Pants Pregnancy Shapingries Maternity Pants
The Maternity Leggings Active Wear Over The Bump Pants Pregnancy Shaping deserves an award for an incredible design that helps support growing mamas.
This pair eases the heavyweight you're carrying through these footless leggings have a stretchy support band, which expands with your growing belly and can be folded under or pulled over for pregnancy support. When worn above your belly the compression band stays up and snug against your tummy.
These microfiber black maternity leggings will be your best friend throughout your entire pregnancy. Pamper yourself with Terramed leggings, the best maternity pants for expectant moms. Special soft elastic pouch easily expands to accommodate size changes from the first trimester through the postpartum period.
The breathable nylon/spandex blend keeps you cool all day, and moisture-wicking properties ensure you stay comfortable.
You can wear these leggings and feel absolutely secure about your health and health of your baby; this legging uses hypoallergenic materials. As a result, it gives additional comfort to your belly and reduces pressure on your lower back. Super stretchy and thick, these non-see through maternity leggings can aid you from 3 months pregnant to the breastfeeding stage.
With all these qualities, you can feel comfortable and look stylish while staying active during your pregnancy. 
Terramed Just Think Comfort Maternity Leggings...
SHAPE YOUR BODY AND YOUR STYLE with these fabulous figure flattering compression leggings, while...
EFFECTIVE SUPPORT - Maternity support leggings combine style with effective support. These opaque...
SATISFACTION GUARANTEED - BUILT-IN BELLY SUPPORT PANEL - These footless leggings have a stretchy...
HyBrid & Company Women's Super Comfy Leggings
Don't be mistaken that pregnancy could correct your posture. Even though baby bumps make you push back your shoulders and straighten up your spine, you can still lean back to an incorrect angle that puts pressure on the middle of your back.
That's one particular thing the HyBrid & Company Women's Super Comfy Maternity Leggings is good at targeting. The seamless leggings are equipped to provide back support, including posture-correcting capabilities. That alone could be enough of a bargain.
These full-length leggings contain spandex with rayon and nylon for stretch and comfort. With the organic touch of rayon, the fabric feels great, particularly on itchy pregnant skin. 
You can still show off your stylish side even if you're pregnant. The stretchable fabric extends to give your body support and flattering look.  
In addition, these leggings are really ​affordable and they have a flexible fit ​with unconventional fashionability. You can turn these leggings into versatile everyday wear even after giving birth.
It's also worth noting that these maternity leggings run a size big, so you might want to consider ordering a size down. The leggings shouldn't slide as long as you find the right fit and opt to pull the waistband over the bump.    
You're left with only one decision…what prints to get. The loud colors are sure to turn heads—mostly those of other mothers curious about your maternity style.
Motherhood Maternity French Terry Secret Fit Belly Leggings
There will come a point when the only pants you'll be able to wear are yoga pants. It's not a problem with Motherhood Maternity Women's Maternity Full Length French Terry Secret Fit Belly Leggings that's fit for all your casual day outfits.
The French terry fabric is like the jersey when it comes to comfort. It allows you to wear theses leggings all day without any displeasure.
Since the leggings also use cotton, the lining feels as thick as skinny cotton pants, which is ideal during cold seasons. However, cotton tends to attract lint. 
On the bright side, the cotton's thickness enables the leggings to ensure opacity, leaving no room for transparency even as the spandex threads stretch. 
Aside from that, the Secret Fit Belly is patented to Motherhood. It's unique for its seamless stretch panel that expands along with your belly as it grows.
If you need to go to work or head out for errands, these can be your go-to leggings because of the comfortable fit with the waistband covering the belly. Although it's advisable to get a size larger as the lower leg has a narrow cut. 
It's great for layering under loose shirts, tank tops, long blouses, and dresses.
This pair of maternity leggings is great for layering under loose shirts, tank tops, long blouses, and dresses. These machine-washable leggings also don't shrink even after several washes. As a bonus, back pockets mimic those in jeans, so you can use this as an alternative while you can't wear denim.
Motherhood Maternity Women's Maternity...
Great for layering during your pregnancy. Wear them lounging around the house or dress them up with...
Motherhood's exclusive secret fit belly - (r) us patent nos. re43563, re43531, 7814575, and 7900276...
Super soft and stretch full length legging with 29 inch inseam and functional back pockets
Foucome Women's Over The Belly Super Soft Support Maternity Leggings
Specifically intended for active pregnant women, Foucome's Over The Belly Super Soft Support Maternity Leggings protects and supports mothers-to-be who maintain a fitness lifestyle.
The high-rise waistline is equipped with a full panel that covers and lifts your belly. The over-the-bump design also delivers all-around care of the abdomen, whether you're sitting, standing, or walking. Hence, the waistband won't roll down even as the leggings stretch around the belly. 
Around the back, a built-in multi-buttonhole maternity belt elastic enables adjustability to accommodate your growing size.
The stretch fabric is infused with extra spandex. This increases flexibility and adds moisture-wicking properties for when you're sweating or exercising. However, breathability is not a compromised feature as the cotton fabric allows proper air circulation.
The seamless construction eases it for your hips, abdomen, and even back muscles. You may be able to last longer in yoga as the lift relieves baby weight and pelvic pain. The construction also helps improve blood circulation, which is perfect for pregnant women who can't stand tight clothing. 
Since there are seven available colors, you can remain fashionable and look good as you exercise.  
Foucome Women's Over The Belly Super Soft Support...
1. COMFORTABLE FABRIC - Over the belly maternity leggings made from cotton for strength,...
2. SPECIALLY DESIGN FOR PREGNANT - High waist and abdomen design all-round care of the abdomen,...
3. BUILT-IN MATERNITY SUPPORT BELT - Maternity workout leggings over the belly with elastic...
Features to Look For in Maternity Leggings
The type, fit, material, length, and extra features all make maternity leggings functional and comfortable for women. To help you make a well-informed decision, use the following tips to choose the best maternity leggings for you.
Comparing Maternity Leggings Features
| Leggings | Closure Type | Moisture-wicking | Adjustable waistband | Pockets |
| --- | --- | --- | --- | --- |
| Kindred Bravely | Pull on | Yes | No | Yes |
| Terramed | Pull on | Yes | No | No |
| Hybrid | Pull on | Yes | No | No |
| Motherhood | Pull on | No | No | Yes |
| Fuocome | Elastic | No | Yes | No |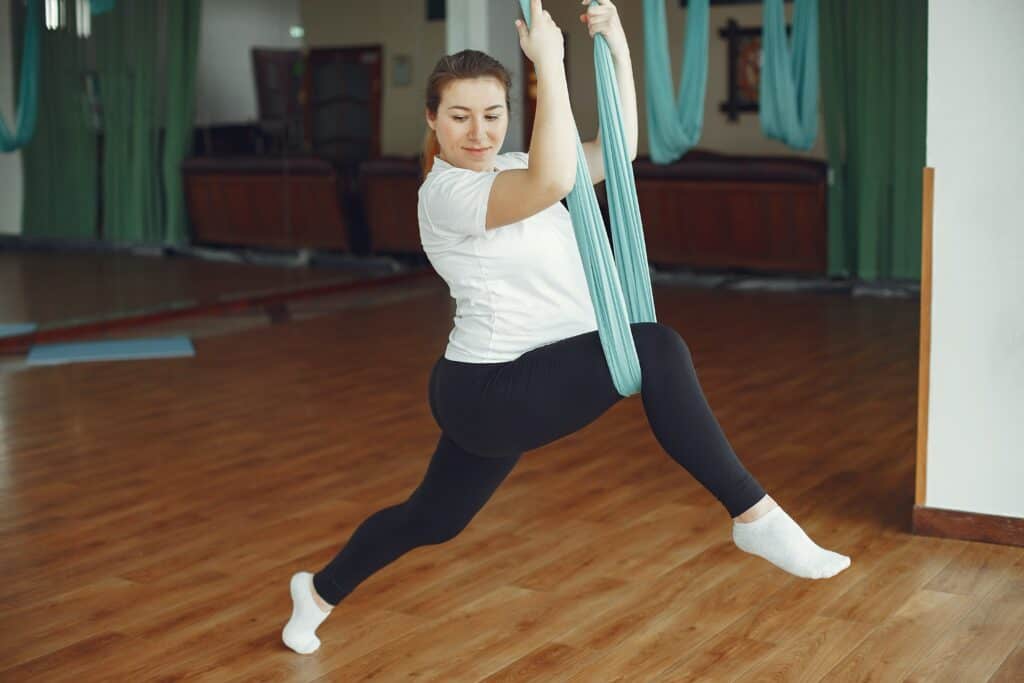 Coverage Type
Some women want full coverage, particularly in the latter part of pregnancy, while others favor the waist design of typical leggings. Although this depends on your preference, it's important that the type of maternity leggings stay put despite your growing belly. 
In a bid to keep the stomach covered, some women suffer from belly marks, and you don't want that to happen to you every day. Regardless of the style you select, what matters most is that the leggings provide the necessary support without being too tight. 
Under-the-Bump Maternity Leggings
Maternity leggings without a belly panel have waistbands that sit under the bump. As your belly grows, the waistband stretches to accommodate body changes without causing discomfort. However, it won't have enough fabric to cover the midsection. 
If you have overheating concerns or feel itchy with ultra high-rise leggings, under-the-belly leggings may be a more suitable choice for you. The downside is that they would be harder to pair with short-length or form-fitting tops, particularly if you're conscious of coverage. 
Over-the-Bump Maternity Leggings
When you're pregnant, you know there's a chance that the waistband has the tendency to roll down as you move. To save you the hassle of always pulling the leggings up whenever you sit or stand, it would be better to choose over-the-belly leggings. 
Most over-the-bump leggings feature flexible belly panels to keep the leggings in place. Since you would need support, especially in the last trimester, the extra fabric on the waistband can offer comfort and protection. This is also the ideal type if you like the feeling of clothes hugging your body nice and cozy.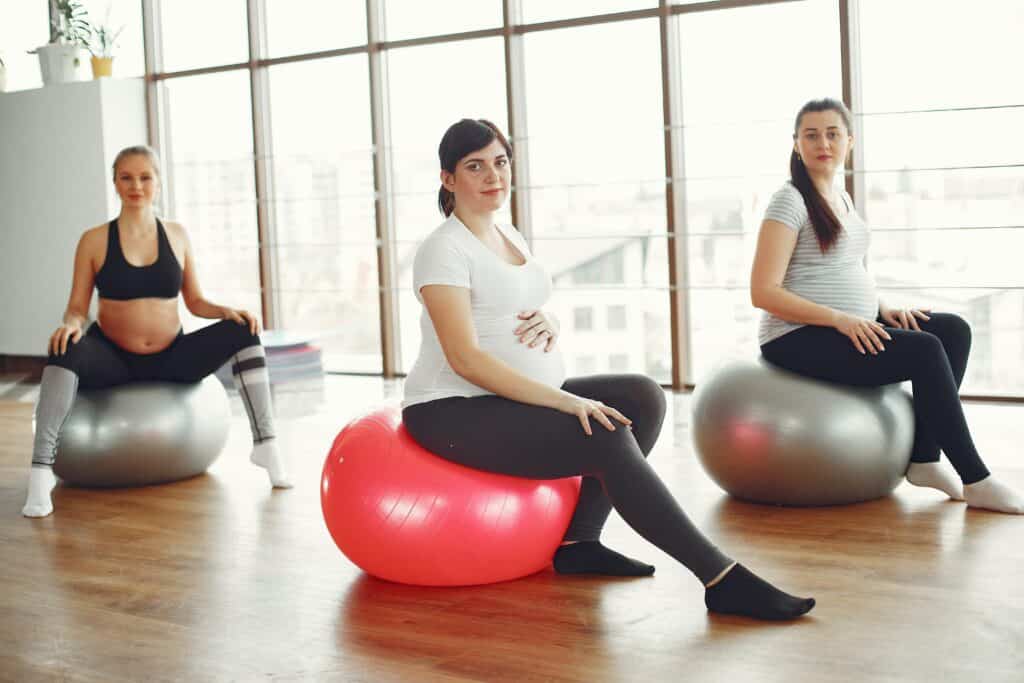 Appropriate Size and Fit 
Body changes vary, although some women can show a belly bump as early as three months. While you may still wear your normal clothes during the early stages, you need to prepare better-fitting garments to make your pregnancy comfortable and extra safe.  
When it comes to leggings, you can wear a pair as early as you want. Since they are stretchable, they can easily conform to body changes. To determine the right size and fit, it would be best to measure around the fullest area of the body, typically around the navel or below it. 
Additionally, with your legs together, measure around the widest part of the hips. While you can consider choosing your pre-pregnancy size, you may also want to consult the brand's sizing chart. In this way, you can make sure that the fit, especially on the waistband, doesn't cause chafing or marks. 
Material
Leggings must have the following characteristics to provide the necessary coverage and support for your body.  
Comfortable and Breathable 
Remember that you're carrying another human life inside of you, so you would want to be in the homiest yet supportive clothes. 
Choose breathable fabrics such as cotton, rayon, and polyester, to prevent your body from overheating when doing light chores, exercise, or work. Likewise, the material must be great for sleeping, so you won't have to change clothes all the time. 
Thick and Stretchable
The thickness impacts opacity, and consequently, coverage and warmth. Synthetic materials like spandex, nylon, and polyester are among the most stretchable fabrics for leggings. The best maternity leggings often blend these with breathable threads to give the right balance between comfort and functionality.   
Despite the thickness, the fabric must be soft and flexible enough, so the leggings can easily stretch as your bump grows through different stages of pregnancy. However, they shouldn't become see-through when you move. 
Durable 
An excellent pair of maternity leggings can withstand a pregnant woman's body changes and recover its original shape. In this way, you can maximize the leggings even in your postpartum. Perhaps you can also keep your maternity leggings for baby number two, three, and more! 
Good Length
Leggings feature various lengths ranging from Capri to ankle-length. This factor may depend on your needs or whether the cut is appropriate to your environment. 
If you want more coverage or hide varicose veins, it would be best to consider full-length maternity leggings. In case you're below 5.5 feet, you can also choose Capri or 7/8 leggings. 
What To Wear & NOT Wear With Leggings / Fashionable Leisure, Casual & Dressy Outfits With Leggings
Frequently Asked Questions
After How Long Should I Start Wearing Maternity Leggings?
It is advisable that you wear your maternity leggings when you are around 4 to 6 months pregnant. Although most first-time mothers tend to feel excited and want to show their bumps, consider waiting until you are 12 weeks pregnant.
That means you can wear normal leggings during the first trimester. However, ensureyour normal leggings are not excessively tight.
How Are Postpartum Leggings Different From Maternity Leggings?
Postpartum leggings mainly provide support and compression for weakened pelvic floor muscles after delivery, whereas maternity leggings aim to carry the heavy weight of large bellies.
Good postpartum leggings also focus on the lower half of the belly, unlike maternity leggings that cover the whole midsection.
Are Maternity Leggings Tight?
Although maternity leggings are specifically designed for pregnant women, they are tight-fitting and comfortable, just like normal leggings. However, they don't exert excessive pressure on the abdomen.
Typically, these leggings are high-waisted and come with a U-shaped fabric that supports the baby bump without being tight around the waist.
Conclusion
Pregnancy could be a fun journey with less discomfort when you know how to choose clothes that equally prioritize comfort and style. Don't brush off all maternity clothes. Let these leggings be an exception and grow not only your baby bump, but also an enviable maternity wardrobe for all your work, and play needs.