As an Amazon Associate we earn from qualifying purchases.
If you're always hunting for stylish yet comfortable and practical leggings, you know that there are several brands and styles on the market. At some point, you may have heard and wondered, "What are 7/8 leggings?". Are they going to be your next go-to leggings? Let's find out. 
What Are 7/8 Leggings?
As the name implies, 7/8 leggings are a type of women's activewear pants that are designed to end just above the ankle, typically about three-fourths of the way down the leg. The term "7/8" refers to the length of the leggings, which covers approximately 7/8 of the leg length. This kind of leggings has an inseam that is 1/8th shorter than a full-length style, making them ideal for petite girls who want to create a longer silhouette.
These leggings are often marketed as a more versatile option than full-length leggings, as they can be worn in a variety of settings, including the gym, yoga studio, or as part of a casual outfit. They are also popular during warmer weather, as they offer more breathability and less coverage than full-length leggings.
7/8 leggings come in a variety of materials, such as cotton, polyester, and spandex, and are available in a range of colors, patterns, and styles to suit different preferences and activities.
The Inseam of 7/8 Leggings
While the inseam varies from brand to brand, it usually ranges from 23 to 24 inches. Ladies who want to achieve full leg coverage, yet want to avoid excess inseam, should try wearing 7/8 leggings.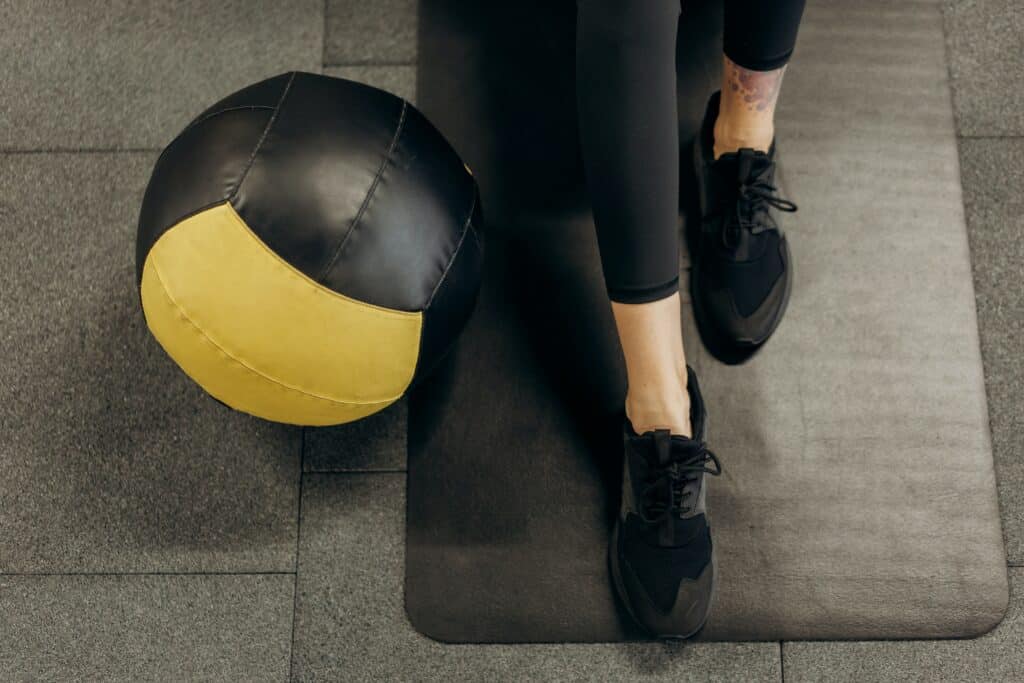 If you have a height shorter than 5.5 feet, you know that regular size leggings can sometimes be too long for your legs. As a result, the fabric bunches up in the crotch, knees, or ankles. Enter 7/8 leggings, which usually have shorter inseams that don't easily get caught on bike wheels.
Some brands call this style "midi leggings", although the same length and inseam apply. With that said, make sure to read the full product description before buying a pair. 
What's the Difference Between 7/8 Leggings and Capri Leggings?
Now, you may be thinking: if 7/8 leggings are shorter than full-length leggings, doesn't that make them Capri leggings? The answer is no. Think of 7/8 leggings as the perfect medium-length leggings for women who want more coverage than cropped leggings yet won't look flattering in full-length ones. 
Capri leggings have inseams that stop two or three inches below the knees. This is also why they look like "long shorts" or "3/4 pants". Meanwhile, full-length leggings have inseams that reach the ankles. 
Hence, the length of the Capri cuts off the leg, the inseam of full-length leggings can make short girls look even shorter, while the 7/8 style is the Goldilocks of leggings — somewhere in the middle or the right range.
Comparing ⅞ and Capri Leggings
| Features | 7/8 leggings | Capri leggings |
| --- | --- | --- |
| Inseam | ⅛ shorter than full length | 2 to 3 inches below the knees |
| Highlight toned curves | Calves looks thinner | Calves look thicker |
| Leg appearance | Legs appear longer | Legs appear shorter |
What Are the Advantages Of Wearing 7/8 Leggings?
The 7/8 leggings aren't just another fashion statement; this style aims to provide the necessary support and coverage for petite ladies. 
Leg Elongation
The 7/8 leggings style creates an optical illusion of more height by exposing the ankles and a bit of the lower legs. In effect, the legs appear leaner and longer compared to their appearance in full-length leggings. 
However, this doesn't only apply to short women. Even if you are taller than 5.5 feet, the inseam can help accentuate the legs. From lifting weights in the gym to walking on the streets, the 7/8 leggings can sculpt and contour your legs.
Better and Safer Movement
If you always trip while doing yoga due to full-length leggings, the 7/8 style can be your newest secret weapon. 
Compared to longer styles that sometimes tend to hinder movements, the shorter inseam of 7/8 leggings saves you from getting caught on hooks, sliding, and even the hassle of rolling the hems up. 
High-Waist Fit 
The 7/8 leggings not only use shorter inseams to make you look taller, the style also incorporates a high waistband to elongate the body further, especially when you wear crop tops or sports bras. 
Most brands use a high-rise fit for 7/8 leggings so that the waistband lies flat on the skin, keeping you covered in every bend and twist.
How Can you Style 7/8 Leggings?
Incorporating 7/8 leggings with your current wardrobe is quite easy. Whether you dress them down or up, 7/8 leggings can extend the appearance of your figure. 
Styling 7/8 leggings may involve some experimentation at first, so don't be afraid to try out several combinations until you find one that flatters your body.
Wearing 7/8 Leggings When Working Out 
Similar to other kinds of leggings, the 7/8 style is versatile, so they work well with crop tops, gym bras, tank tops, and sports tees. Additionally, you can throw in an activewear pullover or windbreaker with colors that complement the leggings. 
Wearing 7/8 Leggings Beyond the Gym
If you want to wear something new for work, you can pair printed 7/8 leggings with a plain shirt, cardigan, and flats. When you need a break from tight-fitting denim jeans, you can also try 7/8 leggings as an alternative, then rock the leggings with sneakers or chunky heels. 
Likewise, the 7/8 leggings can be a lifesaver when styling tricky fashion clothing like see-through dresses or midi dresses. 
Frequently Asked Questions
What Is the Difference Between 7/8 Leggings and Capri Leggings?
Generally, the main difference between the 7/8 leggings and the Capri leggings is the length. Normally, the 7/8 leggings are 1/8 shorter than the length of a full-length legging, while the Capri leggings' length is slightly below the knee.
What Height Are 7/8 Leggings For?
Although ⅞ leggings can have varying lengths, they are mainly for people who are around 5 feet and 4 inches tall.
Generally, these leggings might appear undersized if you are taller than this height. On the other hand, they might appear longer and look like full-length leggings if you are shorter than this height.
Where Can You Wear the 7/8 Leggings?
You can wear the 7/8 leggings during workouts, yoga, or day-to-day activities.
Like the cropped legging, the 7/8 leggings allow more air flow to your legs, which enhances your performance during workouts and promotes heat loss and cooling during summer.
Type of leggings with name ll different type of leggings with name
Conclusion
After discovering the beauty and benefits of 7/8 leggings, consider making this style as the newest member of your fashionable yet functional workout clothes. Like other kinds of leggings, the 7/8 style comes in a variety of designs and colors — you simply have to find what suits your taste.