As an Amazon Associate we earn from qualifying purchases.
Historically speaking, leggings were originally designed as a unisex garment way back in the 14th century. It was mostly men who were wearing leggings during the Renaissance times. This was an undergarment and protective clothing under their cotehardies and military attire. 
Today, leggings are popularly designed and worn by women. However, it was just mid-19th century when women started wearing iterations of leggings that were suited for them.
Can Guys Wear Leggings?
Yes, guys can wear leggings, whether on their own or with shorts layered over top. Leggings and meggings are both acceptable and fashionable on men in today's society.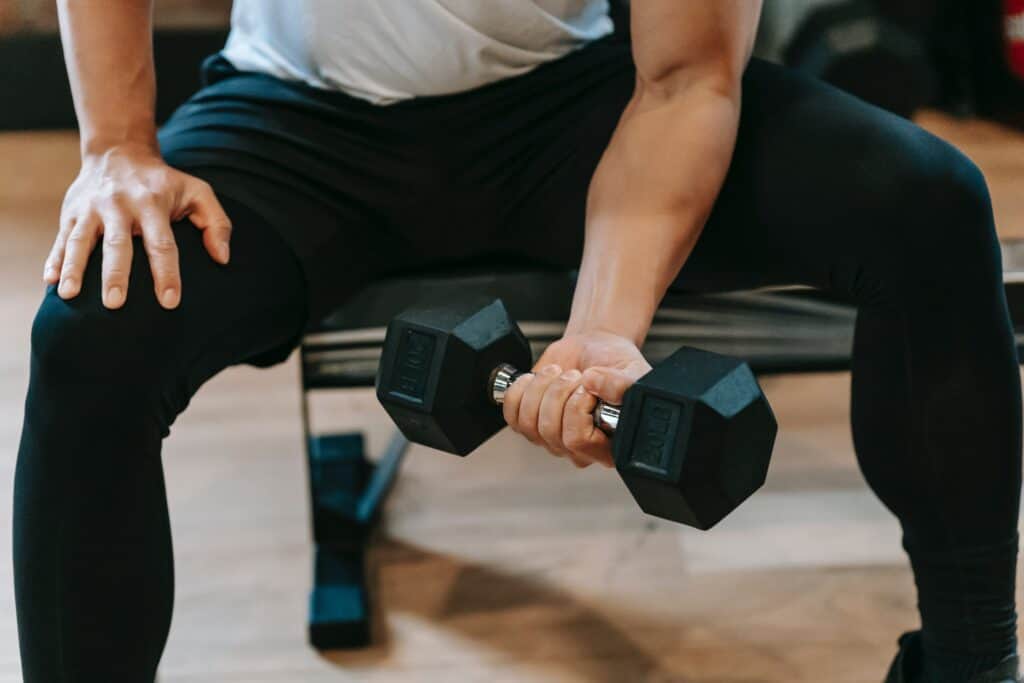 Men can choose to wear shorts or longer shirts to cover up the crotch area if they tend to be self-conscious in leggings.
Can Guys Wear Tights and Yoga Pants?
Guys definitely have the choice to wear skin tight yoga pants. Male yogis actually recommend them because they help you find grip in some yoga poses. They allow you to be as flexible as you want during the sessions. 
Yoga pants can also be worn as an alternative to leggings or tights. This  would be used in high-intensity activities such as strength training, sports, biking, or running.
Do Guys Wear Lululemon?
Lululemon is not just a brand for females. In fact, Lululemon has already expanded their target market to include men. They have started designing clothes and athletic wear for their men's section.
Their products actually range from underwear to outerwear for men. So, yes, guys have absolutely started wearing Lululemon leggings. 
Why Guys Should Wear Leggings
Guys in this generation usually tend to feel icky and uncomfortable wearing leggings. With the rise of brands such as Lululemon, this athleisure piece has now become stereotypically known as activewear only for women. Needless to say, there has to be equality in this area. Brands have now begun designing and producing leggings for men.
Guys should wear leggings especially if comfort is their number one priority. Also, if they just want to try out something new when they're hitting the gym or training for sports. Here are 3 reasons why you shouldn't hesitate wearing leggings if you're a guy: 
Prioritize comfort over anything
Take advantage of the functionality
Provides warmth during cold seasons
Prioritize Comfort
Leggings are known for two certain things that make women absolutely obsessed with them. One is its comfort and two is its versatility. It doesn't mean that when you're a man, you should be depriving yourself of these two things, right?
You should wear leggings if you want bottoms that are super comfortable and breathable. Wear them if you're regularly doing high-intensity sports or workouts.  
Take Advantage of the Functionality
There are many types of leggings with a variety of features for you to choose from. Some of them include compression panels that keep your blood circulation unconstricted to avoid low blood pressure.
Leggings are made of stretchy fabric. This could help in not constricting your movements. You will feel less irritation or pain caused by nerves and skin that were too compressed. With leggings, you can also easily check if you're doing squats or other exercises with the right posture and biomechanics.
You see, women really love leggings. This is because it's trendy and because it has a lot of pros when it comes to functionality.
Provides Warmth During Cold Seasons
If you're planning to jog outside or go to the gym during the winter season, you're probably going to freeze if you just wear plain shorts. That's where leggings could come to the rescue. It serves as an additional layer to give you extra warmth.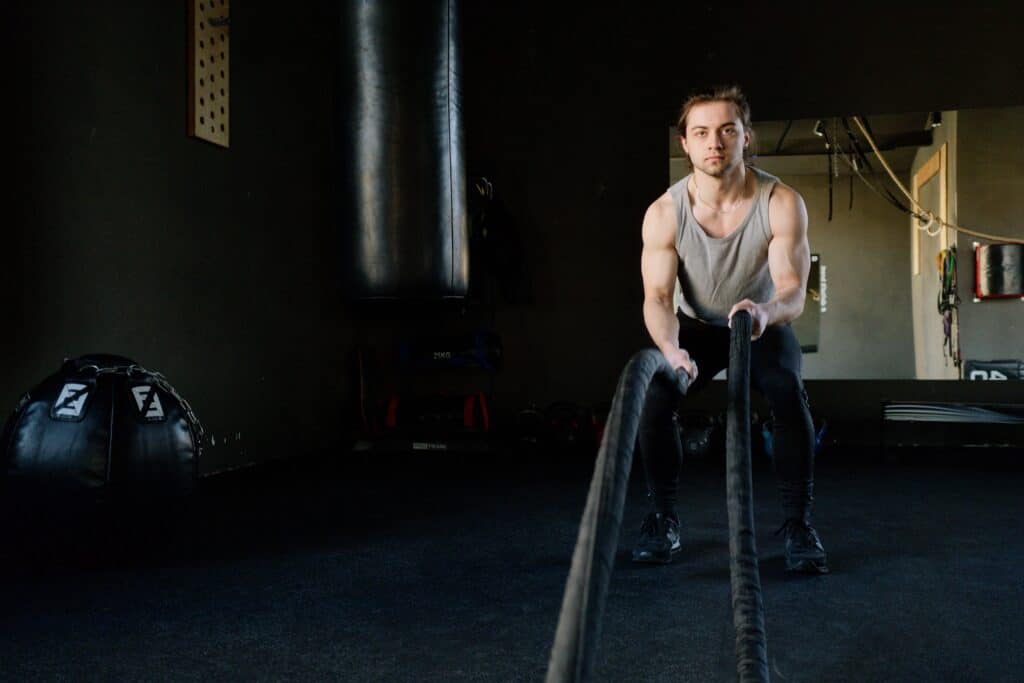 Tips When Wearing Leggings as a Guy
There are some limitations and concerns when guys wear leggings. Among them is what other people call the "bounce factor." To lessen the awkwardness, you have to take these things into consideration:
Ensure the fit
Wear longer shirts
Wear shorts depending on preference
Opt for compression panels
Ensure the Fit
Before buying leggings, make sure they absolutely fit you in the right places and hold everything in place. Leggings tend to be tight-fitting so it will expose and emphasize your shape (time to show off your leg muscles, eh?). To hide your crotch, apply the next tip. 
Wear Longer Shirts
If you're going to wear leggings, it is much better to wear long, loose shirts to cover your crotch and keep the balance. This is especially to avoid showing off your front end side when you're in the middle of your workout sessions. Plus, it is important to balance the look with a loose shirt or shorts since leggings itself is already tight.
Wear Shorts Depending on Preference
Many men opt for wearing their shorts over their leggings not entirely because this helps in terms of functionality but mainly because they feel naked when they're only wearing leggings. At the end of the day, your decision on this purely depends on your preference. Whichever one you feel more comfortable and confident when wearing is what you should do.
Opt For Compression Panels
As mentioned earlier, compression panels are your best friend when it comes to ultra comfort, breathability, and functionality of leggings. Leggings with compression panels help you avoid the restriction of your blood flow which is bad especially if you're an athlete or doing high-intensity exercises. This is a common feature of leggings now so this won't be hard for you find in the market.
What to Know When Wearing Leggings
| Tips | What to do |
| --- | --- |
| Tip 1 | Prioritize on comfort |
| Tip 2 | Choose the perfect fit |
| Tip 3 | Wear long loose shirts |
| Tip 4 | Wear shorts |
| Tip 5 | Opt for compression panels |
What To Wear & NOT Wear With Leggings / Fashionable Leisure, Casual & Dressy Outfits With Leggings
Frequently Asked Questions
Can Men Layer Leggings?
Yes. Just like women layer leggings with dresses and skirts, men can also layer them with shorts and long coats. This is an ideal style tip, especially when the leggings are too tight or loose.
However, you should get the proper legging length and trendy layering tips.
Is There a Size Difference Between Male and Female Leggings?
There is no significant difference between male and female leggings in appearance and size.
Generally, the only difference between the leggings is the marketing, considering that the fabric used is the same and stretchability is enough to fit the body shapes of both men and women, a feature that makes leggings unisex.
Do Men Wear Leggings in Public?
Although most men are uncomfortable wearing leggings in public, it's acceptable in today's society. For instance, intense sports activities such as athletics and marathons are done in public.
Yet, leggings are a requirement even for men to help reduce intense muscle vibration and fatigue for enhanced performance.
Conclusion
Women are not supposed to be the only ones who can enjoy the advantages of wearing leggings. Men can enjoy them, too! Don't feel ashamed or self-conscious if you're wearing leggings as a guy. This is getting more traction now and there are various ways you can still look and feel comfortable in them while also taking advantage of their features.