As an Amazon Associate we earn from qualifying purchases.
Ever endured a scorching summer day, constantly fidgeting due to your uncomfortable underwear? Choosing the right pair of mens underwear for hot weather can be a tricky feat.
To prevent that 'soggy' feeling or inadequate support, it's crucial to consider factors like breathability, cut, and fit. Let's dive into finding your perfect summer-friendly undies.
Top Men's Underwear for Hot Weather Reviews
Ever dismissed underwear as a minor detail in your attire? Same here, until sweltering weather made me reconsider. Boxers, briefs, or boxer briefs – it's all about personal comfort.
Brand
ExOfficio Men's Boxer Brief
Men's Cotton Boxer Briefs
Product
Material
91% Polyester, 9% Spandex
Features
Wicking Control and Mesh Breathable
Anti-pilling letter waistband
Brand
ExOfficio Men's Boxer Brief
Product
Features
Wicking Control and Mesh Breathable
Brand
Men's Cotton Boxer Briefs
Product
Features
Anti-pilling letter waistband
Product
Material
91% Polyester, 9% Spandex
For me, the ExOfficio Give-n-go Boxer Brief nailed it.
Join me as I delve into the quest for the ultimate hot-weather underwear.
​ExOfficio Give-n-go Boxer Brief
Coming in at the top of my list, the ExOfficio Give-n-go Boxer Brief has an impeccable reputation. ExOfficio has been producing travel garments since 1987, and the Give-N-Go line of performance underwear was established in 2000.
A number of features are focused on making these boxers briefs comfortable in all types of conditions.
These underwear are incredibly breathable. They are made out of a super light material so not the best thing to be wearing in the pool, but for everyday use, this thinness will keep everything quite a bit more airy than standard cotton.
The combination of 94% Nylon and 6% Lycra Spandex in a unique mesh weave lets air flow through even when damp.
These materials also help them dry out very quickly if you're traveling and don't have access to a dryer or laundromat.
In addition to its breathable properties, the fabric used in this underwear is moisture-wicking. The weave and materials pull moisture away from the skin keeping you cool and comfortable.
They are also treated with an antimicrobial treatment that helps keep odor down, making them perfect for multi-day travel.
The waistband of these briefs is made of a durable and comfortable fabric that resists stretching in order to keep its shape over the life of the product.
ExOfficio has made an extremely comfortable and long-lasting pair of briefs that have earned a loyal following.
They are definitely worth taking along with you on a trip to a tropical destination, packing in your gym bag, or just wearing them everyday for the best comfort around.
​Product Specs
Boxer brief style ​
94% Nylon, 6% Lycra Spandex
​S – XXL
Mid thigh coverage ​Moisture wicking fabric
Sold individually or in packs of 2
ExOfficio Men's Give-N-Go Boxer Brief 2 Pack
Be Ready For Anything - Lightweight and comfortable enough to be worn all day, this boxer brief is...
The Original Give-N-Go - Made with breathable mesh fabric, our Give-N-Go collection is designed to...
Comfortable Enough For Extended Wear - The Give-N-Go Boxer Brief won't stretch out with use, but...
5Mayi Cotton Boxer Briefs
Now I look at a lower priced set of underwear in 5Mayi Mens Underw ear Boxer Briefs Cotton.
These boxer briefs come in sets of 5 with a variety of color options. Some packs come in different overall colors, and some in all black with just a different colored waistband.
For some, color choice is a matter of fashion, and others just want to be able to differentiate between which underwear they've already worn.
Made out of mostly cotton with a little bit of spandex added for stretch, these underwear offer natural breathability and additional flexibility.
The cotton also adds a natural softness that it's hard to get from man-made materials, and the color will stay solid after many washes.
Adding a touch of spandex is a great idea that will help the underwear keep snug without stretching out.
5Mayi is proud of another feature in the fly area: they have added an extra seam. They claim this adds more room in that area for a more comfortable and customized fit.
Their 1.35" wide, durable waistband is designed with a jacquard weave for excellent stretch while retaining its shape.
Considering that a 5-pack of these boxer briefs can cost less than the price of one pair of designer underwear, they are an excellent buy.
The amount of features you would normally find on higher-priced garments makes these an easy choice for someone trying to save a few bucks.
​Product Specs
Boxer brief style
​95% Cotton, 5% ​Spandex
​M – XXL
​Mid thigh coverage
Non-moisture wicking fabric
Sold individually or in packs of 5
5Mayi Mens Underwear Boxer Briefs Cotton Black...
AMERICAN STANDARD SIZE: This mens underwear is made in Standard American Size, (Small 30" - 32")...
COLOR AND PACKAGE: There are underwear men pack of 5 mens oxer briefs, Rose-carmine, Fluorescent...
3D ERGONOMIC FLY POUCH: There is extra cutting line in the middle of the fly pouch, leaving more...
Adidas Relaxed Performance Climalite
As a sports company with many decades of experience in materials and clothing, adidas has made an excellent pair of underwear with the Adidas Men's Relaxed Performance Climalite Boxer Brief Underwear.
These boxer briefs sport Climalite technology to keep you cool and dry. Their construction is made for the utmost in comfortability.
Starting off, just about anything with adidas' patented Climalite technology is going to keep you comfortable in all types of situations, but especially when it's hot.
Their proprietary weave of 92% Polyester and 8% Spandex keeps you cool and dry. These boxer briefs are very breathable and wick moisture very well.
The fit on these underwear isn't quite as tight as other performance boxer briefs. They describe the fit as "relaxed performance" and it's exactly how it sounds, not too tight and not too loose.
While not being overly binding, they still conform to your body shape while allowing room for adjustment.
These ultra-soft boxer briefs come in an assortment of colors that match to adidas Apparel colors. This comes in handy when matching underwear that may show past the length of your shorts, either because of fashion or because of uniform rules in competitive sports.
Adding to the previous features, adidas also gives you a functional fly and a longer rise for more room.
The legs are made to not ride up, perfect for wearing under jeans or slacks. The additional gusset panel adds an extra level of comfort.
​Product Specs
Boxer brief style
92% Polyester, 8% Spandex
​S – XL
​Mid thigh coverage
Moisture wicking fabric
Sold in packs of 2
Hanes 5-Pack Tartan Boxer
In hot weather, the general rule is that the most airflow, the better. With underwear that provides support, the main way to encourage this is by using breathable materials.
If you remove the need for support from the equation, pure, unrestrictive airflow would be your next best choice. Old-school boxers, regardless of the material used, can provide this.
The Hanes Men's 5-Pack Tagless, Tartan Boxer with Exposed Waistband fits the criteria of a breathable, open pair of boxers while also including modern materials into the mix.
Traditional boxers have been normally made of 100% cotton, but the mix of 55% cotton and 45% polyester on this pair mixes both flexibility and breathability.
With a roomy boxer cut, these Hanes underwear make for the coolest underwear, but sacrifice any support or structure.
In a simple but smart move, Hanes made this set of boxers tagless and with a stretchable and comfortable waistband.
These underwear have a sturdy material blend that allows you to throw them in the wash without worrying about setting the wrong temperature.
In addition, they have a traditional fly front that's guaranteed not to gap.
​Product Specs
​Boxer style
​55% Cotton, 45% Polyester
S – XXL
​Mid thigh coverage
​Non-moisture wicking fabric
Sold in packs of 5
Hanes Men Hanes Men's Tagless Boxers with Exposed...
QUALITY FABRIC – Our solid men's boxers are made from 55% cotton and 45% polyester that's soft and...
VALUE YOU EXPECT – Each men's underwear value pack includes 6 pairs of boxers for men in assorted...
BREATHABLE & MOISTURE-WICKING – Cool Comfort technology helps wick away moisture to keep you cool...
Calvin Klein Cotton Classics Multipack Briefs
Calvin Klein has been making clothes for a long time, but in 1982 they really upped the ante with an ad showing olympian Tomás Hintnaus lying on a roof in just a pair of CK's.
Since then, the iconic Calvin Klein logo on the waistband of a pair of underwear has been a mainstay in men's (and women's) fashion. The Calvin Klein Men's Cotton Classics Multipack Briefs continue this tradition with these simple but functional briefs.
For a man who wants a little less material with the same amount of support as performance boxer briefs, this updated classic brief is the way to go.
It is made of 100% cotton for breathability in a soft, natural material. Cotton is also very easy to take care of, it lasts a long time and you don't have to worry as much about high temperatures in the washing machine or dryer.
Of course they have the classic Calvin Klein logo waistband, but have also added better elastic in the leg openings to keep them more comfortable and help avoid them getting stretched out.
These are excellent everyday briefs for wear in any situation.
​Product Specs
Classic brief style
​100% Cotton
S – XL
​Traditional brief coverage
Non-moisture wicking fabric
Sold in packs of 4
Hot Weather Men's Underwear Information and Tips
A lot of times I consider the clothes worn on the outside more important since that's what everyone around me sees. But when it comes to really caring about myself, shouldn't the first thing on my list be the item of clothing that's closest to one of my most important regions?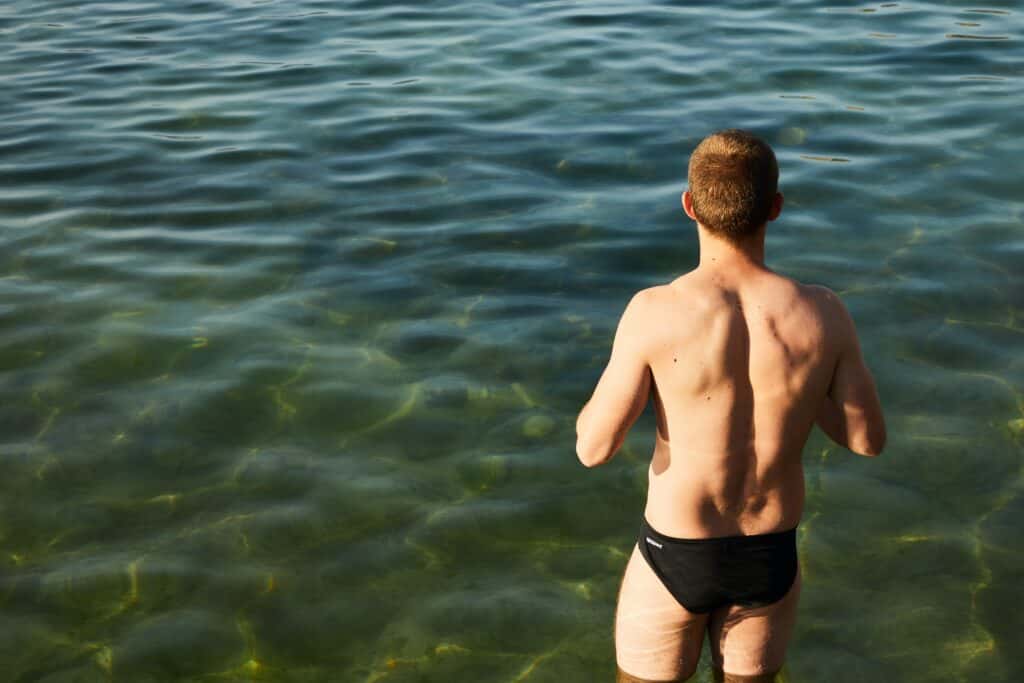 Regardless of any "naughty" implications, the motions of my everyday lives focus around that area; sitting, walking, tying my shoes, and most anything athletic all start from that area.
Once you add in the prospect of a hotter climate or additional core and leg work (like the gym or a job where you're moving around or lifting a lot), keeping that region comfortable should be your number one focus.
Just walking around with sweaty underpants is bad enough, but trying to perform repetitive movements in that state is unbearable.
Let's get into some of the things you should be looking for in men's underwear to wear in hot weather.
Different Styles of Men's Underwear
When you get really specific, there are a ton of different styles of underwear available for men. Within each different overall type, manufacturers add specific cuts and styles that differentiate themselves from competitors.
There are different rises available within each style, and who can really say if "trunks" are really that much different from "boxer briefs?" This list also leaves out other underwear styles such as jockstraps, bikinis, and g-strings.
As a basic rule, the everyday styles of men's underwear are:
Boxers (or Boxer Shorts)
Briefs
​Boxer Briefs
​Aside from personal preference, there are actually some situations where one style will serve you better than another. We'll go over the pros and cons for each.
Men's Boxers
Best for: Everyday wear, going out, low-impact sports
Boxers were originally designed to mimic the loose fitting shorts worn by professional boxers in the ring. They give excellent freedom of movement, and the elastic waist is comfortable without squeezing too tightly.
These are probably the most comfortable underwear you can put on your body, as long as you're not wearing any pants over them.
​They work well with slacks, loose shorts, or any other pants that don't hug too tightly. Boxers also leave a smooth line in the back, without showing any "panty lines" under your pants.
The downside of boxer underwear is that they have a tendency to bunch up underneath tight clothing like jeans. The loose material doesn't have anywhere to go, so it folds over itself and creates uncomfortable areas in the crotch and bottom.
They also don't add any support, so they don't work well for running or any type of exercise with a bouncing movement.
For men with more muscular legs, boxers work well since they don't have any elastic at the bottom of the leg openings.
Men with thinner legs may find that there is too much material, so they can feel (and look) like they're floating in this type of underwear.
Men's Briefs
Best for: Casual wear, office wear, high impact sports
When men think back to their first pair of underwear, more than likely it's going to be a pair of briefs.
These underwear provide the bare minimum of coverage, but with the folder over "Y" fly, they allow access when you need to go to the bathroom and also help avoid wardrobe malfunctions.
Briefs stay perfectly on the body without any bunching, unless you've purchased the wrong size.
They provide great support so you can use them in any situation, whether sitting all day at the office or going out for a hike.
You shouldn't have to worry about your underwear moving, bunching and chafing, and with briefs you usually don't have to.
Some men don't care for the way briefs fit for a multitude of reasons. Some of the main drawbacks of briefs are:
The way they hug "everything" may be uncomfortable to some.
When wearing a suit or dress pants, it can be more comfortable to have coverage protecting your thighs.
​In briefs with poorly designed leg openings, the area between the legs and crotch can become irritated.
They don't look great on heavier guys.
Men's Boxer Briefs
Best for: Dressing up, casual wear, any type of exercise
Boxer briefs are just what their name implies, a combination between boxers and briefs.
The stretchy material used for this type of underwear helps keep everything in place, doesn't move around under your clothes, and provides more coverage than briefs.
They mix the best of both worlds to give you support and comfort in almost all situations.
In a workout setting, some types of boxer briefs can add something else that neither boxers nor briefs can; an additional bit of support for your upper thighs.
This can come in handy for both lifting weights and running. Be on the lookout for the word "compression" on the label or packaging if that is something you're interested in.
Additionally, since they are made of a stretchy man-made material, the fabric used can be tailored to different needs. Boxer briefs can have mesh panels, breathable and wickable materials, and some even add additional support through the rear.
The only drawback for boxer briefs is that the longer design can make them less comfortable than briefs when sitting and standing repetitively during the day.
Some men may not like the feel of support on their thighs if they are used to briefs, and others may not like the way they hug their body if they are used to boxers.
Men's Underwear Materials
Different man-made materials invented over the years have created new possibilities for the design and function of men's underwear. Without elastic materials like Lycra that stretch and hold their shape, the boxer brief would never be able to provide the support and comfort that it does today.
Natural materials still hold their place in the underwear world, with the most popular focused mostly around cotton and cotton blends for everyday use.
Cotton
A breathable, natural fiber with a little bit of stretch to it. Often, even though a tag may reference it as 100% cotton, another material such as Lycra is woven in to provide extra flexibility. Cotton is very comfortable, but it's natural absorbency doesn't work well when exercising.
Bamboo
Another natural fiber that's known for its strength even when woven into a lightweight fabric. As opposed to cotton, bamboo also provides natural wicking and antimicrobial properties. It is, unfortunately, not very flexible on its own, and is often blended with cotton plus a more flexible fiber like elastane.
Coolmax
Coolmax is a man-made polyester fabric developed originally by Dupont. It is very breathable, flexible, and also wicks moisture away from the skin. It is not recommended for wearing in extreme high-fire risk environments such as welding or firefighting.
Modal
A type of rayon, Modal is a fiber made from beech trees with softness that feels somewhere between silk and cotton. It is breathable, but does not wick moisture.
Microfiber
Microfiber relates more to the fabric than the fiber that is used to create it. It can be made from most synthetic fibers, most notably polyester and nylon. It is extremely hydrophobic and is one of the better wicking materials available.
MicroModal
The microfiber version of Modal. It has a higher level of softness than standard Modal does, and adds wicking to the list of benefits. It also holds dye extremely well so it is very resistant to fading.
Silk
An extremely soft and luxurious natural fiber. It is breathable but the high absorbency silk makes it not a very good choice for hot weather underwear.
Spandex
Also known as Lycra or Elastane, Spandex is a man-made fiber made from polyurethane.
It is incredibly flexible and able to be woven into a very thin material. It is not very breathable on its own and is normally combined with other fibers to create a fabric that stretches, holds its shape, and maintains the properties of whatever it's mixed with.
Comparing Men's Underwear for Hot Weather
| Underwear | Moisture-wicking? | Mid-thigh coverage | Odor resistant |
| --- | --- | --- | --- |
| Exofficial Give-n-go | Yes | Yes | Yes |
| 5Mayi Boxer Briefs | No | Yes | No |
| Adidas | Yes | Yes | No |
| Hanes 5-pack | No | Yes | No |
| Calvin Klein | No | No | No |
How to Care for Men's Underwear
If you end up paying a premium for your underwear, you don't want to have to replace them because you didn't take care of them. If they fit correctly, you don't want them to shrink or stretch.
Follow my underwear maintenance tips to extend the life of your undergarments.
Pay Attention to How You Wash
It's easy to be lazy and just throw all your clothes together in the washer, set it to hot water, then dry them on high heat to get it all done as fast as possible.
Please don't do that with your underwear! Many underwear are made out of fabrics that don't respond well to high heat and they will end up either shrinking or stretching out.
Always wash your underwear in cold water. You may think that hot water will wash them better, with prolonged hot-water cycles the fabric will wear out, and heat will set any stains. In addition, throw some color-safe bleach in with them to kill any bacteria.
If there are any stains, apply a stain remover (or some liquid detergent) directly to the area before throwing them in the washing machine.
Turn them inside out to make sure that the parts of the underwear that need to be washed will receive extra focus.
Run a delicate cycle so they don't get thrashed around too much.
Never Dry With High Heat
The fastest way to dry your underwear is also the fastest way to ruin them. High heat will break down the elastic bonds in synthetic fibers, turning your underwear into a misshapen hunk of fabric.
The best thing to do is air dry by hanging from clothespins, a line, or drying rack.
If they're taking way too long to dry, throw them into the dryer for a few minutes on medium heat to get any remaining dampness out.
Workout Wear is for Working Out
It's not possible for everyone to buy extra underwear just for working out, but it's a good idea to keep a few pairs of underwear separate from the ones you wear everyday specifically to take to the gym.
Workout undies are usually going to be the sweatiest ones in your collection and take the most damage. Keep your nicer pairs ready for a night out.
Frequently Asked Questions
Which Material Is the Best Men's Underwear for Hot Weather?
Cotton is the preferable material for men's underwear during hot weather.
Cotton is hypoallergenic, soft, and breathable, making it suitable during summer and all levels of activities as it can absorb sweat and reduce chafing and skin irritation.
How Often Should Men Change Underwear in Hot Weather?
It is advisable that you change your underwear on a daily basis, especially if you are engaging in intense activities in hot weather.
If you stay for longer without changing the underwear, bacteria might build due to the sweat and result in bad smells or irritations.
How Can I Sterilize New Underwear?
You can sterilize new underwear using bleach detergents that are oxygen activated, such as Clorox 2 or OxiClean.
It is also advisable that you use hot water together with bleach detergent to further reduce the chemical remains in the underwear.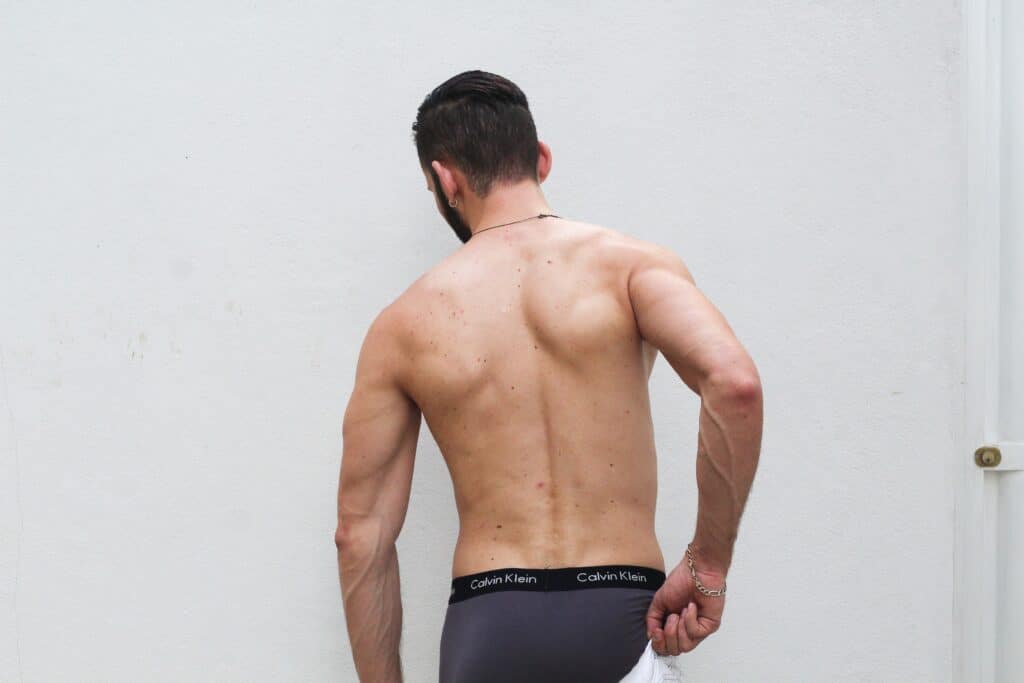 Conclusion
When you have type of clothing that you wear every day in your most sensitive area you have to make sure you get the best you can find. There are a tremendous number of different styles of Men's Underwear available on the market, and you may have to go through a few pair to find the right ones for you.
Always consider what cut of underwear you need for your daily life, and from that starting point look at the different options for materials that will keep you cool in hot weather.
Think about what activities you'll be performing as well – do you need support? Do you need extra coverage on your thighs? Everyone has their own preferences, but it may be worth a look at different styles if you're shopping for specific situations that you haven't encountered before.