As an Amazon Associate we earn from qualifying purchases.
Since the athleisure trend rose in the fashion world, leggings have been labeled as a great alternative to jeans. This is because they are far more superior in comfort.
However, this is not to say that denim has been out of the spotlight. Both are still known for their style and versatility. Is there really a better one when it comes to leggings vs jeans?
Leggings vs Jeans
Both leggings and jeans have their similarities and differences. Each are equally good as the other. At the end of the day, it will really depend on where and how you want to wear them.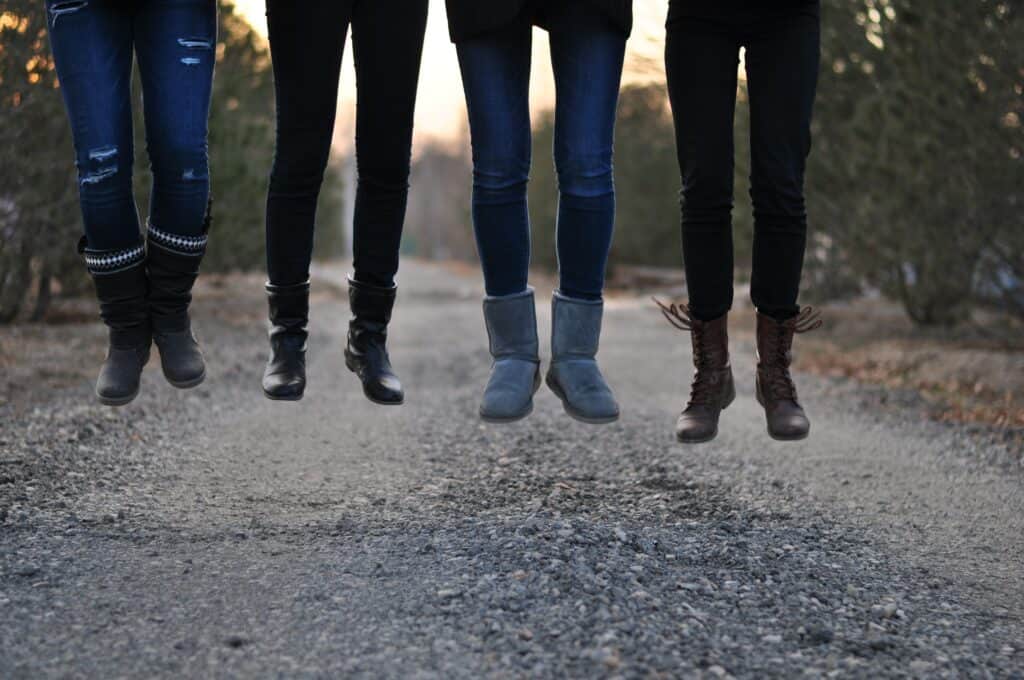 Leggings are a huge part of the athleisure world in fashion. They are loved by many because of the comfort provided when worn. They are more casual and sporty for situations such as going to the gym, doing athletic exercises or sports training, or running errands.
Jeans, unlike leggings, are a popular choice for many for what has been decades. They are versatile and almost timeless. Jeans or denim pants can go with almost anything. They have thicker and sturdier fabric that is an advantage if you're looking for extra warmth and coverage on your legs.
What are Leggings?
If athletic or exercise wear is your thing, leggings will be perfect for you. Leggings are skin-tight trousers made of various fabrics such as lycra, polyester, nylon, cotton, and spandex. These fabrics allow leggings to stretch and mold to the body without the skin feeling too constricted.
Leggings have historically been a garment worn predominantly by men in the past centuries. They have since trickled to women's fashion in the 1960s. Leggings are starting to be worn by more and more men nowadays. At the moment, a huge part of the population wearing leggings is women.
A recent statistics report by the US Census Bureau stated that the number of imports of women's leggings has exceeded that of blue denim pants for which the latter has declined by 3.9% on average. This, itself, just proves how leggings are getting more and more preferred by many.
Leggings also have different types such as:
Ankle-length Leggings
Stirrup Leggings
Footed Leggings
Leather Leggings
Knee-Length Leggings
What are Jeans?
Jeans, on the other hand, are a type of pants or trousers commonly made of denim fabric. Denim, in particular, is a cotton warp-faced material which is designed with diagonal ribbing of threads.
Since jeans are made this type of fabric, it is, therefore, thicker and sturdier than the synthetic fabrics composing leggings. Hence, it can be a lot warmer to be worn and less stretchable.
Jeans have been a timeless trend for many decades since they are versatile enough to be paired with almost anything. They can either dress up or down depending on the event or place. Jeans are made with various shades of blue and black. There have been colored jeans that have been sold then and now.
Similar to leggings, jeans also have different types. Some of which are:
Skinny Jeans
Flared Jeans
Boyfriend Jeans
Jeggings
Straight Leg Jeans
Low Rise Jeans
Boot Cut
Similarities and Differences Between Leggings and Jeans
It can be quite challenging to choose between leggings and jeans when it comes to planning your outfits. That is why it is important to tell the similarities and differences between leggings and jeans. Distinguish which would be better and more suitable trousers for your outfit needs.
In general, keep in mind the major distinguishing factor between leggings and jeans is their fabric. Jeans have a thicker material composed of denim fabric. Leggings are usually made with performance-ready and stretchable fabrics such as nylon, polyester, lycra, and spandex.
Both are more casual and informal compared to slacks and structured pants and skirts but can be versatile enough. When paired with the right pieces, you still have many options to style your leggings and jeans up or down.
Comparing Jeans and Leggings Features
| Features | Jeans | Leggings |
| --- | --- | --- |
| Fabric | Denim | Nylon, spandex, polyester |
| Thickness | Thick | Thin |
| Stretchability | Not stretchable | Stretchable |
| Comfort | Unsuitable for rigorous activities | Ideal for rigorous activities |
| Color variety | No | Yes |
| Styling | Looks conservative | Less conservative |
Similarities Between Leggings and Jeans
Let's take a look at some of the common similarities between these two pieces:
Versatility
Both denim pants and leggings are known for their ultimate versatility. They can be styled up and down depending on your needs for your outfit.
Many bloggers, celebrities, and stylists have paired their leggings and jeans with a variety of pieces. These include structured vests and blazers to look more professional. In addition, oversized sweaters to keep warm and simple t-shirts for when they don't feel like dressing up on certain days.
If you are looking for pieces to add to your capsule wardrobe, you must not miss out on these two pieces. It is easy and effortless to pair them with most, if not all, of your other capsule pieces.
Informal Vibe
Although some women (and even men) have broken fashion rules time and time again. They have worn leggings and jeans to formal events. These two still generally tend to be casual and informal in style.
Jeans are usually worn by many for everyday wear. Models are even seen wearing different types of denim pants for their streetwear, edgy outfits.
Meanwhile, leggings are also hugely an athleisure or sportswear. People go with these when they are aiming for more freedom in movement while wearing a bottom. 
Differences Between Leggings and Jeans
Now that you know the similarities of the two, it is also important that you know their differences. This is to make your outfit choices easier and more logical.
Styling
Leggings are tight-fitting to your body. This is great to show your shape. It is not that good if you intend to look conservative or at least a little less revealing. That is why it is highly recommended that you pair them with longer tops, tunics, or dresses that cover your bum.
As for jeans, they are designed to be stand-alone trousers. Meaning, you can wear them with short blouses or cropped tops that may span only up to your waist. You will still look conservative with them.
Stretch
Fabric-wise, leggings are indeed more stretchable than jeans. The former is usually composed of spandex fabric and other combinations that give it the ability to stretch without easily being worn out (not unless the leggings are low quality).
Jeans or denim pants, on the other hand, are much sturdier with its fabric. Although there have been alternative options now such as jeggings (a combination of jeans and leggings), the regular jeans are still not that stretchable.
Fit to the Body
Both are capable of emphasizing the shape of your lower body. They do it in different ways.
Leggings have the ability to stretch far greater than jeans do. They mold and fit to your body in a way that they might feel like a second skin. They show off your curves more because they are more body-tight than jeans.
However, jeans are also still flattering to your shape. Because of the sturdier fabric, they don't mold to your body as tight as leggings do. They still fit your body in a way that shows off your curves, too. If you're looking for jeans that really fit, skinny jeans will work best.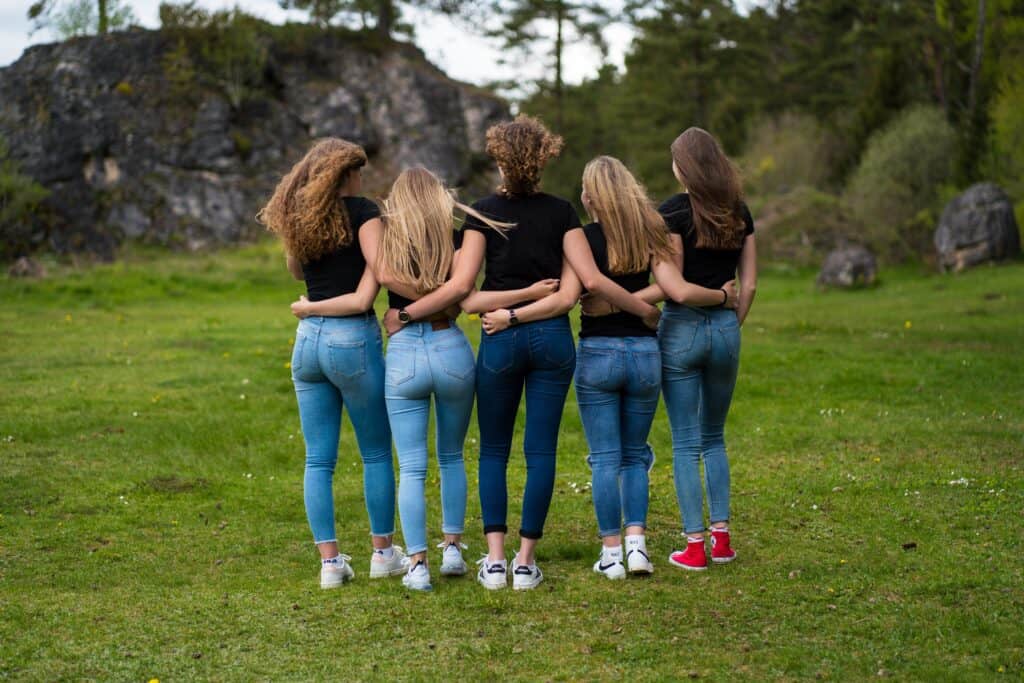 Comfort
I previously mentioned that both leggings and jeans are worn on an almost everyday basis by many people. That's because both of them provide comfort in varying ways and levels.
First of all, jeans have a thicker fabric that will probably give you chafed thighs when you wear them on days where you do intense movements. Leggings, in turn, are not appropriate to wear to work every single day.
So, leggings might be winning in terms of comfort. Since there are only places where they are socially acceptable, jeans do a great role as everyday wear as well.
Price
Leggings are relatively cheaper compared to denim pants. Although this may not always be the case, it is common usually because of the fabrics used in their production.
If you are looking for a more affordable option, leggings can be your best choice. However, if you are looking for something that will last longer and if you don't mind the price, I suggest purchasing jeans instead.
Choices in Design
There are countless patterns, colors, and designs for leggings. In fact, leggings with additional features such as moisture-wicking technology, invisible pockets, and high-waist bands are now accessible on the market.
If color, prints, and patterns are more your style, you will have more options with leggings. As for jeans, you will only get a limited number of shades (usually blue or black) and designs (such as crochet).
Reversibility
Worried that other people might think you just keep repeating the same pants over and over again? You might prefer jeans over leggings.
Some brands of jeans have designed reversible denim pants. These may be used over again while also not compromising the fabric of the pants that may get easily worn out if you keep putting them in the laundry.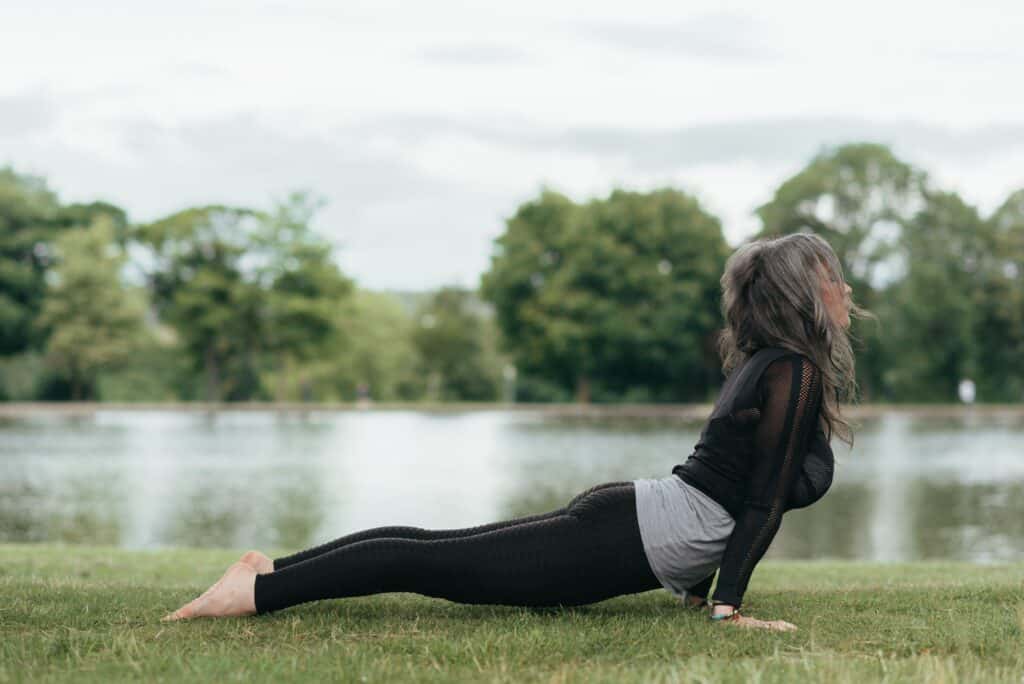 When to Use Leggings
Leggings are great for days when you know you will be moving a lot. If you are going to the gym, doing yoga classes or training for sports, leggings will be a better fit for your needs. They help avoid constriction in your blood vessels as you do intense movements.
Needless to say, leggings are still versatile enough to be worn in other situations such as:
Running errands
Going to the grocery store
Taking long-haul flights
Walking the dog
Jogging
You are also free to wear your leggings underneath flowy and breathable dresses when you're going out in summer. Layer them with camel coats, cardigans, and scarves when you plan to use them during the colder seasons.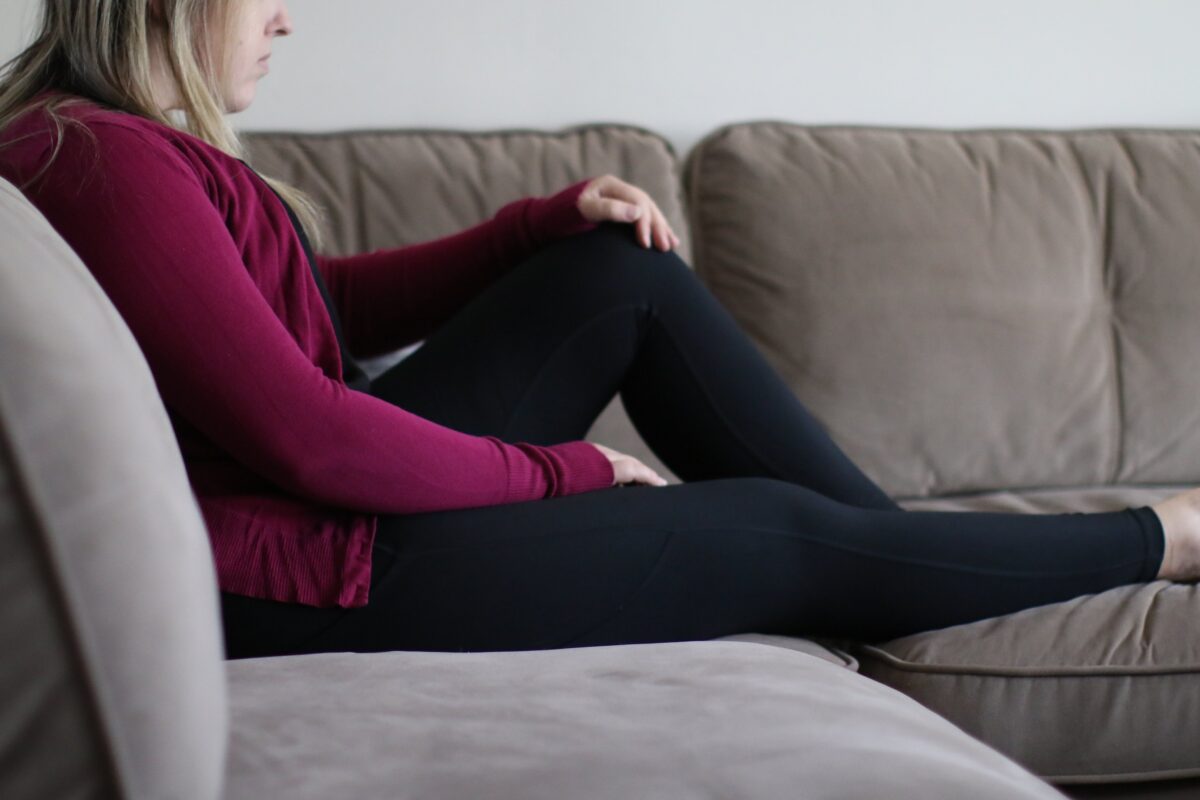 When to Use Jeans
Jeans, really, are good for an everyday kind of look. You may opt to go for your denim pants at certain times. These include when you're going out for casual events or to run errands that will require you to look more conservative and socially acceptable than when you're wearing leggings.
Jeans are also good to wear for work. You can upstyle them with professional blouses and structured blazers that will make you look neater and more sophisticated. Some women wear them with crisp white button-downs, neutral-colored heels, and a classic handbag to look even more dressed up.
As versatile as leggings are, jeans can also be paired with various pieces and layered with outerwear during winter. Other situations that might have jeans useful are:
Casual parties or events
Traveling (You can make the most of reversible jeans with this!)
Running errands
Heading to work
Going to the cinema
Shopping
Visiting friends or family
Which Is Better: Jeans or Leggings?
Judging by my discussion in this article, leggings and jeans have their various pros and cons. These all depend on your outfit needs. That said, neither is better than the other in general.
However, in terms of comfort, leggings are more superior. They are specifically made as athletic wear with fabrics that are performance-ready, stretchable, and won't restrict blood flow. Some of these also have moisture-wicking technology features that avoid unnecessary sweat marks when worn.
In terms of social acceptability and freedom to wear in more situations other than going to the gym or doing yoga, jeans can be the better option. They are made of thicker and sturdier fabric. This provides additional warmth during the colder seasons. They are less revealing and still flattering to the body.
Frequently Asked Questions
Which Is Better for a Pear-Shaped Body Between Leggings and Jeans?
If you have a pear-shaped body, consider going for jeans instead of leggings. Normally, leggings are too tight compared to jeans and tend to cling around the thigh and hip for a pear-shaped body.
Can You Wear Leggings Under Ripped Jeans?
Normally, you should wear tights under ripped jeans as they are light compared to leggings and won't make you feel uncomfortable, especially during summer.
However, you can wear leggings under ripped jeans during winter and autumn when the weather is too cold.
Do Leggings Cause More Electric Clinging Than Jeans?
Generally, leggings are known for electrically clinging to other clothes more than jeans due to the nylon and polyester fabrics.
Typically, jeans are made of denim which is primarily made of cotton. This makes jeans less electrically clinging.
CLASSY Leggings Outfits that look Chic and Sophisticated
Conclusion
The most important thing to take note of is that each of these pieces is better for a certain need, place, or event. That's also mostly why you need to take the dress code and your outfit needs into consideration. Then, you may simply proceed to weigh the pros and cons of leggings and jeans as mentioned in this article so you choose which one works better for your outfit.