As an Amazon Associate we earn from qualifying purchases.
Whether you love leggings or not, it is undoubtedly clear that I need a few pairs. It doesn't matter if I'm going for a jog, hitting a yoga class, or just walking my dog outside. There are some deal breakers when it comes to wearing some of these leggings, though.
One of the most common ones that many women complain about is having to pull up their leggings constantly. They keep rolling down their waist or hips.
How to Keep Leggings From Rolling Down
If your leggings are starting to irritate you because they keep rolling down, the first thing to check for is that the leggings properly fit your waist and are not too loose or too tight.
You can also try looking for high-waisted leggings that keep the waistband sit on your waist or hips. Opt for leggings with wider waistbands and top seams as well to keep them from rolling down.
To give you more ideas on keeping your leggings from falling down, here are some tips. These might help if you have leggings which roll down all the time: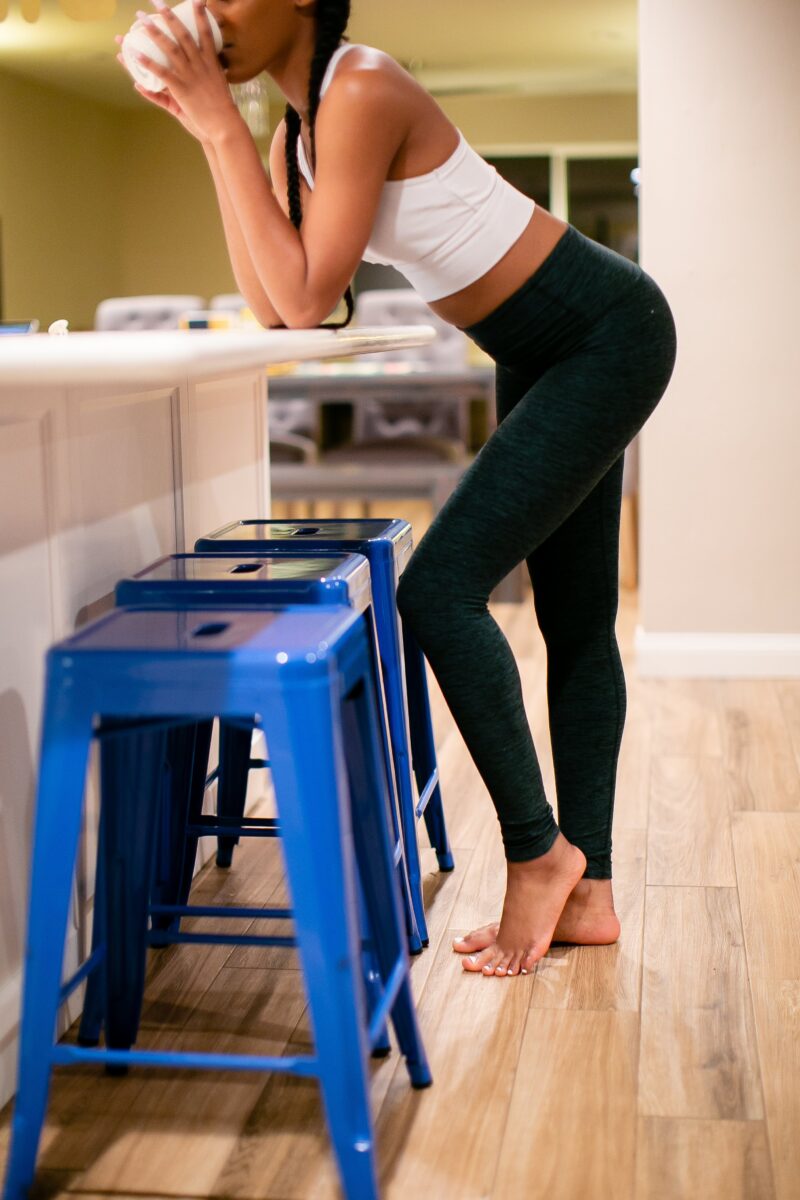 Go high-rise
Avoid pure cotton leggings
Make sure your leggings are your size
Look for leggings with wide waistbands
Pick leggings made out of good fabrics
Go for the leggings with top seam
Go High-Rise
The best solution is to go high-rise. Choose the leggings that go high up your waist. These could serve as tummy or muffin top control. In addition, this is also going to help you avoid the leggings slipping down.
Avoid Pure Cotton Leggings
As mentioned earlier, cotton as a fabric usually tends to get worn out too easily which makes the leggings loose. Therefore, it is highly recommended you go with leggings made of a blend of cotton and synthetic materials.
Make Sure Your Leggings Are Your Size
If your leggings keep on rolling down, it's usually just a matter of them not being your size or fitting you perfectly. That said, try to size down and see if it fits you better.
If not, it may be because of the different proportions of your body as mentioned before. If you want to take a further step, you can try to have your leggings altered or customized to you.
Look For Leggings With Wide Waistbands
Wide waistbands give you more support and coverage. You have the option of tucking it down or rolling it up if you want to. These should help prevent your leggings from rolling down.
Pick Leggings Made of Good Fabrics
In order to keep your leggings from falling down, it must fit snugly and mold to the shape of your body (without feeling too tight and constricted, of course). One of the ways to do so is to find leggings made of compression fabrics that are known for durability and ultra comfort.
Besides that, this fabric will not stretch out quickly which will make sure it stays onto your skin. As a bonus, it also helps in blood circulation and muscle fatigue reduction.
Go For the Leggings With Top Seam
Just like what a waistband does to your leggings or how a belt helps your pants to stay fit, those with top seams ensure your leggings fit on your waist. This could function as a little detail on your leggings that could work best in keeping your leggings from rolling down.
Tips to Keep Leggings From Rolling Down
| Tips | What to do |
| --- | --- |
| Tip 1 | Choose high-waisted ones |
| Tip 2 | Avoid pure cotton fabric |
| Tip 3 | Go for the right size |
| Tip 4 | Opt for leggings with wide waistbands |
| Tip 5 | Choose the right fabric |
| Tip 6 | Opt for leggings with top seams |
Why Do My Pants Keep Rolling Down?
Leggings usually roll down because of four main factors. These include your changing body shape and different body proportions, stretched out fabric, improper laundry or maintenance, and low quality fabric.
In order to prevent them from slipping down again, you need to understand what the following factors that could be causing it: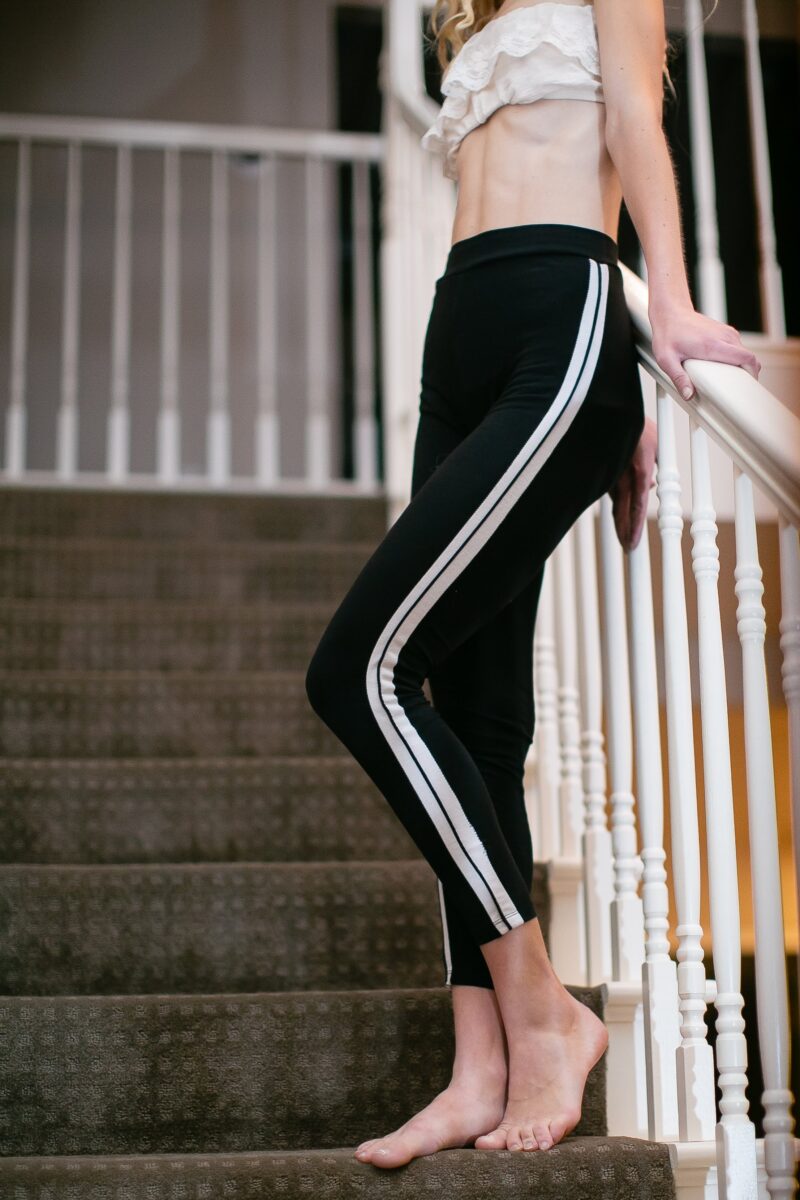 Changing Body Shape and Proportion
Perhaps, you recently tried a new diet that caused your waistline to decrease in size. Or, maybe you have a more disproportionate body shape where your leggings is too tight on your thighs but is too loose on your waist.
You may also have a bigger stomach which means your leggings don't fit in that area. These are normal reasons why you're struggling with leggings that keep falling down.
In some instances, if your leggings roll down, it means that your leggings are a bit loose on your hips or waists, especially if you have an apple-shaped body. Generally, this factor depends on your body shape.
Additionally, if you have a big stomach, you can keep your pants up by going for leggings that are high-waisted. This allows for control and compression for your belly fat.
Stretched Out Fabric
You know that pair of leggings you just can't help but wear since it's your favorite? Now, you can't wear now because it always seems to roll down. Your leggings falling down could mean it could have already been too stretched out as you wore it too many times before.
Leggings that are made of cotton are also said to have more tendency of being stretched out quickly.
Worn Out After Washes
Your leggings could also be rolling down because it has become worn out from multiple washings. This is why it's always important to read and apply the tips noted on your leggings. You want to properly wash it.
Ill-Fitting and Low-Quality Leggings
There are times when your leggings are just gifted to you and so they don't necessarily fit you perfectly. Or, perhaps, you bought one without thoroughly checking its quality and features. These are just another causes of leggings that fall down.
To avoid this, invest in leggings that are made with high-quality fabrics that don't get stretched out easily. As much as possible, make sure they're your size.
10 Things to Check Before Buying Leggings/ What no one told you about PERFECT LEGGINGS
Frequently Asked Questions
Can Putting Things in the Pocket Make the Leggings Roll Down?
Putting things such as phones or keys in your pockets can make the leggings roll down.
In most cases, this happens when the items are too heavy for the waistband to hold their weight, when you move too fast with the items in the pockets or when the waistband has degraded.
Do Low-Waist Leggings Fall Down More Than High-Rise Leggings?
Low-waist leggings tend to fall more than their high-rise counterparts. In most cases, this is because high-rise leggings come with thicker, midriff-cinching waistbands.
Unlike the waistbands in low-waist leggings, these waistbands are designed to highlight your shape and give you a streamlined shape. This makes them more stretchy and gripping than their low-waist counterparts.
Can a Belt Prevent Leggings From Falling Down?
Yes, a belt can help prevent the leggings from falling down, just as it does for the pants. If you have high-waist leggings, you can tie the belt around the center of the waistband and fold it over.
However, a belt works best when the leggings come with belt loops, like most denim-looking styles. Wearing a skinny belt with denim-looking leggings can also make you look stylish.
Conclusion
Make sure to invest in leggings that are of a perfect fit and high quality to avoid struggling with this issue. Still, if your leggings are annoying you as it keeps falling down from your waist and distracting you from your workout or yoga class, try implementing these simple hacks and see what works best.