As an Amazon Associate we earn from qualifying purchases.
Nothing is worse than your leggings ripping or becoming see-through while squatting. Fortunately, squat proof leggings don't stretch to sheerness. To boost your confidence and give you cover, I've compiled the best squat proof leggings that can pass your bend or squat tests.
Best Squat Proof Leggings
Thick and opaque leggings allow you to move to your heart's content without worrying about transparency. These are some of the best squat proof leggings that won't slide or tear, no matter how intense you move.
Brand
High Waisted Pattern Full-length Yoga Pants
High Waist Pocket Tummy Control Leggings
High Waist 4 Way Stretch Yoga Pants
Product
Material
75% Polyester, 25% Spandex
4 Way Stretch & Non See-through Fabric
Features
Moisture Wicking & Comfort
Brand
High Waisted Pattern Full-length Yoga Pants
Product
Material
75% Polyester, 25% Spandex
Brand
High Waist Pocket Tummy Control Leggings
Product
Material
4 Way Stretch & Non See-through Fabric
Features
Moisture Wicking & Comfort
Brand
High Waist 4 Way Stretch Yoga Pants
Product
Colorfulkoala Women's Pattern Leggings
If you're looking for a way to remain stylish without worrying about your clothes tearing while working or exercising, then the Colorfulkoala Women's Pattern Leggings is perfect for you. Providing superior softness and support, these leggings let you feel and look best at any moment. 
Designed to flatter the curves and enhance your figure, these leggings contain high-waist compression that lets you move without the fabric pinching, rolling, or bunching. At the back, the waistband fits slightly higher, which gives the leggings more holding power when you squat or bend.   
Combining polyester and spandex, the leggings remain thick yet stretchable enough to hide underwear, tattoos, sweat, and cellulite. Since the fabric uses a four-way stretch, the leggings avoid tearing up quickly regardless of how many times you wash and wear them.  
The brand offers true to size measurements, so that you can choose your usual size. With a 28-inch inseam, these leggings ensure a full-length cut for ladies towering at 5.5 feet and above. 
Hence, these squat proof leggings may look a bit long for shorter women. However, you can still hem these leggings to obtain the appropriate length. 
On top of everything, these leggings come in a variety of stunning and trendy patterns such as camo, palm leaves, leopard, and flowers. With more than 20 designs available, you can wear a different pair for three weeks to match the intensity of your squats.  
Pros
Soft, yet compressive fabric. 
Multiple patterns and color options for added opacity. 
Cons
Might be too long for some people.
Fengbay High Waist Yoga Leggings
Combining fashion, function, and performance, the Fengbay High Waist Yoga Leggings use low-friction features for maximum comfort and wearability. Holding everything in without being too tight, the leggings provide a long-lasting performance without becoming sheer.
The leggings use a polyester blend, which is thick enough to prevent transparency, yet not too dense for you to feel hot. In fact, the fabric lets sweat and moisture evaporate so that cool air can take over. 
Like the first leggings, this pair also incorporates a four-way stretch to remove unwanted lines and fabric bunching as you squat or bend. The stretch enables the leggings to hug your hips, waist, thighs, and legs, streamlining the silhouette to make you look good. 
If you include squats in your daily workout routine, the sewing technology's compression improves blood flow to alleviate muscle fatigue. As a result, you receive optimum comfort, contouring, and protection.  
A high-rise waistband controls the stomach and helps these squat proof leggings stay in place. Even as you squat, the elastic waistband won't dig on your skin or leave belly marks. Meanwhile, interlocking seams eliminate chafing and reduce irritation. 
What's more, there's a hidden waistband pocket and outside pocket for you to stash small valuables. To broaden your options, these squat proof leggings come in various colors, as well in Capri and full-length cuts. 
Pros 
Stretchy construction for greater freedom of movement and comfortable fit. 
Built-in sweat-wicking technology to keep you dry. 
Cons
IUGA High Waist Workout Leggings 
As one of the world's leading activewear brands the IUGA High Waist Workout Leggings, name alone gives credibility that your leggings contain the necessary features to tolerate squats. 
Letting function meet fashion, the spandex-polyester blend envelopes your lower body with comfort. Since it features a high-rise design, the fabric elevates compression to support your stomach without making you feel too sweaty. 
Ever feel like your old leggings are pulling on certain parts and not in all directions? With the four-way stretch, you can attain unrestricted movement, as well as durability. 
The ultra-stretch fit also conforms with your body and poses. Even with a skin-tight fit, these squat proof leggings avoid flashing undergarments or unwanted lines. 
Aside from the squat-approved fabric, these leggings contain a wide, comfortable waistband that supports your stomach in each squat. Meanwhile, a gusset crotch strengthens the inseams, so that the leggings have more room to stretch. 
Similar to the Fengbay leggings, this pair has interlocking seams that minimize chafing and rubbing. It also adds easily-accessible pockets that won't affect your movements. 
With sizes available from extra small to triple extra-large, you can find the perfect fit regardless of your body shape. Finally, you can get these leggings in different lengths and colors. 
Pros 
High-rise waistband for comfort and stomach control.
Four-way stretch and gusset crotch for better legging shape. 
Cons
IUGA High Waist Yoga Pants with Pockets, Leggings...
Developed by Yogis, for yogis: A wide high-Rise waistband with tummy control and a hidden Pocket,...
Ultra-Stretch Fit: IUGA workout leggings for women are enough thickness & non-see-through that slims...
All IUGA yoga pants with pockets for women are sold with a 30-day, Full-Money-Back Warranty and can...
Factors to Consider When Buying Squat Proof Leggings 
The fabric, size, and style all contribute to making a pair of leggings squat proof. Leggings have a variety of qualities, yet there are some aspects that you need to look out for to ensure you're getting the most foolproof leggings.
Comparing Squat Proof Leggings
| Leggings | Leg Style | Pocket Style | Inseam (Inches) |
| --- | --- | --- | --- |
| Colorfulkoala | Skinny | Hidden | 28 |
| Fengbay | Cropped | Hidden and side | 29.7 |
| IUGA | Skinny | Hidden and side | 8 |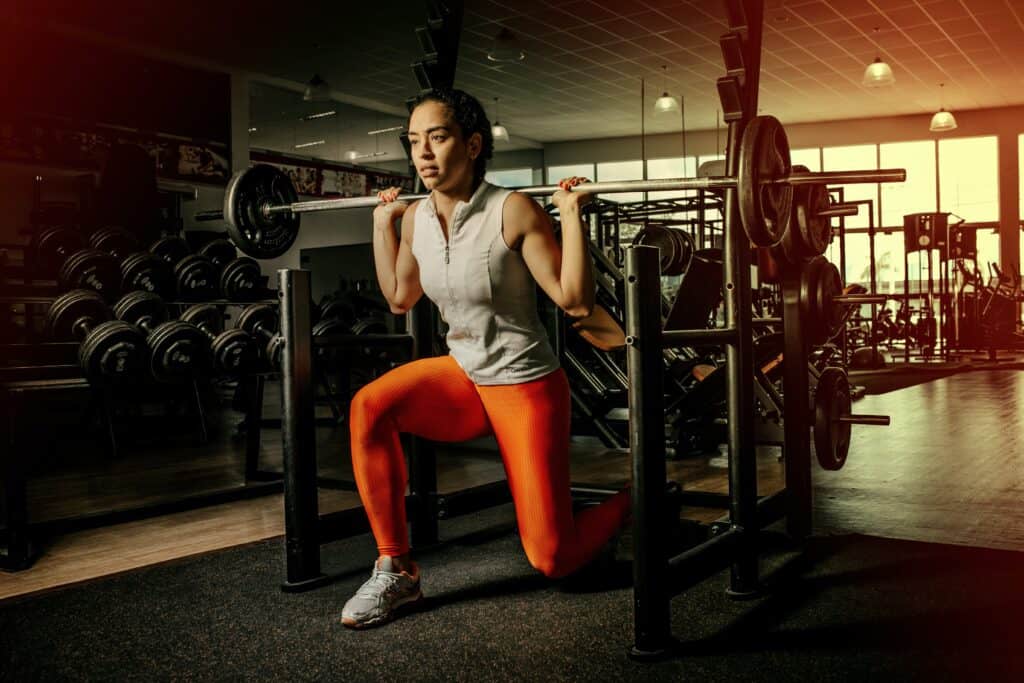 Fabric
When choosing the materials, find the balance between soft, sleek-looking fabric, yet thick enough to cover your underwear and skin. Additionally, the leggings must be stretchable to handle and support your movements. 
Take note of these fabrics when looking for squat proof leggings.
Spandex: Ideal for squats because of its elasticity and the ability to remain snug while allowing you to move freely. Regardless of how low you squat, spandex leggings can stretch without tearing up easily. 
Polyester: Polyester isn't as flexible as spandex, yet it contains more robust threads. Leggings with polyester blend save you the trouble of worrying whether sweat or moisture pools up on your pressure points. 
Nylon: Less breathable than the first two materials, yet quick-drying and highly elastic. Blending nylon with other fabrics results in a balance between functionality and comfort.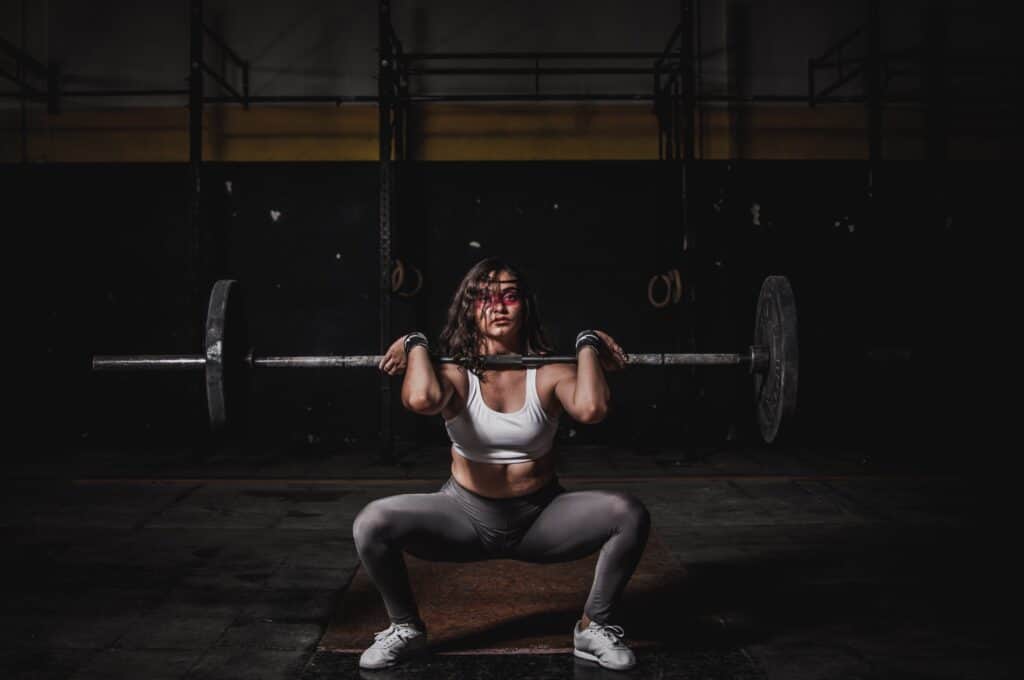 Stretch and Contour 
While fabric thickness is a contributing factor, the material's stretchiness is equally essential. Squat proof leggings often have a four-way stretch to boost flexibility as the fabric molds the body. 
All of the leggings here boast excellent elasticity, letting them stretch evenly in all directions. Likewise, the leggings keep the threads together to ensure they won't break or become transparent.
Moisture-Wicking
Moisture-wicking properties also make squat proof leggings. As chores, traveling, and exercises cause you to sweat a lot, you need leggings that can reduce dampness to make you feel comfortable and fresh.
Likewise, this can minimize sweat marks on your flawless outfits.
Size 
Picking the right size also plays a role in maintaining opacity and durability. If you insist on using the wrong size, the leggings won't function properly, and consequently, wear out quickly. 
When you squat or bend, your hips will stretch the leggings the most. Thus, you must check your hip measurement's corresponding size on the brand's size chart.
In this way, you can guarantee adequate stretch despite how low you squat, preventing you from flashing your buttocks.
Style
While the fabric and size are two essential factors in creating squat proof leggings, the style or design also contributes to ensuring your leggings won't fail your workout routines.  
The most common is plain black leggings as they are easiest to pair with, and dark-hued clothing hide any colored underwear. There's also color-blocking leggings that use contrasting blocks or panels of solid colors. 
Lastly, patterned or printed leggings range from crazy colorful prints, shiny metallic lines, to graphic patterns — such designs help improve the opacity of squat proof leggings.
BEST WORKOUT LEGGINGS: MY TOP 5!
Frequently Asked Questions
Are Squat Proof Leggings Heavier Than Other Leggings?
Squat-proof leggings that provide opaque coverage even when you bend or squat tend to be heavier than other leggings. Since the fabric is made of molecules bonded together, thicker fabrics have a higher number of molecules per area.
Even when you bend or squat and make the molecules spread apart, the number of molecules per area is still high enough to make the fabric remain opaque.
Can Squat Proof Leggings Show Pantie Lines?
Most squat-proof leggings can hide the pantie lines. However, this depends on how tight the leggings are and the type of pantie you are wearing.
For instance, the pantie lines might still show if the leggings are too tight on your butt and the pantie has more defined lines.
Can I Wear Squat Proof Leggings in Summer?
Yes, you can wear squat-proof leggings in summer. Although the fabric of squat-proof leggings tends to be heavier, most of these leggings are made of moisture-wicking materials such as polyester.
This allws them pass sweat from your body to the outside for evaporation, allowing your body to cool down during the hot summer weather.
Conclusion
The best squat proof leggings combine quality fabric, the right fit, and excellent. With the perfect pair, you can maximize your movements and say goodbye to embarrassing wardrobe malfunctions.