As an Amazon Associate we earn from qualifying purchases.
Hiding Cellulite. This topic first became important to me after I turned 30. It became even more important after I had my first child. Now, its top of mind in all the clothes I pick.
If you need some help finding the best yoga pants to hide cellulite, consider me a fellow traveler. Here are my findings.
My Top Yoga Pants to Hide Cellulite Available
After hours of yoga sessions and doing chores, I found the MudGear Women's Flex Fit Capri Leggings as the best yoga pants to hide my cellulite. Its slimming waistband, non-see-through fabric, and four-way stretch construction provide tummy control to keep lumpy, dimpled flesh at bay.
Brand
MudGear Compression High Waist Leggings
Danskin Women's Sleek-Fit Yoga Pants
IUGA High-Waist Yoga Pants
Product
Material
50% Polyester, 25% Cotton, 25% Rayon
55% Cotton, 37% Polyester, 8% Spandex
77% Polyester, 23% Spandex
Features
Slimming tummy control waistband offers compression, comfort, and support.
Boot-cut yoga pant featuring wide waistband
Ultra-Stretch Fit that Slims and Conforms with each pose
Brand
MudGear Compression High Waist Leggings
Product
Material
50% Polyester, 25% Cotton, 25% Rayon
Features
Slimming tummy control waistband offers compression, comfort, and support.
Brand
Danskin Women's Sleek-Fit Yoga Pants
Product
Material
55% Cotton, 37% Polyester, 8% Spandex
Features
Boot-cut yoga pant featuring wide waistband
Brand
IUGA High-Waist Yoga Pants
Product
Material
77% Polyester, 23% Spandex
Features
Ultra-Stretch Fit that Slims and Conforms with each pose
Sure, you can actually wear any leggings you like to help conceal cellulite. But let me share with you some of my favorite yoga pants that offer a bit more than just coverage.
These top-notch leggings and yoga pants come with added compression features which reduces the visibility of any lumps or bumps. Yeah, thats more like it.
Best Yoga Pants to Hide Cellulite Overall: MudGear Women's Flex Fit Capri Leggings
The MudGear Flex Fit Capri is my top pick for the best yoga pants for hiding cellulite because of its stylish look, high opacity, and good compression. 
Whether you do yoga or more intense activity, its moisture-wicking fabric will keep you cool and dry while effectively hiding cellulite.
While it isn't as stretchy compared to the other workout pants I have, its combination of rayon and cotton creates a buttery soft feel on my skin that prevents chafing. So, still plenty comfortable.
They DO have a thick waistband that reduces the bulging of fat in the belly area. Apparently this also promotes proper blood flow. Double win!
Unlike ankle-length leggings, the Capri length of these MudGear leggings are ideal for ladies with petite bodies. This feature helps elongate the legs and steer attention away from the stomach.
Aside from yoga sessions, you can use these leggings for fitness activities like Pilates and jogging because of their sturdy, breathable material. 
The side pockets can fit a mobile phone, while the back pocket comes with a zipper to keep your belongings secure during any activity. 
Pros
The compression helps improve blood flow and protect against strains as the legs stretch or bend.
The flex-fit fabric comfortably hugs your body to adapt to weight changes
Cons
It looks too short on tall women
Only available in black, although this color ensures opacity 
MudGear Flex-Fit Compression Leggings - Womens...
HIGH WAISTED WORKOUT LEGGINGS : Our slimming tummy control waistband offers compression, comfort,...
HIGH QUALITY AND DURABILITY OF COMPRESSION PANTS FOR WOMEN : Mudgear womens capris are originally...
FLEX-FIT WOMEN'S ATHLETIC PANTS FOR COMFORT AND CONTROL : Our premium workout capris with pockets...
Best Non-See-Through Yoga Pants to Hide Cellulite: Danskin Women's Sleek-Fit Yoga Pants
After passing the squat test, the Danskin Women's Sleek-Fit Yoga Pants are another great pick for the best yoga pants to hide cellulite. 
The bootleg cut is beneficial if you don't like a tight fit in the legs, yet you need compression to hug the cellulite in your stomach and thighs.
Unlike the others, this has a mid-waist band that rests at the top of the belly button to keep your cellulite tucked in. It tightens the belly, so your cellulite and muffin top won't spill out when bending or squatting.
Similar to the MudGear Yoga Pants, there's the risk of fading colors or shrinkage because of the high cotton content. You can avoid this by not using harsh detergents and hot water cycles.
The thickness of cotton transforms this pair into squat-proof workout leggings.
As a bonus, it has a gusseted crotch that provides an extra layer of cotton fabric on the crotch area to eliminate seams. In effect, there are no seams that would scratch on your thigh cellulite.
Pros
Bootcut yoga pants for a more relaxed fit
Soft material and thick waistband to shape the tummy
Cons
Best Tummy Control Yoga Pants to Hide Cellulite: IUGA High-Waist Yoga Pants
While the buildup of fat underneath the skin is normal, it can sometimes alter your body shape in an uncomfortable way. The IUGA High-Waist Yoga Pants have tummy control features that adapt to the natural curves while concealing cellulite.
It uses a four-way stretch fabric like the YAMOM Tummy Control Leggings. This advanced technology enables the material to stretch crosswise and lengthwise as you move. In effect, you gain freedom of motion without causing your tummy fats to spill out.
Despite their stretchability, the pants remain thick enough and opaque, giving you a slimmer silhouette. 
The ultra-stretch fit of these slimming leggings conforms to your curves, whether you have a small or plus-sized body.
The high waistband has impressive stomach control, especially during high-intensity movements. The thick, wide waistband does a great job of reducing cellulite, so there are no bumps or lumps in the stomach.
However, it has more prominent seams than 90 Degree By Reflex and MudGear, so the high-waist pants aren't entirely chafe-free.
Pros
Offers complete coverage of cellulite in the tummy area and thighs
It provides gentle compression and body shaping 
Cons
Sizes run big, so it's best to size down for a better fit
Prominent seams, although the seams can help sculpt the buttocks
IUGA High Waist Yoga Pants with Pockets, Leggings...
Developed by Yogis, for yogis: A wide high-Rise waistband with tummy control and a hidden Pocket,...
Ultra-Stretch Fit: IUGA workout leggings for women are enough thickness & non-see-through that slims...
All IUGA yoga pants with pockets for women are sold with a 30-day, Full-Money-Back Warranty and can...
Best High-Waist Yoga Pants to Hide Cellulite: 90 Degree By Reflex Power Leggings
Perhaps you want something that can make you look taller while tucking in cellulite. The 90 Degree By Reflex Power Leggings can do wonders for your body shape and excess fat.
Like CompressionZ, the combination of nylon and Spandex guarantees the high-waisted pants won't become transparent even when overstretched. 
Whether you're running or doing yoga, the fabric's recoverability distributes tightness against the muscles to ensure compression and hide cellulite.
While it's not as breathable as the Danskin Yoga Pants, this one has better moisture-wicking properties. 
Whether you're running errands, doing chores, or exercising, this pair can serve as workout leggings that will keep your skin dry to prevent chafing in the cellulite.
The high waist style cinches the waist to create a more slender midsection. This makes the pair the perfect butt leggings for achieving a voluminous booty without the wide waistband rolling down the body. The high-rise waistband even has a hidden pocket.
Pros
Butt-lifting yoga pants that make your bum look toned while controlling cellulite
Thick yet stretchable fabric prevents sheerness
Cons
It can feel a bit stiff at first, although washing the yoga pants a few times before using them can soften the fabric
The length is too long and may form a minor bunch around the ankles
90 Degree By Reflex High Waist Power Flex Tummy...
Power Flex Fabric. Our 28" athleisure leggings are squat proof and will keep you covered whether...
Slimming High Waistband. Our yoga leggings have a stretchy high rise elastic waistband that will...
Hidden Waistband Pocket. Our athleisure leggings have a hidden pocket in the front waistband. If...
Best Plus-Size Yoga Pants to Hide Cellulite: CompressionZ High-Waisted Pants for Yoga
Body-slimming compression doesn't necessarily come from tightness. It requires a combination of shaping fabric and a supportive band, and you can find that in the CompressionZ High-Waisted Yoga Pants.
These anti-cellulite yoga pants are available from extra small to 6X-large, making sure there are options for different body shapes. This is a good option for bottom-heavy body types, especially pear-shaped bodies.
Similar to IUGA, these high-waist leggings contain super soft yet thick, stretchable material. 
Aside from moisture-wicking properties, the breathable fabric provides the right amount of compression for cellulite in the stomach, hips, waist, or thighs.
Additionally, CompressionZ's four-way stretch equally distributes compression throughout the high-waist pants. This means there are no awkward bumps in some areas, making you look lighter by a few pounds. 
This one should give noticeable results if you think you need minimizing effects on the butt or leg area.
Although the band isn't as broad as the 90 Degree By Reflex, the waistband is very helpful in concealing bulges and enhancing the natural shape of the waist. The best part is that it stays in place. 
Pros
The legging has quality GSM, and the fabric wicks moisture to keep you dry and comfy
It doesn't become sheer even when stretched, making sure there's structured fabric to cover cellulite
Cons
The length is too long for petite bodies.
The bands at the bottom of the legs are slightly tight
CompressionZ High Waisted Women's Leggings -...
COMFORTABLE COMPRESSION LEGGINGS: CompressionZ womens tights are the perfect leggings for running,...
SUPPORTIVE RUNNING TIGHTS: Our womens compression pants are made from sweat wicking, breathable...
BODY SLIMMING COMPRESSION: Look & feel great in our yoga leggings that deliver comfortable yet firm...
Best Compressive Yoga Pants to Hide Cellulite: YAMOM High-Waist Leggings With Butt Lift and Tummy Compression
If you are looking for a pair of high-waist yoga pants that will provide full coverage and some butt-lifting effects and tummy control, the YAMOM High-Waist Leggings with ButtLift and Tummy Compression will give you that.
The non-see-through yoga pants are a must-have if you aim to hide cellulite and belly fat to the fullest. It uses ribbed fabric to conceal the appearance of cellulite under the leggings. 
Unlike the others, it has a honeycomb texture that adds thickness and opacity to the fabric. In effect, there's extra compression that hides cellulite.
The YAMOM Leggings have a wider waistband than Compression Z. This feature provides greater muscle compression from the waist down.
Furthermore, the double seams at the crotch prevent camel toe. This makes the pants squat-proof, even if there's a snug fit.
The fabric won't make you feel any restriction, even when you squat, stretch, or bend over. This is thanks to its polyester and spandex blend that creates the four-way stretch design.
Pros
High-waist yoga pants to control cellulite in the stomach
Ribbed fabric for contouring the body while making the pants tear-resistant
Cons
The honeycomb texture leaves marks on the skin once you take the pants off
Weaker butt-lifting effect compared to the others
YAMOM High Waist Butt Lifting Anti Cellulite...
🍑 [ Non-cellulite& Butt Lifting ] Workout leggings with fantastic texture design. Cute fabric,...
🍑 [ Tummy Control & High Waisted ] Our tiktok leggings are designed with high-waist, tummy...
🍑 [ Elastic and Quick-Drying Thick Fabric ] Our scrunch leggings use 4 Way Stretch & Non...
Factors to Consider in Yoga Pants to Hide Cellulite
Comfort and compression are the main things to consider in a pair of yoga pants when you have cellulite. After that, there are a lot of other details to evaluate. Use this buying guide to simplify your search for ideal leggings to hide cellulite and make an informed decision.
Comparing Yoga Pants to Hide Cellulite Features
| Leggings | Length | Pockets | Waist Style |
| --- | --- | --- | --- |
| Mudgear | Capri | Yes | High rise |
| Danskin | Ankle-length | No | Low rise |
| IUGA Yoga Pant | Ankle-length | Yes | High rise |
| 90 Degree | Ankle-length | Yes | High rise |
| CompressionZ | Ankle-length | Yes | High rise |
| Yamom | Ankle-length | Yes | High rise |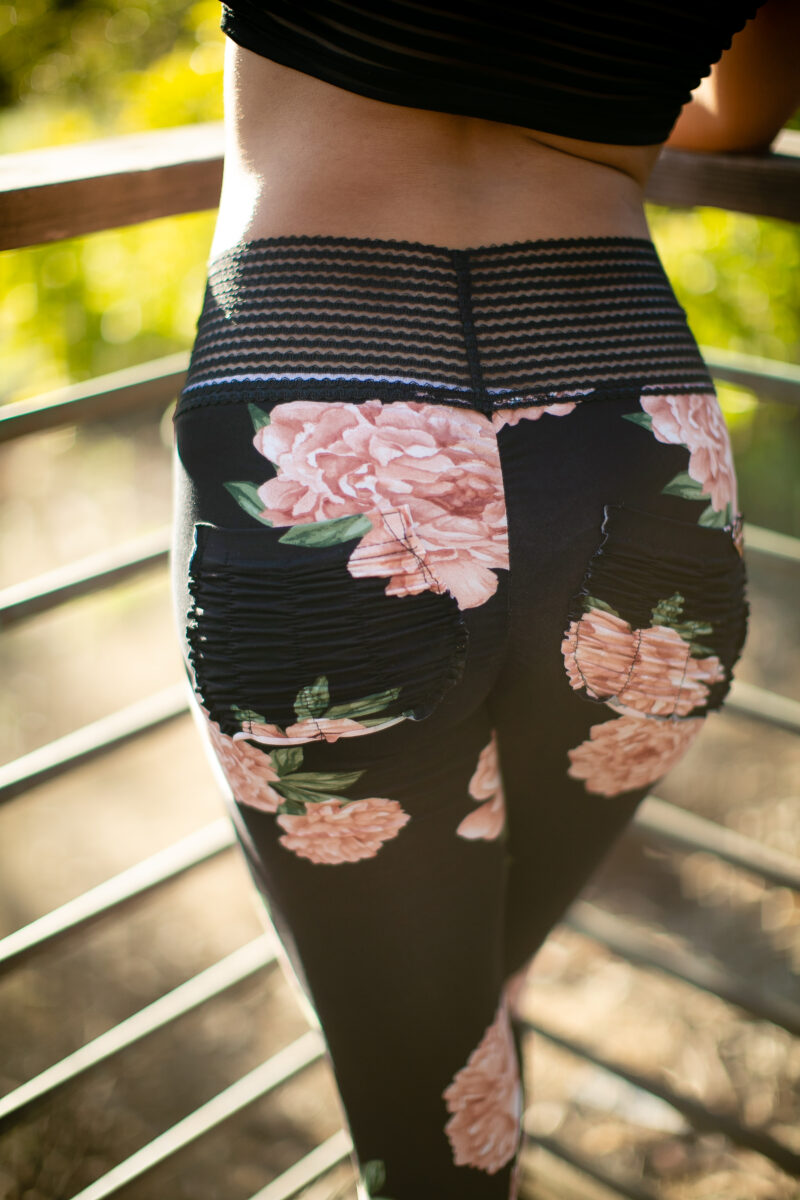 Fabric
First, the material for leggings or yoga pants should not be as shiny as what you use for workout leggings. Instead, they should be matte and comfortable. The ideal fabrics for yoga pants are synthetic ones such as neoprene, polyester, and Spandex.
Still, you may consider cotton since its molecules are way more packed than other fabrics, giving it a high opacity value. 
This is why the MudGear and Danskin leggings are perfect choices if you want complete concealment of cellulite and your underwear.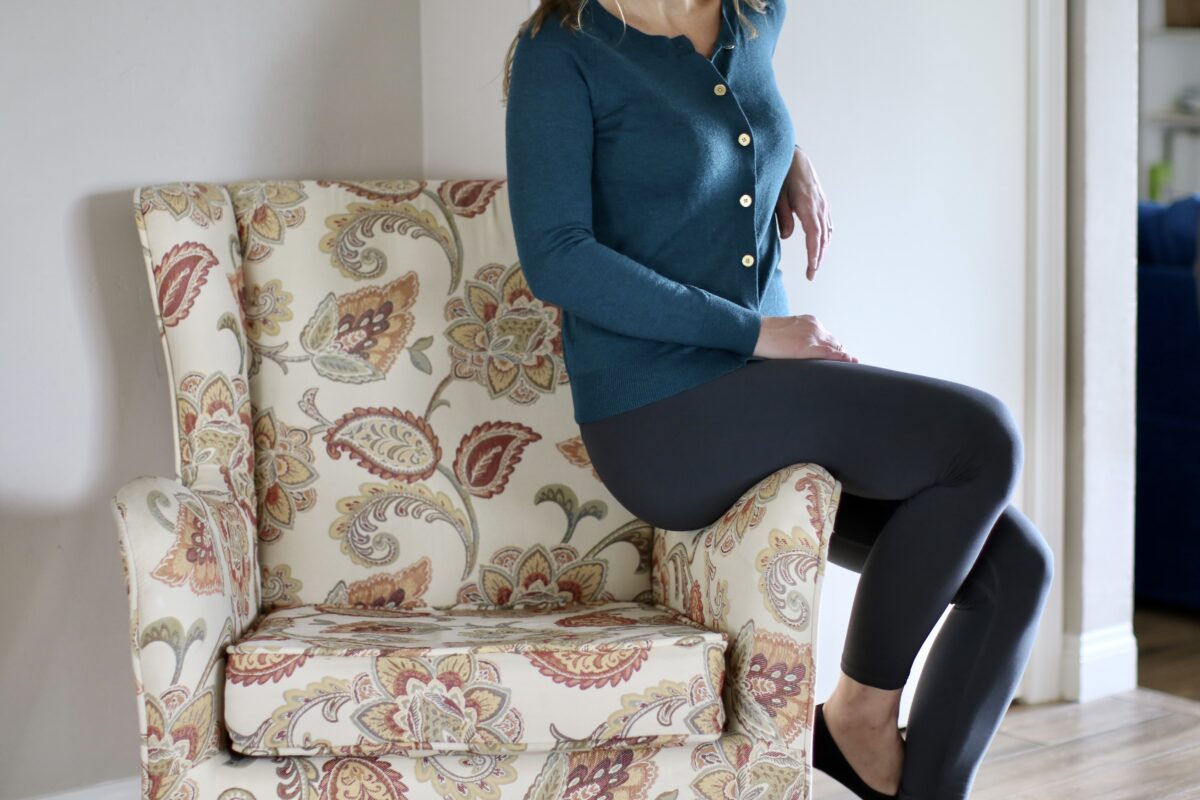 Recovery Time
Recovery time is how the fabric goes back to its original state after being stretched. Such materials should be durable, stretchy, and have a good recovery time. Additionally, these fabrics do not absorb liquid as much as other types, like cotton.
Cotton may be comfy and soft, yet it's less stretchable than the fabrics above. The recovery rate of cotton is not as impressive as well. However, some yoga pants use cotton and synthetic material to improve compression and durability.
YAMOM and IUGA contain the most polyester, allowing them to retain shape well. The high Spandex content of CompressionZ is also a good option, as this material allows the leggings to stretch according to your movements.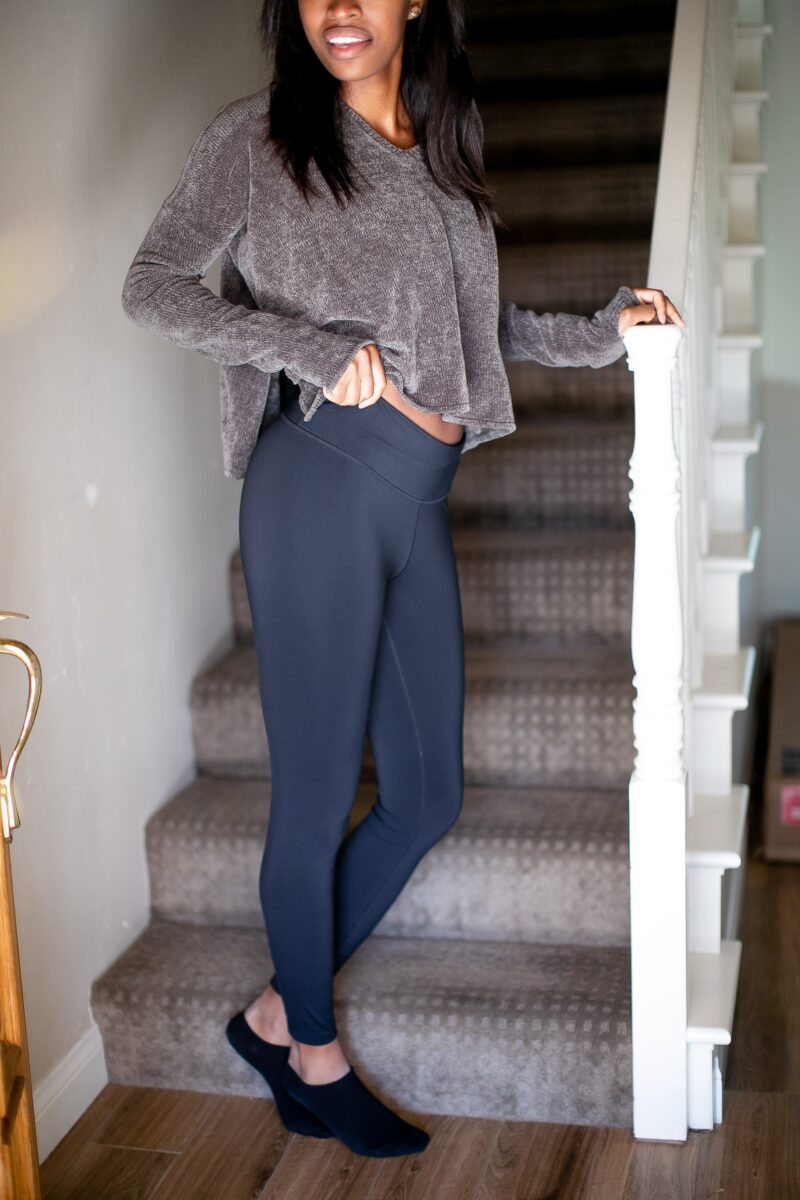 Moisture-Wicking Properties
Spandex, nylon, and neoprene are not only soft on the skin, stretchable, and breathable, they also have moisture-wicking properties. 
You remain feeling dry and cool throughout the yoga activity because these fabrics allow moisture to evaporate instead of trapping them.
90 Degree By Reflex contains the most nylon, letting the leggings resist moisture and sweat to keep your body dry and cool.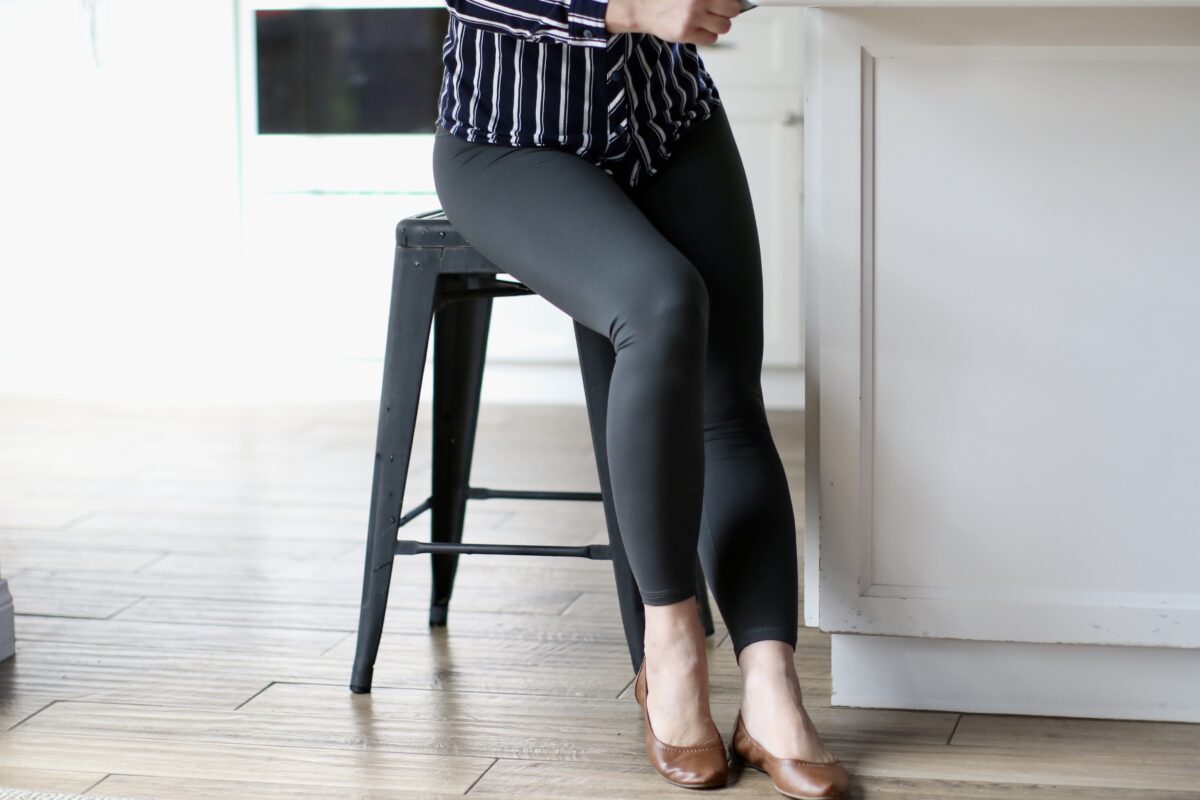 Compression
The best yoga pants must have superb compression. The pressure helps reduce cellulite's appearance and even its formation. It also promotes blood circulation. 
Although this will not provide instant results, wearing a pair of yoga pants with good compression will give visible results in the long run.
MudGear and Danskin use cotton's thickness to create compression. Meanwhile, CompressionZ and YAMOM rely on four-way stretch technology to compress the muscles. On the other hand, 90 Degree By Reflex and IUGA rely on Spandex for a firmer fit on the skin.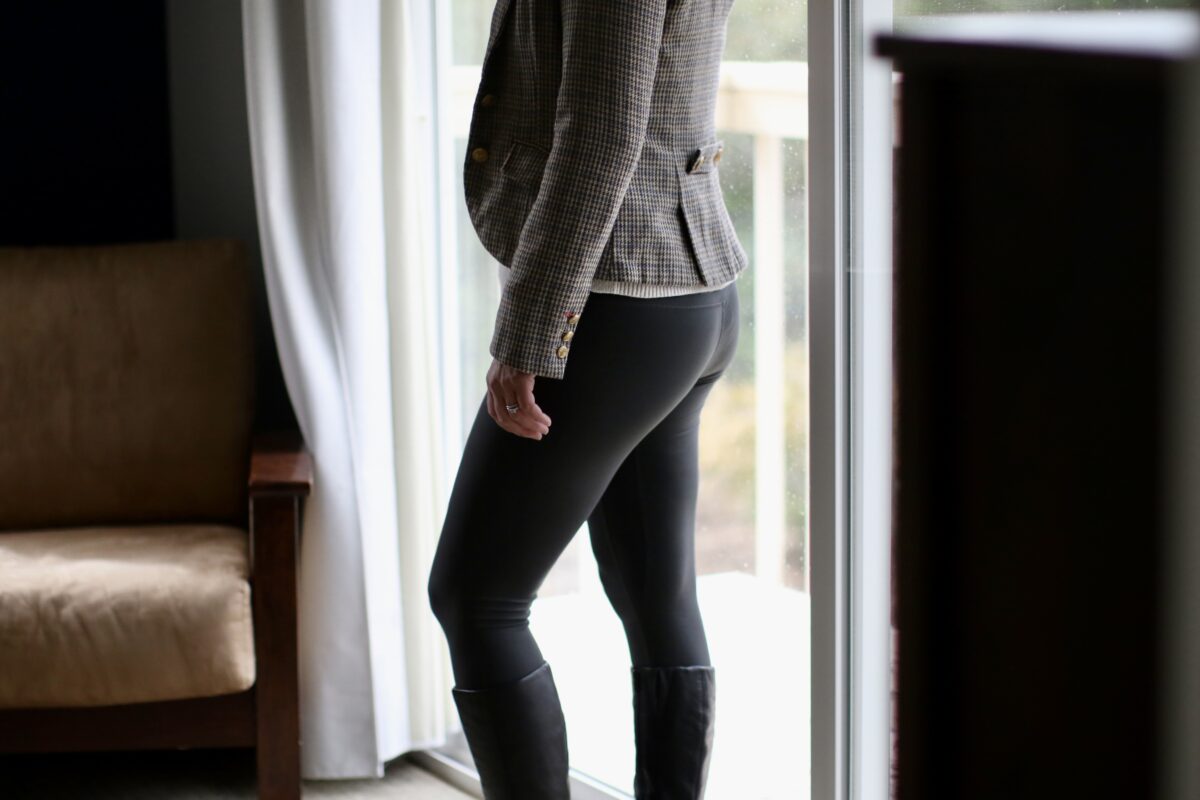 Waistband
Cellulite is also common in the pelvic region and abdomen. This is when wearing a high-waist pair is the better choice.
The waistband also provides tummy control to prevent muffin tops when bending or sitting.
I mostly included top-rated high-waist yoga pants as an instant solution to contour the waist. However, the mid-waistband of Danskin is also a good option if you feel a high waist band is too constricting for your belly.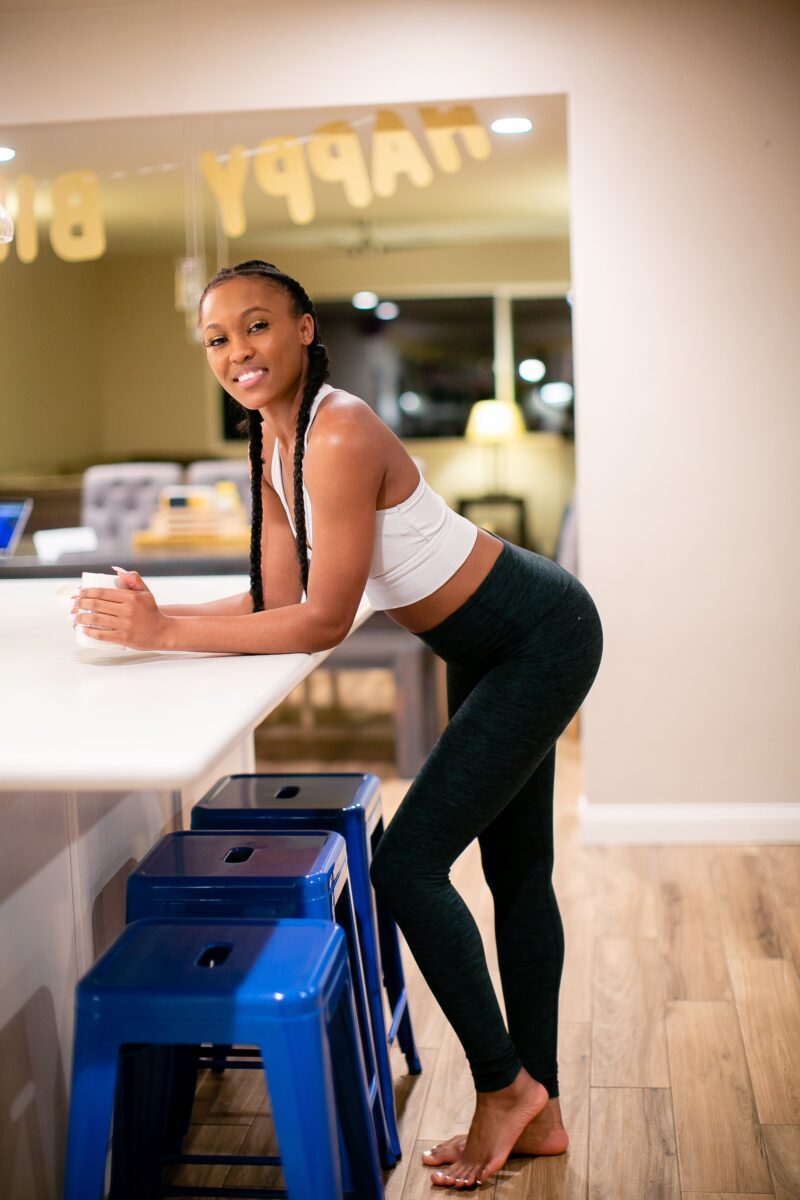 Size and Fit
Yoga requires a lot of graceful movements, stretching, and bending over. It is wisest to invest in well-fitting and comfortable yoga pants that allow you to move without discomfort or distractions, as well as hiding cellulite.
Find the correct measurement for your size by referring to the size chart provided by the brand you are eyeing. Make sure the fabric is thick yet stretchable, especially when choosing a one-size-fits-all style.
If you choose a too-tight fit, you risk stretching the workout pants too much when you squat or bend. Meanwhile, yoga pants that are too loose won't provide the compression you need for shaping the body.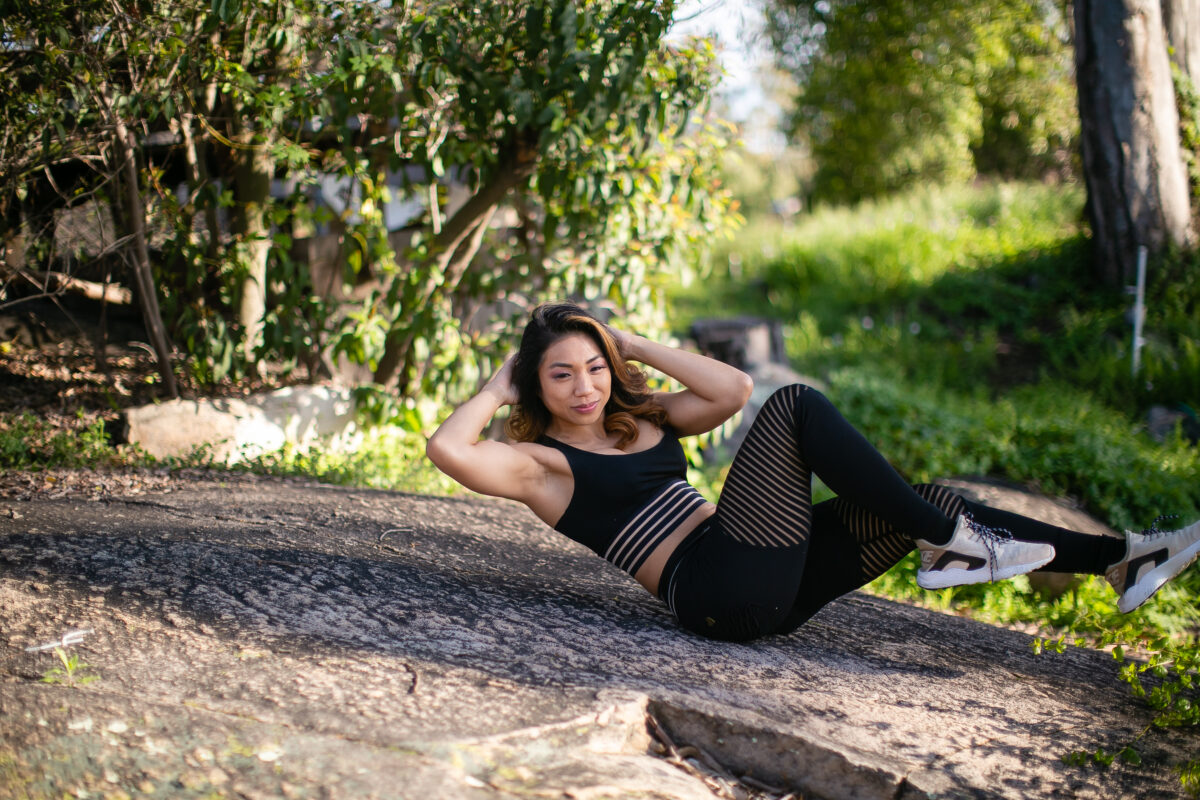 Length
The length of yoga pants is a matter of personal preference. Choose the length that you are comfortable wearing. Sometimes though, consider the climate when choosing the length of your yoga leggings.  
You may want shorter versions like knee-length or the MudGear Capri High-Waist Pants on summer days.
If you are uncomfortable with the skin showing, then it's best to go for one that covers the waist down to the ankles. The Danskin, 90 Degree Reflex, CompressionZ, and YAMOM leggings are great examples.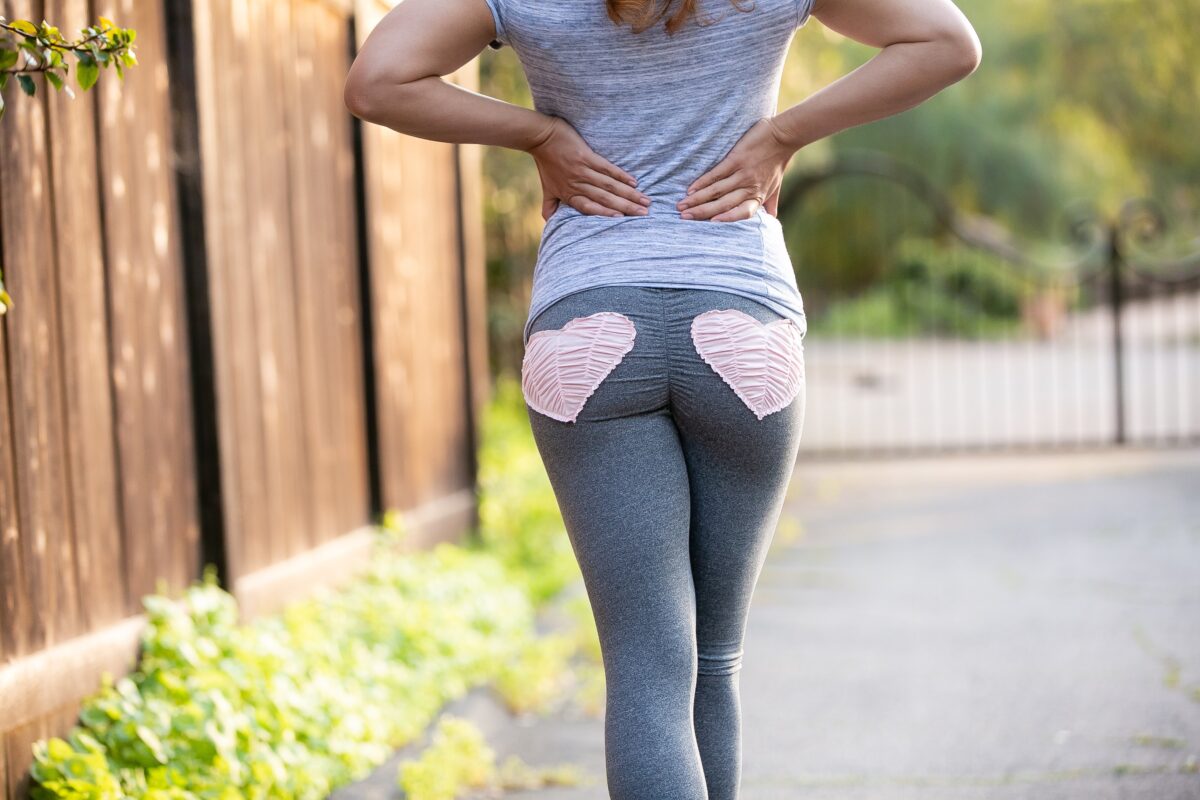 Design and Colors
The overall look of the yoga pants is another matter of personal choice. 
Perhaps wearing a nice, printed pair motivates you to show up in your yoga classes. Maybe you want to look stylish wearing yoga pants in public, then there is no reason to limit yourself from getting what you like.
Light-colored fabrics have a higher tendency to become see-through when stretched. The same effect is also likely to appear sooner after several washing cycles. The workout pants I selected come in various dark and bold colors, as well as aesthetic patterns.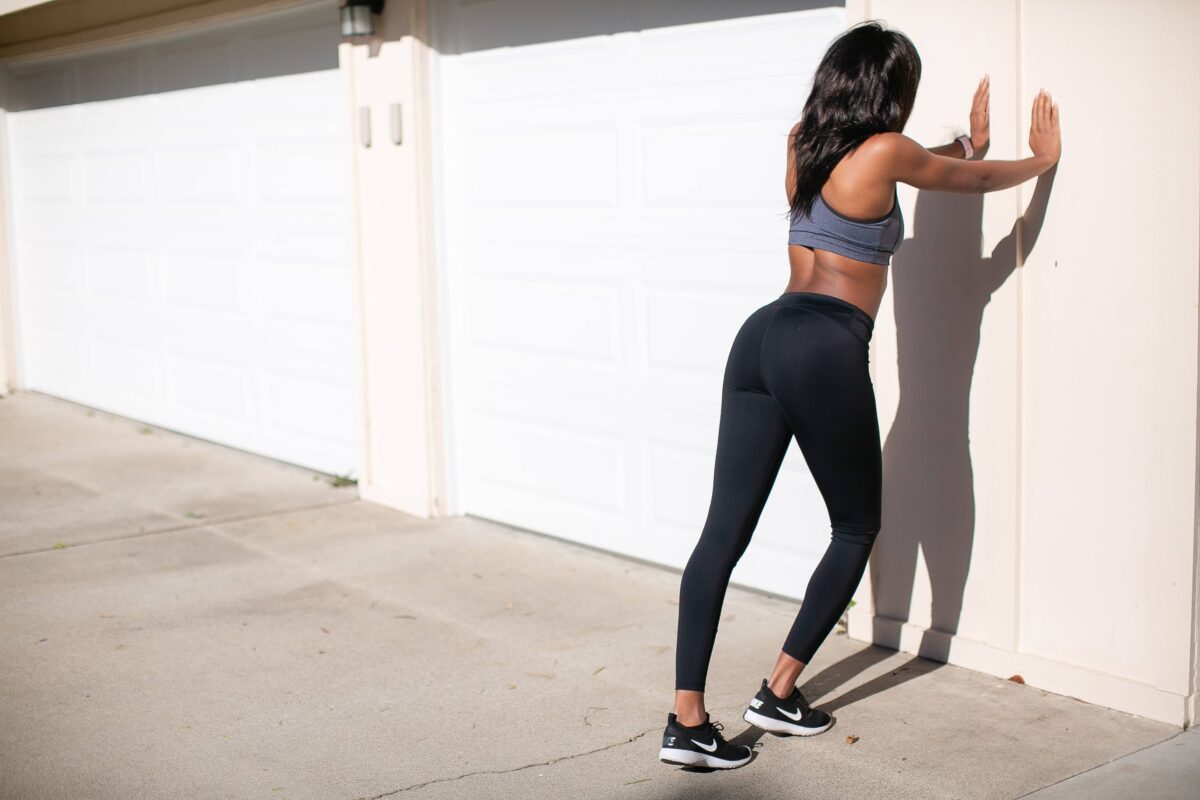 Frequently Asked Questions
What Is the Difference Between Anti-Cellulite Leggings and Other Leggings?
Anti-cellulite leggings often come with compression and thicker material to conceal cellulite, whereas regular leggings have a thinner fabric and structure. They also aim to give a slimmer shape, while regular leggings usually focus on covering the legs.
How Can I Hide Cellulite Under Clothes?
Aside from wearing anti-cellulite yoga pants, you can conceal cellulite by using tight-fitting clothes that help compress the skin and muscles. For instance, figure-hugging bodycon dresses or dark-colored jeans can also have a similar effect.
Are Compression Leggings Painful to Wear?
Compression leggings aren't supposed to be painful to wear. On the contrary, high-waisted leggings should alleviate muscle pain by improving blood circulation.
3 New Ways to Style Yoga Pants | ELLE
Conclusion
While high-waist leggings won't magically eliminate lumps and bumps, you can feel more confident about your body when you wear anti-cellulite leggings from this list. From here on, you won't have to be conscious of cellulite when running errands or spending hours exercising.