As an Amazon Associate we earn from qualifying purchases.
Having cellulite on the legs is embarrassing for many women. If you are also affected by its appearance, then you are on the right page. We compiled the best yoga pants to hide cellulite below and even included a buying guide to simplify the search.
The Top Yoga Pants to Hide Cellulite Available
Truth is you can wear any leggings to keep that cellulite off of sight. However, our top choices of yoga pants below work more than just for cover. These yoga pants have compression wonders to help reduce the appearance of cellulite – literally over time.
Brand
MudGear Compression High Waist Leggings
Colombian Workout Butt Shape Leggings
CompressionZ Compression Pants
Product
Material
50% Polyester, 25% Cotton, 25% Rayon
Best quality of synthetic stretchable fabric.
Features
Slimming tummy control waistband offers compression, comfort, and support.
Molds body shape enhancing body curves, covers any type of imperfection like cellulite.
Perfect athletic pants for lifting weights, running, yoga, general exercise & travel.
Brand
MudGear Compression High Waist Leggings
Product
Material
50% Polyester, 25% Cotton, 25% Rayon
Features
Slimming tummy control waistband offers compression, comfort, and support.
Brand
Colombian Workout Butt Shape Leggings
Product
Material
Best quality of synthetic stretchable fabric.
Features
Molds body shape enhancing body curves, covers any type of imperfection like cellulite.
Brand
CompressionZ Compression Pants
Product
Features
Perfect athletic pants for lifting weights, running, yoga, general exercise & travel.
MudGear Women's Flex Fit Capri
The MudGear Flex Fit Capri is our pick for its stylish, sporty look, elasticity, and good compression. Whether you do yoga or more intense activity, its moisture-wicking fabric will keep you cool and dry while effectively hiding cellulite.
The Mudgear yoga pants hide the bumpy texture of your cellulite and compress the leg muscles evenly. The compression helps improve blood flow and protect against strains as the legs stretch or bend.
If you are conscious about tummy fat or are waist-training at the same time, then this is the right choice for its wide waistband. The waistband does not slip or roll with every bending over, which is common even in expensive brands.
While the Mudgear yoga pants are only available in one design and color, we appreciate its flexibility in terms of sizes. With the correct size, you don't need to deal with a pair of leggings that become see-through when stretched to a great extent.
You can use the leggings for other fitness activities like pilates and jogging because of its sturdy, breathable material. The side and back pockets are also a huge contribution to its design. The side pockets can fit a mobile phone, while the back pocket comes with zipper closure to keep your belongings secure during any activity.
Pros
Made of sturdy polyester, rayon, and Spandex
Good compression and stretchability
Breathable with moisture-wicking attributes
Comes with side and back pockets
Wide waistband that does not slip
Available in XS to XL sizes
Cons
Available in one color and design only
MudGear Women's Flex-Fit Capri - Compression...
FLEX-FIT FABRIC FOR COMFORT AND CONTROL: You will look and feel awesome in our premium four-way...
SECURE BACK-ZIPPER & SIDE-MESH POCKETS: Stylish mesh side pockets are perfect for holding your phone...
HIGHWAISTED AND DRAWSTRING CLOSURE - Our slimming tummy control waistband offers compression,...
J-Cross High-Waist Leggings with Compression
This version of the high-waist J-Cross Leggings is our choice for its design, which features microfiber technology. While it comes in one size, it fits large frames without the fabric becoming see-through when stretched.
This J-Cross creation also helps compress cellulite. They're not too tight nor too loose around the legs, which is also a nice thing if you are going to wear them for long hours. In addition, the compression works great in giving protection against muscle strain.
These yoga pants use microfiber, a fabric made of very fine synthetic threads. Despite the thin appearance, it is squat-proof and sturdy. Bigger women will appreciate not experiencing the see-through effect when they wear it.
As much as possible, you want full coverage so you can move more confidently and never worry about the tummy bumps showing. This one is a perfect choice for that, too, with its no-slip, double-layer waistband.
Aside from these things, you will love how this pair of leggings enhances the butt area. With the wide waistband and the butt-lift design working together to accentuate your curves, you will be more confident as you go around your exercises.
Pros
Available in different patterns and colors
The high waistband features tummy control
Provides even compression
Does not become transparent when overstretched
Breathable fabric does not absorb sweat and lock in moisture
Cons
Available in one size only
Z High-Waisted Pants for Yoga
This is your pair of yoga pants when you want something that is stylish and with good compression. The CompressionZ yoga pants are available in different colors and sizes, too.
These CompressionZ Yoga Pants consist of thick materials which are also stretchable and breathable. The fabric used for these yoga pants has moisture-wicking properties, too — enough to keep you dry and cool during and after a workout.
This pair of yoga pants for cellulite is great because it has almost every feature offered in more expensive yoga pants, without the price. That includes compression. Your muscles get the right amount of support, while the cellulite is compressed to reduce their appearance over time.
Additionally, its compression features the effect that makes you look lighter by a few pounds. If you think you need some minimizing effects on the butt or leg area, then this one should give noticeable results.
These high-rise CompressionZ pants will not upset if you want coverage from the waist down to your ankles. The wide waistband is very helpful in concealing bulges and enhancing the natural shape of the waist. The best part is it stays in place.
Moving further, the waistband has a pocket with a zipper closure at the back. It is a nice addition to keep your small items nearby.
Finally, if you are bored with the usual plain colors, you can go for trendy prints in bright colors. This version of CompressionZ leggings is available in different designs that look amazing.
Pros
High-quality fabric wicks moisture to keep you dry and comfy
Available in XS to 4XL sizes
Different colors to choose from
Wide waistband for tummy control
Does not become shiny when stretched
Cons
Waistband a bit bigger than actual size
CompressionZ High Waisted Women's Leggings -...
COMFORTABLE YOGA LEGGINGS: CompressionZ womens leggings are the perfect athletic pants for lifting...
SUPPORTIVE RUNNING PANTS: Our womens tights are made from sweat wicking, breathable 4-way stretch...
COMPRESSION SHAPEWEAR: Look & feel great in our body countouring compression pants that deliver...
YAMOM High-Waist Leggings with ButtLift and Tummy Compression
If you are looking for a pair of yoga pants that will provide full coverage and some butt-lifting effects and tummy control, The YAMOM High-Waist Leggings with ButtLift and Tummy Compression will give you all of that. The non-see-through yoga pants by Yamom is a must-have if you aim to hide cellulite and belly fat to the fullest. It uses ribbed fabric to conceal the appearance of cellulite under the leggings.
This is our best for compression because more than the visual effect, it provides the same level of muscle restriction from the waist down.
While this has good compression, you would not be disappointed when it comes to comfort. The fabric won't make you feel any restriction even when you squat, stretch, or bend over. Thanks to its fabric that features the 4-way Stretch design.
That being said, don't think the thin fabric will show your skin or underwear underneath. With the right size, you won't experience that no matter how you bend or stretch.
Pros
Ribbed fabric hides cellulite appearance better
Breathable, comfortable material with moisture-wicking technology
Available in S-XXL sizes and different colors and patterns
4-way stretch fabric allows for comfy movements
Good compression and butt lift
Cons
Fabric is a bit light and thin
YAMOM High Waist Butt Lifting Anti Cellulite...
🍑 [ Non-cellulite& Butt Lifting ] Workout leggings with fantastic texture design. Cute fabric,...
🍑 [ Tummy Control & High Waisted ] Our tiktok leggings are designed with high-waist, tummy...
🍑 [ Elastic and Quick-Drying Thick Fabric ] Our scrunch leggings use 4 Way Stretch & Non...
Choosing the Best Yoga Pants to Hide Cellulite
Comfort and compression are the main things to consider for a pair of yoga pants when you have cellulite. After that, there are a lot of other details to evaluate. Use this buying guide to simplify your search for ideal leggings to hide cellulite and make an informed decision.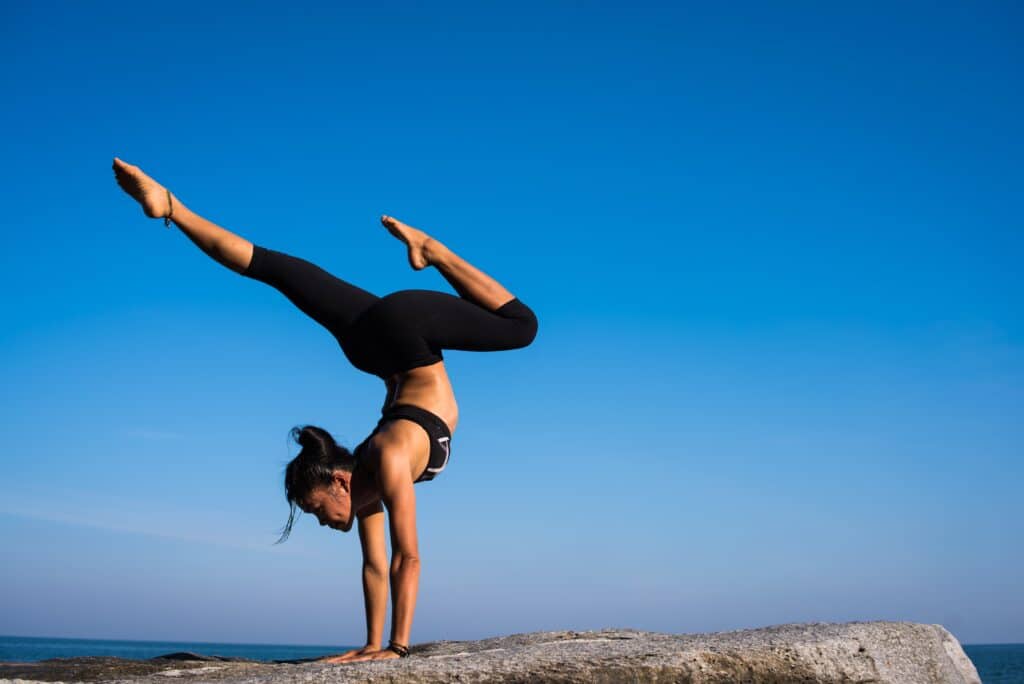 Consider the Fabric
First, the fabric for yoga pants should not be as shiny as what they use for running leggings. Instead, they should be matte and comfortable. The most ideal fabrics for yoga pants are synthetic ones such as neoprene, polyester, and Spandex.
Recovery Time
These materials are durable, stretchy, and with good recovery time. Recovery time is the manner that fabric goes back to its original state after being stretched. Additionally, these fabrics do not absorb liquid as much as other types like cotton.
Cotton may be comfy and soft. However, it is not as stretchable as the fabrics above. The recovery rate of cotton is not as impressive as well. However, some yoga pants use cotton along with a synthetic fabric to improve compression and durability.
Moisture Wicking Properties
Spandex, polyester, and neoprene are not only soft on the skin, stretchable, and breathable, they also have moisture-wicking properties. You remain feeling dry and cool throughout the yoga activity because these fabrics allow moisture to evaporate instead of trapping them.
Compression
Another consideration when choosing a fabric is compression. Spandex, for example, has good compression. Pressure as this helps reduce cellulite appearance and even formation. It also promotes blood circulation.
Although this will not provide instant results, wearing a pair of yoga pants with good compression will give visible results in the long run.
Go for a High-Waist Design
Cellulite is also common in the pelvic region and abdomen. This is when wearing a high-waist pair is the better choice.
Go for a high-waist design not only to hide cellulite. A high-waist design is an instant solution if you want to contour the waist area for a workout.
Make Fit and Comfort Your Priority
Yoga requires a lot of graceful movements, stretching, and bending over. It is wisest to invest in a well-fitting and comfortable yoga pants that will allow you to move without discomfort and distractions as much as hiding cellulite.
Always find the correct measurement for your size by referring to the size chart provided by the brand that you are eyeing. Make sure the fabric is thick yet stretchable, especially when choosing one-size-fits-all.
You can try models with a 4-way Stretch design as it usually helps avoid the see-through effect as a result of squatting, bending, and stretching.
Choose Desired Length
The length of yoga pants is a matter of personal preference. Choose the length that you are comfortable with, most importantly. Sometimes though, you should consider the climate when choosing the length of your yoga leggings.
On summer days, you may want shorter versions like knee-length or capri pants for yoga. It is okay to choose a pair of ankle-length leggings – just check for the breathability of the fabric.
On the other hand, certain types of yoga require intense body movements. If you are not comfortable with the skin showing, then it is always best to go for one that covers the from the waist down to the ankles. Just make sure to choose one that stays in place to avoid constant adjustments.
Choose Inspiring Aesthetics
The overall look of the yoga pants is another thing of personal choice. If wearing a nice, printed pair motivates you to show up in your yoga classes or you simply want to look stylish, then there is no reason why limit yourself from getting what you like to wear.
Still, remember to check the quality and fabric before you give a pair a go. Usually, light-colored fabrics have higher tendencies of becoming see-through when stretched. The same effect is also likely to appear sooner after several washings.
Lastly, avoid yoga pants that have unnecessary attachments and accessories like straps. Sometimes, these small extras cause distraction and even discomfort.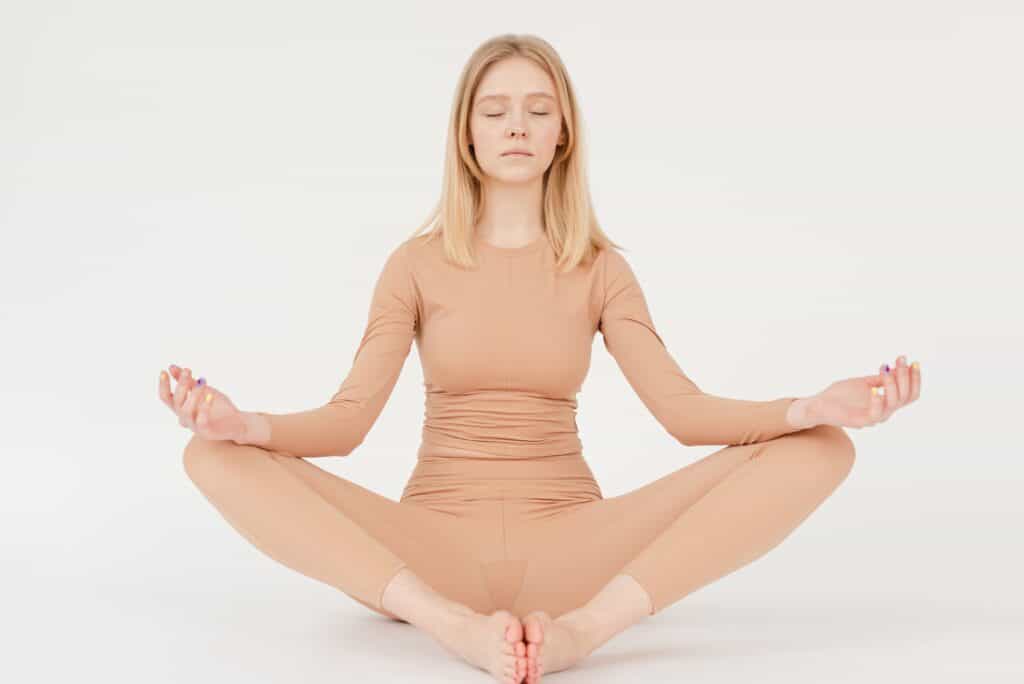 Conclusion
A pair of yoga pants with compression is the most ideal for hiding cellulite. However, to find a pair of pants with good compression, you should consider the type and quality of the fabric. Comfort and coverage are also important things when choosing yoga pants for cellulite.