As an Amazon Associate we earn from qualifying purchases.
Have you ever wondered why some leggings feel more lightweight than the others? How about the time your leggings easily got worn out or ripped when you thought the fabric was good and elastic enough? That's probably because you forgot to consider the leggings' GSM.
What Is a Good GSM for Leggings?
GSM means "grams per square meter" and it is used to measure the legging's fabric weight. Usually, it ranges from 180 to 310 GSM. For leggings, a good GSM would be in the middle, which is about 200-280 GSM. This avoids fabrics that would either be too thin or too stiff for your liking.
It is important to check on a leggings' GSM before purchasing it for the following reasons: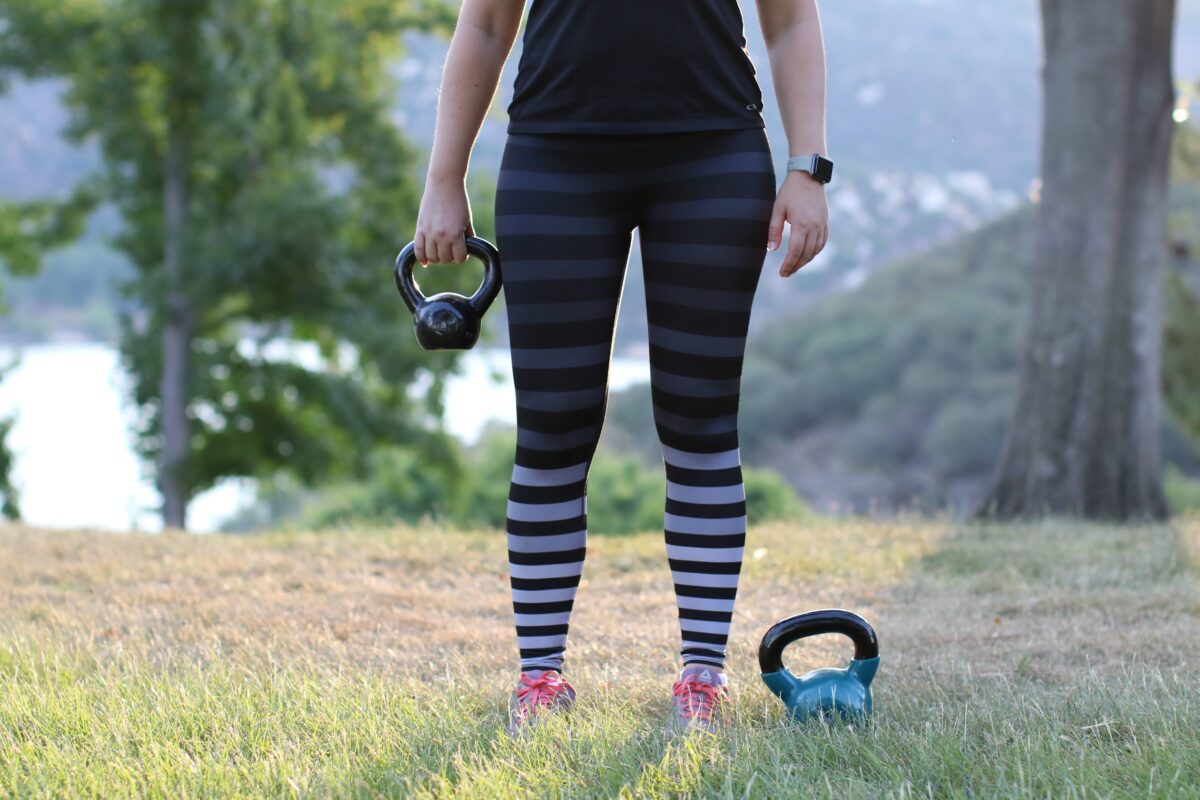 If the GSM of the fabric combinations used in the leggings is not right, they tend to get worn out easily after just a few washes.
Various types of fabrics have pros and cons that either add quality to the leggings or not.
Some leggings tend to be see-through or susceptible to ripping if the fabric is not of good quality.
Is 180 GSM Cotton Good?
As mentioned above, it is still better to stay in the middle range of 200-280 GSM. However, in general, 180 GSM for leggings would be sufficiently dense for leggings and other pieces. Leggings with lower GSM density fabrics would usually be thin and sheer, often see-through. To ensure that your leggings are durable and thick enough, opt for middle-range GSM fabrics.
Additionally, did you know pure cotton leggings are not as recommended as the fabrics get stretched out easily after a few uses?
What Are Most Leggings Made Of?
The most common fabrics for athletic leggings are nylon, polyester, and spandex. Some manufacturers also combine these to make better and more high-quality leggings. Lululemon leggings, in particular, also have their own primary fabric called luon.
What Are the Different Types of Leggings?
Leggings have a variety of types depending on fabrics. In order to find a good GSM for your leggings, it is also important to know the differences between the materials that are most commonly used in leggings production.
Cotton leggings
Polyester leggings
Spandex leggings
Nylon leggings
Cotton Leggings
When your leggings is 100% pure cotton, you are definitely going to enjoy how breathable, soft, and comfortable when you're wearing it. However, the cotton easily gets stretched out either through your use or through several times of being in the laundry.
That said, it can immediately lose its shape and be loose on some parts of your legs, your groin, thigh, or knee area. This is something to consider when deciding to buy cotton leggings.
Polyester Leggings
You would commonly see some leggings with 90% polyester and 10% spandex. These can get stretched out easily, too.
However, it's still a good thing to have a mix of polyester in your leggings because this fabric itself is hydrophobic. It is water-resistant and moisture-wicking. This definitely helps if you don't want to get those embarrassing sweat marks. On the other hand, the issue is that this fabric stinks faster because it absorbs moisture. Look for ones with antimicrobial treatment.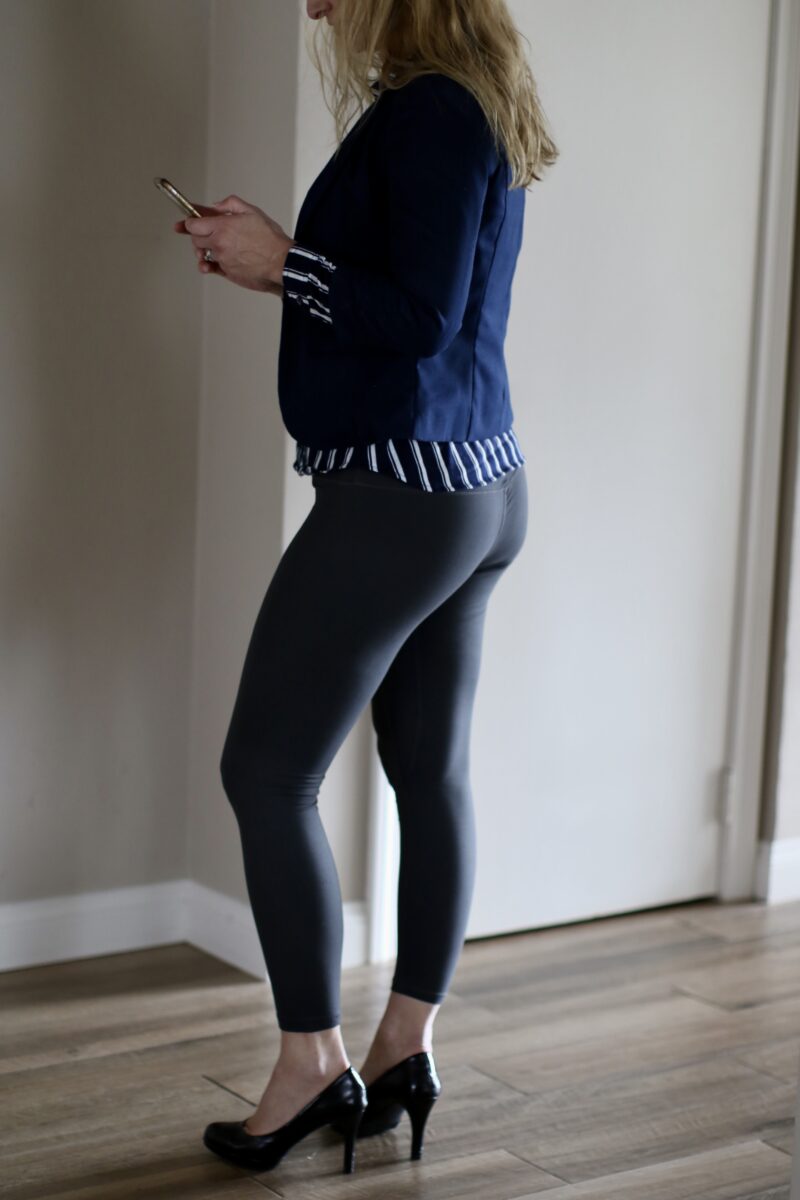 Spandex Leggings
Most athleisure pieces including leggings will have spandex in them. This material is what makes them stretchy and tight-fitting. This fabric should be a part of your leggings if you want one that is elastic and can hold, shape, and support you as it molds to your body.
The most important things to consider is that your leggings should be comfortable and feel as though it is your second skin.
Nylon Leggings
You'll usually find nylon in most leggings because of its durability and lightweightness. If your leggings have a blend of nylon, you can rest assured that your leggings won't rip apart when you're concentrating on a yoga pose.
Too much of it, however, makes your leggings susceptible to shrinking in size sometimes. That's why you should always follow the wash and dry care instructions. 
Features to Look For in Legging Fabrics
Each of the fabrics and their combinations, along with the GSM, has their pros and cons which are important for you to remember. Alongside those, make sure to not overlook these features to so you can make sure you're investing a truly high-quality leggings.
Sweat-wicking
Polyester leggings has a great advantage on this one because of its hydrophobic fabric. You'll find that many leggings have now begun producing sweat- or moisture-wicking leggings. This is absolutely needed in all activewear clothing. Of course, you don't want those awkward marks of sweat on your skin to show, right?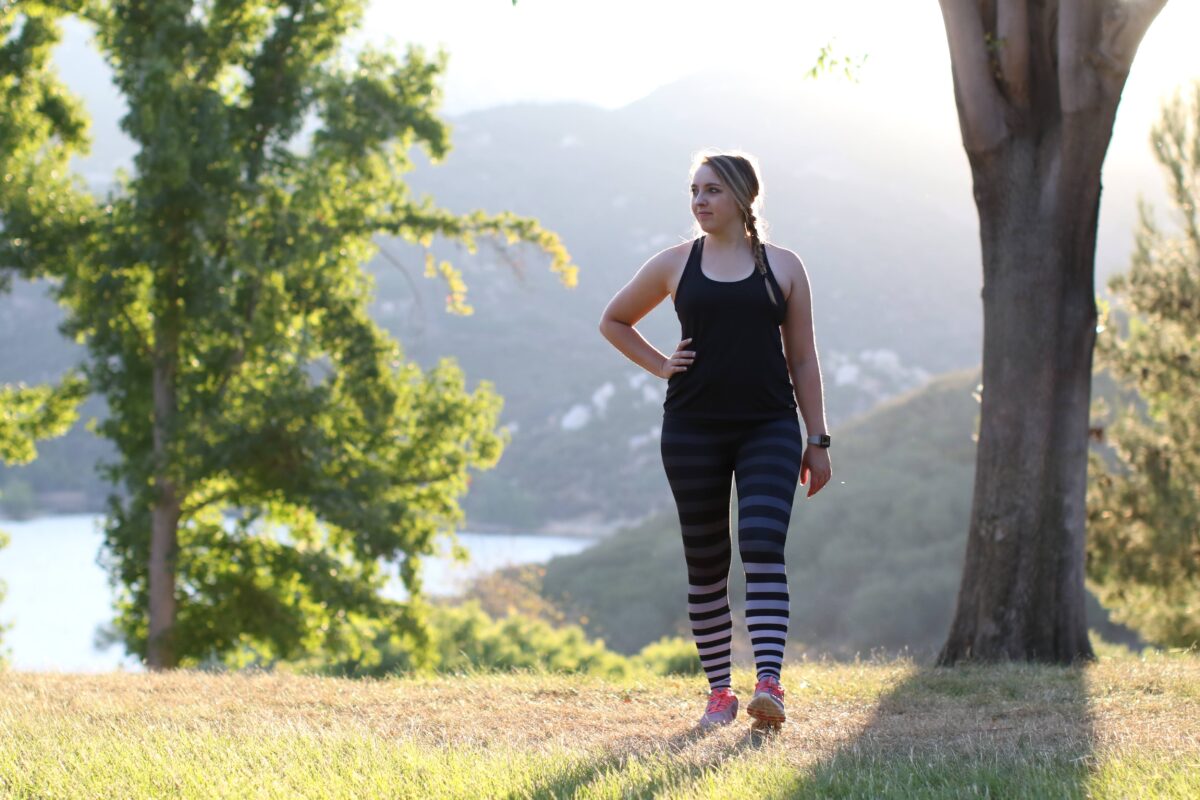 Squat-Proof
Find leggings that are made with strong and durable materials that don't get easily stretched out too much that they end up ripping. There are leggings made of a blend of fabrics that are lightweight and still designed to be high-performance.
If you're an athlete or a workout person who does a lot of stunts or high-intensity exercises, make sure to grab some squat-proof leggings.
Reasons to Check the GSM of Leggings Before Purchasing
| Reasons | Check a leggings GSM because: |
| --- | --- |
| Reason 1 | Wrong GSM makes leggings to wear out faster |
| Reason 2 | Different fabrics have varying GSM which may add quality to leggings or not |
| Reason 3 | Wrong GSM makes a legging see-through or susceptible to ripping |
Frequently Asked Questions
What Is the Best Material for Leggings?
Nylon-spandex blend leggings are preferred by many because nylon is the most durable fabric, next to polyester and spandex.
These fabrics make the leggings stretchy enough to mold to your body shape in a flattering way. Leggings with these materials are designed to be supportive, stylish, and high-performance.
Can Leggings' Weight Reduce My Performance?
Technically, the legging's weight can reduce your performance. For instance, if you wear heavy athletic leggings, it means you will be running with an extra weight of the fabric compared to one wearing thin leggings.
However, the reduction in performance is minimal and might be unnoticeable.
Can Leggings With Low GSM Rip Easily?
Yes, there are high chances of the leggings with a low GSM ripping compared to leggings with higher GSMs if the leggings are made of the same material.
For instance, if the leggings are made of polyester, leggings with a lower GSM mean the fabric is thinner and can easily rip. However, this is not viable when comparing leggings made of different materials.
10 Things to Check Before Buying Leggings/ What no one told you about PERFECT LEGGINGS
Conclusion
Once again, if you're wondering what is a good GSM for leggings, the general rule of thumb is about 200-280. Less or more than that could be too thin or too heavy for you to do your movements. At the end of the day, the most important thing to consider besides GSM is the comfort and functionality of your leggings fabric to make sure it's worth the price.