As an Amazon Associate we earn from qualifying purchases.
Wearing proper hiking clothing helps protect the body from weather and other elements on the trail. Yet, hiking leggings must be comfortable, durable, and ensure mobility. I've compiled these reviews and a buying guide to help you invest in the best leggings for hiking. 
My Top Leggings for Hiking Reviews
You need lightweight, fast-drying, breathable, and functional leggings to make nature trips enjoyable. These are the best leggings for hiking that can help you move better no matter how hard the trail becomes. 
Brand
Fjallraven - Women's Abisko Trekking Tights
IUGA High Waist Yoga Pants
Product
Material
Elastane, Nylon, Polyamide, Polyester
87% Nylon 13% Spandex/88% Nylon 12% Spandex
Super Soft Four-way Stretch material
Features
Comfortable, wide waistband
Slimming High Waistband and Hidden Waistband Pocket
Wide High-Rise Waistband with Tummy Control
Brand
Fjallraven - Women's Abisko Trekking Tights
Product
Material
Elastane, Nylon, Polyamide, Polyester
Features
Comfortable, wide waistband
Product
Material
87% Nylon 13% Spandex/88% Nylon 12% Spandex
Features
Slimming High Waistband and Hidden Waistband Pocket
Brand
IUGA High Waist Yoga Pants
Product
Material
Super Soft Four-way Stretch material
Features
Wide High-Rise Waistband with Tummy Control
Best Overall Leggings for Hiking: Fjallraven Women's Abisko Trekking Leggings 
It can be difficult finding a pair of hiking leggings that strike a balance between comfort and durability. Yet, the Fjallraven Abisko Trekking Leggings captures that and more. Fjallraven is famous for its hiking apparel, with this pair of leggings among the brand's most efficient clothes for extreme outdoor activities. 
Using a blend of polyester, elastane, and nylon, this one improves your flexibility when jumping over boulders or swinging your leg over a downed tree. The fabric also allows moisture, sweat, and water to evaporate, making sure you stay dry and fresh. 
Unlike the other leggings in this list that only use an elastic waistband, these leggings feature a drawstring in the waist for you to get better fitting. It also has a four-way stretch that enhances material elasticity. 
Aside from low-profile flatlock seams, these hiking leggings include a gusset at the crotch to reduce chafing due to pressure or friction. It also reinforces the rear and knee areas using thick patches of fabric to avoid tearing when sitting or kneeling on uneven surfaces. 
However, these reinforcements tend to add a bit of weight. They also draw attention due to a different texture. Even if the texture might feel a bit odd, the extra thickness improves opacity, as well as protection against insect bites or scratches. 
On the plus side, the Fjallraven Abisko Trekking Leggings has a small zippered pocket on the left leg and a map pocket on the right. There's also a clip-on loop at the hip for attaching a light jacket or small hiking gear. 
These are the best hiking leggings for those who value durability and functionality over aesthetics. Available in various sizes, you can find the perfect fit that can cover you from the waist down to the ankles. With these trekking-necessity features, you'll feel comfortable walking for hours. 
Pros
Reinforcements over high-pressure areas. 
Thick yet moisture-wicking material. 
Cons
Might feel a bit heavy. 
A little warm for summer trips. 
Fjällräven Abisko Trek Tights Black XXS
Performance Fabric with Reinforced Panels:• Densely knit nylon provides durable, lasting wear.•...
Fjällräven Apparel Conversion Chart
Fjällräven Apparel Size Chart
Best Hiking Leggings for the Money: 90 Degree By Reflex High Waist Power Flex Tummy Control Leggings
Off to conquer new mountains and trails? A pair of Power Flex Tummy Control Leggings from 90 Degree By Reflex combines comfort, style, and performance for the ultimate hiking experience.   
A mixture of spandex, polyester, and nylon results in a lightweight fabric that moves with you and prevents chafing. It provides compression in all the right places, improving blood circulation. 
Likewise, the material promotes a four-way stretch, preventing the leggings from becoming see-through even if you bend, squat, or climb. A gusset crotch also improves stretchability as the patch lets you make more extensive movements. 
While it's not as breathable as the first pair of leggings, this one has better moisture-wicking properties, letting you dry quickly after crossing rivers or streams. 
When going on a nature trip, you need to support your muscles and fats so that you remain comfortable. The slimming high waistband does that for you, enabling you to focus on your movements and safety instead. 
Hiking means traveling light and keeping your hands free for holding ropes or gripping branches for stability. Fortunately, there's a hidden pocket in the elongated waistband that can secure mini items. 
Although the length is a bit long and may form a minor bunch around the ankles, it would be better to stick to your actual size. This pair offers more than 30 colors, so this is an excellent choice if you also want your hiking clothes to look aesthetically good on pictures. Overall, this is perfect for women of all sizes looking for high-waisted, ankle-length hiking leggings.
Pros
Thick material results in excellent coverage. 
Provides a flattering look and compression for muscles. 
Cons
May not be suitable for colder climates.
Can feel a bit stiff on your first few tries. 
90 Degree By Reflex - High Waist Power Flex...
Power Flex Fabric. Our 28" athleisure leggings are squat proof and will keep you covered whether...
Slimming High Waistband. Our yoga leggings have a stretchy high rise elastic waistband that will...
Hidden Waistband Pocket. Our athleisure leggings have a hidden pocket in the front waistband. If...
Best Cheap Leggings for Hiking: IUGA High Waist Leggings 
IUGA is a lifestyle brand that merges functionality, fashion, and performance. Among its high-quality activewear is the IUGA High Waist Leggings, which is perfect for everyday wear and outdoor activities.   
Similar to the first two leggings, this one uses spandex and polyester to deal with moisture, sweat, and water elements during a hike. The material also includes a four-way stretch that guarantees support and compression to improve your breathing for long hours of walking. 
Despite its stretchability, the leggings remain thick enough to guarantee opacity, providing you a slim silhouette throughout your hike. The ultra-stretch fit conforms to your body shape, whether you're sized extra small or 3X-large. However, the sizes do run big, so it's advisable to order down a size for a better fit.
There's a high-rise waistband for stomach control and better coverage during high-intensity movements. It doesn't roll down even if you have to bend or crawl throughout the hike. The waistband also hides an inner pocket for you to stash a phone, keys, and other small hiking essentials.
Aside from that, a gusset crotch supports movement, making these leggings the ideal clothing for the adventurous like you. Meanwhile, interlocking seams minimize skin irritation due to rubbing and chafing.  Since it has a full-length cut, it has the perfect length for hiking trips during the colder seasons.  
This pair of IUGA High Waist Leggings is a worthwhile investment if you're on the hunt for the best cheap leggings for hiking that have incredible stretch to keep up with your flexibility, yet provide compression for support. 
Pros
Smooth fabric and seams to reduce skin irritation. 
Compression threads for better breathing and blood circulation. 
Cons 
Material can be a bit hot for summer days. 
Tends to bunch up around the knees. 
IUGA High Waist Yoga Pants with Pockets, Leggings...
Snug & Comfortable Fit - Crafted from buttery-soft & 4-way stretch fabric, IUGA leggings feel like a...
Sculpting High Waisted Leggings - IUGA leggings for women are designed with a high waist for a...
Hands-Free Comfort - IUGA womens leggings come equipped with two spacious side pockets and an...
Best Plus Size Leggings for Hiking: Spalding Women's Ankle Legging
Ending your frustration of finding the best plus-size leggings for hiking, the Spalding Women's Ankle Legging fits like a dream for ladies with curvier bodies. This pair lets you say goodbye to being conscious about the fit while ensuring comfort and functionality during hikes. 
Since this is a cotton-based legging, it has the most breathable and comfortable material among the leggings in this list. The fabric also results in better opacity, which means you won't have to worry about flashing your undergarments as you do a range of complex movements on your hike.  
Moreover, it doesn't feel slippery despite the cotton's smooth texture. The seams also reduce bulk, so the material doesn't add visual weight. 
While the material isn't the best option for the rainy season, this pair of leggings keeps you warm for winter hiking. Moreso, it contains a mix of spandex for moisture-wicking properties, although not as rigorous as the first three items. 
The pull-on closure means the wide waistband lays flat against your waist, so you won't have to worry about it digging on your skin. The Spalding Women's Ankle Legging has a mid-rise style, yet an elastic waistband enables you to wear the leggings for hours without them slipping down. 
The four-way stretch boosts elasticity and ensures the cut reaches the ankle even as you stay true to your size. In this way, you receive better leg coverage, and you can style this pair with complementary hiking boots. 
Pros
More suitable for cold temperatures. 
Thick yet breathable material.
Cons 
Not for the rainy season. 
Length may bunch up around the ankles.  
Qualities of the Best Leggings for Hiking
Hiking leggings have various features, and some are more efficient for cold weather, while others are for trails with rocky elements. These are the factors to consider when investing in your next reliable pair of leggings.
Comparing Hiking Leggings
| Leggings | Pockets | Moisture-wicking | Inseam (inches) |
| --- | --- | --- | --- |
| Fjallraven | No | Yes | 30.7 |
| 90 Degree | Yes | Yes | 28 |
| IUGA | Yes | Yes | 8 |
| Spalding | No | No | 26 |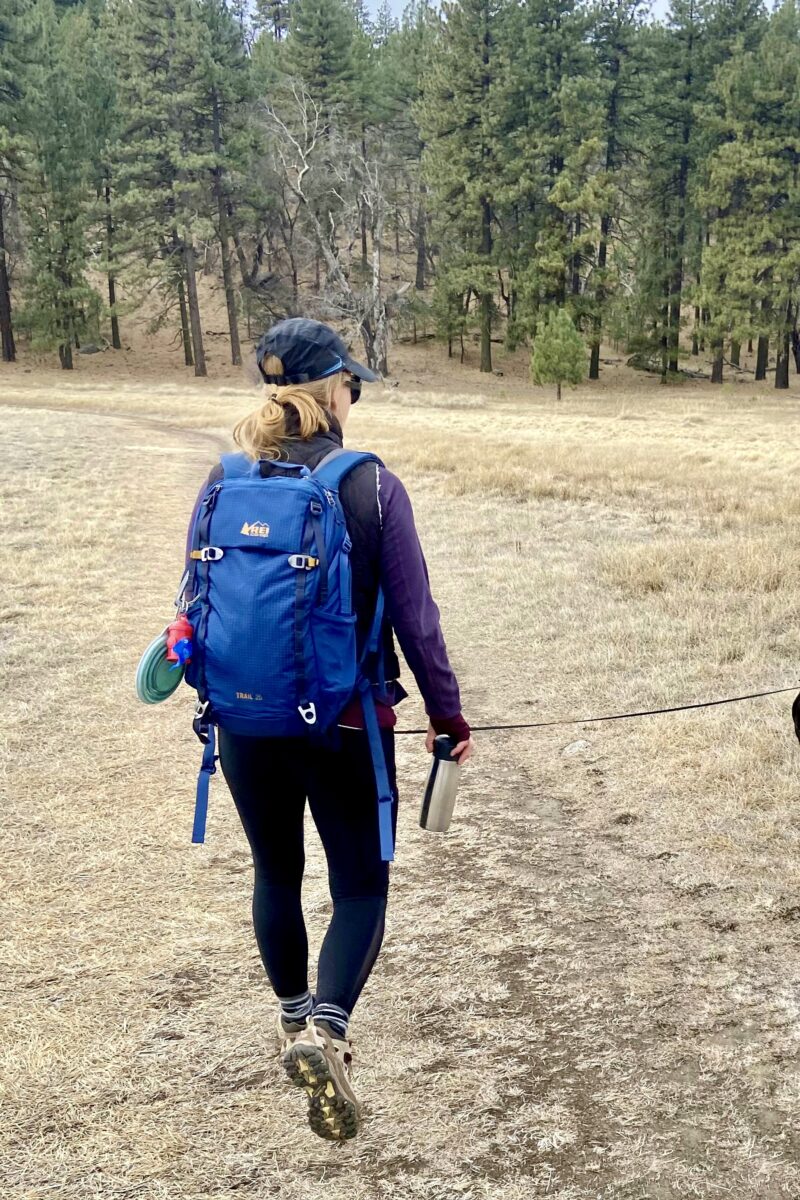 Comfortable 
Hiking can be a high-effort activity. Regardless of the terrain's difficulty, it's important that you feel relaxed underneath your clothes.
If you're planning for a desert hike or a trip despite the hot summer, you need a lightweight and breathable material to keep your body cool. Hence, it's ideal to choose leggings with spandex, nylon, or polyester fabric. 
If you're heading to an adventure and the weather is bitterly cold, thicker leggings can keep the body warm and improve blood circulation. These leggings usually use fleece, wool, cotton, or a spandex-polyester blend.    
Flexible
Mobility is another factor that ensures comfort. Hiking leggings with expandable material and a four-way stretch system allow you to move unrestricted across rocky or groomed terrain. 
Some trails require you to make a broad range of strides or crawl inside caves. All of the leggings feature a four-way stretch for them to expand as you stretch.
Breathable
There are times when walking for hours can make you feel dizzy, and wearing unbreathable clothing may worsen that sensation. This factor relies on the type of fabric, with organic materials being the most breathable ones. 
Breathable leggings let sweat and moisture evaporate to keep your body dry and improve ventilation. Whether you're climbing mountains or treacherous terrain, your body needs to cool down, so that you won't become a hot mess. 
Quick-Drying
Moisture-wicking leggings are lifesavers when hiking through a trail with rivers, streams, or waterfalls. You wouldn't want your clothes to weigh you down, whether you're wet from sweat or rain. 
Quick-drying leggings deal with sweat or water without you even noticing. Spandex and nylon have the best moisture-repelling abilities.
While cotton and wool-based leggings would be the slowest to dry, these types of leggings usually include nylon and polyester to ensure drying abilities. 
However, a cold breeze can cut through regular nylon or spandex leggings, which is why cotton, fleece, or wool would be more suitable for winter trips. You can still choose nylon and spandex-based leggings as long as they have tighter weaves to trap warm air and resist the wind. 
Proper Fit and Cut 
Hiking leggings should be form-fitting, making you feel as if you're wearing nothing at all. However, they shouldn't feel too restricting, especially in the waist and legs.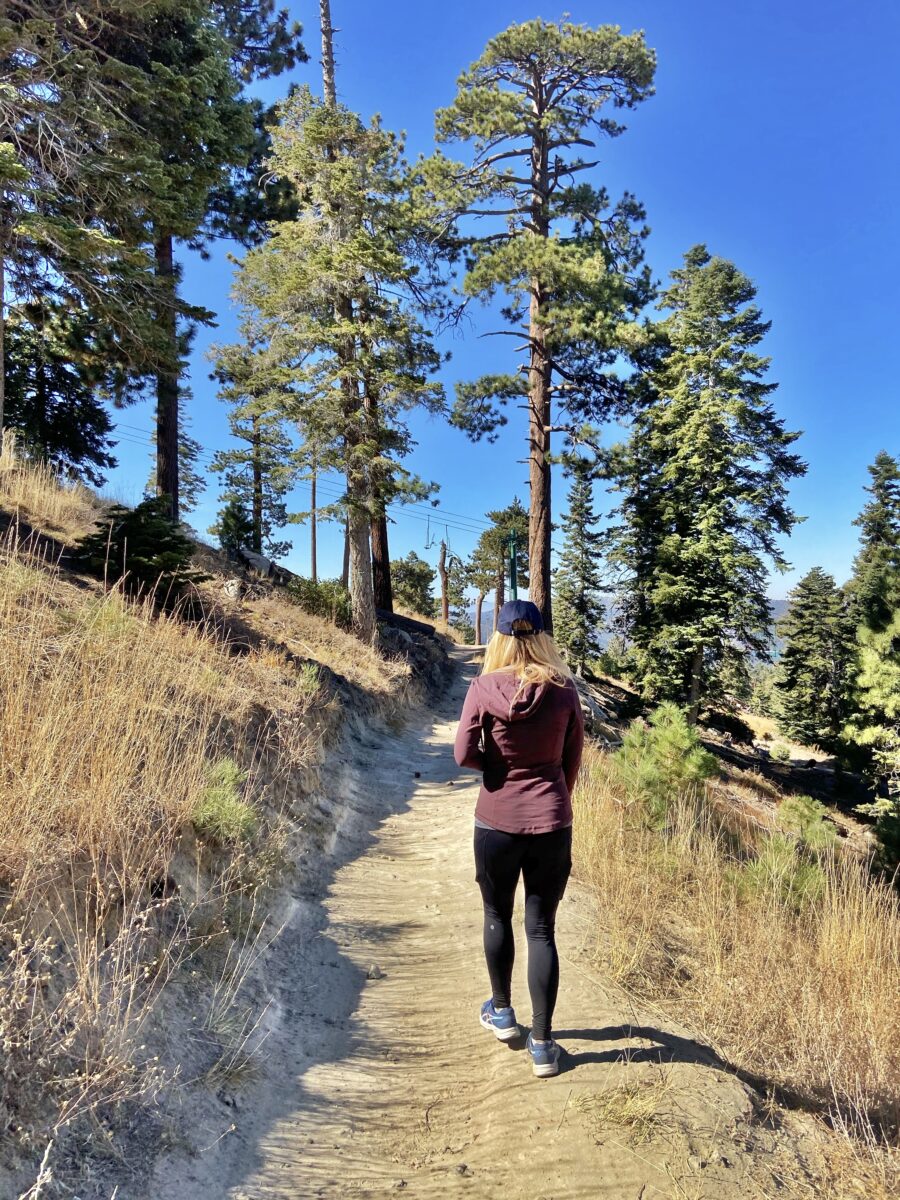 Furthermore, the size varies by brand, so make sure to check size charts and compare them with your actual measurements. You wouldn't want to experience a tingling or numbing sensation as you move.  
Flat Seams 
Hours of hiking means constant movement, and consequently, increased friction. While some leggings don't feature seamless construction, they must have at least flat seams to reduce bulk and prevent skin irritation.
All of the leggings here also contain a gusseted crotch, which eliminates seams on the crotch section. Instead, they have a triangular patch stretching from the seams on the legs, giving you more room to stretch.
BEST WORKOUT LEGGINGS: MY TOP 5!
Frequently Asked Questions
Why Should I Wear Leggings During Hiking?
Generally, hiking involves walking in nature as a form of recreation and physical exercise, and you might need to wear clothes with breathable fabrics such as leggings.
Usually, the leggings fabric is soft and not restrictive, enhancing free body movements.
What Are the Benefits of Moisture Wicking Leggings in Hiking?
Generally, the main advantage of moisture-wicking leggings in hiking is the capability of absorbing sweat and water to keep your skin dry, especially during hot or rainy weather.
In addition, the moisture-wicking leggings have a fabric that makes the water dry quickly.
How Tight Should Leggings for Hiking Be?
Generally, hiking involves a lot of moving, and you should consider wearing leggings that are not too tight to avoid limiting flexibility.
That means you should avoid wearing leggings that are thick and double seamed as they can limit movements.
Conclusion 
Picking a pair of hiking leggings shouldn't be as challenging as facing a trail. With the right fit, material, and style, you can enjoy wearing hiking leggings and feel the thrill of nature.