As an Amazon Associate we earn from qualifying purchases.
Looking at famous celebrities like Kim Kardashian and Nicki Minaj might make you wish you had the same butt as theirs. Ever wondered how to enhance your booty in leggings for a flattering, head-turning look?
I've cracked the code. Here I will unveil practical yet effective tips to accentuate your curves and make your butt look bigger in leggings. Get ready to unlock the secret and redefine your legging game.
How to Make Your Butt Look Bigger in Leggings
Leggings have transformed from being a unisex trend to athleisure wear. Now, people are praising it and obsessed with it because of its versatility and its countless variety of features. This includes sculpting and lifting your butt so it will look bigger. No need to go to the gym and do an endless number of squats.
You can make your butt look bigger in leggings simply by choosing high-waist and figure-sculpting leggings made of compression fabrics. This allows the leggings to mold to your body by giving you shape, thus accentuating and turning the attention to your bum area. 
Other than that, you can also opt for clothes that don't cover your butt. Ones like crop tops are shorter. The more attention your butt gets, the more it seems to look bigger as well.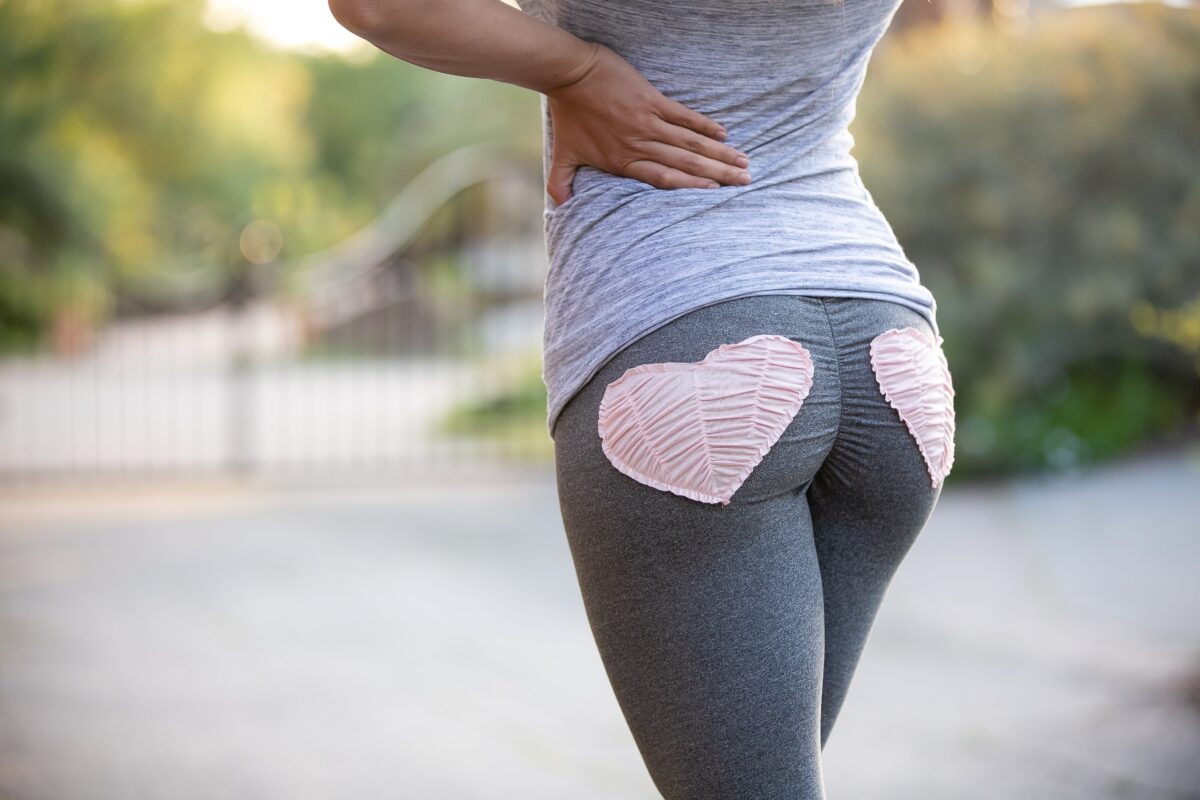 What Can You Use to Make Your Butt Look Bigger?
You are free to use waist lifters and scrunch-and bum-lifting leggings. These could support and lift your butt the moment you wear them. However, there are more things you have to consider in real life. Now, you can finally strut your stuff with your perfectly-fitted, high-quality, and compressive leggings.
Are you asking if it's possible at all to make your butt look bigger without exercise? The thing is, there are many different items you can use to help with your concern. Some of which I list below.
Still, the best and most natural way that is highly recommended is for you to spend at least a few minutes a day doing some exercises. These work your butt out and achieve the tight and round butt you desire. This, along with butt-lifting leggings you can find in many stores, will definitely do the work!
What Leggings Can Make Your Butt Look Good
To emphasize your bum and make them look good when wearing leggings, it is highly recommended to pick flattering and best-shaping leggings. These will give perfect lift and shape to your body.
What Are the Most Flattering Leggings?
The most flattering leggings are usually those that are high-waisted and have waistbands that give shape to your waist. This type of leggings is capable of making your bum look good.
High-waist or high-rise leggings are designed to give full coverage as a legging. You avoid unexpected showing off panties or your backside when you are bending over in the middle of your workouts or yoga sessions. Besides that, they also help accentuate your waist. This means more attention to your buttocks area.
Basically, anything that points the attention of people to your butt is good to make it appear bigger. Smaller waist, which you can achieve mostly through a regular workout routine, gives you the shape that flatters your bum.
What Are the Best-Shaping Leggings?
To make your butt look bigger, you can also opt for leggings that give shape and mold to your body. With that said, best-shaping leggings are usually those that are made of compression fabric.
Leggings made with materials such as compression panels add tightness to your leggings without the bulk. This makes you feel like it's still just second skin. To make your bum look bigger, the tightness of these types of leggings will help lift your butt.
Also, you must look for figure-sculpting leggings. Drop the leggings that don't mold perfectly to your body. These leggings don't help in sculpting your figure. They also do not make your butt look bigger. Instead, look for and invest in leggings that define your shape which will then lead to a tighter and more defined butt.
Consider what attire you pair with your booty enhancing leggings. Its usually best to opt for a thong to wear under the leggings, and you'll want to pay special attention to color pairings to minimize any of the underwear color showing through.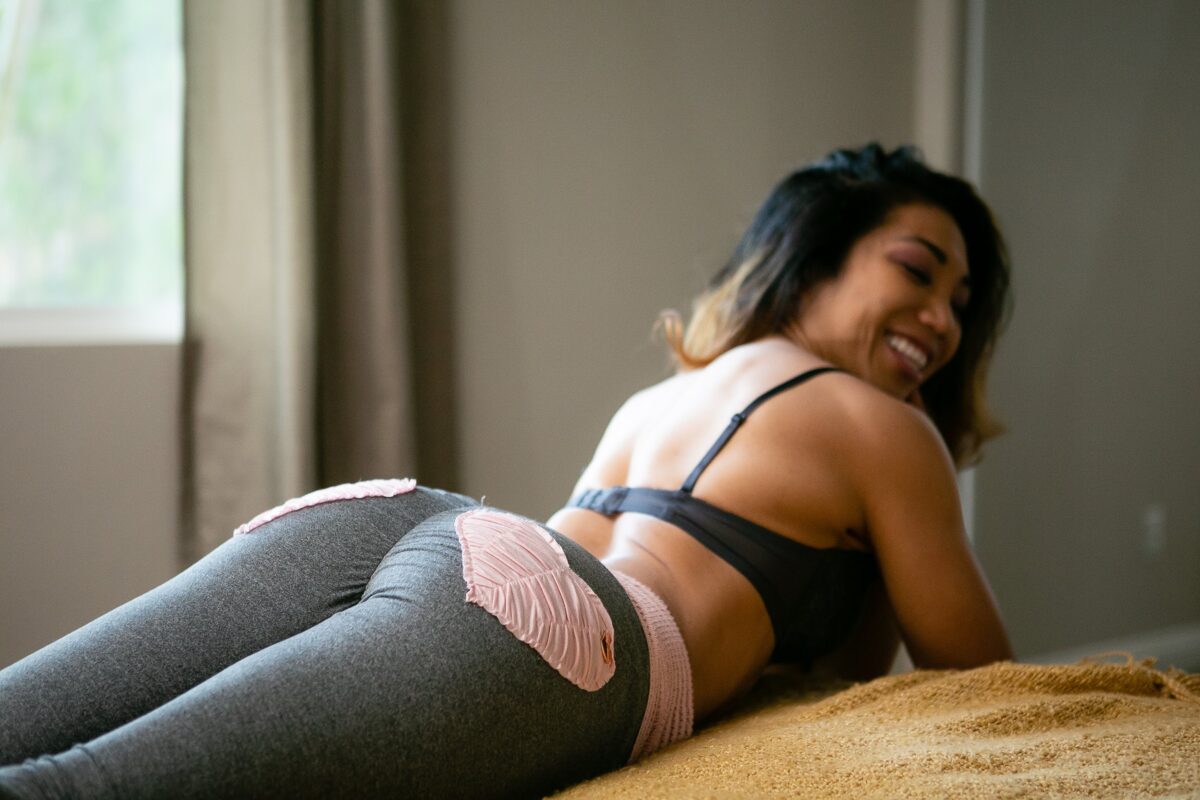 Tips to Make Your Butt Look Bigger in Leggings
Here are 4 other things you can do. Keep in mind you can accentuate your butt with or without exercise with the help of leggings.
Wear shorter skirts with leggings
Choose black or darker-colored leggings
Wear these items to lift your butt
Wear Shorter Skirts with Leggings
Yes, you are free to wear your skirts over your leggings even with an intention to make it seem like you have a bigger butt. What you can do is wear shorter skirts. Ones which work best are trumpet skirts or A-line skirts. They increase your bum look.
Choose Black or Darker-Colored Leggings
The classic black leggings are a go-to if you want to make your butt look bigger. This is because black or darker-colored ones give you a slimmer overall look. You can also choose leggings with seams that are running down the back of your leg.
These help to give you more shape, make you look leaner, and point attention to all the right places including (spoiler alert!) your booty.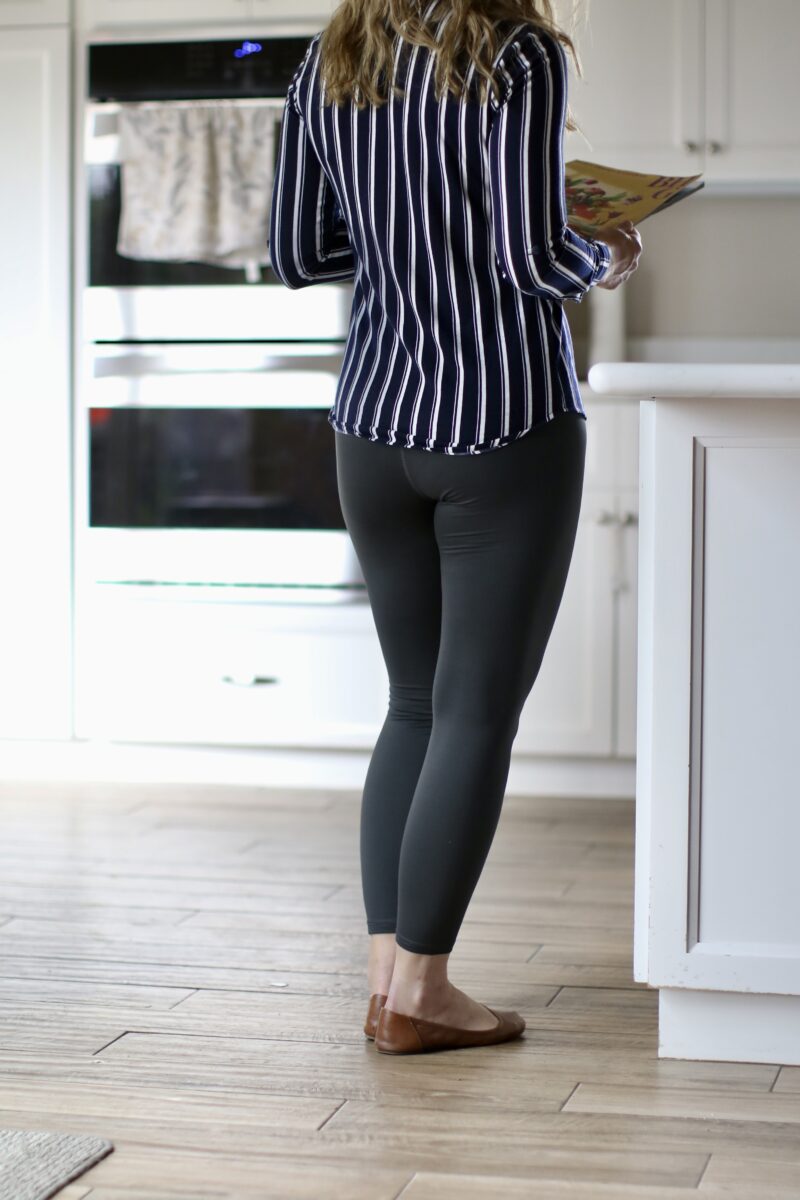 Wear Leggings with Crop Tops
If you're not the type to wear tight dresses or short skirts over your leggings, you can wear your leggings as trousers and choose crop tops or shorter tops that come only to your waist. This is another trick to accentuate your waistline and draw more eyes to your bum instead.
Lift Your Butt With Accessories
As mentioned earlier, items like waist trainers, bum lifters, and scrunch leggings all help in supporting and lifting your butt, plus, adding more shape to them. These are for people who want to go the extra mile with making their butts look bigger.
What to Wear to Make Your Butt Look Bigger
| Outfits | What to wear |
| --- | --- |
| Outfit 1 | High-waist leggings |
| Outfit 2 | Figure-sculpting leggings |
| Outfit 3 | Short skirts |
| Outfit 4 | Dark-colored leggings |
| Outfit 5 | Crop tops |
| Outfit 6 | Waist trainers |
| Outfit 7 | Scrunch-and bum lifting leggings |
What To Wear & NOT Wear With Leggings / Fashionable Leisure, Casual & Dressy Outfits With Leggings
Frequently Asked Questions
Do Leggings Actually Make My Bum Bigger?
Leggings do not increase the size of the butt, as there is nothing in leggings that can change the fat or muscles of the butt. Leggings are just one of the bottom wears that give an illusion of a bigger butt.
The realistic way to make your butt bigger is by doing cardio exercises that target the butt, adjusting your eating style, and engaging in butt-building workouts.
Do Oversize Leggings Make My Bum Look Flatter?
Yes, oversized leggings can make your bum look flatter. Typically, oversized leggings will not stretch to conform to your waistline, butt shape, and hips.
This increases the chances of losing your real body shape, making the butts flatter. This is more common in slimmer people whose butts appear bigger due to their narrower waistlines.
How Can I Hide My Butt When Wearing Leggings?
You can hide your butt when wearing leggings by pairing the leggings with a dress, cardigan, or long shirts that can hide your butt area.
This might be the best outfit if you are not confident due to cellulite on your butt, the shape of your butt is not rounded, or you want the outfit to look more formal when going to formal settings. 
Conclusion
Exercise and a healthy diet are still the best natural ways to make your butt look bigger. If you really want to make the most of your leggings and show off your tush with confidence, it is definitely doable. Just consider buying leggings with a few extra features and match the right tops or skirts with it.