As an Amazon Associate we earn from qualifying purchases.
Leotards are a comfortable piece of clothing that can accommodate movements at ease. Leggings, on the other hand, are leotards for the legs as it can also compliment wide movements. If you want to experiment with the styles you can choose with this outfit, here's how to wear a leotard with leggings.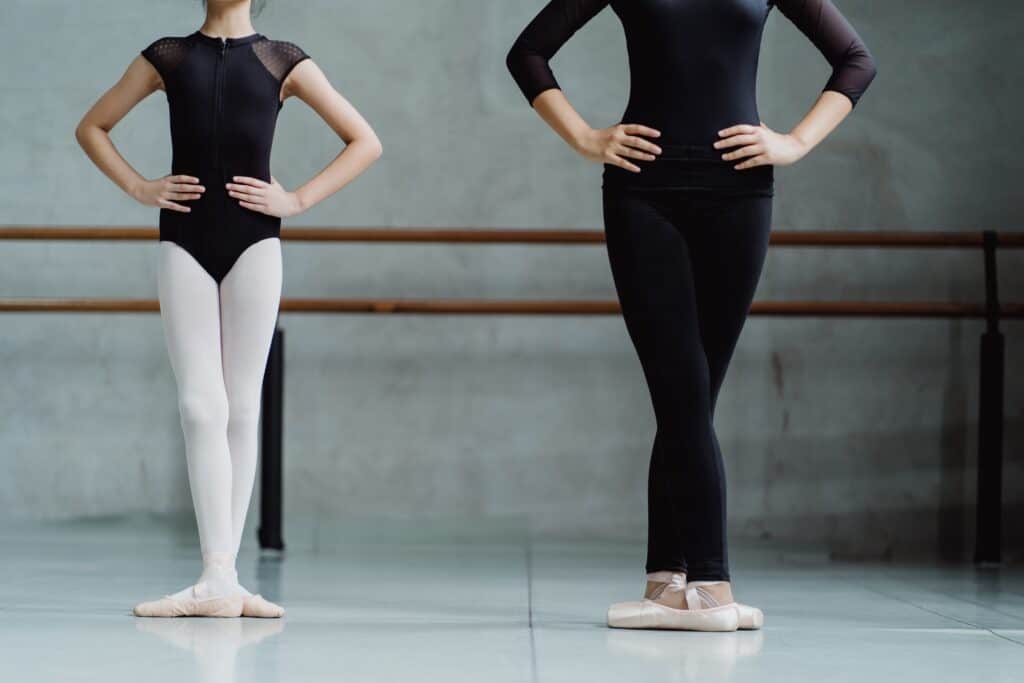 Why Wear a Leotard With Leggings?
While this combination of clothing can serve comfort and accommodate wide varieties of movements, people might ask: why wear a leotard with leggings? Wearing fitted, skin-tight clothes like leotards and leggings can be unflattering for some people. It exposes one's body shape and curves that some people don't want to show.
However, wearing a leotard with leggings always has its perks and specific functions especially on the type of activity you are going to do while wearing them. Also, there's no harm in experimenting with different styles that might suit your body type and accentuate your curves. Here's some of the reasons why people wear leotard with leggings:
For dancing and ballet: A leotard with leggings are the common attire for ballerinas and other types of dancing such as jazz, lyrical, and even contemporary. Most of the time, these types of dancing styles have flexible movements like splits and forward blends that require highly stretchable garments like leotards and leggings.
For sports: A leotard with leggings is used for sports like gymnastics due to their stretchable and body-fitting features, so you need that stretching leggings. Though unconventional, it can also be used in other types of sports that require sharp and wide movements.
For gym: A leotard with leggings can be used as gym clothes particularly during aerobics and yoga classes. It can also be used in biking and treadmills depending on the person.
For casual wear: A leotard with leggings can also be used for casual wear. Of course, it varies from person-to-person.
How to Wear a Leotard With Leggings: Three Easy Steps
Wearing a leotard with leggings is simple. However, there are certain things and areas that you need to follow in order to freely and comfortably move while wearing them.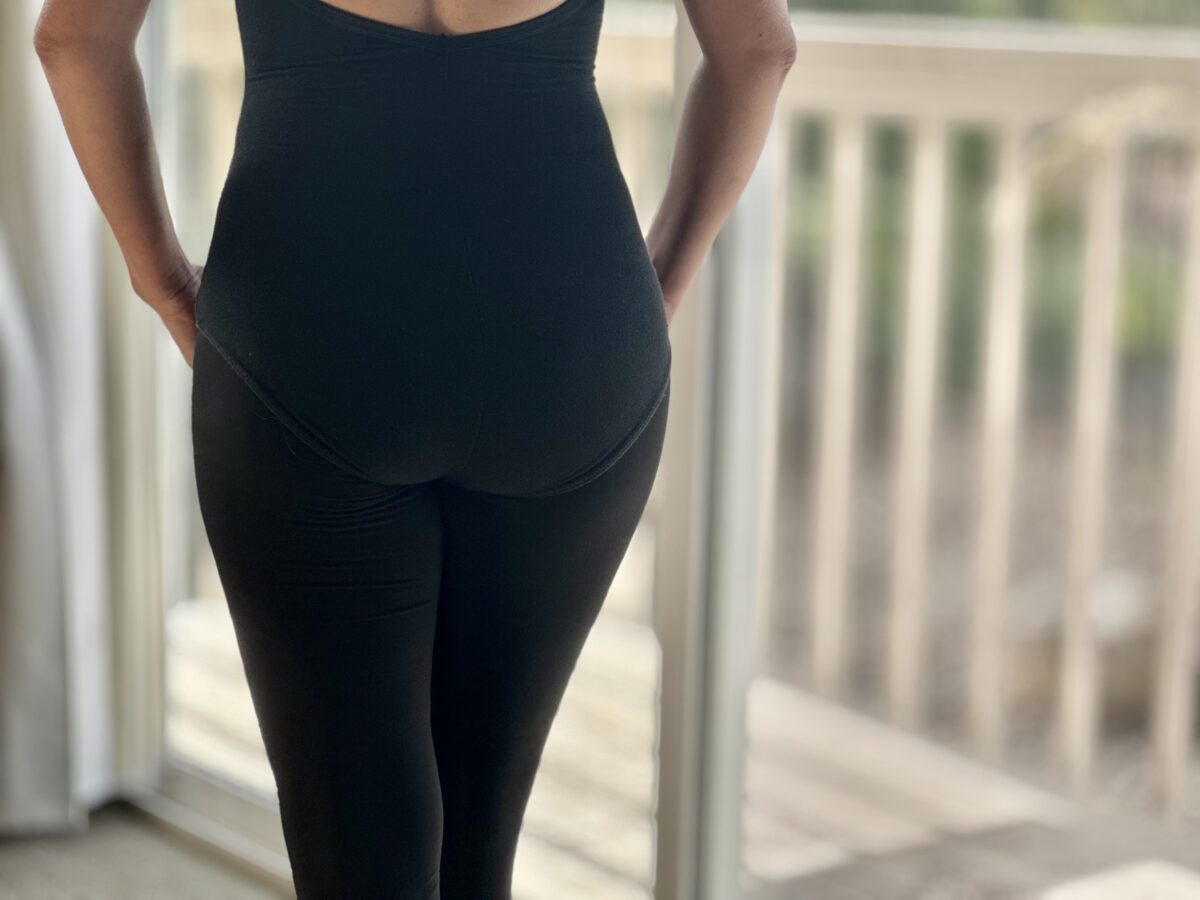 Step One: Hide Visible Seams
The first step is to hide any seams that will be visible while wearing a leotard with leggings. Underwear will definitely show in your outfit since they are body-hugging and fitted. Not only that, visible panty lines (VPL) or seams can also cause irritation and distraction for you, especially when you are dancing or practicing for sports.
You can hide visible seams by wearing thongs or seamless underwear. If you don't have any of those two, you can choose not to wear underwear since you're going to have two layers of clothing pieces to wear.
Also, professional dancers and gymnasts prefer not to wear underwear as it can sometimes hinder their movements.
Tip: in a pinch, you can actually wear a one-piece swimsuit in place of a leotard!
Step Two: Wear a Bra or Not
The next step would be choosing between wearing a bra or not. High-quality leotards have lining or underwire in the chest area to support breasts to improve movement, motion, proper breathing, and blood circulation.
However, you can also choose to wear one especially if you are not comfortable going out without a bra.
Step Three: Choose a Style
The third step or final step would be choosing what style would you want to wear your leotard with leggings. Since there are two different layers in the outfit, you can choose to wear them interchangeably. You can wear the leotards on top of the leggings, or you can wear the leggings under the leotards.
If you are opting to look more traditional, you can wear your leotards over leggings. That will also give emphasis to the leotards and any leg movements you would do. If you are opting to look modern and trendy, you can wear your leotards under your leggings which can also pass as casual wear.
Leotards With Leggings in Fashion
The trend is up for vintage and flattering pieces like leotards and leggings especially in the fashion scene. Leotards are a common staple piece of clothing for Hollywood stars which makes it even more interesting for common people to wear. However, pairing it up with leggings for a casual look is daring.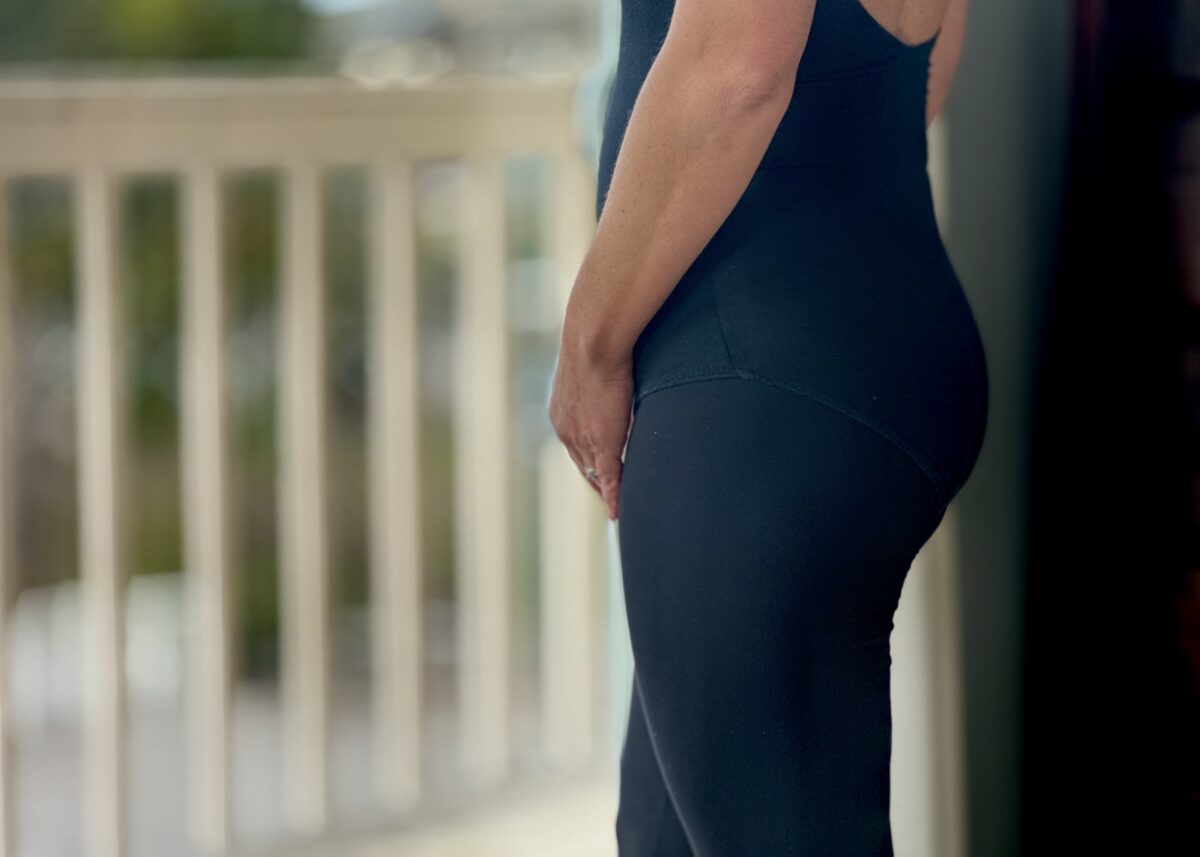 When you wear leotards with leggings, it will accentuate your body shape and curves to the fullest. Not only that, it will also make you look taller or smaller depending on your body shape. Thus, remember what would make this daring outfit more extra and appropriate for casual wear.
If you want to wear a leotard with a leggings outfit for a casual look, you have to wear the leotards underneath the leggings. Leotards worn outside of leggings are a common style for dancing and sports.
You can upgrade your outfit by incorporating accessories like long necklaces, belts, and even corsets with your leotards and leggings. That way, there are other pieces that outshines the shape of your body and give more pop of colors to the style.
If you want to have a carefree look with leotard and leggings but still want to cover your body shape, top your outfit with an oversized hanging blouse. Even jackets, sweaters, and long sleeves can go with the look.
You can always experiment when it comes to your outfit's color and tones. For instance, you can wear leggings with warm tones to accentuate your legs more.
Leggings and leotards come with different designs and features. Make use of those amazing features to have a more casual style. For instance, leotards have different chest designs and leggings have different waist lengths and supports you can choose from.
Tips on How to Wear a Leotard With Leggings
| Tips | What to do |
| --- | --- |
| Tip 1 | Hide any visible seams |
| Tip 2 | Decide whether to wear a bra or not |
| Tip 3 | Choose the most ideal style |
Frequently Asked Questions
Do I Need to Wear a Pantie When Wearing Leotards With Leggings?
It's not necessary to wear a pantie when wearing a leotard with leggings. Like swimsuits, leotards can provide you with support and protection like that of a pantie.
With leggings on top, a pantie becomes unnecessary. In fact, wearing a pantie when wearing a leotard with leggings can limit breathability, increasing the chances of odors and infections. 
Should I Wear Leggings Over or Under the Leotard?
Leggings are versatile, and you can wear them under or over the leotard. However, most people prefer wearing the leggings over the leotard as they help to create an illusion of larger hips.
Usually, this makes your torso look shorter, and your legs look longer.
Should I Wear a Bra With My Leotard?
Wearing a bra under a leotard is not recommended unless you have to. Bra lines will show through a leotard, making them less flattering and reducing the elegant and attract effects that a leotard creates.
However, if you have large breasts and need the support during activity, such as ballet, you might need to consider wearing a bra. Try and match the style of the bra to that of the leotard. For instance, if you are wearing a racerback leotard, consider wearing a racerback bra to help hide the straps.
How to wear leggings + how to find good quality ones ǀ Justine Leconte
Conclusion
Wearing leotards with leggings are versatile when it comes to their function and style like matching a style with burgundy leggings. You can wear them interchangeably, with leotards over or under the leggings for more specific style choice. Leotards with leggings can also be worn for dancing, sports, and casual by experimenting with different styles and accessories.