As an Amazon Associate we earn from qualifying purchases.
Every woman's dream is to look nice and feel confident in how they look. Cellulite affects a lot of women, and it ends up making them lose confidence in how they look. Let me look at how to hide cellulite in leggings.
How to Hide Cellulite in Leggings
Cellulite is a condition that causes dimpled-looking skin in the thigh, hip and stomach regions. It results from fatty tissue found deep in the skin pushing against connective tissues. Cellulite can affect anyone; while it mainly affects the curvier women, the slimmer ones aren't immune either.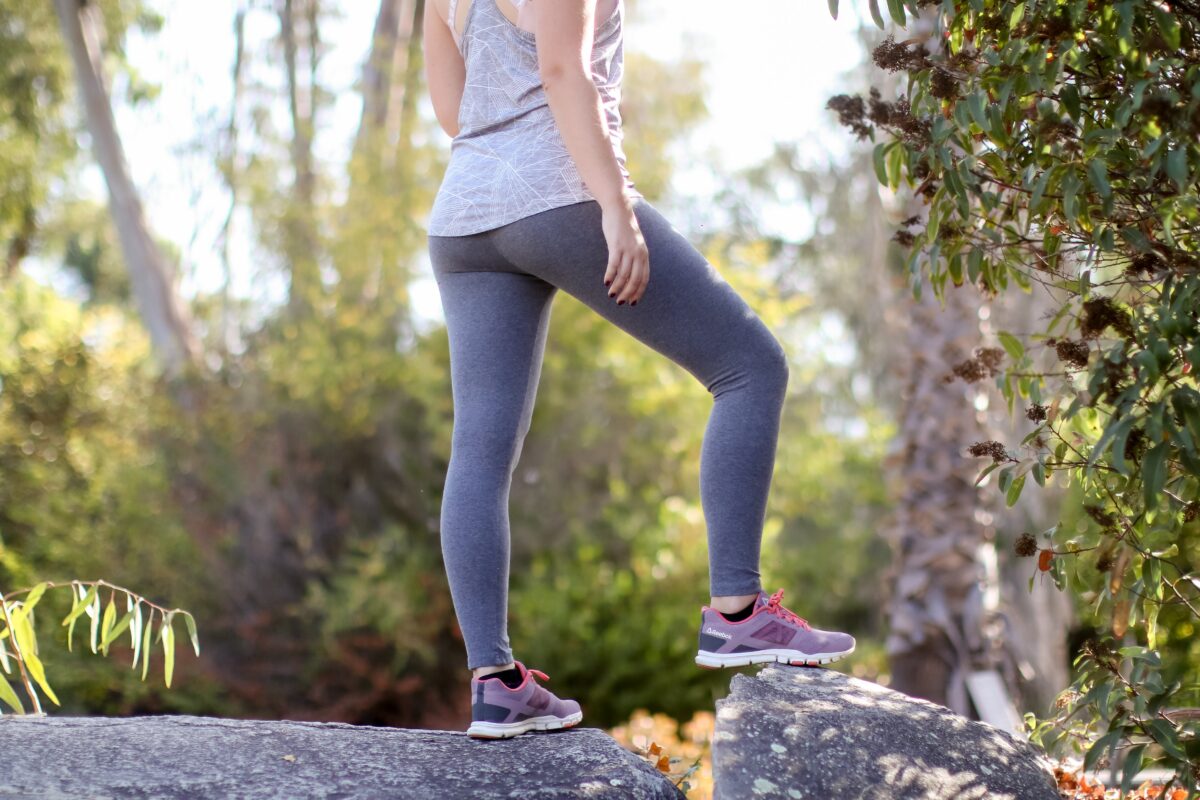 Many people, especially women, are very sensitive and conscious about their bodies in today's generation. Cellulite is visible in the body; thus, most women have opted to use several cellulite treatments that claim to be effective in removing cellulite.
Most of the time, the treatments do not work, or they are expensive for some people. Hiding cellulite can be a good idea, especially if you can't afford the creams, gels, and lotions. The best leggings for hiding cellulite conceal in the following ways:
Choose Tight Fitting Leggings
Tight-fitting leggings conceal cellulite and reduce their appearance. They have to be a little tighter than regular leggings to do this. While you move, they do not rub against your skin.
At the same time, they have firming and skin smoothening properties. When going for tight-fitting leggings, choose those that are made from soft material that senses heat accumulation and moisture. They tend to breathe it away in a relatively short time, and you will not feel it. You can use polyester leggings instead of nylon leggings.
These leggings are not restrictive in any way, they may feel tighter than regular leggings, but they are not uncomfortable. You will be able to wear and remove them easily and move around just fine.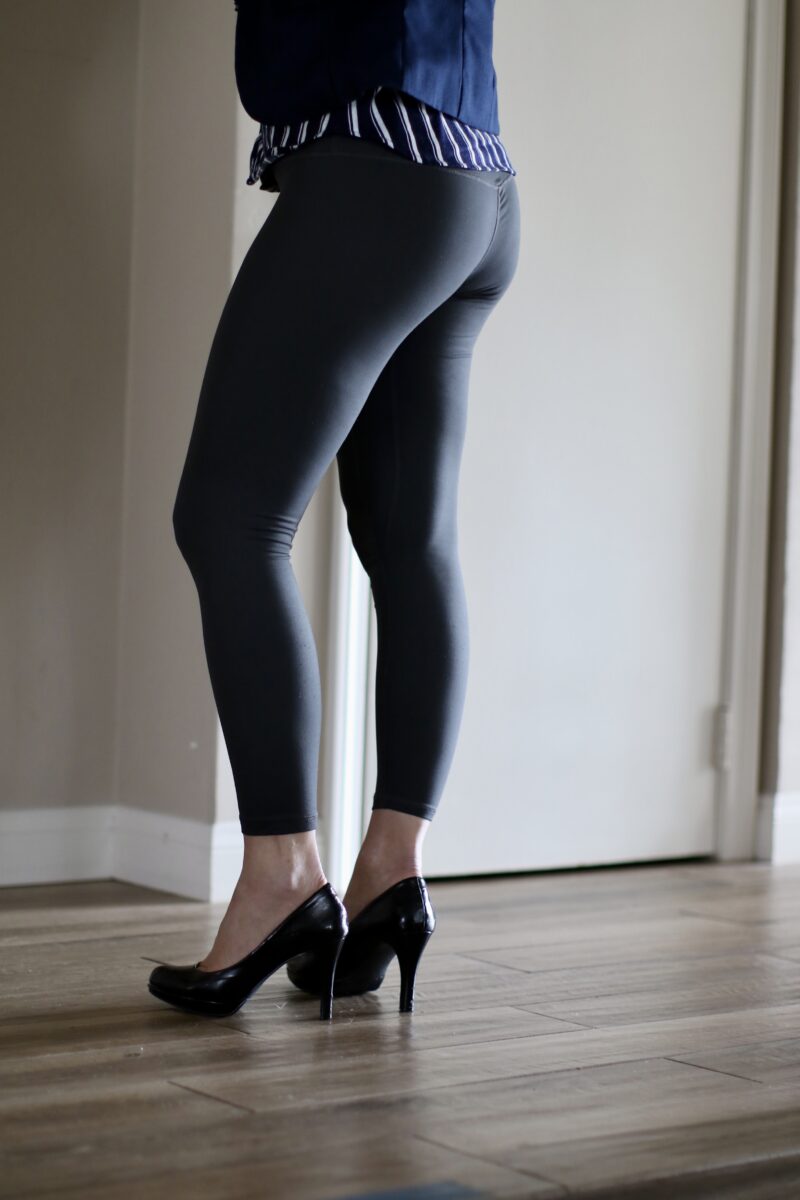 The Right Size
Do not underestimate the power of getting the right size leggings, as they can be a blessing in hiding your cellulite. Do not compromise on it. With the right size of leggings, you will not experience any pain or numbness when you have them on for a long time.
The right length of leggings is also essential; in your bid to hide your cellulite, you may end up with leggings that are too long. They may end up causing you to fall or trip. If they are too short, they may also make you uncomfortable.
For better coverage, ankle-length leggings are considered the best. Most people love them because they can also be used for formal attire if paired correctly, by people not comfortable showing their calves, and they go with a lot of outfits.
Go For Specific Materials
Leggings that hide cellulite are made from specific materials. However, there are some manufacturers that combine two or more materials. Although the end product may be expensive, they are of high quality and work better than leggings made from traditional materials.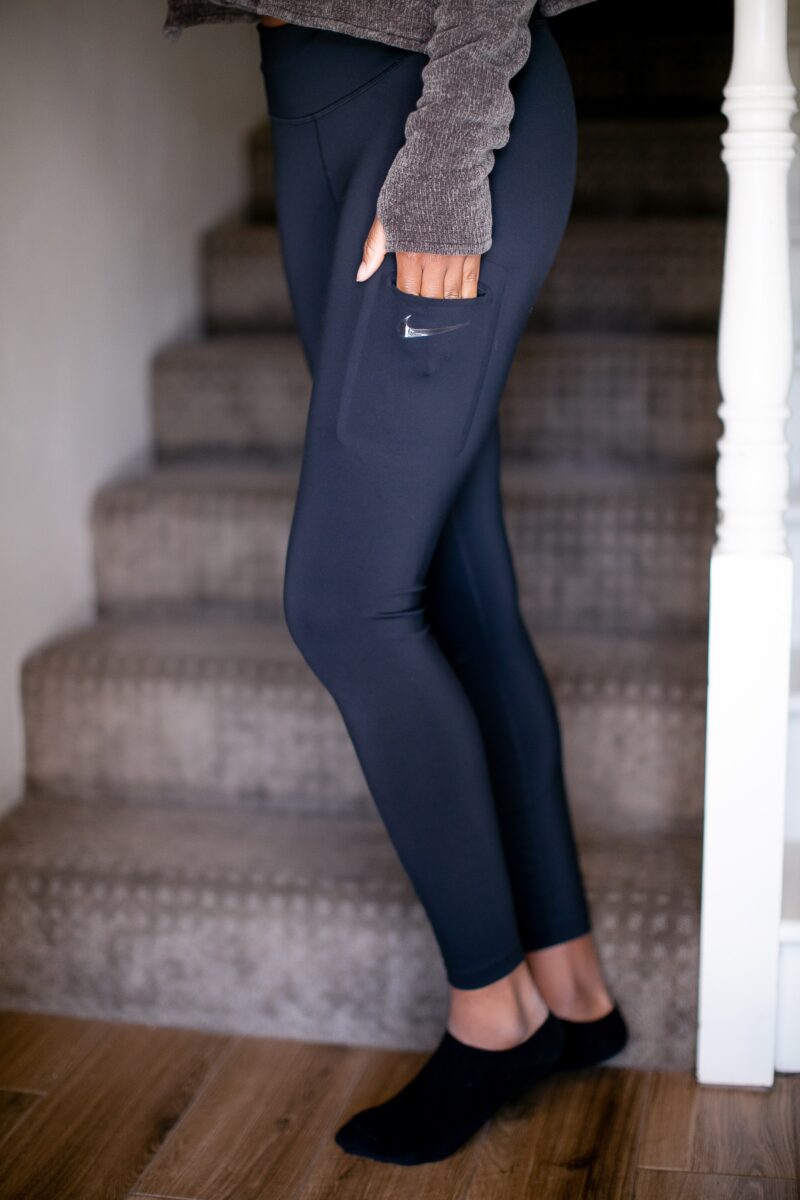 There may be special additions to the materials, including:
Aloe vera that soothes skin
Micro-massaging fibers
Caffeine that has a slimming effect
Vitamin E extracts that give the moisturizing skin effects
These materials boost circulation and offer amazing compression features. Your thighs, buttocks and waist will have a curvy appearance.
Tips on How to Hide Cellulite in Leggings
| Tips | What to do |
| --- | --- |
| Tip 1 | Go for tight fitting |
| Tip 2 | Choose a right size |
| Tip 3 | Go for specific material |
Factors to Consider When Buying Leggings to Hide Cellulite
If you have cellulite, buying legging may not be a simple process. You have to consider different factors before getting "The One". Some of these factors include:
Material
The material used is breathable and tight and does form wrinkles and creases when you wear it. They are firmer since they are made up of synthetic material. Materials such as spandex, neoprene, and nylon are mainly used.
They are the most effective since they have better elasticity. Polyester and polyamide are put in some anti-cellulite material blends. They offer smoothness and firmness since the target area for the anti-cellulite leggings is between the hips and above the knees.
The material used should be thick and firm. The waistband should be wider than the body because it will squeeze your tummy muscles as well. A thick legging will also contour the shape from the abs down to your thighs.
You can also opt for yoga pants for hiding cellulite. These will be more athletic in design, and might not conceal quite as much as leggings.
Performance
Your leggings should have moisture-wicking, anti-odour, and anti-bacterial properties. Most of the ladies wear leggings to work out.
You need supportive and durable anti-cellulite leggings that give you the lift and support you need to do most of the movements. Since you are likely to sweat a lot during your workout, the anti-cellulite leggings will keep you dry.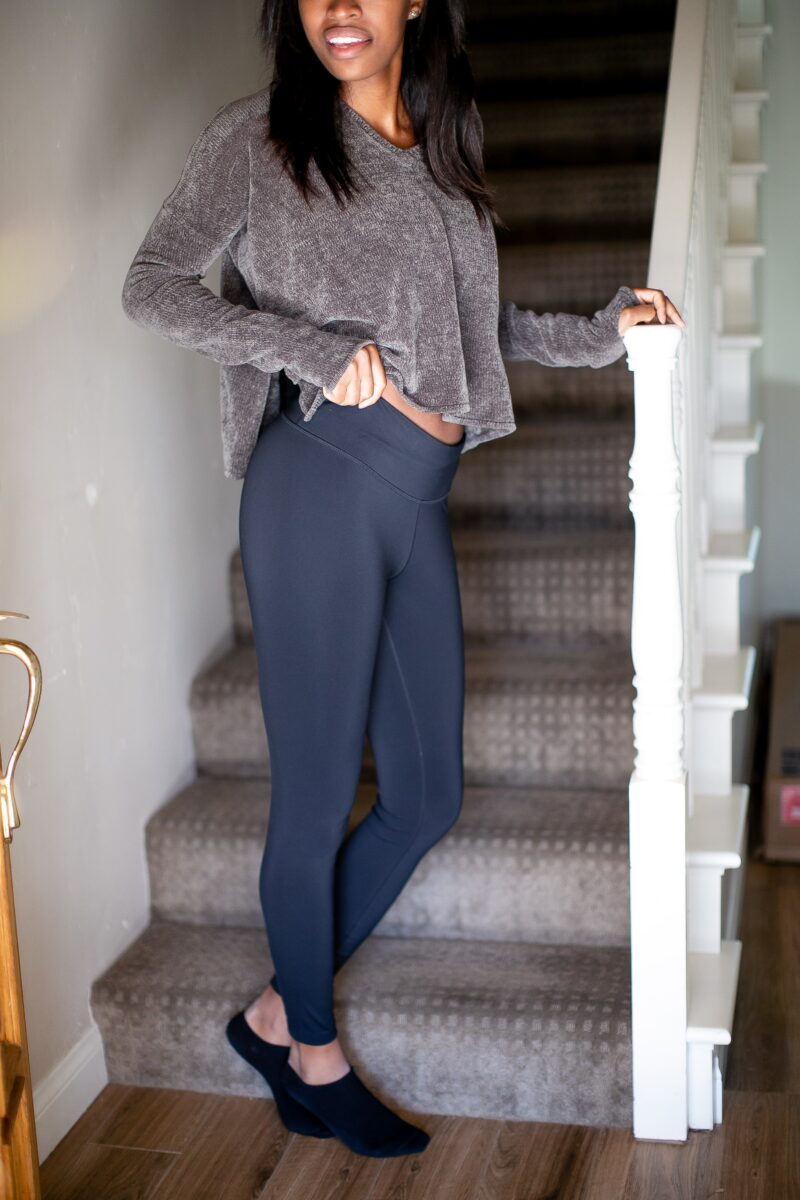 Size
The anti-cellulite leggings come in different sizes; this includes the waist size too. Most of the leggings are high waist, and they will start shaping your body and belly. It will be helpful since most women get cellulite around the belly area.
Make sure leggings are firm around the hips. They shouldn't slide down as you sit. It's essential to make sure you have durable anti-cellulite leggings made of high-quality synthetic material.
Frequently Asked Questions
What Causes Cellulite?
Cellulite results from fat cell accumulation, pushing up against the skin, which makes the tough cords of the muscles pull down.
Due to uneven accumulation of fat cells and pulling down of muscle cords, the skin becomes uneven, forming dimpling. That means many people are prone to cellulite as they gain weight.
However, genetics and hormones can affect the skin texture and structure, making it possible to find cellulite even in slimmer people.
Can I Get Rid of Cellulite?
There is no definite treatment that can get rid of cellulite permanently. Medical researchers have concluded that having cellulite is a normal condition that affects around 90% of women.
Drinking a lot of water keeps you dehydrated, making your cellulite less pronounced. Water helps your body appear a bit less dimpled, thus allowing your skin to bounce back and be more elastic.
Wearing appropriate leggings and drinking a lot of water reduces the visibility of your cellulite. The noticeable cellulite in the body can be because of poor diet, age, sedentary lifestyle, or hormonal imbalance.
Some studies have suggested the best way to lessen the visibility of cellulite is by dieting and exercising with a mix of creams, lotions, and gels. This, at times, takes a more extended period to work.
Is Cellulite Harmful to the Body?
Generally, cellulite is not harmful to the body. Keeping in mind that cellulite is all about the fat cells accumulating and causing dimpled skin, it doesn't affect the overall health of the skin.
In most cases, people get treatment for cellulite because of how they look, not because cellulite hurts.
What To Wear & NOT Wear With Leggings / Fashionable Leisure, Casual & Dressy Outfits With Leggings
Conclusion
Be confident in your skin and your body, and love your curves. I now know that cellulite can be hard to eliminate; however, it shouldn't get you down or make you feel less beautiful. Leggings will always come through for you if you want to hide the cellulite and give you smooth skin.