As an Amazon Associate we earn from qualifying purchases.
Cellulite is a common issue faced by most women, and it only aggravates with age. Fortunately, an easier solution offers an immediate, albeit temporary, fix: anti-cellulite leggings. The best leggings to hide cellulite are a holy grail when you want to head out with confidence.
Our Top Leggings to Hide Cellulite Recommendations
Most of the unsightly dimples and dents caused by cellulite are concentrated around your abdomen and legs. Hence, leggings are a great way to camouflage flabby skin to provide a smoother silhouette. My thorough research unveiled the best leggings to hide cellulite and make you feel comfortable in your skin.
Brand
Homma Premium Thick High Waist Tummy Compression Slimming Leggings
AIMILIA Butt Lifting Anti Cellulite Leggings
YAMOM High Waist Butt Lifting Anti Cellulite Workout Leggings
Product
Fabric Type
92% Polyester, 8% Spandex
Brand
Homma Premium Thick High Waist Tummy Compression Slimming Leggings
Product
Brand
AIMILIA Butt Lifting Anti Cellulite Leggings
Product
Brand
YAMOM High Waist Butt Lifting Anti Cellulite Workout Leggings
Product
Fabric Type
92% Polyester, 8% Spandex
Best Leggings to Hide Cellulite Overall: Homma Premium Thick High Waist Slimming Leggings
Homma Premium Thick High Waist Tummy Compression Slimming Leggings are available in 10 trendy, opaque, squat-proof colors. They are constructed from Homma™ Firm-Control fabric that comprises 88% nylon and 12% Spandex to keep all your lumps and bumps in check.
The waistband is designed to sit high on the abdomen for maximum compression and coverage
The fabric is lightweight yet still provides firm compression, so you won't feel restricted
The leggings are great for all activities, from yoga to running or lounging at home
The material is breathable and stretchable, allowing for prolonged wear without discomfort. The blend ensures that the sweat does not accumulate within the fibers and promotes quick drying to keep you comfortable while you work out or go about your day.
The thick, high waistband, similar to the AIMILIA leggings, keeps the belly fat in check, hiding any cellulite on the lower abdomen for a smooth and toned midsection. The band stays put, so you do not have to worry about it rolling down between your activities.
The fabric also contours your legs for an overall slimming and toning effect. The best part is that the form-fitting ability of the material does not deteriorate after multiple washing. However, the leggings may be uncomfortable during peak summer when you are prone to more sweating.
There are also a few complaints about the size running small, which is a common issue with all the compression leggings on the list.
Pros
A wide waistband offers enhanced tummy control
Strong compression hides most signs of cellulite without feeling restrictive
The seamless leggings do not cause chafing 
Cons
While the material is breathable, it can be uncomfortable during summers
The size runs small, so the leggings can feel too tight if you buy your true size  
Homma High Waist Compression Leggings for Women...
Not See Through: Women compression leggings are made of prime material, thick and not see-through...
No Muffin Top! Women tummy control leggings have double material in the tummy part, four-ways...
Postpartum Recovery: Women control top leggings compress the belly in all the right areas, bring...
Best Booty Lift Leggings to Hide Cellulite: AIMILIA Butt Lifting Anti Cellulite Leggings
AIMILIA Butt Lifting Anti Cellulite Leggings are constructed from a unique contouring fabric blend consisting of polyamide and spandex that tones your legs. It is also available in a multitude of striking colors.
The most sought-after attribute of the shapewear is its built-in butt lift that makes your posterior look immediately toned and in shape. 
The breathable fabric molds to your body comfortably, cinching in the fat deposits for a streamlined physique. It is also armed with quick drying and moisture-wicking abilities, which is the fundamental property of any quality sportswear. These abilities allow the leggings to remain dry and comfortable as you work up a sweat.
The leggings feature a distinct texture, unlike the plain Homma ones, with a crosshatch pattern, which enables them to camouflage the cellulite incredibly well. In addition, the unique compression design creates a slimming effect on the entire lower half of your body.
Despite a sturdy fabric blend that is super soft against the skin, it is comparatively see-through compared to all the other leggings on the list.
Pros
Textured fabric that hides the cellulite better
Slimming and lifting contours on the stomach and hips, respectively
Sweat-wicking and fast-drying abilities to keep you comfortable as you sweat during workout
Cons
The fabric is thinner than other leggings on the list, which makes it see-though upon stretching
The size runs small, which can make for a disappointing shopping experience for first-time buyers
AIMILIA Butt Lifting Anti Cellulite Leggings for...
Perfect Sports Equipment -The high quality activewear is both affordable and accessible, perfect for...
Perfect Design for Hip Curve - Using 4 way Stretch & Non See-through Fabric that slims, conforms,...
Sports Fabric and High Elasticity - These Butt Lifting Pants for women are made from the highest...
Best Workout Leggings to Hide Cellulite: YAMOM High Waist Butt Lifting Anti Cellulite Workout Leggings
YAMOM High Waist Butt Lifting Anti Cellulite Workout Leggings are made from a fabric blend of 92% polyester and 8% spandex. The specialized material hides the most stubborn cellulite on the legs, even for women who undergo rapid weight loss. The fabric also remains opaque upon stretching due to its thickness.
Moreover, the textured rhombus pattern on the leggings further supplements their anti-cellulite abilities. The material also features superior workout wear's unique properties, including enhanced compression, moisture-wicking abilities, and a rapid drying mechanism. 
Similar to the AIMILIA leggings, they assist in a booty lift, though the rounded effect may not be as pronounced. They also fit you like a second skin and make you feel instantaneously confident about your body.
While they are extra high-rise, the thin elastic of the waistband makes them less competent at tummy tucking than the HOMMA leggings on the list.
Pros
Incredibly competent at camouflaging cellulite on the legs due to the thick, opaque, and texture material
It offers contoured muscle definition and booty lift for an overall toned effect
Extra stretchy to accommodate very loose skin and increased cellulite
Feature pockets that are big enough to stow away your phone
Cons
The thin elastic at the waist can cause muffin top
It can feel itchy at times after a particularly strenuous workout
YAMOM Butt Lifting Anti Cellulite Workout Leggings...
🔥 [ FUNCTIONAL SIDE POCKETS ] Take care of your smartphone and other essentials, our leggings...
🔥 [ Butt Lifting Leggings ] Our anti cellulite leggings with honeycomb texture design and super...
🔥 [ Tummy Control & High Waisted ]  You who have a big belly are often troubled about how to...
Best Anti-Cellulite Leggings for Slimming Effect: SEASUM Women's High Waist Yoga Pants
SEASUM Women's High Waist Yoga Pants are armed with sublime anti-cellulite properties due to their construction from a mixture of polyester and spandex. These leggings are available in the widest variety of styles and colors compared to other leggings on the list.
You can get these leggings in tye-dye prints, solid colors, capris, and ankle-length to meet your needs. They also featured different textures, such as bubble, net, ribbed, and geometric. The premium texture also conceals the cellulite and hides the panty lines effectively.
Apart from being stylish, they are also quick-drying and moisture-wicking to keep you comfortable while you work up a sweat. They are also super stretchy, which makes them comparable to the YAMOM leggings on the list.
The leggings are most suitable for slimming and toning the abdominal region to provide you with contoured glutes. However, make sure to buy them in one size big as the sizing runs small.
Pros
Wide range of colors and styles, apart from the usual ones
High waistband for a tummy-slimming effect
The anti-cellulite properties are superior enough to hide panty lines
Cons
Size runs small, which can give you a camel toe
It can become see-through upon increased stretching
SEASUM Women's High Waist Yoga Pants Tummy Control...
❤Brazilian Booty Enhance-Sexy butt lift push up high waisted leggings for women, lifting yoga...
❤Non-cellulite-Polyester&spandext,textured fabric that covers all flaws.Brazilian Boost leggings...
❤Multi Colors&Styles-This textured series offer Bubble textured,Net textured,Ribbed textured,...
Comparison Table of Features
| | | | |
| --- | --- | --- | --- |
| | Butt-Lift | Squat-Proof | Material |
| Homma Premium Thick High Waist Slimming Leggings | No | Yes | Nylon/Spandex |
| AIMILIA Butt Lifting Anti Cellulite Leggings | Yes | No | Polyamide/Spandex |
| YAMOM High Waist Butt Lifting Anti Cellulite Workout Leggings | Yes | Yes | Polyester/Spandex |
| SEASUM Women's High Waist Yoga Pants | Yes | No | Polyester/Spandex |
Features to Consider for Leggings to Hide Cellulite
Several factors require your consideration before your spend money on anti-cellulite leggings in hopes of achieving particular results. The following factors will help you determine the best compression leggings based on what you expect them to do and how you plan to use them.
Fit
Anti-cellulite leggings are supposed to be tight-fitting, which allows them to impart skin-firming and smoothening properties. However, they should not be restrictive in a way that makes you uncomfortable. The correct fit allows you to move freely while you exercise without causing the fabric to rub against your skin and cause irritation.
Most leggings tasked with hiding cellulite are not as skinny as pantyhose. Instead, they have a fit that resembles yoga pants or workout leggings. They should be snug around the buttocks, thighs, and calves. Homma, AMILIA, and YAMOM are armed with solid compression for body contouring.
Moreover, the leggings should not dig into your stomach whether you are wearing high-waisted or low-waisted ones. When the elastic band is exceptionally tight around your stomach, it can give you a muffin top. Contrarily, a looser band will keep slipping down, forcing you to pull it up every few minutes.
Size
Leggings that hide cellulite are thick, firm, and not as stretchable as usual. Therefore, you should choose the correct size, as good-quality leggings will not loosen over time. Instead, they can ripple from excessive stretching if you wear a smaller size.
In addition, many women compromise on the comfort factor to gain more support. However, too small leggings can cause numbness and hinder blood circulation. Consequently, more and more brands are focusing on improving the fiber quality used to construct the leggings to camouflage the cellulite better.
Thus, if your leggings feel tight around your waist or leggings, try a bigger size. All the above-mentioned compression leggings usually run small, so try them to gauge the correct size instead of trusting the label.
Material
The best material for anti-cellulite leggings is thick and flexible. The thickness of the fabric keeps your cellulite in check, while the flexibility makes it adaptable to your movement without deforming. Therefore, it is essential to pay attention to the stretch mechanics of the material.
You can find stretch fabric in two variants, two-way and four-way. The two-way fabric can only stretch in a single direction. The four-way stretch fabric can stretch crosswise and lengthwise. This makes the two-way stretch tighter and more restrictive than the four-way stretch. Homma, YAMOM, and AIMILIA, on my list, use four-way stretch fabric.
Another essential factor to consider when selecting the material is its firmness. Stiffer fabrics will make your skin appear more even across its surface, while looser ones will cling to your body and highlight every tiny flaw and unevenness. Thus, you will often find leggings with synthetic blends to make your body look toned.
Pattern
When shopping for anti-cellulite leggings, you may be attracted to patterned leggings more than plain ones. Patterned leggings look more stylish and attractive compared to solid-colored ones. Fortunately, they are also better at hiding cellulite.
Patterns on the leggings can distract you from noticing the small lumps and dents on your body caused by cellulite. Therefore, tye-dye leggings, like the ones available by SEASUM, are quite popular. They are second only to the solid black leggings for reasons I discuss below.
In addition, you can also go for vertical lines that create an illusion of long legs and slimmer pins. Even one racing strip along the side has enough power to divert attention and produce a similar effect as multiple vertical lines.
Color
Generally, it is recommended to go for dark colors or black to maximize the cellulite-hiding potential of the compression leggings. Darker hues are more competent at hiding any bumps or bulges as they absorb all the light and make you look slimmer.
On the other hand, light colors make the contours of your body more prominent and are not as good at concealing cellulite as darker ones. However, the light color alone is not a viable reason to skip out on otherwise high-quality leggings.
Since all the leggings on my list are available in many colors, ranging from light to dark, you can easily opt for any of them as long as they fulfill your basic requirements.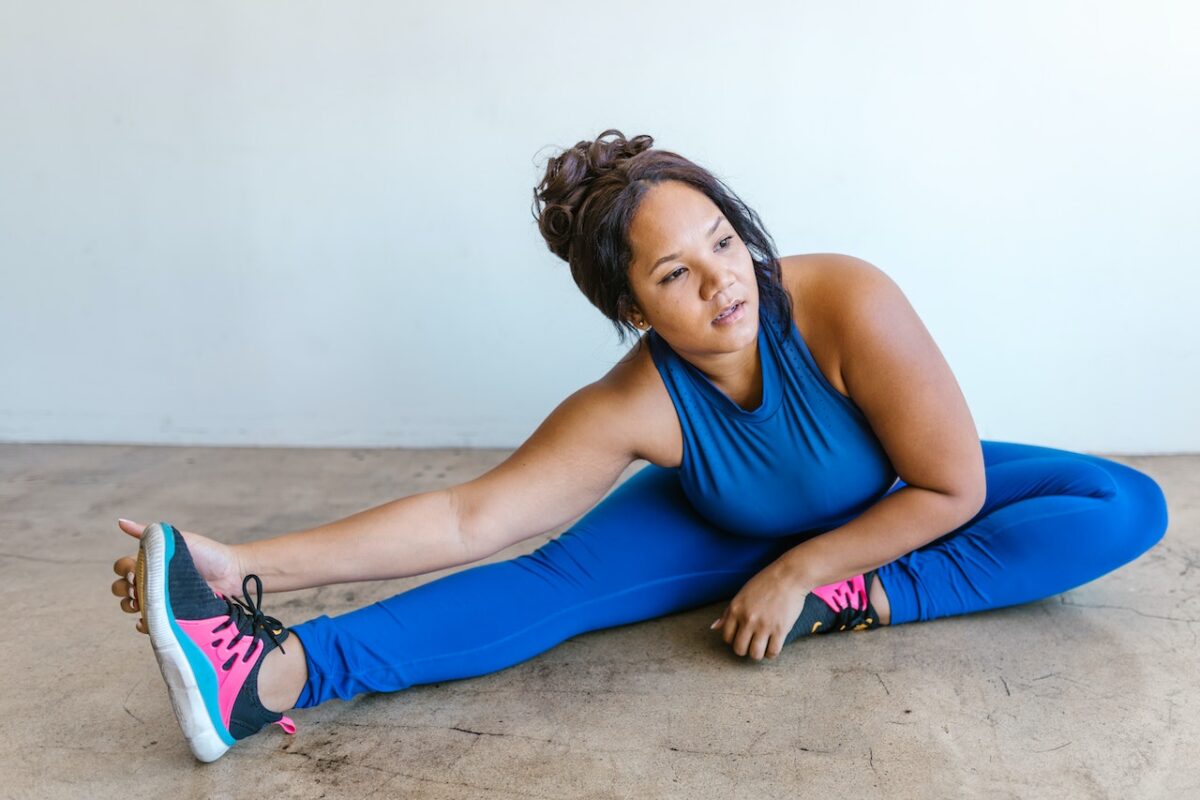 Texture
While the texture may not be your top priority when shopping for compression leggings, it also plays a part in reducing the appearance of cellulite. Like the pattern, texture also lends a hand in camouflaging the cellulite better than plain leggings.
A mesh or honeycomb texture is fantastic at hiding deep cellulite marks. Therefore, most of the leggings featured on the list have texture, apart from the Homma one. The SEASUM leggings go one step further by offering you a variety of textures.
Frequently Asked Questions
Can Leggings Get Rid of Cellulite?
Compression leggings or other similar articles cannot eliminate the cellulite on your body. They can give you a toned appearance when you wear them regularly and, occasionally, inhibit the deposition of more cellulite fat.
What Is the Best Way to Hide Cellulite?
Apart from compression leggings, you can also hide cellulite fat by keeping hydrated, massaging your body to improve blood circulation, and dry brushing the affected areas. To permanently reduce cellulite, you should adopt a healthier lifestyle by improving your diet and fitness levels.
11 Ways to look chic in leggings
Conclusion
Premium quality leggings are competent at concealing cellulite, cinching in your belly pouch, and toning your legs. They can also make your booty appear perter and improve the outline of your lower body. Thus, I have recommended the best anti-cellulite leggings to help you be more confident and in control of your body.