Thank you for your support!
Faux leather leggings are sleek and edgy, yet they also strike a balance between function and fashion. However, the right pair requires finding a comfortable material, knowing your body type, and choosing a style. To help you score a great deal, we've rounded up the best faux leather leggings for your wardrobe haul this year.
Best Faux Leather Leggings
There are several options for the best faux leather leggings. Not only do they look stylish, they also provide stomach control, contour, and comfort. These are our top picks that look as good as genuine leather.
Spanx Women's Faux Leather Leggings
The Spanx Women's Faux Leather Leggings is an excellent choice if you're on the hunt for a fashionable alternative to classic leather pants. This pair fits and feels like regular leggings with a sculpting power that helps you rock outfits with extra confidence.  
Known as the brand that made vegan leggings famous, Spanx uses synthetic materials to create seamless shapewear that combines comfort, breathability, and body support.
With nylon as the main component, the leggings provide you with a cool and soft touch while having the ability to wick moisture away. The addition of elastane and spandex also encourages stretchability.
Since the leggings don't use real leather, the pair contains a black sheen coating to resemble the appearance of authentic leather. Aside from the look and feel of workout leggings, these faux leather leggings can also pass as everyday or lounge leggings.
What sets this pair apart from the rest of the leggings is their built-in contoured, slimming waistband that provides a smooth, sculpted fit. With the absence of center seams, you can say goodbye to unflattering lines and enjoy pairing the leggings with short-length tops.
The waistband of the Spanx Women's Faux Leather Leggings meet your natural waistline, giving you a flattering silhouette. The high-waist design also prevents the leggings from rolling down, creating wonders to make your body look toned.
While the stretch makes the leggings run a bit shorter, this feature makes the leggings great for lounging around or long travel days.
Spanx creates these leggings in a variety of sizes ranging from extra small to triple XL. As the brand offers petite sizing, ladies smaller than 5.5 feet can still achieve an ankle-length cut.
Available in plain black, rich olive, and sparkly metal colors, this sleek pair is a good investment if you want faux leather clothing that makes you feel and look great at the same time.
Pros
Exceptional control top
Built-in shapewear can show off the body's natural curves
Ideal for long-legged ladies
Cons
A bit pricey
Brand's size chart runs smaller compared to others
Commando Women's Faux Patent Leather Perfect Control Leggings
The Commando Women's Faux Leather Control Leggings rivals the Spanx leggings as a premium choice. These showstoppers come with the finest features such as ultra high-rise design, four-way-stretch, and smoothing waistband — no wonder they're among the top-selling leggings on the market. 
Blending elastane, viscose, and polyurethane in the leg part, the leggings create a lightweight feel with a lustrous finish, making it shinier than the Spanx leggings. These faux leather leggings also have a more grainy texture, resulting in an authentic look.
What's more, the viscose adds the luxury-effect even at a lower price point. However, the sleek microfiber sounds a bit squeaky in the thigh area.
The nylon-elastane waistband acts as a stomach-smoothing panel that controls the waist without being too restrictive. Serve looks anywhere you go while still being comfortable.
Meanwhile, the high-waist design allows you to match the leggings with cute crop tops or oversized shirts. While the Commando Women's Faux Leather Control Leggings may feel snug when you first pull them on, they can form your shape well within your first try. A bit of wiggle, and you're all set!
There's also the four-way stretch that lifts the buttocks, letting you flaunt your efforts from squatting. Besides, this stretch design promotes excellent shape recovery, no matter how the fabric adjusts to smoothen and accentuate your curves.
These machine-washable leggings come in classic black, white, and burgundy, with sizes from extra small to extra large. If you want a pair of leggings that combines comfort and a polished look, make these ultra-slimming leggings your next wardrobe investment.
Pros
Sleek and luxurious yet comfortable fabric
Four-way stretch design for a snug fit
Extra-high control waistband
Cons
A little squeaky in the thigh area
May feel a bit hot for the summer
Everbellus Sexy Faux Leather Leggings
Are you looking for comfy leggings with athleisure-like stretch that looks like high-end leather pants? Well, you're in for a treat with the Everbellus Sexy Faux Leather Leggings. The most cost-friendly among the faux leather leggings on this list, this pair can go head to head with premium leggings. 
Similar to typical leggings, this pair uses spandex and polyester to promote stretch. With the addition of PU leather, the leggings become wrinkle-resistant and appear like real leather. The coating also brings a shiny finish that makes the leggings look youthful.
Once you put these on, the stretchy fabric contours easily, giving a slim silhouette whatever outfit you make. The figure-hugging design brings out the best in your legs and curves.
The leggings radiate hotness, figuratively, and literally. While you look sexy in the figure-flattering stretch, the material feels a bit hot during warmer seasons. However, the inner lining adds comfort to your skin, so that the leggings won't feel too restrictive.
The lining also improves opacity, preventing the leggings from becoming see-through. Likewise, this feature helps you get the Everbellus Sexy Faux Leather Leggings on and off the body smoothly.
With a wide waistband, these faux leather leggings sit beautifully on the body for extra support. The elasticity also stops the waistband from rolling down. In addition, the high-rise design provides cover for the midsection to hold everything in the place, without feeling too snug.
Sizes are available from small to double extra large, although it would be better first to consult the brand's sizing chart. Easy to match with any top style, these leggings can be versatile from night outs to daily wear.
Pros
Doesn't bulge at pressure points
Stomach-controlling waistband
Versatile fit results in a figure-flattering effect
Cons
Might make you feel sweaty on hot temperatures
Not ideal for machine washing
Lysse Women's High-Waist Vegan Leggings
Designed to hug and sculpt, the Lysse Women's High-Waist Vegan Leggings also delivers ease of movement and all-day comfort. It combines quality fabric and stretchable lining to withstand scratches and pressure, giving you a timeless faux leather garment. 
Like other leggings, this pair uses polyurethane leather and spandex to create an authentic leather-like appearance. Rich pigments of coating add to the glossy look.
What stands these leggings apart is that they use cruelty-free rayon for breathability. While rayon isn't as stretchable as the other materials, the spandex incorporates a four-way stretch for flexibility, so that the leggings adjust as you move. However, the friction may cause the fabric to make squeaky noises.
Still, these faux leather leggings don't stretch out much to the point of becoming see-through, so you can get away with wearing shorter tops. In fact, they look and feel structured enough to pass as black pants.
Aside from the pull-on styling, the high-rise design helps you achieve an hourglass silhouette by lifting the right curves. The ankle-length cut also helps elongate the legs.
On the other hand, the five-inch concealed waistband reinforces the stomach-control abilities of these leggings, delivering 360-degree smoothing for all body types.
Soft lining and decorative seaming remove the irritating feel of synthetic materials. Besides, the Lysse Women's High-Waist Vegan Leggings contain strategically placed pockets for convenience.
With sizes from extra small to extra large, these leggings offer an exceptional fit. Since the material and construction make the leggings more durable, a pair can witness every trend, letting you maximize these leggings for different outfit styles.
Pros
Waistband and four-way stretch for a sculpting fit
Decorative yet flattering seams
Wrinkle-resistant and machine-washable
Cons
A bit squeaky in the thigh part
Higher price tag
What to Consider When Buying Faux Leather Leggings
After giving you options for best faux leather leggings, there are some aspects that can help you choose the right pair for any season.
Fabric
Premium faux leather consists of synthetic polyurethane or artificial fabric. Threads may come from eco-friendly fibers such as pineapple, kelp, or bark leaves, making them stretchy yet smooth. Hence, the production of faux leather leggings remains cruelty-free.
The fabric must show a deep, grainy texture yet soft feel of genuine texture. The color, print, or grain creates a visual appearance of realistic leather quality.
Once you find the perfect faux leather leggings suitable for your needs, the material provides the following benefits:
Economical: Faux leather is more vegan-friendly than real leather. The material won't absorb moisture, so leggings remain durable for a long time.
Durability: Synthetic leather won't retain moisture and marks, letting you avoid scrapes, scratches, or cracks that usually occur in authentic leather.
Low maintenance: Faux leather's color doesn't quickly fade. You can use warm water and dry cloth to wipe the leggings clean and get rid of food stains, ink, and liquid.
Fit and Body Type
It's vital to choose the appropriate size that fits your body type.
Faux leather leggings must be as snug as possible so that they won't bunch around the waist, knees, or ankles.
However, they shouldn't restrict your movements and breathing.
If you have a slim body with short legs, high-waisted faux leather leggings can elongate your legs. Matte, shiny, suede, and embossed materials can also improve that.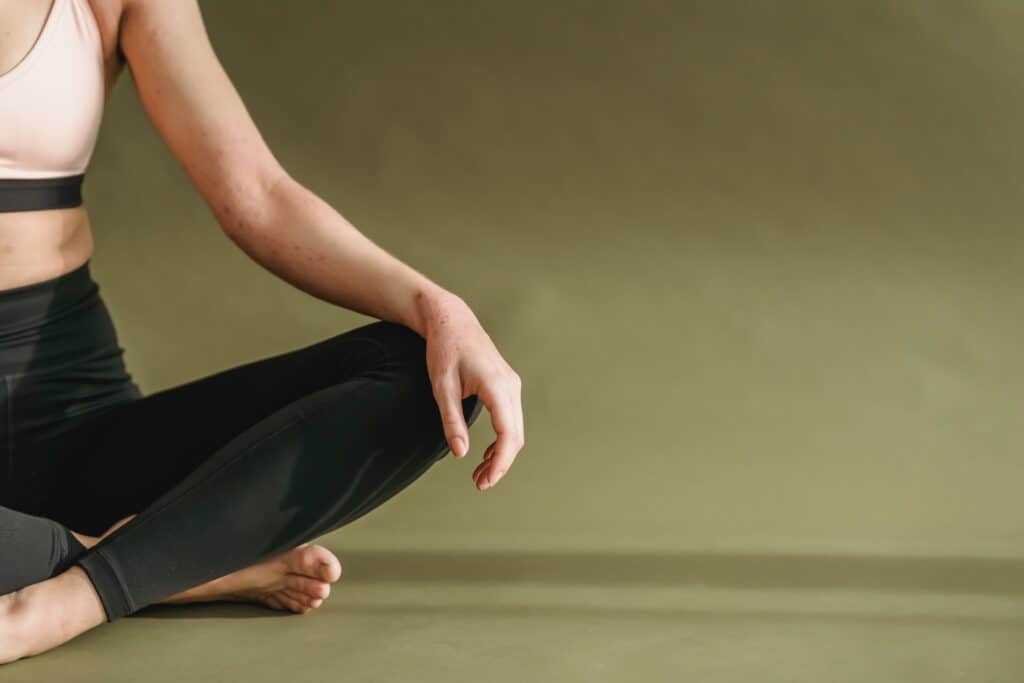 Meanwhile, a curvy body requires leggings with stomach control to contain extra weight around the waist. Lastly, a long body with thin legs needs a finish or texture that can make the legs a bit thicker and emphasize the curves.
Style
There are several styles of faux leather leggings you can choose from: striped, laced, plain-colored, embroidered, velvet-edged, fringed, and studded. As long as the style looks flattering on your body and you feel confident in pairing it with your clothes, the sky's the limit on selecting the design.
Conclusion
If you want to save time choosing outfits, a fashionista like you can benefit from owning a pair or two. Faux leather leggings can instantly upgrade your outfits for any occasion, all-year-round.