As an Amazon Associate we earn from qualifying purchases.
Leggings are one of the comfortable and carefree pieces of clothing you can have for yourself. However, choosing the right size of leggings is often confusing which keeps people asking: what size leggings should I buy? Well, if you are one of them, here's the answer you've been looking for.
What Size Leggings Should I Buy?
Looking for the right legging size for you can be challenging but the safest way to find the fit you've been looking for can start with your normal pants size. From that, you can start downsizing based on the kind of fit that your normal pants size provides.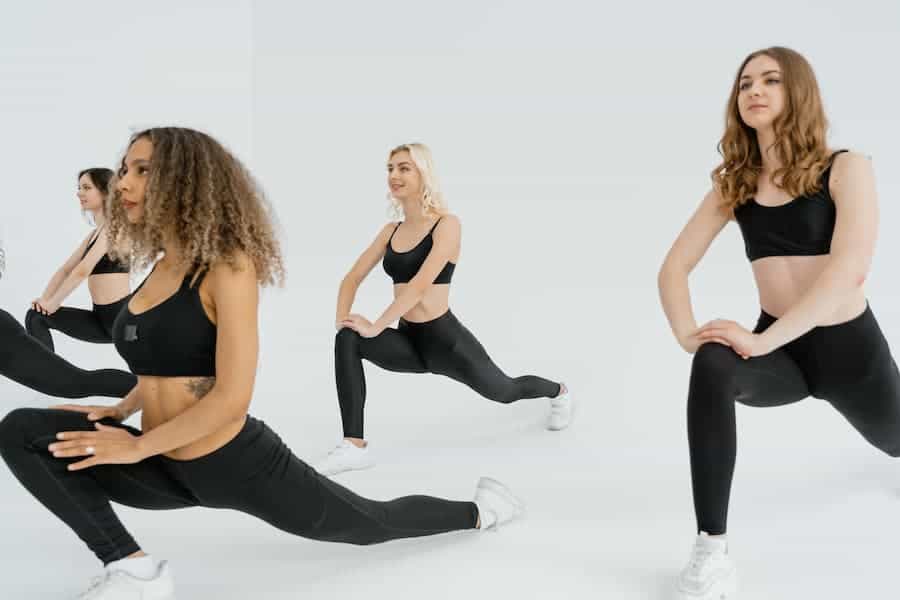 While this method is the easiest way to look for the right leggings size, this might not be applicable to all people. There are different kinds of methods and charts that might be a more fitting option for you, especially to curvy and petite sizes that usually alter their pants for a better fit.
Size Charts for Leggings
Size charts are the most common guide for people who are looking for the right leggings size that will match their body. There are known size charts in the world, the US size chart and the UK size chart. To be more knowledgeable about UK and US size chart, you can compare the two using the chart below:
| US SIZE | ALPHA SIZE | UK SIZE | WAIST INCHES | HIPS INCHES | WAIST INCHES | HIPS INCHES |
| --- | --- | --- | --- | --- | --- | --- |
| 00 | XS | 4 | 23-24 | 32-33 | 23-24 | 32-33 |
| 2 | XS | 6 | 24-25 | 33-34 | 24-25 | 33-34 |
| 4 | S | 8 | 26-27 | 34-36 | 26-27 | 34-36 |
| 6 | S | 10 | 27-28 | 36-37 | 27-28 | 36-37 |
| 8 | M | 12 | 28-29 | 37-39 | 28-29 | 37-39 |
| 10 | M | 14 | 29-30 | 39-41 | 29-30 | 39-41 |
| 12 | L | 16 | 31-32 | 41-43 | 31-32 | 41-43 |
| 14 | L | 18 | 32-34 | 43-44 | 32-34 | 43-44 |
| 16 | XL | 20 | 34-36 | 44-45 | 34-36 | 44-45 |
| 18 | XL | 22 | 36-38 | 45-47 | 36-38 | 45-47 |
| 20 | XXL | 24 | 38-40 | 47-49 | 38-40 | 47-49 |
| 22 | XXL | 26 | 40-42 | 49-51 | 40-42 | 49-51 |
Specific Size Charts Based on Brands
Most clothing brands in the market have specific size charts for their leggings to promote better and more comfortable fit for their customers. This can be confusing for the new customers who want to try out their leggings for the first time. Thus, better look out for size charts that clothing brands have before purchasing in their stores.
Tips for Finding the Right Legging Size
Legging sizes vary depending on other determining factors such as the quality and stretchiness of the fabric that can alter its fit. For instance, leggings with a UK medium size can fit to your hips but can be too tight for your thighs. There are plenty of things to consider when you are looking for perfect leggings.
If you are a person who's hesitant in making the right decision when it comes to legging sizes, there are plenty of methods and tips that you might want to know about. This will help you to know your specific body size applicable to any type of clothing piece. That way, it will allow you to have a better fit to different kinds of clothes.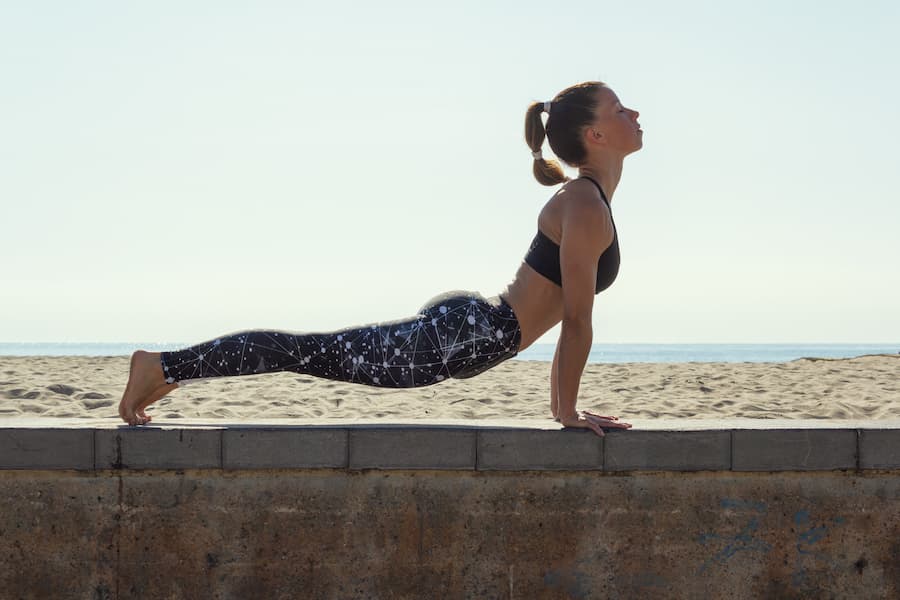 Things to Consider for Finding the Perfect Leggings Size
There are other things to consider aside from the actual size chart provided by the leggings brand or even the common US and UK size charts used by most clothing brands. These are crucial when it comes to looking for leggings that can perfectly accentuate your shape. Here are the factors you should consider:
Quality of fabric – The quality of the fabric adds to the versatility factor of leggings. There are types of fabric that can create more friction to the skin that might affect the fit of the leggings. Nylon and polyester leggings are one of the qualities that you may choose from.
Stretchiness of the fabric – The stretchiness of the fabric is important because it determines the maximum size of the leggings particularly along thighs and legs area. Commonly, clothing brands only focus on the waist and hip sizes.
Special features in leggings – Some leggings brands have four-way stretch features and some have dri-fit technology features that can improve the leggings to accommodate bigger and smaller body sizes.
Design – Most leggings have a high waist or mid-waist design to support the waist area especially during workouts. These kinds of designs can alter the sizes of leggings. Some may create their own way like making ripped leggings.
Measure Leggings Size
The best way to make sure that you have the right leggings size is to measure yourself. US and UK size charts are often used in pants which are quite different compared to leggings. Leggings should be fit and body-hugging.
For that, there are three main points you should measure for your leggings size.
Measure your waist, hips, and leg length or inseam using tape measure. Make sure to measure the sizes closer to your body because leggings are supposed to touch and hug the skin. You can also measure your leg diameter which determines the fit of the leggings into your thighs and legs.
You can measure your leg diameter by measuring the circumference of the fullest part of your thigh commonly located near the crotch area. After that, measure the circumference of the lower part of your legs. With that, you can look for specific leggings with the appropriate length and diameter suitable for your thighs and legs.
Tips on How to Find the Right Leggings Size
| Tips | What to do |
| --- | --- |
| Tip 1 | Downsize based on your normal pants |
| Tip 2 | Look for a size chart guide |
| Tip 3 | Check the brand-specific size charts |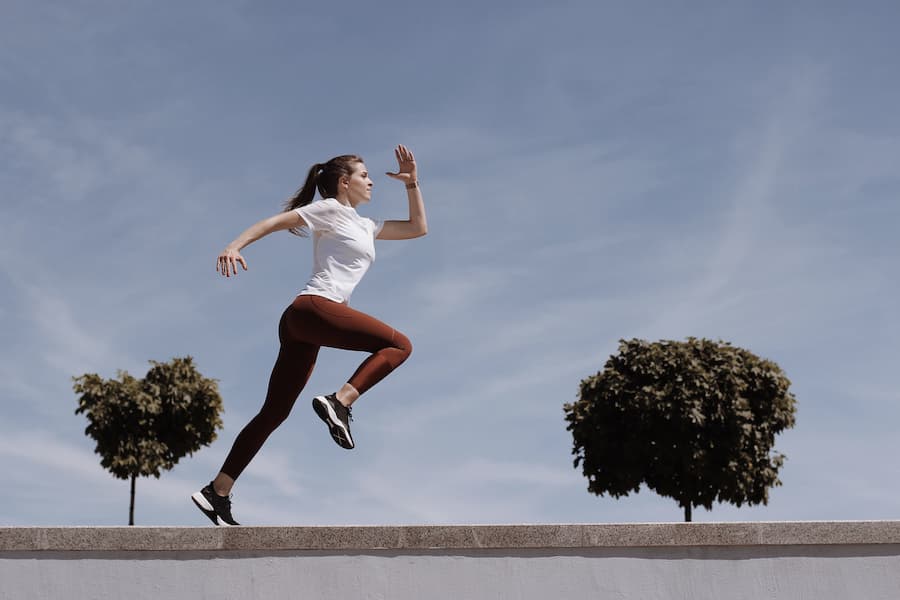 Frequently Asked Questions
Can Leggings Fall Down if I Lose Weight?
Yes, leggings can fall down if you excessively lose weight due to health issues or undergoing a weight loss plan.
Although the leggings are made with a blend of spandex to make them stretchy, elastic, and form-fitting, there is a limit to this elasticity.
As a result, the leggings might not be form-fitting, and the elastic waistband might not effectively hold your mid-section, making the leggings down. Typically, it's like you have got oversized leggings.
Should I Size up or Down for Leggings?
Sizing up or down for leggings should be based on your body size. For instance, if your leggings fit tighter than your comfortable level, you should upsize.
You also downsize if your leggings are slipping down, roomy, or baggy especially around the thigh and legs area. Leggings should fit perfectly and it should accentuate your body.
Is a Size 14 Medium or Large?
There are two common size charts used around the world which are UK and US size charts. If you are using the UK size chart, size 14 falls under large size but it falls under extra large if you are using the standard US size chart.
Make sure to confirm what kind of size charts are you looking at to have a more certain size for your leggings.
10 Things to Check Before Buying Leggings/ What no one told you about PERFECT LEGGINGS
Conclusion
The safest way to look for the legging sizes that you should buy would be comparing it to your normal pants size. However, there are other factors to consider in looking for the perfect leggings that will fit your body type. Thus, it is important to measure yourself to find the perfect length and size for your leggings.