As an Amazon Associate we earn from qualifying purchases.
The price of beauty sometimes costs pain and sacrifice. For such a small thing, hair on all the unflattering places seems to be harmless until you try to remove them.
Though not totally void of pain, epilators are the lesser evil of hair removal methods. Instead of the frequent expensive waxing treatments or constant hazards of shaving, the best epilators are a one-time investment worth the splurge to keep your hair-free for weeks at a time.
Our Top Epilator Reviews
Epilators are not like razors that you buy out of habit while grocery shopping. Like any electronic device, it's wise to test the waters online and see which has the best features you need before you purchase. After reviewing several epilators, it was hard to select my favorite out of the group!
In the end, my vote for the best epilator is The Braun Silk 579. Overall, here are some of the top-rated epilators worth considering.
Brand
Braun Epilator Silk-epil 9 9-579, Hair Removal
Panasonic Shaver & Epilator for Women
Philips Satinelle Hair Removal Epilator
Product
Features
Comes with 7 extras including a shaver head
Wet dry shaving and epilation
Special ceramic tweezing disks
Brand
Braun Epilator Silk-epil 9 9-579, Hair Removal
Product
Features
Comes with 7 extras including a shaver head
Brand
Panasonic Shaver & Epilator for Women
Product
Features
Wet dry shaving and epilation
Brand
Philips Satinelle Hair Removal Epilator
Product
Features
Special ceramic tweezing disks
Braun Silk 579
If you are looking for a new epilator, then you don't need to look very far. The Braun Silk 579 is very versatile. This is not just because of its high-quality performance. It also comes with a variety of great attachments.
This epilator has a 40% wider head than the average one. It helps you cover more ground in one pass. With a wider head, you can cut down how long you spend getting rid of hair and more time on the things you love to do.
Braun Silk 579 is great for dry skin as well as being used in the shower on wet skin. The body of the epilator has been properly sealed so water can't get into the mechanics of the machine while you are using it in the shower.
A micro grip tweezer technology features wider, longer, and deeper tweezers that work with precision to remove hair. It also has a pivoting head to keep the epilator close to your skin as you go over your natural curves.
There is also a smart light built into the head of the Braun Silk 579 to help you see finer hairs. The light is perfectly placed to illuminate your path, so you don't miss any hairs during the initial hair removal process.
Included with this epilator are seven extra tools to help make your beauty routine much easier. There is a shaver head, a trimmer cap, a high-frequency massage cap, a skin contact cap, a charging stand, and a bonus facial brush.
The extra facial brush helps remove any impurities on the skin so you get a better clean and exfoliation of your skin each time. You can do it before you remove any facial hair, or treat yourself to a daily facial in the shower.
Highlights
40% wider head
Wet/Dry
Microgrip tweezer tech
7 extras ​​Pivoting head
30 Minute runtime
Panasonic Wet/Dry ES-EL7A-P
When you are ready to buy an epilator the Panasonic Wet/Dry ES-EL7A-P is a great choice. You get more than a high performance epilator. It also comes with 6 snap-on attachments which include a pedicure pumice stone buffer.
Inside of the Panasonic Wet/Dry EL7A-P is a dual-speed motor as well as two discs that work to remove more hair in one pass than the standard rival versions. With both of the discs rotating, there are 48 precision stainless steel tweezers. The stainless steel tweezers, as well as the stainless steel foil razor, work to remove hair quickly without irritating sensitive skin.
You can use this epilator while you are in the shower on wet skin or opt to use it on dry skin. There is also an LED light to help you better see fine hairs, missed patches, and give you a better view as you are removing hair.
You cannot use it while it is plugged in and charging, but it only takes one hour to fully recharge this hair removal tool. With a full charge, the Panasonic Wet/Dry EL7A-P will run for 30 minutes without fading.
The 6 snap-on accessories included are a stainless steel foil shaver head with a pop-up trimmer, an epilator gentile cap, a smaller gentile epilator head (for facial hair removal), a bikini comb, the main dual disc epilator head, and the pedicure pumice stone buffer for feet.  
To keep all these accessories together, there is a travel pouch included. This is great for keeping up with all your parts as well as storing the charger when you are away from home.
Highlights
6 snap ons
Dual speed motor
​Stainless steel blades
​Included pedicure buffer ​LED light
Travel pouch
Panasonic Cordless Shaver & Epilator for Women...
SEVEN SNAP ON ATTACHMENTS: For hair removal and spa-like body care include Epilator Head, Gentle...
QUICK HAIR REMOVAL: Is efficient with a wide 1.25 inches. dual disc epilation head with 60...
EASY CORDLESS EPILATION: For hard to reach areas, a 90 degree pivoting epilator head closely moves...
Philips Satinelle Essential
The Philips Satinelle Essential is a top pick for a high-quality device to help with your hair removal needs.
Inside the epilator head are 21 tweezers that work to pluck and remove hair that can be as short as .5mm. While it can reach hairs that small, it really works best on hair that is a little bit longer.
There is also an included efficiency cap that works to create a safe barrier between your skin and the epilator, allowing you to get close without harming your skin. For maximum hair removal, there are two speeds you can use while removing hair with the Philips Satinelle Essential.
The fast speed is perfect for tight and long straight passes like on your legs. The slower speed is preferable for softer areas and hard-to-reach spots such as armpits and bikini areas.
Despite the pictures, this epilator has to be plugged in at all times. It does not hold a charge, nor can it run on battery power alone. Since it has to remain corded, it is only for use with dry skin, as you don't want to take a power corded object into the shower with you.
Due to the large-sized open face of the Philips Satinelle Essential, it is not great for facial hair removal. Instead, this device is best used on your legs and underarms. It also does not have a built-in light, which is a must for getting into harder-to-see areas such as around your face.
Highlights
​Removes hair up to .5mm
For dry skin
2 speed settings
Clear path view
Best for legs, not facial hair
Braun FaceSpa Pro
Your face is a sensitive area that cannot be hidden if you have a negative reaction to hair removal. For that purpose and others, you really want to invest in a trustworthy product like the Braun FaceSpa Pro. This upgraded version is packed full of face nurturing items to help you before and after you remove the hair.
This facial epilator features the epilator tweezer attachments on the side of the tools head, instead of on the top like other epilators. This is to allow you to hold the Braun FaceSpa Pro sideways in order to see a clear path as you are removing hair.
There is not a light on the tool to help illuminate the area. However, the compact size and side epilator design allow you to be able to see clearly enough so you don't miss any hairs. You can also use this cordless epilator in wet or dry conditions.
The two other tools included are a face cleaning brush and a micro-vibration head. The cleaning brush is great for daily use to wash and give your face an exfoliating cleanse.
The disc micro-vibration head tool is a must-have for applying your daily hydrating face creams. As the disc vibrates and moves, it helps rub in moisturizer and works to brighten your skin and the under-eye area.
The Braun FaceSpa Pro is a rechargeable epilator that can run for multiple sessions before needing to be plugged in again. There is also an included travel pouch to make this epilator easier to take with you or for keeping all of your attachments together for storage.
Highlights
Cleaner brush, epilator, and toner attachments
​Travel pouch included
Rechargable
Microvibration head
​Wet/dry
Clear path view
Braun Face Epilator Facespa Pro 911, Facial Hair...
World's 1st facial epilation, cleansing & skin toning device (better application of your skin care...
Facial epilator removes 4x shorter hair than wax for a smooth, clear complexion
Facial cleansing brush for purified skin, cleanses 6x more effectively than manual (on hard to...
Braun Silk Epilator with Bikini Trimmer
For shaving and trimming for the summer, you must have this all-in-one Braun Silk Epilator with Bikini Trimmer. It not only takes care of your bikini line, but it also has enough tools and attachments to help you get rid of hair from your head to your toes.
You can use this epilator on dry skin for hair removal without the shower or you can take the cordless device into the shower with you to get rid of the hair while you are wet. With the 40 tweezers inside of this completely waterproof device, you won't have to make as many passes to completely remove your unwanted body hair.
While it doesn't work while plugged in, the Braun Silk Epilator only takes an hour to fully charge. When charged this hair removal tool can run without fading for a full 40 minutes. That is more than enough time for you to use all the attachments to achieve the summer look you want.
Most epilators only focus on the hair removal process by pulling the hair out by the root. The Braun Silk Epilator also includes a shaving attachment, so that if you don't feel like epilating you can opt to shave. This great innovation cuts down on having to own other devices cluttering up your bathroom.
The eight pieces in this kit are the main epilator head, a trimmer cap, an efficiency cap, a sensitive cap, a facial cap, a bikini styler, a foil shaver, and a travel pouch to keep everything in.  
There are also two-speed settings so you can speed up or slow down, depending on what sensitive areas you are working on. A built-in smart light helps brighten up dark areas, so you can see and make additional passes on fine hairs you may have missed.
Highlights
8 extras plus bikini trimmer
Wet/dry
1 hour charge, 40 minutes of use
Smart light
Pivoting head
Able to shave
Braun Epilator Silk-épil 5 5-810, Hair Removal...
LONG-LASTING RESULTS: epilate once and get smooth skin for up to 4 weeks with America's #1 epilator...
INCLUDES: bikini trimmer for precise hair removal on bikini line
EFFICIENT: remove 4x shorter hair than wax, perfect epilator for beginners to use on legs and body
​Philips Satinelle Advanced
For a leg-based hair removal routine, the Philips Satinelle Advanced is the perfect tool that allows you to quickly and efficiently remove unwanted leg hair. A great bonus is that it also comes with a small trimmer for facial hair or bikini line touch-ups.
With a full one-and-a-half-hour charge, this epilator can run for 40 minutes total. The extra-wide main epilating head means you can cover more area in one stroke, making this a top pick for leg hair removal. There is also a built-in light to help you see any fine hairs you may have missed the first time around.
Inside the epilating head is an irritation-free, ceramic rolling head with more than 40 built-in tweezers to grab as many hairs as possible. The ceramic head is a new innovation that allows users to get closer to the skin to ensure you can grab and remove hair closer to the root.
The Philips Satinelle Advanced comes with the main epilating head, a foil trimmer attachment for shaving, a skin stretcher to help with keeping your skin tight, and a facial epilating cap. You can use this cordless epilator on dry skin or opt to take it in the shower with you.
The included facial cap is a cover that only allows a small opening of the main epilator head to come through. This allows you to be able to remove facial hair with precision and control.
The bonus eyebrow trimmer comes with two attachments to give you the right size and depth trimmer you need. This is great for facial hair or to trim other small areas on your body that need a touch-up.
Highlights
Bonus Trimmer
Wet/dry
Ceramic tweezers
Wider head
Facial cap
40 minute runtime
Wet & Dry epilator
3-in-1 epilator, shaver and trimmer system
Patented epilation system with the widest epilator head* firmly grips even the finest hairs
9-piece hair removal kit , 2 speed settings
Braun Epilator Silk-épil 9 9-720
For nonstop power to remove as much hair as possible, the Braun Epilator Silk-épil 9 9-720 is what you need to tackle the job. The new Silk-épil 9 comes with a massage cap to help reduce the sensation of pain, so you can experience an extra gentle epilation.
This cordless epilator is 100% waterproof, you can epilate in the bath or shower. Epilation becomes virtually painless with frequent use in water.
The shaver head turns the epilator into a fully functional shaver, while the trimmer cap lets you trim hair if you prefer. No area will be hard-to-reach again. The new Silk-épil 9 adapts to every contour for an efficient epilation, even in difficult areas like the knee and underarm.
When in use, a high-frequency massage system inside the epilator works to vibrate your skin a little. This technology helps prime skin for hair removal and makes it easier to pull hairs up. The epilator's main head also has a pivoting feature. This allows the epilator to remain close to your skin as you go over any curved areas, for a closer removal of hair.
An included shaver head allows you to take a day off from epilating when you just don't have the time or if you still prefer to shave some areas. Also included is a trimmer cap and an efficiency cap that lets you get close without harming your skin.
Get rid of hair faster and for longer. Micro-Grip technology with 40% wider head removes hair in one stroke, for more efficient epilation.
Highlights
Cordless ​
Waterproof
Get rid of hair faster and for longer. Micro-Grip technology
Shaver head
Ergonomic handle
Braun Epilator Silk-épil 9 9-720, Hair Removal...
EFFORTLESS: Epilator for women with a wide, pivoting head, for easier and more efficient hair...
SMOOTH SKIN: Micro-Grip tweezer technology (40 tweezers) provides smooth skin for weeks, not days
CONVENIENT: Ergonomic handle enables convenient use on all body areas
Emjoi eRase e60 Dual Opposed Heads 60-Disc 2-in-1 Electric Epilator
No products found.
It's no wonder the No products found. has such high reviews. While it is small, this epilator is packed full of great technology that works to make the epilating process much less painful.
Inside this epilator are 60 tweezer discs. The dual opposed heads stretch the skin to make the process extra gentle and the included sensitive cover hides some of the tweezers making it great for use in sensitive areas.
There is also a patented pain-reducing technology this epilator uses to help relieve the discomfort that is associated with hair epilating. This technology works to help massage your skin while the process is going on. The nerves are not as agitated when the hair is pulled up.
Depending on where you use it, there are two speeds you can choose from. A fast speed is great for long and straight areas like your legs. For underarms and facial hair you will want a slower speed that still efficiently removes hair while going slow enough to not pinch any skin that isn't held taut.
The Emjoi eRase e60 has a contoured design that hugs your curves while it also is comfortable to hold for extended periods of time.
Highlights
60 tweezer discs
​Pain reducing technology
​Contoured design for curve
Dual speed control
Corded
No products found.
What is an Epilator?
An epilator is a device — either battery-operated or powered by electricity — used to remove body hair by pulling them out simultaneously in one go. It's composed of a body, which acts as the handle, and a rotating head with multiple tweezers that grab the hair at the same time.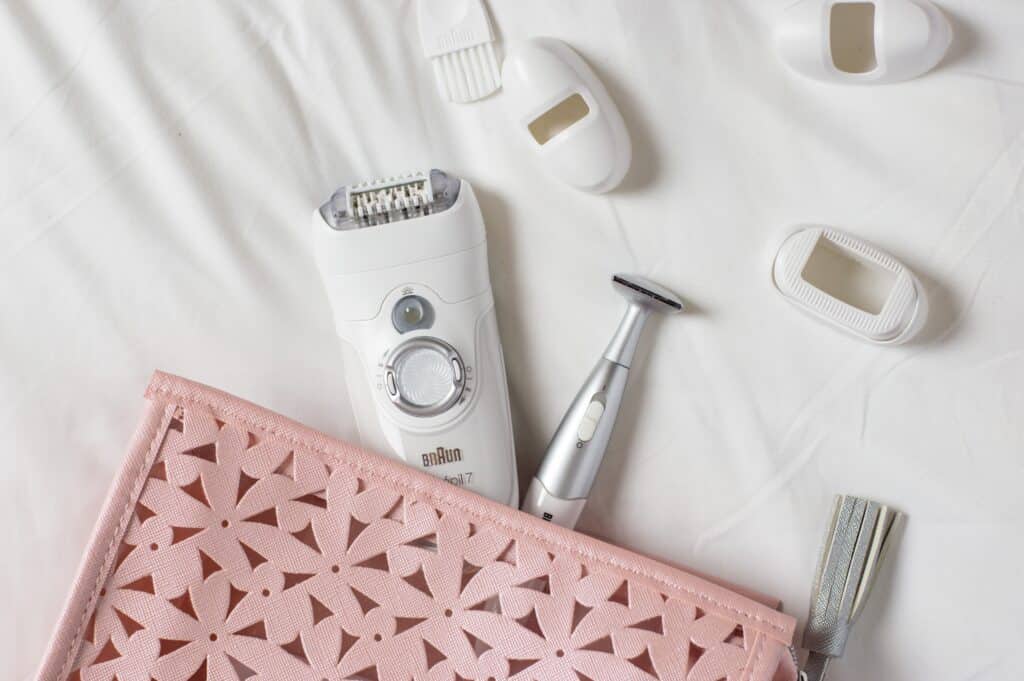 It works almost the same way as waxing in that it removes body hair from the root but without the use of tacky wax. It's also more protective of the skin because it doesn't remove cells from the surface epithelium layer, which also makes the pain more bearable in effect.
In no particular order of efficiency, epilators can be categorized into three types: spring type, rotating disc, and tweezers.
Types of Epilators
Since the first epilator was launched in 1986, this device has been reinvented to make it more efficient and the hair removal process less painful.
The three types of epilators show the history of epilators. Their design has evolved throughout the years.
Spring Type Epilator
Spring-type epilators use tight metal coils to remove the hair. The metal coil is bent at the top or rolled in a spiral. Upon rotation, the coil opens to grab the hair, then closes in on it to pull and remove it from the root.
The spring-type version wasn't foolproof since it didn't leave any surface area clean and without hair in one go. Since this kind of epilator uses a spring, it's also more likely to pinch the skin when applied too hard.
Spring-type epilators wear out fast so they require to be replaced every once in a while. As the first release of epilators, this was like a prototype compared to what we have now in terms of durability and effectivity.
This is no longer available, though there are manual versions of this. You use your own hands on either side of the metal coil to bend it. Manually twisting the coil removes the hair, albeit slower and more painful.
Rotating Disc
Rotating disc epilators are the type that uses a series of spinning discs, either made of metal or plastic, to grab the hair and epilate in a centrifugal or outward motion. The discs are texturized like sandpaper to have a stronger grip on the hair, pulling it out from the root.
As an upgraded version of the spring-type epilators, the discs head can last years without replacement. This version of epilators was also the first to come out with different head attachments for different purposes like a pedicure attachment for smoothening the feet.
​Tweezers
Tweezer-type epilators have metal plates instead of full discs. They're mounted in the rotating head of the epilator such that the tips of the plates will touch and open once per rotation.
It's as if the plates are doing a tweezing effect on the hair, catching it between the plates and then releasing it when they separate. Rather than one at a time, there are multiple tweezing plates plucking out several hairs in one swipe of the epilator.
This modern design is the fastest, most effective, and least painful of the three. It's what you'd find on most epilators in the market today.
How to Use an Epilator
The real challenge of using an epilator is following certain before-and-after care to make it less harsh for the skin. You're still removing hair after all. Epilators are quite easy to use, which also makes it easy to do a lousy job without knowing it.
Follow these steps in the same order and with careful execution to ensure you're not being abrasive to your own skin.
Step 1: Wash the Skin in Warm Water
Schedule your epilating session with yourself so you can have the time to take a hot shower. It's the best method to make sure all your pores open up.
If you can't afford the time and effort, wet the skin of the specific area you will epilate with warm or almost hot water. This loosens up the skin around the hair, making it less painful when they're removed.
Step 2: Exfoliate Skin
There are two ways to exfoliate the skin: a scrub product or a brush or an abrasive towel. Body or facial scrubs have fine granules, beads, or crystals that remove dead skin cells from the surface of the skin.
A brush or a towel does the same when thoroughly rubbed on the skin. Both methods clear up the pores too, which makes hair removal easier without hindrances on the surface.
Step 3: Trim Extra Long Hair
Using scissors, trim any hair that's longer than a millimeter long from the skin. Epilators are fully effective for hair that is growing, but not fully grown-out hair. Though it will still be able to grab the latter, it might take a while. Trimming saves you time in the whole process.
Step 4: Hold the Skin of the Specific Area Tight
Holding the skin-tight means stretching out the area where you're about to run the epilator. This makes the pores open up more than normal, resulting in the epilator being able to grab the hair more easily.
Step 5: Epilate Carefully
As you're holding the skin, move the epilator against the direction of the hair growth to let it pull straight out. Make sure the open plates in the epilator are facing the direction you're going towards. This prevents irritation and makes sure the hair won't grow out in different directions next time.
Tip: Hold the epilator at a 90-degree angle or perpendicular to your skin for the tweezers to align precisely to the hairs, thus making epilation quicker and more effective.
Step 6: Moisturize Your Skin
Apply any oil or cream moisturizer, preferably coconut oil, to the areas that you've epilated. This soothes the pores and layers of the skin that were distressed from the sudden pull of the hairs.
Of the two consistencies, oil has a naturally better chance of absorbing into the skin for hydration and natural nourishment.
While there are some face-specific epilators, most other epilators are safe to use for the whole body. Apply these steps every time you epilate, especially for these parts of the body:
​Face
Underarms
Legs
Bikini
​Advantages of Epilators Against Other Hair Removal Methods
Epilation is getting quite the traction among women nowadays. There are several advantages it is said to offer, but never in comparison to other hair removal methods. Here I'm clearing out the certain perks of epilators against waxing and shaving.
Epilating vs. Shaving
The single dominating advantage of epilating is that it completes the removal of the hair from the root whereas shaving only cuts it on the surface of the skin. It also risks hazards like cutting yourself and getting infected.
Aside from being affordable, other qualities like being easy to use and having the job done in less than 3 minutes are achievable with epilators as with razors.
Epilating vs. Waxing
Epilating is deemed dominant over waxing for a number of reasons. It doesn't risk irritating or burning your skin with hot wax, it doesn't create any uncomfortable mess, it doesn't pose any other side effects on the skin.
Though waxing is said to be less painful than epilating, it can leave a sticky residue on your skin even after thorough washing. With epilators, you can still have a complete and clean hairless result without the ickiness of wax.
Epilating vs. Hair Removal Creams
The use of cream products is not necessary for epilating to be effective. Unless you're using shaving cream with a wet epilator, you can choose what products to use before and after epilating. Exfoliators and moisturizers come with healthy natural options.
You can never be completely sure of what's in most beauty products. Hair removal creams pose exposure of your skin to toxic chemicals whose harmful effects you won't feel until they're irreversible.
Features to Look For in Epilators
Some epilators are more equipped than others. From built-in features that all epilators have to additional ones that are considered a luxury, these are some of the features you might find and look for in epilators.
Multiple Speed Settings
Most epilators have at least two-speed setting options. Having this standard-setting is helpful especially if you plan to use the epilator on several areas of the body.
The skin on your face would be more sensitive than the skin in your underarms. Being able to adjust the speed would either help lessen the pain or increase the efficiency of removing hair and cutting it down on time.
Tweezers
The number of tweezers in the rotating head can be telling of the performance of the epilator. More means it can remove more hair in lesser time, though it can be more painful and uncomfortable.
Epilators can have a range of 20 to 72 tweezers. If you're used to pulling out several hairs at the same time by waxing, you can probably work well with more. For beginners, the average or lower number of tweezers is recommended.
Built-In Light
Not all epilators are afforded the luxury of a built-in light. If you have plenty of thin hair that might not be easily visible, getting an epilator with a built-in light will make hair removal more efficient. It illuminates the area you're working on so you can clear out all the hair completely.
Corded or Uncorded
Corded epilators only function when they're plugged into a power source. Uncorded epilators can be used and will work even without a cord connecting them to a socket. These are either battery-operated or rechargeable devices much like phones and gadgets.
Rechargeable epilators are the savviest kind because they can be used without a cord and without having to replace batteries in them every few months. However, the corded and battery-operated epilators may come at a more affordable price.
​Facial Cap
A facial cap is an extra attachment that covers some of the tweezers so they wouldn't work all at once. This makes it easier to focus on one area of the face especially the mustache part and below the lips, which are very small areas.
Since the facial cap covers some tweezers, it makes removing facial hair much less painful. Waxing and even facial hair threading are known to make your eyes water. Using an epilator prevents that and physical effects like breakouts, redness, or bumps from irritation.
Qualities of the Best Epilators
Features are the physical aspects that make up your epilators. The best qualities of epilators, on the other hand, are the extra capacities of your epilator that can't be seen by the naked eye. Here are some of the qualities that might be important to your hair removal habits.
Washable Head
A washable head means the rotating head where the tweezers are can be detached, so you can clean it with water. The motor part of most epilators can't get wet, so at the very least a washable head makes it easy to just wash away the hairs and clean your epilator.
Wet vs. Dry
Some epilators, especially the cordless ones, are waterproof. These are the ones you can use in the shower and with a shaving gel or cream. They're commonly categorized as wet epilators, which are ideal for those used to a shaving lifestyle.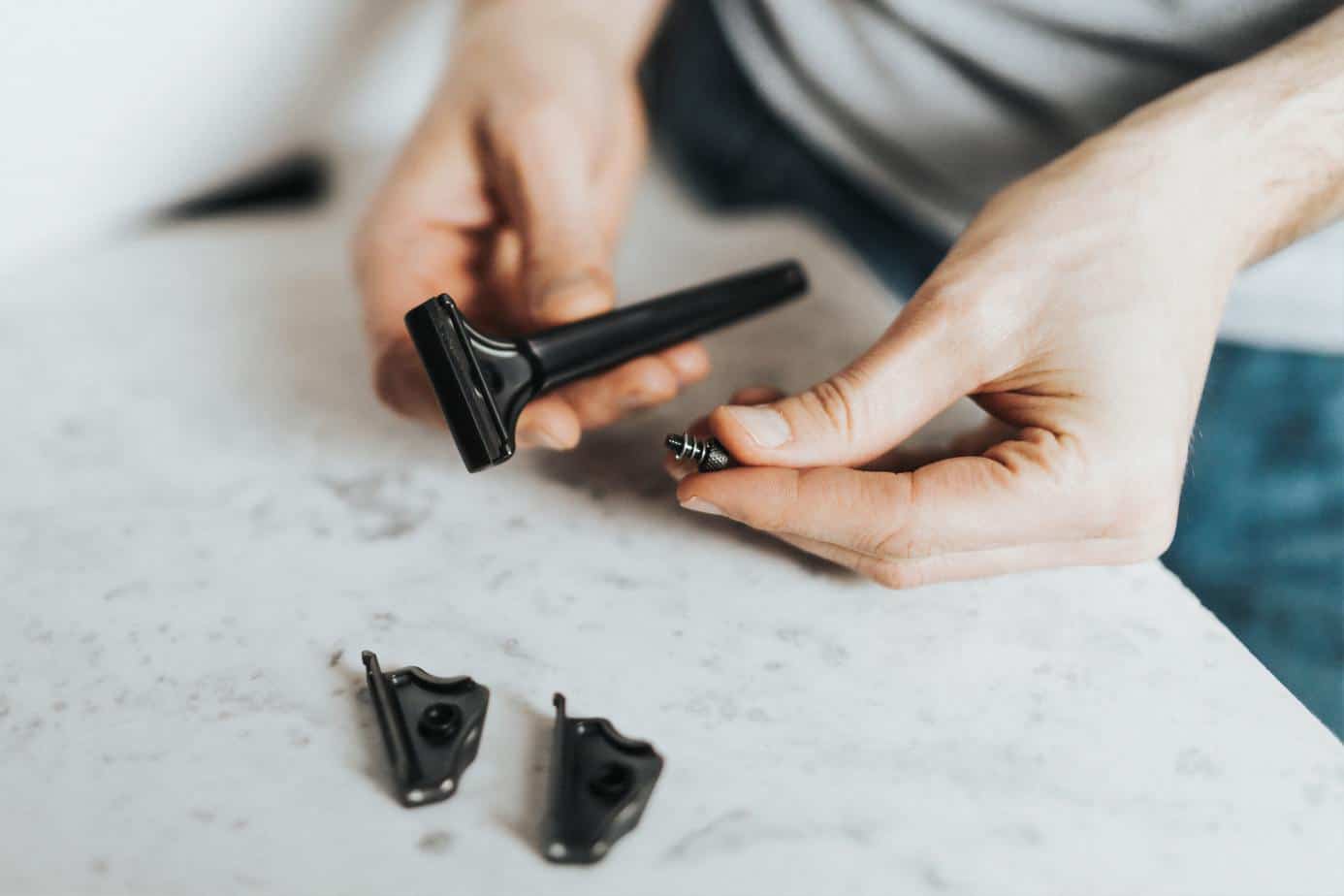 Additional Things to Consider in Buying and Using Epilators
It's not enough to look at the epilators to know which one to buy. You have to evaluate your own body before deciding on one. These are other considerations about your hair and skin that might affect your epilator usage.
Skin Sensitivity
Not every epilator can be used for every part of the skin. Some are harsher because of reasons like their speed setting or a number of tweezers. If you're prone to having reactions from the simplest abrasions towards your skin, you might want to go with gentler epilators.
Thin Hair
The problem with having thin hair is that the tweezers usually can't grab them easily. Either some will be left behind because they look invisible to the eye or they will break on the surface and not be pulled out from the root.
These can cause faster hair growth. Thus the intervals between your epilating sessions will be shorter. The same can be said about growing hair that is long enough to be visible but too short to be epilated. There will always be a short amount of time where you'll have to grow out the hair before you can epilate again.
Pain Tolerance
Having a low pain tolerance would probably hinder you from being able to use an epilator. It's better to check if you can get used to the feel of waxing or threading. Epilators more or less inflict the same level of pain, so you know what to expect.
Comparing Epilators Features
| Epilators | Water resistance | Power Source | Built-in light | Weight (pounds) |
| --- | --- | --- | --- | --- |
| Braun 9 9-579 | Yes | Battery Powered | Yes | 1 |
| Panasonic | Yes | Battery Powered | Yes | 0.37 |
| Norelco Philips | No | Corded electric | No | 0.05 |
| Braun Pro 911 | Yes | Battery Powered | No | 0.67 |
| Braun 5 5-810 | Yes | Battery Powered | Yes | 0.85 |
| Philips Advanced | Yes | Battery Powered | Yes | 1.15 |
| Braun 9 9-720 | Yes | Battery Powered | No | 0.88 |
| Emjoi eRase | No | Corded electric | No | 0.63 |
Frequently Asked Questions
What Are the Advantages of Using Epilators Over Plucking?
Epilators offer more comfort, and the results last longer, although there is no set time for how long the result can last because people have different hair growth. However, in most cases, your skin can maintain a soft texture for up to 4 weeks.
Which Epilator Is Painless?
The Braun Epilator Silk-épil 9 9-720 epilator is the preferable painless epilator. However, you need to apply little pressure on the skin while using it.
The epilator has excellent performance when you want to pull hair without breaking it and tweezing the hair in a single pass without pain.
Can You Use Epilators on Pubic Hair?
Yes, epilators are designed with a versatile feature that allows you to use them to remove hair on every part of your body. However, it is advisable to regularly clean debris and hair from the epilating disks to improve the efficiency of the epilator.
Conclusion
In all the fuss about epilators, you'll find that all its advantages trump the temporary pain it causes. The one-time splurge is worth it for hairless years with no waxing treatments or cuts from razors. Pick your weapon of choice from my picks of the best epilators and enjoy its life-changing perks.