As an Amazon Associate we earn from qualifying purchases.
When you're planning a night out on the town and looking for a bra that will give you some extra "oomph," a push up bra is likely your go-to.
Why not bring that same approach to your bikini? That's what I did and I love the confidence it brought me.
I've reviewed the best pushup bikinis that will take your beach game up a notch (because they are NOT all the same)!
Top Pushup Bikini Reviews
Bikinis with tops that push up don't quite get as popular of a demand as the pushup bra. They do, however, deserve that much. Since I go to the beach to flaunt our bodies anyway, why do I so rarely opt for something that goes all out in enhancing it? Take a look at some pushup swimsuits I reviewed and recommend.
Brand
Aixy High Waisted Polka Underwired Set
Haicoo Back Cross Vintage Top
Product
Material
High Quality Nylon Spandex
Imported 82% Nylon+18% Spandex
High Quality Nylon Spandex
Features
Push up underwire padded cups
Pin up underwire padded cups
Product
Material
High Quality Nylon Spandex
Features
Push up underwire padded cups
Brand
Aixy High Waisted Polka Underwired Set
Product
Material
Imported 82% Nylon+18% Spandex
Brand
Haicoo Back Cross Vintage Top
Product
Material
High Quality Nylon Spandex
Features
Pin up underwire padded cups
Haicoo Solid Ruffle Top and Trina Turk Hipster Swimsuit Bottom
Ah, the '50s pin-up models! Their iconic style is still the go-to inspiration for rocking a pushup bra. And guess what? The Haicoo Solid Ruffle Push up Top channels that very vibe. It's like stepping out of a time machine with a bikini top straight from the golden era.
Why I Love the Haicoo Push-Up Top:
Vintage Meets Modern: Think of it as a stylish bustier, but beach-ready.
Support for All Sizes: Especially designed for ladies on the fuller side of the bust spectrum.

Underwires & Wide Band: Think of it as a longline style, perfect for lifting even the heaviest of assets.
Structured Cups: Each breast gets individual support. No more spillovers, thanks to the thick gore.
Secure Wide Band: Wraps around snugly, ensuring everything stays in place.

Delicate Straps: Those thin spaghetti straps? They're not just for show. With the solid support from below, these dainty straps add a touch of elegance without compromising on function.
Ruffled Design: If you ever feel the push-up effect is too pronounced, the ruffled design subtly tones down the appearance. Plus, with solid colors and minimalist prints, pairing with the Trina Turk Women's Side Shirred Hipster Bikini is a breeze.
And the Bottoms?
Panty-Inspired: While not high-waisted, they offer a nod to the classic pin-up style.
Full Coverage: Perfect for those who want to enhance their backside. It creates an illusion of a fuller butt, balancing out a busty top.
Versatile Print: The floral design is versatile enough to match a range of colors, especially if they have a tropical vibe.
So, ready to channel your inner pin-up model? The Haicoo and Trina Turk combo is my recommendation.
Solid Ruffle Summer Beach Swim Push Up Tops Pin Up...
NOTICE:IF YOU ARE NOT SURE WHAT SIZE FIT YOU, YOU CAN READ OUR PRODUCT DESCRIPTION. IT WILL GIVE YOU...
S M L XL 2XL Strappy Adjusted Summer Beach Fashion Sexy Colorful Swimwear For Women Swimsuits...
New Style Cute Unique Novelty Blue Orange Purple Black Beige Underwire Push Up Swimming Suits For...
Aixy Women Vintage Retro High Waisted Polka Underwired Set
Dreaming of the classic '50s beach look? The Aixy Vintage Retro Push Up Bikini is your ticket to that vintage paradise. It's not just a nod to the retro style; it's a full embrace.
PS – can you tell I just love this look? Its the perfect style to embrace when you need the extra push in your bust.
Why I Love the Aixy Bikini:
True Retro Vibes: A bustier top and high-waisted bottom combo that's straight out of a '50s postcard.
Match Made in Heaven: No more mix-and-match woes. It comes with either a solid-colored top and printed bottom or the other way around.
Support Galore: Especially tailored for the fuller-chested ladies.

Structured Cups: With seamed boning, it's like a corset for your chest.
Underwires & Wide Band: Ensures everything stays lifted and in place.
Side Boning: Say goodbye to sagging and hello to a deep, flattering cleavage.

Shape & Flatter: The bikini top works like the best shapewear. It tucks away any extra bulges, giving you a sleek silhouette.
High-Waisted Magic: Got some tummy concerns? The scrunched fabric of the high-rise bottoms stylishly camouflages, turning perceived flaws into a fashion statement.
Trend Alert: While this bikini channels the beauty standards of yesteryears, it's making a massive comeback. Whether you're into timeless classics or looking for something fashion-forward, this style is on the rise. Expect to turn heads and set trends in this vintage-inspired swimwear.
So, ready to make waves with a blast from the past? The Aixy Vintage Retro Push Up Bikini is the top for you.
Aixy Women Vintage Two Piece Swimsuits High...
Five US sizes of this bathing suit: S(US 4-6), M(US 8-10), L(US 12-14), XL(US 16-18), 2XL(US 20-22)
Bikini Swimsuit Material: Imported 82% Nylon+18% Spandex. Bikini Top with Removable soft padding.The...
Design: Floral, polka dot, leopard, leaf printed. Vintage Pin Up High Waisted Two Piece Swimsuits
Haicoo Back Cross Vintage Top and COCOSHIP Retro High Waisted Bottom
While the charm of pin-up style bikinis is undeniable, sometimes you crave a touch of modern flair. Enter the Haicoo Back Cross Push up Underwire Bikini.
It's a blend of timeless elegance and contemporary design, ensuring you get the best of both worlds.
Why the Haicoo Bikini Stands Out:
Modern Twist: While it retains classic elements, it's updated with cuts and silhouettes that resonate with today's fashion. More current culture than the two I've already mentioned.
Sports Bra-Inspired:

Thicker Straps & Band: For that extra support and comfort.
Unique Band Design: It's not just about the longline style. An extra layer of fabric ensures a snug fit around your chest.
Lifting Magic: Thanks to the combined power of the extra fabric, thick band, and structured foam cups.

Dual Fastening: Combines the security of a regular bra clasp with the ease of a sports bra pullover.
Stylish Cutout: A design element that's both functional (hello, air circulation!) and trendy.
X-Factor: Adjustable straps that cross at the back, adding to the design and support.
Perfect Pairing:
Ruched COCOSHIP Black Women's Retro Solids High Waisted Bikini Bottom: The ideal companion for the Haicoo top. Especially great for inverted triangle-shaped ladies.

Shape & Enhance: Accentuates the hips, narrows the waist, and provides that much-needed lift.

Inclusive Sizing: These pieces cater to a range of sizes, making it a go-to bikini for everyone.
So, if you're someone who loves a blend of the old and new, the Haicoo Back Cross Push Up Bikini is your perfect beach companion.
Back Cross Push Up Swimsuits for Women Adjustable...
PinUp Angel Have Lots Of Fashion Product For Women From Bikini, Dress, Blouse, Jumpsuit To Backpack,...
M L XL 2XL 3XL 4XL Adjusted Summer Beach Fashion Sexy Colorful Swimwear For Women Swimsuits Bathing...
New Style Cute Unique Novelty Black Red Pink Polka Dots Floral Plaid Uderwire Push Up Swimming Suits...
RELLECIGA Women's Push up Triangle Top and Tie Side Thong Bottom
Classics have a charm that neither trends nor vintage can overshadow. And the RELLECIGA Triangle Pushup Halter Bikini Top is a testament to that.
The Relliciga is a perfect choice for flatter ladies, where the push up effect helps to give more cleavage (rather than better shape for cleavage that is already there).
Why the RELLECIGA Bikini is a Must-Have:
Triangle Push-Up Magic: Who said triangle bras can't be push-ups? This one defies the norm.
Perfect for Smaller Busts:

Extra Padding: Lifts and fills, saying goodbye to any awkward gaps.
Plunging Style: Show off a hint of side boob and cleavage, all thanks to that padding.

String Elegance:

Ideal for Smaller Busts: The delicate strings are more suited for smaller chests compared to thicker bands.
Flattering Design: Tied at the nape and center, it beautifully showcases smaller busts.

Versatile Sizing: While it's a dream for smaller busts, it doesn't leave out the average-sized ladies. It lifts and creates cleavage.
Pair it Up with Tie Side Thong:
Simple Yet Striking: A match made in beach heaven.
Classic Thong Design: Minimal coverage, maximum style. Show off those hips and curves!
Matching Strings: Complementing the bikini top, it's all about subtle allure.
Timeless Appeal:
Mix & Match Freedom: With classic colors and prints, you're not bound by seasonal trends.
Evergreen Style: These pieces aren't just for a season; they're likely to be your beach companions for years.
So, if you're on the hunt for a bikini that's both timeless and flattering, the RELLECIGA Triangle Pushup Halter Bikini is your perfect match.
RELLECIGA Women's Triangle Bikini Top
Non-removable tie-front molded padding provide support for boobs,expecially more suitable for...
Extra padding around the bottom of the cup and works great for smaller boobs,The adjustable ties at...
The adjustable distance of cups , which making the shape support and push up effect
Smart+Sexy Halter Top and Secret Side Ruched Bottom
So much of what I've shared has focused on timeless and vintage looks. But, those aren't for everyone, and I know that.
Craving a trendy beach look? Dive into the Smart+Sexy Women's Swim Pushup Halter Bikini Top and Secret Side Ruched Bikini Bottom. These aren't your typical neutrals; they're a vibrant twist on classic shapes.
Why I Adore the Smart+Sexy Bikini Top:
Trendy Design: Inspired by the classic triangle, but with a modern rounded edge.
Illusory Magic: That curved front band? It's not just chic; it's designed to make your bust appear fuller.
All About Lift:

Push-Up Features: It's not just the cups and underwires; this bikini top channels the essence of a push-up bra.
Strap Design: Thin but sturdy, adorned with gold hardware for that luxe touch.
Halter & Underwire Combo: Perfect for lifting and showcasing smaller busts.

Secure Fit: A g-hook ensures your top stays in place, though it offers limited adjustability compared to tie bands.
Pair it with the Secret Side Ruched Bikini Bottom:
Matching Ruched Design: Complements the top's gold strap buckles.
Classic Hipster Style: Offers full coverage, a refreshing change from those skimpy Brazilian bottoms.
What Sets This Combo Apart:
Vibrant Colors: These pieces pop, making up for the traditional cut.
Comfort & Support: Side panels in the top and stretchy fabric in the bottoms ensure you're both stylish and comfy under the sun.
In essence, this bikini set is like your favorite bra and panty duo, but beach-ready. It's not just about wearing it; it's about rocking it with confidence. With the Smart+Sexy bikini, you'll feel as fabulous as you look.
Push Up Bikini Features to Consider
When it comes to swimwear, push-up bikini tops are the unsung heroes. They're not just about turning heads on the beach; they're designed with specific features to enhance, support, and flatter.
If you're on the hunt for the perfect bikini top, here's a detailed breakdown of what to look for:
| Bikinis | Underwires | Boning | Closure Type |
| --- | --- | --- | --- |
| Haicoo Solid Ruffle | Yes | No | Hook |
| Aixy Vintage | Yes | Yes | Hook |
| Haicoo Back Cross | Yes | No | Racerback cross |
| Relleciga | No | No | Tie |
| Smart+Sexy | Yes | Yes | Tie |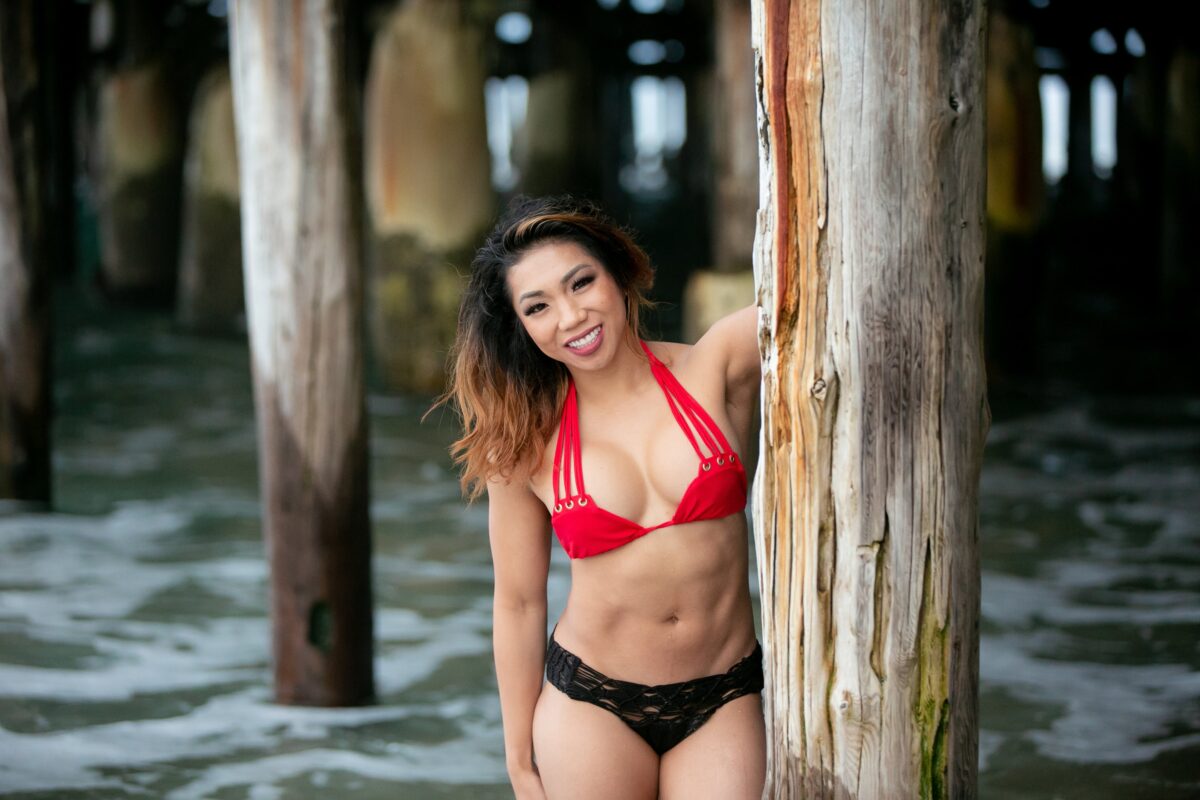 1. Underwires: The Backbone of Support
Underwires play a huge role in lifting up the breasts. It lifts up your boobs regardless of its shape and the directions they fall towards.
Lifting Powerhouse: Crafted from sturdy materials like metal or robust plastic, underwires are designed to provide a gravity-defying lift.
A Rarity with a Purpose: While not common in every bikini, when present, they're typically in push-up styles, ensuring that extra oomph.
The Resulting Magic: With underwires, you can expect a noticeable boost in volume, a seductive hint of cleavage, and even a dash of side boob allure. Especially beneficial for those sporting A-cup bikini tops, underwires can be transformative.
2. Foam Cups: Sculpting with Precision
Foam cups work together with underwires for the lifting function of push up bikinis. If the underwires are responsible for lifting, the foam cups are the ones that keep your breasts up.
Synergistic Function: Foam cups and underwires are the dynamic duo of bikini design. While underwires focus on the lift, foam cups are all about shaping and contouring.
Secure and Flattering: Their primary role is to ensure your breasts remain beautifully positioned, preventing any awkward spillage or unflattering shapes.
The Importance of Shape: A bikini without foam cups might give you a lift, but not the desired rounded, natural shape that's often sought after.
3. Extra Padding: Amplifying Volume
Foam cups are somewhat common in bikini tops, extra padding is not. But the padding is what adds cup volume.
Beyond Basic Foam: While foam cups are standard, extra padding takes it a notch higher, offering that additional volume.
Strategic Placement: Typically nestled at the bottom of the cups, this padding is all about adding volume precisely where it's often needed most.
For Those Seeking More: Particularly ideal for those who desire a bit more in the bust department. The padding ensures a fuller, rounded appearance, eliminating any potential hollow look.
4. Wide Band: Stability Meets Comfort
If underwires are not available, sometimes a wide band is reliable enough to support the breasts. A wide band catches the underside of your boobs, preventing them from falling downwards too much.
A Solid Alternative: If underwires aren't your cup of tea, a wide band can step in as a reliable support system.
Defying Gravity: The broader the band, the better equipped it is to combat gravity's persistent pull on your breasts.
Ensuring Stability: Bikinis with thin bands might have a tendency to shift or slide. In contrast, a wide band ensures your bikini top remains stable, giving you confidence with every move.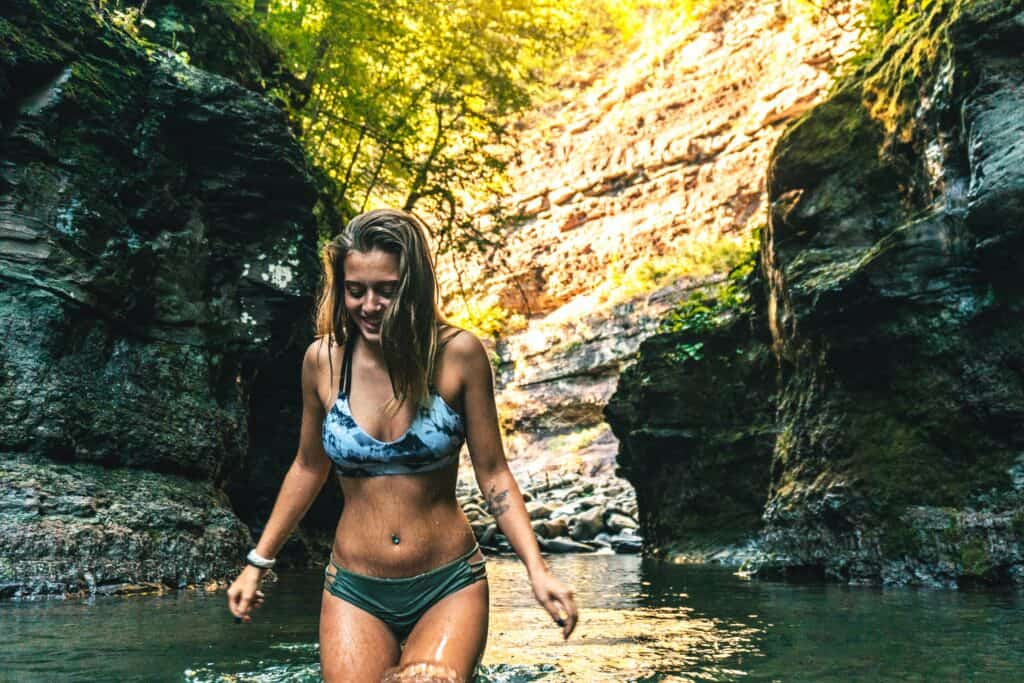 Longline Style
A longline bikini top is one that could pass up for a crop top. The bottom edge reaches down to cover the rib cage and majority of your midriff.
For my smaller chested friends, the longline style provides noticeable lift when you need it most: when wearing a dainty garment like a bikini or bralette.
The extra fabric at the bottom ensures your boobs won't slip down from the fabric, and that the cups will hold out even against the heavy weight of big breasts.
Not Just a Band: It's more than a wide band; it's a style statement.
Crop Top Vibes: Think of it as a bikini top that flirts with being a crop top.
Extra Coverage: Goes beyond, covering the rib cage and much of the midriff.
Lift & Style: Perfect for those seeking a boost in a fashionable package.
Security: That extra fabric? It's ensuring everything stays put, especially vital for fuller busts.
Frequently Asked Questions
What bikini is best for lifting breasts?
Halter neck bikini styles are fantastic for perking up sagging breasts, and the best part? No underwires!
If halter necks or underwires aren't your thing, consider a sexy longline style bikini. The extra fabric on the rib cage pushes up the breasts even more than a standard bikini can.
What does a padded bikini top do?
Whether you have a smaller chest or a fuller one, a touch of padding can work wonders! From padded bikinis to push-up styles, there's something to flatter every figure.
These bikinis not only enhance your curves but also craft a gorgeous feminine silhouette. With a padded bikini, you'll be turning heads and feeling fantastic at the beach or pool.
How do I get more cleavage in my bikini line?
To get more cleavage in a bikini, opt for bikinis with push-up or padded features, and don't shy away from halter tops or plunging necklines. Adjusting the straps for a snug fit can also give your bust that extra lift.
How to find the perfect bikini/swimsuit for your body type | BIKINI GUIDE | Justine Leconte
Conclusion
A push up bikini is an excellent option when you want your boobs to be even more pronounced and defined in a swimsuit. If that's your aim, these pieces and sets are not about to fail you.