As an Amazon Associate we earn from qualifying purchases.
When you're planning a night out on the town and looking for a bra that will give you some extra "oomph," a push up bra is likely your go-to. Why not add a boost of sexiness to your beach outfit too by finding the best bikini for the job? We've reviewed the best pushup bikinis that will take your beach game up a notch!
Top Pushup Bikini Reviews
Bikinis with tops that push up don't quite get as popular of a demand as the pushup bra. They do, however, deserve that much. Since we go to the beach to flaunt our bodies anyway, why do we so rarely opt for something that goes all out in enhancing it? Take a look at some pushup swimsuits we reviewed and recommend.
Brand
Aixy High Waisted Polka Underwired Set
Haicoo Back Cross Vintage Top
Product
Material
High Quality Nylon Spandex
Imported 82% Nylon+18% Spandex
High Quality Nylon Spandex
Features
Push up underwire padded cups
Pin up underwire padded cups
Product
Material
High Quality Nylon Spandex
Features
Push up underwire padded cups
Brand
Aixy High Waisted Polka Underwired Set
Product
Material
Imported 82% Nylon+18% Spandex
Brand
Haicoo Back Cross Vintage Top
Product
Material
High Quality Nylon Spandex
Features
Pin up underwire padded cups
Haicoo Solid Ruffle Top and Trina Turk Hipster Swimsuit Bottom
So far, the pin-up models of the '50s are still the best inspiration for wearing any kind of pushup bra. The Haicoo Solid Ruffle Push up Top reminds us of their look the most. It looks like a bikini top fresh from the '50s.
Like a bustier but more fashionable and appropriate for the beach, this push up bikini top works well with women who belong in the bigger extreme of the breast size spectrum. Complete with underwires and a wide band that could pass for a longline style, it has the essential features to hold and lift the bulkiest and heaviest of breasts.
This bikini top has separate structured cups that are responsible for supporting your breasts individually. A thick gore makes sure your boobs won't spill out. Meanwhile, the wide band wraps around your chest and secures your boobs in place.
This makes the thin spaghetti straps possible. Straps aren't supposed to lift your breasts anyway, and the abundant support on the band allows for the straps to be as thin as they are. The daintiness balances out the wideness of the bra portion of this bikini top, and adds to the daintiness of the pin-up style.
If the push-up top ever becomes too much that it enlarges your already extreme breasts, the variety of ruffled design on the top edge of the bikini cups tone down the appearance of your breasts. The top comes in solid colors and minimalistic prints, to which Trina Turk Women's Side Shirred Hipster Bikini would look good with.
The panty-like bottom compares to the high-waisted bottoms that used to pair with pin-up bikini tops like this. It may not be high-waisted but it offers full coverage for your intimates and hips.
This is good for women who may not necessarily be as blessed in the butt as they are in the boobs. The full coverage will create an illusion of a bigger butt, keeping it at par with your busty chest.
The bottom comes with only one floral print, though it's the kind that can match with a lot of other colors as long as it has the same tropical feel to it. It wouldn't be a problem matching Haicoo's top with Trina Turks bikini bottom. Have fun leveling it up for your beach photos!
Solid Ruffle Summer Beach Swim Push Up Tops Pin Up...
NOTICE:IF YOU ARE NOT SURE WHAT SIZE FIT YOU, YOU CAN READ OUR PRODUCT DESCRIPTION. IT WILL GIVE YOU...
S M L XL 2XL Strappy Adjusted Summer Beach Fashion Sexy Colorful Swimwear For Women Swimsuits...
New Style Cute Unique Novelty Blue Orange Purple Black Beige Underwire Push Up Swimming Suits For...
Aixy Women Vintage Retro High Waisted Polka Underwired Set
Like the Haicoo bikini top, the Aixy Vintage Retro Push Up Bikini includes a pin-up inspired pairing, only it's a more prominent nod to the retro look. The matching suit includes a bustier type of top and a high-waisted bottom. Unlike the previous, this is a more straightforward look that copies that of the bikinis from the '50s.
You're sure to get a lot of wear out of this matching swimsuit. You don't have to think twice about what to pair as it already comes with one solid-colored top and printed bottom, or vice versa. No mixing and matching required.
Like the Haicoo bikini top, this one is also good for big-breasted women. The structured cups have supportive seamed boning at the center. It divides the cup horizontally, providing ample support for the undersides of your breasts while cupping the tops efficiently just like how corsets do.
They're equipped with underwires at the bottom, a wide longline band, and even boning at the side. There's little doubt your breasts are going to be lifted up by this bikini top.
These features make sure there's almost no chance that they move around or sag while it's inside the cups. Instead, globes of boobs show from the top of the cups and a deep cleavage will be created.
This bikini top also hides the extra bulges you don't want to be seen. This is similar to how some of the best shapewear compresses your stomach and sides to give you a sleek, flattering shape. This time, excess skin around your chest area are well-kept withing the fabric of the thick band. In addition, it highlights or even creates curves for a more appealing look.
Together with the high-waisted bikini bottom, this suit now perfectly complements plus size women with big boobs and stomach bulges. The high-rise band of the bottom, with all its scrunched fabric, hides and even illusions your bulgy stomach as an aesthetic style in itself.
This bikini reflects the peak of the standard of beauty back then, and it's highly likely to come back for good. There are so many designs you can choose from that are either very classic or fashion-forward. Nevertheless, this kind of swimwear is super trendy and is likely to get even more hyped up for its aesthetics.
This is similar to how some of the best shapewear compresses your stomach and sides to give you a sleek, flattering shape. In addition, it highlights or even creates curves for a more appealing look.
Aixy Women Vintage Two Piece Swimsuits High...
Five US sizes of this bathing suit: S(US 4-6), M(US 8-10), L(US 12-14), XL(US 16-18), 2XL(US 20-22)
Bikini Swimsuit Material: Imported 82% Nylon+18% Spandex. Bikini Top with Removable soft padding.The...
Design: Floral, polka dot, leopard, leaf printed. Vintage Pin Up High Waisted Two Piece Swimsuits
Haicoo Back Cross Vintage Top and COCOSHIP Retro High Waisted Bottom
The types of cuts and construction of the last two bikinis are somewhat old-school because of the pin-up style. The Haicoo Back Cross Push up Underwire Bikini is a slightly more modern version and a more supportive one at that. It has all the classic elements but added in with cuts and silhouettes that are more in touch with the style of this generation.
As a sports bra-inspired bikini top, this one has thicker straps and band. The effective push-up function of this bikini top can be attributed to the very thick band. It's not merely a longline style that makes this very supportive. Just above the band, there's an extra layer of sewn-in fabric over the bottom of the cups to tighten the top around your chest.
The lifting properties of the top are a collective effort of this extra fabric, thick band, and structured foam cups. The top also combines the clasp fastening of a regular bra and the pullover style of a sports bra. The band at the back is separated into two.
The band itself is made of solid fabric while the separated band at the top has the clasp for extra security. This creates a cutout that shows more skin and also provides air circulation for your back.
The adjustable straps cross in an X at the back before it joins the band that sits high on your upper back. Overall this top has more fabric and more design elements to contribute in support and lift of big breasts.
To add to the supportiveness of the top, the ruched COCOSHIP Black Women's Retro Solids High Waisted Bikini Bottom seems like the most equipped. This pairing is very apt for inverted triangle-shaped women. Those with broad shoulders and big busts will benefit from the ample support of the top.
The bottom, which is similar to the bottoms of the Aixy set, reinforces shapely hips and a narrower waist, as inverted triangles are. It's accentuates their actual figure, lifts up what needs support, and enhances their overall appearance. These pieces are also more accommodating for larger sizes, a good bikini for everyone!
Back Cross Push Up Swimsuits for Women Adjustable...
PinUp Angel Have Lots Of Fashion Product For Women From Bikini, Dress, Blouse, Jumpsuit To Backpack,...
M L XL 2XL 3XL 4XL Adjusted Summer Beach Fashion Sexy Colorful Swimwear For Women Swimsuits Bathing...
New Style Cute Unique Novelty Black Red Pink Polka Dots Floral Plaid Uderwire Push Up Swimming Suits...
RELLECIGA Women's Push up Triangle Top and Tie Side Thong Bottom
Compared to trendy or vintage looks, a classic can't be beat. A triangle-shaped bra seem impossible to be a pushup, yet RELLECIGA Triangle Pushup Halter Bikini Top is one. It doesn't disappoint in looks and in its supportive function.
As we've had three options for big-breasted women already, this one is a push-up bikini for the small to average-sized breasts. Thanks to the extra padding at the bottom of the triangle cups, small boobs are lifted, eliminating the awkward empty gap between flesh and bikini cup.
The triangles are small and structured in a plunging style, showcasing ample amount of flesh to show side boob and cleavage, which your breasts can probably manage through the extra padding.
The string band and straps are also more appropriate for small-breasted women than the thick band of the earlier bikinis for big-breasted ones. Ribboned at the nape of the neck and in the middle of breasts, this string bikini top creates a subtle yet flattering presentation of small breasts which would otherwise be flat with other kinds of bikini tops.
It comes in larger sizes to accommodate those who have average breasts that come close to large. Doing the same job of lifting them up, it enforces a cleavage if possible.
Together with the Tie Side Thong from the same brand, it becomes a simple yet striking full beach fit that was far exempted from the passing of trends. The thong bikini bottom features a classic triangle shape that's completely minimal in front and at the back.
The triangles cover only what needs to be covered up, while the rest of your butt and hips are fully exposed. The string ribbons at the side match the ones on your top, exemplifying the subtly sexy look.
The two pieces come in classic colors and prints that can be mixed and matched no matter what the current seasonal trends are. These are classic pieces that will probably grow old with you and still be in-style years from now.
RELLECIGA Women's Tie Front Triangle Bikini Top
Non-removable tie-front molded padding provide support for boobs,expecially more suitable for...
Extra padding around the bottom of the cup and works great for smaller boobs,The adjustable ties at...
The adjustable distance of cups , which making the shape support and push up effect
Smart+Sexy Halter Top and Secret Side Ruched Bottom
If you're more a follower of the trends, the Smart+Sexy Women's Swim Pushup Halter Bikini Top and Secret Side Ruched Bikini Bottom are two matching pieces that incorporate trendier design elements. These are not like your neutral swimsuits and they don't have the classic swimsuit shapes.
Only inspired by the classic triangle shape, the cups of the push-up bikini top are more rounded around the edges. You'll probably notice the curved front band at the center.
It's not merely for aesthetic, it's actually an illusory design to make your breasts appear bigger than they are. For that, this bikini top can be automatically categorized under a bikini top style that enhances small breasts.
Its push-up function is not only in the cups or underwires, though it also has these features. Smart+Sexy's halter bikini top has all the properties of a push-up bra, only it's wearable for the beach and the pool. The thin straps are made of a wide fabric, just bunched together with the help of two gold hardware where the cups meet the straps.
The halter style of the straps, the curved front band, and the underwires that reach to the far side of the boobs all contribute to lift up small and downcast breasts. The band that thins out at the back is secured with a g hook that loops through the fabric. There are three notches it can hook around, which gives a limited fit compared to tied string bands which you can tighten and loosen up as you please.
This doesn't allow much adjustability, which makes this top more suitable to women who simultaneously have a small bust size. It's not an issue though as this bikini top is made especially to lift up small breasts, like our previous pick.
The Secret Side Ruched bikini bottom is the matching piece for the top from the same brand. The ruched sides of the band matches the ruched effect created by the gold strap buckles on the top. Everywhere else, the bikini bottom is the classic hipster style that offers full coverage, unlike those Brazilian bikini bottoms that barely have any coverage.
This matching two-piece set is more like a regular bra and panty. However, you'll be sold on the bright colors that make up for the regularity of its cut and overall look. Not to mention the amount of support and ample coverage that exudes sensuality and modesty both in moderation.
The underwired top even has side panels for support and the bikini bottoms are extra stretchy to prevent panty marks and to provide more comfort under the heat of the sun, unlike those Brazilian bikini bottoms that barely have any coverage. This is easy to wear, but it takes serious guts to pull it off like it's nothing. Ultimately, your confidence will be lifted with these pieces just as the top would your breasts.
Push Up Bikini Features to Consider
Unlike most other kinds of bikinis, push up bikini tops aren't all aesthetic and no use. A push up bikini is expected to lift up the breasts and it can't do that with mediocre features that do little to nothing in enhancing your breasts' volume. These considerable features are what you should be looking for when you want a bikini top that doesn't only cover but also enlarge your breasts.
Comparing Best Push-Up Bikini Features
| Bikinis | Underwires | Boning | Closure Type |
| --- | --- | --- | --- |
| Haicoo Solid Ruffle | Yes | No | Hook |
| Aixy Vintage | Yes | Yes | Hook |
| Haicoo Back Cross | Yes | No | Racerback cross |
| Relleciga | No | No | Tie |
| Smart+Sexy | Yes | Yes | Tie |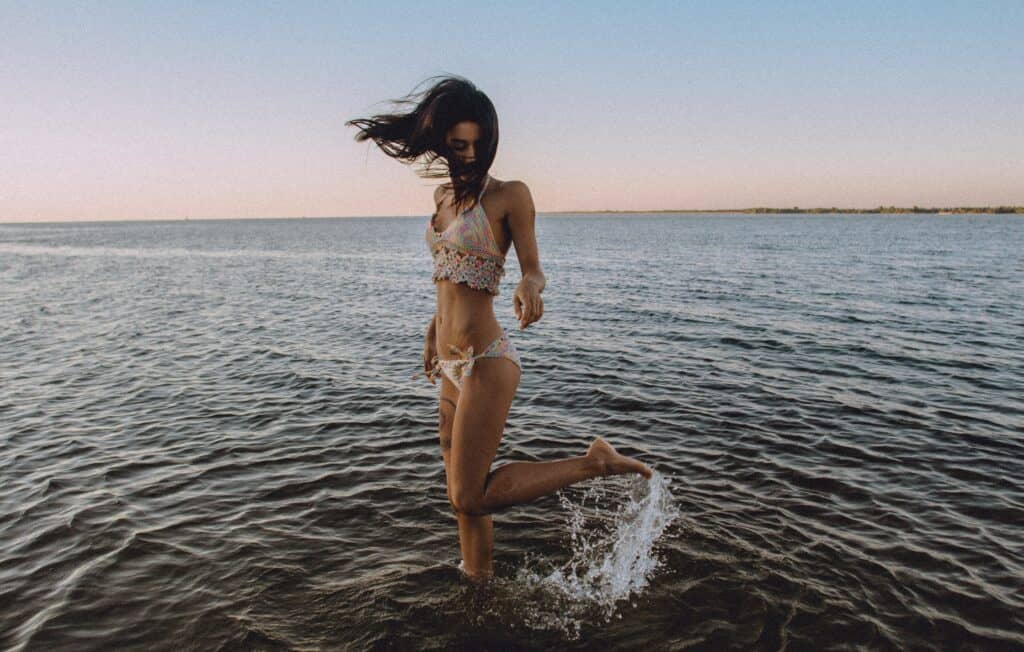 Underwires
Underwires play a huge role in lifting up the breasts. Since it's made of a stiff material like actual metal or sturdy plastic, they don't easily give in to the weight of the breasts. They power through and lift up your boobs regardless of its shape and the directions they fall towards.
Underwires are quite uncommon in bikini tops because of their supposedly laid-back feel. That's why when you find a bikini top with underwires, it's almost always a push-up type.
You can expect results of either increased chest volume, cleavage, ample exposed side boob, or all of the above. Because of these features, it's great for small chested women who typically go for A cup bikini tops and swimsuits.
Foam Cups
Foam cups work together with underwires for the lifting function of push up bikinis. If the underwires are responsible for lifting, the foam cups are the ones that keep your breasts up. They reinforce a rounded shape, which is what you'll want to achieve with a push-up aside from lifted breasts.
Foam cups make sure that your boobs will stay in position. They won't let your boobs spill out of the fabric, or look like they'd been stuffed into it carelessly in an unflattering way. Otherwise, leaving all the work to the underwires will just lift your breasts without proper shaping.
Extra Padding
Foam cups are somewhat common in bikini tops, extra padding are not. The first would usually be inserted into the two-layered fabric of the triangle or circle bikini. The latter is only an extra padding, not completely necessary and entirely optional.
Extra padding is usually found at the bottom of the cups. They're made of thick foam shaped like an oval that you can insert underneath the foam cups to add more volume to the bottom of the breasts. This is for women who really lack the boobs.
The bikini pushes up the breasts up top, while the extra padding fills up the gap that they would leave underneath. This ensures your chest will still look like there are two round breasts in them, instead of a weirdly pushed up flesh that looks empty at the bottom.
Wide Band
If underwires are not available, sometimes a wide band is reliable enough to support the breasts. The wider it is, you can be rest assured it has more capacity to withstand the force of gravity on your breasts. A wide band catches the underside of your boobs, preventing them from falling downwards too much.
The generous width of extra fabric that wraps around your chest would be able to keep the cups where they are. You'll notice in bikinis with small or thin bands, the cups move around easily. A wide band would make the bikini top more stable on your skin.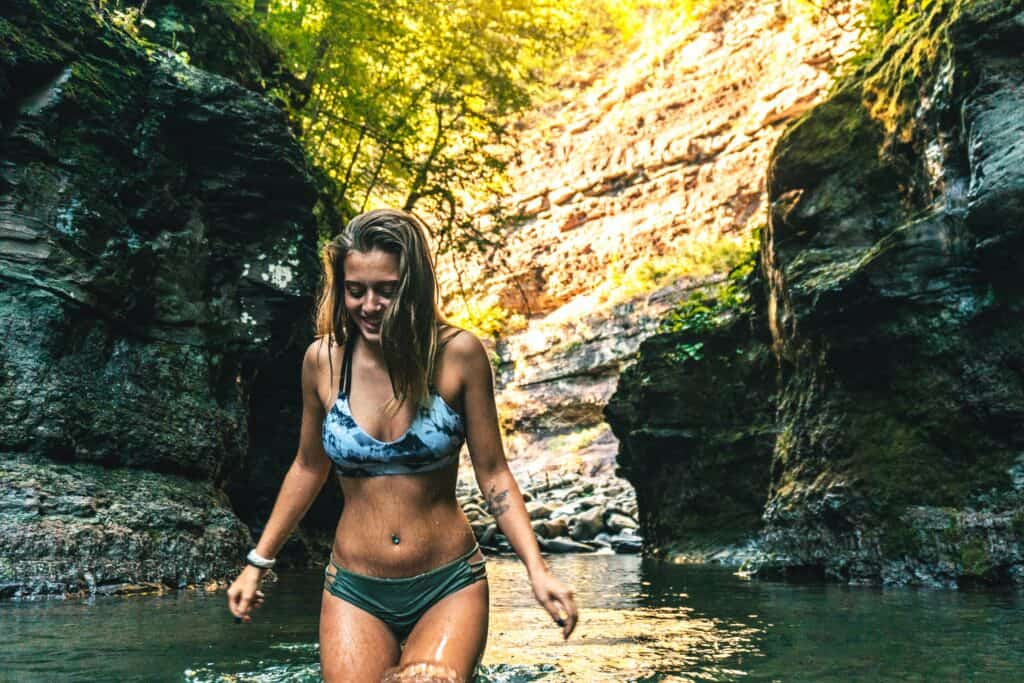 Longline Style
A wide band is completely different from a longline style. A longline bikini top is one that could pass up for a crop top. The bottom edge reaches down to cover the rib cage and majority of your midriff.
A longline style is recommended for those who require some form of lift in a dainty garment like a bikini or bralette. The extra fabric at the bottom ensures your boobs won't slip down from the fabric, and that the cups will hold out even against the heavy weight of big breasts.
Frequently Asked Questions
Can a Push-up Bikini Lift My Boobs?
Yes, a push-up bikini can help to lift your boobs. As the name suggests, a push-up bikini is designed to offer support against the force of gravity, lifting the sagging boobs.
This makes it an ideal swimwear for breastfeeding mothers who are self-conscious of their sagging breasts.
Can a Push-up Bikini Cause Skin Irritations?
There are higher chances of push-up bikinis causing more skin irritations compared to other bikinis due to their design.
Typically, most of these bikinis come with underwires or sturdy plastics that form a solid base for the sagging breasts. This results in excessive pressure around these areas, causing skin irritations.
Can a Push-up Bikini Make My Breasts Look Bigger?
Yes, a push-up bikini can make your breasts look bigger. Keeping in mind that the bikini is designed to lift the sagging breasts, it makes the bottom of its bra cups fuller.
It also brings the breasts together, creating a flattering cleavage. This might make your breasts look one cup size bigger.
How to find the perfect bikini/swimsuit for your body type | BIKINI GUIDE | Justine Leconte
Conclusion
A push up bikini is an excellent option when you want your boobs to be even more pronounced and defined in a swimsuit. If that's your aim, these pieces and sets are not about to fail you.