As an Amazon Associate we earn from qualifying purchases.
If you're looking to ride the ocean waves, wearing a typical bikini might not keep you covered and supported as waves crash into you. You need a bikini that stays in place. The best surf bikinis I've picked can make you feel confident in each surf session while surfing in style.
Our Best Surf Bikinis Reviews
After testing out different surf suits and comparing their pros and cons, the La Blanca Island Goddess Mio One-Piece tops my list of the best surf bikinis. Its flattering fit, modest coverage, and stretchable fabric keep the suit in place even as you surf through big waves.
It can sometimes be hard to find bikinis that balance functionality and style. However, these surf bikinis are durable enough to support, cover up, and endure the movements and the waves while making you look good.
Brand
La Blanca Island Goddess Mio One-Piece Swimsuit
Coco Reef Ultra Fit Bra Sized Underwire Tankini
La Blanca Women's Bandeau Tankini Top
Product
Material
85% Nylon/15% LYCRA® XTRA LIFE™
Features
Designed and tailored with high quality fabrics
Brand
La Blanca Island Goddess Mio One-Piece Swimsuit
Product
Features
Designed and tailored with high quality fabrics
Brand
Coco Reef Ultra Fit Bra Sized Underwire Tankini
Product
Material
85% Nylon/15% LYCRA® XTRA LIFE™
Brand
La Blanca Women's Bandeau Tankini Top
Product
Best Surf Bikini Overall: La Blanca Island Goddess Mio One-Piece Swimsuit
Designed for adventurous and stylish women, the La Blanca Island Goddess One-Piece Swimsuit is among the best one-piece surf suits on the market, providing modest coverage, comfortable fit, and sun protection. 
La Blanca has been one of the top swimwear brands since the 1980s, and it continues to provide surf bikinis for various body shapes.
Compared to the sweetheart neckline of the La Blanca Bandeau, this one-piece suit features a sporty scoop-neck design and halter straps. This design combination prevents the top from slipping off the shoulders.
Similar to the Ultra Fit Tankini, the La Blanca Island Goddess has fully removable cups and pads. This gives you the option to remove bulk in the chest or get extra protection for your sensitive nipples.
However, the cup sizes are only available from 32A to 40D. There's also the risk of not finding the correct size for your waist.
This one-piece surf suit is a perfect choice if you have a pear body shape. The silhouette accentuates your waist and long torso without making the bust look too small. 
Meanwhile, the thin halter straps can broaden the look of your narrow shoulders.
Even with a high-cut leg, you won't find yourself pulling the crotch area between your legs to adjust fit. The high cut can also visually elongate the legs.
More than that, you will turn heads with this bikini's vibrant colors, giving you a striking contrast against the waters.
Pros
Feminine cuts can elevate your personal style while letting you surf comfortably
Features a halter neck and full-bottom coverage
Cons
Sizes of La Blanca bikinis run a bit small, so you may need to size up
It may not be ideal for those with large busts
Best Plus-Size Surf Suit: Coco Reef Ultra Fit Bra Sized Underwire Tankini
If you're conscious about skin coverage, the Coco Reef Ultra Fit Bra Tankini is among the best surf bikinis providing full coverage for the torso to boost your confidence while surfing. It gives a flattering fit for large breasts without making you feel large.
This is great if you want broader protection for the midsection without using wetsuits or rashguards. 
Furthermore, the longer top secures warmth to the body to regulate your body temperature while surfing.
It has wired cups like the Panache Anya Bikini. This feature is helpful for plus-size surfer girls with wide-set breasts who need help keeping the breast tissue front and center. The removable soft cups also let you customize the comfort level.
Like the La Blanca Island Goddess, the Coco Reef Ultra Fit Tankini uses a scoop neck top. This holds the straps in place to ensure the neckline won't show your breasts even as you bend.
While the top provides total coverage for the belly, the silhouette may look somewhat billowy when you plunge into the water since the fabric isn't tight-fit.
Pros
Features an A-line silhouette for shaping plus-sized bodies
It uses wide straps and crunched neckline for a slimming look
Cons
Sizing for the bikinis is only available from C to G
It doesn't have a sporty look since it somehow resembles a sleepwear
Ultra Fit Bra Sized Underwire Tankini — A-Line...
FULL COVERAGE FOR TOTAL CONFIDENCE — This tankini swimsuit top by Coco Reef with scoop neck covers...
QUALITY DESIGNED FOR ENDLESS SUMMERS — The Ultra Fit tankini is a durable, soft-feel bikini made...
IDEAL BIKINI TOP FOR ALL BODY SHAPES— Choose your Coco Reef tankini bikini top according to your...
Best Bandeau Surf Tankini : La Blanca Women's Bandeau Tankini Top
As a surfer girl, you'll want an equally attractive and functional suit, and you can rely on the La Blanca Bandeau Tankini Swimsuit to give you a trademark surf style.
Panache is among the most trusted and amazing brands for daily underwear and surf bikinis. One of its best creations boasts slip-proof tankini bandeau bras.
The sweetheart neckline and shape-enhancing shirred bodice create a more personalized fit for this tankini. This makes the La Blanca Bandeau a better option if you prefer a more fitted silhouette than the Ultra Fit Bra Tankini.
It also features removable and adjustable straps like the Panache Anya. Whether you fall from the board or propel the board into the air, you can make sure your surf suit won't reveal your body parts.
Moreover, the bandeau is one of the bikini styles that flatter most body types, whether you have a large bust or small breasts.
Although the unmolded cups won't suit ladies who want to make the breasts look more prominent.
The lining of the cups is also typically thicker compared to halter swimsuits. This prevents the nipples from peeking through the cups even as you step into cold waters.
Pros
Shirred bodice and halter straps ensure there's no slipping
The longer top provides extra protection against debris and sun rays
Cons
It doesn't accentuate the waist because of the straight cut
Straps aren't as stretchy compared to the other bikinis
La Blanca Women's Bandeau Tankini Swimsuit Top,...
DESIGNER SUMMER SWIMWEAR: Getaway glamour just came ashore in a sunny wash of marigold florals; This...
FLATTERING DETAILS: Bandeau-style tankini swim top features a crossover sweetheart neckline with...
BELLE FIORE PRINT: The sun never sets on this natural beauty. True-to-life tropical florals bloom...
Best High-Waist Surf Bikini: Sunsets Women's Hannah Foldover High-Waist Bikini Bottom
If you need greater control in the tummy area while squatting or bending, the Sunsets Hannah High-Waist Bikini will provide better support for your stomach.
Compared to the low-waist style of the other surf bikinis, the high-cut of this underwear provides extra coverage on the belly. When you're lying on your stomach while paddling, you won't feel much friction on your skin.
High-waisted bikinis can make you thinner and would be better for ladies with athletic or rectangular-shaped bodies. The same goes for women who need to tame love handles.
If your bust, waist, and hips have almost similar proportions, the high-waisted band creates an illusion of curves while accentuating the narrow waistline.
Since the waistband falls naturally at your curves, you won't have to be conscious about your bottoms rolling off the skin. The underwear will stay precisely where it's supposed to as you catch the next big wave.
Aside from that, this gives a shorts-style appearance, although with a higher leg hole than the Zando Boyshorts. You can also fold the waistband for a mid-rise look.
The downside is that you need to purchase the complementary bra separately. However, there are several patterns to choose from, whether you want a solid colour or a retro vibe. 
You may also consider the COCOSHIP bra as an alternative bikini top.
Pros
It resembles booty shorts that won't ride up while surfing
The seamless and wide band controls the muffin top
Cons
Requires a separate bikini top
Can fit tight around thick hips
Sunsets Hannah High-Waist Bottoms Black MD (29"...
Style, Cut, & Fit: A high waisted bikini bottom with a classic brief cut and full coverage booty....
Features & Sizing: A versatile swimwear bottom ideal for beach perfect summer outfits. Definitely,...
Great For: Water sports like surfing, paddle boarding, kayaking, swimming, beach volleyball, or just...
Best Surf Suit for Large Breasts: Panache Swim Anya Stripe Bra-Sized Tankini 
The Panache Anya Stripe Tankini is another excellent pick for the best surf bikinis, especially if you need proper support and coverage for your large bust while surfing.
Wired bikini tops like this tankini prevent breast tissue from spilling to the sides as you position your body when maneuvering the board. However, those with flared ribs may feel a bit of discomfort from the wire.
This bikini compensates by having molded cups that keep the bust snug and secure. You won't feel your large breasts juggling against the board if you shift positions from sitting to standing right away.
Apple-shaped ladies have slender hips and shoulders with curvier midriffs. Bikinis with ruched designs can create the illusion of a slimmer waistline.
In addition, the halter straps help lift the cups securely while elongating your torso. 
Unlike the La Blanca Bandeau, the Panache Anya Tankini uses draw side ties to adjust the length of the tankini. This makes it one of the best swimsuits when undergoing weight changes.
Similar to the RVCA Cross Back Bikini, this underwear has a cheeky coverage that makes the buttocks appear rounder and fuller. Even as you glide through a crashing wave, the elastic lining keeps your private parts well concealed.
Pros
Power mesh lining provides firm and comfortable hidden support
Lycra fabric resists fabric degradation caused by salt water, chlorine, oils, and sweat
Cons
The built-in back clasp is a bit hard to reach and clip
The band is a little snug, so you may get back fats with the incorrect size
Panache Women's Anya Stripe Bra-Sized Bandeau...
Inner underwire cup is lightly padded and vertically seamed for uplift and shape
Power mesh wings with hook and eye fastening provides firm and comfortable hidden support around the...
Draw side ties help adjust the length of the tankini
Best Bikini for Small Breasts: Rip Curl Junior's Classic Cross Back Bikini
From the holy grail among surf bikini brands, the Rip Curl Junior's Classic Cross Back is one of the best slip-proof bikinis that lets you focus on your surfing, not on whether you still have clothes on.
Rip Curl is among the big brands that support the world's top surfers through high-quality bikinis. Even with a two-piece style like this, the high-performance construction and lined cups prevent water from outstretching the material. 
Moreover, the cross-back design helps keep the bra on even when facing a strong wave or doing some heavy paddling. The back design also alleviates pressure from the neck.
Similar to the Panache Anya Bikini, polyamide surf bikinis like this one provide a super soft feel on the skin. This material also dries quickly, resists stretching, and stops salt water from fading the colors even when you surf for a long period.
If you have a petite frame or a shorter torso, bikinis that show more skin can elongate your body and create the illusion of slender legs.
The bikini's cheeky cut is better if you want to steer clear of potential inner-thigh rashes from the Zando Boyshorts. 
However, there is less fabric to protect your buttocks and thighs. Be ready since you're likely to get more sunburned.
Pros
Strap ties don't loosen, which prevents boobs from popping out
Thick lining so you won't have to use boob tape or nipple covers
Cons
The removable pads may fold up
Not as much coverage for the bust, although it's enough for flat-chested ladies
Best Sustainable Swimwear Bikini: RVCA Women's Standard Cross-Back Bikini Top
What better way to show your love for salt water than use eco-friendly bikinis from a small business? The RVCA Standard Cross Back Bikini is one of the best surf bikinis for surfer girls looking for sustainable swimwear that uses low-impact materials.
RVCA only started making bikinis in 1999, yet the suits were designed with the needs of a surfer in mind. This is because professional surfer Conan Hayes co-founded the action-sports boutique.
Competing with the top international swimwear brands in terms of sustainability, this two-piece suit is the only one on this list that uses recycled materials. These include ghost fishing nets lost or abandoned in the ocean.
Even with the small cups, the top doesn't squish the boobs too much as you paddle or swim laps. The scoop neckline shows the right amount of cleavage without causing nipple slips.
The bottoms feature a cheeky style like the Rip Curl Junior's Classic. While the thin straps and less coverage in the buttocks increase the chances of getting sunburned, beach lovers would love the sexy tan lines after.
Bikinis with playful patterns can also give the impression of a fuller figure if you have a generally slim body.
Pros
You get to support a small business that uses recycled materials for bikinis
Scoop neckline and drawstring closure secure the bikini in place
Cons
Only ideal for those with small breasts
Low-waist style may feel a bit small for ladies with prominent midsections
Best Sports Surf Top: COCOSHIP UPF 50+ Sports Bra Bikini Top
Are you a more serious and professional surfer looking for a high-quality surf bikini for support? The COCOSHIP UPF 50+ Sports Bra Bikini Top is a great bra to match your high-impact moves while surfing.
COCOSHIP is an internationally renowned brand specializing in various swimwear styles, including sexy bikinis. It continues to innovate designs that also give bikinis a sporty look.
For instance, this bikini contains a broad chest band that holds up even large breasts. This ensures your breasts sit securely in the cups, which gives you confidence that your breasts won't slip out.
The cups come with light padding sewn inside the fabric. This padding gives you maximum support and comfort while surfing.
Despite not having molded cups, the stretchable fabric and halter design will lift your heavy, sagging breasts. 
If you have an inverted triangle body shape, you have broad shoulders and a full bust. Bikinis with thick, halter straps can balance your shape.
It's the only one among the bikinis with a double back strap that reinforcers the shoulder straps. This saves you from wardrobe accidents even when you fall from the surfboard.
What also makes it unique is that even at a reasonable price, it uses UPF 50+ fabric to protect the skin by blocking harmful UVA and UVB. 
However, you still have to purchase the complementary bottoms separately. Although you may consider using the Sunsets Hannah High-Waist Bikini instead.
Pros
The top even has sun protection with UPF50+, which is handy for surfers
Sew-in cups don't get folded even after several washes
Cons
It may hide cleavage for those with small breasts
The back strap isn't detachable
COCOSHIP Black Solids Women's UPF 50+ Training...
Size:32B:32B/C 34B:34B/C 36B:36B/C 38B:38B/C 32D:32D/DD 34D:32D/DD 36D:36D/DD 38D:38D/DD
Hand Wash Cold/Flat Dry;Nylon Spandex Swimsuit Fabric
Features COCOSHIP flex fabric;Sun Protection of UPF 50+
Best Surf Suit With Boyshorts: Zando Halter Set With Boyshorts
​Next to skimpy surf bikinis, boyshorts are the next best option for surfing swimsuits. This is evident in the figure-hugging fit of the Zando Two-Piece Halter Swimwear With Boyshorts. 
If you prefer something more modest than the cheeky RVCA Cross Back Bikini, the boyshorts and wide band of this two-piece bikini would better suit you.
The triangle-shaped cups have light padding for overall coverage and support. 
This particular pair has a cross-back design like the COCOSHIP UPF Bikini. The cross-back straps keep the halter straps in place and the cups firmly pressed against the chest. 
It features a thick chest band to prevent the top from riding up. You can tie the chest band according to your preferred fit, and you won't need to worry about it coming untied due to the thickness of the ties. 
The leg part of the bottoms rolls up when walking, although you can use the side strings to lengthen the shorts and prevent this from happening. 
You can also use the strings to reinforce the fit while doing complex tricks on your board or even as you're paddling. 
Pros
The additional crisscrossed straps help keep the top securely fit
The boyshorts feature strings to adjust the length and coverage
Cons
You can't choose varying sizes for the top and shorts
The bottoms are a bit snug
Zando Push Up Two Pieces Bikini with Boyshort...
Women's Swimsuits: Made of high quality material. The smooth and durable swimsuits for women, soft...
Bathing Suits for Women: Two-piece bathing suit for junior girls and women Holiday. V Neck, Push Up...
Women Bikini Swimsuits: ZANDO women swimsuit is a must-have for your hot summer days. Smooth fabric...
Things to Consider When Choosing Surfing Bikinis
If the water is strong enough to knock you off your board, then they're strong enough to pull that bikini off of you as well. There are so many features that surf suits must have to let you catch big waves in style.
Comparing Surf Bikinis Features
| Bikinis | Closure Type | Full Bum Coverage | Machine Washable? |
| --- | --- | --- | --- |
| La Blanca Island | Pull on | Yes | No |
| Coco Reef | Tie | Yes | No |
| La Blanca Bandeau | Pull on | Yes | No |
| Sunsets Hannah | Pull on | Yes | No |
| Panache Anya | Hook and eye | No | No |
| Rip Curl | Pull on | No | Yes |
| RVCA Cross Back | Drawstring | No | No |
| Cocoship UPF | Hook and eye | No | No |
| Zando Halter | Hook and eye | Yes | No |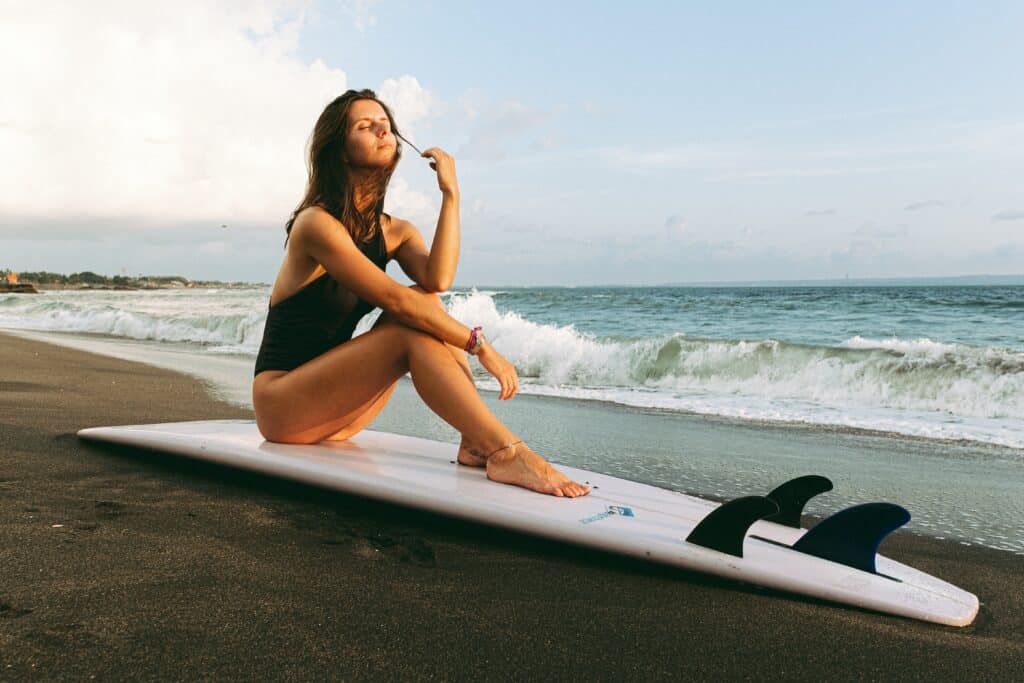 Material
Swimwear brands use a combination of fabrics to develop long-lasting surf bikinis. You need strong material that will last you a while and be able to stand up to harsh conditions. Since surfing requires a lot of physical movement, the elastic on your bikini needs to be strong and stretchy. 
You want to avoid a bikini that will become loose over time because of your activities. You need durable material that stands up to any condition.
It's not easy finding surf bikinis made from neoprene. You can also look for self-lined surf bikinis that have twice the fabric, making them last longer. Self-lined surf bikinis are thicker and allow more coverage.
Flexibility
The best surf bikinis should let you comfortably move while staying in place. Most high-quality ones contain elastane, nylon, or spandex to keep the suits stretchy yet strong. 
Make sure the surf bikini you choose isn't too tight or restricting. For example, if you choose a surf bikini with boyshorts, you may find it a bit uncomfortable when moving your thighs.
Look for boyshorts that aren't too long and that are loose along the leg holes while still giving you a tight fit in the waistband.
Remember that when choosing a panty-style surf bikini, you'll want to ensure that it doesn't ride up when you move too much. Having to pull on your surf suit bottoms constantly isn't very easy when you're surfing, and having a constant wedgie isn't very comfortable either.
Bikini Top Style
The best surf bikini brands must provide the appropriate support for your body type. For instance, one-piece suits like the La Blanca Island Goddess are excellent choices if you want to guarantee complete coverage for the bust and midriff.
If you still need to cover your midsection without using one-piece surf suits, go for the Coco Reef Ultra Fit's tankini style. On the other hand, bralette surf bikinis like RVCA are good options for those who don't need molded cups.
Choose the bandeau style of La Blanca and Panache if you like a tube-top appearance. You may consider the strip top of Rip Curl for the ultimate sexy look. Meanwhile, COCOSHIP and Zando have a halter style to keep the straps closer together.
Bum Coverage
Whether you're a professional surfer or a hobbyist, the amount of coverage would be more of a personal preference.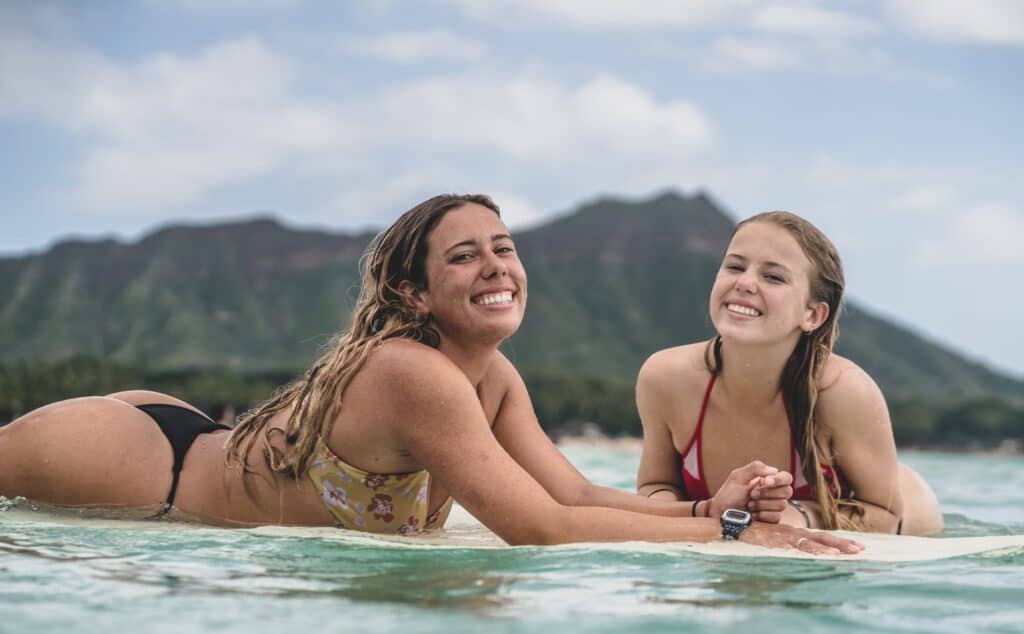 Full-coverage bikini bottoms like the La Blanca Island Goddess, Coco Reef Ultra Fit, and Sunsets Hannah are ideal if you want the ultimate protection of your buttocks.
Opt for the La Blanca Bandeau if you want to show more skin, yet cheeky bottoms aren't your style. The Zando Boyshorts are the perfect choice if you don't want to worry about coverage on your buttocks.
If you won't be doing tricks or want to wear a bikini under wetsuits, you can use the cheeky underwear style of the Panache Anya, RVCA Cross Back, and Rip Curl Junior's surf bikinis.
Waist Level
A high-waist bottom like that from Sunsets is an excellent option if you need extra support and coverage in the belly.
In contrast, Coco Reef and La Blanca surf bikinis have mid-waist styles that support the waist without necessarily covering the whole stomach.
Lastly, the Panache, RVCA, and Rip Curl bikinis feature low waistbands that give a curvier look on the buttocks.
Straps
The best surf bikinis wouldn't let you suffer from a wardrobe malfunction. Whether you're still learning how to paddle or professionally maneuvering the surfboard, you need assurance that the straps won't easily fall.
The surf bikinis from La Blanca, Panache, RVCA, and Rip Curl use thin, adjustable straps. Despite that, their sturdy construction enables the straps to adjust to movements and keep the cups pressed against the chest.
The Coco Reef and Zando surf bikinis contain wide, adjustable halter straps for less friction on the shoulders. Meanwhile, the COCOCSHIP top has wide, double-back straps to add extra security to the fit.
Frequently Asked Questions
What Is the Proper Attire for Surfing?
Aside from well-fitting bikini tops and bottoms, the proper attire for surfing includes bathing suits, board shorts, and wetsuits. You can pretty much try on various styles of swimwear as long as it provides you with enough coverage and protection.
How to Keep Surf Suits From Slipping While Surfing?
To ensure a bikini stays on, check the straps to see if they are correctly fitted. You must also secure the waistband so the surf suits, boyshorts, or boardshorts don't slip from your body.
How Can I Stop Nip Slips When Surfing?
Nip slips happen when the cups don't fit the breasts properly, so be sure to choose your actual bra size. You can also use waterproof boob tape for swimming or nipple covers to avoid nipple slips.
HOW TO FIND THE RIGHT BIKINI FOR YOUR BODY TYPE
Conclusion
These vibrant yet functional surf bikinis can make you feel confident in surfing. Whether you want something from a small business or big brands, the best surf bikinis on this list will give you the necessary coverage and skin protection so you can focus on your surfing tricks instead.