As an Amazon Associate we earn from qualifying purchases.
When someone first hears a high waisted bikini mentioned, it's not uncommon to have visions of Marilyn Monroe running around in her retro style outfits. And yet, this flattering swimsuit has most certainly made a fashion comeback, firmly seating itself as a bathing suit option of choice.
One of the most compelling factors of a high waisted bikini is that, when chosen correctly, it can provide a lot of slimming features. I'll walk you through how to determine if you're right for this trendy summer style choice, and how to pick one out. 
Do High Waisted Bikinis Make You Look Thinner?
In short, the answer is yes. High waisted bikinis will make a lot of different body types look thinner. However, it is a little more complicated than that.
Who It's Best For
This style of two piece typically works best for curvy women. Women who have hourglass, apple, or pear shaped bodies gravitate towards the high waisted options.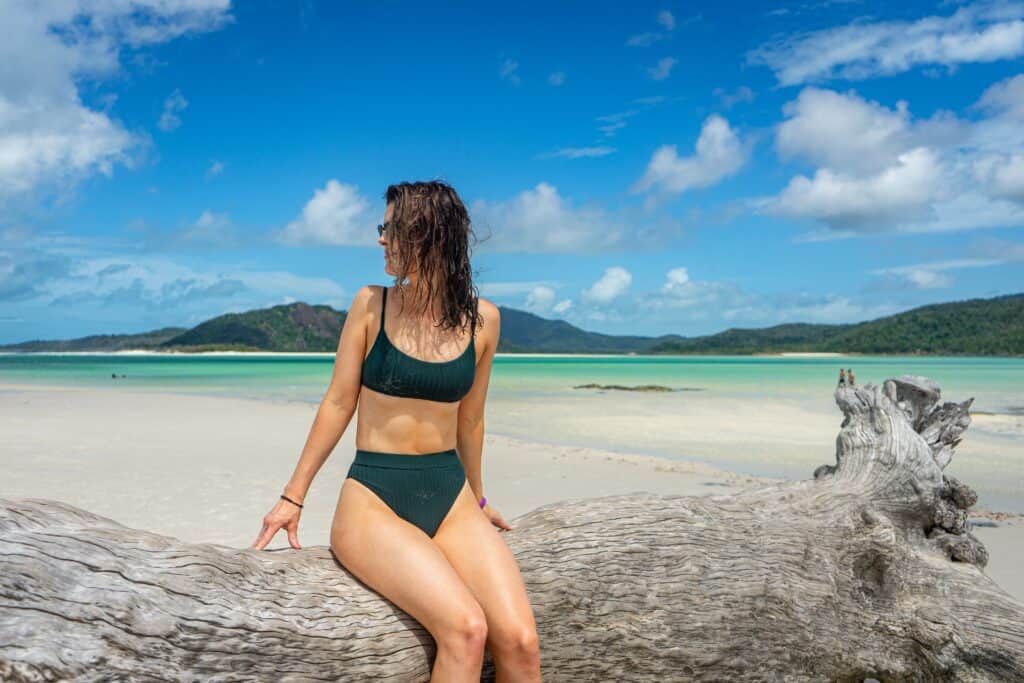 You don't need to be busty at all to pull of this style. Even if you're looking for a great bikini option for small boobs, you might find the high waist option to be perfect.
Wider hips certainly help this bikini style. No matter how your curves play out, whether in your hips or bust, this is the right suit for these features.
How to Look Skinny in a Bikini
It goes beyond just being curvy though. The real secret to pulling off the high waist look is to focus on your torso: longer torsos look amazing in this style of bikini suit. Long torso and short legs? No problem, this one was made for you.
Don't worry if you're shorter, because if I break it down even further, it's all about the relation of your torso height to your lower body. As long as your torso is proportionally higher than your lower body, you're in business.
Looking skinny in a bikini is all about how you style yourself. Focus on your torso, and remember that it's all about porportion.
Tummy Fat and Love Handles
The high waisted look can do a great job of hiding love handles and tummy pooch, as long as you pick the right option. These can be great choices for new moms as well.
You might want to look at options that have a tummy control panel built into the bikini bottoms. I also share a variety of general tips below for rocking this style of suit if you aren't comfortable with your stomach and hips.
High Waisted Two Piece Swimsuit Features
Here are the features of this prominent and trendy swimsuit: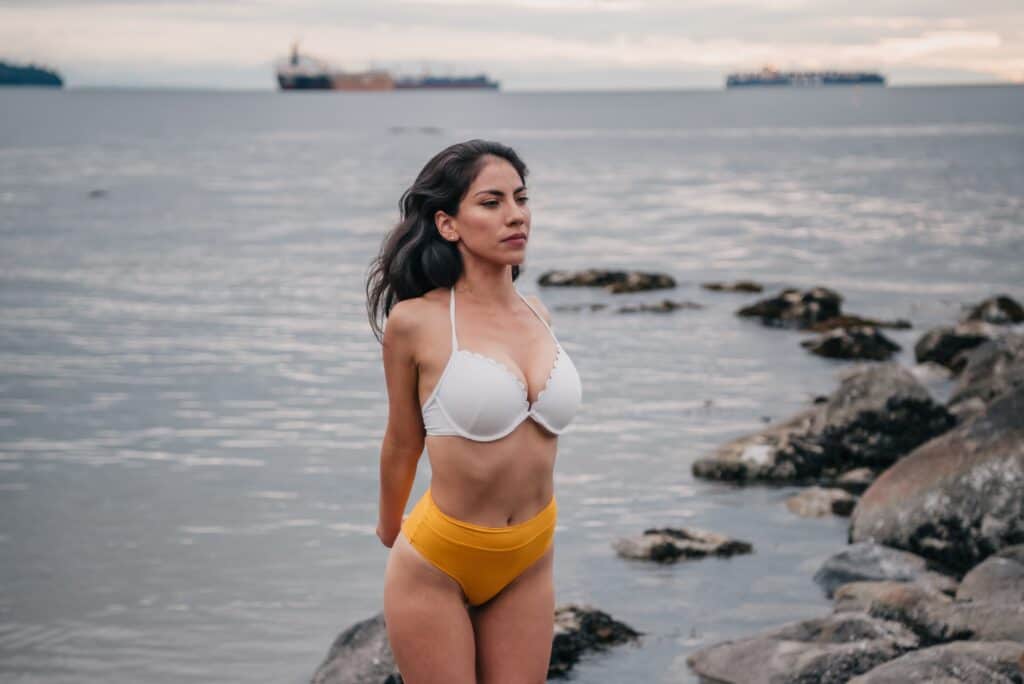 How to Look Thin in a High Waisted Bikini
We've gone over the best body types of high waist bathing suits, but there are still a lot of things you can do to slim out your figure when putting this swim option on.
Tips to Look Thin in a High Waisted Bikini
| Tips | What to do |
| --- | --- |
| Tip 1 | Go for dark, solid bottoms |
| Tip 2 | Choose a bright printed top |
| Tip 3 | Go horizontal |
| Tip 4 | Add a tummy control panel |
Frequently Asked Questions
Can a High-Waisted Bikini Hide My Belly Fat?
Yes, a high-waisted bikini can help to hide your belly fat. Keeping in mind that most bikinis are made of a blend of nylon or polyester with spandex, they are elastic and can exert some pressure on the belly fat, reducing its visibility.
This defines your waist and gives you a more feminine touch, making you cute.
Can I Wear a High-Waisted Bikini When Pregnant?
Yes, you can wear a high-waisted bikini when pregnant. Keeping in mind that the bikini is held in place by the elastic waistband, the waistbands of high-waisted bikinis sit above the belly, minimizing pressure on the lower part of the abdomen.
The bikini can also help to support the growing baby bump, making you feel comfortable.
Can a Bikini Make Me Thin?
Although a bikini can make you look thin, it doesn't come with any features that can make you thin. However, some bikini designs, such as the high-waisted styles, can help to create an illusion that you are thin.
A more realistic way to become thin is to adjust your eating style and engage in exercise that can help you burn calories.
HOW TO FIND THE RIGHT BIKINI FOR YOUR BODY TYPE
Conclusion
A high waist two piece bathing suit is a great option for someone looking to slim down their look a bit, especially if you have more of an hourglass, pear, or apple shaped body. For curvy women with hips, this swimsuit is a great choice. Factor in that its in style, and you've got a wonderful way to look your best this summer.